Affiliate link disclosure: This post may contain affiliate links including Amazon that earn me a small commission, at no extra cost to you. Read more in our full Affiliate Link Disclosure.
Love it or hate it, Valentine's day is fast approaching. It's that time of year when you're supposed to shower your significant other with mushy, sloppy gifts: chocolates, flowers, jewellery a romantic dinner – I could go on and on! But what if your Valentine is a traveller and has no need or desire for such things? What on earth can you buy that they'll be pleased with and that will actually make it with them on their next trip? Well to give you a helping hand we've scoured the internet and chosen our favourite Valentine's day useful travel gifts for someone who loves to travel. There are ideas that would be great for everyone and ideas more suited to just him or her.
Just one thing to be aware of…you'll find no hearts and roses here! As I mentioned in Travel Bloggers' Most Romantic Destinations, Andy and I don't have a romantic bone in our bodies! Instead, here are our favourite, useful, (mostly) practical and unique travel gifts that anyone with a case of wanderlust would love to receive! At the right time of year, you could even check out Cyber Monday and Black Friday travel sales and get a bargain in advance.
Valentine's Day Useful Travel Gifts
Initially, I was going to separate this post into two sections, travel gifts for him and travel gifts for her. However, it seen became apparent that many of my and Andy's favourite travel gifts were actually unisex so I've actually just bundled all our ideas together for you to browse.
1. Hammock
This double Wise Owl Outfitters Double Hammock comes in a huge range of colours, single and double sizes, and is ideal for slinging up anywhere, anytime. It's fantastic to always have a comfortable spot for a snooze, to read, or even to catch up on some work. We both have hammocks and use them all the time and would recommend buying a double, even if just for one person as they're much comfier and still don't take up much bag space at all.
2. E-reader
For anyone who likes reading whilst travelling a Kindle e-reader is a must-have to save lugging around reams of books. Whilst not the newest model, the Kindle Paperwhite is a good solid option at an affordable price. I'm hoping to upgrade to this myself soon.
3. RFID Passport and Document Organiser
It can be hard to keep track of your passport and other documents on a busy travel day and many people just don't like ugly money belts. This Zoppen RFID Blocking Passport and Document Holder is a great alternative to keep everything together and organised. They also come in a big selection of colours so would be suitable for both him and her.
4. Action Camera
Andy is the videographer of the two of us and suggested a recent version of the GoPro HERO8. It's robust and waterproof up to 10 metres without any housing which makes it ideal for travellers who like to keep a record of their more adventurous activities. There are, of course, more affordable action cameras on the market; I suspect this suggestion was actually a heavy hint from Andy!
5. Capital Cities Coffee Table Book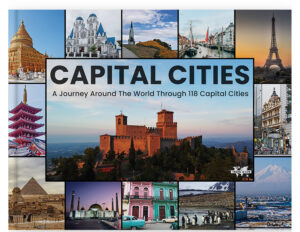 Get this beautiful Capital Cities Coffee Table Book by 'Travel is Life Creators' via Amazon.
An ode to capital cities, this book is a collaborative effort of 68 travel bloggers and photographers, including us. Our contribution was Panama City which we visited during our 5 month Central America trip in 2019.
Through storytelling and photography, this amazing book showcases 118 capital cities from every continent around the World, including Antarctica.
This is a gorgeous gift for the travel lover in your life.
6. How to Shit Around the World
Unfortunately, stomach problems are something that nearly all travellers have to deal with at some point. Whilst far from romantic, this frank but witty best-selling book How to Shit Around the World by Dr Jane Wilson-Howarth addresses how to avoid and fight back against the dreaded traveller's tummy! We can personally vouch for this book as it was a leaving gift to us from some friends, it gives practical advice, whilst being funny and entertaining at the same time.
7. Multi-tool
A multi-tool nearly always comes in handy when travelling and this Leatherman Sidekick multi-tool is a great option. It's compact and lightweight with 14 handy tools including a decent-sized pair of pliers (essential, according to Andy). Perfect to get any unexpected tasks or repairs done that might arise on the road.
8. Portable Power Bank
There's nothing worse than having your gadgets dying when you're travelling, especially when you're in the middle of nowhere. This  EasyAcc Portable Power Bank 20000 mAh will keep everything powered up at all times. I have the model down from this, which is excellent. I just wish I'd bought this one as it's even better. It has 4 USB ports, better light and charges an iPhone up to 6 times.
10. Boxer Jocks
Clearly one for the men, these long-lasting, hardwearing, but ultra-comfortable Under Armour Boxer Jocks, are suitable for everyday to mountain climbing. They also come in different lengths, styles, colours, and materials. In Andy's words – "they're the Range Rover of pants".
11. Travel Towel
This Wise Owl Outfitters Travel Towel was a new discovery of mine last year after I left my much-loved and well-travelled travel towel on a beach in Cambodia.  It's great quality, large, soft, and quick-drying. It also comes in some great colours, with a free hand towel also included. Obviously, I bought the green one, which I wouldn't be without now, it goes everywhere with me!
12. Water Filter Bottle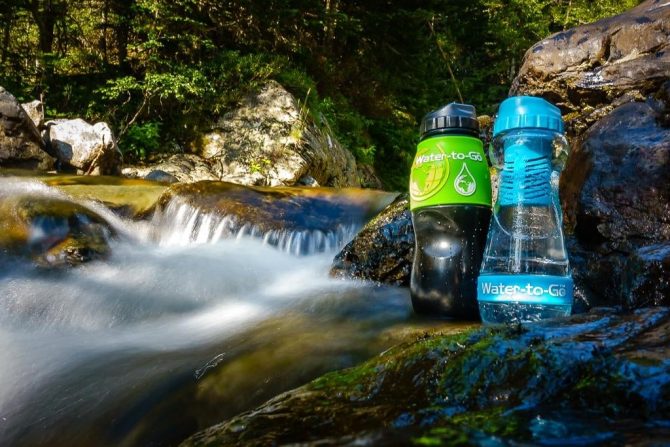 Environmentally friendly and sustainable travel is high on everyone's agenda these days, or at least it should be. One way travellers can encourage and support this is by limiting or eliminating their use of single-use plastics. You can help this initiative and also encourage responsible travel by purchasing
You can help this initiative and also encourage responsible travel by purchasing the gift of a great Water-to-Go Bottle. 
These bottles provide access to healthy, safe water anywhere in the World whilst offering a reusable, environmentally friendly alternative to single-use plastic water bottles. They have a unique 3-in-1 water filtration system that removes 99.9% of all microbiological contaminants found in water. 
We've partnered up with Water-to-Go and can offer all our audience a discount of 15% off any Water-to-Go product via the EU website or US website.
To get your 15% discount – just enter the code CTWT15 at the checkout.
13. Hotel Stay or a Flight Ticket
Of course, if money is no object you could always push the boat out and treat your favourite person to a nice hotel stay, a flight ticket, or even better both! Nothing like a surprise trip away to get in the good books!
---
There are of course many other travel gifts you could buy your travel-loving significant other this Valentine's day but these are mine and Andy's top picks. 
I hope you find something amongst them to put a smile on the face of a loved one this Valentine's day.
If you're looking for even more unique travel gifts, here's our more extensive list of useful travel gifts. 
---
What's the best travel gifts you've ever received, either for Valentine's Day or another occasion?
Enjoy this post? Pin it for later!