Happy Khmer New Year, Happy Cambodia New Year, 'Soursdey Chnam Thmey'! We love joining in local festivals when we travel, and during our time living in Cambodia in 2017, we were lucky enough to experience Khmer New Year in Siem Reap.
In 2023 it was be the second Khmer New Year celebrations to be held in Cambodia since the two-year COVID-19 hiatus. Happily, in 2023 the Khmer New Year celebrations in Siem Reap were once again held at the Anchor Archaeological Park, as they were in 2017 when we attended. Hopefully this will continue in the future.  
This post contains affiliate links. If you use them to make a purchase, we may earn a small commission at no extra cost to you. As an Amazon Associate, we earn from qualifying purchases. Learn more in our Affiliate Link Disclosure.
Khmer New Year in Siem Reap
From what we were told Phnom Penh resembles a ghost town during this time as businesses close to allow staff to visit their families in the provinces and at the beaches. However, Khmer New Year in Siem Reap was a different story entirely. Brightly coloured stars and lights adorned the riverside and roads, whilst displays of fruit and vegetables decorated the entrance of most houses and workplaces.
We woke up a couple of mornings before the celebrations to find our landlords (a Khmer family whose top half of their house we lived in) had hung a big multi-coloured star light on our balcony and several smaller ones around the property. Khmers from all over Cambodia flooded the town to visit relatives and to join in the Cambodian New Year festivities. The number of tourists also steadily increased as they arrived to experience this celebration.
For many, the highlight of Khmer New Year is taking part in the water and talcum powder fights that have become the norm in more recent years. For three days people roam the streets armed with brightly coloured, plastic water guns, buckets, hoses and talcum powder. There are also Buddist ceremonies, family, school, and staff parties, and the massive Angkor Sankranta Festival held in the Angkor Archaeological Park.
When is Khmer New Year in 2023?
Along with several other countries and cultures, Cambodia doesn't follow the Gregorian calendar. This means Cambodians or Khmers don't celebrate New Year on January 1st. Instead, it is usually celebrated for three days in April. This is due to the adoption of the solar calendar and also signals the end of the dry season and harvest and the start of the rainy season. In 2023 it will be from 14th to 16th April.
Khmer New Year History and Traditions
The three days of Khmer New Year follow strict traditions both social and religious, which are still observed by many people in Cambodia.
Day 1 – Maha Songkran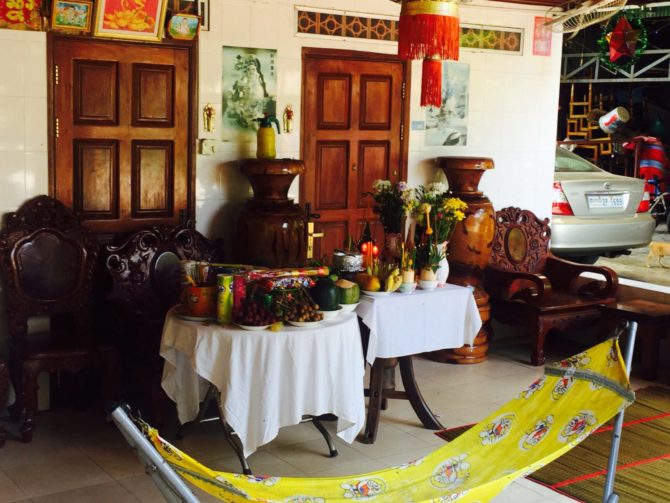 Maha Songkran means 'big change' and this day officially marks the end of one year and the start of the new one. Each year one of seven angels is assigned (depending on the day New Year falls on) to protect the World for the coming year. In 2023 the holiday falls on a Friday, so the angel Kemera Devi will be chosen. The angel is said to be lead to Earth by a dragon as she carries her father's head around a mountain, ensuring it doesn't touch the Earth or sea. To welcome the angel, people clean and tidy their homes, bathe themselves and dress up in their best clothes. Our landlords' families' children were bathed in large tin bowls with hoses in the garden.
Tables of offerings for the angel are displayed in the entrance to homes; they include fruit, candles, incense sticks, flowers and twinkling lights. The offering changes depending on the angel. Families 'compete' to have the best display to ensure their house is protected for that year. Many families also visit their local pagoda to pray and to give gifts of food, drink, incense, and money to the monks. I accompanied my friend and her Khmer fiance to his local Pagoda, we took the monks a box of bottled water, a slab of Fantas and bundles of incense wrapped in $5 USD notes. 
Day 2 – Virak Wanabat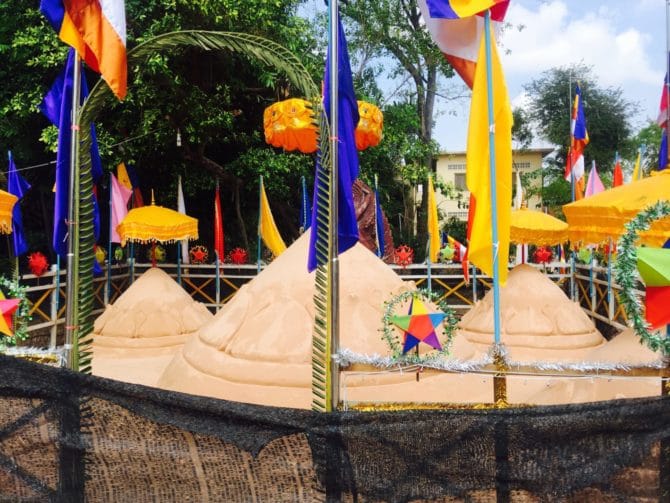 Wanabat means 'day of giving'; on the second day of Khmer New Year, the tradition is for children to give gifts to their parents and grandparents. Sometimes money and clothes are donated to those less fortunate than themselves! People gather at pagodas to build a sand mountain to honour their ancestors. It has a peak at the top surrounded by four smaller peaks that represent Buddha and his disciples. In the evening monks at the pagodas give water blessings.
Day 3 – Tanai Lieng 

Saka
Tanai Lieng Saka means 'new beginning'. On the third day of the celebrations, statues of Buddha are bathed with scented water to encourage good rains in the coming months. Some people also bathe monks, their parents, and grandparents in the same way to bring good luck and long life.
The afternoon turns into a party as families and friends celebrate New Year with food and drinks in their homes and in the streets. Traditionally children and youths would pour water and dust each other with white talcum powder as a symbol of cleanliness. This has now been adopted by all ages and is where the water and talcum powder fights originated from.
Cambodia New Year Games
Cambodian New Year (Khmer New Year) is traditionally the only time when young and teenage Cambodian boys and girls are supposed to play together. Young men also take this as an opportunity to look for possible brides. These are some of the many traditional games that are played during this time, mainly by younger Cambodians, but sometimes by adults too.
Chol Chhoung
This game is popular with children and teenagers as it's often based on which girl likes which boy and vice versa. It's played with two teams, a boys team and a girls team, who stand in lines opposite each other. The 'chhoung' which is a tied up scarf, is thrown between the row of girls and the row of boys. When a team member catches it they throw it quickly at someone they like in the opposite row.
If the chhoung hits that person they lead the whole team in singing and dancing until the chhoung is passed back to the other team. The process then starts all over again.
Ongkhun
Otherwise known as 'boy meets girl', this is again played with two teams, boys against girls. The Ongkhun is a Cambodia vine that produces hard, round, flat(ish) seeds, resembling a large flat horse chestnut (or conker, as we call them in the UK).
One team pushes their ongkhun seeds into the ground for targets, the other team throws their ongkhuns to try to hit the targets. The team hitting the most targets wins and then hits the knees of the losing team members with an ongkhun…they're really hard and it hurts!
Leak Kanseng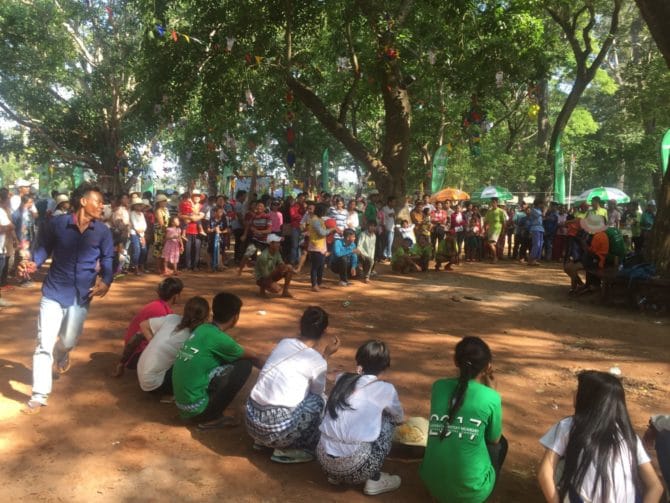 To play this game a group of children arranges themselves in a circle sitting on the floor. One of the children holding a 'kanseng', a Cambodian towel twisted into a ball, sings a song whilst running around the circle. They then try to secretly put the kanseng behind one of the other children, without them noticing. If they notice, they grab the kanseng and hits the person next to them with it.  
Siem Reap Khmer New Year Celebrations 
The social and religious traditions of Khmer New Year are these days, mixed up with the madness of modern-day Khmer New Year. Especially for Khmer New Year in Siem Reap which has become a tourist hub for travellers visiting the Angkor Archaeological Complex. It gets really busy so if you want a choice of accommodation make sure you book it well in advance.
The same goes for booking transport to and around Cambodia, don't leave it too late to book.

For the three days of celebrations, we couldn't walk along any street without being soaked with water or covered in talcum powder. There were water guns, buckets, hoses and eskies full of icy cold water ready to drench both expectant and unsuspecting passers-by. It's irrelevant whether you're on foot, cycle, motorcycle or in a tuk tuk, everyone's a target. 
Royal Gardens Concerts
Alongside the river, Royal Gardens were turned into a cross between a huge market and concert arena. Stalls were set up selling everything from mattresses, to household items, to street food. Concert stages also appeared, allowing several bands to entertain the crowds with thumping music of all genres, from Khmer pop to heavy metal.
Surrounding the stages, scores of tables and chairs were set up for people to sit and listen to the music or to enjoy the food and drink on offer from the many different food vendors. For just $2 USD (£1.50) we had a great meal of stir-fried beef with rice, prawn soup, and a bottle of water. fried chicken and roasted chestnuts.
We also sampled fried chicken and roasted chestnuts, all washed down with a couple of Cambodia beers. Sometimes you really can't beat some street food! 
What really struck me was how friendly all the locals were, they were more than happy to involve us and invite us to join in their partying with a "chul moy" ("cheers") or two over a can of beer.
Water and Talcum Powder Fights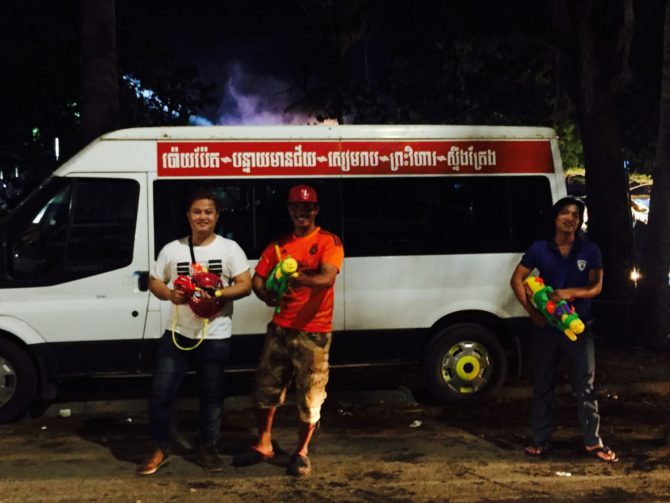 After dark street parties happen all over town, which is when things really get crazy, especially in the touristy areas of Old Market and Pub Street. We'd been warned it was a nightmare but had to see it for ourselves. We ventured out with some friends and made our way along the riverside towards Pub Street.
Within seconds we looked like drowned rats and were covered in talcum powder. There was no malice in it though and everyone was jovial, laughing, and having fun. 
The closer we got to Pub Street, the busier it became, to the point where we struggled to keep track of each other. Pub Street itself was chaotic, as revellers spilt out into the road from bars and restaurants. Loud Khmer New Year songs pumped out from all directions competing with each other for volume.
The entire street was crowded with people shoulder to shoulder, crammed in like a tin of sardines with a big water and talcum powder fight in full flow.
It was a bit much for some of us as you really couldn't move. We soon decided to admit defeat and retreated away from the main strip to the safety of a nearby, less crowded bar.
Angkor Sankranta Festival
Another highlight of Khmer New Year in Siem Reap is the Angkor Sankranta Festival; this festival has taken place in the Angkor Archaeological Park since 2013. It is three days full of events, shows, ceremonies, activities, games, food and drink all set around the stunning Angkor Temples.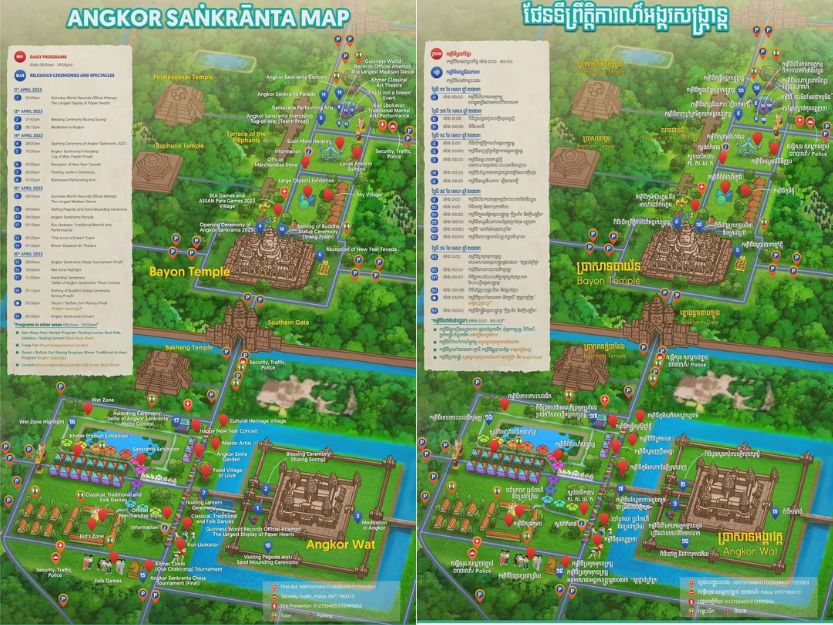 There's always a jam-packed schedule for the three days, but as it's such a challenge to get there and back due to the traffic we just went on the second day of the celebrations.
We got tuk tuks from Siem Reap town which cost $8 USD (£6.20) per tuk tuk and took around 45 minutes to get there. The traffic was pretty bad, especially as we neared the entrance to the Temple complex, but eventually, we made it.
After looking at the map and programme we decided it would be too difficult to try to be in set places at set times, so we opted to just wander to see what was going on.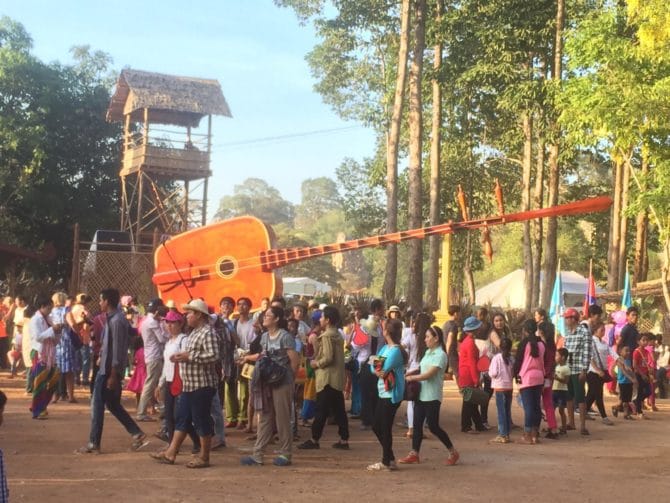 On the opposite side of the moat to Angkor Wat we came across an area with lots of traditional Khmer New Year games taking place; some of us quickly got involved in a giant tug of war. We then watched some other games that were in progress.
Soon after we stumbled upon a traditional music and dance show and were quickly dragged into the centre and encouraged to join in the traditional dancing. After we pottered around a bit more looking and sampling some of the local street food… it was the first time I've ever tried palm fruit.
Next up was a bit of a walk past Terrace of the Elephants and past the Bayon Temple to another section of the Festival. Here they were displaying the Guinness Book of Record attempts for the year. A giant chicken's nest and a giant 'chapei dong veng', which is a traditional two-stringed, long-necked guitar. 
At this point, despite there still being much more to see we decided to head back to Siem Reap in a ploy to avoid the crowds when everyone else left later!
Our ploy wasn't that successful. We managed to find tuk tuks for $10 USD (£7.70) each but they took us the long way round to avoid the worst of the traffic. It took us a good hour and a half to get back to town.
Despite this the journey back was very entertaining, the roads were lined with local families who attacked the passing traffic with deluges of water and showers of talcum powder. There were even groups of people in the back of pickups armed with watery weapons.
It was hilarious (if a little dangerous) and by the time we got back to Siem Reap we were soaked to the skin!
Andy made a vlog on Angkor Sankranta which you may find interesting.
Safety for Khmer New Year in Siem Reap
Khmer New Year in Siem Reap was a really friendly, lively festival to be a part of, but due to the water and talcum powder throwing, and alcohol intake it can also be dangerous on the roads.
There's an increase in road traffic accidents caused by people swerving or being surprised by water attacks when on their motos or cycles. The combination of water and talcum powder also makes the road surface slippery resulting in skidding and crashes, especially when mixed with speeding and drink driving.
Personally, I would avoid riding a bicycle or motorcycle during Khmer New Year. After being squirted directly in the face when riding my bicycle on the first day of the festival and nearly coming off it I decided the bike would remain safely at home for the rest of the celebrations. You also need to stay alert when walking around town as normal road rules don't apply…keep your wits about you.
There's little violent crime during Khmer New Year but one thing to be aware of is an increase in opportunistic pickpockets and bag snatchers, especially in crowds.
There's probably not much chance of it happening but to be on the safe side I'd recommend the following: don't take a bag out with you, don't carry large amounts of money and don't walk around with your camera or phone out.
I actually just stashed my money in my bra and kept my iPhone in the waistband of my jeans. If you take these precautions you should be fine.
One other thing to remember is that Khmer New Year falls at the hottest time of the year, so be sure to drink lots of water and wear sunscreen when out and about.
---
We thoroughly enjoyed our experience of the celebrations for Khmer New Year in Siem Reap, both the traditions and partying. By the time it was over though we were more than ready for a rest.
Have you spent Khmer New Year in Siem Reap or been anywhere else in Cambodia during Khmer New Year?
---
Planning Your Trip to Siem Reap?
Planning your trip to Siem Reap in Cambodia? Here are some of our recommended useful resources to help you have the best time possible.
● TRAVEL INSURANCE IS AN IMPORTANT CONSIDERATION! World Nomads offers cover for travellers in over 100 countries and True Traveller is a great option if you're from the UK or EU.
SafetyWing is another solution, particularly for digital nomads and long-term travellers.
● Find amazing flight deals on Skyscanner,  Kayak, and AirAsia. 
● Compare rental car prices on Rentalcars.com.
● Book buses, taxis, ferries and trains with Camboticket, 12Go Asia, and Bookaway.
● Booking.com usually have the best hotel prices.
● Our go-to for self-catering accommodation is Vrbo.
● Discover fantastic trips and activities with Klook, Viator and GetYourGuide.
● Check out Bookmundi, G Adventures, and  Intrepid Travel for group holidays and tours.
Enjoy this post? Pin in for later!