Affiliate link disclosure: This post may contain affiliate links including Amazon that earn me a small commission, at no extra cost to you. Read more in our full Affiliate Link Disclosure.
Stretching for 48.5 miles through the Norfolk Coast Area of Outstanding Natural Beauty in England is the Norfolk Coast Path. It runs from Hunstanton to Cromer, via Blakeney, one of the prettiest villages in England. It's also often combined with Peddars Way, an inland path which it at Hunstanton. Together they make a 96 mile inland and coastal walk. 
Walking the Norfolk Coast Path from Hunstanton to Brancaster Staithe
I love walking and hiking, as does my Mum, so when Andy and I found ourselves back in the UK earlier this year Mum and I decided to walk the Norfolk Coast Path in stages

. It was also the perfect opportunity for some quality mother-daughter time.
The first stage of our walk was the 7.5 mile stretch from Hunstanton, the most western point of the path, to Brancaster Staithe

. It turned out to be one of the best days out in Norfolk we'd had for quite some time.
How to get to Hunstanton
If you're planning on just doing a day or two-day walk from Hunstanton and have access to a car you can easily drive to Hunstanton. You can park up (many carparks allow overnight parking) and get the Coasthopper bus back when you finished walking. Alternatively, park further along the coast where your days walk ends and Coasthopper it back to your starting point.
Note: From 30th April 2018 the North Norfolk coastal bus service known as Coasthopper changed with the departure of its Stagecoach. The service is now run as a joint venture between Lynx buses who run the service between King's Lynn and Wells under the 'Coastliner' name and Sanders Coaches who run the service between Wells and Cromer under the 'Coasthopper' name.
Without a car or if you're planning to walk for several days it's better to get to and from Hunstanton via public transport. The closest train station to Hunstanton is Kings Lynn, which is accessible by train from Norwich, Cambridge and Peterborough, and from London with a change at Peterborough. Train tickets are often much cheaper if you book them online in advance via Trainline. 
Once in Kings Lynn, the number 34, 35 and 36 (Coastliner) buses run from the bus station to Hunstanton every 15 minutes and costs £3.60 one way. The bus station is easy to find just down the road directly opposite the train station.
Hunstanton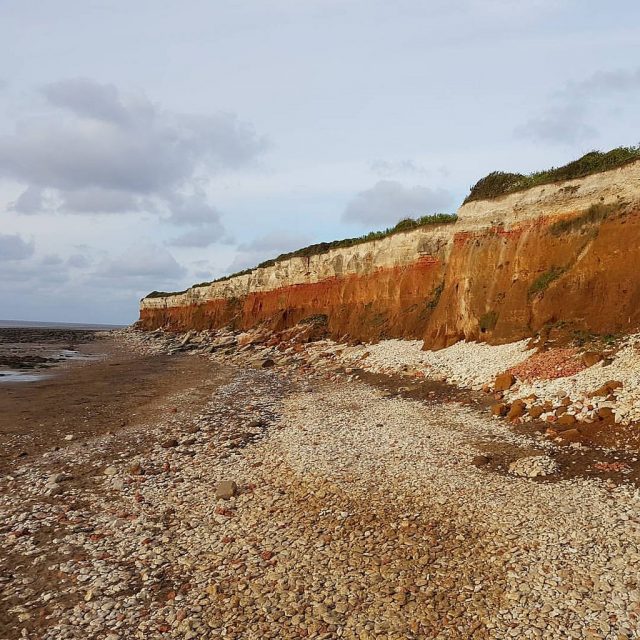 The Victorian seaside town resort of Hunstanton is well known for its red and white striped cliffs topped behind which the town sits. A popular holiday destination, especially for domestic tourists, Hunstanton has plenty to do for all ages. There's the pitch-and-putt, crazy golf, Oasis Leisure Centre and peaceful Esplanade Gardens. There's also a Horticultural Trail you can follow around the towns many pretty gardens in the spring and summer.
Beneath the eye-catching cliffs, Hunstanton's fantastic beach offers perfect conditions for playing or relaxing on the sand, exploring the rock pools, or paddling in the sea

. For those brave enough to face the bracing North sea waters a swim might even be in order.
To the North of Hunstanton is Old Hunstanton which has a quieter village atmosphere to the main resort

. With its carstone cottages and traditional British pubs, it has a much slower laid-back feel to it. You can walk between these two areas of Hunstanton to experience them both.
There's plenty to see and do to keep you occupied for a day or two at least in Hunstanton.

We wished we'd had more time to spend there before starting our walk and if we were to do it again we'd stop over the night before

.
Hunstanton to Holme-Next-the-Sea
We started our Norfolk Coast Path walk on the grassy green at the top of Hunstanton cliffs, from where we picked up the path

.
It was typical Norfolk weather when we set off; grey and overcast, with a sea mist and slight drizzle. We headed northwards across the green and the eroding cliff top.
Moving on, we passed the Old Lighthouse 
between Hunstanton and Old Hunston. It's now a guesthouse and looks like a unique place to spend the night. Despite the grey day, there were several other people out and about; couples and families – some with dogs. A kite or two were soaring high in the sky above the beach.
We followed the path alongside a car park and across sand and grass behind the sand-dunes and colourful beach huts

. The huts were all locked up until high season but still made for some great photos.
A golf club leases out the land to the right of the path and we walked right by the course where several golfers were enjoying a few rounds

. 
We followed the undulating sandy path through the sand dunes. To our left were dense, spiky clumps of marram grass and choppy sea.

Scattered either side of the path were bright wildflowers, including rare yellow cowslips, yellow and purple wild orchids, white and purple clover, and yellow gorse

. So pretty!
After a while, the sandy paths gave way to a more hardcore path, and then onto a boardwalk. The boardwalk took us away from the sea as the estuary and marshland between us got wider. 
This area is home to many species of birds including waders such as the big white egret we spotted, redshanks and curlews
. It's great for birdwatching and we saw several people out with their binoculars.
A bit further on we came across fields full of cattle and horses to the left. Some of the paths are also used as access to the beach by horse-riders. We bumped into a couple of young girls riding horses, all dressed up in pink outfits ''
just
for fun" they told us.
The mist lifted and the weather started to brighten up as we reached Holme Nature Reserve, managed by the
Norfolk Wildlife Trust
. 
There are a variety of coastal habitats there including sand dunes, salt marsh, grazing marsh and freshwater pools
.
The path was firmer here which made the going easier than the previous sandy paths, in some places, there was even a wooden walkway

. 

We then reached Gore point with its signs reminding people to take care not to disturb birds on the shore and not to damage the 150-year-old sand dunes

.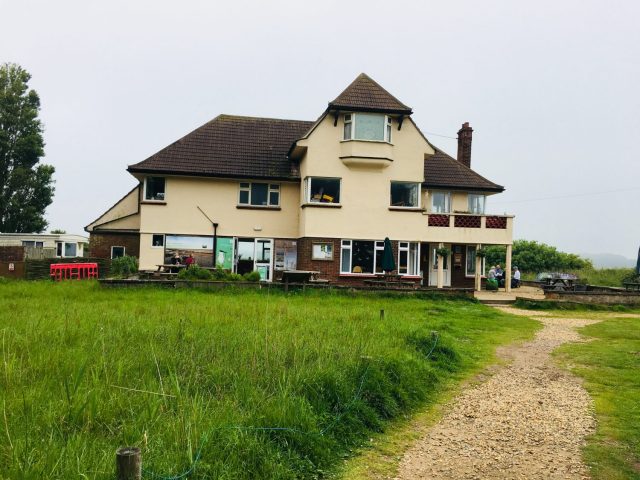 We skirted a short stretch of pine trees and took a right down to the Holme Dunes Visitor centre for a coffee at their picnic tables. The cafe also had a selection of lunch offers, plus other snacks and drinks.
Inside the visitor centre was a small shop and information boards.

We had a quick look round and learnt about the 1998 discovery of a well-preserved Bronze Age timber circle, known as 'Sea Henge'

.

It

was uncovered by

strong tides and is over 4,000 years old; unfortunately, you can no longer see it at Holme as it

was removed

for preservation

.
Holme-Next-the-Sea to Thornham
As the Norfolk Coast path wound further on past Holme-next-the-Sea we walked away from the sand. There were lovely views of fresh-water meadows and salt marshes for miles. We followed the coastline and watched the wading birds that were everywhere.

It's a peaceful spot and when Mum and I stopped our chatter, all we could hear were the birds, the wind and the waves crashing on the shore

.
Walking towards Thornham gave us great views of the estuary with its small boats, and sands and water stretching into the distance

.
The small coastal village of
Thornham 
overlooks the marshes and sea and used to be a smugglers' haunt and prosperous harbour

. It's now the home to the popular Lifeboat Inn, and also has two other pub/ restaurants and a deli.

Birdwatchers, walkers, photographers and artists use Thornham as a base to explore the area

.
Thornham to Brancaster Staithe
Leaving Thornham with the beautiful church on our left we trudged onwards towards Brancaster Staithe. This part was nowhere near as interesting as it had been up until Thornham, the initial walk up a slight incline along a small tarmac lane was pretty dull.

When we stopped for a rest,

however

, we

were treated

to some great views over Thornham, the marshes and down to the sea

.
After about a mile we turned left at a waymarker to follow a track through the countryside.
We passed through

intensively

farmed, open fields (real Norfolk countryside) until we reached a barn with a few birdwatchers hanging around

.  
The track continued on for a couple of miles until we turned a corner and found ourselves facing the sea once again.
We wandered down the track towards Brancaster until we arrived at a crossroads with the village church
directly
ahead.
Crossing the road we passed the church and turned a sharp right onto a path leading behind the salt marsh. Luckily most of the path from that point was a raised boardwalk, otherwise, we'd have gotten very wet feet.
The final stretch, was along boardwalks all the way to Brancaster Staithe harbour, had views over the sand dunes and to Brancaster golf course.

We stopped at Branodunum Roman Fort, but there wasn't much to see because the fort itself was long gone leaving behind just a field of wildflowers and an information board

. Hungry and tired we hurried on towards Brancaster Staithe.
Brancaster Staithe
Finally, we reached the working fishing village of Brancaster Staithe. We had a quick look around the bustling harbour which is also home to Brancaster Staithe sailing club, it was full of lobster pots, fishing nets and fishing boats.
Brancaster Staithe is famous for its shellfish, especially oysters and many local families still make their living from fishing. They sell their catch from shops and stalls at the harbour or on the main road.
There was lots going on and lots to see, the perfect end to the first stage of our Norfolk Coast Path walk.
Where to Stay in Brancaster Staithe
We were hosted for one night in Brancaster Staithe at The White Horse Inn. Read more in our full Product Review Disclosure. 
The White Horse Inn
Not far from Brancaster Staithe harbour is The White Horse Inn, a family run hotel, restaurant and pub. It's ideally situated overlooking the beautiful saltmarshes and coastline of the North Norfolk coast.
Bought as a rundown pub in 1994 by current owners the Nye family, by 1999 The White Horse had been extended and renovated. It now sports 15 bedrooms, a conservatory restaurant with a gorgeous terrace and dining area.
The spacious en-suite rooms are all tastefully decorated in a contemporary style with colours that evoke images of coastal scenes. In high season from April to October prices for mid-week bed and breakfast range from £160 per night for a small double or twin up to £250 per night for the 'Room at the Top' (more about that later)! For weekends add on an extra £10 per night. There are also some dinner, bed and breakfast packages and in low season prices drop – you can check all this in more detail on the website. 
The reception is in the front of the hotel and is reached via a sunken garden and sheltered, heated seating area. In our worn out and dishevelled state we were very happy to be warmly welcomed by the reception staff and checked into our room so quickly. The icing on the cake was to discover we'd been allocated the 'Room at the Top' – what a treat! 
The 'Room at the Top' was one of a kind and we consider ourselves extremely lucky to get the chance to stay in it. It's a split level room with a gable end and viewing balcony offering spectacular panoramic views out over the marshes and coastline.
The big, bright, airy room decorated in blues, whites and natural wood had a comfy kingsize bed with a cosy duvet, pillows and cushions. Near the windows opening onto the balcony was a sofa, making the perfect stop for gazing out the window if it's a bit chilly to stand outside.
On the lower level of the room was a bathroom with a big bath, separate shower, toilet, wash basin and lovely complimentary toiletries. The room also had everything else we needed for a fantastic, relaxing stay. There was a wide screen TV, WiFi, dressing table, chest of drawers, tea and coffee making facilities (even a Nespresso machine and biscuits) and fluffy bathrobes.
The award-winning restaurant over-looks the expansive marshes. On a clear day is the ideal place to enjoy an early evening drink as you watch the sunset on the horizon. Showcasing the catch of local fisherman and other locally sourced ingredients the menu at the White Horse Inn is mouthwatering. In fact, we were spoilt for choice.
We actually chose to eat in the bar to the left of reception just as you enter the inn, you can select from the same menu as in the restaurant which is great. I was sorely tempted to try the oysters but in the end, we both decided to skip starters. We both went straight in with a main of juicy, perfectly cooked rump steak, chunky chips, salad and a side of onion rings. It was so good, just what we needed after our long day of walking. We loved the buzzing friendly atmosphere in the bar, it was really inclusive and welcoming to everyone.
Breakfast in the restaurant was also excellent. There was a continental buffet of cereals, fruits and yoghurt and also the option to select a hot item off the menu. We both went for the smoked haddock benedict which was delicious, which along with a couple of coffees set us up for the rest of the day. 
We absolutely loved our stay at White Horse Inn in Brancaster Staithe. It's a real gem and I'd highly recommend it to anyone who wants to spoil themselves a bit on the North Norfolk Coast. They also put on lots of different events in the summer months such as a Seafood Fest and a Lobster BBQ, yum, I'm definitely tempted.
Other Norfolk Coast Path Accommodation
There's a wide range of Norfolk Coast Path accommodations including bed and breakfasts, guest houses, inns, hostels, self-catering and camping.
Ramblefest has a great article covering accommodation on the Norfolk Coast Path as well as lots more invaluable information on the long distance path. 
We did our walk independently (and will for the other stages) but you can do it as part of a guided group tour. Tour agencies such as Explore Norfolk UK offer a variety of itineraries of different lengths, routes and prices. If you want to do the whole route independently but don't fancy carrying heavy bags you can arrange baggage transfer with HikeHelp and Move My Bags.
Both Mum and I really enjoyed walking the Norfolk Coast Path from Hunstanton to Brancaster Staithe. We're very keen to return soon to complete more of it. That's the beauty of the Norfolk Coast path, you can do as little or as much as you want. Although we'd love to tackle it all at once, for now dipping in and out as we have the time will be just fine for us.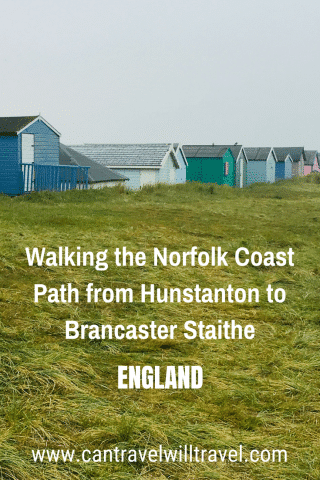 Pin me for later!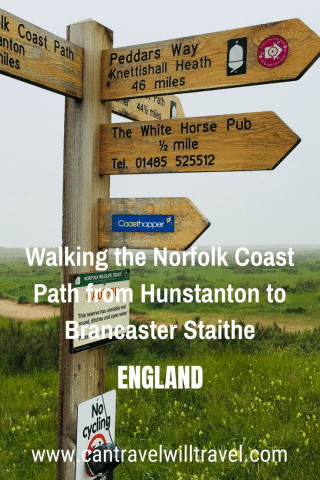 Pin me for later!
Have you done any long distance walks in England that you can recommend to us for once we finish the Norfolk Coast Path? Tell us about it in the comments below.
P.S. Read about two of my other treks via the following links:
Product Review Disclosure: The White Horse Inn provided us with a complimentary one night stay with breakfast. This did not influence my post in any way and as always I've provided a balanced and honest review.