When you think of Greece, what's the first thing that springs to mind? I bet it's the beautiful Greek islands, and rightly so because Greece has over 6,000 of them. The islands are clustered into groups, with only 227 of them inhabited. With such a large number of possible islands to visit, it's very easy for visitors to become overwhelmed. So, with the help of some fellow travel bloggers I wanted to give you the lowdown on some of the most beautiful Greek islands.
This post contains affiliate links. If you use them to make a purchase, we may earn a small commission at no extra cost to you. As an Amazon Associate, we earn from qualifying purchases. Learn more in our Affiliate Link Disclosure.
Beautiful Greek Islands
The Greek islands are clustered into six main groups:
The Argo-Saronic Islands
The Cyclades Islands
The Dodecanese Islands
The Ionian Islands
The Sporades Islands
The North Aegean Islands
Then there are the two largest standalone islands of Greece, Crete with her surrounding islets and Evia (or Euboea).
Here's an overview of some of the most beautiful Greek islands to help inspire you for a trip to Greece. You can either join a group on organised Greece tours, travel independently or maybe charter a yacht.
The Argo-Saronic Islands
The Argo-Saronic Islands are located in the Saronic Gulf after which they are named. They're located not far from mainland Greece, between Piraeus, the port of Athens, and the Northeastern coast of the stunning Peloponnese.
Aegina
by Violeta from Offbeat Greece
Aegina belongs to the Argo-Saronic islands group and it is one of the best destinations in Greece for relaxing on wild beaches, swimming and snorkelling, and in my opinion, most definitely one of the most beautiful islands in Greece.
Even though it is less than one hour by ferry from Piraeus, parts of Aegina remain rather quiet and an off-the-beaten-track island. Aegina has several sandy beaches with sunbeds, umbrellas, restaurants and beach bars, but they are much smaller than the most popular beaches in Crete, for example.
The wild beaches between Aegina Town and Souvala stretch alongside a pine tree forest. The coast is high, but there are stairs and pathways from the main road to the water.
Danae Hotel is one of the best mid-priced hotels on the island. Conveniently located about 10 minutes walk from Aegina Town, this hotel features a swimming pool, a bar and a restaurant where you can have breakfast. There are a few wheelchair-accessible rooms on the ground floor. Danae Hotel has access to a nice and quiet wild beach down the coast. If you prefer a hotel with a private beach, you can check out Lalibay Resort, one of the newest accommodation facilities on the island.
The best things to do on Aegina include visiting the Temple of Aphaia and the Agios Nektarios Monastery, hiking to the top of Mount Oros, enjoying fresh fish and seafood dinners at the restaurant by the Aegina Town fish market, taking boat trips to Moni Island, and tasting fresh pistachios. Sunsets on Aegina are pretty fabulous, too.
Agistri
by Philipp Muders from Journication
Agistri is one of the lesser-known Greek islands and a nice off-the-beaten-track destination. The favourable location in the Saronic Gulf near the larger island of Aegina makes Agistri a great destination for day trips from the Greek capital Athens.
You can get to this beautiful Greek island very easily by speed ferry from Piraeus, the crossing takes a little more than 2 hours.
Agistri is the right choice if you are looking for some peace and diversion from the many sights in Athens. The spotlight here is not on extensive sightseeing, because the list of attractions is quite short.
Thus, you can spend very relaxed days on the small island. On Agistri, there are only seven villages, two taxis and one bus. The island is not overcrowded even in the summertime. On weekends, tourists and locals come from Athens to find relaxation from the crowded streets of the Greek capital on the best beaches of Agistri.
It is particularly advisable to rent a scooter or a bicycle to explore the island. Since it's not really big, you have to plan a maximum of 2 days for this. It is also a very cheap activity because there is no need to spend your budget on fuel for short distances.
After a nice day exploring or on the beach, just walk through the few streets of Skala, Megalochori and Limenaria and enjoy the Mediterranean flair. Recommended on the island are a cup of frappé and a nice fresh seafood dish.
Hydra
by Tanya from My Right Sock
Imagine a European island without blaring horns, traffic lights getting in your way, boats zipping from point to point instead of cars, and nothing but the pleasant sound of the waves in the sea crashing into the shore.
Hydra is one of the few Greek islands which are completely car-free. It is only accessible by sea, and once you get there, you can only move around by water taxi or on foot. Only a small part of the island is inhabited, which means it is easy to walk around the pretty, winding streets of Hydra's main port town.
Hydra is part of the Saronic Islands in the Aegean Sea. While it offers a quieter experience to visitors during the day, it has a bustling nightlife and receives many tourists, local and international. That said, Hydra still remains a jewel shielded from reckless over-tourism.
Visitors can catch a 2-hour ferry ride from the Greek capital of Athens to arrive in Hydra. This is very convenient given the number of low-cost European airlines that fly into Athens. The ferry departs Piraeus port, about five times a day.
Enjoy the unique blend of glamour and laidback tranquillity. Witness the vivid cultural immersion as you notice tall church spires, Byzantine architecture, boutique shops and a colossal waterfront. Make a trip to Hydra's pebbled beaches to soak in some of that Mediterranean sun.
Responsible travel tip: There are donkeys for transport within the island, however, it is best to avoid burdening the already overworked animals and choose to walk, instead.
Pro tip: Like in other parts of Greece, there are a lot of stray cats in Hydra. They don't generally bother you but make sure to steer clear of them as they are often not inoculated. You might also want to keep this in mind if you are allergic.
The Cretan Islands
The Cretan Islands are located in the southern Aegean Sea. Crete is the largest of the Greek islands and has about 80 smaller islands and islets surrounding it.
Crete
by Gabi from The Tiny Book Crete
Among the endless destinations to choose from for a holiday in Greece, Crete is one of the places with a wider variety of things to do, places to see, and adventures to experience.
Greece's biggest island in the southern Aegean Sea has mild weather almost all year round and a summer season that lasts longer than in the rest of the country. The capital of the island, Heraklion, is the fourth Greek city in terms of population and it's also the capital of the homonymous region.
Among the different things, you can do in the area, start by paying a visit to the imposing Palace of Knossos, where the mysterious Minoan civilization strived thousands of years ago. The archaeological site offers an insightful glimpse at what an advanced civilization it was.
Another thing to do in Heraklion is to taste the local wine. Crete is host to four PDO-level appellations: Peza, Arhanes, Dafnes and Sitia, and the first three belong to Heraklion. 12 native grape varieties grow on the island, so a wine-tasting experience in a local winery is something not to be missed.
This region is also home to magnificent beaches, just like the rest of Crete. Head to the southern coast and you'll find the best beaches in Heraklion to lazily bask under the fabulous Mediterranean sun and swim in the crystal waters of the Libyan Sea.
Another region of Crete that's not to be missed is Chania. It has fantastic gorges for hiking, like Samaria and Imbros, and more beautiful famous beaches like Balos Bay and Falassarna.
Then there's Chania city with its gorgeous coastal location in west Crete. It's packed with fascinating history, various architectural styles and absorbing culture. There's a vast range of things to do in Chania, but a good place to start is just wandering the streets of the old town and the charming Venetian harbour.
Chrissi
by Gabi from The Tiny Book Crete
Chrissi is a very tiny beautiful Greek island located off the coast of Crete, on the Libyan Sea. Chrissi Island (also called Gaidorounisi) is a tiny uninhabited island located only 14 km off the coast of Ierapetra, in the south of the island.
Often described as paradise on earth, the island features immaculate white sand beaches and transparent warm waters, and it's a perfect spot to discover the best of Crete's submarine landscape.
No bigger than 2 km wide and 7 km long, the island is a protected reserve featuring a  very rare cedarwood forest (juniper trees) which is believed to be the largest on the continent.
The island is completely uninhabited, and it's possible to visit by daily boat from Ierapetra or Makrigialos, another small southern village. Although there are no places to stay on the island many adventurous travellers choose not to board the last boat back to Crete and spend the night on Chrissi. This is not officially allowed, but it's possible to do so as long as you don't light a fire.
Whether you're going to Chrissi on a day trip or for more, it's important to pack all that you might need since there are no facilities on the island, and this means no roads, no hotels, no bathrooms, and of course, no shops either.
What to do on Chrissi then? Nothing, in particular, just exploring all the different shores and beaches, swimming, suntanning, and disconnecting from the everyday routine surrounded by a completely wild landscape… nothing more, and nothing less!
The Cyclades Islands
The Cyclades Islands are a dense group of over 200 islands in the central Aegean Sea, southeast of mainland Greece.
Andros
The main reason to travel, or even move to Greece is the sheer variety of islands. If you want to relax away from the Ios gap year crowd or the Santorini paparazzi chasers, Andros is ideal for the more reserved traveller.
Andros, a laid-back island in the Cyclades, is a short 1.5-hour ferry from Athens. While Andros gets more crowded during the summer months, it still manages to keep its quaint charm. Maybe because Andros is more about tranquil reflection and nature hikes (18 marked trails crisscross the island for over 100 km) than thumping beach parties, but even during peak tourist season, it's great to come to this island when the weather is nicer. It's definitely one of the most beautiful Greek islands.
Andros has a mix of beautiful Mediterranean beaches. Everywhere you will enjoy the crystal clear waters Greece is known for, but you get a mix of popular sand beaches, quiet pebble getaways, and fascinating rock formations.
If you are looking for chair and umbrella crowds and a family beach vibe, the West Coast between Gavrio Port and Batsi Village has the best sandy beaches.
For quiet lounging, Paralia Fellos offers a bit more privacy on a large pebble beach with some shady trees perfect for relaxing with a good book. 
For character and local lore, head to the southeast of Andros near Korthi to find Tis Grias to Pidima. Translated to "The "Old Lady's Jump," this beach is the most popular Instagrammable spot on the island. The local myth around the rock's name has three origin stories- all involve the macabre tale of an old lady flinging herself to her death from the beach's namesake 50-foot-high rock formation. 
Antiparos
by Paulina from Paulina on the Road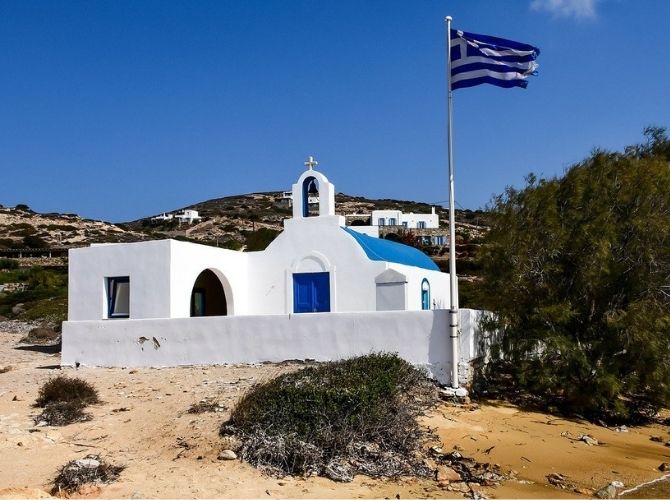 Antiparos is a part of the Cyclades islands in the middle of the Aegean Sea. Visited by only a few, it is one of many true Greek island hidden treasures, and needless to say, that's why many celebrities are a fan of it. It has no airport, and Paros is the only island that links it by ferry. Buses run between the Paros harbour, Parikia, and other villages and travellers can take the car ferry to Antiparos from there.
A small boat also runs between Paros' main harbour, Parikia, and Antiparos, carrying only travellers and no vehicles. This brings you close to some of the best luxury resorts in Paros.
The island's most prominent attractions are its gorgeous beaches, and there are limestone cliffs and sea caves that reflect ancient Greece. The beaches of Antiparos are mainly sandy, with crystal blue seas, and most are near Chora, the island's capital.
There are lots of things to do in Antiparos including visiting the Antiparos cave and Castro and going to Despotiko island.
Where to stay in Antiparos:
For a better alternative, you can also find somewhere to stay in Paros.
What to eat: Some restaurants offering great food are Anargyros, Nautica, and Bougainvilles.
Mykonos
by Chrisoula from Greece Travel Ideas
One of the most well-known beautiful Greek Islands, there are two sides to Mykonos in the Cyclades Islands; the first is the natural beauty, the pretty villages, and the sandy beaches. The other is the vibrant nightlife with international DJs and dancing till dawn.
The main town is Chora (Mykonos Town) and is a labyrinth of white-washed buildings with blue doors and shutters in a sea of bougainvillaea. Above the town stands the iconic 16th-century Venetian windmills that were once flour mills. The church of Panayia Paraportiani is five churches in one and there is an interesting folklore museum next door.
Getting around the island is easy as there are buses leaving from the main square. There are beaches to suit everyone. Paradise Beach is large, with sunbeds, a beach bar serving drinks and snacks, and water sports facilities. In contrast, there are quiet little beaches like Ftellia and Ayios Sostis. Ano Mera is a short bus ride with some interesting places to visit. A boat trip to Delos said to be the birthplace of the twin gods Apollo and Artemis, is a must on any Mykonos itinerary
Mykonos town is a great place to stay, or if you want somewhere quieter, Ornos is better. A must-do is to enjoy fresh fish at Niko's Taverna in Chora – the day's catch (including sea urchins) is displayed on crushed ice at the entrance!
Naxos
by Melissa from The Family Voyage
Some of Greece's most beautiful sandy beaches can be found on the island of Naxos, in the heart of the Cyclades Islands. Naxos is a small, laid-back island with a thousand-year-old castle at the heart of its main town. 
Naxos is easy to access from Athens by a seasonal 40-minute flight or a year-round 3 to 6-hour ferry ride (depending on whether you choose a fast or slow boat). Once there, you can easily enjoy your time without a rental car – though you may opt to use one for a day trip to some of the smaller villages around the island.
While the castle area is a popular area for solo travellers and couples, families often choose to stay closer to the island's famous beaches like Agios Georgious (walking distance from the ferry landing) and Agios Prokopios (accessible by rental car or beach-focused bus service). 
Naxos offers a wonderful balance of lovely sandy beaches, a charmingly walkable town and ancient ruins wherever you look – from the iconic Portara that stands sentinel above town to the Temples of Dionysus and Demeter located a short drive south.
For special meals, try To Elliniko and Strofili. They both offer amazing ambience with food to match. There are plenty of great lunch spots, including Yialos Tavern (where you'll eat with sand between your toes) and budget-friendly Yasouvlaki, along the port. If you're taking a day trip around the island, don't miss its famous kitron liqueur.
Paros
by Jennifer from World On A Whim
Paros is the perfect Greek island to visit if you want to see the traditional Cycladic whitewashed cube houses, but on an island that is more down-to-earth than its counterparts, Mykonos and Santorini.
Arrive in Paros from Athens either by flight or by ferry; it is known as the "port city" for ferries since it's so well connected to the other Greek islands.
The most difficult decision you'll have to make is where to stay in Paros because there are so many phenomenal towns to choose from. If you are looking for the most picturesque spot on the island, then Naousa is a must. From the minute you step foot onto the harbour, you'll be mesmerized by the fishing boats juxtaposed with the bright colours of the Aegean Sea. Personally, I recommend a stay in Parikia, the port town of Paros, because of its proximity to the ferry and the bus station.
So, what are the best things to do on Paros? You'll need to visit Leftkes, the beautiful town high up in the foothills of the island. Rent a quad, wake up at sunrise, and drive to one of the many beaches – Kolymbithres is a favourite – so that you can have it all to yourself. Visit one of the oldest churches in Greece, Panagia Ekatontapiliani or the Church of One Hundred Doors and take a day trip to visit Paros's sister island, Antiparos.
While many travellers spend just a couple of days in Paros, I strongly recommend an extended visit; you won't want to leave once you arrive.
Santorini
by Sarah from Dukes Avenue
Another very well-known of the beautiful Greek islands, Santorini boasts a bounty of historical and natural treasures, so it is easy to understand how it is one of the most visited and prettiest islands in the Cyclades, if not the whole of the Aegean Sea. However, it's also worth noting, that Santorini isn't necessarily for everyone. Whether Santorini is worth it for you, depends on what sort of holiday you're looking for and your expectations.
Many of Santorini's historic towns offer breathtaking sunset vistas from atop cliffs overlooking a central caldera, the site of a massive volcanic eruption thousands of years ago. Walking through the charming cobbled streets of Oia between the white and blue houses, quaint art shops and churches is refreshing, and somewhat like going back in time.
There are ample nature trails available for hikers, and awesome historical sites at the well-preserved Bronze Age Minoan village at Akrotiri, as well as the ancient ruins at Thera.
The food is equally delicious – whether it is grilled freshly caught octopus at Ammoudi Tavern, or the delectable local wine and produce from the volcanic soil at Athenian House in Imerovigli. A catamaran cruise allows you to enjoy the crystal-clear volcanic springs of the caldera, and the island's idyllic red and black sand beaches, whilst you can enjoy wine tours at one of the many excellent small wineries.
One can get to Santorini by plane through Thira International Airport, or by ferry from neighbouring islands or the mainland to Athinios port – careful though, the siren-call of the island may make you wish not to leave!
Syros
by Aimee from Snap Happy Travel
Syros is part of the Cyclades islands, which you've likely heard of because Santorini and Mykonos are also included in this group of islands. Syros's closest neighbour is Mykonos, just a 45-minute ferry ride away. Despite its proximity to one of Greece's most popular tourist destinations, Syros remains off the beaten track. In fact, it's one of the least-visited islands in the region, one of the quieter beautiful Greek Islands.
It's the perfect island to relax on and there are several gorgeous golden sand beaches to laze the day away.  Some of the best beaches on the island include Galissas beach and Armeos beach. A great place to catch the sunset is the tiny whitewashed Agia Pakou church, a short walk from Galissas Beach.
For good food and shopping venture into the sleepy capital city of Ermoupolis which has the perfect mix of laid-back charm and postcard-perfect scenery. Some of the best restaurants on Syros are in Ermoupolis – Taverna To Petrino is a great place to try fresh seafood dishes. History buffs will love Ano Syros – a 13th-century Venetian settlement with winding narrow streets.
To get to Syros you can hop on a ferry from Athens' Piraeus port which takes about 3 hours. You can also fly from Athens to the small airport on the island.
The Dodecanese Islands
The Dodecanese Islands are a group of 15 larger islands and around 150 smaller islands. They're found in the southeastern Aegean Sea between the Cyclades Islands and the coast of Turkey.
Kalymnos
Kalymnos is one of the many islands of the Dodecanese, which despite the name includes many more islands than 12. Kalymnos is one of the least explored and therefore still manages to maintain a simple and authentic air.
Despite being a small island, it has its own airport connecting it to the capital Athens, and of course, a very active port with direct ferry routes to a large number of other islands, making it an excellent option when island hopping. Three or four days is enough to explore the villages, and the beautiful beaches and to find your favourite corner.
The choice is varied, and the ideal is to rent some transport (a moped, if you are a lover of two wheels, is perfect) and set out to explore. Being a predominantly rocky island, many of the beaches are pebble, but despite this one of the most famous, Masouri Beach, offers a beautiful sunset with your feet on the sand. In any case, whether you prefer the more touristic beaches equipped with sunbeds and umbrellas or the more remote and simple ones, you will find the waters crystal clear everywhere.
Last but not least, Kalymnos is the perfect place for rock climbing. In the last decade, the spectacular thrill of climbing the rock faces that fall to the sea has made Kalymnos more famous and touristic. In Masouri you can easily find various offices/tours that organize everything you need for a different experience.
As for the rest, the accommodation options also cover every budget and preference. Try the Apollonia Hotel for cheap accommodation, but with delightful sea view balconies, or if you prefer to enjoy the beauty of the landscape in solitude and peace then the Petra Boutique homes are for you.
Kasos
by Amber from Provocolate
For an unbelievably beautiful Greek island (that's beautiful inside and out), you'll want to visit tiny, remote Kasos, the southernmost of the Dodecanese Islands. Next to Karpathos, it's not far from the eastern shores of Crete. You could fly to Karpathos and take a short ferry ride, but the five-hour ferry voyage from Rhodes adds to the sense of adventure.
Kasos' beauty is rugged and dramatic. The windswept landscape is mountainous, with terraced slopes and splendid views of the South Aegean. Over 100 churches are spread across the island, adding grace to the most distant peaks. 
This island has beautiful, unspoiled beaches of every description. For a secret paradise, hidden coves abound and even the most popular beaches are tranquil. Helatros, on the southwest coast, is in a sheltered cove. Tamarisk trees shade you as you relax after a dip in turquoise waters. Another choice is the famous Marmara beach on the uninhabited island of Armathia across from Fri. Silken white sands and jewel-toned waters will enchant you.
The charming port town of Fri is the capital of Kasos and one of five villages. The food is wonderful – cheeses especially. Pizza di Kasos makes many local specialities like makarounes. There are no chains in Kasos – just local cafes and a handful of small old-fashioned pantopolia – stores that sell 'everything' – from eggplants and peaches to fine local cheeses, to toothpaste and mops.
The people are the real beauty of Kasos. This proud, unspoiled, and decidedly uncommercial island is famous for its warm hospitality. You'll want to stay awhile and the well-appointed Theoxenia apartments are a great choice (you can book through Kasos Tours – same lovely family). Try to time your visit for one of summer's 'panagyria' – festivals honouring the patron saints of the towns.
Kos
by Tristan from Traxplorio
Kos, one of the beautiful Greek islands in the Aegean Sea, is very popular because it is located just in front of Turkey, which makes it possible to visit the beautiful Turkish city of Bodrum. And, vice versa, you can also take the ferry to spend a day on Kos from Bodrum.
Kos isn't a small island, which means you can relax on the beach, or alternatively hike through beautiful mountains. If you want to go directly to Kos, you can use the island's own airport.
Our top 3 recommendations for Kos are:
Visit the sunset in Zia – One of the highlights is a visit to the mountain village of Zia. The village itself is very touristy with many souvenir stores and restaurants. But all very charming! One of the higher restaurants has a breathtakingly beautiful terrace from where you can admire one of the most beautiful sunsets in Greece.
Water activities at Marmari Beach – If you had to choose one beach, we would recommend Marmari Beach (hopefully you will never be forced to choose only one beach in Kos!). ). The reason: Marmari Beach has a gorgeous white sandy beach with beautiful blue water. The numerous activities there make it the perfect beach to spend the whole day.
Taste the Greek hospitality – If at all possible, eat outside of your hotel and you might even get lucky and be invited to a Greek family's home (a small gift is common in Greece). It's best not to eat beforehand. This is not only because you will get plenty of food, but also because it is incredibly delicious and you will surely want to try more.
A good hotel recommendation is Kos Aktis Art Hotel where you can get rooms directly on the beachfront.
Rhodes
by Alice from Adventures of Alice
Rhodes, one of the most beautiful islands in Greece has many great places to visit and is the largest of the Dodecanese islands. Whether you're looking for an easy-going weekend or want to spend the whole day exploring, this island is perfect.
It's one of the most popular tourist destinations in Greece and is made up of two cities: Lindos, on the East coast and Lalyssos, on the West coast. There is also a scattering of towns and villages in between, including the famous Rhodes Old Town which is the oldest medieval town in Europe. This Old Town is one of the best places to explore in Rhodes.
Be sure to visit the Acropolis of Lindos. Perched on top of a magnificent hill and overlooking St Paul's Bay (another top spot to visit and a wonderful place to swim), and the beautiful whitewashed town of Lindos, this is an absolute must-see.
A few of the island's other top attractions include The Street of the Knights, Seven Springs, Rhodes Historical Museum, the Palace of the Grand Master, and the Rhodes Odeon. If you're spending a while on the island, I also recommend taking a day trip to Symi. The tiny island is a classic example of Greece with pastel-coloured buildings and scenic beaches.
The old town is one of the best places to stay as it will put you within walking distance of many of the top attractions and it's simply a beautiful place to spend some time. There is a great selection of boutique hotels and small apartments in the town that are ideal.
When it comes to places to eat, the less touristy the better. Make sure you sample their seafood pasta dishes (utterly delicious, with really fresh seafood); orzo is also delicious and you can't go to Greece and not try the Gyros!
Symi
by Rebecca from Life Beyond Borders
Venetian charm and colourful manor houses spilling down the hillside into the waterfront summarise the beautiful Greek island of Symi perfectly. 
Located in the Dodecanese island chain, Symi benefits from having no airport. It's accessible only by ferry with regular connections from neighbouring Rhodes or from Athens and so, benefits from not attracting a package holiday crowd.
The harbour is divided into a Lower (Gialos) and Upper (Chorio) town by a whopping 500 steps, it's worth the walk up to be rewarded with magnificent views across the island and Southern Aegean sea. Plus there are cute pebbled streets here and traditional houses tucked away, with the occasional café to relax in. Or, save your legs and take a taxi (one of only four on the island) up and walk down.
Beaches tend to be fine coarse sand, or on the pebbly side and are mainly small hidden coves. Nimborio, 3km around the coast from Symi Town, has clean water and a few fish tavernas, plus one of the nicest accommodations on the island, Emporio; a beautiful house lovingly converted into six suites. Other more affordable accommodations can be found in the harbour such as Limani Life which is directly on the harbour's edge.
Enjoy your time exploring this unique gem.
The Ionian Islands
The Ionian Islands are located off the west coast of Greece in the Ionian Sea which they are named after.
Corfu
by Diana from Travel Mad Mum
Corfu has been one of the most popular destinations for guests from the UK and Ireland for many years It is part of the Ionian Islands off the west coast of Greece. While it is not one of the biggest islands, it has its own airport and is also accessible by ferry from some of the other surrounding islands.
Corfu has gained popularity due to its pristine beaches and partly due to the story of the famous Durrell family who moved there from England in the 1930s, "My Family and Other Animals" one of many books based in Greece tells of their adventure and is well worth a read. Beach hopping is one of the most popular things to do in Corfu. Barbati Beach is a hidden gem that is popular with locals. The water is crystal clear and it is set against beautiful white pebbles.
The Old Town is definitely worth a visit. With narrow cobbled streets and plenty of market shops, there is something for everyone. There are lots of restaurants there too. Bizou Cafe is a favourite, especially for vegans. However, even if you are not vegan it has great food at an affordable price.
When Visiting Corfu a chartered boat trip should be on your to-do list. There are many swimming caves, private beaches and diving spots. The boats have everything you need onboard and it is the perfect place to watch the sunset on your way back to shore.
Kefalonia
by Katie from You Me Under The Palm Tree
Kefalonia island is, in our opinion, one the most magical, underrated beautiful Greek islands in the Ionian Sea. With the largest national park on any Greek island and world-famous beaches, this island has it all.
It's perfect for those looking to relax on the beach and explore. It is certainly no party island, which is part of the reason it is so special. Head to Myrtos Beach for the ultimate day of relaxation. This beach sits between two mountains, creating the most dramatic beach. The water contains small parts of Marble that catch the sun as it shines and illuminates like glitter. It's an ideal beach for a day of relaxing!
If you are looking to explore, head to the town of Assos, this picturesque village is full of Venetian architecture and colourful houses that line the water's edge. Although this village is only small, it packs a punch, and it is a beautiful way to spend your day.
Kefalonia has its own airport, so you can fly directly to this magical island. We chose to stay in the town of Fiskardo. An incredible hotel on this part of the island is Emelisse Nature Resort
Lefkada
An ideal destination both for families and couples, Lefkada is an Ionian island 5 hours from Athens. It is easy to get to by car as it is connected to mainland Greece by a bridge. Its most well-known beaches are Egremni (only accessible by boat), Porto Katsiki, Kathisma and Vasiliki – an ideal destination for surfing lovers!
To get a real sense of the island vibe on Lefkada, make sure you spend an evening in Old Town. Another great suggestion is to head to Nydri (a quick 30-minute drive from the island capital) where you can visit the Dimossary waterfalls.
When it comes to food, Lefkada is famous for the amazing pasta and pizza you can taste at Pomodoro in Nydri, or, savour some classic Greek food at Nissi Mediterranean Cuisine. For an amazing stay, Mia's Place, located 5 minutes from the Old Town, is a great choice!
While visiting Lefkada, take a day trip to cruise secluded beaches, the famous Island of Skorpios, or visit other nearby islands including Kefalonia and Ithaca, where you can swim at a private beach!
To experience the magic of Greek mountains, you could also visit Karpenisi, just 2.5 hours away from Lefkada. And don't forget to visit the Venetian Castle, Agia Mavra, before you leave!
Zakynthos (Zante)
by Mary from DIVEIN.com
Zakynthos or Zante (its Italian name by which it's more commonly known), is one of the beautiful Greek islands located on the country's western coast. It is part of the Ionian Islands group and it attracts many tourists every year thanks to the amazing beaches, crystal blue water, and generally rich tourist offerings. 
Zakynthos became one of the classical Greek postcard destinations mainly thanks to the famous Navagio beach. This beautiful cove is like something only seen in a movie set, white sand, unnaturally blue sea and an old rusty ship stranded on the beach. However unrealistic it may seem it is 100% natural. White cliffs rise high around it, so the beach is only accessible by boat.
Laganas is a famous party destination and a "pilgrimage" site for many youngsters looking to party day and night. It is located in the southern part of the island in a large lagoon. Laganas has a beautiful long sandy beach and the entire bay of Laganas is part of the Marine Park of Zakynthos as an important habitat for endangered sea turtles.
Those looking for a quieter and more relaxing destination will enjoy the eastern coast of the island better. Quiet and more family-oriented little towns like Tsilivi and Alykes offer abundant resorts and affordable apartments for renting. They are also blessed with beautiful long sandy beaches, where you can enjoy amazing food in one of the many tavernas. Perhaps you could also try some of the water sports, such as an amazing kayaking adventure right from the beach.
Zakynthos is an amazing island offering classical Greek hospitality, charming tavernas by the sea, amazing food topped with the finest Greek olive oil, natural attractions and great diversity that will leave no one disappointed.
The North Aegean Islands
The Northern Aegean Islands are a loosely scattered group in the North Aegean Sea. Most of them belong to Greece, but a few belong to Turkey.
Ikaria
by Patrice from Cardmom Magazine
Ikaria is a small beautiful Greek island in the Eastern Aegean that's become famous as a Blue Zone, known for the longevity of its residents and its healthy diet. While you're there, be sure to sample the local honey, wines, cheeses, and fruits at one of the many small shops or cafes. The Afianes wines and kathoura goat cheese are particularly delicious.
There's more to Ikaria than just the food, however. Ikaria is a low-key choice for visitors looking to experience Greece without the traditional tourist bustle.
Soak up the sun on one of the island's beaches, explore the local villages, go surfing on Messakti Beach, indulge in the hot mineral springs in the spa town of Therma, or participate in one of the many festivals (panagiria) that feature live music, dance, wine, and food.
When looking for a place to stay, consider the Cavos Bay Hotel for its great views of the Aegean Sea. The Erofili Beach Hotel is another good choice.
You can reach Ikaria from Athens by plane in an hour or by an 11-hour ferry journey. Depending on the time of year, transportation may also be available from other islands.
Milos
by Isabel from Bel Around The World
Unlike its more popular Aegean counterparts Santorini and Mykonos, the tranquil Greek island of Milos attracts visitors for its quiet charm. People flock to the island, many via the Milos to Athens ferry for its peacefulness, to lounge on its warm beaches and to take in the tranquillity of the turquoise Aegean Sea.
Contrary to the touristy islands that boast tons of things to do, see and shop, this peaceful, laidback island attracts those who enjoy their days lounging on the seabeds and disconnecting from the hubbub of everyday life.
While on Milos, you can't miss taking a boat tour to the surrounding islands, especially at sunset. The turquoise water of the Aegean Sea has a captivating effect that mesmerizes everyone who greets it.
While exploring inland, meander your way around the six villages on Milos to fully immerse yourself in everything this exquisite island has to offer. Popular villages you cannot miss are Adamas, Plaka and Pollonia. While you're at it, give their seafood a taste – it'll be some of the freshest you've tasted in your life.
You can get around Milos easily by public buses, renting an ATV or a car.
Samothraki
by Anda from Travel for a while
Samothraki is one of the most off-the-beaten-path beautiful Greek islands. It's located in the North Aegean, and you can only access it by ferry from Alexandroupoli, therefore it's a well-kept secret from the masses of tourists that visit Greece every year.
However, if you like a quiet vacation with lots of exploring options, then it's worth the extra miles to get to Samothraki.
The most famous attraction is Samothraki island is the Sanctuary of the Great Gods. You can still visit the ruins of this ancient place of initiation in the northern part of the island. Another place you must visit is a traditional village inland, Chora. 
The beaches on Samothraki are hard to get to, so they are rarely crowded. Don't expect too many amenities, just sand, clear waters, and some quality time with your family or friends. 
If you love hiking, you can explore the trails leading to the highest peak of Mt. Saos, at 1600m of altitude. 
You can stay either in Kamariotissa where the ferry arrives or on the northern part of the island, close to Therma. As you might expect in Greece, the food is amazing in Samothraki. Focus on fresh seafood, but don't ignore the Greek specialities either.
Thassos
by Raluca from Travel With A Spin
Thassos is the northernmost Greek island in the Aegean Sea, very close to the mainland. Due to the location, it can be easily reached by ferry from Kavala or Keramoti. The island makes a great destination for families and couples looking to relax, hike, enjoy the water and sun or enrich their culture.
Thassos has fertile volcanic soil and a mountainous landscape, thus the rich vegetation which brought it the nickname of the Emerald Island. It is a great destination for hikers who can follow paths to abandoned quaint villages in the middle of the mountains, caves, springs and lakes.
People more into culture and history shouldn't miss the opportunity to visit the Roman Amphitheater in Limenas, the 1000-year-old marble quarry and ruins in Aliki or the villages Theologus and Panagia. Both will treat you with traditional architecture, narrow paved streets and stone-made houses with grey-tiled roofs.
Thassos also has many beautiful beaches. The best one for sun lovers is Golden Beach, a 4km long white sand stripe with shallow waters, ideal for swimming. Unusual Saliara Beach shouldn't be missed either. Made out of small marble pieces from the nearby excavation, it's fascinating to watch and offer the island's best snorkelling opportunities.
The best bases for couples are Skala Prinos and Limenaria, while Potos, Golden Beach and Thassos are more suited for families and Pefkari targets older people. Regarding food, one can't go wrong with Elena Tavern in Panagia, Stelakis in Limenaria or Stelios in Theologus. All three offer both delicious food and great service.
The Sporades Islands
The Sporades Islands is a lesser-known, small group of islands located off the coast of Evia (Euboea) and the Ionian Islands in the northwest Aegean Sea.
Skopelos
Skopelos is one of the greenest and prettiest Greek islands belonging to the Sporades complex in the Aegean Sea. Largely unexplored by tourists, the island is a great getaway for families or people looking for a more relaxed vacation discovering its wild beauty.
Travel to Skopelos by boat from the Piraeus or Rafina ports, or, drive to a port closer to Skopelos such as Kymi in Euvoia or Agios Konstantinos in Fthiotida.
The waters surrounding Skopelos are crystal blue with sandy or pebbled beaches. The most famous beach is Kastani, where a scene from Mamma Mia was filmed! But don't miss other hidden gems like Stafilos, Agnontas, Panormos or Milia beaches, which are just as beautiful.
If you like relaxed evening walks, staying in Skopelos town is highly recommended. Every visitor should pay a visit to Glossa, and try the amazing food in Agnanti! We also recommend the original Greek culinary experience offered at Anatoli (in Skopelos) or Korali (in Agnontas). Don't forget to try the famous strifti cheese pie! And no trip is complete without savouring a cocktail in Vrachos in front of panoramic views of Skopelos town.
How to Get to The Greek Islands
The smaller Greek islands can be reached by a combination of plane and ferries, although ferry frequency and timetables do change depending on the season. The best place to check out ferry routes, timetables, and prices, and to book tickets is online at Ferryhopper.
Some of the bigger Greek islands have their own airports, such as Crete, Mykonos, and Santorini, to name just a few), and can be reached directly (or via Athens) by plane.
Where to Stay on The Greek Islands
There's a huge variety of accommodation to choose from on the Greek islands. There's something to suit everyone's taste, style and budget so it's really all down to your personal preferences as to where you choose to stay.
Personally, we usually book our accommodation through Booking[.]com and sometimes Vrbo if we want somewhere all to ourselves. You can see loads of options for these on the map below.
Alternatively, you can search for accommodation and book via the buttons below:
So, there you are, a great selection of the most beautiful Greek islands to tempt and inspire you to do some Greek island hopping.
Of course, this list is far from exhaustive but we fully plan to add more to it ourselves as we explore more of Greece, so watch this space.
---
Have you visited any beautiful Greek Islands? If so which was your favourite and why?
If you haven't been yet which would you most like to visit?
Planning Your Trip to Greece?
Planning your trip to some islands in Greece and wondering what to pack? Here's a Greece packing list to help.
Below are also some of our recommended useful resources to help you have the best time possible on the islands in Greece.
Enjoy this post? Pin it for later!
Sponsored Post Disclosure: This post has been partially sponsored by Indus Travels. Read more in our full Sponsored Post Disclosure.