Nafplio in Greece is located in the region of Argolis in eastern Peloponnese. It's a charming coastal city known for its unique architecture, stunning coastline, rich history, and breathtaking scenery.
Whilst many people visit Nafplio on a day trip from Athens, this only gives you time to scratch the surface. During our two and a half years of living in Greece, we've visited Nafplio many times on both day trips and for long weekends and we still find new things to see and do each visit.
On the most recent trip, I was hosted for three days by Mythical Peloponnese, Penguin Travels, and their partners in anticipation of the upcoming TBEX Europe 2023 to be held in Kalamata in Peloponnese.
In this travel guide, I share a brief history of Nafplio, then take you on a journey highlighting the best things to do in Nafplio and nearby, plus a few recommendations of places to eat, and stay!
This post contains affiliate links. If you use them to make a purchase, we may earn a small commission at no extra cost to you. As an Amazon Associate, we earn from qualifying purchases. Learn more in our Affiliate Link Disclosure.
A Brief History of Nafplio
Nafplio (Ναύπλιο), also known as Nafplion, has a rich history that dates back over 3,000 years. The town was originally named Nauplia and was a major centre of the ancient Mycenaean civilization. During the Greek classical era, it was a prominent city-state and a strategic hub for the Greek army during the Peloponnesian War.
After the fall of the Byzantine Empire, Nafplio became the first capital of the newly established Greek state and served as a political and cultural centre for more than two decades. During this time, the city was fortified with castles and walls to protect it from invasions and pirate attacks.
In the 19th century, Nafplio declined as the capital was moved to Athens. However, it was during this period that the city's unique architectural style and beautiful beaches began to attract visitors from around the world. In the late 20th century, the city's popularity as a tourist destination continued to grow, and today it is one of Greece's most beautiful cities.
Despite its growth, Nafplio has managed to maintain its traditional Greek character, and visitors can still experience the authentic charm of the city through its narrow streets, historic buildings, and beautiful beaches.
19 Great Things to Do in Nafplio City
As I mentioned above, it is possible to visit Nafplio from Athens for the day, either with a rental car or on a guided day tour often combined with other nearby sites and attractions.
However, to really get to experience and enjoy all this beautiful city and some of the surrounding region has to offer you should try to stay at least three days.
Here are some of the best things we've discovered to do in and around Nafplio in Peloponnese, Greece.
1. Climb the Steps to Palamidi Castle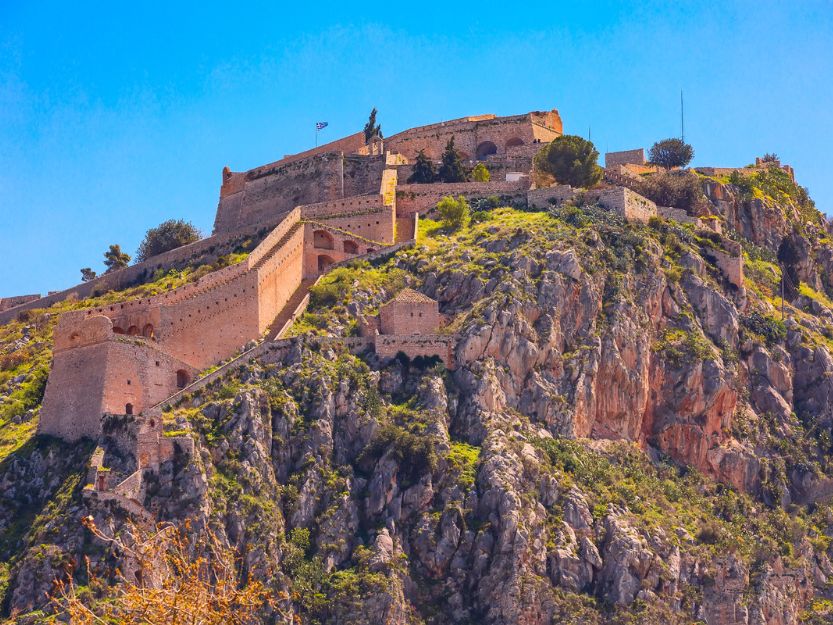 The most famous landmark in Nafplio is Palamidi Castle, built in 1846 by the Venetians. It sits on top of a hill overlooking the city and can be reached by road or by climbing the long stone staircase.
Legend has it that there are 999 steps up to Palamidi castle and that there were originally 1,000 but the last was destroyed by Kolokotronis' horse. In reality, there are 857 steps which were built by prisoners during Otto's reign.
It's a long climb up all those steps and you're guaranteed to have sore calves the next day, but the views from the top are well worth the effort. Exploring the castle is good fun too.
2. Wander the Cobbled Streets of Nafplio Old Town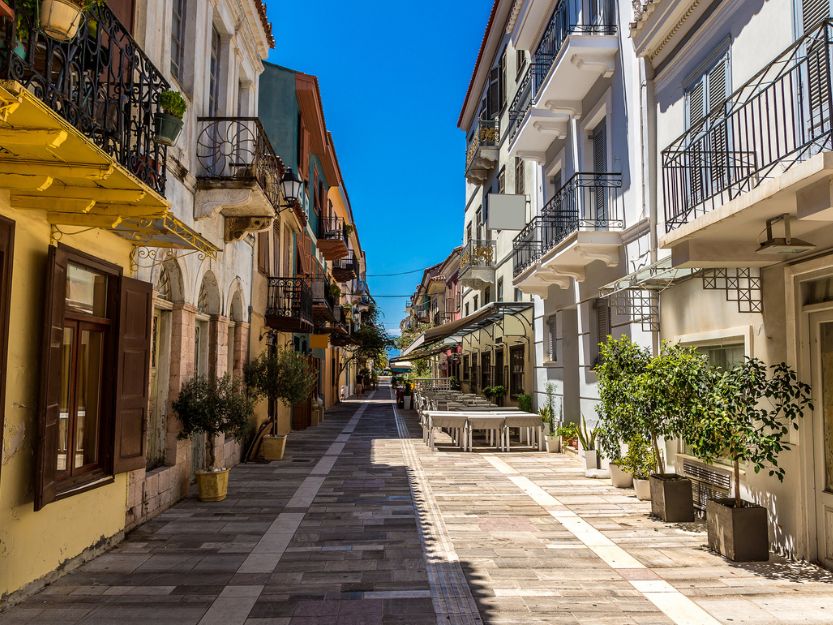 One of the best ways to experience Nafplio's charming atmosphere is to simply wander its cobbled streets.
The city's old town is filled with narrow alleys, colourful neoclassical architecture, plus plenty of history and culture. And, of course, lots of cats.
3. Visit Vouleftiko – The First Parliament Building of Greece
Vouleftiko, located in Nafplio, is a historic building that has played a significant role in Greece's political and cultural history.
Originally built as a mosque during the second Turkish occupation, today Vouleftiko serves as a conference room, hosting congresses, book presentations, and speeches among other events.
The building also has the Municipal Gallery on its ground floor, showcasing works of talented Greek artists.
4. Hang Out in Syntagma Square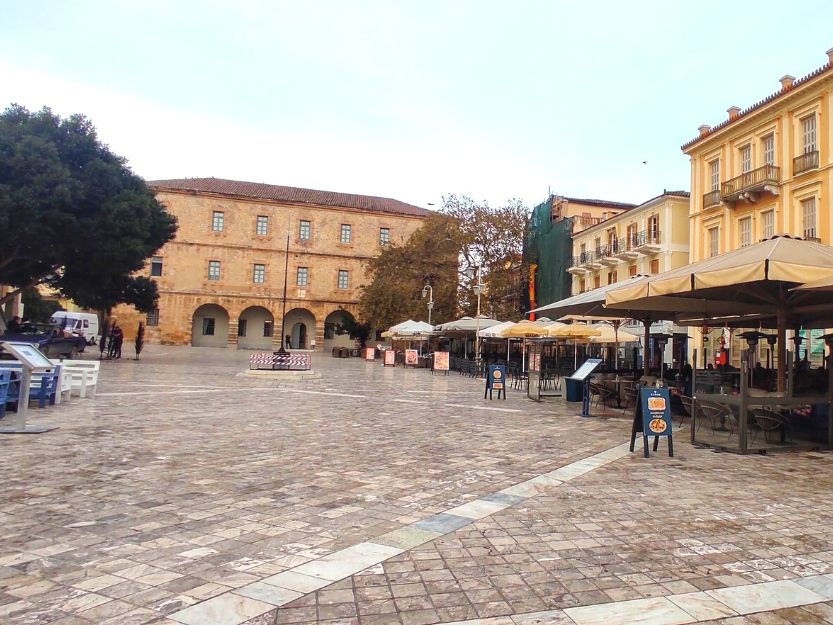 Syntagma Square is the central square of Nafplio and is a popular gathering place for locals and visitors alike. From the square, you can also catch a glimpse of the Trianon Mosque.
The square is surrounded by cafes, restaurants, and shops, making it a great place to relax, people-watch, and soak up the city's energy.
Take your time and explore, soaking up the atmosphere and enjoying the sights and sounds of this beautiful old town.
5. Stop by Saint Spyridon Church
Saint Spyridon Church is one of the most important religious sites in Nafplio, Greece. This church is dedicated to Saint Spyridion, who was a bishop in the city during the 4th century.
The building itself is a beautiful example of religious architecture and its long history has made it an important landmark in Nafplio.
The interior of the church is also beautiful, with stunning frescoes, ornate wooden carvings, and intricate details.
6. Learn About Nafplio's History in its Museums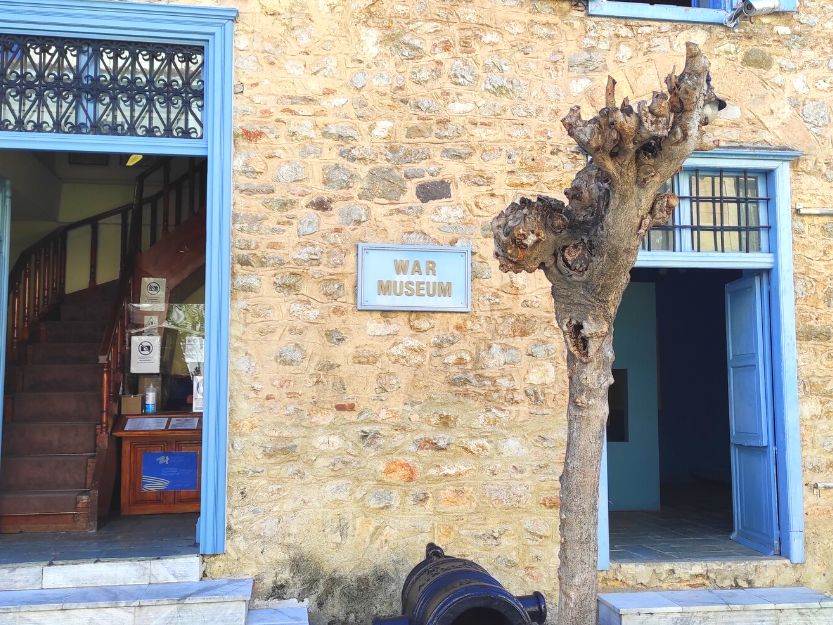 There are several museums in Nafplio that tell the story of the city's rich history and are worth a visit if you have time.
The War Museum
The War Museum is dedicated to preserving the memory of the Greek War of Independence and the Balkan Wars.
This is Andy's favourite museum in Nafplio as it has a particularly fine collection of historic firearms, along with other artefacts, such as uniforms and documents.
Together these all help explain the important role that Nafplio played in the wars and the impact they had on the region.
Archaeological Museum of Nafplio
The Archaeological Museum of Nafplio is located in the old town and showcases the history of the region from ancient times to the Roman period.
This museum is home to a collection of ancient artefacts, including pottery, sculptures, and coins, which provide insight into the daily life and culture of the region's ancient inhabitants.
Basil Papantoniou Museum
The Basil Papantoniou Museum (previously known as the Peloponnese Folklore Foundation) aims to preserve the cultural heritage of Nafplio.
This museum has a collection of traditional costumes and textiles, toys, weaving looms, furniture, paintings and sculptures that highlight the cultural and artistic achievements of the region.
Komboloi Museum
The small Komboloi Museum houses a curated collection of Greek worry beads called 'komboloi' from the 1700s to the present day.
These beads have a rich cultural history in Greece, and the museum showcases the different types of worry beads, their evolution over time, and their significance in Greek culture.
7. Find the Land Gate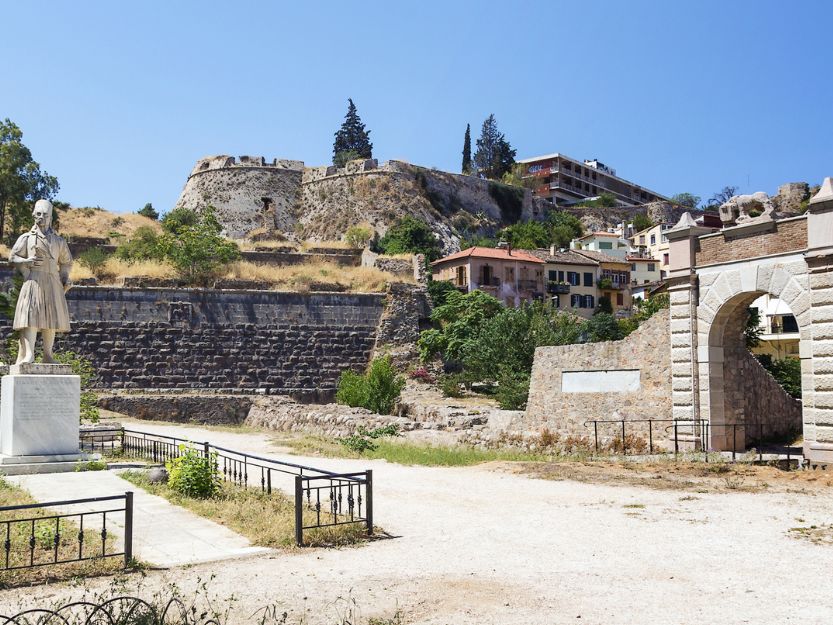 8. Spot the Lion of the Bavarians
The Lion of the Bavarians is a huge sculpture commissioned by King Lewis, Otto's father and created by German sculptor Siegel in 1836.
The sleeping lion sculpture, carved right into the rock face was created to remember the Bavarian soldiers who fought for Greek Independence and died of typhoid between 1833 and 1834. It's a symbol of the strong ties between Greece and Bavaria.
9. Stroll Around Nafplio Port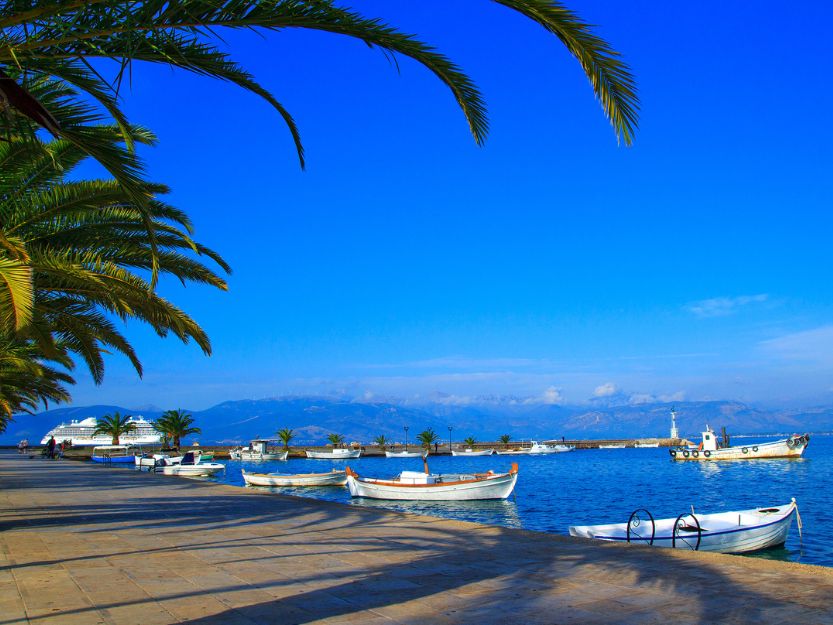 Nafplio port is one of the most picturesque spots in the city offering great views of the sea, Bourtzi Castle and surrounding hills.
Taking a stroll around the port, either by the waterside or along the tree-lined promenade is a lovely way to spend some time, especially on a sunny day. Walking to the end of the long jetty gives you lovely views of Bourtzi fortress out to sea and back inland views of Nafplio Old Town.
Along the waterfront are plenty of tavernas and cafes where you can stop for a meal, coffee or drinks.
Nafplio port is a stop-off for cruise ships and in the summer months, you'll see yachts of all sizes lining the harbour, from small catamarans to huge luxury super yachts. It's also host to the Annual Mediterranean Yacht Show, which is quite the spectacle.
10. Take a Boat Ride to Bourtzi Castle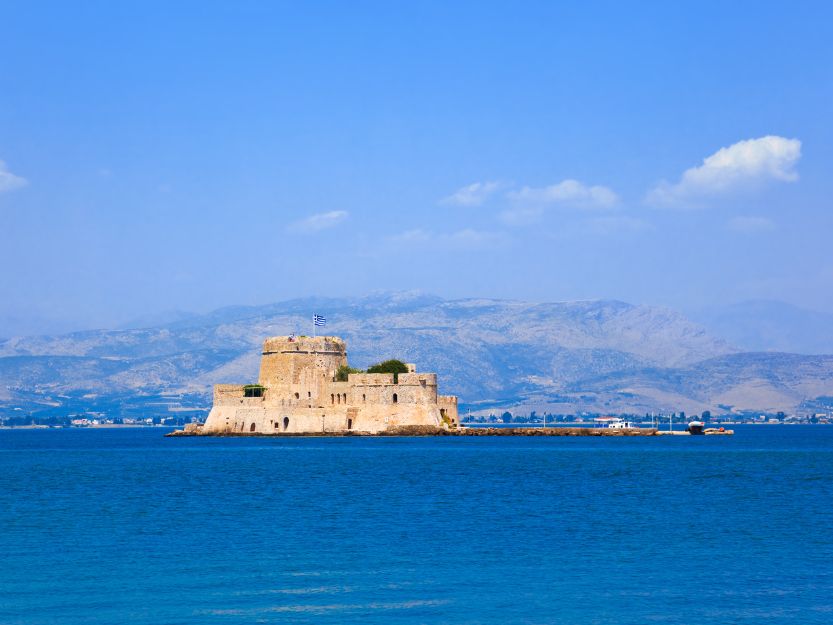 Located on a small island in Nafplio harbour is Bourtzi Castle which was built in 1471 by the Venetians. It was also once the home of the city's executioner and then from 1930 to 1970, it was a hotel. Today, it's mainly a tourist attraction and occasionally hosts music festivals.
Whilst in the winter you'll have to be satisfied with viewing the castle from a distance, in the summer months it's possible to take a boat ride out to it. The boats run fairly regularly from the port, you'll see a sign near the waterside with more details.
The best time to visit Bourtzi Castle is at sunset so you can enjoy the sunset view over Nafplio city.
11. Relax and Swim at Nafplio's Beaches or Lido
Nafplio is surrounded by beautiful beaches, some pebbled and some sandy, where you can relax and swim in the gorgeous crystal-clear blue water. These include Arvanita Beach, Karathona Beach and Neraki Beach, each with its own unique features and charm (more about them later).
There is also Banieres, Nafplio's old Lido, a historic artificial swimming area with walled edges to protect from waves. It's close to the old town, at the foot of Akronafpila, so perfect if you're staying nearby and want a quick dip, or to swim some lengths as some locals do in the mornings.
If you have a rental car (or are happy to get a taxi or bus), you could also visit the long, sandy beach of Tolo, about 12km from Nafplio. Be aware though that this beach gets very crowded with both international and domestic tourists in the summer. It was too busy for us in July, but in the low season, I think it would be a lovely spot to relax and swim.
12. Walk the Arvanitia Promenade to Arvanitia Beach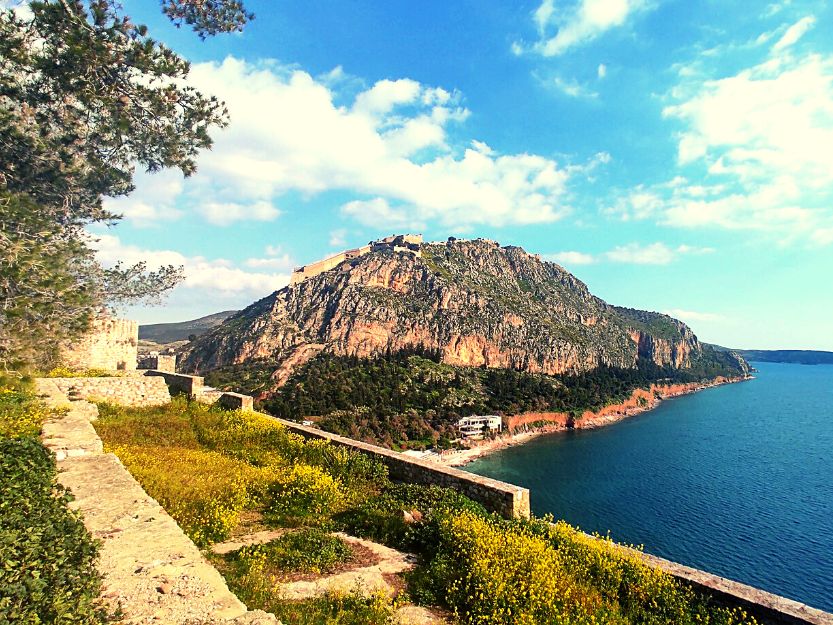 The Arvanitia Promenade is a scenic pathway that connects the port with Arvanitia Beach. It runs about 1km next to the sea around (and carved through) Akronafplia rock. It's a popular spot for walking, jogging, and cycling, with amazing views of the sea and the surrounding hills.
Along the walk, are huge prickly pear cacti clinging to the rocky soil on either side of the path, hidden swimming spots, and vast orange-red rocks that are popular with rock climbers.
About halfway through the walk is a small chapel perched on the rocks which locals believe was a 'forbidden school' that taught Greek during the Ottoman occupation.
At the end of the walk is the beautiful Arvanitia Beach which is popular for swimming and sunbathing. There are toilets, changing rooms and showers, and in the warmer months, there are also sunbeds and parasols available and a little cafe.
13. Hike from Arvanitia to Karathona Beach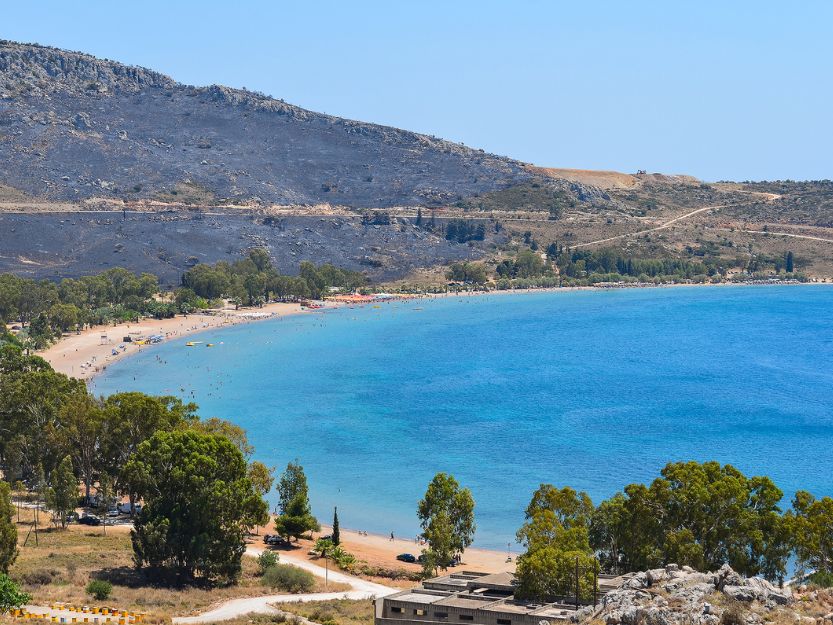 From the large car park at Arvanitia Beach, you can hike about 2.7km to the 'Blue Flag' accredited Karathona beach.
The easy hike meanders southwards along a sand and dirt path that offers breathtaking sea views of the Argolic Gulf at different levels. Halfway through the hike, you'll pass by Neraki Beach, a small pebbled beach perfect for a quick dip.
This hike ends at the long, sandy Karathonas beach, Nafplio's main beach. During summer this beach is full of sunbeds and parasols with some places to get food and drinks but in the low season, it's much quieter. There's also the possibility of lots of watersports – more on that below.
If you want to hike a little further, you can continue behind the Karathonas beach to Agios Nikolaos church. This little white church sits at the top of some whitewashed steps on a windy hill with more fantastic sea views.
14. Watersports
Whether you're an experienced watersports enthusiast or just looking for a fun or adrenaline-filled day out, there are watersport options for everyone in Nafplio.
Nafplio Watersports located on Karathonas Beach offers a range of 16 exciting watersports activities, including windsurfing, kayaking, jet skiing, and paddleboarding.
You could also do this Medieval Castles Sea-kaying Excursion which looks great fun!
15. Discover Akronafplia Castle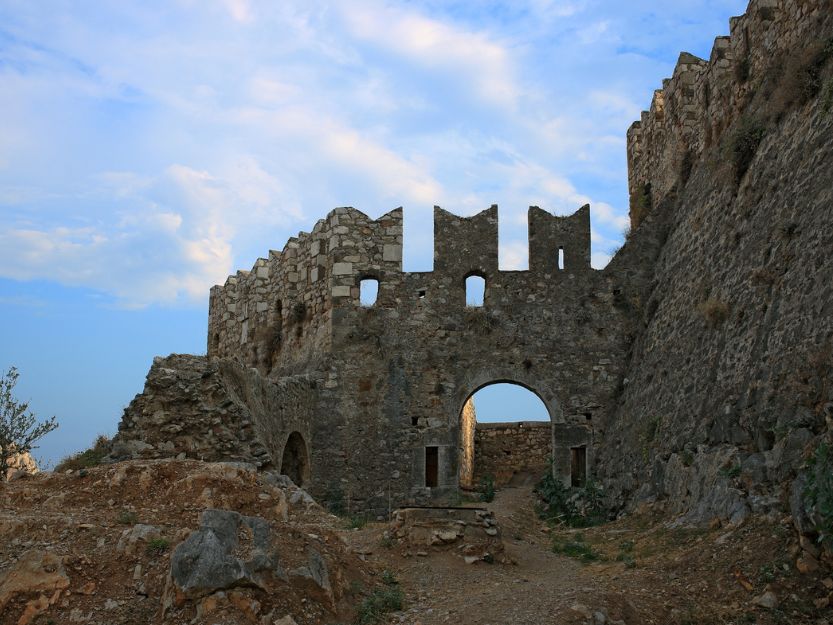 Although not as popular or well-preserved as Palamidi Castle, Akronafplia Castle is the oldest of the three castles in Nafplio. Once occupied by the Romans, Byzantines, Franks and Venetians, Akronafplia has a very rich history.
It was abandoned when the Venetians built Palamidi Castle and subsequently knocked down and converted into a hotel, although that too was subsequently abandoned.
Not a lot remains of either the castle or the hotel these days but it's still worth a visit to explore the ruined fortifications and learn more about the history.
There are also impressive views of the old town, Bourtzi Castle and the sea and surrounding mountains. And, if you time your visit right you can enjoy a beautiful sunset from the top of the hill.
16. Take a Guided Walking Tour of Nafplio
Whilst it's fun to explore Nafplio independently, to truly experience the rich history and culture of Nafplio, I'd highly recommend a guided walking tour. Penguin Travels took us on a walking tour of the city and I learned so much more than I had found out on previous visits with Andy when we just wandered about by ourselves.
A good guided walking tour will take you through the streets of Nafplio, visiting its most important landmarks and historical sites, including Palamidi Castle and the First Parliament Building of Greece. You'll learn about the city's history and culture, and get a deeper understanding of Nafplio's significance in Greece's rich history.
You can arrange a walking tour once you arrive in Nafplio from one of the tour agencies or book one online in advance.
17. Nafplio Hop-On Hop-Off Bus
If walking isn't your thing another easy way of seeing the main sites of Nafplio is on the hop-on, hop-off tourist bus which operates in the summer months
It runs from 11 am to 5 pm, with five stops including Palamidi and Akronafplia Castles, so you can skip those steps.
18. Browse Nafplio Market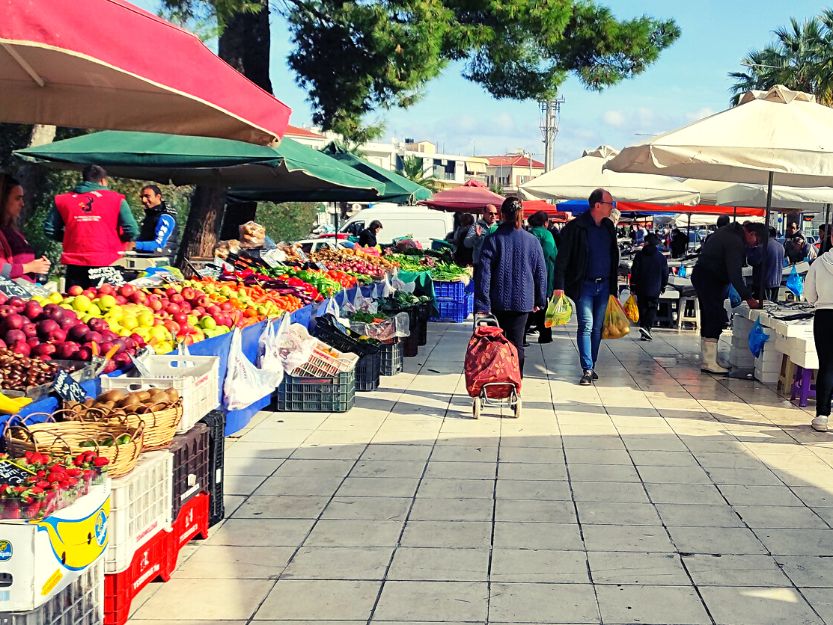 If the timing of your visit to Nafplio is right, be sure to visit Nafplio's huge bustling local farmers market. It's held on 25 Martiou Street at the base of Palamidi Castle every Wednesday and Saturday morning from 7 am to 2:30 pm.
There you'll find where you'll find stalls selling the freshest local produce, including fruits and vegetables straight from the fields. This is the go-to market for locals to buy their weekly supplies, as prices here are lower than in stores.
Browse the stalls for not just fresh produce, but also wine, olives, honey, tsipouro, sweets, pickled capers, dried herbs, fish and seafood, clothing, fabrics, homewares and tablecloths. It's a great way to get a feel for 'the real Greece'
19. Spot Flamingoes at Nafplio Wetlands (Nea Kios)
Nafplio Wetlands (Nea Kios) is a natural reserve located just a few kilometres from the city. It is a sanctuary for migratory birds, especially flamingoes.
This protected area is one of the most important birdwatching sites in Greece and a must-visit destination for bird lovers. If you visit Nafplio in the Autumn you may just get lucky and spot some of our pink feathered friends, along with many other species of birds.
You could also take a picnic and enjoy the serene atmosphere of the wetlands surrounded by the natural beauty of the area.
Explore More of the Peloponnese
Despite the plethora of things to do in Nafplio city itself, if you have time it's well worth exploring more of the Peloponnese, using Nafplio as your base.
There are a vast number of places to visit and things to do within an hour or two's drive from Nafplio. Although some can be reached by public transport, or private tour, by far the easiest way to explore is with a rental car.
There are far too many places you could visit from Nafplio to fully cover in this post, so stay tuned for a dedicated post on half and full-day trips from Nafplio. It will include our stomping ground of Ermionida (Ermioni, Porto Cheli, Kilada and of course Dydima), the Saronic Islands and archaeological sites like the Ancient Theatre of Epidaurus, Mystras and Tyrins.
For now though, below are some of the trips we took from Nafplio with Mythical Peloponnese and Penguin Travels which are good options for visitors to Nafplio.
Discover Mycenae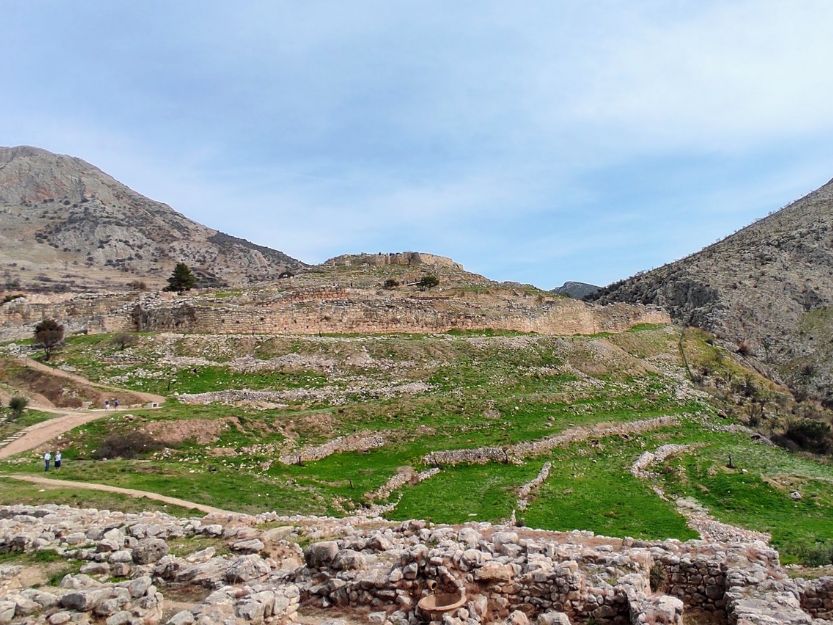 Located just a short drive from or a bus ride from Nafplio is the archaeological site of Mycenae. Declared a UNESCO World Heritage Site in 1999, it is one of the most important archaeological sites in Greece. It's the birthplace of the Mycenaean civilisation and is associated with the mythical king 'Agamemnon'.
The main site is surrounded by huge Cyclopean walls and is spread across three levels. The upper level is home to the Royal Palace, while the middle boasts the fortifications, including the iconic Lion's Gate.
The lower level is where you will find the tombs. Then 400 metres, a five-minute walk from the main site you'll find the Treasury of Atreus which is certainly the most impressive tomb you'll see there.
There is also The Archaeological Museum of Mycenae with its interesting artefacts and exhibits.
Mycenae is a must-visit for anyone staying in Nafplio and offers a fascinating insight into ancient Mycenaean civilisation.
Semeli Winery Tour and Tasting
Located in the Nemea region of Peloponnese, famous for its wine-making tradition and its vineyards, Semeli Winery offers a variety of unique tours and tasting experiences.
Named after the Greek god of wine, the winery produces some of the finest wines in the region, using the famous red-skinned grape grown in the area. With a PH level of 8.5, the vineyards are situated at an ideal altitude for producing the best quality grapes.
During our tour, with a view of the Corinthian Gulf, we were taken on a journey through the winemaking process, which included the different methods used for producing fresh wine and aged wine.
After the tour, we were taken to the tasting room in the cellars, where we sampled five splendid wines from the region. Two white, a rose, and two red wines, along with a small cheese meze.
At the end of our visit to Semeli Winery, we enjoyed lunch in the winery's all-day bistro. It was a HUGE spread of traditional Greek meze dishes created from locally sourced ingredients. Thoroughly delicious.
The whole experience was an amazing opportunity to sample and learn about the finest wines produced in the Nemea region, not to mention try some beautiful Greek dishes too.
There are other winery tour options in the Nemea region but I highly recommend Semeli, we had a great time
Explore the Mystical Kapsia Cave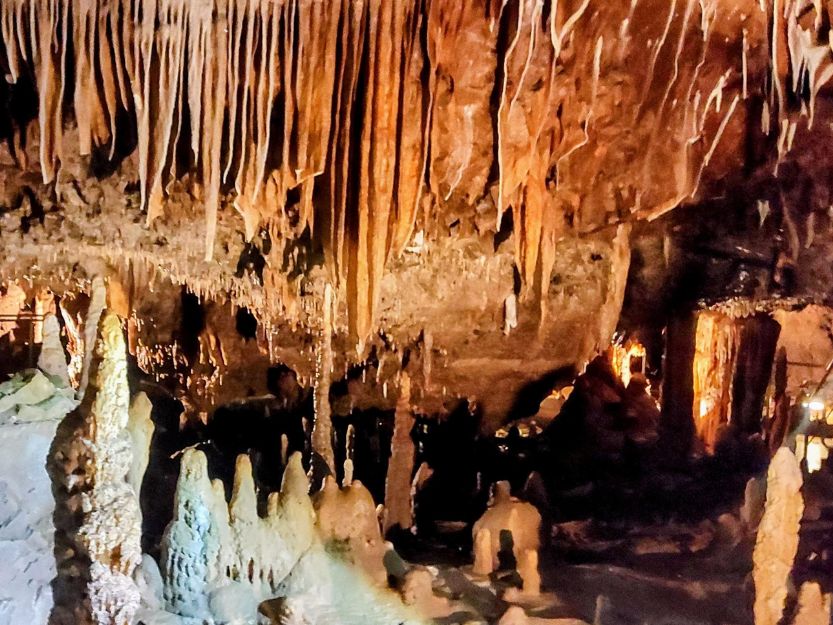 The Kapsia Cave, near the village of Kapsia in Arcadia, is an incredible, awe-inspiring natural wonder and a UNESCO World Heritage site. It's one of the ten most impressive caves in Greece and one of the most important attractions you can visit from Nafplio. We took a guided tour of this cave learning all about it from our excellent guide as we went.
The cave was first explored in 1887 by the French archaeologist Gustave Fougères and many explorations since have revealed its beauty and rich history and legends.
Our tour took us through its eight caverns, each with its own unique features. The entire cave system is stunningly beautiful with millions of stalagmites and stalactites and other rock formations of all shapes, sizes and colours. Particularly breathtaking was the cavern known as the 'Chamber of the Splendid, where you can admire a natural environment of mystical beauty, created by the many colours of the rock formations.
Kapsia Cave was once a human shelter, but it's believed that its inhabitants perished when flood water reached the roof, their bones are still scattered there today. In 2019, the whole cave was again flooded and one room is still filled with mud on the floor.
The cave is also known for its connection to the water system, as the water from the cave flows into the Argos River after passing through the cave. In October and November, the cave is usually filled with water, but due to a lack of rainfall in the last three years, the holes were empty when we visited.
Honey Tasting in Vytina Village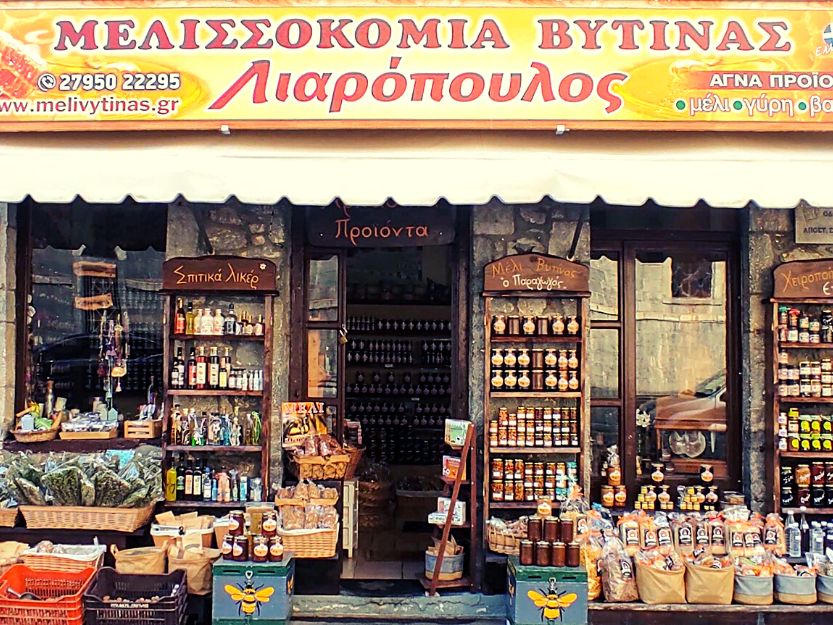 Vytina is a quaint mountain village in Arcadia that is famous for its honey-making tradition.
The village is surrounded by mountains and forests and has a pretty square, a church and a folklore museum where you can learn about Greek folklore and crafts. There are also several traditional shops selling local products like olive oil, cheese, pasta, and of course, honey!
Naturally, the best thing to do in Vytina is to take a honey-tasting tour, as we did, at the shop of Vytina's Honey, a local family-run bee-keeping and honey-making business.
We learnt that Vytina honey is made from the nectar of various trees, plants and herbs including pine, thyme, heather, chestnut and orange. Vytina moves their beekeeping to different regions of Greece in search of the best weather to collect different types of honey.
We tried several different types of honey, each with its own unique flavour depending on what nectar it was made from.
This tasty and memorable experience in Vytina is one not to miss in the mountainous area of Arcadia. You'll learn all about the honey-making process and get to try some of the best honey in Greece.
Horseriding in Elati Pine Forest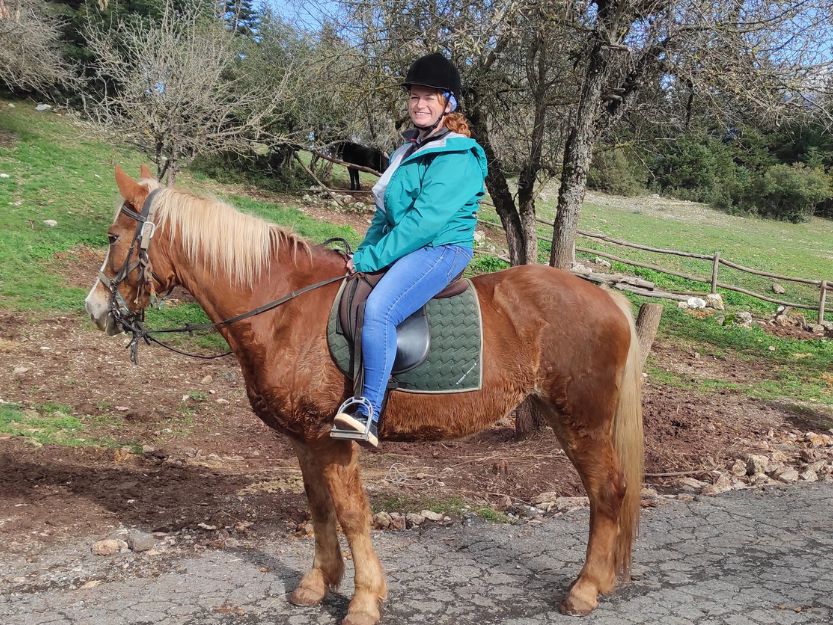 For an adventurous and unique experience from Nafplio, why not take a horse riding tour in Elati Pine Forest, near Tripoli in Arcadia.
We took a guided horseriding tour with Elati Horseriding. They offer tours for riders of all abilities, I hadn't ridden for over a decade and felt very comfortable the whole time, despite having a slightly mischievous horse.
I was very happy to see that the horses at Elati Horseriding were well cared for and looked after, this is very important if you ride horses when travelling as some places severely mistreat their horses.
With its rugged landscapes, forests and panoramic views, Elati is the perfect location for exploring some of the nature of the Peloponnese by horseback.
Wander Around Dimitsana Village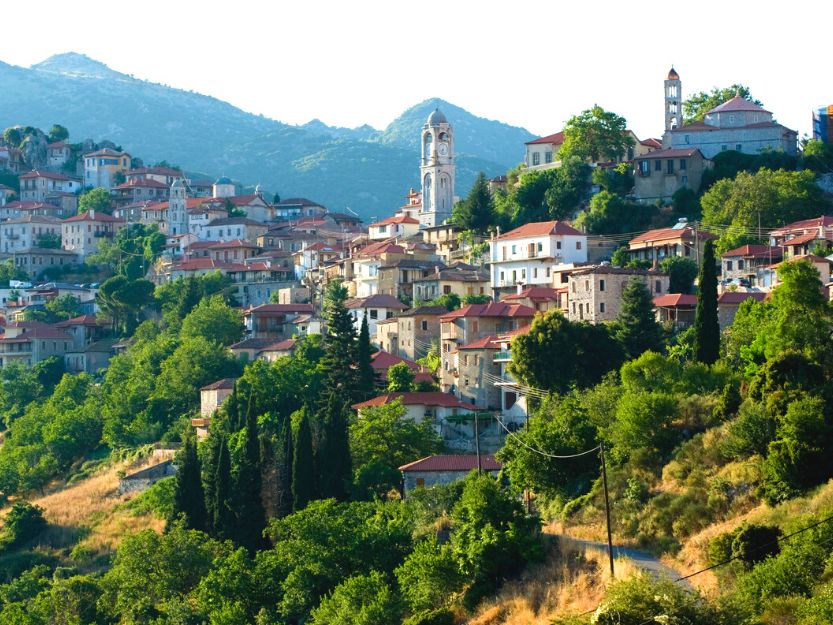 Another charming, medieval mountain village to explore is Dimitsana, known for its interesting architecture, mountain scenery, gunpowder factories and watermills (more on that below).
We very much enjoyed our filling lunch in Thethis Taverna , followed by a wander around the pretty cobbled streets of the village
Dimitsana also overlooks the Lousios Gorge and is the starting point for the Menalon Trail, a 75km hiking trail that joins several of the mountainous villages in Arcadia.
I am already planning a return trip to complete the entire hike later this year.
Dimitsana Open-Air Water Power Museum
The extremely interesting Dimitsana Open-Air Water Power Museum belongs to the Museum Network of the Piraeus Bank Group Cultural Foundation. It's a unique and educational experience that provides visitors with a fascinating glimpse into the history and cultural importance of watermills in the region.
At the museum which is housed in beautifully renovated watermills, it's possible to watch the restored water-powered mills in action to produce a variety of goods, whilst learning the history.
There are demonstrations of a fulling mill, a flour mill and a gunpowder mill. There was also a tsipouro still and a tannery with an informational video.
The museum also has a collection of exhibits showcasing the history and culture of Dimitsana
Where to Eat in Nafplio
Nafplio boasts a diverse array of dining options, ranging from traditional taverns serving up authentic Greek cuisine to modern restaurants that serve up dishes inspired by Italian and Mediterranean cuisine.
There are far too many to cover them all in this post, so below are just some of our favourites.
Kalimera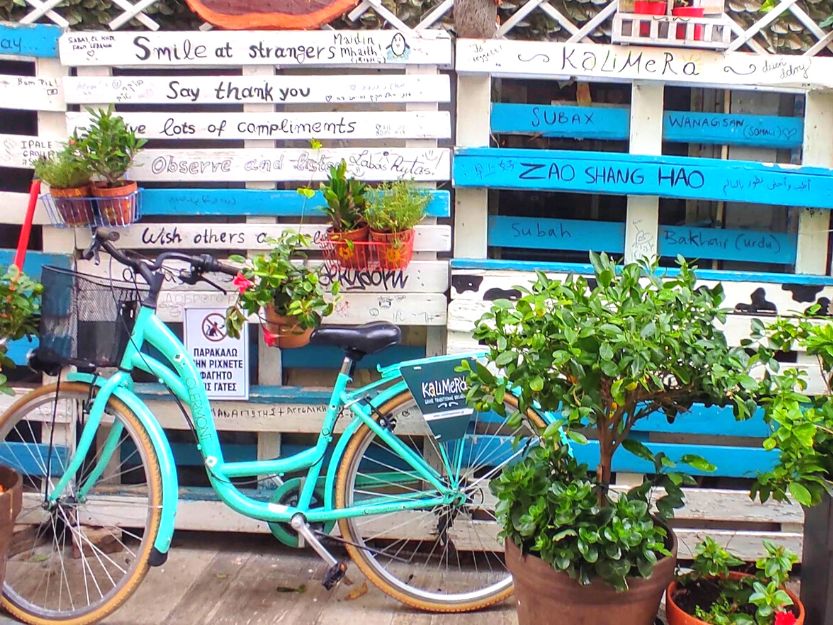 You can't go wrong by starting your day in Kalimera, a charming breakfast and brunch restaurant run by friendly ladies. Outside is a flower-covered fence painted with greetings in many languages, which adds to its welcoming atmosphere.
The menu focuses on traditional Greek breakfast options, such as homemade bread with a variety of jams, platters of local cold cuts and cheeses, and fresh pies of the day. All washed down with strong Greek coffee. In our opinion, this is the best breakfast spot in Nafplio.
3Sixty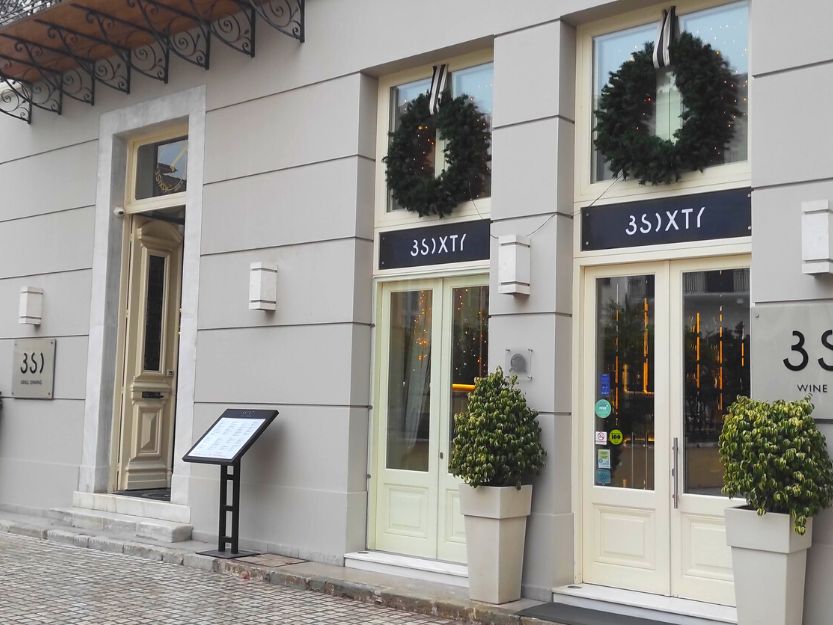 Attached to the high-end 3Sixty hotel, this restaurant, with the same name is a modern, spacious grill and wine bar with plenty of seating both inside and out.
The menu features contemporary twists on Greek cuisine and innovative interpretations of international dishes, along with a carefully curated wine list and expertly crafted cocktails.
Most evenings there are live DJ sets at the bar which can get loud and lively as the night goes on.
3Sixty is ideal for those seeking a more sophisticated and memorable dining experience, ideal for a special occasion or a change from the conventional taverna vibe.
Arapakos
Arapakos is a family-run restaurant on the port of Nafplio, renowned for providing high-quality Greek cuisine and hospitality. It's possible to be seated inside or outside in their covered area with a sea view.
This elegant but comfortable restaurant showcases the best of Greek cuisine, including fresh fish and seafood, grilled meats and pasta dishes.
With over 40 years of experience, the chefs at Arapakos use high-quality, fresh ingredients for their dishes which are presented with friendly service.
Arapakos is the ideal place for a delicious seafood feast for lunch or for dinner with family and friends.
Kellari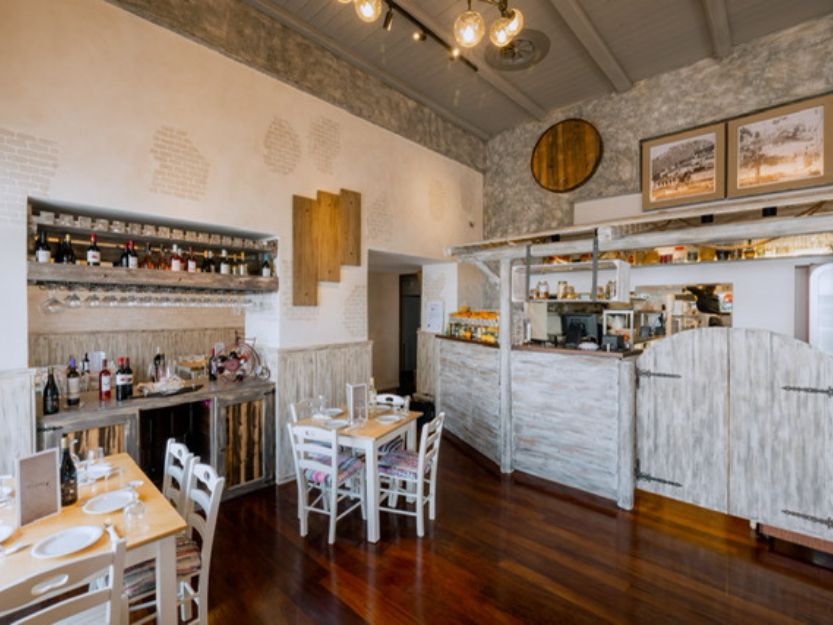 Located just off the cobbled streets of Nafplio old town, and facing the Aegean waters, the picturesque Kellari restaurant is situated in an idyllic setting where you can appreciate the beautiful view of the bay and enjoy a carefully selected variety of authentic traditional Mediterranean dishes, including, grill, fish, seafood and mouth-watering appetisers all made with fresh and local products and served with fine Greek wine from local vineyards.
Ideal for groups – business/corporate/family events – or for a romantic dinner, this popular dining establishment also has live Greek music on specific days and offers a relaxing atmosphere along with a memorable culinary experience! Tables are available for outside and inside dining and everyone is welcome at Kellari!
Pidalio
Pidalio is a cosy taverna, with a relaxed atmosphere in Nafplio's New Town, overlooking the largest green space in the area.
It specializes in shared meze plates, with a menu focused on sea-based dishes such as grilled octopus and sardines, prawn orzotto, and smoky taramasalata.
There are also meat offerings, such as Cretan-influenced apaki (smoked pork). The extensive wine list features mostly Greek labels.
Mitato
Our go-to for traditional gyros and souvlaki is Mitato, located in the heart of Nafplio's Old Town. It's a bustling and affordable eatery and although it's known for its delicious grilled meats there are also plenty of vegetarian and vegan options.
With its casual atmosphere, friendly and prompt service, and pocket-friendly prices, Mitato is a great choice for a quick and satisfying lunch.
Mandaloun Lebanese Cuisines
If you fancy a break from all the Greek food on offer in Nafplio, check out Mandaloun Lebanese Cuisine. As the name suggests, Mandaloun offers a true taste of Lebanese cuisine in a warm and inviting atmosphere.
The restaurant features an extensive menu of authentic dishes made with the freshest ingredients. The falafel wraps (of which there are many versions) are amazing, as are the hummus and baba ghanoush. Make sure you try their homemade lemonade too. There are also vegetarian and vegan options.
Whether you're a fan of Middle Eastern food or just looking for something a bit different, you won't be disappointed.
Where to Stay in Nafplio
There are many hotels and guesthouses to choose from in Nafplio. Many are tucked away on the cobbled streets in the old town, whilst others are near the port or on the Akronafplia hillside.
Below are the two lovely places we've stayed at in the old town.
Kastello Hotel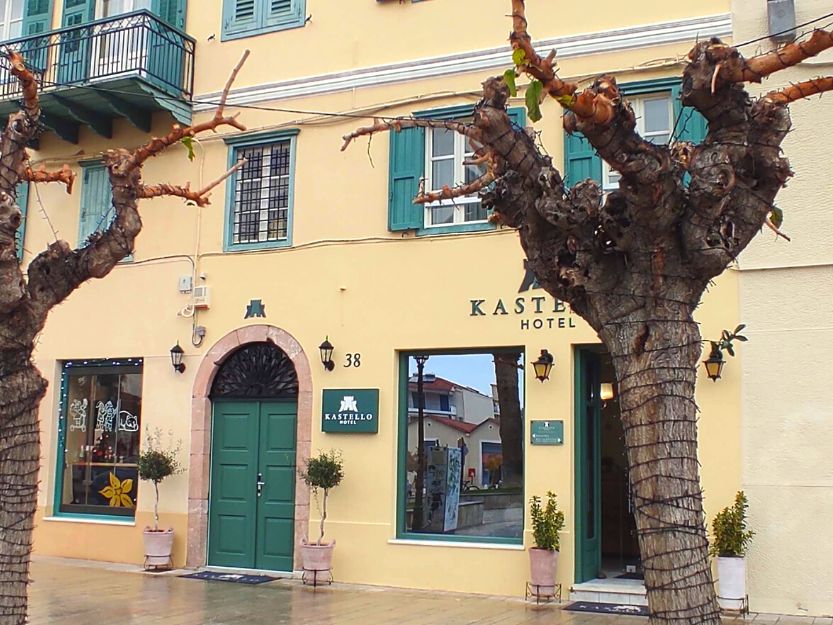 During my most recent pre-TBEX FAM trip to Nafplio, I was hosted at the elegant Kastello hotel. Housed in an old mansion, Kastello is situated on a corner between Syntagma Square and the Land Gate near the steps to Palamidi Castle.
Kastello's clean, comfortable rooms are beautifully decorated with hand-picked furnishings and fitted wooden floors. They are also equipped with a flat-screen TV, minibar, air conditioning, bathrobes, slippers and a hairdryer.
Some of the rooms, such as the 'Verde' room that I stayed in also have a balcony. My spacious room had a great view of Palamidi Castle, along with a separate lounge area and bathroom and a huge comfortable bed.
A big delicious breakfast is served in Kastello's sister hotel Xenon Inn, which is 200 metres away on Syntagma Square.
Pension Dafni
Another of our favourite places to stay in Nafplio is Pension Dafni, recommended to us by friends.
Located in the heart of Nafplio's Old Town, in the shadow of Palamidi Castle, this beautifully restored guesthouse is a cultural gem. It's named after the famous poet Stefanos Dafnis who grew up in the building.
Each of the rooms has been uniquely refurbished with personal touches, along with air-conditioning, Wi-Fi, a TV and a fridge (some rooms have a kitchenette). A plentiful traditional homemade breakfast is served in a lovely courtyard in the warmer months or the reception/ snack bar if it's chilly.
Some of the rooms also have a balcony overlooking the courtyard or cobbled street. From our balcony, we were able to watch tortoises chilling in the garden below.
We really enjoy the comfort and warmth of this lovely, family-run guesthouse and am sure you will too.
Other Nafplio Accommodation
There are also plenty of other accommodation options in Nafplio to suit all budgets and styles, which you can find on the map below.
How to Get to Nafplio
There are several ways to get to Nafplio which vary depending on where you start from and how you are going to get around while you're there. Each method has its pros and cons. Saying that, none are going to be a bad option, just one will suit your circumstances and preferences better.
Below we mainly focus on how to get to Nafplio from Athens as that is where most visitors start their Greece trips.
From Athens by Road
Here are the ways to get to Nafplio from Athens by Road:
By Car
The most convenient but not always the most cost-efficient is to get out of the airport and straight into a hire car. We have done this, and it is so easy. You can hire a Pops Car and they will pick you up and drop you off again at the airport.
The good thing about Pops is that you can normally drop the car at several drop-off locations around Peloponnese (Ermioni, Porto Cheli, Galatas, and Poros) instead of returning it to Athens. This is handy if you are heading to one of these places after Nafplio and don't want to return to Athens.
There are also other car hire companies in Athen's airport itself or you can book in advance online via Rentalcars.com and hopefully get a bargain.
The road journey takes about 2 hours give or take depending on the time of day and traffic around Athens. Once out of Athens the roads are deserted in comparison to Western Europe and progress is swift. You will need some small change or a debit or credit card for the toll road.
Once you get off the toll road the rest of the way is on single-carriageway roads. The roads are fairly windy, so travel-sick pills might be an idea for passengers who suffer from motion sickness. There are lots of places to stop on the way, for food, drinks and rest if you feel the need.
By Bus
Getting the bus to Nafplio is also straightforward but takes a bit longer than driving. The bus to Nafplio goes from the KTEL Kifissos Bus Station in Athens, so if you fly into Athens you can get to the bus station on the X93 bus that runs regularly from the airport.
The bus to Nafplio from the bus station runs several times throughout the day. Check out the KTEL website for the routes and times. 
Sailing into Nafplio Port
Nafplio port is large and easy to navigate which means there is generally plenty of space for charter yachts, even in the high season when other, smaller ports are full. You can book your charter yacht online at Click&Boat.
There's not much in the way of shoreside facilities, but there are some large supermarkets and mini-markets nearby within walking distance. This makes Napflio a good place to stock up on provisions for the rest of your journey.
Water for yachts is available on the dock but there are no electric points, although apparently some will be installed sometime in 2023.
Be mindful that it can be tricky to moor when there are strong north or northwesterly winds, then you'll find Karathona Bay, just to the south, is safer
You can get fuel by calling one of the phone numbers that hang on signs along the dock and the coastguard radio is VHF 12.
---
Nafplio is the perfect destination for anyone looking for a unique blend of culture, history, and relaxation. Whether you're interested in exploring ancient ruins, taking scenic walks, or simply soaking up the sun on the beach, Nafplio has something to offer for every type of traveller. Here's a great book about Nafplio which you may also find interesting.
Once you've finished exploring the Argolida region, why not extend your trip to explore some of the unique things to do in Laconia, another incredible region of Peloponnese.
Have you been to Nafplio? If so did we miss anything great to do there? If you've not been, how long would you like to spend there?
---
Planning Your Trip to Nafplio?
Planning your trip to Nafplio in Greece? Here are some of our recommended useful resources to help you have the best time possible:
Partnership Disclosure: Some accommodation and activities mentioned in this post were hosted as part of a pre-TBEX Europe 2023 FAM trip in collaboration with Mythical Peloponnese, Penguin Tours, and their partners. This did not influence my post in any way and as always I've provided balanced and honest reviews. Read more in our full Product Review Disclosure.