For my 40th birthday last October, we'd planned to be in Africa hiking Kilimanjaro and on safari but of course, COVID-19 put paid to that. Looking for another option and having recently relocated to Greece, we decided to stick with one of them, so there wasn't the risk of getting stuck if sudden travel restrictions were imposed. Crete seemed the obvious choice as it's the warmest of the islands in October and wasn't in lockdown.
We started our trip to Crete in Chania (Χανιά), also known as Hania where we flew into. Some people sail in on charter yachts. You can book charter yachts online at Click&Boat.
Soon after our arrival, we realised that there are so many things to do in Chania, that we decided to end our trip there too. We wanted something a bit livelier for my actual birthday too so it seemed ideal.
This post contains affiliate links. If you use them to make a purchase, we may earn a small commission at no extra cost to you. As an Amazon Associate, we earn from qualifying purchases. Learn more in our Affiliate Link Disclosure.
Things to Do in Chania, Crete
Located in a gorgeous coastal location in west Crete, Chania City has to be one of the most beautiful cities in Greece. Once the capital of Crete, Chania is packed with fascinating history, various architectural styles and absorbing culture. Just wandering the streets of the old town and the picturesque Venetian harbour is sure to leave you keen to discover more.
Charming and captivating, Chania should be part of every trip to Crete, one of the most beautiful Greek islands. It's part of Chania prefecture, one of the four regional units of Crete. If you have longer, there are a huge amount of things to do in Chania prefecture. Things like hiking Samaria or Imbros Gorge or visiting famous beaches like Balos Bay or Falassarna. For now, though, I'm going to focus on the city itself, so here are 12 great things to do in Chania.
1. Take A Walking Tour
A great way to see the highlights of Chania City, especially if you're short on time is by taking a walking tour. There are several great options offering different types of tours including:
A Taste of Crete
If you're into your food and want a great introduction to Chania City, one of the first things you should do in Chania is go on a Taste of Crete walking tour with Gabi from The Tiny Book
Gabi kindly invited us to join this tour on our very last day in Chania. Here's how we got on, so you know what to expect, without giving too much away.
We met Gabi outside the Municipal Market (the Agora) and headed straight to a family-run bakery. Here we had a traditional Cretan breakfast of Bougatsa. Made with filo pastry Bougatsa can have a variety of fillings. The bakery we went to makes them with just one filling, the local cheese 'mizithra', for which it is famous for. I'm not usually a fan of soft cheese but I tried it and was pleasantly surprised at how good it was.
After breakfast, it was back to the Municipal Market to explore and try some of the foodie delights on offer.
Gabi took us from stall to stall so we could sample all kinds of Creten products. We tried bread, honey, cheese, olive oil, grape syrup and rakomelo, a Cretan liqueur that combines the spirit tsikoudia and honey.
As we wandered around Gabi chatted with the stallholders and translated for us. This was fantastic as we got to learn about Cretan herbs, spices, fruit and vegetables. We also checked out one of the little eateries in the market serving up various traditional Cretan dishes. It all looked and smelt delicious, we wanted to go back later to try some but sadly didn't have time.
Leaving the market we headed into the narrow alleyways of Chania Old Town. We were taken on a fascinating walking tour as Gabi showed us the best traditional places to eat. She also gave us an overview of the old town districts (read more below) along with the interesting history of Chania and Crete.
At one point we took a break at a small backstreet cafe for a Greek coffee or other drink of our choice. The owner was juicing pomegranates so, of course, we opted to try some fresh pomegranate juice – delicious.
Stops we found especially interesting in the old town were Saifakas (Knife) Street and Stivanadika (Leather) Street. We stopped to talk with the craftsman who made traditional knives and leather boots.
We couldn't fault this food tour, Gabi had such in-depth knowledge of Crete's food and history. She was also so friendly, it was like being shown around by a friend.
Just one tip, don't wait until the end of your visit to Chania City to do this tour as we did. If you do it at the beginning it will stand you in good stead for the rest of your time in Chania and Crete. You'll have a much better idea of what to eat and what to do.
BOOK A TASTE OF CRETE TOUR HERE
Free Walking Tour
If unlike us, you're not a foodie, another option is to take this free walking tour of Chania. Run by a group of local friends, who show you around Chania City and tell you all about Chania's culture and history.
This is a great way to see Chania City through a local's eyes. They will be able to answer all your questions and give you advice on the best things to see and do and what to avoid.
Segway Tour
Yes, I know a Segway tour isn't a walking tour. But, I wanted to include another city tour option for those of you who don't like walking. So if you fancy something different to a walking tour here are some various Segway tours you could try.
In all the tours above you'll get a good overview of much of what there is to see and do in Chania City. No doubt though, you'll want to spend more time exploring some or all the following things to do in on your own.
2. Explore Chania Old Town
One of our favourite things to do in a new destination is to wander aimlessly to see what we stumble across. Historic Chania Old Town is perfect for this and is the reason it's top of our list of the best things to do in Chania.
Getting lost in Chania's old town maze of narrow, cobbled back-streets, and admiring the Venetian, Ottoman and Cretan architecture is a pleasure.
Enticing shops selling souvenirs, jewellery and local crafts, line the streets. There are also cosy cafes, traditional tavernas, restaurants and quirky bars, with more tucked away in courtyards and patios.
Chania Old Town Districts
Chania's Old Town is divided into several distinct districts, each with its own appearance and atmosphere. These include: 
Kastelli – the central district of Chania's Old Town, is at the top of the hill overlooking the mosque and the old harbour. It's the oldest inhabited area of Chania dating back about 5,000 years, all the way to the late Neolithic era. A Byzantine wall used to protect Kastelli hill, and remnants of this are still around the hill.
Topanas – is set just back from the old port, behind Firkas Fortress. It's the most beautiful district in Chania's old town and is where the Christian aristocrats settled during the Ottoman period.
This labyrinth of narrow alleyways and impressive Venetian mansions is perfect for a romantic stroll. Along the streets are shops selling handcrafted ceramics, jewellery and traditional carpets. The two most Instagrammable streets in Chania, Aggelou and Theotokopoulou, are also in Topanas.
Jewish District/ Ovraiki – previously known as Zudecca, was occupied for centuries by Chania's Jewish community. It has wider streets than the other districts, which makes it easy to know when you're in it. The wide streets were built that way to allow donkey carts to carry supplies from ships in the harbour to the south of the city walls. Today the main street, Kondylaki, is one of the busiest streets of Chania's old town.
Turkish District/ Splantzia – is to the southeast of Kastelli hill and was the Turkish quarter during the Ottoman occupation. Its most distinguishing feature is the main square with Agios Nikolaos (St Nicholas) church which has both a minaret and a bell tower.
Once a quiet district, it's now a lively place with the most outside tavernas and cafes in the old town; many are set in the main square shaded by a big plane tree. It's a lovely spot to stop for a Greek coffee, beer and maybe some meze.
Tabakaria – is on the east side of Chania City and used to be an industrial area full of leather tanneries. The tanneries were operational until early in the 19th century. This district is mostly abandoned these days, but some of the tanneries are well-preserved, and you can visit a couple that are still working.
You could easily spend the whole day, or several days pottering around Chania's Old Town discovering new things to see and do.
3. Wander Around the Old Venetian Harbour
The old Venetian harbour is one of the most significant historical landmarks in Crete. First built by the Venetians in the 14th century, most of the harbour including the lighthouse and Firka Fortress have now been restored. As you wander around the east of the harbour, you'll pass the Ottoman mosque and Venetian arsenals (more about those a bit later).
Lined with tavernas, cafes, bars and shops, the old harbour is one of the most popular spots on Crete for visitors. It's a beautiful spot to wander during the day and at sunset.
In high season from early evening, on into the night, the harbour buzzes with visitors enjoying meals, drinks and sometimes live music. Be prepared for higher prices due to this being the most touristy area in town. We actually only ate here once in the late afternoon, when we first arrived. Whilst the traditional Greek meat pie (lamb) we shared in one of the central harbourside restaurants was very tasty, it was also very expensive. After that, we chose to eat in less touristy, more local tavernas tucked away in the back streets.
4. Walk to The Venetian Lighthouse
Dominating the entrance of the old harbour is the 21-metre-tall Venetian lighthouse, one of the oldest lighthouses in the world. It was initially built in the 16th century to protect the harbour. Falling into ruin during the Turkish occupation, it was rebuilt into a minaret shape in the 19th century when Egyptian troops were supporting the weakening Ottoman Empire. The 'Egyptian' lighthouse was severely damaged from bombing in WWII and earthquakes, but 2005 renovations have left it looking like new.
You can see the lighthouse from any point along the old harbour. To reach it continue your harbour walk around and along the breakwater to where it stands. I'd recommend taking the lower path along the breakwater because the upper is narrow, rough and uneven.
The lighthouse is no longer operational or open to visitors these days, but you can take the steps to the first level for views of the sea and city.
If you time your walk right you'll get to see one of the best sunsets in Crete. Watch it from the lighthouse itself or, like us, from the viewpoint up on the breakwater. From there, there are stunning views of the sun dropping down behind the lighthouse. This seemed a popular spot with locals to sit and enjoy a sunset beer or wine – wish we'd thought of that.
5. Shop in The Municipal Market (Agora)
I mentioned the Municipal Market (Agora) briefly in my Taste of Crete tour review above. But, if you love food markets as we do, you'll definitely want to return and explore them in more depth.
This 4,000-metre square covered market opened in 1911, makes a great change from the typical, popular tourist attractions in Chania City. Inside there's stall upon stall selling all kinds of local produce.
You'll find fresh meat, fish, fruit and vegetables, alongside herbs and spices, honey, cheeses, olive oil, pastries, and wine and spirits. There are also several small local tavernas serving up traditional dishes from early morning to dusk. We love exploring local food markets like this and recommend the Agora market as an unmissable experience for foodies.
6. Explore Historic and Religious Sites
There are many historic and religious sites to visit and explore in Chania City. Here are some of them:
Greek Orthodox Cathedral
The beautiful Greek Orthodox Cathedral at Plateia Mitropoleus has an interesting history. Built on the same site where a Venetian church once stood, invading Ottoman Turks turned it into a soap factory. Nothing of the church survived, except for a single statue of the Virgin Mary.
After some time the soap factory shut down and the owner gave the premises back to Chania City. In its place, a new Greek Orthodox Cathedral was built, complete with the original Virgin Mary Statue.
Mosque of the Janissaries (Yali-Tzamisi Mosque)
One of the most recognisable sights in Chania is the distinctive domes of the Mosque of the Janissaries, sitting right of the old harbour. Also called Yali-Tzamisi Mosque, the conquering Turks built it in 1645. It's the oldest Islamic structure in Crete. Not used as a mosque since 1923, it now acts as a public exhibition centre or art gallery.
The Old Turkish Hammam
The old Turkish Hammam situated on Halidon 33 and Sarpaki was one of three public hammams (baths) built in Chania during the Ottoman era. The roof has 11 small hemispherical domes, plus a larger dome which was partially removed to make space for a new neighbouring structure.
Today the hammam has been transformed and modified into a clothing store. Happily, it has retained the amazing interior architecture and there is a section of the floor which is glass, to showcase the remains of the baths.
Venetian Arsenals
One of the longest-standing landmarks in Chania City is the 16th-century Venetian Arsenals. Located along the eastern part of the harbour, they were shipyards (or dry docks) which were once used for shipbuilding and repair.
Originally there were 17 arsenals in a vaulted terrace and 3 other separate ones. Today there are only nine remaining, some of which are now exhibition and conference halls. The most spectacular is the Grand Arsenal, which was restored in 1997 to form a magnificent building that's now used to host events and exhibitions.
Byzantine Wall
You can spot the remains of Chania's Byzantine wall along Sifaka and Karaoli-Dimitriou streets. It was first built in the 6th and 7th century AD to protect the Kastelli Hill settlement, in the place of an even older wall.
In the 10th century, it was reinforced with stones from the ancient ruined city of Kydonia, to protect against another Arab invasion.
Kal Kadosh Etz Hayyim Synagogue
In the heart of Chania Old Town, a little lane leads to Kal Kadosh Etz Hayyim Synagogue. It's the only surviving Jewish monument on Crete and dates back to the 14th century and was once the hub of the Jewish community in Chania City. It stood empty after the arrest of the Jewish community in 1944 until it was restored between 1996 and 1999. Now the mikveh of Etz Hayyim is the only one functioning in Crete and is used when requested before a wedding.
Firkas Fortress
The impressive Firkas Fortress or Revellino del Porto was built to be used as a military headquarters in the 17th century. The solid walls have six cannon openings which once protected the harbour. There was also a chain which could be attached from the fortress to the lighthouse to close off the harbour.
To this day there are still some tunnels under the fortress which used to imprison rebellious locals.
These days Firkas Fortress is the home of the Maritime Museum.
7. Visit Museums
Chania City has a wide range of museums to suit all interests, perfect for learning more about Chania and Crete and ideal for a rainy day activity. We were sadly unable to visit any on our trip as they were closed because of COVID-19 restrictions but two of the most popular are the Maritime Museum of Crete and the Archaeological Museum of Chania.
Maritime Museum of Crete
As we touched on above, Firkas Fortress houses the Maritime Museum of Crete, one of the most popular tourist attractions in Chania and in the whole of Crete.
This museum helps you delve back through centuries of Crete's maritime history. Journey from the Minoan Bronze Age, through the Byzantine, Venetian and Turkish eras, to the Battle of Crete in 1941.
Exhibits span two floors and include nautical instruments, ship models, paintings, photos and videos.
Archaeological Museum
The Archaeological Museum of Chania is housed in the Venetian Church of St. Francis, which was used later as a Turkish mosque. This museum exhibits archaeological discoveries from western Crete dating back as far as Neolithic times all the way to Roman times.
Displayed in the museum is a plethora of artefacts including ceramics, pottery, metalwork, jewellery, coins, mosaics, and sculptures.
Other museums you could check out include the War Museum, Byzantine Museum, Folklore Museum, and the Municipal Art Gallery. Hopefully, we can visit these on our next trip to Chania and be able to update the post with more information on them.
8. Take A Cretan Cooking Class
One of our favourite things about Greece is, of course, the food. So if you have the time whilst you're in Chania why not take a Cretan cooking course? You'll be able to learn how to replicate some of the dishes when you get back home.
I wish we'd had the chance to do a cooking class too but we sadly ran out of time. It's on our list for our next visit to Crete though. We really like the look of this Cretan Cooking Lesson where you get to experience a hands-on cooking class in a local home.
Have you taken a Cretan cooking class? If so please do let us know how you got on and if you'd recommend it.
9. Watch a Film at an Outdoor Cinema
If your stay in Chania City is in the summertime why not try something a bit different one evening and watch a film at an outdoor cinema. There are two open-air cinemas in Chania – 'Attikon' cinema in the Halepa area and 'Kipos' cinema in the Municipal Gardens.
Attikon often screens blockbuster movies and Kipos screens more cultural films. The films are shown in the original version with Greek subtitles, except for children's films which are often dubbed.
You can find the movie schedule in the local newspaper 'Haniotika Nea' and also in English and Greek online here.
10. Relax on New Chora Beach
After all that sightseeing you may be ready for a few hours or more relaxing on a beach. If you don't fancy driving to one of the beautiful beaches outside of the city, take a short walk west of the harbour to Nea Chora Beach instead.
Nea Chora is pretty nice for a city beach. It's a clean stretch of fine golden sand, with inviting clear water which is safe for swimming. There are sunbeds and parasols, a lifeguard and plenty of cafes and restaurants nearby. We actually went to a restaurant here for my 40th birthday meal, The Five Restaurant, which was amazing, highly recommend it.
11. Paragliding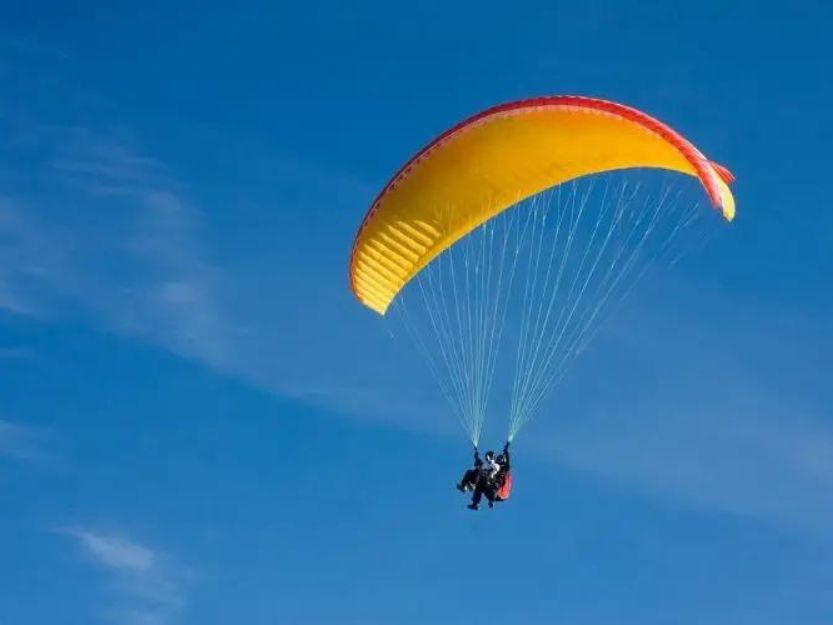 If you're a bit of an adrenaline junkie, a fun experience to do from Chania City is paragliding. Take a 20-minute tandem paragliding session with a qualified instructor to see Chania City from above, along with spectacular views of the coastline and mountains.
12. Stand-up Paddleboarding
If heights aren't your thing, test your balance out with a stand-up paddleboarding small group tour. On this tour, you'll paddle through the calm, crystal clear, turquoise waters of Chania's coastline. There'll be the opportunity to explore hidden caves and to swim and snorkel.
Where to Stay in Chania, Crete
Chania City has an extensive variety of hotels, hostels and guesthouses to choose from. We stayed in a lovely central hotel called Amphitriti Hotel.
It's located in a perfect location, mere minutes from the main harbour area. In fact, the charming room we had, boasted a huge balcony terrace with incredible views of the old harbour, the lighthouse and the Cretan Sea.
If you prefer a more modern hotel you may like Kriti Hotel, which is where we stayed at the end of our trip. If you prefer hostels, Cocoon City Hostel could be a good choice.
There are also plenty of other accommodations in Chania City to suit all budgets and styles, which you can find on the map below.
---
There are so many things to do in Chania on Crete in Greece; this post only covers some of them. Try to extend your trip slightly if possible, so you have time to explore as much as possible that this captivating city has to offer.
Have you visited Chania in Crete? Have I missed anything good that there is to see and do there?
---
Planning Your Trip to Chania?
Planning your trip to Chania in Crete, Greece? Here are some of our recommended useful resources to help you have the best time possible.
Enjoy this post? Pin it for later!
Product Review Disclosure: The Tiny Book provided me with a complimentary 'A Taste of Crete' walking food tour. This did not influence my post in any way and as always I've provided a balanced and honest review. Read more in our full Product Review Disclosure.