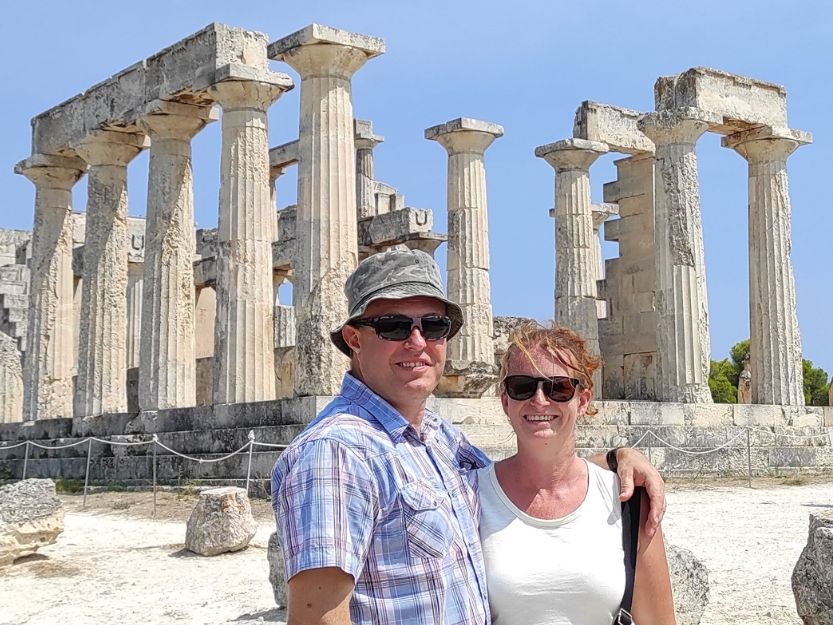 Hi, we're Tanya and Andy and we launched Can Travel Will Travel in May 2016 as we prepared to leave the UK to travel, live and work abroad indefinitely.
Our aim is to inspire and encourage others to follow their dreams, visit new places and immerse themselves in new cultures, sample new foods, experience new activities, and undertake new challenges. Our journey involves stints of travelling (both together and individually), followed by longer stretches of living and working in one place.
We focus on natural and cultural highlights, hotels, food and restaurants, must-sees and dos, and anything a bit more 'off the beaten track' that people often miss. We are also interested in ethical wildlife encounters and conservation.
If your company or brand is a good fit for our niche, fun and ethical then we'd love to chat.
Please take a moment to consider your proposal and budget before contacting us and are willing to pay a reasonable rate for the services we provide you. 
Contact us to explore how we can work together to help each other. 
Why Work With Us
Can Travel Will Travel have a rapidly growing engaged audience which can be attributed to our content creation, SEO, marketing and social media expertise. In the last year alone we've managed to double our page views. The majority of our worldwide audience of travel lovers are aged between 25 and 54, a high proportion of which are located in the US and the UK. 
We are a trusted resource for our target audience, priding ourselves on always providing frank and honest reviews and coverage of our experiences and of the companies and brands we work with.
View our media kit for our latest stats which are updated monthly.
How You Can Work With Us
We love working with tourism boards, travel companies and brands that share our passion for travel. The only proviso is that your destination, product or service is a good fit for our niches and of interest to our dedicated and engaged audience.
We are often available to work as a couple, but equally, Tanya is also available on a solo basis when Andy is busy teaching.
Below are some ways we can work together and of course we are always open to hearing and discussing your own ideas and suggestions.
Press and FAM Trips
It's blatantly clear that we have the travel bug and love everything about it.
We enjoy exploring cities, countryside, beaches, mountains and jungles, getting to know the people, immersing ourselves in the culture and sampling all the food. We like to check out popular destinations, attractions and activities, but our favourite thing is to get off the beaten track to explore where other visitors seldom go.
Lots of ground has been covered but we want to discover more. Press and FAM trips enable us to experience destinations first-hand and then share our knowledge with our audience via blog posts and/ or social media. We've worked with several tourism boards and many companies and brands to promote tourism, resorts, travel-related activities, products and services.
Here are some of our top-performing coverage from press and FAM trips:
Product Reviews
We review a variety of accommodation and travel-related products and services on our blog. If you have something you'd like featured we'd be happy to help you spread the word via SEO-optimised blog posts and/ or social media.
As we've mentioned before, all our reviews are frank and honest, regardless of who is footing the bill, which is, of course, why our audience trusts us. 
Here are some of our top-performing product reviews:
Social Media Promotion
We can promote your accommodation and travel-related products and services via our highly engaged social media channels (Facebook, Twitter, Instagram and Pinterest). We can also run a takeover of your social media accounts, host Twitter chats, or judge competitions.
Social media promotion often forms part of our coverage of press and FAM trips and product reviews.
Sponsored Posts, Links and Advertisements
On occasion, we also accept sponsored travel-related posts, links and advertisements. Such as this post about Kerala written in paid partnership with Kerala Tourism to promote their' Human by Nature' campaign.
Testimonials
Here's just a small selection of the lovely feedback we've received from the companies and brands we've worked with.
"Tanya and Andy came with open hearts and open eyes, getting to experience what it's like for elephants to be rehabilitated and live back in their natural environment. Great fun to have you here and we thank you so much for portraying what we do and how important this is for the elephants. Your blog, photos and videos really share the message and capture the essence of what we are trying to do. Thanks again"
"Warm greetings from Koh Kood BED's

,

Love your article and thank you your recommend my place, I have posted your article on my Facebook page"

Jemma – ELIE & EVP Program Manager




Jay Charoen Hom-in – Koh Kood BED's
"Just to let you know, I am a pretty good travel agent in Vancouver. I followed your info about El Chepe train tickets, and you are spot on. I am impressed!!
Thanks for the good leads for booking tickets"
 Michele Cohen – Renshaw Travel
SEO and YouTube Optimisation
When not busy travelling or writing for the blog I (Tanya) works as a freelance SEO Consultant. I love helping others identify areas of SEO that can be improved and optimised to help meet and exceed their goals and targets.
I offer a whole range of SEO services which I use to support clients with their website SEO to improve their Domain Authority (DA) and Page Authority (PA), improve rankings in Search Engine Results Pages (SERPs) and increase organic traffic and conversions.
Andy also offers YouTube optimisation and freelance writing services.
Let's Work Together
So, now you know all about us, what we're doing, what we can offer you and how we can work together. We'd love to work with you…let's make it happen! 
To get started, email Tanya at tanya.korteling@cantravelwilltravel.com or drop us a message via our contact page.
CONTACT US
We look forward to hearing from you!