Affiliate link disclosure: This post may contain affiliate links including Amazon that earn me a small commission, at no extra cost to you. Read more in our full Affiliate Link Disclosure.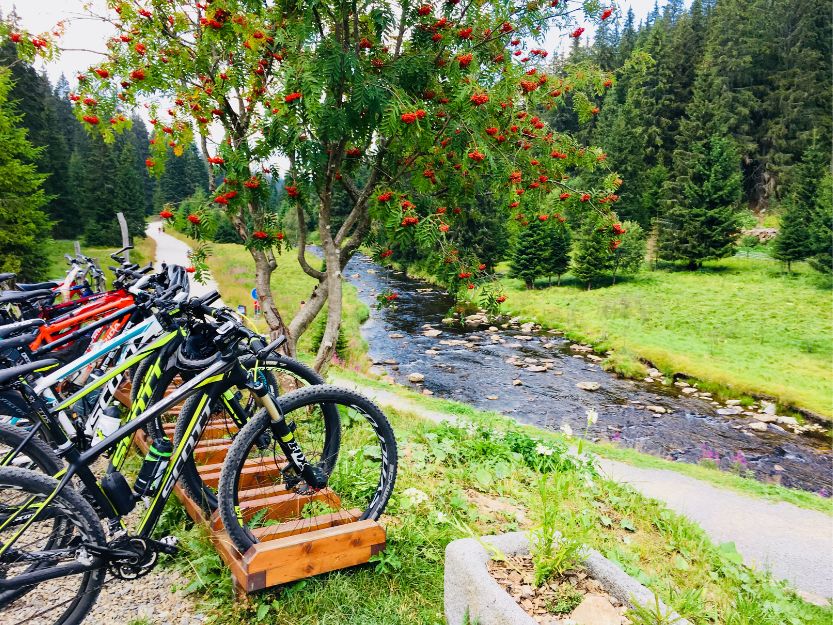 Šumava National Park in the South Bohemia region of the Czech Republic runs along the border with Germany. Combined with neighbouring Bavarian Forest, it makes up the 'green roof of Europe'. With one of the most well-balanced landscapes in Europe, Šumava National Park offers sprawling deep forests, mountains and valleys, glacial lakes and eerie peatlands.
After TBEX Europe 2018 in Ostrava, I was invited by the Tourism Authority of South Bohemia and Visit Czech Republic , with three other travel bloggers to discover this area of astounding natural beauty. Along with our amazing guide Andrea we explored Šumava National Park by electro bike and by foot.
Prachatice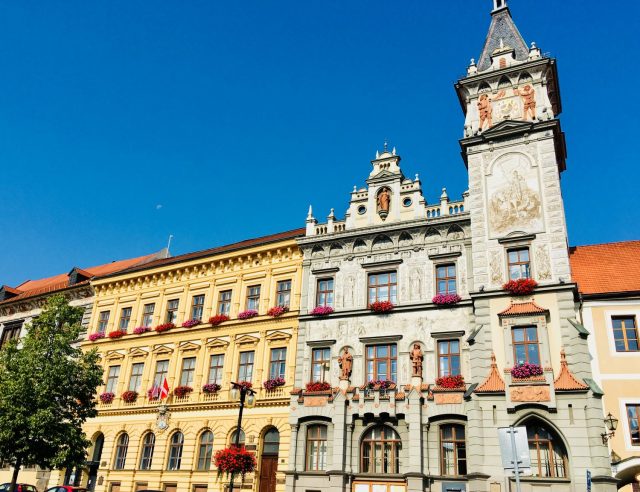 Prachatice lies at the base of Libin Mountain and is one of the most beautiful towns in South Bohemia. It makes an ideal base for exploring Šumava National Park.
The walls of the town's fortifications surround a charming historic centre. It has a central baroque fountain, renaissance town hall and other buildings, many with intricate sgraffito facades. Behind the square is the gothic church of St. Jacobs the Greater with its massive 53-metre tower. It's worth tackling the 157 steps, as we did, for the fantastic view of Prachatice and the surrounding area.
There are a couple of nice places to eat and drink in Prachatice, mainly around the historic centre. Why not try Pivovar Prachatice, as we did. It's a restaurant combined with a local brewery, serving a selection of local dishes and beers, which also offers a short brewery tour.
Šumava National Park by Electro Bike
One of the best and most fun ways to explore Šumava National Park is by electric bike (electro bike or ebike). There are several places in the area that rent out electro bikes, but I you can't go wrong with Bed & Bike Prachatice.
Bed & Bike Prachatice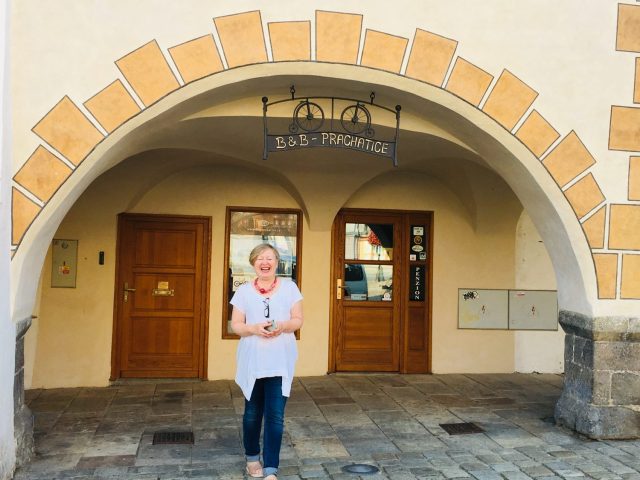 Bike & Bed Prachatice provided the luxury apartments where we stayed and our day tour of Šumava National Park by electro bike. This homely bed and breakfast is right on the main square in Prachatice. We received a wonderful, warm welcome from the owner Hana who ensured we were well looked after at all times.
The B & B has three superb apartments; two that sleep four people and one that sleeps six. All are in immaculate condition, spotlessly clean and very well decorated. They each have a fully equipped kitchen or kitchenette, pristine shower room and toilet, and everything else you need for a comfortable stay. 
For breakfast, there was a package of regional foods in the fridge, along with fresh bakery products that were delivered to our door in the morning…just perfect. The cost of an apartment and breakfast is about €100 EURO (£88) per night.
Electro Bike Rental at Bed & Bike Prachatice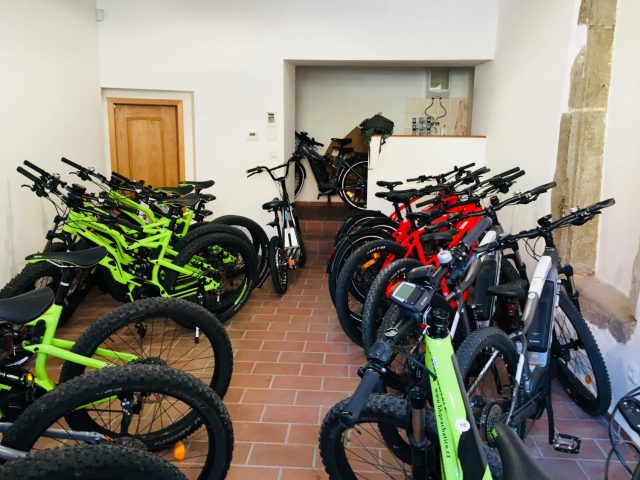 Included in the price of an apartment at Bed & Bike Prachatice is electro bike rental which is an amazing deal. A few steps from the B & B is the electro bike shop which rents top-class electric bikes and helmets. For those with very young children, there are also pushchairs that can be attached to the electro bikes. There's another building nearby which houses a recharging station where the bikes can be left on charge overnight ready for the next day.

There are plans to soon open two other recharging stations in the Czech Republic. These will make it possible rent electro bikes for multiple days, or start and finish your trip at different points. 
It's possible to take the electro bikes out alone, or a guide can be arranged if you prefer. Hana from Bed & Bike Prachatice arranged a guide for a 25 km electro biking adventure around Šumava National Park. We received a very personal service and the staff made 100% sure we were happy with the equipment before we set off.
Ebiking Adventure in Šumava National Park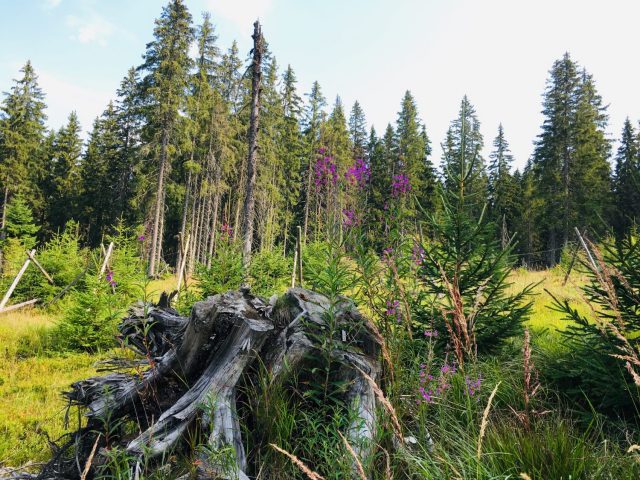 Once kitted up we travelled from Prachatice to Kvilda the starting point of our bike tour. From Kvilda we spent several fantastic hours exploring the breathtaking landscape of Šumava National Park. Completely surrounded by nature we [electro] cycled up and down hills, through the countryside, pine forests and peatlands. At first, the electro bikes were a bit tricky to get used to, but it wasn't long before we felt comfortable with them.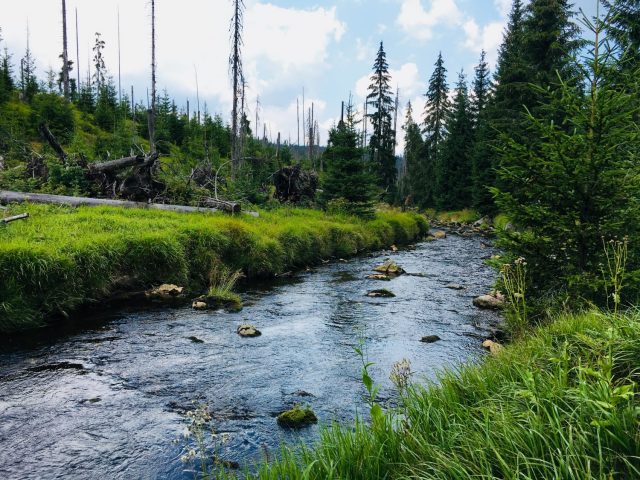 We stopped several times at beauty spots to rest, admire the scenery and take photos. Along the way we met many other people doing the same as us, enjoying this stunning area.
At first I didn't think the electric part of the bikes would be necessary, however, I was relieved to have it on a few occasions when a steep ascent appeared before us. One such ascent was to the top of the biggest uphill stretch to Black Mountain. We were so near to the border our phones picked up the German networks. 
Riverside Lunch and Beer Break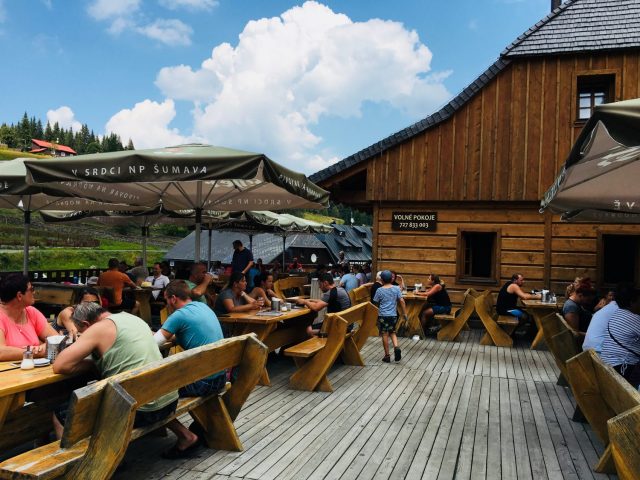 Naturally, being in the Czech Republic we couldn't go the whole day without a beer stop. So after one final breather at little swimming spot near a river bridge, we continued onto Brewery Modrava for a well-needed lunch (and beer) break. It was busy and we had a slight wait for a table, but the wait was worth it.
It was easy to see why Brewery Modrava is so popular; it has an idyllic riverside setting, hearty food and refreshing local brews. 
After a leisurely lunch, we stopped to turn the electric off on the bikes before setting off on the last, long freewheel downhill stretch. It was loads of fun if a little scary on the gravelly bits. Our electro bike tour was finished off with a quick walk along a boardwalk to Tříjezerní slať observatory.
Šumava National Park by Foot
Another great way to explore Šumava National Park is by foot, or as was the case for us, by car and foot. We were lucky enough to have our guide Andrea drive us around but I'd recommend getting a rental car for your time in South Bohemia. It will make everything much more accessible to you.
Chlumany Traditional Village Market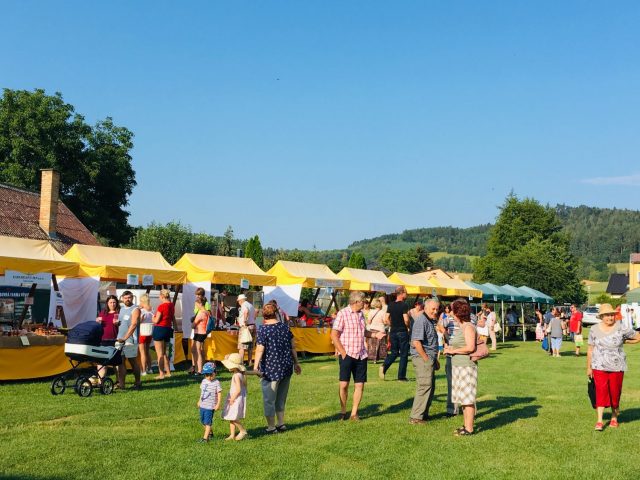 If you're a very early riser (like 4:45 am early) you could start your last morning in Prachatice watching the sunrise from Libin lookout tower. Alternatively, if you prefer not to rush in the mornings and your trip coincides with a weekend, then you could visit Chlumany Traditional Village Market. It's held on the first Saturday of every month from May to October from 8 am to midday.
Many local farmers have stalls at the market selling a whole variety of produce. We saw fruit, vegetables, meats, cheese, flowers, preserves, drinks and handicrafts…the list goes on. I tried an excellent fruit smoothie and local fried cheese. Whilst we were there, a local band was also playing and for the most hardcore, there were beers and mojitos on sale from opening time.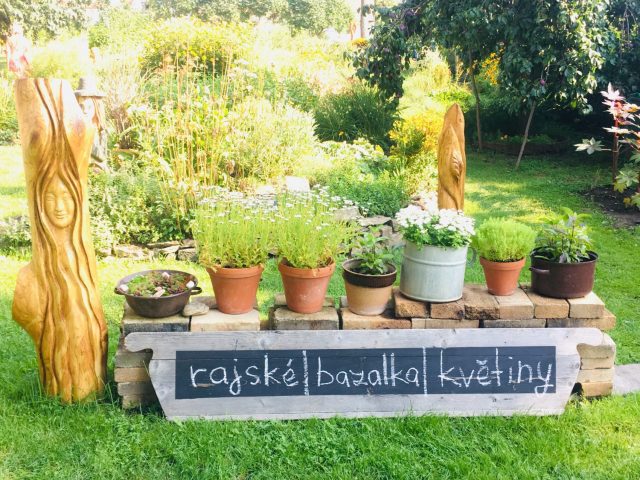 Next to the market was Ky. By. Garden, an award-winning countryside market garden. It was full of flowers, herbs, vegetables and fruit trees and like the market, it was well worth having a stroll around.
Kvilda Visitor Centre of Deer and Lynx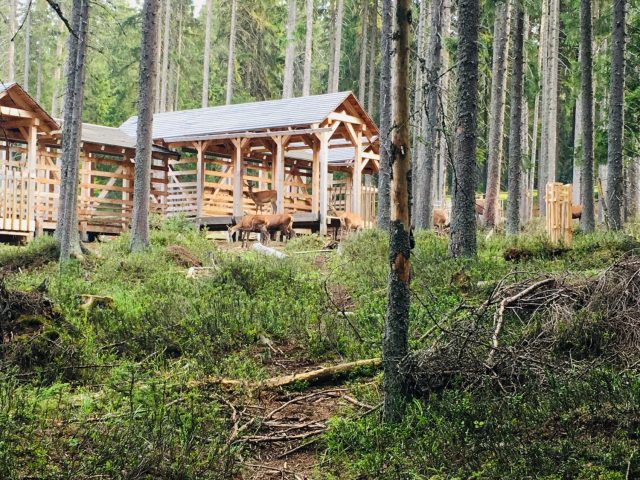 For a shaded forest walk and with any luck some wildlife spotting head to Kvilda Visitor Centre of Deer and Lynx. As the name suggests this 5 hectares in the Bohemian Forest is home to a fairly large group of deer and two lynxes.
There's a nature trail you can follow with elevated viewing shelters. The trail passes through the deer's habitat and near the large lynx enclosure, which is more than big enough to allow them to roam relatively freely.
We were lucky enough to encounter the group of deer feeding, although we didn't spot the lynxes. That was unsurprising really as they're usually nocturnal, plus there were some other very noisy visitors there at the same time.
Chalupská Slať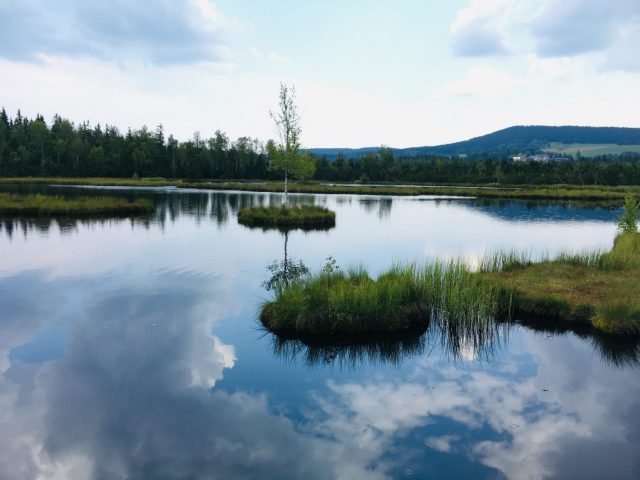 After finishing up at the visitor centre you could make a quick stop at Chalupská Slať, the biggest peat bog in the Czech Republic. This hidden gem of Šumava National Park is only accessible by a wooden walkway. At the end of the walkway, there's a viewing platform that offers stunning views, complete with peat islands and some rare plant species. We stopped here to take some photos and I can quite imagine what a romantic place this would be at sunrise or sunset.
Kubova Huť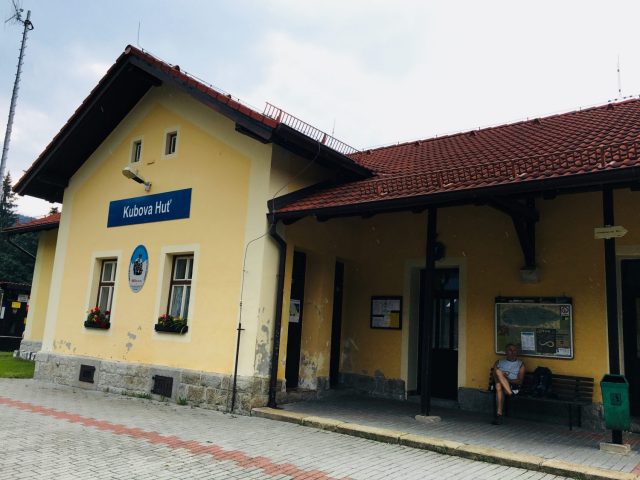 Whilst you're in the area Kubovna Huť village is a great lunch stop, we ate in Lunch in Kubova Huť village for lunch at Kristian Restaurant, the in-house restaurant of Hotel Kristian. The restaurant serves a good selection of local food and beers and has a great view out over the majestic Basum ridge.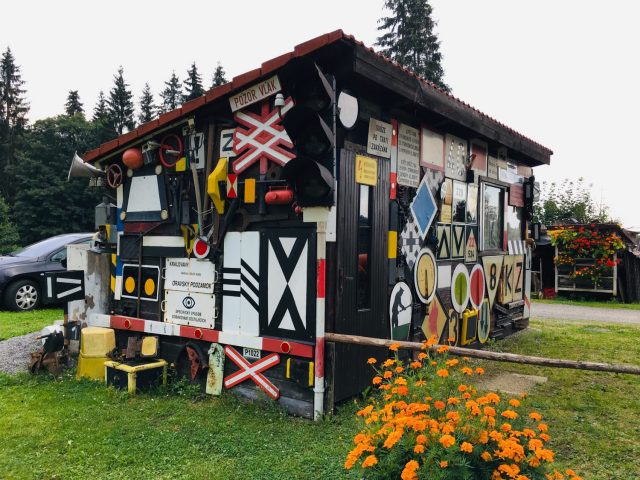 After lunch, you could take a quick walk to Kubovna Hut railway station. At 995 m (3,264 ft) above sea level, it's the highest elevated railway station in Czech Republic. I especially liked the old wooden station or guards house (I'm not sure which), next to the main station building; it's decorated with railway signs and memorabilia.
Soumarské Rašeliniště Peat Bog Hike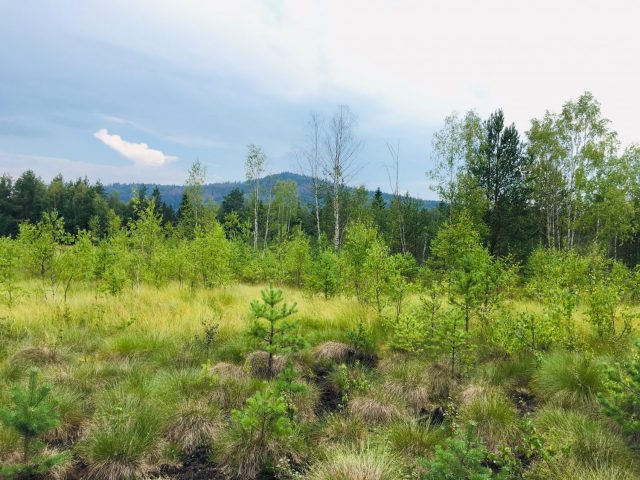 A great way to end an exploration of Šumava National Park is with a hike around Soumarské Rašeliniště peat bog. To really explore the peat bog away from the official nature trail you'll need to hire a guide, which you can do by contacting NP Šumava. The wildlife guides are extremely knowledgeable about this area and Šumava National Park as a whole. 
Our guide knew everything about everything and pretty much talked non-stop for our entire hike. We learnt a huge amount about the history, flora and fauna of our surroundings. He also told us the best time to visit is between 15th July and 15tth November as this is when there are most animals present in the park.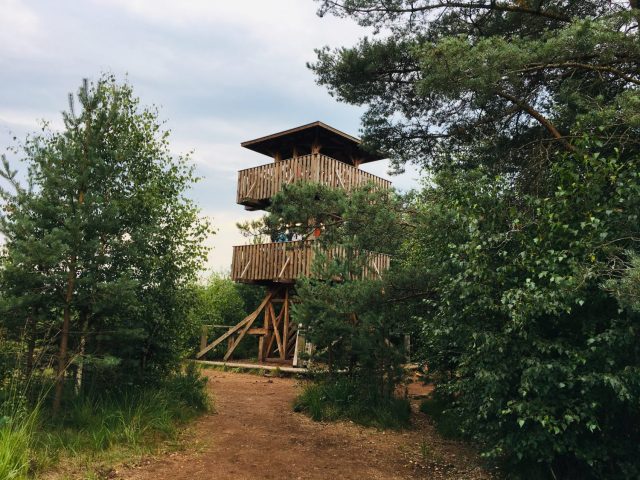 At the end of the official nature trail there's a tall viewing tower which we climbed before going off-piste and nearly getting ourselves stuck in the bog. From the top of the tower, there's an excellent 360-degree view out over Soumarské Rašeliniště. 
Near the start of the trail at Soumarské Most, there's also a campsite, with a meandering river used for boating or kayaking. Certain restrictions apply though, only seven boats or kayaks are allowed on the river per hour in order to preserve the river life. You can also check out some old cold-war bunkers which are interesting.
Our FAM trip ended in Ceske Žleby, from where it's possible to hike part of the Golden Path to the border crossing with Germany at Bischofsreut. Unfortunately, we were far too tired to attempt that this time.
Other Accommodation in Šumava National Park
Other than the fabulous Bed & Bike Prachatice there's plenty more accommodation available in various cities, towns and villages in Šumava National Park. For example, before we officially started our FAM trip we spent the night in Ceske Budejovice in gorgeous apartments at Residence U Černé Věže. I would have loved to spend a few days there relaxing bit more of a description here.
On the last night of our trip in Ceske Žleby we stayed at a bunkhouse – Hostal Ceske Žleby, which was very but clean which is often all you need when you're weary from a day of outdoor activity. I understand this and other similar budget accommodation can be booked through NP Sumava.
Other than that there are plenty of options to be found on Booking[.]com
---
I thoroughly enjoyed my time exploring Šumava National Park especially by electro bike which was lots of fun. If you like getting outdoors in nature this is definitely an area of the Czech Republic you don't want to miss. 
Have you been to Šumava National Park in the Czech Republic? What mode of transport did you use and which was your favourite bit?
Czech Republic Travel Resources
Planning your trip to the Czech Republic? Here are some of our recommended useful resources to help you have the best time possible:
● TRAVEL INSURANCE IS AN IMPORTANT CONSIDERATION FOR TRAVEL. If you're travelling long-term like us and from the EU, then True Traveller is our go-to option.
If you're from a non-EU country, another option for long-term travel insurance is SafetyWing, which you can pay for on a month-by-month basis. This is also good for shorter trips.
● Find amazing flight deals to the Czech Republic on Skyscanner and Kayak.
● Compare Rental car prices for the Czech Republic on Rentalcars.com.
● Trainline makes it easy to explore the Czech Republic by train and bus, with great prices.
● Booking.com usually have the best hotel prices for the Czech Republic.
● Our go-to for self-catering accommodation for the Czech Republic is Vrbo.
● Before booking accommodation in the Czech Republic, check reviews on Tripadvisor.
● Discover fantastic trips and activities in the Czech Republic with Viator and GetYourGuide.
● G Adventures offer incredible group holidays and tours around the Czech Republic.
Enjoy this post? Pin it for later!
Partnership Disclosure: All accommodation and activities were complimentary as part of a post-TBEX Ostrava 2018 FAM trip in collaboration with the Tourism Authority of South Bohemia and Visit Czech Republic. This did not influence my post in any way and as always I've provided balanced and honest reviews. Read more in our full Product Review Disclosure.