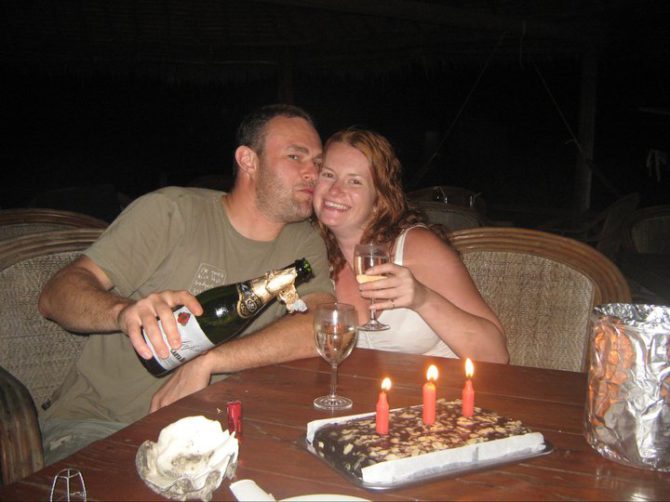 How it Started
We'd vaguely known each other for about twelve years before we got together. We worked in the same pub way back in 1996 and had some of the same friends over the years. In 2008 we both arranged to go on the same three week holiday to Thailand and Cambodia for Christmas and New Year with about ten friends.
In the seven months after booking we bumped into each other on a few nights out and one thing led to another. By the time the holiday arrived we were a couple and had been renting a house together for about two months.
Soon after we met I went to the Bull Running Festival in Pamplona, Spain. Andy called me whilst I was on the coach journey, asking if I fancied going to Prague to see Iron Maiden in concert with him. Of course, I jumped at the chance; not so much for the concert but I'd been to Prague before and loved it. That became our first trip abroad together; a great one it was too…I even enjoyed Iron Maiden!
A few months later we went on our group trip to Thailand and Cambodia; by this point, we were well and truly 'an item'. We spent two weeks in Thailand with the rest of the group, then the two of us headed off to Cambodia. We have friends who run a guesthouse in Siem Reap who Andy had visited before; for me though this was my first Cambodian experience and I loved it.
From the outset, it was apparent that one big thing we had in common was our wanderlust. Every year we managed a two to three week, mid or long-haul holiday, and a European break or two (often for New Year's Eve). These included jaunts together as a couple or with friends to Thailand twice, Cambodia three times, Berlin, Tenerife, Malta, Gozo, Czech Republic, Malaysia, Borneo, Zanzibar, Crete, Nepal, Iceland, Bratislava, Vienna, Guatemala, Belize and Norway. This year we've been back to the UK and Cuba, and we're now in Mexico; after that we'll be travelling through all the Central America countries.
Orange = Both of us      Green = Tanya      Blue = Andy
Between us we've visited 52 out of 217 countries. That is 23.96%.