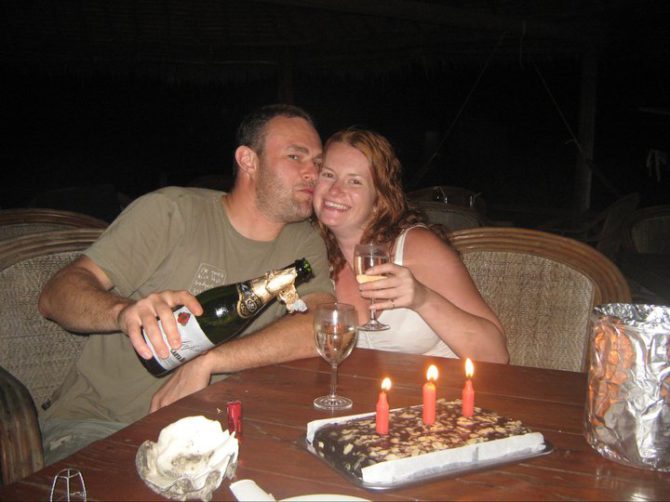 If anyone had said to us ten years ago "one day you two will get married, then leave the UK to travel, and live and work abroad" we'd never have believed them. In fact, we'd have laughed at the idea. Here's our story!
How it Started
We'd vaguely known each other for about twelve years before we got together. We worked in the same pub way back in 1996 and had some of the same friends over the years. In 2008 we both arranged to go on the same three week holiday to Thailand and Cambodia for Christmas and New Year with about ten friends.
In the seven months after booking we bumped into each other on a few nights out and one thing led to another. By the time the holiday arrived we were a couple and had been renting a house together for about two months.
Soon after we met I went to the Bull Running Festival in Pamplona, Spain. Andy called me whilst I was on the coach journey, asking if I fancied going to Prague to see Iron Maiden in concert with him. Of course, I jumped at the chance; not so much for the concert but I'd been to Prague before and loved it. That became our first trip abroad together; a great one it was too…I even enjoyed Iron Maiden!
A few months later we went on our group trip to Thailand and Cambodia; by this point, we were well and truly 'an item'. We spent two weeks in Thailand with the rest of the group, then the two of us headed off to Cambodia. We have friends who run a guesthouse in Siem Reap who Andy had visited before; for me though this was my first Cambodian experience and I loved it.
From the outset, it was apparent that one big thing we had in common was our wanderlust. Every year we managed a two to three week, mid or long-haul holiday, and a European break or two (often for New Year's Eve). These included jaunts together as a couple or with friends to Thailand twice, Cambodia three times, Berlin, Tenerife, Malta, Gozo, Czech Republic, Malaysia, Borneo, Zanzibar, Crete, Nepal, Iceland, Bratislava, Vienna, Guatemala, Belize and Norway. This year we've been back to the UK and Cuba, and we're now in Mexico; after that we'll be travelling through all the Central America countries.
Orange = Both of us      Green = Tanya      Blue = Andy
Between us we've visited 52 out of 217 countries. That is 23.96%.
The Dream
Over the years we spent many an hour chatting over a couple of drinks in our local about how one day we'd love to run a guesthouse abroad. Andy was always adamant he wanted to do this in Cambodia; on the other hand, I was always of the view we should travel to many other countries first before making a decision. Either way, it was clear that some longer term travel together at some point was on the cards. For many years, we could only dream, I don't think either of us thought it would ever be a reality. At least not until we retired, and by then we might be too old to enjoy it.
This didn't stop us planning, and I remember one night in our dining room, we put a long piece of paper on the wall and mapped out a timeline for the next thirty years. It showed where we wanted to be and what we wanted to be doing. I wish we'd kept it as from what I remember things are now starting to shape up just like we hoped.
A couple of years after we'd got together I began to wonder if Andy was ever going to ask me to marry him. We discussed it once or twice (once when backpacking around Tenerife), but he always just said 'one day'. He finally proposed at the end of a big night out. He'd been planning to do it during a return trip to Cambodia later that year, but he just couldn't wait. So with plenty of dutch courage, he finally asked me and I said "yes". To this day the proposal is still a little hazy!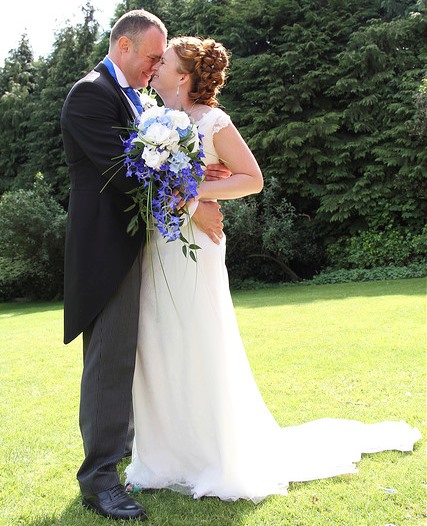 Fast forward to a busy first half of 2013, when we purchased our first house together. Around the same time I had two hen-dos (Egypt and Norwich), Andy had two stag-dos (Prague and Norwich), and I went walking on the Camino del Santiago (Camino de Levante) in Spain with my Mum. Then in late May we finally GOT MARRIED! I planned a travel themed wedding, which of course was no surprise to anyone.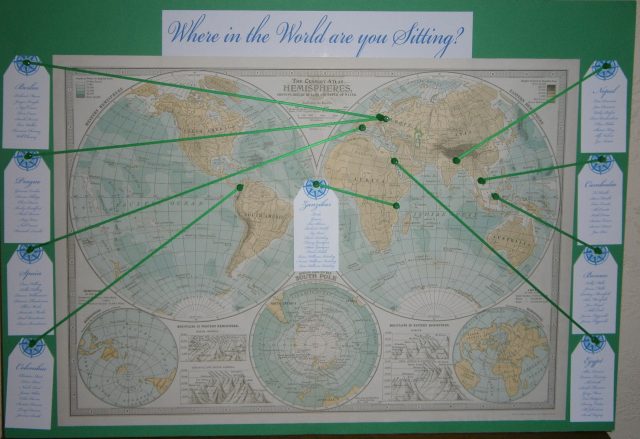 It turned out to be the hottest day of the year, and full of lots of fun, games and laughter. The day after the wedding we jumped on a plane, bagged a free upgrade and flew to Zanzibar for an amazing honeymoon exploring the island. Why Zanzibar? Purely because Andy liked the name.
We returned from our honeymoon and settled into married life. Things became a bit calmer and we both changed jobs and travelled alot in the UK for work. We were left with little time for much else; other than our annual holidays and short breaks which we always managed to squeeze in.
The Reality
After being in our house for nearly two years and still having only renovated two rooms, we decided it was time to make a concerted effort to finish it. On completing the renovation we realised a reasonable amount of equity in the house, giving us some security in the UK. In turn, this gave us the opportunity to try travelling, and living and working abroad as we'd talked about for such a long time. That was it…decision made! We started planning with gusto.
Fast forward again to the present day and we've remortgaged our first house, bought a buy-to-let house and will soon be leaving the UK. We spent a week tidying up the buy-to-let and quickly found tenants, we now need to find tenants for our house. The past few months have been ridiculously busy preparing everything else ready to set off on the 3rd of September. We have a weeks holiday with my family in a villa in Majorca first then we fly straight to Mumbai. 
There's still ALOT to do before we go. I'm sure there wasn't so much to sort out when I went travelling around South America before when I was 25. I guess that's what comes with age and responsibility…..not quite so carefree these days.  As we get things ready for departure and forge forward with our plans I'll be sure to share anything interesting or useful.
Most Memorable Joint Travel Experiences
Some of our most memorable travel adventures include:
The night train from Bangkok to Chiang Mai

Jungle trekking and bamboo rafting over Christmas in Chiang Mai

New Years Eve on Ko Phangan with our own beach fire and party 

Visiting the ancient temples of Angkor Wat and some lesser known temples

New Years Eve in Berlin with a group of twelve friends

Joining a crazy Khmer festival celebrating ten years since the ousting of Pol Pot.

Night swimming in phosphorescent sea off Koh Rong Island, Cambodia

Our boat capsizing on leaving Lazy Beach on Koh Rong Island

Visiting the orangutans in Sarawak, Borneo

Beach Barbeques in Zanzibar on our honeymoon

Snorkelling some amazing sites including Belize Barrier Reef 
So that's you up to speed on how we met and ended up on this great, but daunting adventure. Have you done something similar or have any questions? If so we'd love to hear from you.
P.S. You can read more about this blog, what we're doing and us individually via the following links: