Affiliate link disclosure: This post may contain affiliate links including Amazon that earn me a small commission, at no extra cost to you. Read more in our full Affiliate Link Disclosure.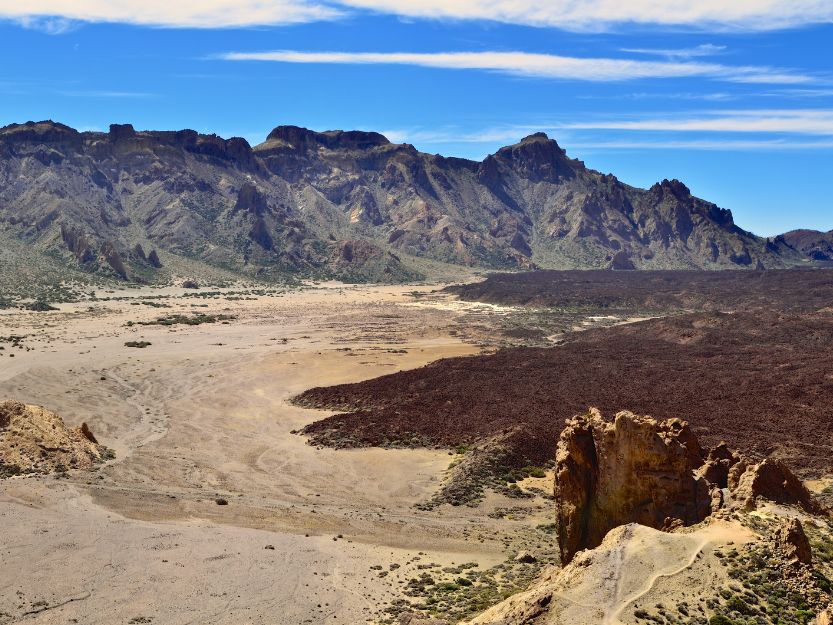 Most people think of big resorts, crowded beaches, and parties until the early morning when you mention Tenerife. Hidden gems and unusual things to do are not on most people's radars when travelling to this famous Canary Island.
However, for adventurous souls, there are a lot of amazing things to see and do outside of the resorts and the typical tourist hot spots in the south. With two different micro-climates, "the island of eternal spring" is home to mystic cloud forests, moon-like landscapes, sleepy fishing villages, and secluded beaches.
Especially in the lush north of the island, amidst avocado fields and deep ravines, there are a wealth of hidden gems in Tenerife that, luckily stay off the tourist radar.
Planning Your Trip to Tenerife
Planning your trip to Tenerife? Here are some of our recommended useful resources to help you have the best time possible.
Tenerife's Hidden Gems
The best way to explore Tenerife's hidden gems is to rent a car and hit the steep hairpin roads for an ultimate adventure. In this post, we share six of Tenerife's hidden gems.
1. Taganana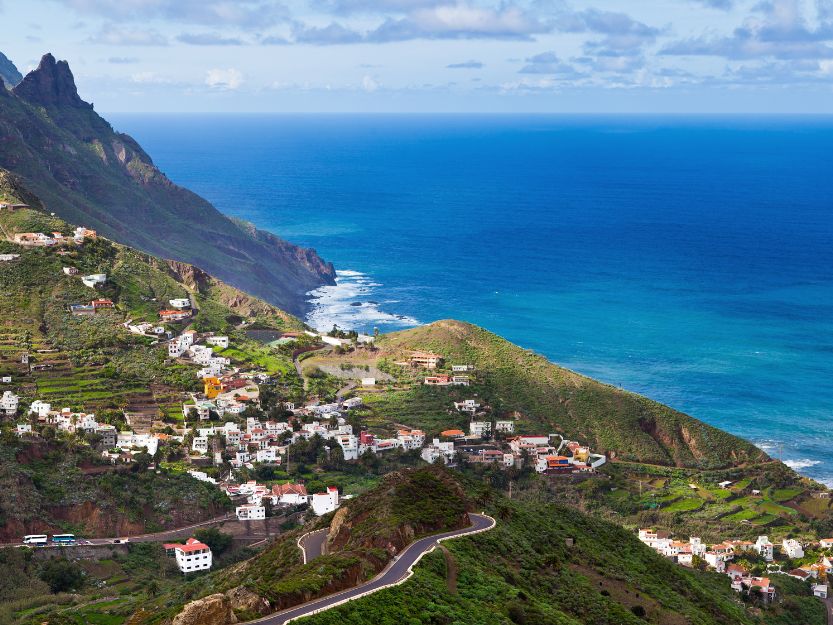 Taganana is one of Tenerife's hidden gems and the oldest settlement on the island. It is also one of the most picturesque villages in Tenerife with whitewashed houses elegantly cascading down the green hills of the Agana Rural Park in the north of the island.
Nature lovers will find Taganana a treasure for hiking trails ranging from easy walks in the forest to advanced hikes through ravines, deep green cloud forests, and across steep ridges. But you can also enjoy lesser-visited beaches like Benijo Beach which is one of the most scenic black sand beaches in Tenerife. Framed in dramatic rock formations and cliffs, it's a feast for the eye. But as it is dramatically beautiful, the sea can also be dramatically brutal, so be cautious of strong waves and underwater currents if you decide to go for a dip.
Travel up the hairpin roads above the village to search for the most epic viewpoints to get the Insta-perfect shots. One of the best viewpoints is the Mirador Risco Amogoje where you can see the scattered houses wrapped in green leading down to the dramatic coastline. Taganana is a lovely place to stay for a few days, especially if you care about uncovering the impressive coastline and the incredible hiking trails that start in the village.
2. Hidden Beaches
There are a whole lot of secluded hidden beaches in Tenerife far from the crowded southern resorts to discover on your holiday. Some of these can be hard to reach, which might be part of the reason for them rarely being visited. So if you put in the extra effort, you are up for a paradisiacal experience. Note that there are usually no facilities like sunbeds and shade for rent at such remote beaches and they might be nudist beaches. 
Here are some of the most impressive hidden beaches in Tenerife that are worth visiting:
Playa Diego Hernández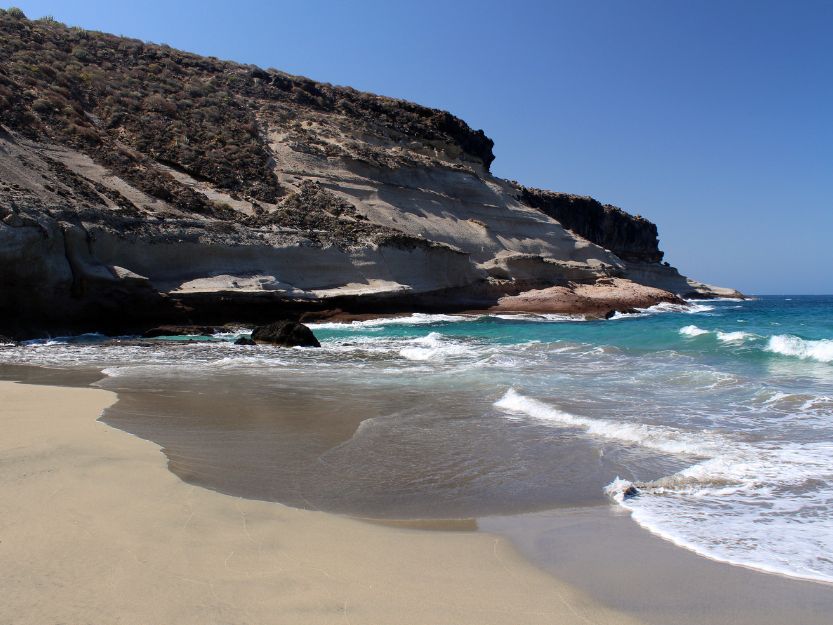 The spectacular white-sanded beach, Playa Diego Hernández is situated close to the quaint fishing village of La Caleta in the Adeje municipality. In fact, you can walk from the village for about half an hour to reach the beach. Another way down is from Golf Costa Adeje. The walk is beautiful with rugged limestone cliffs diving into the crystal clear water. Playa Diego Hernández is rated a nudist beach, like so many hard-to-reach beaches in Spain. Though clothing is optional, make sure you respect it.
Playa el Bollullo
Situated about 3.5 kilometres from Puerto de La Cruz is Playa El Bollullo this is a stunningly remote black sand beach with rock formations in the water. There is a beach bar with spectacular views of the beach and you can go for walks along the cliffs to the little chapel Cueva de Nuestra Señora del Carmen. Be cautious when swimming there due to the currents and waves that are frequent on the northern Tenerife coastlines.
Playa de Antequera
Playa Antequera is another nudist beach that is challenging to reach by land. Situated in Igueste de San Andres, you must walk on steep trails on the cliffs. But you will be rewarded with breathtaking views of the Anaga mountain range hugging the beach and the Antequera rock formation that shoots into the sea. Antequera Beach is easily one of the most remote beaches in Tenerife, and one of the best adventures to be had.
Playa de Masca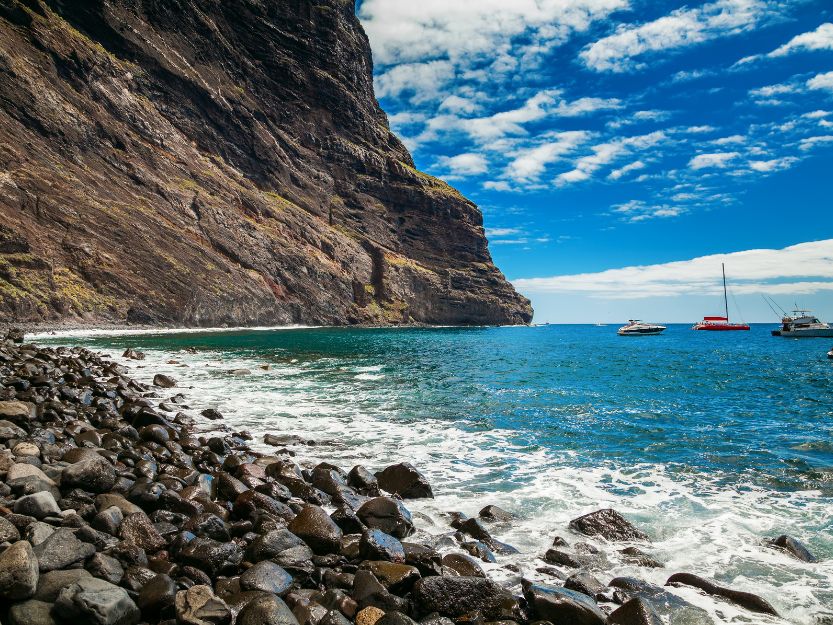 Situated in the mouth of the Masca gorge, the stunning Playa de Masca is only reached by the adventurous that take on the Masca Gorge hike. This is a there-and-back hike of 10 kilometres that most people take seven hours to hike. There is limited access to the hike as the gorge is a protected area, so you must book your hiking spot in advance. This is not a beach you can spend the whole day at, because you must start your return hike before 2 pm, to be sure to get back in time. Take advantage of this secluded opportunity for a quick dip in one of Tenerife's most beautiful beaches surrounded by wild nature.
3. Stay Overnight in Teide National Park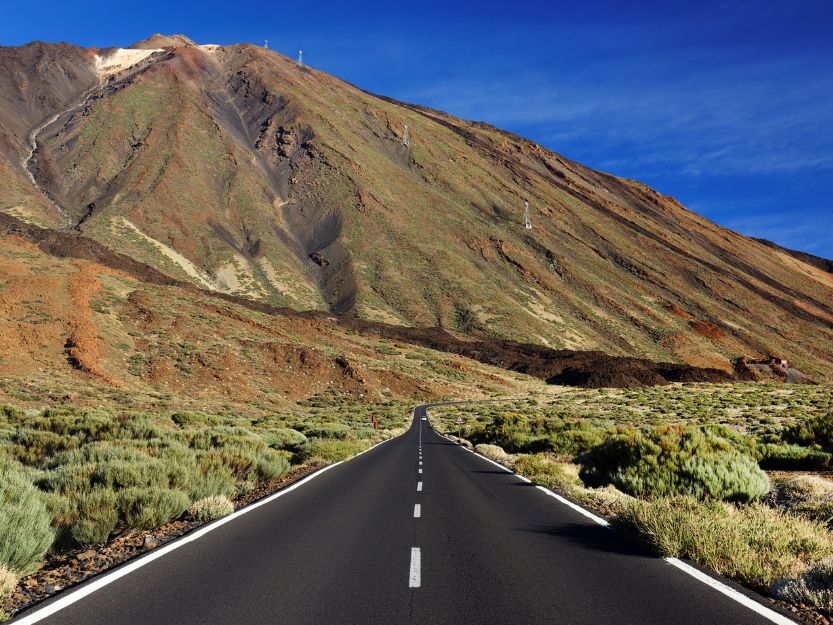 Parque Nacional del Teide is one of the hottest tourist attractions in Tenerife and the cable car up to the highest peak in Spain, Teide Volcano (3718) is super popular. So why are we talking about Teide National Park among the best-hidden gems in Tenerife?
Teide National Park is declared a UNESCO World Heritage site and has been awarded as a Starlight Tourist Destination. In fact, the national park is one of the best places you can go stargazing. This is something most tourists miss out on, and there is only one hotel at the base of the volcano where you can stay overnight in the entire park, Parador de Las Cañadas del Teide. 
The altitude and dark surroundings create such a clear sky where you can see a wealth of stars and the milky way with your bare eyes. But if you want to take a closer look, there are stargazing tours where you can look through a telescope and get the glittering night sky explained by a professional. This is a fun activity for the entire family as well as couples looking for unique experiences.
4. Bajamar and Punta de Hidalgo villages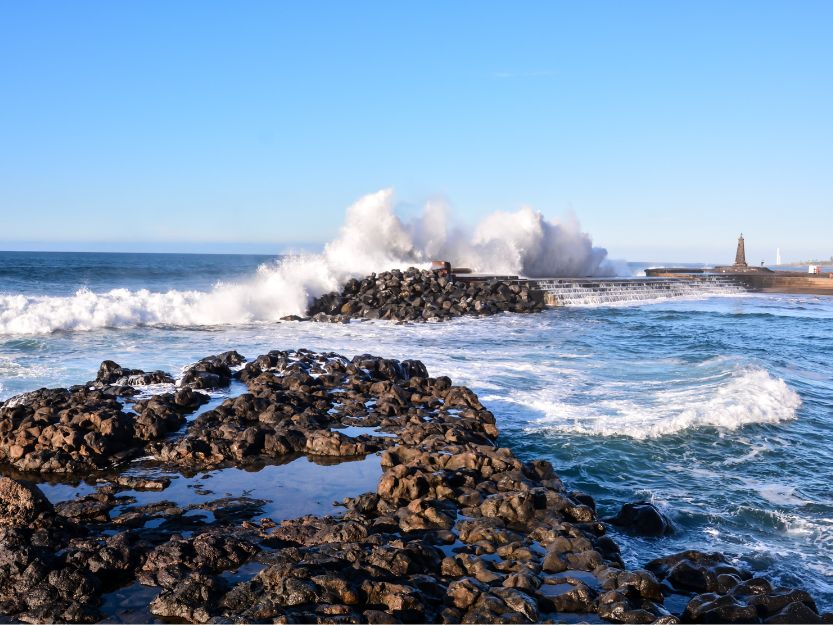 Two of the most charming villages, which are also listed among northern Tenerife's secret places are Bajamar and Punta de Hidalgo. They are found quite close to each other, so you can easily explore them both in one day – but do not forget your swimming suit.
Bajamar is situated on the seaside and its main attraction is the wonderful natural pool where you can go swimming without worrying about currents and waves like on most other beaches in northern Tenerife. In fact, there are two big pools and one small one that is perfect for kids. There are a lot of activities for nature lovers in Bajamar from snorkelling and diving to fishing and surfing.
Also Punta de Hidalgo has a nice natural pool that you can climb down to on ladders, surrounded by a larger tidal pool that is perfect for the kids to play around in during low tide.
5. Punta de Teno Lighthouse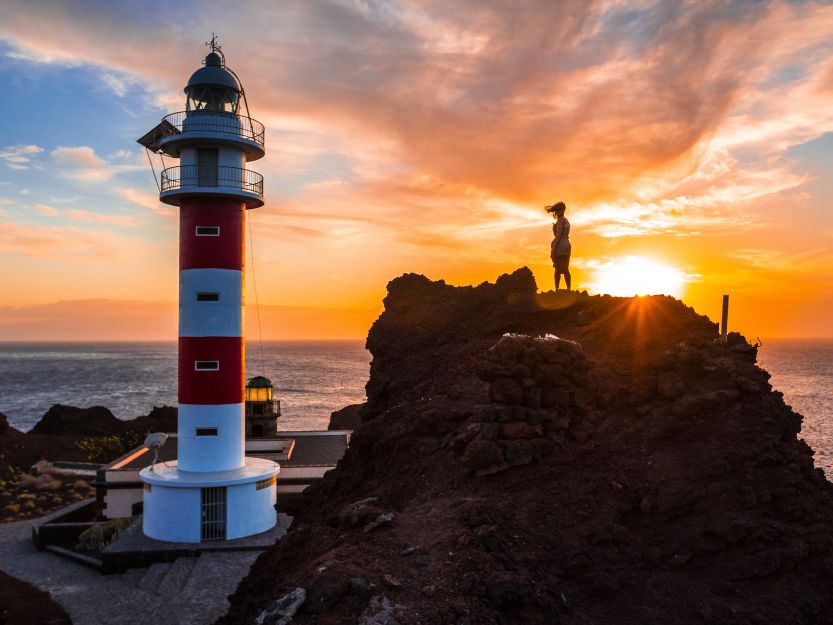 When looking for secret places in Tenerife, Punta de Teno Lighthouse is a wonderful gem in the northwest of the island. It is surrounded by a dramatic natural scene with the Masca mountains towering above the furious ocean below where fishermen have been guided to safety since 1897.
It is not possible to visit the lighthouse, but you can hike across the volcanic rock for one of the most picturesque views in Tenerife. You can drive there, but the road is only open between 9 am and 8 pm in the summer and the rest of the year it is open between 7 pm and 10 am (thus not in the daytime). You can also take bus no. 369 from Buenavista del Norte.
6. Cueva del Viento – The Wind Cave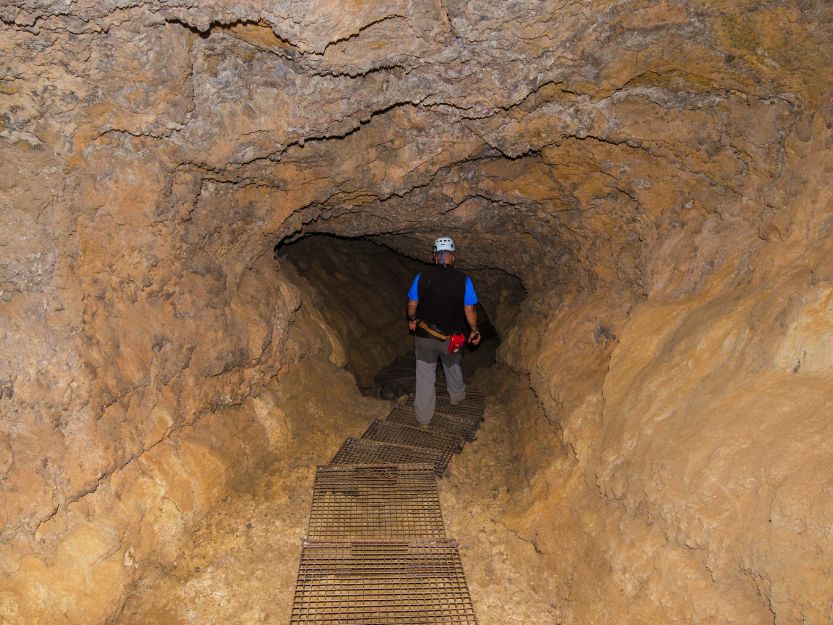 Finally, Cueva del Viento (The Wind Cave) is an incredible hidden gem in northern Tenerife. This is the world's 5th largest volcanic tube with its whopping 18 kilometres. A volcanic tube is like a tunnel that is naturally created inside the lava flows as they turn solid on the outside, where lava can keep flowing through until it runs out. Cueva del Viento is considered to be the world's most complex lava tunnel as it spans through several levels and multiple passages.
The lava tube can be visited by guided tour and it is a unique experience to walk through the underground passages that fold out on three levels. Tours start from the visitor centre. From there you will be transported closer to the lava tube before the rest of the 2.5-hour tour is by foot. You must book tickets in advance and wear long pants and good shoes – hiking boots or shoes are great. Children under five years are not allowed in Cueva del Viento.
Discover Tenerife's Hidden Gems
So there you are, six of Tenerife's best-kept secrets to consider adding to your itinerary to discover Tenerife away from the tourist crowds.
---
Which of these Tenerife hidden gems would you like to discover the most? Or, if you've been to Tenerife, can you recommend any other hidden gems?
Tell us in the comments below.