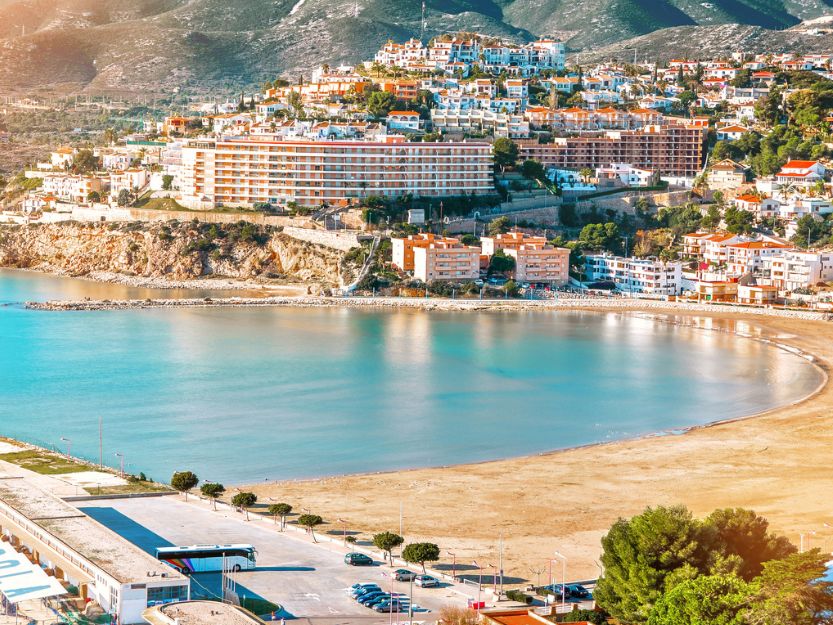 Over the last 15 years I've spent a lot of time in Spain; mainly walking various routes of the Camino de Santiago, but also exploring and getting to know many other places there too. It's safe to say that I absolutely love Spain.
From the warm climate and incredible food and wine to the vibrant, bustling big cities. From the small towns and villages steeped with history to the laid-back and relaxed beach towns. Spain has something for everyone! 
Affiliate link disclosure: This post may contain affiliate links. If you make a purchase through an affiliate link, I may earn a small commission at no extra cost to you. As an Amazon Associate, I earn from qualifying purchases. Read more in our full Affiliate Link Disclosure.
Best Cities to Live in Spain for Expats
So, f you're thinking of moving to Spain and wondering which are the best cities to live in, then you're in the right place. Here are my recommendations for the seven best cities to live in Spain for expats to help you decide which is best for you.  
1. Madrid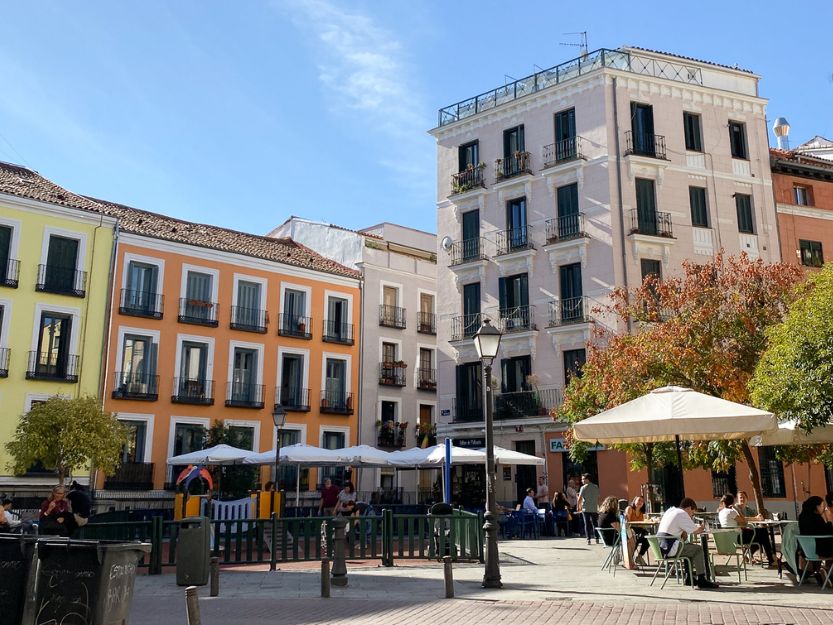 Madrid is the capital city and also the largest city in Spain, so it's an obvious choice as one of the best places to live in Spain for expats! We love Madrid as the first choice for living in Spain for so many reasons but one of the standouts of this incredible city is the vibe and culture around every corner. No matter what time of the day it is, the city is buzzing and there is always something going on. Living in Madrid feels like you are having the authentic Spanish experience without even having to try! You won't have any shortages finding things to do between the theatres, museums, and incredible tapas bars that line the streets.
For those who love art or just want to relax, the "golden triangle of art" has 3 amazing museums, including the world-famous Prado Museum to explore. Or, simply walk over to the massive "El Retiro" park where you can stroll through tranquil paths and even rent a paddle boat. 
With Madrid being the country's capital and geographic centre, it also comes with the highest job opportunities which can be important if you're moving to Spain as an expat and need to work outside of being a digital nomad. This is probably why almost one million expats call Madrid home! You'll be able to find a community to feel at home in which is always a plus when you're moving abroad!
While the cost of living is a little higher than other cities on this list, it's still significantly lower than other major cities in Europe and much cheaper than the US!
Madrid is best for: Job availability and city lifestyle
2. Barcelona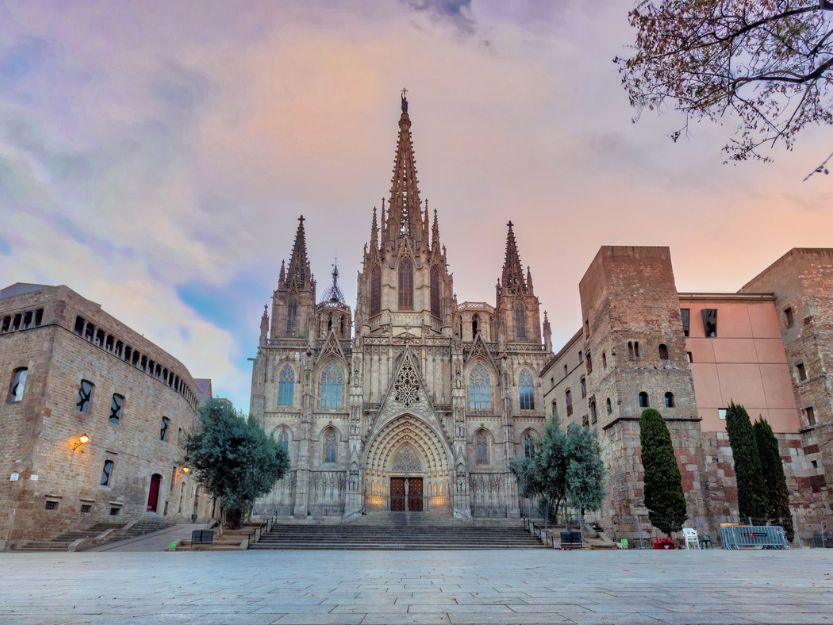 Ahh Barcelona, the city that every tourist goes to, and for good reason – it's breathtakingly beautiful! Barcelona has many different areas to suit your lifestyle which is what makes it one of the biggest hubs for entrepreneurs and digital nomads in all of Europe! You won't have an issue finding other expats in Barcelona, especially if you're working online at one of the many coworking spaces that attract expats.
The Gothic Quarter is what you see in every photo with the stunning Gothic Cathedral and is the oldest area in the city and the heart of the old town. This is the place to go for cafes, and bars and experience the life of the city. If you're looking for a more artsy and bohemian vibe, then you have the Raval district or the Born district which is near the Gothic quarter and offers a similar vibe but with fewer tourists.
You may have noticed I mentioned tourists a lot. This is something to point out about Barcelona: it has a lot of them! During the Summer, it can be hard to even walk down main streets and you'll see many younger American tourists there to party as the drinking age in Spain is much lower, so this is something to keep in mind when choosing where to live. 
The cost of living in Barcelona is one of the highest in Spain, even a little bit higher than in Madrid. This is likely due to the high levels of tourism and that it has a beach, which is something Madrid does not have!
Barcelona is best for: Art and culture, digital nomads and city lifestyle 
3. Granada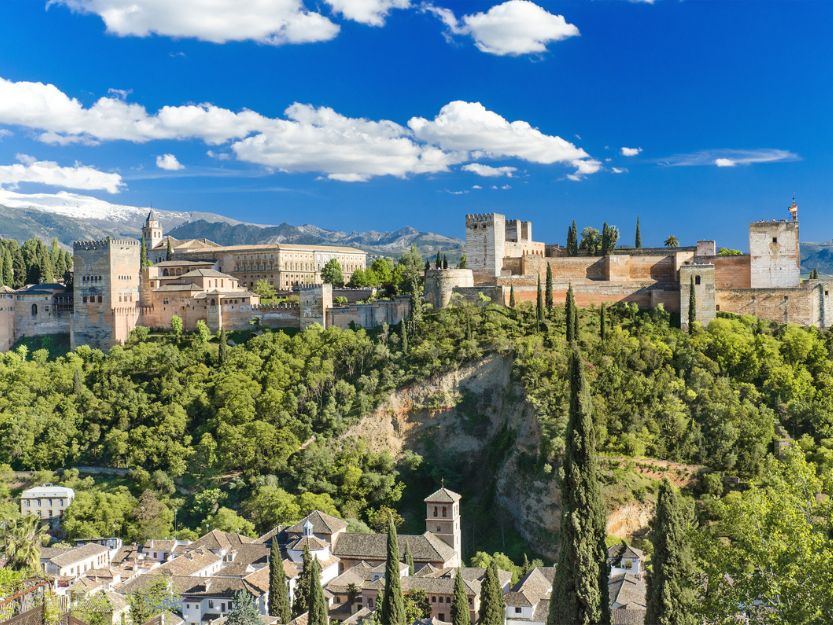 Granada may not be first only our mind when thinking about where to live in Spain as it's smaller than some of the others on this list but it's one of the best cities to live in Spain for expats! Granada is a prime location for exploring the diverse landscape of Spain as it's perfectly situated between mountains on the north and beaches on the south. It's also home to the famous Alhambra, a UNESCO World Heritage Site. If you want to spend time hiking and then go chill by the beach while also being able to be surrounded by some major history, Granada may just be what you're looking for!
While you will find many expats in other cities like Barcelona or Madrid, the expat community in Granada is much smaller which makes it feel much more close-knit like a family. It's also a popular choice for students so the whole vibe of Granada is lively, cheerful, and on the younger side.
If you're on a budget, Granada is also a cheap city to live which makes it an excellent choice to stretch your budget in a prime location!
Granada is best for: A tight-knight expat community and budget
4. Seville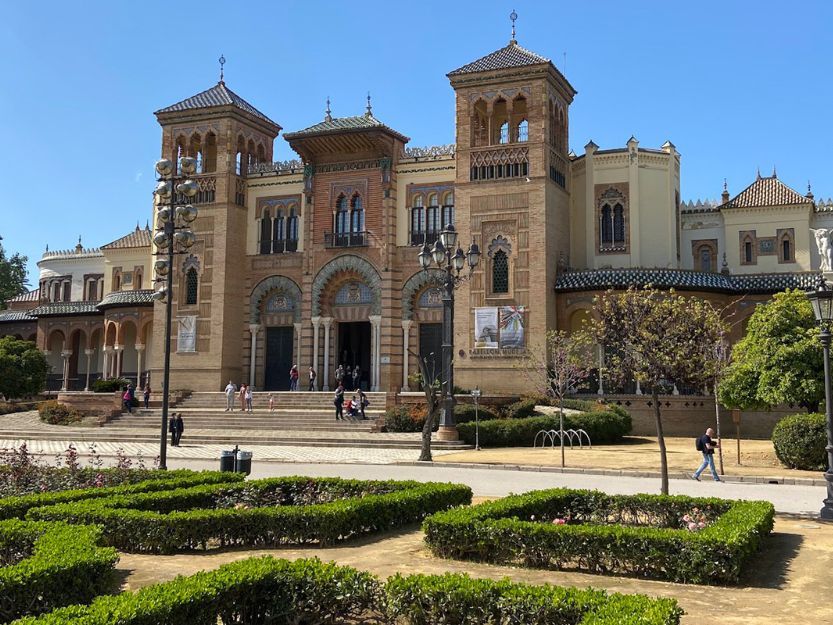 Walking through the streets of Seville feels like you've just entered a traditional Spanish movie and you're the start. That might sound a bit dramatic, but that is how we felt! When you think of traditional Spain, you might think of things like flamenco dresses, white horses pulling chariots, white-washed buildings, and lots of delicious tapas and wine and, well, Seville has all of that!
The beautiful capital of the Andalusia region, Seville is the home to Flamenco dancing so living in Seville means you are always surrounded by vibrant, lively, and musical evenings and festivals. You're also decently close to beaches and mountains if you decide to get out of the city for a while. And, speaking of the city, Seville is the 4th largest in Spain but it somehow still feels small.
On that note though, that "small town" feel translates into the feel of living in Seville. The lifestyle is very slow and laidback in Seville which can be a pro or con depending on what you're looking for. It can be hard to embrace if you're used to always being busy and on the go.
Some of the other pros of living in Seville are its proximity to its major airport and the Portugal border if you want to explore another country in your off time.
Seville is best for:  A laid-back lifestyle and traditional Spanish feel
5. Valencia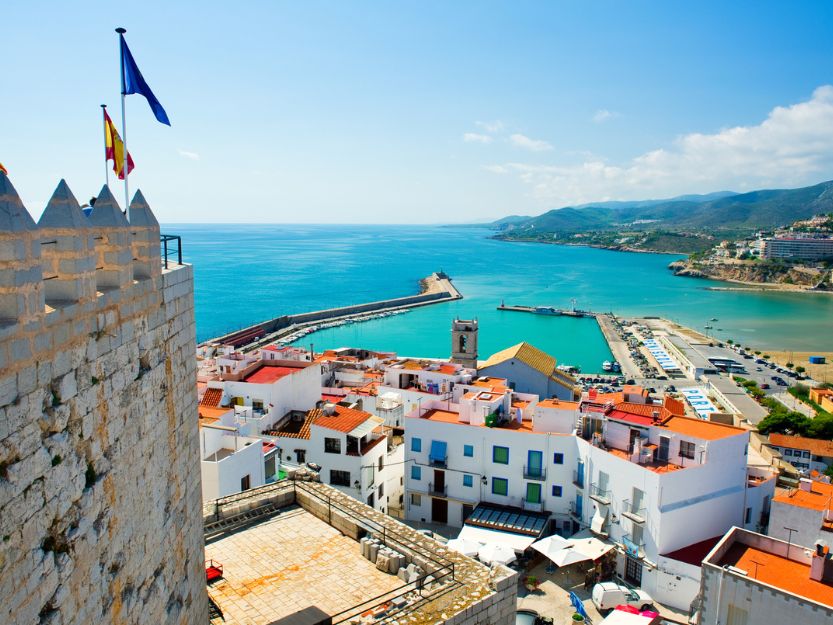 Valencia is the beachy home to Paella! That alone may make you want to move there but this beautiful city is so much more than paella. Valencia is a coastal city in the Mediterranean that is known for its beautiful beaches and affordable cost of living. 
Valencia is becoming more popular with expats so the expat community is growing however it is not as large as other areas in Spain quite yet. This makes it great for families who don't necessarily need other people as they have built-in friendly making the move with them. Having said that, the expat community will only grow over time! The real estate market is also growing in Valencia while keeping a lower cost of living, which makes it a great place for a family to buy a home. Valencia is also an extremely walkable city with some great international schools so families won't have any problem getting around places, especially with kids.  
And, if you're not coming with a family, you'll be very happy to know that Valencia offers amazing cultural events and nightlife so there is something for everyone!
A great thing about Valencia is that it's slightly more off-the-beaten-track so you can avoid a ton of tourists while still being in an amazing location with lots of sun and the usual laid-back and chill vibe that comes from living in a beachy town.
Valencia is best for:  Families and budget living
6. Palma de Mallorca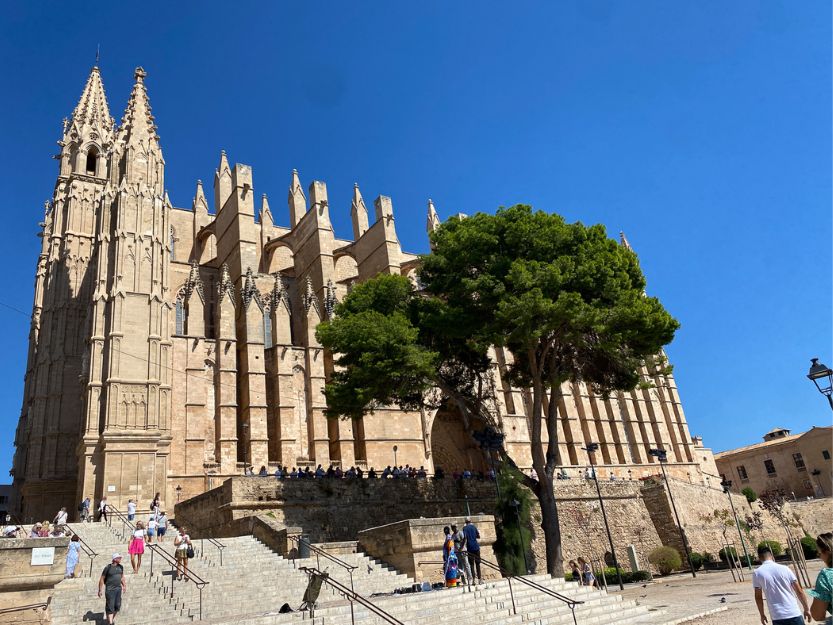 Palma de Mallorca is the main city on the island of Mallorca. It's a very walkable city, making it a great place to stay if you don't have a car.  Mallorca is one of Spain's Balearic islands that is known for beach resorts, amazing nightlife, and food but it's so much more than just a holiday destination! To be fair, the popular opinion that Mallorca is only for partying is quite false.
I've visited the beautiful island twice, once alone for a travel blogging conference and hiking and once for a villa holiday with my family. And, whilst there is partying available in some places that's certainly not all that's on offer. Mallorca has a relaxed and beachy vibe that still feels upscale with many Michelin-star restaurants and great shopping.
A highlight of Mallorca is that the weather is beautiful year-round with mild winters and plenty of sun and heat in the summer! The city of Palma de Mallorca is a great place for couples or digital nomads to live as it's got all the creature comforts of a big city – you can even drink the tap water which you can't in other cities on the island – but still feels small and laid back.
When you're not at the beach, not far from Palma is the gorgeous Tramuntana Mountain Range, A UNESCO World Heritage Site which is where I spent several days hiking a couple of years ago. These mountains have some beautiful little villages like Deia and Valldemossa!
While it's not the cheapest place to live in Spain, it is cheaper than much of the rest of Europe and the USA. It's a great place for digital nomads or for those who want to retire or work in the hospitality industry!
Palma de Mallorca is best for:  The climate
7. San Sebastian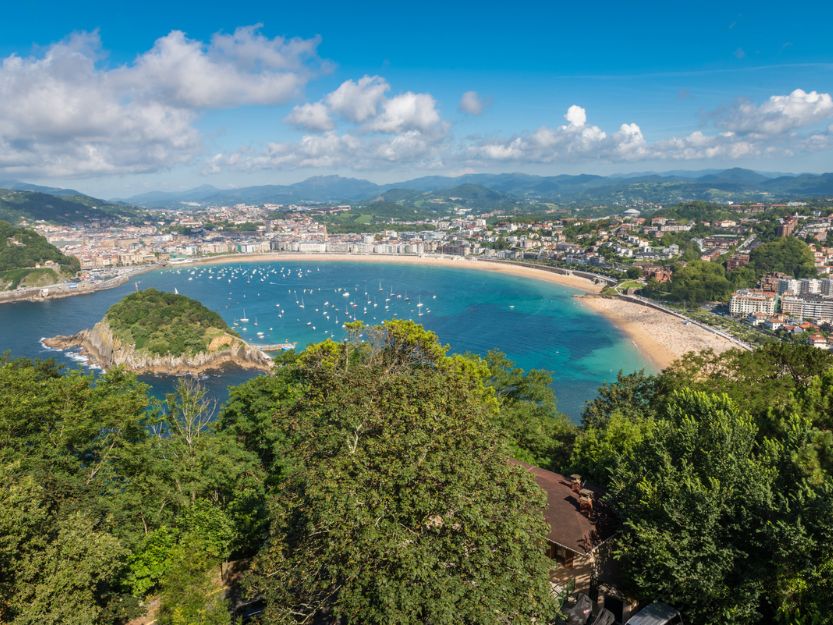 San Sebastián is not a city you will find on many lists of places to live in Spain. But, that is exactly what makes it one of the best cities to live in Spain! This small town is located on the north coast of the country, almost in France, and is Spain's food capital! We have "bar hopped" between all the amazing Pintxo Bars in the old town and we have to say that we see where it gets its name! San Sebastián has the highest concentration of Michelin stars per square kilometre than anywhere in Europe! San Sebastián is one of the best cities in Spain for expats who love great food.
Outside of just eating, there is plenty to see and do! In the summer, walk the beautiful boardwalk and lay on La Concha beach, named after its shape, or head to the nearby Mount Igueldo or Mount Urgull for some hiking. At Christmas time you'll be able to get in the festive just like home because San Sebastian has been voted one of the European capitals of Christmas! Or, jump on public transport for a couple of minutes and you'll be in France!
There are a few downsides of San Sebastián that you need to consider. It is a smaller city and doesn't have nearly as many expats as Madrid or Barcelona so you may have trouble finding friends and English is not as common. It's also slightly more expensive than some of the cities on this list. But, if you're looking for a different experience, San Sebastián may be for you!
San Sebastian is best for: Foodies
Pros and Cons of Living in Spain as An Expat
Spain is a pretty incredible country to live in as an expat but, like any country, there are always good and bad things you should consider before you just up and move your life! Here are a few things to know:
Pros of Being an Expat in Spain
The climate is absolutely beautiful. You'll have hot summers and mostly mild winters with little to no show. There are also a variety of different climates from the hot and dry Mediterranean to the cooler mountain areas.
Spain has a rich culture, lots of history, and tons of art, music, and festivals throughout the year so living in Spain is just plain fun!
The food and wine is amazing. There's paella, there's tapas, there's amazing seafood and the most delicious iberico ham you'll ever taste. Don't forget the incredible Spanish wine and the wine regions like Rioja which have some of the best wine in the world.
It's affordable compared to most countries in Europe and compared to the USA.
The lifestyle is laid back and there is a focus on family, friends, and a social life which is much different than many of the large cities in the USA or the UK.
Cons of Being an Expat in Spain
If you don't speak Spanish you may have trouble communicating with locals or getting things done that need getting done. Consider learning Spanish before you move!
The unemployment rate is one of the highest in Europe. If you're moving and hoping to find work, this might be pretty tricky. Working remotely as myself and Andy do, maybe teaching English online or other computer-based work could be a good option.
The cities can be noisy and lively which may be a con (or a pro) depending on who you are. If you're looking for peace you may not like the lively Spanish experience with their super late dinners and staying up late partying into the night! Of course, there are many cities where you can find quiet pockets but this is something to keep in mind!
---
Spain has so much to offer expats that it's hard to find a bad place to live. Wherever you choose from our list of best cities to live in Spain for expats, you are sure to love your new life in Spain as each city has its own magic depending on what you're looking for! 
Where would you live in Spain? Have I missed any other cities that we should include on our list of best places to live in Spain for expats?
---
Planning Your Move to Spain
Planning your move to Spain? Here are some of our recommended useful resources to help you have the best time possible.
Enjoy this post? Pin it for later!