Affiliate link disclosure: This post may contain affiliate links including Amazon that earn me a small commission, at no extra cost to you. Read more in our full Affiliate Link Disclosure.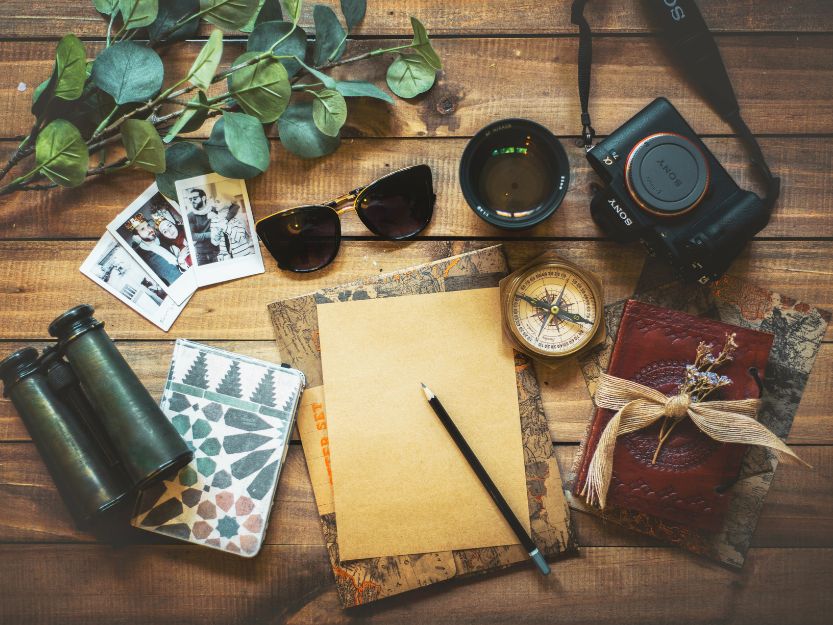 Facts Why You Should Consider Getting SafetyWing Travel Insurance:

Fact 1: Things go wrong – often.
Fact 2: Just when you think it won't happen to you, it does.
Fact 3: When you are least expecting it, it goes wrong.
Fact 4: It's normally expensive/painful or both.
Fact 5: Travel insurance can help.
Before Andy and I started our life of travel and living abroad, we had both "been around a bit". Stop it! I didn't mean it like that. I mean we had both travelled fairly extensively. Taking every opportunity to get out of England, we both ran off to various corners of the world for a week or two (or longer) at a time in search of sand, sea, sun, and adventure. So, along the way, we picked up our fair share of holiday-related stories.
On reflection, most of the stories are about the bad things that have happened. After all, no one is really interested in hearing that the beach was fantastic, the food great and the weather perfect on your recent week in Spain. They want to know about the lost passport, the pickpocket in the bus station, the terrible dose of the runs you got from the rat on a stick, and the day the hotel flooded.
Sounds dramatic but all of those things have actually happened personally to us at some point or other. And that was just on normal one or two-week holidays from work!
On longer trips, we have been on a boat that sunk, got caught in a typhoon, crashed in a taxi, nearly been wiped out in a tuk-tuk by a truck, almost died in an Airbnb fire, got sick, had flights delayed and cancelled and lost luggage. The most expensive was having to fly home from Mexico due to a family emergency. It's all part of travelling and accepting there are risks involved, especially if you like to head more off the beaten track like us.
And that is why we have always made sure we are covered by insurance. You hope you never need it but are so thankful for it when you do.
SafetyWing Travel Insurance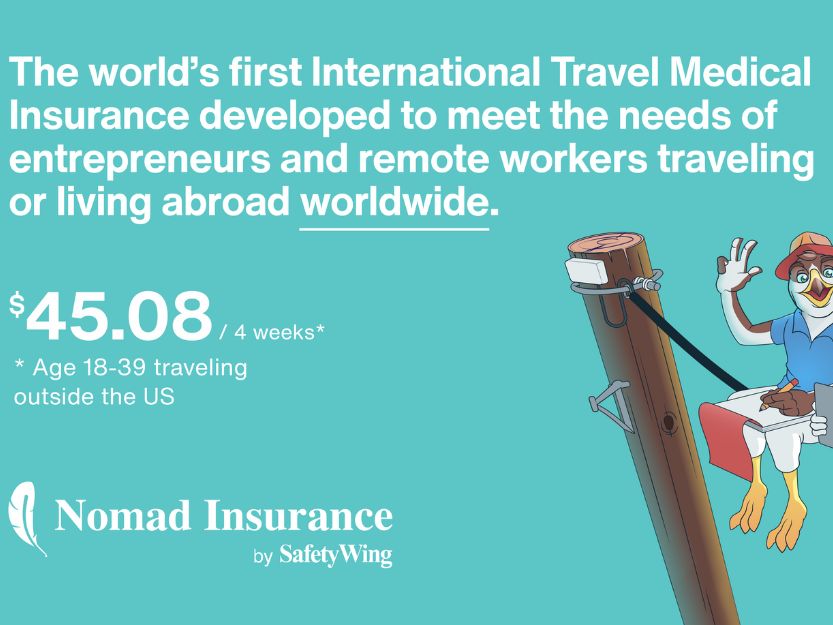 We have recently become fans of SafetyWing travel insurance. And it's not only us. After a few years of being abroad, you get to hear from many other people about their terrible travel tales and how their insurance companies dealt with them. SafetyWing often seems to come out on top when it comes to customer service and cover.
SafetyWing is a good travel insurance for short breaks and annual holidays. It offers great coverage at competitive prices. It is easy to get, just follow this link for the standard "'Nomad Insurance Policy".
Not only is SafetyWing great for a normal holiday, or trip away. However, it really comes into its own when you need travel insurance for longer or indefinite trips.
Remote working as a digital nomad or location-independent freelancer presents the problem of finding adequate insurance. Most policies only cover you for a number of weeks per year away from home. They also need to purchase the cover from your own country and to return to your own country for a number of days between trips. That's not very convenient if you are planning a two-year round-the-world cycling expedition or a six-month workcation in the Philippines. Even less convenient if you decide to spend another two years cycling back the way you came or decide to take another year-long contract in your new job. This is another area where SafetyWing travel insurance surpasses the competition.
What is SafetyWing?
In 2018 three remote workers (Sondre, Sarah and Hans) were staying in their friend's place in Norway. One of them was working on the Norwegian social safety net system and had the idea of rolling the safety net system out into the remote working world. The eventual aim was to provide remote workers with the same level of security that the Norwegian government offers its citizens.  The first item on the agenda was health care. So, the first product they designed and launched was travel insurance that was suitable for short holidays and longer remote working trips.
The SafetyWing travel insurance proved deeply popular and now covers over 100,000 holidaymakers, travellers, and nomads in over 150 countries throughout the world. The co-founders are remote workers as are the majority of the staff team. This puts them in the unique position of truly understanding the nuances of customers' situations as they, between them, have likely experienced similar situations. Empathy goes a long way when the person on the end of the phone is having a personal crisis!
SafetyWing Insurance Products
Over the past few years, SafetyWing has been so successful it has released more products aimed at the growing hoard of remote workers. It now offers three different types of cover designed specifically for slightly different groups. These are Nomad Insurance, Nomad Health, and Nomad Remote Health
SafetyWing Nomad Insurance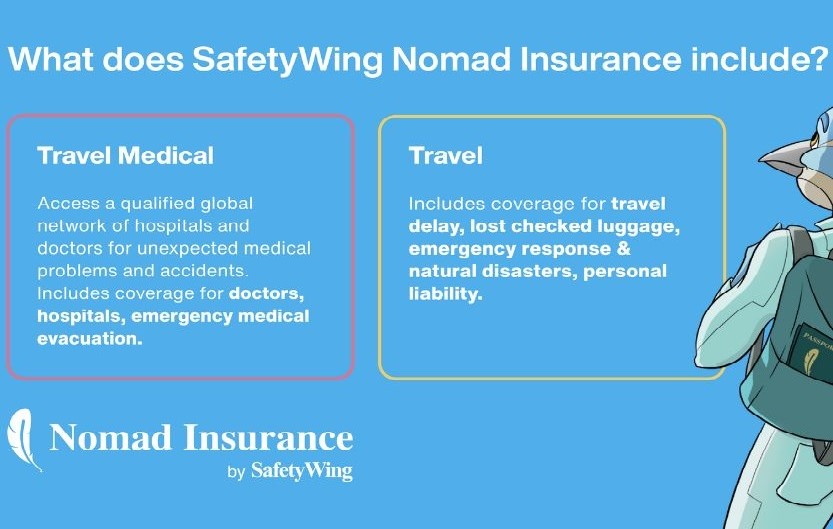 SafetyWing Nomad Insurance is the original product aimed at seasoned long-term digital nomads, remote workers and holidaymakers and alike. Based on traditional travel insurance it offers a general level of cover at a value-for-money price. It includes:
Medical Coverage for if you are in an accident or become ill and need medical treatment whilst out of your home country.
Travel Coverage for travel delay, lost checked luggage, emergency response, natural disasters, and personal liability.
CHECK OUT SAFETYWING NOMAD INSURANCE HERE
SafetyWing Nomad Health
This is a global health insurance designed specifically for remote workers and nomads. It's a full-fledged health insurance that covers your medical needs worldwide, including in your country of residence.
This is a new product that is proving very popular with the new generation of remote workers. It offers two levels of cover. The standard is basic medical insurance. The Premium policy also gives you cover for eyesight, dental, vaccinations and maternity treatment.
CHECK OUT SAFETYWING NOMAD HEALTH HERE
SafetyWing Remote Health
So, your solopreneur enterprise has flourished, and you now need cover for your global remote nomadic workers. Look no further than the SafetyWing Remote Health package. It is designed especially so you can offer your team the reassurance and care they truly deserve. It gives them peace of mind and helps you protect your guys no matter on which rocky outcrop they decide to work from.
This is another new product that is bucking the trend and leading the way for remote teams. If you are self-employed, you can even buy it for yourself and your travelling family.
CHECK OUT SAFETYWING REMOTE HEALTH HERE
8 Reasons to Choose SafetyWing Travel Insurance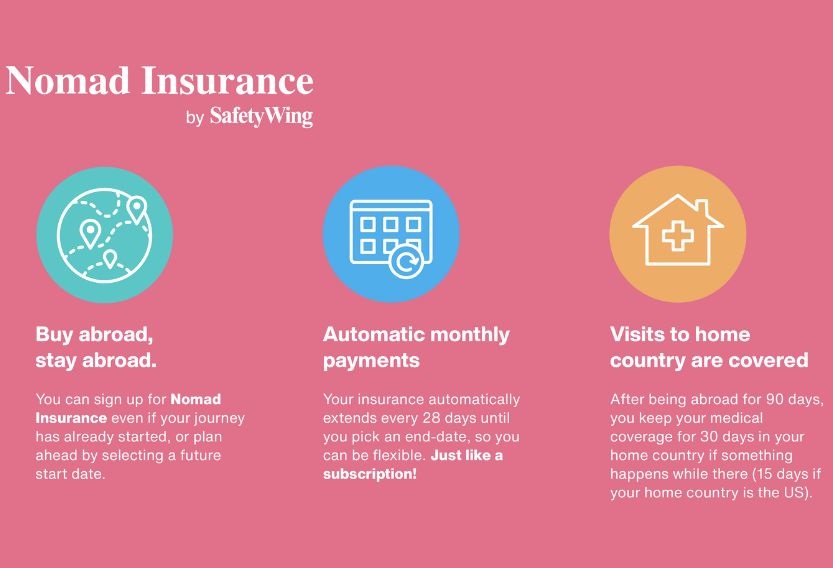 So, if you are not sold already then let's dive deeper into the advantages of SafetyWing. Here are 8 reasons to choose SafetyWing travel insurance (even if you're not a digital nomad or remote worker):
1. The Competitive Price
SafetyWing typically offers more affordable rates, especially for long-term travellers.
2. Flexibility
You can purchase or extend coverage at any time, even after you've started travelling.
3. Cover in Multiple Countries
One policy covers you in multiple countries, except for a few exceptions.
4. Coverage of Many Countries
Coverage extends to many countries, with exceptions mainly related to U.S. sanctions.
5. Monthly Payments
You can choose between fixed travel periods or automatic monthly renewal for up to 364 days.
6. Covers Visits Home
You're covered for short visits to your home country during your travels.
7. Children Covered For Free
Two children under 10 per family can be included at no extra cost.
8. Sports Coverage
It includes coverage for most amateur/non-professional sports and activities.
This is the service that made SafetyWing famous.
The Downfalls of SafetyWing Nomad Insurance
Nothing is perfect and everything is a compromise. There are of course things that could be improved with the SafetyWing travel insurance cover. So, let's be honest and upfront and list some of them here. Read them carefully and think if they are a deal breaker for you. Most of these negative points are small and are aimed at reducing the cost of the cover for you.
Deductible: There's a $250 deductible for most medical expenses, once per policy period.
Age Limitations: Coverage is available for individuals aged 15 days to 69 years old.
No Gear and Electronics Cover: Loss or theft of electronics and gear are not covered.
No Trip Cancellation Cover: Trip cancellations are not covered.
Language Limitations: The website and support are available only in English.
Minimum Coverage Period: A minimum of 5-day coverage is required.
Purchases in USD Only: Payment can only be made in USD, potentially subjecting foreigners to additional taxes.
No Promo Codes: As of now, SafetyWing travel insurance doesn't offer promo or discount codes.
The main concern for Andy and I was the lack of gadget cover. This is not actually so much of an issue for us now as we have found separate cover for all my main devices. This is essential as they are, after all, the tools of our trade.
SafetyWing Travel Insurance Conclusion
SafetyWing travel insurance offers value-for-money, quality cover for both the most seasoned remote working nomad and the avid holidaymaker. Its popularity amongst "pro-travellers" is the biggest testament to its pedigree.
BUY SAFETYWING TRAVEL INSURANCE HERE
As with all insurance be sure to read the small print for SafetyWing travel insurance, ask questions to the provider and make sure the policy covers your exact situation. Make sure it also offers enough flexibility for you to change it should your situation change.
After all, it's not unheard of for people to go on a week's holiday and decide to stay a while longer, like a year or ten.
Enjoy this post? Pin it for later!