Before Andy and I first left the UK to travel, live and work abroad we both took great TEFL (Teaching English as a Foreign Language) courses with i-to-i and got our TEFL certificates. Our plan was to use these to teach English online or in schools. For me this hasn't happened yet as I decided to pursue other avenues; however, Andy has taught in a school in Cambodia and also dabbled in teaching online. A great way to earn money whilst travelling or living abroad is to teach English online, either full time, part-time or just for a bit of extra cash.
Here, Nicola from See Nic Wander shares more information about what it's like to teach English online teacher and how you can get started too
Teach English Online – What is teaching English online?
As an online English teacher, you offer lessons to students who are learning English as a second language. It's possible to teach students of all levels and ages from around the world, and since classes are held entirely online, the job works well for anyone who wants to work from home, travel often, or simply avoid a long commute. 
My teaching English online journey began a few years ago when a friend found out I wanted to travel more but wasn't sure how to do it. She had been teaching with VIPKid on the weekends as a side hustle and she loved it. Since the job was remote, she thought it could be a good fit for me too.
At that time, I'd didn't know that it was possible to teach English remotely and I was intrigued by how much flexibility came with the role. I decided to try it out for myself and quickly realized it was an awesome decision for the location independent lifestyle I wanted. 
Over the years, I've taught online with several platforms and it's been an amazing experience. Now, I'm passionate about helping others find remote teaching roles they love too.
What do you need to teach online?
Before you start sending out job applications and meeting your first students, there are a few things you'll need. 
TEFL Certification: A TEFL (Teaching English as a Foreign Language) certification is usually required for online teaching positions. You can get TEFL certified online or in person, just make sure the program you choose is accredited. 
Good internet connection: The internet is your best friend as an online teacher. While it's totally fine to teach over WiFi, many teachers like to use a wired (ethernet) connection for added stability. As a rule of thumb, I aim for internet speeds of over 20mbps for online classes. 
Technology and gear: To successfully run virtual classes, you'll need a computer or laptop that's suitable for online teaching. Some companies allow you to teach from a tablet or smartphone, but in my experience, this is rare. 
Next, you'll need a webcam, headset with microphone, and a professional teaching area that's free from distractions. It's also a good idea to invest in teaching materials like a dry erase board, flashcards, and props. 
Some teaching experience: Almost all online teaching companies require that you have some experience teaching, tutoring, or mentoring. While professional teaching experience is a plus, experiences like babysitting and volunteering are usually acceptable. 
Keep in mind that every company is different and each platform will have unique requirements. Some might require that you have a degree, while others don't. Some might require that you have several years of experience while others are happy to hire new educators. 
It's important to read the company requirements carefully to make sure you have the right qualifications for your specific company before applying.
Online English Teaching Companies
If you don't meet VIPKid's requirements, don't worry! There are tons of other online English companies that provide similar opportunities that might fit your credentials.
Cambly
If you don't have a BA degree, check out Cambly. Cambly hires native English speakers without bachelors degrees to have conversation classes with people from all over the world. There isn't a set lesson you have to follow since the focus is on building conversation skills.
Cambly teachers get paid $0.17 per minute or $10.20 USD per hour. This rate is a bit lower than the other English companies mentioned but the classes are less structured, more free form, and usually with adult English learners. If you enjoy talking to people from around the world, this could be an awesome option for you.
iTalki
If you aren't a native English speaker or speak more than one language, iTalki might be for you! On iTalki, you can offer lessons in any of the languages you speak. You can make a community tutor profile on iTalki with or without a bachelors degree, no matter where you're from.
On iTalki, you make your own lessons and courses. I've seen people list advanced classes like "English for Business Professionals" and "Resume Editing" as well, so you can get creative with what you teach. You also set your own pay rate and pick the hours you work.
Teaching English online with VIPKid has opened up my life to so many opportunities. I've been able to spend time with loved ones, visit friends who live far away, explore new cities, and have more adventures than I ever thought possible, all while keeping a job I love.
Pros and Cons of Teaching Online
It didn't take long for me to realize that online teaching was an awesome decision for the lifestyle I wanted, but no job is perfect. Here are some of the pros and cons you might face as an online teacher.
Highlights of Online Teaching
One of the biggest perks is that online ESL teachers get to choose their own hours. Hours can vary from week to week, and you can work as much or as little as you like. This means you don't have to ask for time off if you are travelling or unable to work a few days. Just close those spots on your schedule and you won't be booked. 
Another highlight is getting to meet and engage with students from other cultures. I've learned so much about life around the world through my bright students and it's a joy to see them each day. 
Since classes are often one-on-one, you build strong connections with the students you teach. I love showing my students pictures from my life and they've definitely met my curious cat. Even though we're thousands of miles away, we can form strong bonds through our little online world.
Downsides of Online Teaching
Depending on the time zone you're in, the hours for teaching online can be tricky. Navigating different time zones could mean you're teaching early in the morning or late at night. 
Additionally, it can take a while to attract your first students when you're starting out. It's normal for teachers to take a few months before they get a fully booked schedule, which can be frustrating. Creating a strong profile to attract students can take time, but it's essential at the beginning. 
Finally, almost all online teaching platforms hire teachers as independent contractors or freelancers. This means you don't get paid time off or benefits like you would in a traditional job.
Day in the Life of an Online ESL Teacher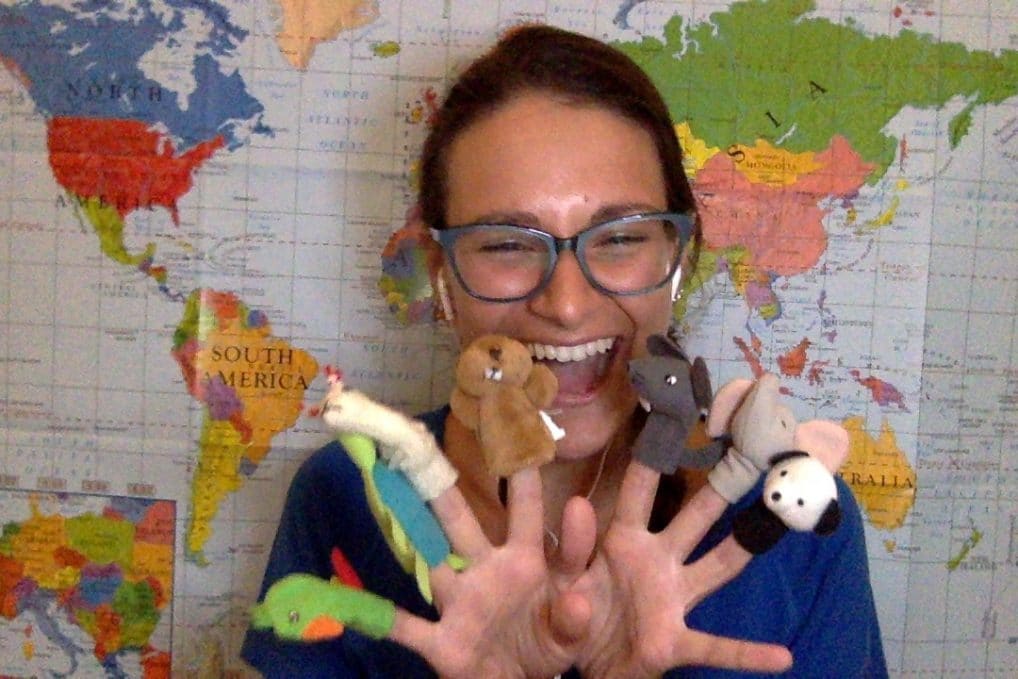 A typical day teaching English online from the east coast starts around 6:00 or 7:00 am. Since I can make my own schedule, I'm free to mix it up if I want to sleep in, but I've gotten used to the early mornings.
The night before, I spend about half an hour going through my upcoming lessons and making sure I have all my teaching materials at my desk. My platform provides lesson plans, but it's nice to have extra props that make the learning experience more engaging for my students. 
When my alarm goes off, I make a cup of coffee and do some jumping jacks to get the blood pumping. I usually teach classes for about 3-4 hours. The classes last 25-minutes and I take a 5-minute break between each one. 
Each day, I might see a mixture of recurring students and new students. Sessions are one-to-one, so I can focus on areas that each individual student is working on. 
After classes are finished in the early afternoon, I take a few minutes to finish writing feedback to the parents. Once the feedback is submitted, I'm done with teaching for the day. 
I can use the rest of the day however I want – exploring new places, spending time outdoors, visiting with friends and family, or working on hobbies and passion projects.
Teaching English online has opened up my life to so many opportunities. I've been able to spend time with loved ones and friends who live far away, visit new cities, and have more adventures than I ever thought possible, all while keeping a job I love.
Nicola from See Nic Wander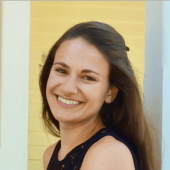 Nicola Rae is an online English teacher, house sitter, and travel blogger. She's known for getting lost in new cities, befriending big lizards, and eating impressive quantities of guacamole.
Read more about teaching online, house sitting, and practical long-term travel on her blog See Nic Wander.
Do you teach English online? We'd love to hear your recommendations in the comments below.
Enjoy this post? Pin it for later!