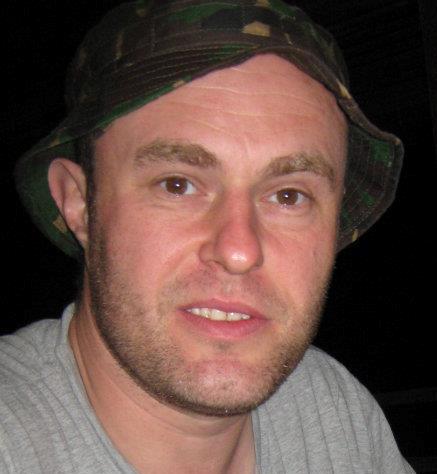 I'm Andrew Korteling (aka Andy) and at the time of leaving the UK I was a 44-year-old Oil Remediation Project Manager from Norwich, Norfolk, in the UK.
If you've read About Us or Our Story, you'll already know all this changed in September 2016. My wife Tanya and I left the UK to embark on the adventure of a lifetime.
Tanya thought you'd be more inclined to join us on our journey if you get to know us a little first. So without further ado:
I originate from Hitchin, Hertfordshire but moved to Wymondham as a teenager. Wymondham is a historic Norfolk market town situated about 10 miles to the south-west of Norwich. I travelled around the UK a lot in my twenties whilst working for various civil engineering contractors. I had a break from this in 1994 when I ran a pub in Woolwich in London. I moved to Norwich in 1998 to go to University. I shared houses with various friends until I moved in with Tanya in 2008. 
My hobbies are rock climbing, amateur radio, bushcraft and survival skills, playing the bass guitar, and of course travel.       
Apparently, I'm a funny, loud, opinionated type of fella. I can also be a little grumpy at times, especially when it's cold, miserable weather, or I'm hungry 'hangry'. I also like to catch up with friends over several beers, talk nonsense for hours and have a good laugh.
Some may think I'm a little eccentric; I really have no idea why. Maybe it's something to do with the very old brown Vauxhall Viva I owned for years. Or maybe it's due to the amount of time I used to spend tending an allotment…who knows!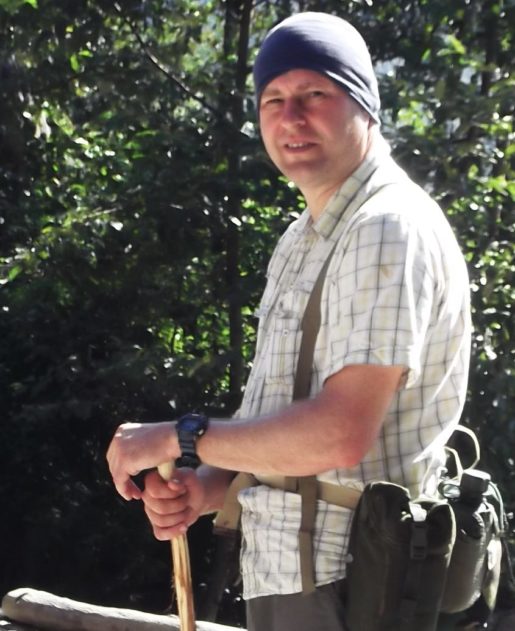 Another contributing factor to the 'eccentric' perception may be that in the UK I liked to wear tweed jackets and silly hats, often alongside accessories fashioned by myself, like walking braces (much better than a backpack when hiking in Nepal).
You'd often find me trying out new hobbies such as keeping chickens, buying and selling tilley lamps, and practising bushcraft skills and survival skills.
I returned to University twice as a mature student, once to do a Bachelors Degree in Development Studies and the second time to do a Masters of Science in Environmental Impact Assessment, Auditing and Management. before leaving the UK I completed a 120 hours TEFL qualification.
My most recent project was to teach myself video editing and social media skills. This was to help with my YouTube Channel Going Nomad…Aka Pigs on Bikes, a video blog of our adventure that ties in nicely with this blog.
The phrase 'only boring people get bored' resonates with me as I bore easily. To rectify this I'm always looking for the next challenge, I'd much rather teach myself how to do something rather than getting someone else to do it.  Why pay someone else to fix your washing machine when you can do it yourself in a few hours?
The Travel Bug
As a child, I had the standard family holidays to UK seaside towns etc. It wasn't until I went to University that I really had much interest in travelling. First port of call was Malaysia followed by a few months in Nepal. This kind of did it for me and I knew I would travel again to other random places. For several years various friends and I holidayed in South East Asia for some sunshine, and in European capitals like Prague for New Year's Eve partying in the cold and snow.
More Recent Travel
Each year before leaving the UK it was usual for Tanya and I to take a two to three-week trip together somewhere mid or long-haul with our backpacks. You can read more about that in Our Story.
When visiting a country I, like Tanya prefer to explore rather than stay put in one resort or hotel. However, I like to explore a bit more thoroughly, at a slower pace than Tanya's whistlestop tours of trying to fit everything in. Luckily we usually manage to reach some sort of compromise. I really look forward to living in one place for a reasonable length of time. It gives us the chance to see much more without rushing.
I then usually managed to fit in a few climbing weekends away in the UK, usually the Peak District. I didn't get as much holiday as Tanya though, so she usually went off a couple of times by herself. She would either be gallivanting somewhere with the girls or walking in Spain by herself. 
Without wifey, I've visited Nepal, Singapore, Malaysia, Thailand, Budapest, Norway, Cambodia, Vietnam, Czech Republic, France, Belgium, Italy and others I can't remember.
These are all shown on our 'Visited Countries' map in Our Story.
Most Memorable Solo Travel Experiences 
Some of my most memorable travel experiences without Tanya include:
Being seasick for eight hours whilst deep sea fishing in Cornwall

Driving a Lotus Proton Putra around Kuala Lumpur

Most of the time I was in Nepal

Trekking in Bhojpur district in Nepal

New Year's Eve in Budapest

New Years Eve in Prague
Tanya will be doing the writing on Can Travel Will Travel, whilst I concentrate on Going Nomad…Aka Pigs on Bikes. I hope you enjoy following us on both.
P.S. To get to know Tanya and read our story have a look at the following links: