Situated on the western shores of India, Mumbai is the city that never sleeps, affectionately dubbed the "City of Dreams." It's a place where dreams find their way onto the silver screen in Bollywood, the world's second-largest film industry. Mumbai, however, is much more than glitz and glamour; it's a colourful mix of contrasts and cultures that define its very essence.
Mumbai was also our first stop when we left the UK to travel live and work abroad. When researching our trip there, I was surprised and frustrated to find that most resources were out of date. So I decided to use our experiences to create a 3-day Mumbai itinerary
This post contains affiliate links. If you use them to make a purchase, we may earn a small commission at no extra cost to you. As an Amazon Associate, we earn from qualifying purchases. Learn more in our Affiliate Link Disclosure.
How to Spend 3 Days in Mumbai
Here's our suggested 3-day Mumbai itinerary, to help you get the most out of this incredible city.
Day 1 Mumbai Itinerary – Explore Central Mumbai
There's no better way to spend the first day of your Mumbai itinerary than exploring central Mumbai.
Gateway of India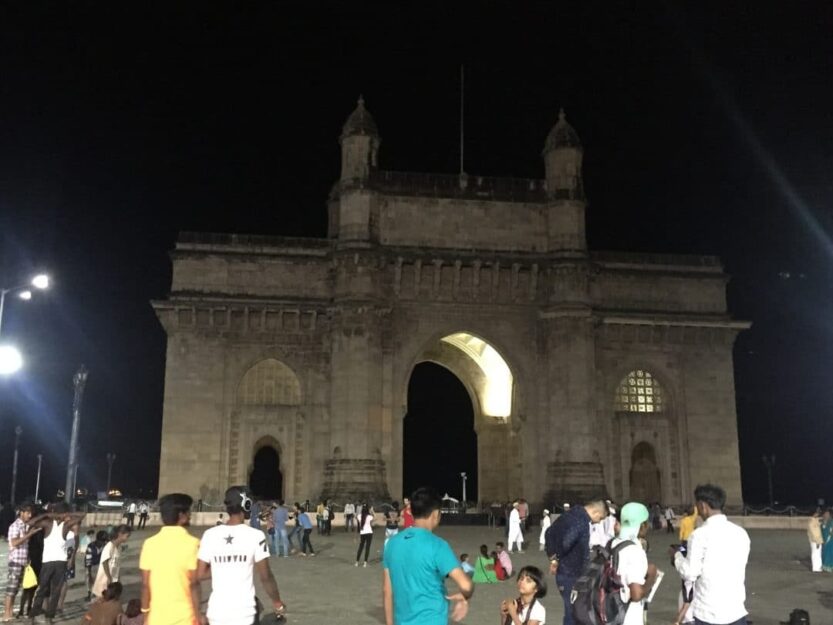 Situated at the tip of Apollo's Blunder in South Mumbai, the Gateway of India is a great place to start your sightseeing in Mumbai. The gateway was built in 1924, as a memorial to King George V of England, who landed in India at the same place in 1911. The last British troops also departed through this gateway after Indian Independence in 1948.
If you visit at peak times be wary of the many street vendors and photographers that hang around selling their goods and services. Take special care if, like us, your visit coincides with a festival. We were there during the Ganesh Festival (Ganesh Chaturthi), the Hindu festival celebrated in honour of the elephant-headed god, Ganesha. The whole area heaves with foreign and domestic tourists, so it's important to take extra care of valuables and belongings.
Coloba and Coloba Causeway
Be mindful of the crazy yellow and black taxis and noisy buses belching plumes of choking smoke. You'll have fun navigating the sidewalks crowded with people going about their daily business and street hawkers selling their wares. The streets are lined with shops and stalls selling a plethora of Indian handicrafts, clothes, jewellery and everything else you could think of. It's fun to explore these but try to haggle prices down to what you're prepared to pay. Remember though many of the vendors are poor so don't be too ruthless.
When you get hungry or thirsty be sure to pop into Leopold Cafe, one of the most established and famous cafes in Mumbai. It's mentioned in the book Shantaram by Gregory David Roberts and was also the target of the 2008 terrorist shootings. It has cheap beer and tasty food in a lively atmosphere.
Sassoon Docks
Sassoon Docks are best visited early in the morning, around 6 – 7 am when it's at its busiest and most interesting. It's said to be a hive of colourful activity as the boats bring the fish in and the Koli women in their traditional dress bustle about processing and packing the fish ready for their next destination.
Unfortunately, we didn't make it to the docks until later in the day. By that time the fishermen had long since landed their fishy bounty and sent it on its way. Despite our tardiness, there was still lots to be seen.
Fishermen were repairing nets, and men and women jostled and bartered loudly over the remains of the day's catch. If you visit I'd recommend wearing closed-in shoes to avoid getting slimy fishy water between your toes. Also, breathe through your mouth as the smell isn't for the faint-hearted. Be aware too, that Koli women are not the most welcoming. They are likely to aggressively gesture you away if you try to photograph or talk to them.
We'd also heard that photos aren't permitted unless previously agreed with the Mumbai Port Trust. I'm not sure how accurate that is though.
Apollo Bandar Slum and Markets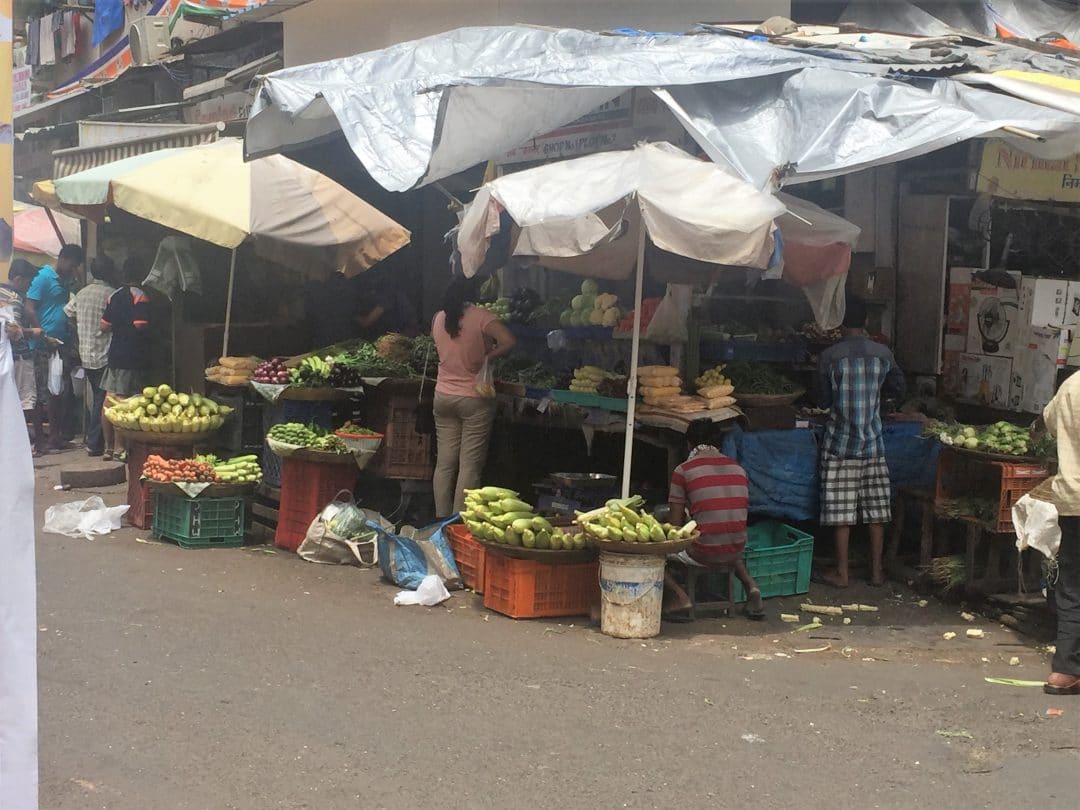 There are many slums in Mumbai and across India and it was a moral dilemma for us whether to visit or not. We decided against it as we didn't agree with going on a guided tour viewing people living in the slums like "animals in a zoo". We then actually stumbled into the smaller Apollo Bandar Slum completely by accident, without even realising it.
This slum overlooks Sasson Docks and the Gateway to India. It's surrounded, by several small open-air markets selling all kinds of fresh and live produce, and household goods. As far as I'm aware this isn't visited by guided tour groups like the Dharavi Slum is. This means it doesn't have a stream of tourists walking through the streets.
Initially, we found ourselves wandering around some small outside markets set up in some streets. It wasn't until we ventured deeper down the alleyways we realised we'd wandered into the slum. At first, we felt uncomfortable and tried to work out the quickest way to leave without offending residents with our presence. However, it soon became clear that nobody minded us being there. We were welcomed with smiles and waves from the adults and curious giggling and chattering from the children. Calls of "Hello, how are you?" and "What is your name" followed us.
If you do go here, please be sure to treat it and its people how you'd like to be treated – with respect. Just walk around like you would in any other town and don't stare and take photos (unless invited to of course).
Day 2 Mumbai Itinerary – Explore the Outskirts of Mumbai
On the second day of your Mumbai itinerary, it's time to leave the city centre to explore the outskirts of Mumbai.
Chhatrapati Shivaji Terminus (CST) Railway Station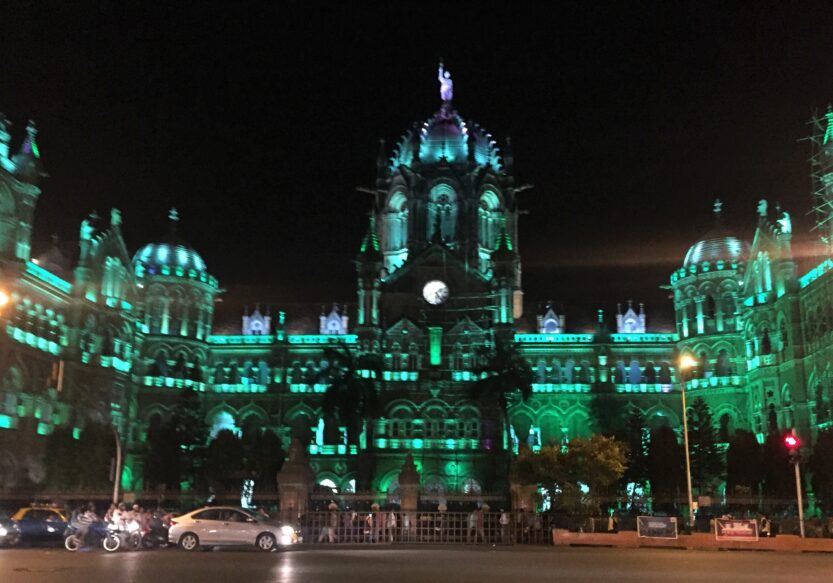 Formerly known as Victoria Terminus, after the English Queen Victoria, this station was renamed in 1996 to honour Chhatrapati Shivaji, the founder of the Mahratta empire. It serves both suburban and long-distance trains and is always a busy bustling place to visit. CST is a great colonial building and a UNESCO World Heritage Site, with Victorian-Gothic style architecture.
Its entrance is framed by two columns topped with a lion to represent England and a tiger to represent India. There are also some beautiful peacock lattices on the walls. It's definitely worth a visit and if you're feeling adventurous jump on one of the local trains. Also, try to go past at night to as this building is especially eye-catching at night when it's all lit up.
Jyotiba Phule Market
This busy market, just past CST was previously known as Crawford Market, the majority still refer to it as this. It's housed in a large building resembling something from Victorian London. It's said to be crammed full of vibrant stalls selling mainly fruit and vegetables. Unfortunately, we were short on time so had to skip this and only got to view the building from the outside as we drove past.
Dhobi Ghat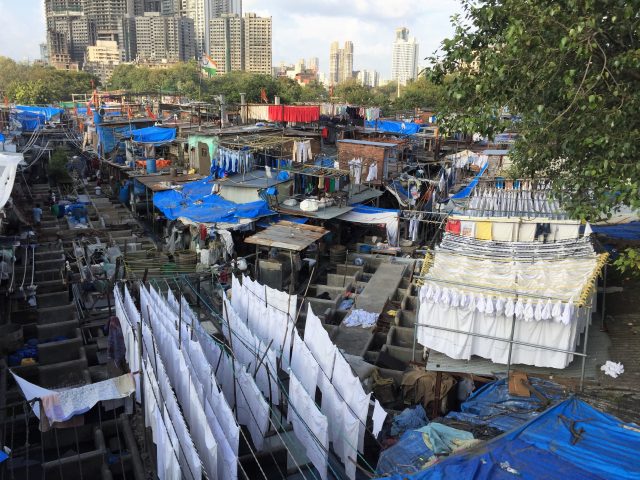 Referred to by many as the world's largest outdoor laundry, this can be viewed from the bridge above it. It's quite a sight, rows upon rows of stone washing pens, each with a flogging stone, where men wash tons of laundry every day. The clean washing is then hung up to dry. The whites and coloureds flapping in the breeze present good photo opportunities.  For a small price, one of the locals will take you into the Ghat for a tour, but we chose not to.
Haji Ali Dargah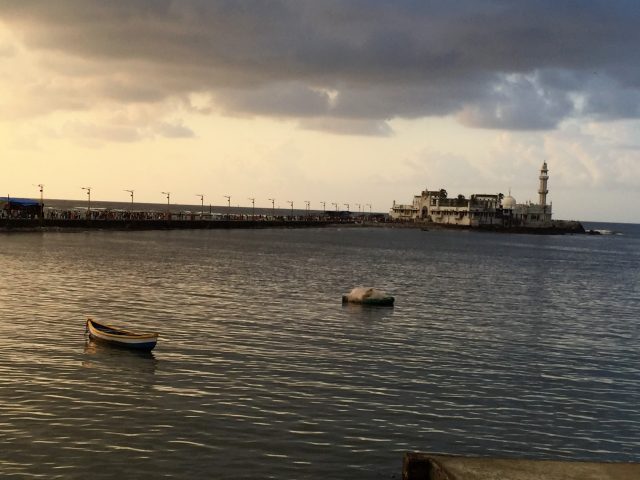 The Haji Ali Dargah is a mosque and tomb situated on an offshore islet in South Mumbai and is one of the most well-known landmarks of Mumbai. It can only be visited at low tide via a causeway from the mainland and from a distance it appears to float on the sea.
For me, one of the highlights was the walk from the road and down the causeway to reach the mosque. It's only 5 feet wide and with no barriers on either side, it could be dangerous when crowded or slippery. There were many hawkers selling their wares such as food, soft drinks, scarves and prayer mats. Several beggars were also dotted about, but they weren't pushy and left us alone after a firm "no sorry".
People of all religions are welcomed into the mosque which means it can get busy at times. Despite this, it's a calm, peaceful place to visit and the whitewashed building itself is quite impressive. There's also a nice view of Mumbai from behind the mosque.
Marine Drive and The 'Queens Necklace'
Our last stop of day 2 was Marine Drive, a 3.5km long boulevard in South Mumbai. A palm-lined promenade lays next to a 6-lane concrete road that runs along the coast around a natural semi-circle-shaped bay. It links Nariman Point to Babulnath and Malabar Hill.

At night when viewed from any elevated point along the drive the street lights give the illusion of a string of pearls. This is where its alternative name, the 'Queens Necklace' originates from. We enjoyed our early evening stroll here, it had a lovely atmosphere with people out walking, jogging and sitting on the promenade walls chatting and socialising. It seemed to be a favourite of young couples out for a romantic evening, there was lots of hand-holding and canoodling going on.
Day 3 Itinerary – Pani Puri, Beach and a Fair
Following our rip-off taxi tour the previous day we decided to find a metered taxi to take us to North Mumbai for our third day of sightseeing. We would have preferred to use a rickshaw but these are banned inside the Coloba area so a taxi was the only option.
Elco Pani Puri Centre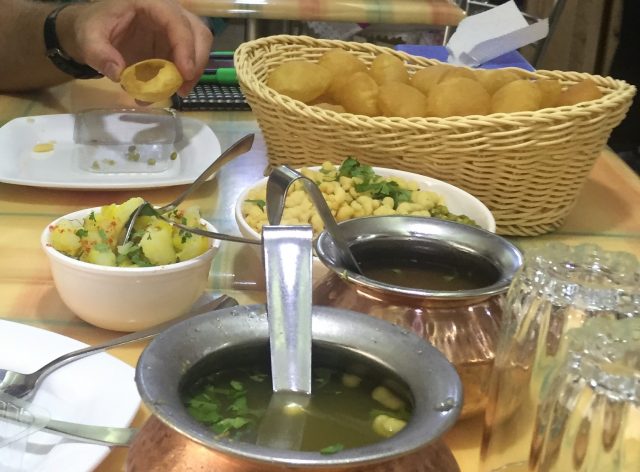 We'd heard rave reviews about Pani Puri, Mumbai's most popular street food dish, but weren't quite ready to risk the questionable hygiene of the street food. The solution was brunch at Elco Pani Puri Centre, the most popular Pani Puri house in Mumbai.  'Puri' is a thin, crisp hollow ball, made from flour and semolina. 'Pani' is the sides of potato, chickpeas, onions and spicy and sweet waters. 
There's an art to putting these delicious morsels together. You punch a small hole in the top of each Puri with your thumb and fill it with Pani. The taste can be altered with either the spicy or the sweet water or a combination of the two. Much to our fellow diner's amusement Andy and I couldn't get the hang of punching the hole in the top without completely crushing the Puri's. We were making such a mess of it the waiter took pity on us and swiftly prepared each one for us. It was a fun and tasty food experience and definitely one of our favourite Indian dishes. I highly recommend not leaving Mumbai without giving it a try!
Bumblebee Rickshaws and Juhu Beach
Once outside Mumbai, the main mode of transport was yellow and black rickshaws, or 'Bumblebee Rickshaws' as I called them. They buzzed around everywhere, constantly meeping their horns to make their presence known. We flagged one of these rickshaws down and took a hair-raising ride to the expansive Juhu Beach in West Mumbai.
This beach sprawls for 6km and is a popular destination for domestic tourists. It's not the cleanest of beaches but worth a visit just to people-watch. Indians tend not to sunbathe and they swim fully clothed, but the beach was still full of families, couples and groups of friends taking part in all kinds of other activities.
People strolled, jogged, played cricket and football, flew kites, and sat around socialising. Few other Westerners visit this beach so be prepared for curious stares. We also got many requests for selfies, mainly from groups of young men. 
ISKON Temple
Unfortunately, ISKON Temple closes between 1 pm and 4:30 pm and 9 pm to 4:30 am so when we arrived at 3 pm we were unable to enter. We didn't fancy waiting around waiting for it to open so conceded we'd have to miss out this time. I've heard from other people this spiritual place is well worth a visit. Just remember to dress modestly and be prepared to remove your shoes before entering
Mount Mary Church and Bandra Fair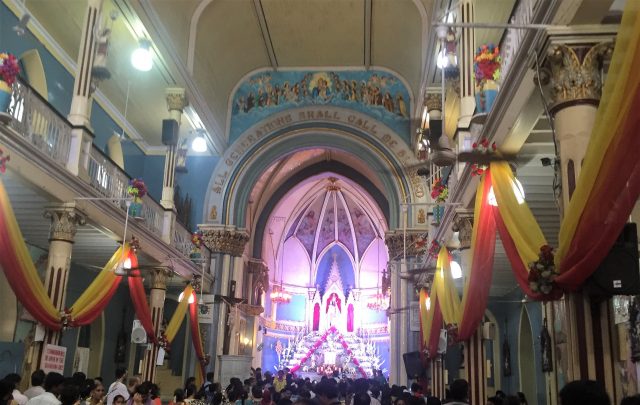 Mount Mary Church is high on a hill near Bandra, overlooking the Arabian Sea. It's a lovely church and I'm sure usually a quiet serene place to visit. We decided to go there on a whim on our way back to South Mumbai; we were so pleased we did. It just so happened that the annual week-long Bandra Fair was in full flow. This meant the church wasn't such a calm place as I'm sure it normally is.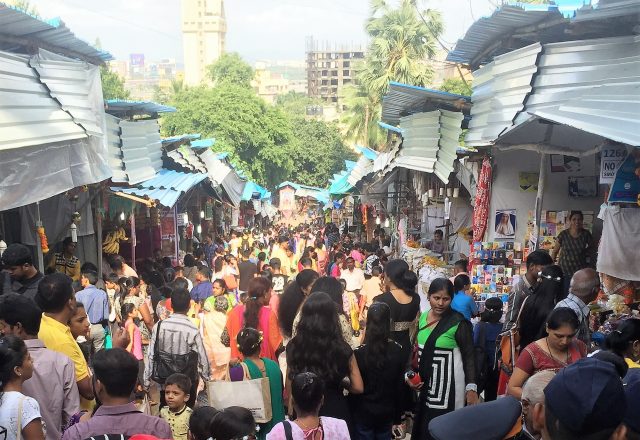 For us, the fair made it for us as we're not really into churches but love a local festival. The whole area surrounding the church was festooned with bunting and was heaving with devotees and pilgrims. Apparently, tens of thousands visit each year.
There were colourful stalls pitched up everywhere selling things like spices, sweets, candles, incense, floral offerings, and other religious objects.
If you happen to be in Mumbai at the beginning of September be sure to check out Bandra Fair. The church is also worth a look if you're there another time.
So that's our suggested 3-day Mumbai itinerary. Unfortunately, there were some things we wanted to do that we didn't have time for or were unable to organise. Playing an extra part in a Bollywood film, the Hanging Gardens, Malabar Hill and Ajanta and Ellora Caves will have to wait until next time.
Should your time in Mumbai span longer than 3 days there are many other activities you could consider.
Where to Stay in Mumbai
There are many, many hotels, guesthouses and hostels to choose from in Mumbai. There are options in all of the city's neighbourhoods, so where you stay will depend on where you want to be located and what you want to do. So, make sure you do some research before booking.
We stayed at Strand Hotel on the waterfront in Coloba. It was nothing flashy, but was clean and comfortable which compared to the first pre-booked place we arrived at, was a huge relief. It was also reasonably priced.
---
Remember when travelling in India as a woman you need to consider carefully what you wear in order to be respectful of the culture. Paroma from Year of the Monkey has written a practical guide on
what to wear in India for female tourists.
Have you been to Mumbai recently? If so have we missed anything important that may be good for others to add to their itinerary?
---
Planning Your Trip to Mumbai?
Planning your trip to Mumbai? Here are some of our recommended useful resources to help you have the best time possible.
Enjoy this post? Pin it for later!