Affiliate link disclosure: This post may contain affiliate links including Amazon that earn me a small commission, at no extra cost to you. Read more in our full Affiliate Link Disclosure.
South Goa was only our second stop after we first left the UK in 2016 to travel, live and work abroad. We really enjoyed our few days there but bad timing meant we were there during the rainy season. This meant that other than Palolem beach where we stayed (and where I got attacked by a beach cow) we didn't get to explore the other South Goa beaches properly. So I was understandably delighted when Soujanya Rai from The Spicy Journey, who lives in Goa, offered to tell us all about the best beaches in South Goa.
Best South Goa Beaches
Goa is the most popular beach destination in India, but it can be confusing to decide which beaches to visit because there are so many
. In such a case, I always recommend South Goa beaches because they are as appealing as they are pristine.
There's lots of information out there about Goa, such as this Goa guide for first-timers, Goa itineraries, Goa cafe guides and lists of beaches
. Yet, there isn't enough buzz generated about the underrated South Goa beaches.
While the beaches of North Goa are more popular, with tons of beach shacks and cafes, they do tend to get overcrowded
. In contrast, the South Goa beaches are
relatively
unexplored. There are
just
a few tourist hotspots with nice cafes, water sports, boat rides, yoga and beach huts on offer.
Take a look at my take on the 9 best South Goa beaches.
1. Agonda Beach
Agonda beach is one of the two most popular South Goa beaches that is mainly visited by foreign visitors.
What I love most about this beach, is that the road parallel to the beach is lined with several stores and cafes.
The cafes here have a bohemian vibe, and most have a vegetarian as well as a vegan option. There are also some local shops that sell beachwear, jewellery and other knick-knacks.
One of my all-time favourite vegan cafes, Blue Planet Cafe is only a 5-minute drive from the beach. It's run by a sweet local couple that use fresh organic produce to cook exciting dishes. I highly recommend this cafe to anyone wanting to try delicious vegan meals.
2. Palolem Beach
Palolem beach is without a doubt the most popular and one of the most beautiful beaches in South Goa.
There are many activities that you can try at Palolem beach. As well as beach sports like paragliding and water skiing, you can take a boat to nearby secluded Butterfly beach.
Because Palolem beach gets a lot of foreign visitors, there are a lot of vegan cafes and the usual beach shack restaurants. But, what really draws people to Palolem are the iconic colourful beach huts.
Visitors can book a stay in one of these cute huts, most of which have a porch and air conditioning. I highly recommend spending at least one night in a beach hut on Palolem.
Every time I stay at Palolem, I either book a stay at O3 Beach Resort or at Club Palolem. O3 Beach Resort has beach shacks with air-conditioning and porches overlooking the beach. The huts at Club Palolem are larger but a couple of minutes walk from the beach. They come with a porch and a small garden with benches.
3. Patnem Beach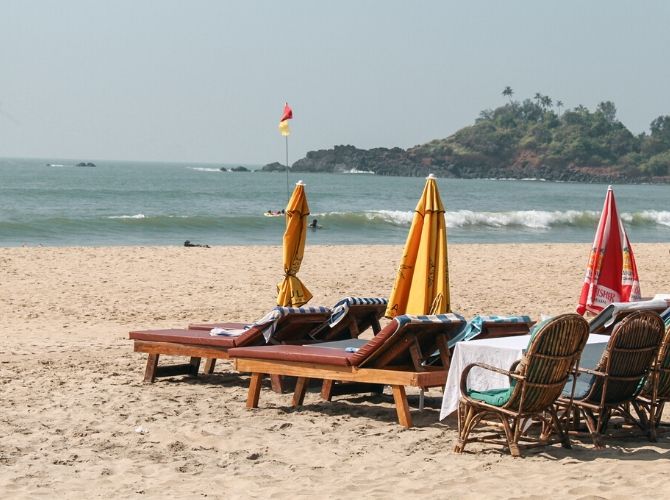 While Palolem beach may be one of the more popular beaches in South Goa, Patnem beach is a close second favourite.
Patnem is very similar to Palolem in terms of the look and feel. Just like Palolem, Patnem has the beach shacks, the bright colourful huts and the same vibe. Patnem is also only 2 km from Palolem, so if you decide to stay at either of the two beaches, you can easily visit the other due to their proximity.
I haven't myself stayed at Patnem beach yet but I have noticed several beach shacks and hotels on the road leading up to the beach.
4. Bogmalo Beach
The coastline of South Goa stretches over a whopping 70 km with many beaches on this stretch. One fine beach which is often overlooked by visitors to Goa is the Bogmalo beach. Located just 5 km from Goa International Airport, it's the best South Goa beach to chill out at before a flight.
Bogmalo beach has many hotels and resorts in its vicinity. The Bogmalo Beach Resort is the best one, located right at the beach. with an infinity pool facing the ocean. Like most beaches in Goa, you'll find beach shacks at Bogmalo that serve a range of cuisines, play live music and have karaoke nights.
I recommend visiting Bogmalo beach if you stay near the airport or if you have time to kill before your flight. There are even local buses that run between the beach and the airport so you need not worry about arranging a taxi.
5. Benaulim Beach
Benaulim beach is one of the busier beaches close to Margao city, the second-largest city in Goa. Located roughly 9 km from Margao (or Madgaon), Benaulim beach is a happening place. Many beach shacks dot the beach and lanes leading to the beach. There are also many great restaurants and hotels in the vicinity of the beach.
Locals from Margao city frequent the beach due to its proximity to the city. Being one of the more lively beaches in South Goa, lots of tourists visit Benaulim as well.
I like Rogers beach shack and The Southern Deck resto-bar, both located right on the beach. Farmhouse Bistro, which lies between Benaulim and Varca beaches, is also worth checking out for its quaint location.
6. Cavelossim Beach
Cavelossim beach is one of the beaches in South Goa that only sees foreign tourists and very few locals.
While the clean and empty beach in itself sounds appealing, it's the range of good restaurants and shacks nearby that is the main attraction. Fisherman's Wharf (Cavelossim branch) is one of the main attractions near the beach. It's just 2 km away on the banks of the Sal River.
This restaurant is not only one of the best restaurants in South Goa, but also in all of Goa. From the soothing ambience, and attentive staff to the delicious fresh food, Fisherman's Wharf is a must-visit for anyone travelling to South Goa.
Starlight Riverside Restaurant is another one of the best places to try seafood in Goa.
7. Utorda Beach
Despite the growing popularity of the beaches in South Goa, there are still several beaches that are untouched and undisturbed. Utorda beach is one of those beaches.
The best part about this beach is that there are hardly any visitors to the beach. The only people on the beach are the ones staying at the popular Planet Hollywood resort and the handful of locals looking for a quiet uncrowded beach. There are a few shacks on the beach as well, but again, they're never crowded.
Utorda beach is perfect if you're looking for a secluded beach for a quiet dinner and stroll without too many people or too much activity.
8. Cabo de Rama Beach
There are a few cliff-side beaches in South Goa. Cabo de Rama is one of the relatively unexplored ones. While only locals used to frequent this beach, it is slowly gaining recognition amongst tourists too.
The beach lies below the cliff and is reached via stairs on one end of the cliff. Cabo de Rama is one of the very few beaches that has a freshwater lagoon at the beach. There are also coconut trees where you can have a picnic under the shade of the trees if you wish.
There are two restaurants at the Cabo de Rama cliff, one of them, The Cape, is also a high-end resort. It has lovely huts with bathtubs, large balconies overlooking the ocean and easy access to the beach.
9. Cola Beach
Cola beach is yet another hidden gem of South Goa. Because the beach isn't quite on the tourist radar, its beauty remains untouched and pristine.
This beach is at a secluded location with no concrete road, which means a bit of off-roading for 15 – 20 minutes to get there. Then there's a large staircase to climb down to reach the beach.
While the beach itself is clean and beautiful, it's the lagoon surrounded by wooden huts and coconut trees that steals the show. You can swim in the ocean or the lagoon. You can even take a kayak into the lagoon, followed by a meal at one of the many surrounding restaurants.
Cola beach is one of the most underrated beaches in all of Goa.
Where to Stay in South Goa
There are many places to stay in South Goa ranging from budget hostels to 5-star resorts. You should have no trouble finding something to your taste and can book it below.
If you're looking to explore the real Goa – one not packed with tourists, with lush greenery and stunning landscapes, then definitely visit the South Goa beaches.
There you'll find the most incredible beaches, have authentic experiences, taste delicious local cuisine, find fun things to do, and get a whiff of the untouched beauty of Goa.
The beaches of South Goa are my favourite part about Goa and I hope you get to experience the remarkable beauty of it too.
Soujanya Rai from The Spicy Journey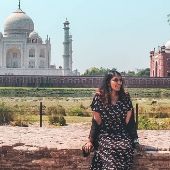 Soujanya is a computer engineer who left her job to pursue her passion for travel.
She loves backpacking and writing budget-friendly guides on her website, The Spicy Journey where she documents her travels
India Travel Resources
Planning your trip to India? Here are some of our recommended useful resources to help you have the best time possible:
Have you been to South Goa in India? Which was your favourite beach and why?
Enjoy this post? Pin it for later!