Affiliate link disclosure: This post may contain affiliate links including Amazon that earn me a small commission, at no extra cost to you. Read more in our full Affiliate Link Disclosure.
The capital of Thailand is not a city to
be taken
lightly
and is not a place to go for a slow-moving, relaxing break. Best described as the Las Vegas of Asia, Bangkok is a city that never seems to sleep.
Known for its impressive temples, party and red-light districts and fast-paced, busy daily life
.
It's the perfect destination for anyone wanting to dive in the deep end of
culturally
diverse international travel
.
A 3-day Bangkok itinerary gives enough time to see many of the highlights, although it would be easy to stay much longer
.
3-Day Bangkok Itinerary
Small stalls selling street food to knick-knacks and hand made goods crowd most streets in Bangkok. Massage and beauty parlours sit on street corners and road rules don't seem to exist. The safest way to cross the road is by not crossing it at all. If you're looking for an exciting destination for your next trip, then consider Bangkok to broaden your horizons. There you'll find several of the best things to do in Thailand.
Here's our suggested relaxed 3-day Bangkok itinerary to see the highlights but not completely exhaust yourself.
Day 1 Wat Pho, Reclining Buddha and River City
Two sights you shouldn't miss during your time in Bangkok is Wat Pho and the Reclining Buddha. There are also other things you may want to check out in the area if you have time such as the Siriraj Medical Museum (not for the faint-hearted) and maybe Chinatown. But if you want to take it slowly the below are not to be missed on Day 1 of your Bangkok itinerary.
Wat Pho
Wat Pho is a Buddhist temple complex on Rattanakosin Island. It's one of Bangkok's oldest temples and was established by King Rama I who reigned from 1782 – 1809. Covering an area of 80,000 square metres makes it one of the largest temples in Bangkok, and home to more than one thousand Buddha images.
Sites within Wat Pho include:
Phra Ubosot – An ordination hall used for performing Buddhist rituals and most sacred building in the complex.
Phra Rabiang – An enclosed garden with an outdoor hall bordering which contains around 400 images of Buddha.
Phra Prang – These are the names for the four towers at each corner of the courtyard. Each one decorated with tile and marble and houses four Khmer-Style statues.
Reclining Buddha
The Reclining Buddha is also located within the ground of Wat Pho but deserves its own section in this itinerary. This 15-metre-tall, 46-metre-long statue, covered in gold leaf is a must-see. The soles of the Buddha's feet are beautifully crafted with an inlaid mother-of-pearl shell. The sheer size of the Buddha is breathtaking and has you wondering how on earth they got it into the building. This is definitely one of the must-see Southeast Asian temples.
I stood in awe for a couple of minutes before I made my way down the passage. As you walk behind the Buddha you'll pass 108 bronze bowls that line the corridor. They represent the 108 auspicious characteristics of the Buddha.
Donations of coins to these bowls are believed to bring health and prosperity. Donations support the Monks and community and help maintain the temple.
River City Mall
I came across River City Mall on my way back from Wat Pho. A great, simple mall if it's a rainy day and you want to do some shopping or grab a cup of tea.
Elephant Parade, a shop inside the mall, runs the largest art exhibition of decorated elephant statues. From life-sized to pocket-sized elephants decorated in all sorts of colours, shapes and designs. To help raise awareness around elephant conservation 20% of Elephant Parade profits go towards welfare and conservation projects for elephants.
River City Mall has a waterfront promenade lined with excellent restaurants, most of which have outdoor terraces. From here you can also enjoy river and dinner cruises, and take boat transfers to and from the Sathorn Pier.
Day 2 Wat Arun, Sian Discovery and Khaosan Road
On the second day of your 3-day Bangkok itinerary, it's time to see Wat Arun, my favourite Bangkok temple, and visit the iconic but touristy Khaosan Road.
Wat Arun
One of the best-known Thailand landmarks. Wat Arun temple was built around the 17th century and more structures were later added to in the early 19th century.
The main feature of Wat Arun is the main tower. It's decorated with colourful porcelain and stands between 66 to 86 metres. Surrounding the 82-metre tall main tower are four smaller towers which are also decorated with porcelain and a mix of seashells. You can go up the steep stairs to admire the view of the rivers and Bangkok.
To get to Wat Arun you need to take the Silom line to Saphan Taksin to reach Sathon Pier. Here you take a ferry to 'Wat Arun Ferry Pier'
Siam Discovery Mall
Sitting next to the luxury megamall of Siam Paragon, Siam Discovery Mall is a sweet lovers heaven. With a whole floor dedicated to food, and a large part of that sectioned off just for sweets you will have a hard time deciding what to eat.
I came here two days in a row and dined at Moomin Café with an adorable stuffed toy. Then at Mr. Jones Orphanage where I demolished a waffle and ice cream tower.
I would have come back for a third day in a row, but I didn't want to miss my flight home
Khaosan Road
You can't visit Bangkok without visiting Khaosan Road. These days there is nothing cultural about Khao San Road. Unless, of course, you consider the drinking and partying of tourists and backpackers cultural.  
It's considered the hostel haven of Bangkok and the place many people go to find accommodation or fellow travellers. It's also close to the red-light district where you can hitch a ride on the back of a scooter.  
During the day you can get almost any (PG) massage or beauty treatment you can think of. You can also try deep-fried scorpions, tarantulas or cockroaches if you're so inclined.  
By night the road turns into party central, amongst the street vendors you'll meet bar promoters promoting their "super-strong cocktails".
In the past you could find cheap and tasty restaurants on Khaosan Road. Yet, these days the prices have risen and the quality is generally questionable, although you may get lucky.
Day 3 Chatuchak Market and Grand Palace
On the last day of your 3-day Bangkok itinerary (especially if your visit falls on a weekend) you can't go wrong with some time exploring Chatuchack market and admiring the Grand Palace.
Chatuchak Market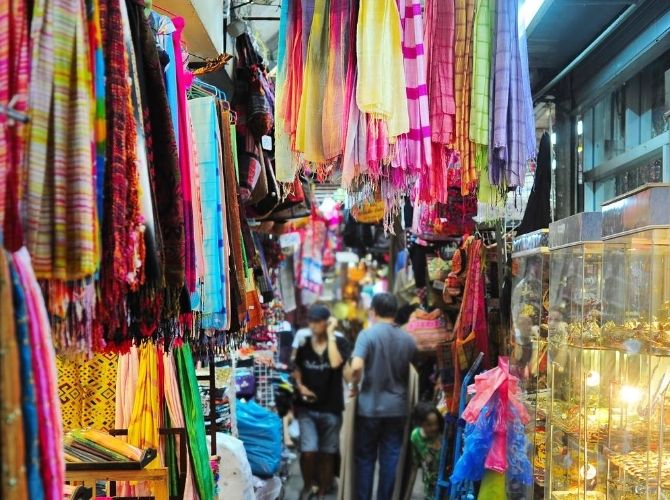 Established in 1942, Chatuchak is the largest market in Thailand. With over 15,000 stalls ranging from clothing, household goods to live animals. The market is one of the best or worse shopping experiences you will ever have.
The clock tower in the middle of the market is a distinctive landmark and the best meeting point in case you lose your friends. Chatuchak has around 200,000 visitors every weekend.
Split into 11 sections to make the shopping experience slightly more orderly; you could spend the whole weekend here and still not discover every stall.
The home of the Kings of Siam since 1792, the Grand Palace is a series of beautiful buildings, halls and pavilions which carries an incredible amount of Thai history. The Grand Palace is still used for royal ceremonies, official events, and state functions.
The Grand Palace is also one of the most popular tourist destinations in Bangkok. You can book tours for the palace, which some include transport if you don't want the hassle of potentially getting lost around the city!
Getting Around Bangkok
Getting around Bangkok is super simple; if you can't drive and it's too far to walk you take either Sky train or subway. If there is no direct train then you flag down a tuk-tuk or find yourself a scooter, and if you need to cross the river just google search for the nearest pier. As much as Thai is almost impossible to read if you haven't studied the language; there are English translations almost everywhere and locals are usually more than happy to help.
MRT (Underground subway) – Servicing 18 stations and stretching for 20 km from the south to the north. Subways arrive every 5 – 7 minutes and connect to the sky train at 2 stations: Sukhumvit and Silom.
River Boats – The perfect way to see the historic monuments along Bangkok's river. Multiple piers line the river and are usually outside most tourist hot spots. Each ferry station supplies informative tourist booklets which give you a visual guide on what sites are at which stops.
Taxi – Really only used for far distances; getting to or from the airport. The traffic is so hectic in Bangkok that travelling by taxi is usually the last option.
Tuk Tuk – Only suitable for quick trips but is one hell of a ride. Tuk-tuks are everywhere, just flag down an empty one, barter a price and they'll take you there. Make sure you hold on because there are no seatbelts.
Scooter – No this isn't about hiring a scooter for a day. Instead, there are dedicated scooter taxis which you hop on the back of to be taken to your destination. You can easily flag one of these down all over Bangkok.
Where to Stay in Bangkok
As the buzzing capital city of Thailand, there are a plethora of places to stay in Bangkok ranging from budget hostels all the way up to 5-star hotels. There should be something to suit everyone and can be booked below.
---
It's possible to cram in much more than I've included in this 3-day Bangkok itinerary. However, this is a good start on how to spend three days in the city and not completely exhaust yourself. You'll also notice I haven't included restaurants and nightlife. There are so many options that they warrant their own posts, so watch this space.
Have you been to Bangkok in Thailand? Is there anything else you think should be added to a relaxed 3-Day Bangkok itinerary?
Travel Resources for Thailand
Planning your trip to Thailand? Here are some of our recommended useful resources to help you have the best time possible:
● TRAVEL INSURANCE IS AN IMPORTANT CONSIDERATION FOR TRAVEL. If you're travelling long-term like us and from the EU, then True Traveller is our go-to option.
If you're from a non-EU country, another option for long-term travel insurance is SafetyWing, which you can pay for on a month-by-month basis. This is also good for shorter trips.
● Find amazing flight deals to Thailand on Skyscanner and Kayak.
● Compare Rental car prices in Thailand on Rentalcars.com.
● Booking.com usually have the best hotel prices in Thailand.
● Our go-to for self-catering accommodation in Thailand is Vrbo.
● Before booking accommodation in Thailand, check reviews on Tripadvisor.
● Book buses, ferries and taxis in Thailand with Camboticket or 12Go Asia.
● Discover fantastic trips and activities in Thailand with Klook, Viator and GetYourGuide.
● G Adventures and Intrepid Travel offer group holidays and tours to Thailand.
Enjoy this post? Pin it for later!