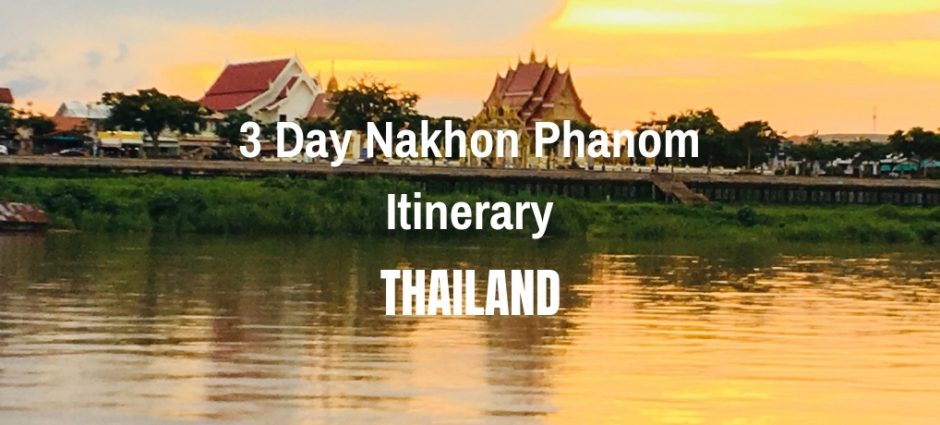 The tranquil, laidback city of Nakhon Phanom is in the Isaan region of northeast Thailand. Its name means 'City of Mountains' due to its view of the towering, limestone mountains of Laos on the opposite side of the Mekong River. I visited Nakhon Phanom as a hosted blogger for the Mekong Tourism Forum 2018 (MTF 2018). I stayed an extra day or so on either side of the forum which gave me a total of five and a half days in Nakhon Phanom.
Based on my time exploring Nakhon Phanom with the fantastic Toy and her team from Thai Ecotourism and Adventure Travel Association (TEATA), here's my suggested 3-day Nakhon Phanom itinerary.
Day 1 City and Organic Farming
Be sure to get an early start on your first day in Nakhon Phanom as there's lots to see. Exploring the city will keep you busy in the morning, and then in the afternoon, head out of town to learn all about organic farming.
You can explore Nakhon Phanom by foot, bicycle or skylab, Nakhon Phanom's version of a tuk tuk, so-called because of the way the front points skywards

. Which you choose, will be down to personal choice, but I think skylab is the best option.
Wats and a Church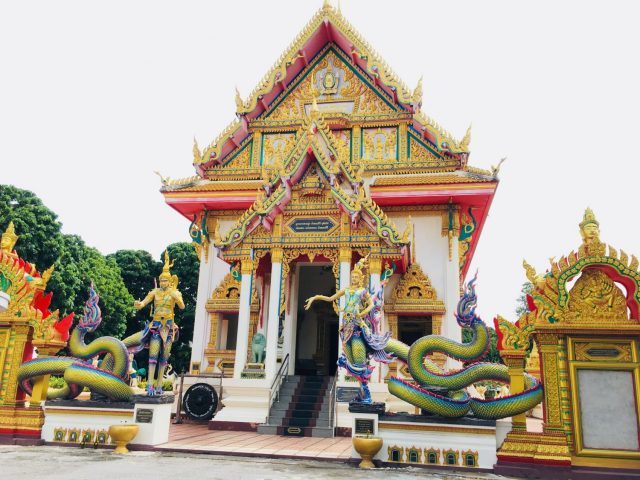 After breakfast, begin your morning by looking around some of the 14 wats in Nakhon Phanom. Start off with the four main wats on the riverside road, overlooking the Mekong river. They are Wat Phra in Plaeng, Wat Mahathat, Wat Klang and Wat Pho Siri. The southernmost temple of the four, Wat Phra in Plaeng, was my favourite. It has a beautiful, elaborate gate facing the Mekong River and colourful, intricate dragon statues frame the entrance to the wat. Inside the temple is a Buddha image that's meant to be over 1,000 years old.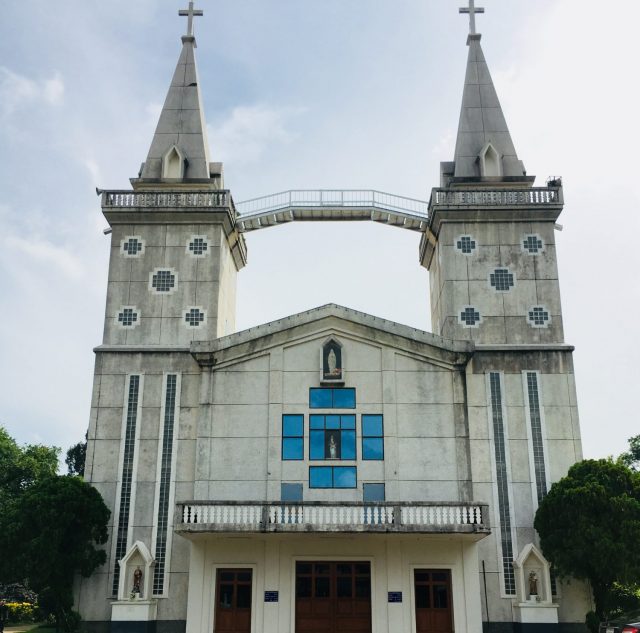 When you've finished with the riverside wats, head down the river towards the Third Thai-Laos friendship bridge to Saint Anna Nong Saeng Catholic Church

. This striking building is the only church in Nakhon Phanom. It's an unexpected find amongst all the wats in town, of which there are plenty more to visit should you choose.
Naga Monument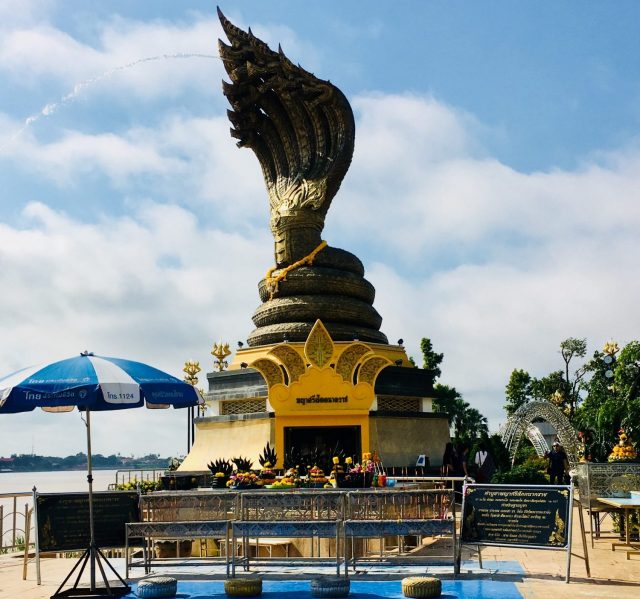 Before you leave the riverside area pop over the road to admire the famous, main landmark of Nakhon Phanom the Naga Monument (Paya Sri Satta Nakarat)

.

This seven-headed,

highly

revered naga statue has a prominent place looking over the river towards Laos

. 

Locals flock to the Naga Monument to pray, and then buy lottery tickets fro stallholders nearby, hoping for some luck

.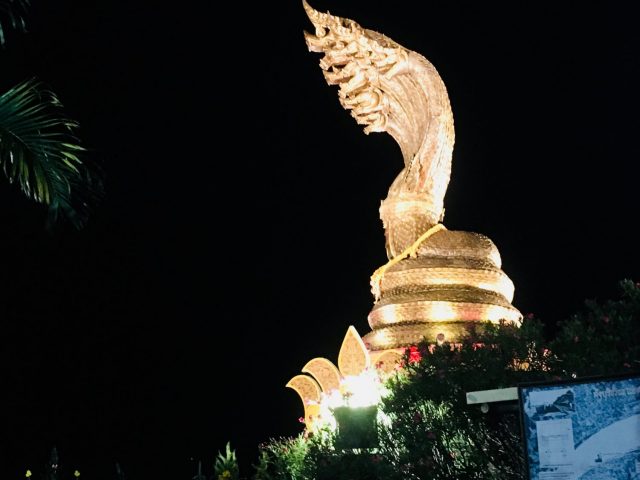 The naga spits out a stream of water into a pool below and at night is lit up and shines bright gold against the night sky.
Locals flock to the Naga Monument to pray, and then buy lottery tickets from nearby stallholders, hoping for some luck
.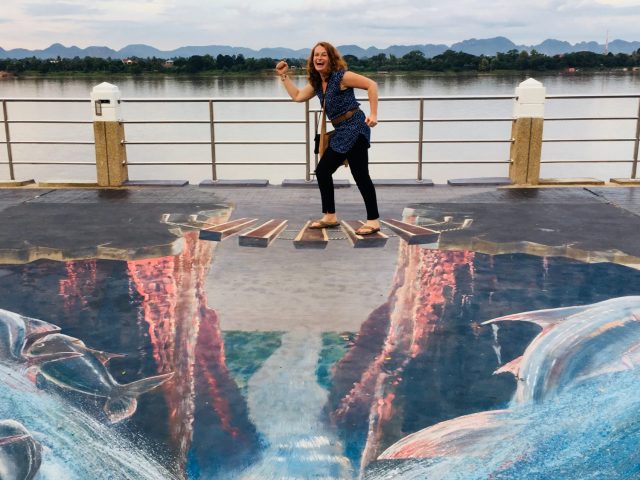 An extra attraction in an enclosed area at the base of the Naga Monument, with several pieces of 3D artwork on the pavement.

A small picture of a camera on each painting indicates the best place to stand to have a fun photo taken with you as the focal point

.
Backstreets and Coffee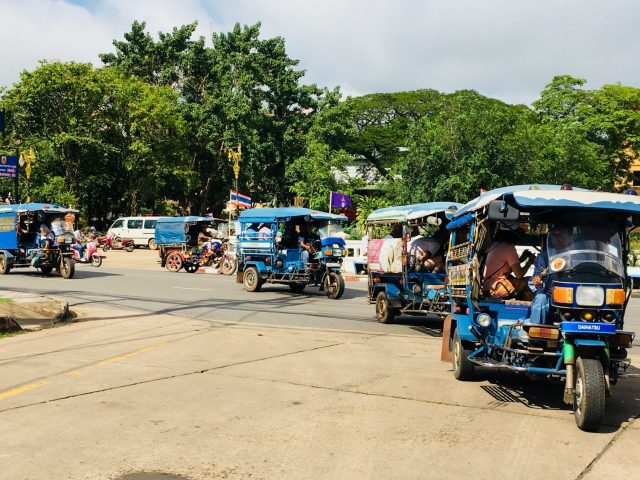 Finish exploring Nakon Phanom with a skylab drive around the bustling backstreets to get a glimpse into everyday local life

.

The streets are

surprisingly

clean, with coffee shops, great lamp posts, and the odd gleaming red and gold temple

.

There are many colourful local shops and stalls, so be sure to get your skylab to stop if you see something that grabs your interest

. Our convoy of travel bloggers in our skylabs racing around felt a bit like being in the Wacky Races cartoon.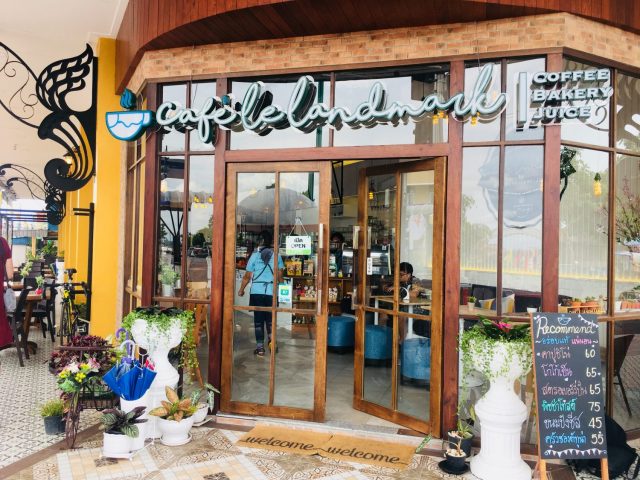 Back at the waterfront have a quick browse in the NKP Indoor Market before stopping for a coffee break. 
There are several cosy cafes in Nakhon Phanom but I'd recommend Cafe le Landmark on the other side of the road from the Naga Monument

. I visited this twice during our time in Nakon Phanom, and would

happily

visit again and again.

It served up a huge range of

reasonably

priced coffees, not to mention an irresistible selection of cakes

. 
Sun Tree Art and Culture Organic Market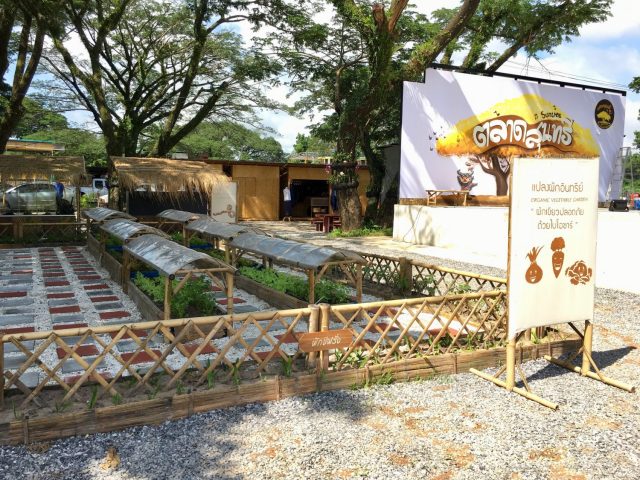 After a quick coffee and cake, catch another skylab and head to the outskirts of town to the Sun Tree Art and Culture Organic Market

. 

When we visited it was the soft launch, but it was due to open to the public in September 2018.
The aim of the Sun Tree Art and Culture Organic is to provide education to visitors about organic farming and produce in Nakhon Phanom Province
.
It highlights sustainability and gives locals (farmers and artisans) the opportunity to sell their organic products and to educate guests about what they do
. On-site is an organic vegetable garden, mini rice paddy and a riverbank potato bed.
There were several interactive sustainable projects taking place alongside stalls selling organic produce.

We tried ginger and turmeric tea, made and sampled bua loy (rice balls in coconut milk), and learnt how fertiliser

is made

from biochar, a charcoal made from plant matter and bones

.

There was even a wormery with five different types of earthworms used to improve soil quality

.
I particularly liked watching the workshop where naga statues were being made from banana leaves and bamboo. The artisans crafting these intricate statues were so talented.
Khao Kun Mae Organic Farm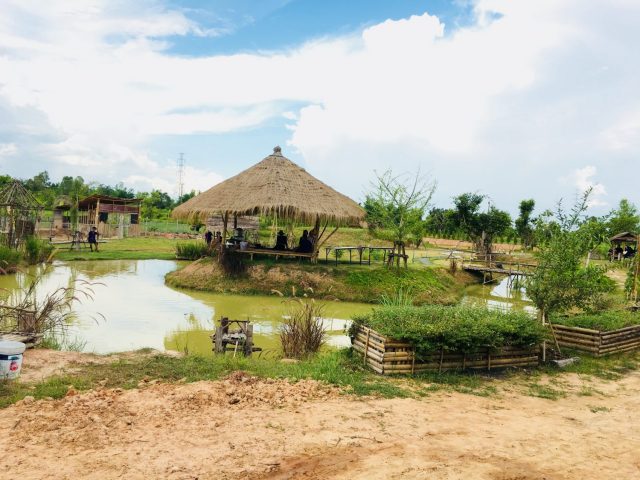 Grab a quick bite to eat for lunch at the organic market or find a local eatery nearby then it's time to head out of town to Khao Kun Mae Organic Farm. To get there you'll need transport other than a skylab as it's between an hour and an hour and a half outside of Nakhon Phanom. Win Win Smile Co., Ltd can help you arrange this.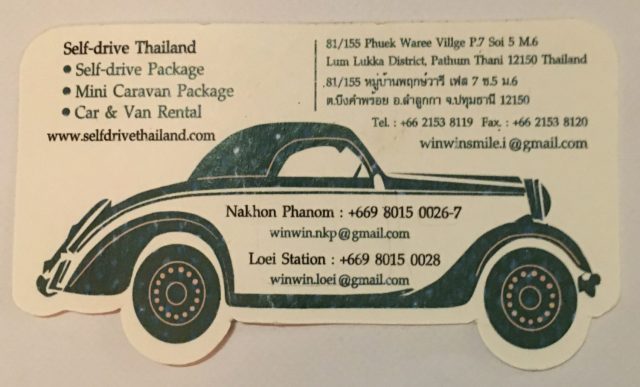 They should be able to help you out with self-drive car rental or a car and driver if you prefer. Khao Kun Mae Organic Farm is a family run business.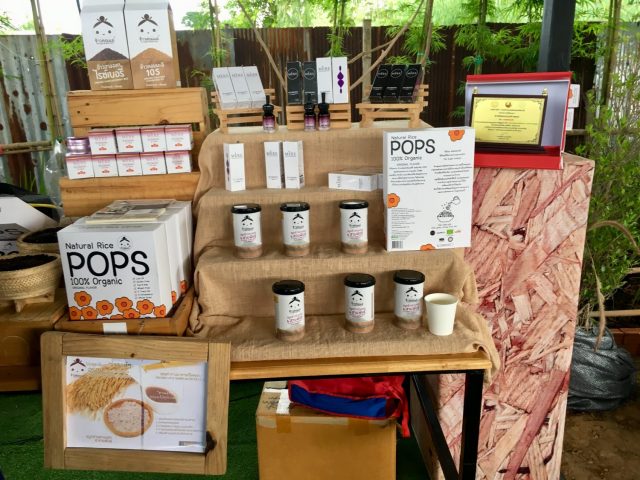 The main products are rice and rice products such as breakfast cereals.

On arrival, you're encouraged to dress up in traditional Thai farmers clothing and hats ready for a short tour of the farm and some hands-on farming

.
The tour ends with you sitting on straw bales in a covered area to watch a short film made by the family. It tells the story of how the business started and grew to what it is today. It was amazing to see what this family have achieved and their future ambitions.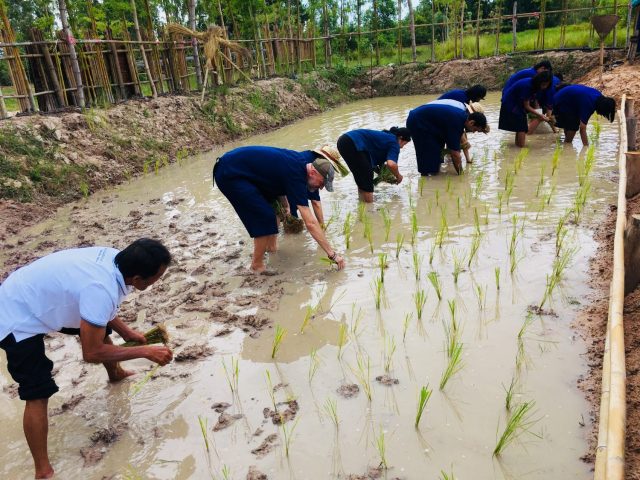 Finally, it's time to get muddy and turn your hand at planting some rice in a paddy field. The field you do it in is only small but it's still surprisingly back-breaking work being bent over at the waist for an extended time. You can only imagine what it would be like planting fields upon fields of rice by hand.
Day 2 Tribal Tourism, Relaxation and Food
The second day of your Nakhon Phanom itinerary is all about learning about the culture and traditions of tribal villages. It's finished off with a sunset river cruise and a street food feast.
Tribal Village Experience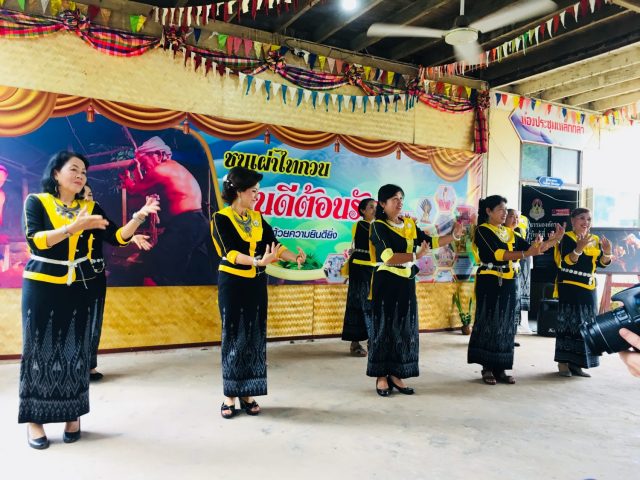 Nakhon Phanom is a wonderful mix of ethnicities, influenced by the 11 tribal village communities of the surrounding area

.

These villages, with the support of the TAT and TEATA have started to welcome visitors to visit and experience their everyday lives

. Some even offer overnight homestays.
The tribal villages you could visit are: Tai Isan, Phu Tai, Tai Yor, Tai So, Tai Khalerng, Tai Kha, Tai Guan, Tai Saek, Tai Yoi, Thai of Vietnamese descent and Thai of Chinese descent
.
Each village has its own unique culture and traditions, trades, food, traditional costumes, music and dance

. This means trying to decide which of the villages to visit is likely to result in choice paralysis. The best way to decide is to research each and choose that which interests you the most. 
I was lucky enough to visit two of the tribal villages as part of the MTF 2018 activities, one belonged to the Tai Kha people and one to the Tai Guan people

. 

Both villages welcomed us dressed in their traditional costumes with music, dancing and floral garlands

.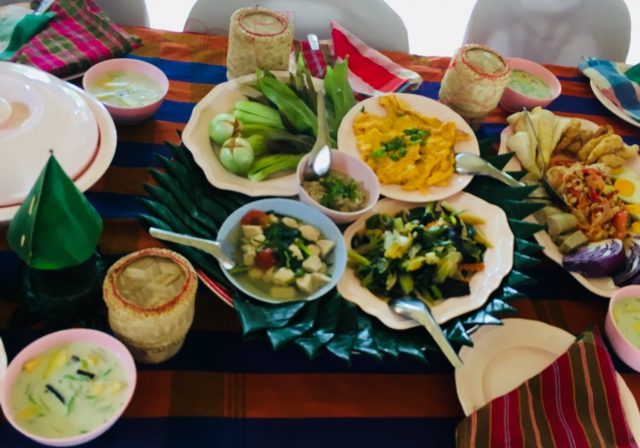 We then enjoyed huge feasts of traditional dishes for our lunch.
As we ate, we learnt about some of the villages beliefs and folklore which centre around Hinduism, Buddhism and Animism
.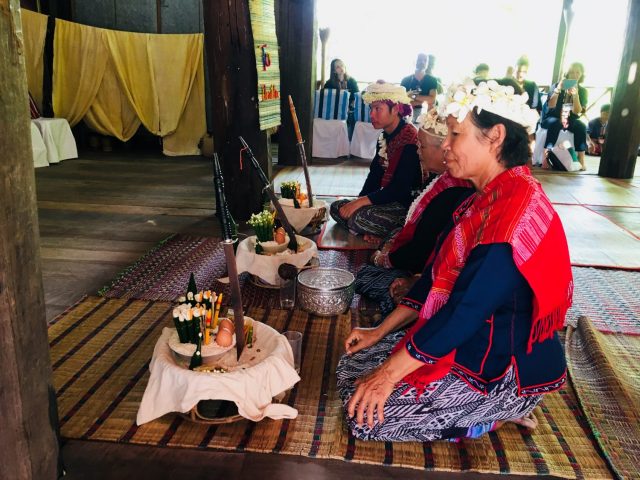 In the Tai Kha village, we received a Yao blessing where we had a string bracelet tied around our wrist and

were given

a boiled egg to eat

.

Later we attended another ceremony in the shamen's house involving music, dancing, chanting, swords, more eggs, candles and incense

.

Unfortunately, I'm not sure of the meaning behind either of these but they were interesting nonetheless

.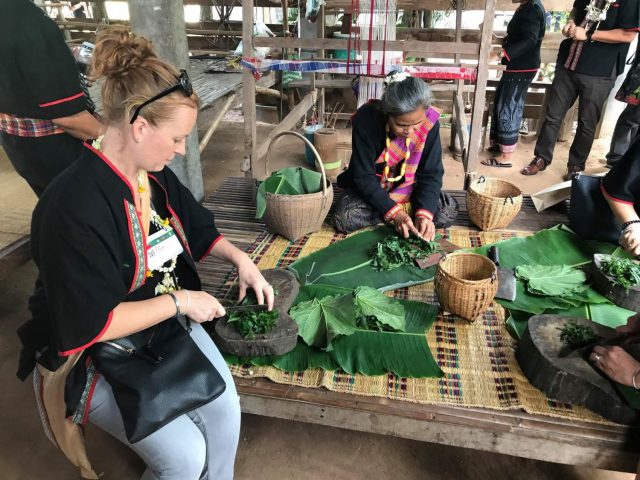 We were then invited to elderly Mother Sombut's house to help chop leaves to feed her silkworms

. We also learnt the process of how they're used for silk production. Towards the end of our visit, we had some time to walk around the village by ourselves.

The villagers demonstrated the other handicrafts they do such as silk spinning, dying and bamboo basket making

.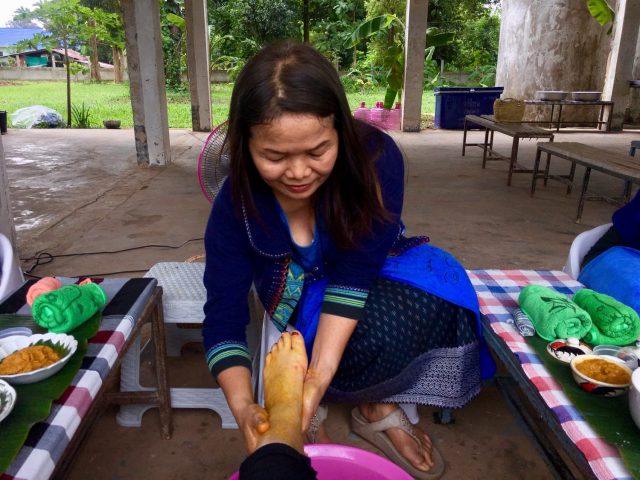 The Tai Guan village centres around a school.

On arrival, we met an excitable gaggle of young school children, dressed all in white ready for a Buddhist ceremony

. Some village women treated us to a relaxing turmeric, coffee and salt foot massage. We then took a short tram trip through a small town and green paddy fields to a farm and blacksmiths.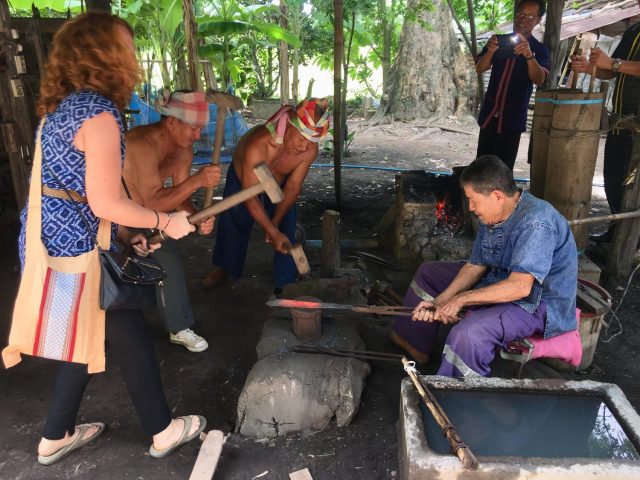 The male elders were busy forging machetes and we had a go at hammering the red-hot steel into blades, it was extremely hot and heavy work

.
We wondered if the fantastic cultural shows the villagers performed for us were for show (despite assurances they weren't)

. They may well have been, yet I'm sure the warm welcomes and friendly smiles we received weren't fake.

Every villager we met seemed

genuinely

happy to welcome us into their homes and share a snippet of their lives with us

.
As the tribal villages aren't mainstream tourism there are some logistical challenges in planning a visit or homestay
. Your best bet is to contact Win Win Smile and Co., Ltd (see image above for contact details) or
TEATA
who will be able to help you with the arrangements. This is a perfect example of a true authentic experience in responsible tourism.
Sunset Riverboat Cruise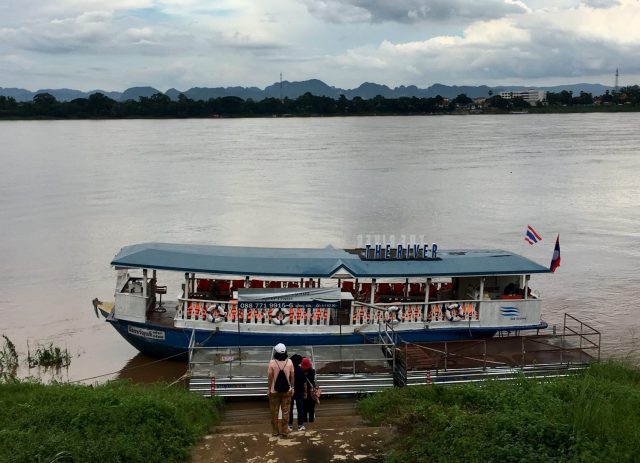 After your busy day at a village, some relaxation is in order and what better way than with a sunset Mekong cruise aboard a riverboat called 'The River'. The cruise leaves from the pier near the Naga Monument, opposite the Indochina Market at 5 pm every day. It costs 100 baht (£2.36) per person and can be booked through The River Hotel, drinks and snacks are available to buy on board, so you could also enjoy a sunset beer.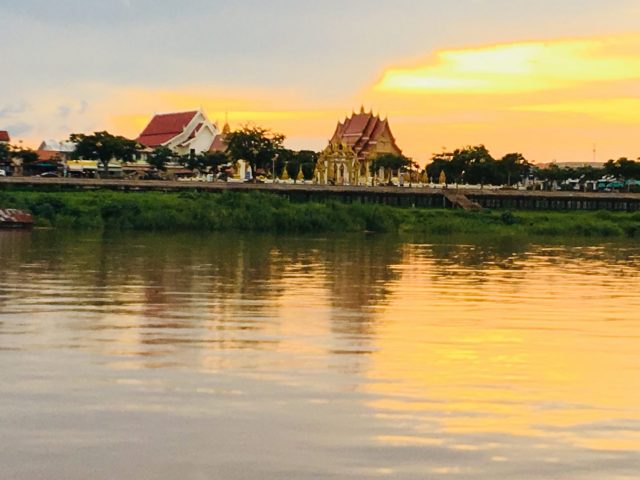 This scenic cruise takes about one hour. It goes along the Thai side of the river all the way to St Anna's Church, before turning and coming back along the Laos side as the sun sets. It's a great way to see Thailand and Laos at the same time and watch local fishermen casting nets from both riverbanks. Also interesting is the contrast; the Thai side is much more developed than the Laos side with its limestone karst backdrop.
Walking Street Night Market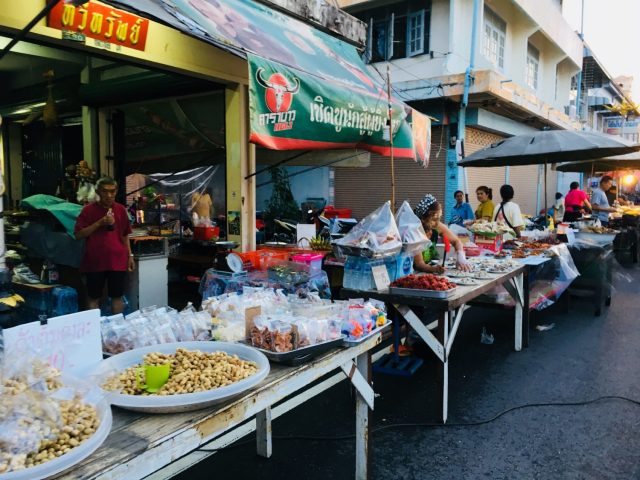 The best way to end your second day in Nakhon Phanom is with a walk around the bustling Night Market and a delicious street food feast

. J

ust

back from the river the Night Market is set up between 5 pm and 10 pm every night along a walking street so there's no risk of getting mowed down by crazy drivers

. Clothes and souvenir stalls, and lots of street food stands lie the street. You'll find Thai, Isan, Vietnamese and Laos dishes all cooked up there and then in front of you.

If you're nervous about street food or prefer an air-conditioned environment, there are also several roadside restaurants

.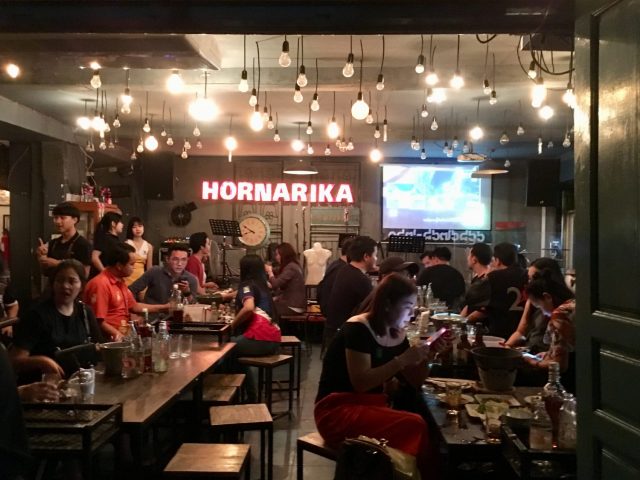 Once you've eaten and if you're not too tired I'd recommend checking out a couple of the lively riverside bars off Walking Street

. We enjoyed a few beers on red plastic chairs outside Hornarika bar. It was full of locals and had live music playing; it was lots of fun!
Day 3 – Cycling and Sightseeing
Get an early start on the third day of your Nakhon Phanom itinerary. You'll need time to fit in a cycle ride, a visit to the out of town Wat Phra That Phanom and hopefully Hoh Chi Minh's house.
Early Morning Riverside Cycle Ride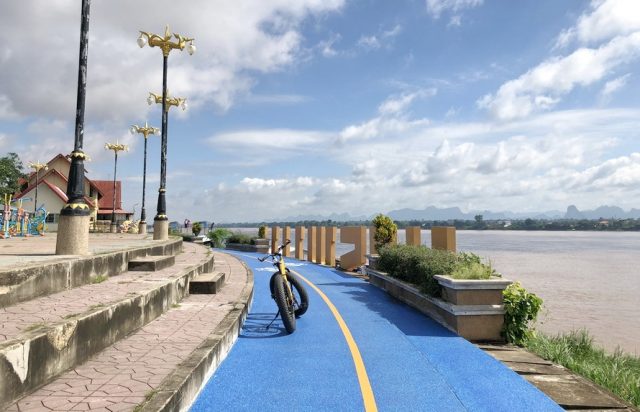 By the third day in Nakhon Phanom, you'll have noticed the cycle path that runs alongside the Mekong river. Interestingly, it's the longest cycle path and walkway in Thailand, so it would be amiss to not enjoy it.
You can rent a bicycle and helmet from some hotels or shops near the Naga Monument. River Hotel rents city bikes for 20 baht (£0.47) per hour and mountain bikes for 40 baht (£0.94) per hour. Early morning is definitely the best time for a cycle ride whilst the city is still

relatively

quiet.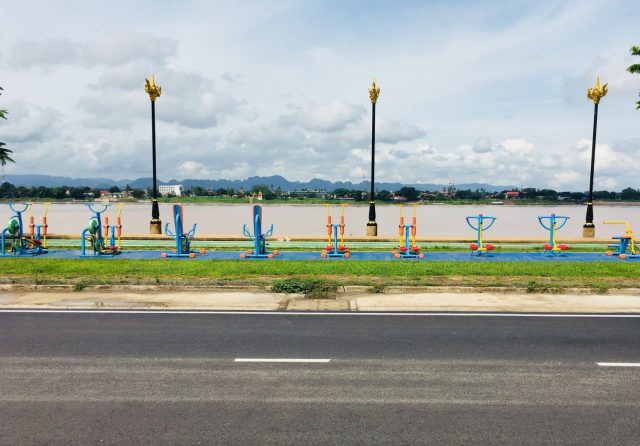 Follow the cycle path south with shops, cafes, temples, landmarks and buildings on your left

. There are some free exercise machines set up next to the cycle path should you feel extra energetic. On your right, enjoy the spectacular views of the limestone karsts of Laos in the early morning light.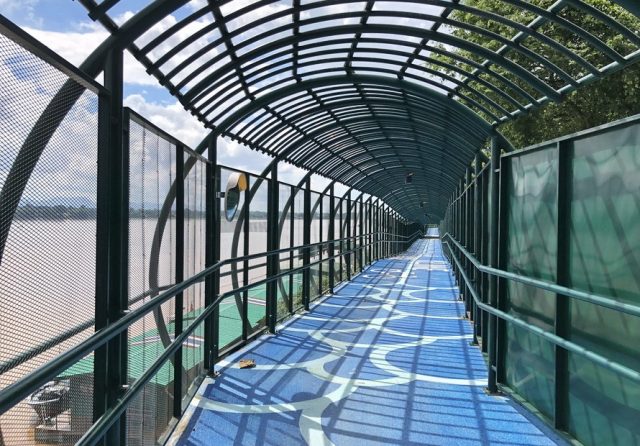 You can cycle all the way up to the Third Thai-Laos Friendship Bridge, passing through the Naga Tunnel on the way.
The Third Thai-Laos Friendship Bridge joins Nakhon Phanom Province in Thailand with Khammouane Province in Laos

.

The route to the bridge is about 12 km in each direction and takes two to three hours depending on how often you stop for photos.
Wat Phra That Phanom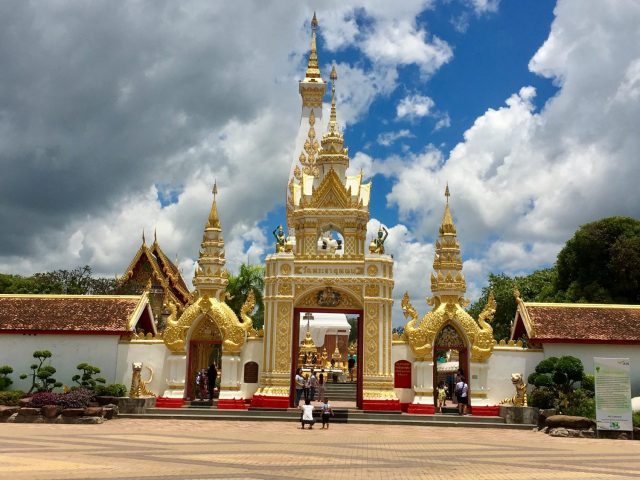 Finishing your bike ride around 9 or 10 am, have a quick freshen up and breakfast, then head out again, this time this time to Wat Phra That Phanom

. This wat is one of the most sacred in northeast Thailand, yet doesn't receive many foreign visitors at all. It's located in the That Phanom village about 55 km from Nakhon Phanom. There are mini-buses that run there for 40 baht each way. If you're short on time you could get a taxi which will

probably

cost in the region of 500 – 600 baht (£10 – £14) each way.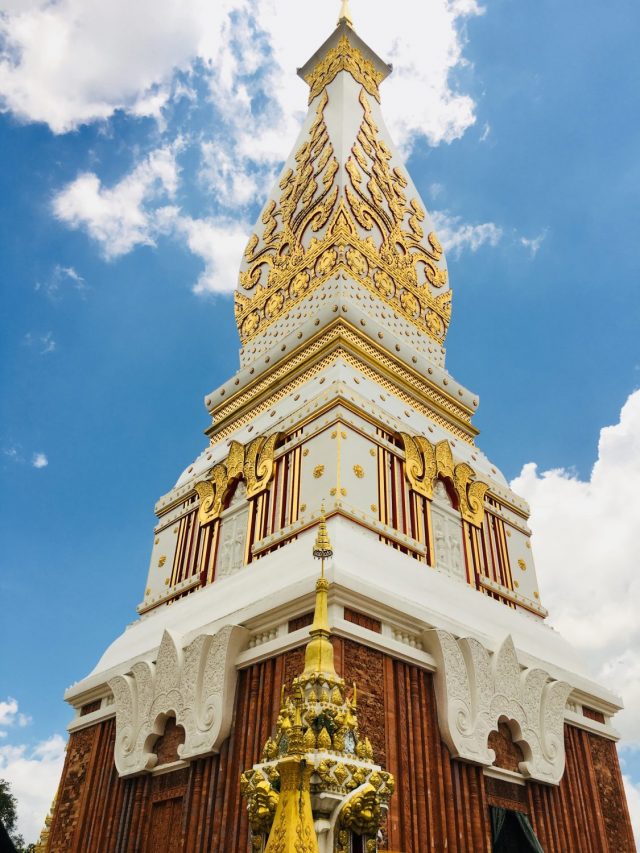 The most eye-catching aspect of this beautiful white and gold temple complex is it's 57-metre tall chedi

. It's said to contain 110 kilos of gold and as legend has it, holds the breastbone of Buddha.
At the time we visited there were also many locals and domestic Thai tourists paying their respects

.

There was a steady stream of people making offerings of incense, candles and lotus flowers

.

After making their offering they walked clockwise three times around the base of the chedi

.

It's thought that those who do this on seven different occasions will have a lifetime of prosperity and happiness

.
There's also an on-site museum with many painting and hand-written information boards telling the various legends of Phra That and its history over the ages

.
Hoh Chi Minh House
Depending on how long you spend at Wat Phra That Phanom you may also have time to fit in a visit to Hoh Chi Minh's House. Hoh Chi Minh lived there under royal protection between 1924 and 1931 whilst he planned the revolution to free Vietnam from French rule. There's also some lovely gardens and a museum on-site
Unfortunately, I didn't have time to visit but Paul from Chow Traveller has written a bit more about the real Hoh Chi Minh's House in his post on Nakhon Phanom. 
Nakhon Phanom Hotels
I was hosted for the five nights of the Mekong Tourism Forum 2018 by the Tourism Authority of Thailand and The River Hotel. Read more in our full Product Review Disclosure.
The River Hotel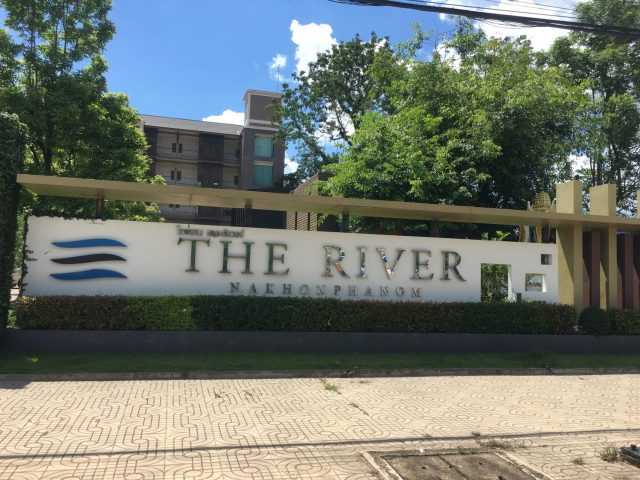 Located right on the bank of the Mekong River, on Si Khotrabun Golden Beach is The River Hotel, a modern, chic hotel with a fresh looking blue and white interior. As soon as you arrive at The River Hotel and see the lovely fountain and bright lobby you know you're in for an enjoyable stay. Located about 2 km from the centre of Nakhon Phanom it's only a 20-minute walk or 5-minute skylab ride from the centre of Nakhon Phanom.
The hotel has four types of rooms at a range of prices which are: River Honeymoon Suite at 2,490 baht (£59), River Paradise Suite at 1,490 baht (£34), River Sky View at 990 baht (£24) and River Mountain View at 790 baht. They all either have a balcony or glass doors that open out with a view of the beautifully manicured gardens and river.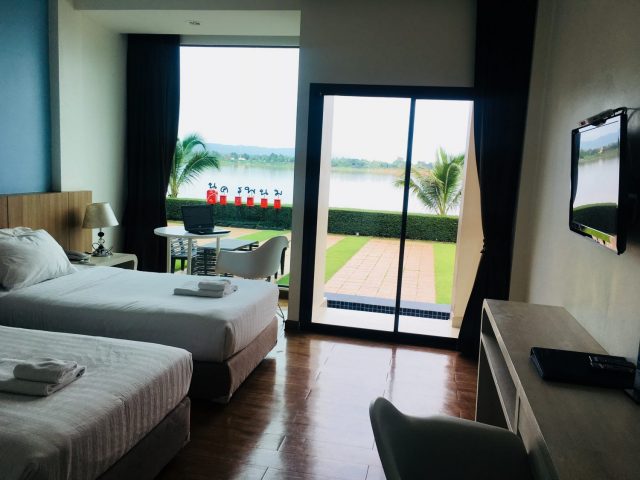 I stayed in an air-conditioned River Mountain View room on the first floor. It had two clean, comfy single beds, a big screen TV, fridge, tea and coffee making facilities, safe and complimentary water. The glass-walled bathroom (maybe a blind would be a good idea) had a great rain shower, plus a hairdryer and complimentary toiletries.
There was wifi in the rooms but it was quite problematic, although the reception staff were very helpful in resolving the problem; in the rest of the hotel, it was fine.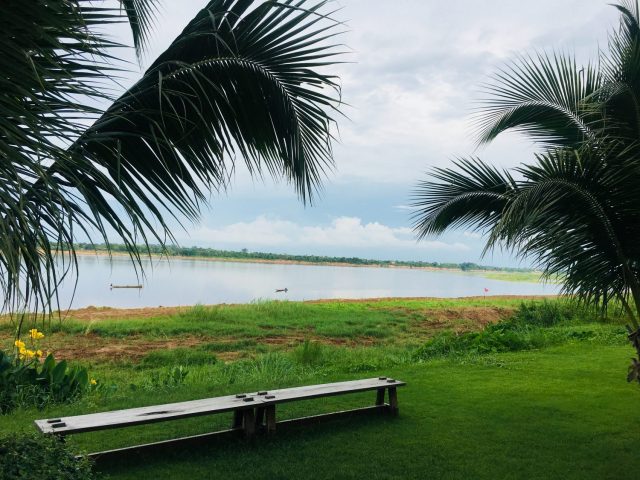 The side of the room facing the river was a big window with a glass sliding door to the right of it. This meant the room was lovely and bright, with views out over the Mekong River to Laos on the other side. The sunrise and sunset views from my view were stunning.
Opposite the lobby is the River Bar and Restaurant where breakfast is served daily and included in the room price. There was a good selection of continental and Asian breakfast dishes including eggs 'your style' and a great noodle or rice soup cooked in front of you to your preference.
The lunch and dinner menu had Asian, Japanese and European dishes at quite reasonable prices. Each night a live band plays in the bar so it can get quite lively and makes for some great entertainment. The hotel also has a coffee shop and spa which sadly I didn't get a chance to try.
I very much enjoyed my stay at The River Hotel and wouldn't hesitate to return if I'm lucky enough to visit Nakhon Phanom again in the future.
Other Hotels in Nakhon Phanom
There are several other accommodation options in Nakhon Phanom, many of which were stayed at by other travel bloggers in my group. From their feedback and from visiting most myself, the following also seemed to be good hotels: R Photo Hotel, Fortune River Hotel, Chid Chid Kong, Fortune View Kong Hotel. These and other hotels can all be booked below:
Other Activities
Should you be lucky enough to have some extra time in Nakhon Phanom there are several other activities you could consider including getting a massage, watching an alms giving ceremony and visiting the morning market. Jen from Two Can Travel talks about these and some other activities in her post 15 Awesome Things to Do in Nakhon Phanom, Thailand. 
So there you have it, my suggested itinerary for 3 days in Nakhon Phanom. I hope you find it useful and it encourages you to visit this wonderful off-the-beaten-track destination during your Thailand travel.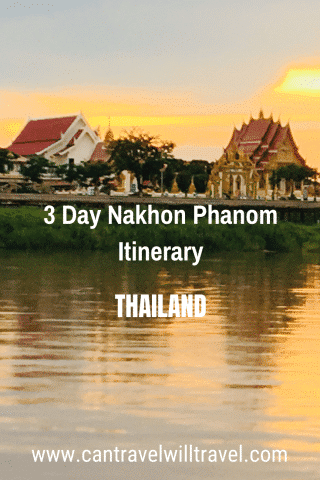 Pin me for later!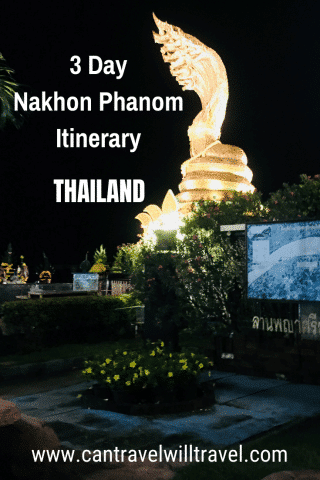 Pin me for later!
Have you been to Nakhon Phanom? Have I missed anything from this itinerary or can you suggest any nearby not to be missed activities?
P.S. If you're looking for other off-the-beaten-track destinations or unique things to do in Thailand why not read about Koh Kood Island via the following link: 
Product Review Disclosure: The River Hotel and the Tourism Authority of Thailand hosted my stay in Nakhon Phanom. I also participated in many of the activities mentioned as part of the Mekong Tourism Forum 2018. This did not influence my post in any way and as always I've provided balanced and honest reviews.