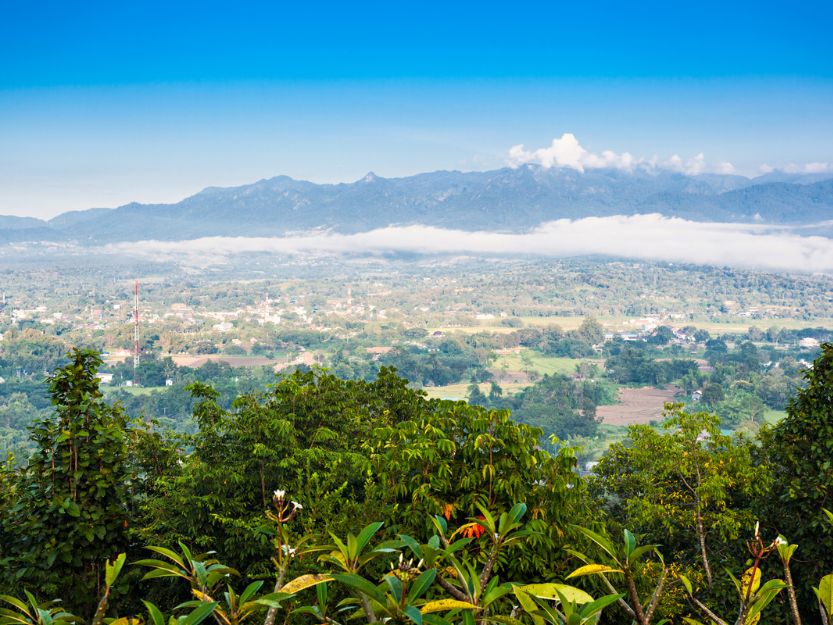 For those looking to explore off-the-beaten-track in Thailand, you may want to venture to the northern village of Pai, where there are still plenty of ways to explore the less-touristy side of the country.
Although it has become increasingly popular over the years, particularly with the young, backpacker crowd, there are still plenty of unique things to do in Pai.
While most people visit Pai to experience the laid-back bohemian atmosphere or to party with hemp-wearing hippies, there is so much more to experience here.
Planning Your Trip to Pai
Planning your trip to Pai? Here are some of our recommended useful resources to help you have the best time possible.
Unique Things to Do in Pai
Pai is a special place, which boasts some attractions that you won't find anywhere else in Thailand. It's famous for its natural landmarks, from awe-inspiring caves to mesmerizing viewpoints, as well as some authentic cultural sites.
In this post, we share 14 unique things to do in Pai, where you can either get off the usual tourist trail or find something that's completely exclusive to the Pai region.
1. Cool Off in The Pai Waterfalls
Pai is famous for its refreshing waterfalls, and there are several to choose from. The most famous is the Pam Bok Waterfall, which is located between a narrow canyon and has a large pool underneath for swimming.
The unique rocky surroundings make this waterfall one of a kind, though it does have a small entry fee. Despite being a unique attraction, it's well known, and so it can get quite busy during the day. If you want to explore this waterfall without the crowds, get up early and visit around 8:30 am.
Another waterfall that is more popular with locals is the Mor Paeng Waterfall, which has a unique natural waterslide! The waterfall sits on top of a flat, slippery and smooth rockface, allowing visitors to slide into the refreshing pool below.
Like Pam Bok Waterfall, there is a small entry fee for tourists, but it's certainly worth it. Plus, you're more likely to find locals than tourists here, which, after all, is what travelling off the beaten track is all about.
2. Explore the Rice Fields and Bamboo Bridges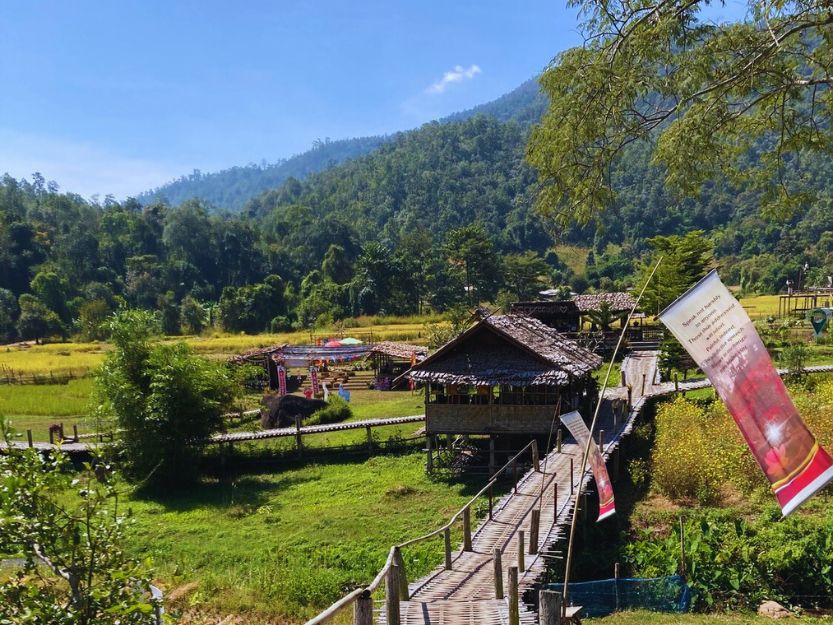 Pai is a rich agricultural region and is surrounded by endless rice fields, which is Thailand's biggest export.
When driving around the back roads of Pai, you'll see many farmers in their fields and viewpoints for photo ops with the rice terraces, but one way to explore these farms in a unique way is to cross a bamboo bridge.
Bamboo bridges are a new-ish, eco-friendly construction, which was originally built to allow monks to walk shorter distances from their temples to the nearby villages to get food.
The most famous bamboo bridge in Pai is "Kho Ku So", which is said to be the original bamboo bridge and connects to Wat Pa Huai Khai Khiri Temple.
Since then, more bamboo bridges have appeared all over the region, including one in the town centre (although this is used just to cross the river), and a really impressive one in Kung Mai Sak near Mae Hong Son which leads to the Wat Phra That Mae Yen Temple.
Tourists need to pay a nominal fee to cross the Kho Ku So bamboo bridge, which goes to maintaining the bridge. Even though it's become a tourist attraction, it's still one of the most unique things to do in Pai.
3. Drive the Mae Hong Son Loop via Ban Rak Thai
Another popular thing to do in Pai is to drive the scenic loop to Mae Hong Son, along the very windy Route 1095.
Although a popular road trip, this is one of the most dangerous roads in Thailand, since it has 762 turns and an elevation of 1395 metres (4575 feet).
The road trip takes a minimum of two days, with one night spent in Mae Hong Son.
Although the drive is scenic, it's the sites along the way that make this road trip worth it. Here are some unique landmarks along the way…
Nam Lod Cave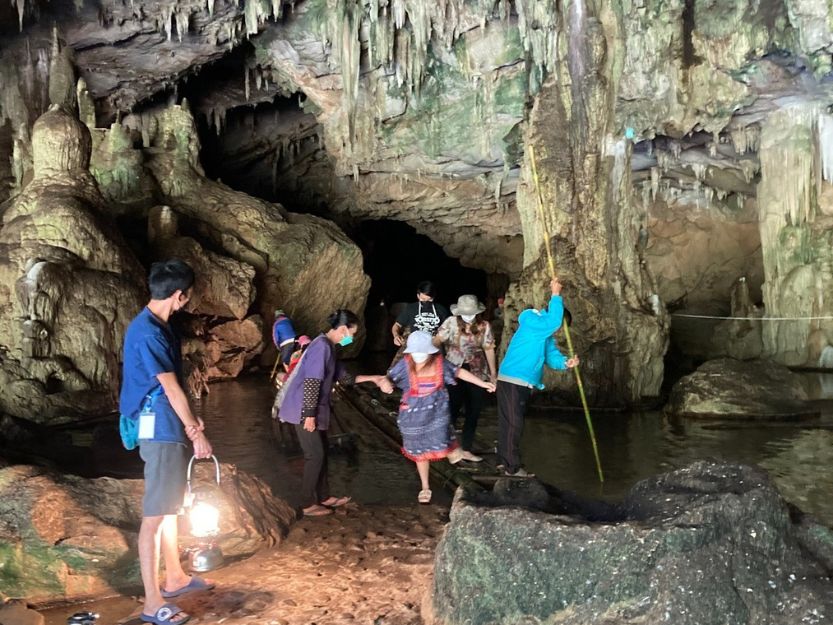 There are many caves on the route to Mae Hong Son, the most famous being Tham Lod Cave (Nam Lod Cave), which is home to some impressive stalagmites and stalactites.
This hidden gem on the route is only accessible by riding a narrow bamboo raft through the entrance. After that, you will discover a huge, expansive cave with mesmerizing rock formations.
Be sure to take some fish food with you, as there are hundreds of carp-like fish that live in the water. You won't see them until you throw food in, and then they appear out of nowhere and go crazy for the fish food!
Ban Rak Thai Village
Located in the northern region of the Mae Hong Son province, near the border with Myanmar, Ban Rak Thai Village is a hidden gem that should be at the top of everyone's list of first-time places to visit in Thailand.
This charming Yunnanese village is a different and unique cultural experience, allowing you to learn about the Chinese communities that settled in Thailand.
Walk around the borders of the lake, that sits in the middle of the town, or wander through the tea plantations that grow on the hillside.
Be sure to try the authentic mala Chinese cuisine, which is perfect for those who enjoy spicy food!
Although it's a long drive on a scooter, Ban Rak Thai Village is definitely worth the effort. It's one of the few off-the-beaten-path destinations in Thailand where tourists don't venture to.
Wat Phra That Doi Kongmu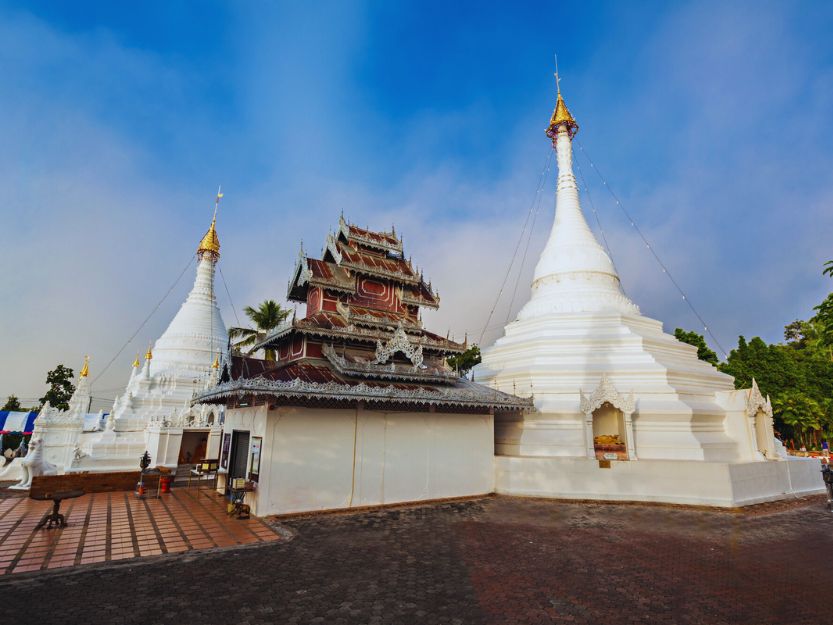 Perched on a hill overlooking the town of Mae Hong Son, is the gorgeous Wat Phra That Doi Kongmu temple.
This ancient Thai Buddhist temple offers a unique blend of cultural and architectural beauty, showcasing strong Burmese influences.
As you ascend to the top, be prepared to be rewarded with breathtaking panoramic views of the valley below.
This quiet and peaceful temple is far from the usual tourist trail and is well worth a visit if you want to experience something unique and authentic.
4. Soak In a Natural Hot Spring
There are several hot springs in the Pai region where you can unwind and enjoy the therapeutic benefits of the mineral-rich waters.
The closest to the town is Tha Pai Hot Spring, which is a small, thermal sanctuary that allows you to relax and rejuvenate whilst also being able to reconnect with nature.
The surrounding lush greenery creates a serene atmosphere, providing the perfect backdrop for your tranquil retreat.
The Sai Ngam Hot Spring is further away and therefore less frequented by tourists, and is slightly larger though less reclaimed by nature. It's on the Mae Hong Son road trip, so you can easily stop by this hot spring en route.
It's recommended you do it on the way back so you can soothe your aching bum after being on a scooter for two days.
5. Visit Wat Phra That Mae Yen, Pai's Big Buddha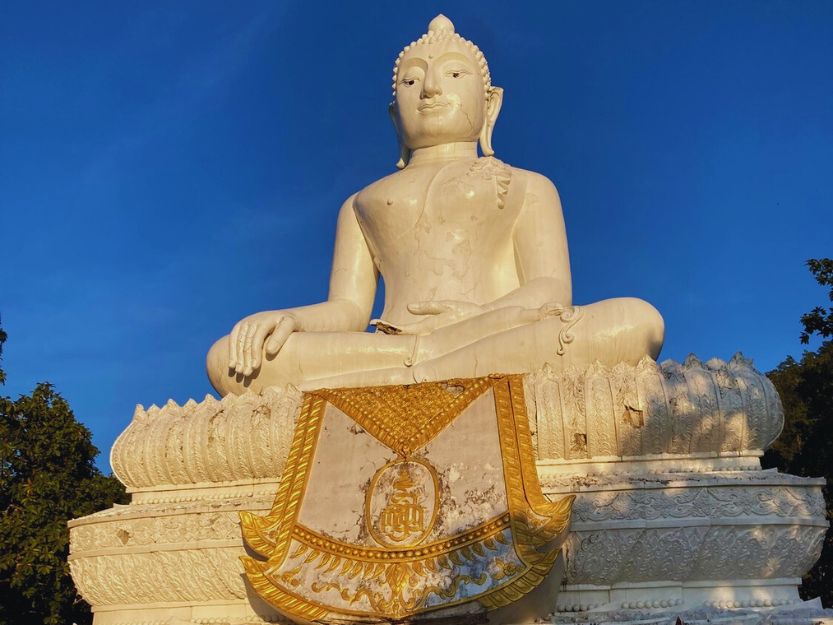 Nestled on a hill overlooking Pai, is the Wat Phra That Mae Yen, also known as Pai's Big Buddha.
The serene atmosphere and panoramic views of the valley below make this temple a hidden gem worth exploring.
As you ascend the hill, you'll be greeted by a majestic white Buddha statue, which looks out over the stunning landscape.
Be sure to visit at sunset, where the views are transformed in the glowing setting sun.
6. Admire the Views From a Tea House (Two Huts Pai)
One of the best unique things to do in Pai is to sit back and relax in a rural tea house. One Tea House we can recommend is Two Huts Pai, a hidden oasis nestled on the mountainside, overlooking the valley and town of Pai.
This charming cafe and bar offer more than just stunning views of the valley and mountains; it provides a haven of tranquillity and relaxation.
Sit back and relax in a hammock, sip a Thai Milk Tea, and let all the stresses of the world leave your body.
In the evening, there is often live music, which makes Two Huts Pai a must-visit attraction at night.
7. Visit the Chinese Village (Santichon Village)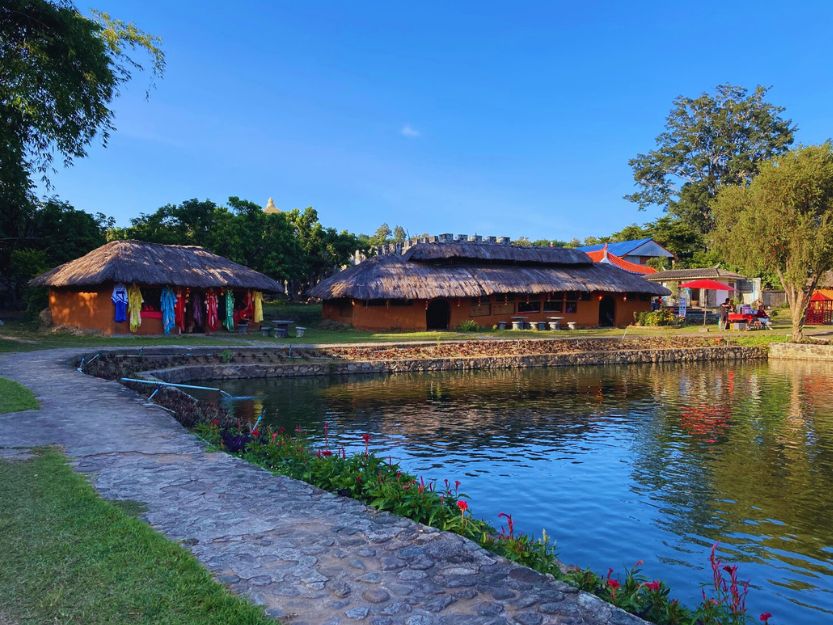 Just outside the town centre of Pai is Santichon Village, also known as the Chinese Village.
Here you can catch a glimpse into the rich cultural heritage of Yunnan, China, and explore the traditional clay houses nestled in picturesque surroundings.
Be sure to head up to the Yun Lai Viewpoint for gorgeous views of Pai and the mountains around it.
8. Go Whitewater Rafting
If you're looking for something more adventurous to do, then experience the thrill of whitewater rafting in Pai.
The Pai River is a 37.3-mile stretch that passes through the picturesque woods and gorges, offering a beautiful natural setting as you take on the rafting challenge.
There are several different rafting excursions to choose from, ranging from 1 day to 3 days. In fact, you can raft all the way back to Chiang Mai, and your luggage can be transferred from Pai to your hotel in Chiang Mai as part of the experience.
Now that certainly is a different way to travel!
Here's a rafting experience with Pai Adventures you could check out and book online.
9. Visit Pai Piranha Fishing Park
Perhaps one of the most unique attractions in Pai is the Pai Piranha Fishing Park, which is just a short distance from the Mhor Peng waterfall and the town of Pai.
This hidden gem offers a fun-filled activity for the whole family, allowing you to try your hand at catching over 30 species of fish, including Pacu (Piranha), Pleco, and Roho Barb.
Once you catch the fish, you simply release them back into the lake. This is an attraction that allows you to escape the ordinary whilst enjoying the natural beauty of Pai.
10. Tha Pai Memorial Bridge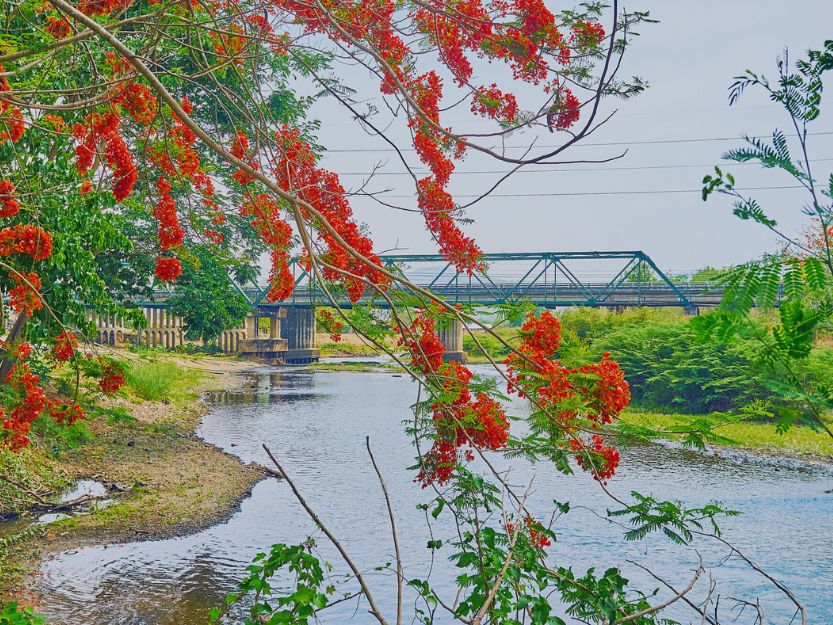 Step into history at the Tha Pai Memorial Bridge, which served as a poignant reminder of the sacrifices made during World War II.
Built by prisoners of war and locals under Japanese occupation, it stands as a testament to resilience and bravery.
As you walk across the bridge, you can't help but feel a deep connection to the past and wonder what the lives of those brave soldiers would have been like.
Although a small attraction, the bridge's unique architectural blend of steel and wood makes it unique to any other in Pai.
Whether you're a history enthusiast or simply seeking a reflective moment, visiting Tha Pai Memorial Bridge is a must.
11. See the Pai "Land Split"
The Pai Land Split is a unique phenomenon where an earthquake in 2008 caused the land to split between two hills, opening up a small gorge that you see here today.
The Thai locals always know how to turn a problem into a tourist attraction though, and have since built a cafe offering herbal teas, as well as a herbal garden (presumably where the herbs for the tea are grown).
You can sit back in a hammock, walk through the "split" and buy a bag of herbal tea to take home.
It's not easy to find the Land Split, but you can follow directions on Google Maps here.
12. Catch a Sunset at Pai Canyon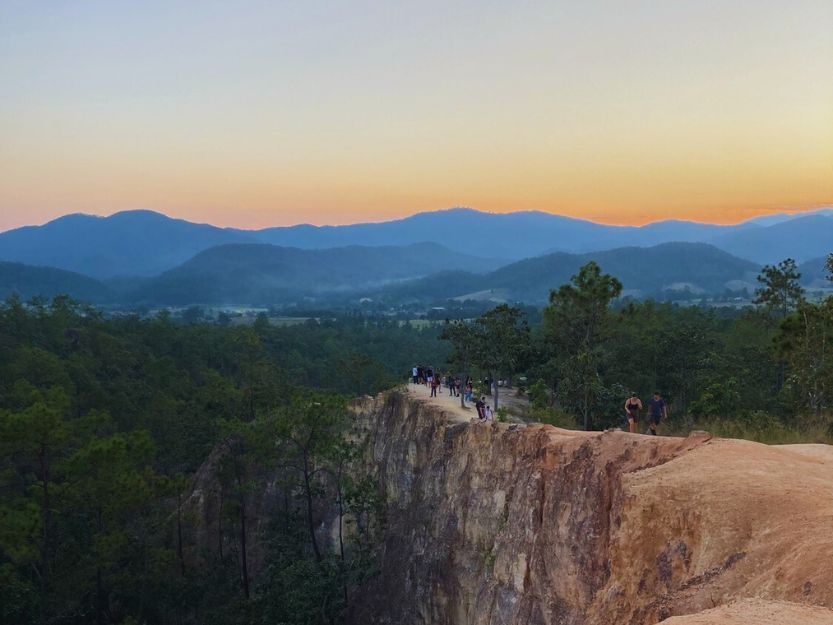 Perhaps the number one thing to do in Pai is to witness the beauty of Pai Canyon at sunset when the golden hues of the setting wash this craggy landscape in oranges and pinks.
Pai Canyon is known for its panoramic vistas, as well as provides a sense of tranquillity. Pack yourself a picnic, some beers, and your new travel mates, and enjoy the peaceful atmosphere as the sun sets.
13. Eat Street Food on Pai Walking Street
Street food is an integral part of Thai culture, so be sure to sample the tantalizing flavours and culinary delights along Pai's Walking Street at night.
After the sun sets, the street turns into a bustling night market, where the aromas of BBQ Moo Ping fill the air, drawing you closer to the irresistible street food stalls.
Whether you're looking for sweet mango sticky rice or a hearty plate of Pad Thai, this is the place to be when you're hungry.
14. Stay in a Bamboo Hut
Pai is well known for its ethical ethos, with a wide range of establishments, restaurants and hotels using conservation efforts.
When choosing a place to stay, it's only fitting you choose somewhere with the environment in mind, which is why a bamboo hut is such a good idea.
Not only is it environmentally conscious, but it's a great way to experience the authenticity of Thailand, as many Thai locals in the surrounding villages and hill tribes will live in something similar.
Bamboo huts are not only sustainable but affordable too. Many of these huts come without modern amenities such as air conditioning and hot water, which is part of the charm, so it's an activity not for everyone. However, for those eco-friendly travellers, it's a wonderful experience.
Where to Stay in Pai
Pai is a small town so it doesn't really matter which area you stay in. Ideally, you will want to choose accommodation within walking distance of the Walking Street, as this is where the action is.
I recommend The Pai Country Hut as a great option. It's perfectly located near to the town, but far enough away that you don't hear the loud noises of the bars.
And, following on nicely from the last of our unique things to do in Pai, The Pai Country hut is an eco-resort, with ethically made bamboo huts to stay in. Each hut has its own hammock overlooking a quiet garden and the mountains, as well as a mosquito net.
There's also a big selection of other accommodation in Pai to suit all budgets and styles, which includes some lovely Vrbos. 
---
There's a great selection of things to do in Pai, and this post only covers some of the most unique. So, make sure you allow enough time when you visit to explore as much as possible and to save some time to chill and enjoy the laid-back atmosphere too.
If you've been to Pai in Thailand, what was the most unique thing you did? If you've not been what would you like to do most?
Enjoy this post? Pin it for later!