Affiliate link disclosure: This post may contain affiliate links including Amazon that earn me a small commission, at no extra cost to you. Read more in our full Affiliate Link Disclosure.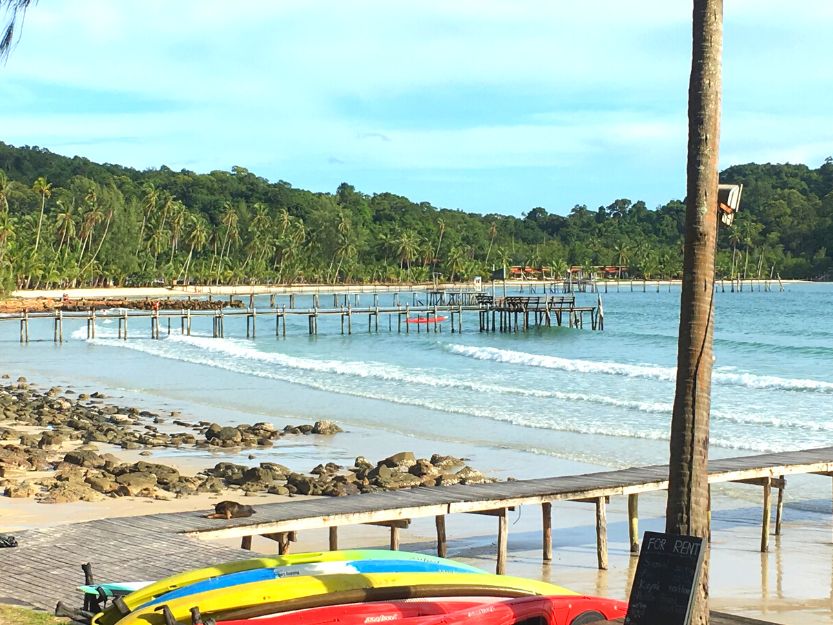 The mountainous jungle-covered Koh Kood island (often spelt "Koh Kut") is found in the eastern Gulf of Thailand. It's located about 50 km west of the mainlands of Thailand and Cambodia, to the south of Koh Chang and Koh Mak (not to be confused with Koh Mook (Muk), an idyllic island in the Andaman Sea.
Thailand's fourth or six (opinions differ) largest island, Koh Kood is the perfect destination for fans of unspoilt beaches, jungle and waterfalls. The best bit is that despite the golden sands, crystal clear water and swaying palm trees, Koh Kood doesn't YET attract the hoards of sun-seekers that its neighbour Koh Chang does or other Thai islands like Koh Samui. If you're after some island time in one of the most beautiful places in Thailand, then this is definitely one to add to your Thailand itinerary.
Things to do on Koh Kood Island
Besides relaxing in idyllic surroundings with an icy cold Thai beer, there's plenty more to see and do. Here are our top seven things to do on Koh Kood Island.
1. Rent a Scooter (or Bicycle)
Renting a scooter in Thailand is top of many to-do lists for the country. This is especially true on Koh Kood, because you'll need some form of transport to explore the islands, and to access some of the below activities. Whilst you could arrange a tuk-tuk or taxi through your accommodation, scooter rental is by far the best option (unless, like me, you don't ride a scooter).
Another option, if you're ever so slightly crazy like me is to rent a bicycle to explore with.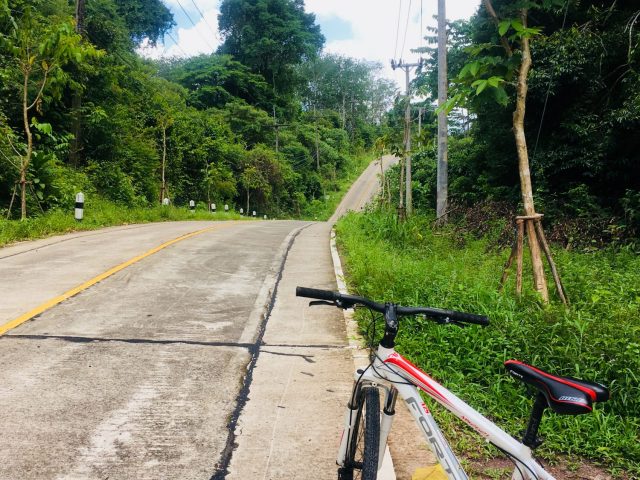 I have to caveat this with a couple of things:
Only attempt this if you are pretty fit because the hills on Koh Kood are killers.
Check your brakes work 100% before setting off. My front brake stopped working part way down a killer hill then the back brake shoe wore out too!

I seriously thought I was going to die, but managed to navigate the sharp corner I was approaching and was then slowed by another ascent!
2. Koh Kood Beaches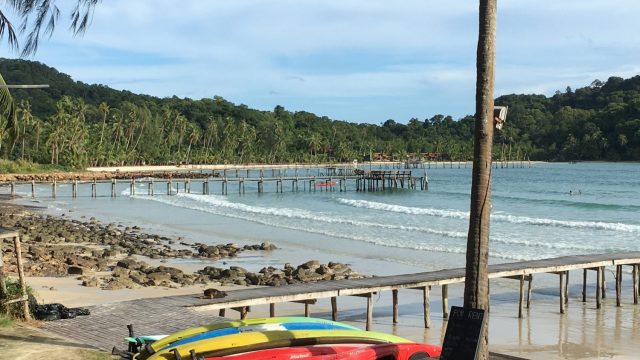 Koh Kood Island has some of the most beautiful beaches of all the Thai Islands. Nearly all the unspoilt beaches on Koh Kood are on the west coast of the island and the best way to explore them is to beach hop by rented motorcycle. Koh Kood has many beaches, but here are some of the best that you can reach by road, from north to south: 
Ao Tapao – is the longest beach on Koh Kood. It has over 1 km of soft, powdery white sand, leading down to the sparkling, crystal clear sea and backed with coconut palms. Despite being home to four resorts this is a beautiful beach. 
Ao Noi Beach – is the place to head if you want a peaceful day doing nothing but relaxing on a secluded beach. The tall palm trees edging the sand give lots of shade to escape from the scorching sun. The highlight of Ao Noi has to be the wooden jetty leading out to a gazebo built over the sea. 
Khlong Chao Beach – is the main tourist beach of Koh Kood and is a natural centre to the west coast of the island. This more developed beach consists of a lovely stretch of sand with some high-end beachfront resorts. Nearby along the river estuary are a small selection of budget-friendly bungalow accommodation, plus a few local shops, bars and restaurants. 
Bang Bao Beach – is a gorgeous horseshoe-shaped bay. Accessible via paved tracks that wind through rubber trees, this is my personal favourite beach of Koh Kood. The powdery white sand is lined with a few resorts, each of which has its own jetty down to the sea. The water is again, crystal clear and being in a bay it's very sheltered and calm, making it ideal for snorkelling. The sunset here is fantastic, especially whilst enjoying a cocktail or beer. 
Ao Jak Beach – is quite an adventure to reach. It's a bumpy, sandy (sometimes muddy) 15-minute scooter ride or 30-minute cycle ride in my case, from the main road. Another beautiful beach, this is nice for a walk or a swim but can be quite windswept due to its location. 
Ao Phrao Beach – is the most southern beach on Koh Kood and is one of the best on the island. Its kilometre of bright white sand makes it perfect for sun-worshippers, but it does have the downside that the sea can get very rough. 
'Explore Koh Chang' has lots more details on the beaches of Koh Kood. 
3. Kayak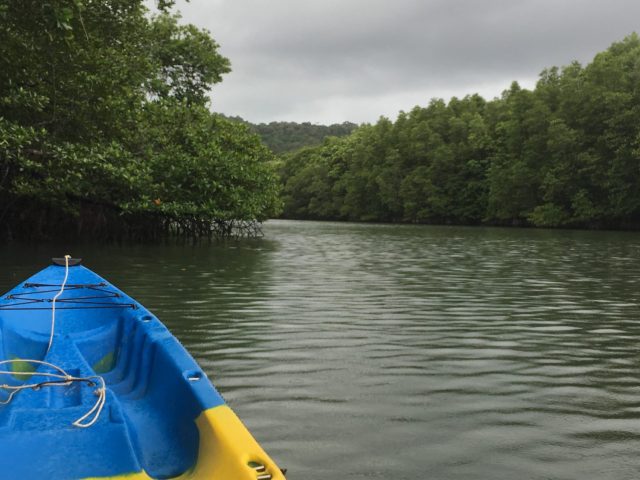 The river estuaries and mangroves make Koh Kood the perfect place for some kayaking. If the sea is calm you can even kayak around the edge of the island to explore some completely deserted beaches, inaccessible by road. Most resorts have kayaks you can use for free or for a small fee, along with a life jacket (I recommend you wear one, just in case).
One of the best kayaking trips is to paddle up the Khlong Chao river as far as you can go before trekking up to Khlong Chao Waterfall (see below). I did this during the second stay of my Koh Kood trip at Peter Pan resort. You kayak upriver with mangroves on either side until you see a place on the right to stop and pull your kayak up the bank. Leave it and your lifejacket there whilst you trek to the waterfall, they should be safe.
Another option is to take a kayak out around dusk time to try and spot fireflies in the mangroves. You might also see glow-in-the-dark jellyfish in the water beneath you. Stay out a bit later on a clear night and you can float in your kayak and stargaze. 
4. Hike
One of my favourite things to do on Koh Kood was to take myself off for a hike to see what I could find, and there's plenty. I hiked north along the road to Khlong Hin Dam Village which was interesting to visit as it has a very local feel. There are local restaurants, cafes, school, hospital, and government offices. It has a very local feel, hardly any English is spoken there. 
From Khlong Hin Dam Village you can go further and into the virgin rainforest to seek out the ancient trees, or makka trees as they're known. To find these turn right at the fork after the hospital in Khlong Hin Dam, then take another right at the next fork onto a gravel road. The trees are several kilometres further. The first tree 'Sai Yai' is on the right and the second tree 'Mayayuk' is about ten minutes walk further on the left.
Another option is an inland nature trekking trail between Khlong Chao and Ngamkho Bay. There you can find Battleship Mountain (Khao Rearub), so called because it apparently resembles a battleship.
Finally, there are the waterfalls of Koh Kood, all of which involve some hiking to reach. I talk more about these below. 
5. Koh Kood Waterfalls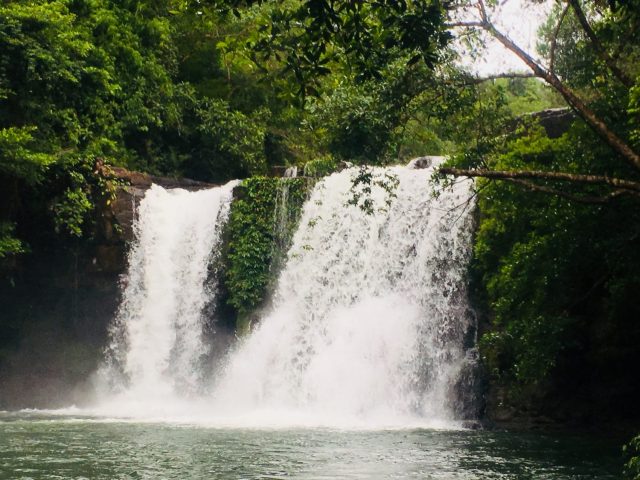 Koh Kood's interior with its untouched rainforest is home to three waterfalls. These can be reached by hiking or a combination of kayaking and hiking. The waterfalls you can visit are:
Klong Chao Waterfall – is the main waterfall on Koh Kood, and is located a few kilometres inland from the middle of the northwest coast. It's accessible via a small road from behind Khlong Chao beach. The road crosses a bridge, then heads inland, before arriving at a carpark at the trailhead. This is only a few kilometres and is walkable or cyclable if you prefer. Once at the trailhead it's just a short fairly easy hike to the waterfall.
A more adventurous way to reach this waterfall is to kayak up Khlong Chao River and then hike the short stretch through mangroves. Turn left at the road and follow it up to the trailhead. The wet season is the best time to visit as the refreshing pool is deep enough to swim in. Just be careful clambering over the rocks to reach it as they get very slippery.  
Khlong Yai Kee Waterfall – is in the northwest of the island and can again be reached by road. It's smaller than Khlong Chao but is a more secluded hidden gem. To get there, go through Hin Dam Village and straight past a vegetable store on a corner on your right until you get to Khlong Mad. Turn right just before Suanya Resort and you'll find yourself in the waterfall carpark, from there it's only a short hike to the waterfall. In the wet season, you're able to swim and jump from rocks into the water at the bottom of the cascade.
Huang Nam Waterfall – was once known as the secret waterfall. It's located deep in the island's interior beyond the ancient makka trees. It's no longer quite so secret as the muddy track leading to it has been developed into a highway and gravel track. There's also now a car park and visitor centre. The waterfall is about a 5 km walk from the visitor centre and off to the right. The bottom of the falls can be accessed by steps down the hillside. Sometimes it's also possible to climb on the big rocks at the top of the fall where there's a small plunge pool. the visitor centre to the waterfall it's about a 5 km walk.
6. Fishing Villages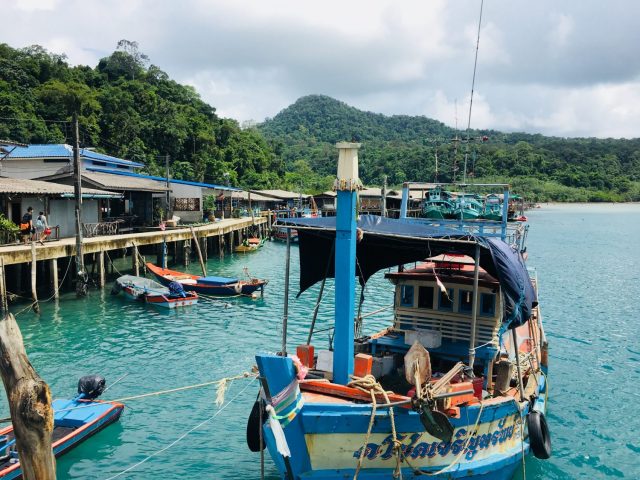 On the east coast of Koh Kood are two working fishing villages. Ao Salad is in the northeast and Ao Yai is in the southeast of the island. Located at either end of the main road, these fishing villages are the only developments on the east coast.
Virtually all the families that live in the fishing villages are involved in the fishing industry in some way. Visiting either or both of these villages will give you a fantastic insight into the local way of life.
Ao Yai – is again set in a picturesque bay and is reached by passing through forest and over undulating hills until you reach a viewpoint on your right. From the viewpoint and pagoda, you're treated to a marvellous view of the bay and fishing village with its wooden stilted house.
A wooden boardwalk built over the water creates a pathway through the village with access to the houses and a small selection of simple seafood restaurants. When I visited I got caught in a torrential downpour and took shelter in Chonthicha Seafood restaurant. It's a great spot to watch the comings and goings of the boats and villagers going about their daily lives.
Ao Salad – is set in a fantastic bay and is overlooked by a 30-metre-tall golden Buddha. A wooden jetty serves as a pavement and road for the villagers and their motorcycles. On one side are the traditional wooden houses and on the other sides are boats moored up. The jetty gets quite busy during the day as this is where the boats from the mainland arrive and depart from.
7. Dive, Snorkel or Fish
The sea around Koh Kood offers plenty of activities for visitors. The reefs create perfect spots for some fantastic diving and snorkelling, whilst further out to see there's some great fishing.
There are three main diving companies on Koh Kood: BB Divers, Koh Kood Divers and Paradise Divers, all who usually offer snorkelling on the same trips. Besides the reefs closer to the island, they also offer trips to the Marine Park at Koh Rang and the wreck near Koh Chang.
'Explore Koh Chang' has lots more information about Koh Kood Diving and Snorkelling.
There are also a couple of other companies that offer snorkelling and fishing trips. These include TJ Boats at Mark House and at Doy Homestay, both found near Khlong Chao Bridge. The main company offering tailored full day and overnight fishing tours is Dutchman Fishing Tours, based on the jetty in Ao Salad fishing village. 
Koh Kood Island Accommodation
Koh Kood BED's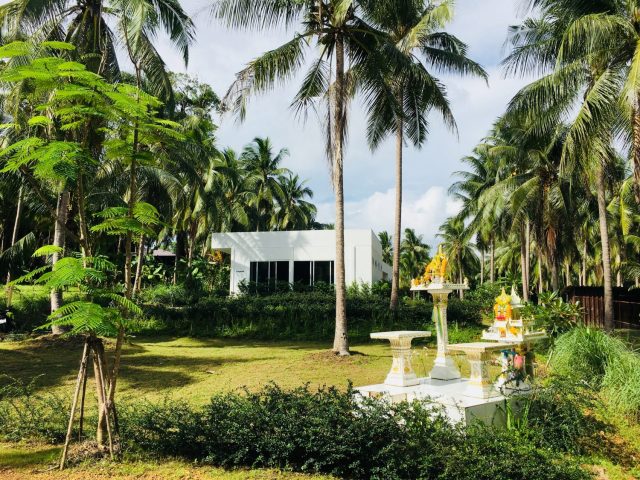 Koh Kood BED's  kindly hosted me in their charming jungle getaway tucked away from the road leading down to Bang Bao Beach halfway down the west coast of Koh Kood. This family-run bed and breakfast is a dream come true for the knowledgeable, passionate and inspirational owner 'Jay'. After working in other people's hotels for many years he decided to set up his own, a lot of hard work followed and finally Koh Kood BED's was opened.
The modern building offers four Courtyard Deluxe rooms in a tranquil setting surrounded by palm trees and tropical gardens. Prices start from 2,135 baht (£50).
The reception is located at the front of the property and doubles as a shared lounge in which you can use the wifi free of charge and chat with Jay, who is a fountain of knowledge about Koh Kood. The building housing the four bedrooms is set just back from the reception and has views over the gardens from both the big sliding windows on one side and the entrance on the other.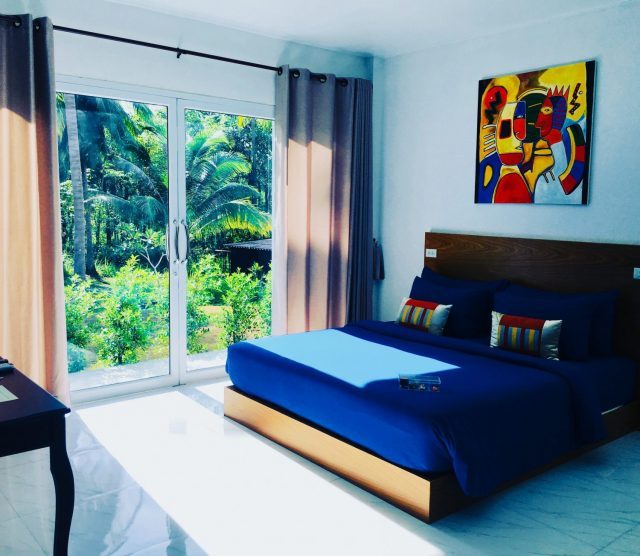 Each air-conditioned room follows the same format as the one I stayed in. They are big, bright and spotlessly clean with a huge, comfy bed – definitely the comfiest I slept in whilst in Thailand.
The room had a flat-screen TV with satellite channels, a dressing table and chair, plus another small table and chair which was perfect to work from. There was also space to hang clothes, a fridge and tea and coffee-making facilities including a coffee machine with two Nescafe Dolce Gusto per day. Another lovely touch was the welcome set with a soft drink and chocolate.
The spacious bathroom had a good shower with hot water, clean towels and complimentary toiletries, which were all in dispensers so no single-use plastics to damage the environment which is great.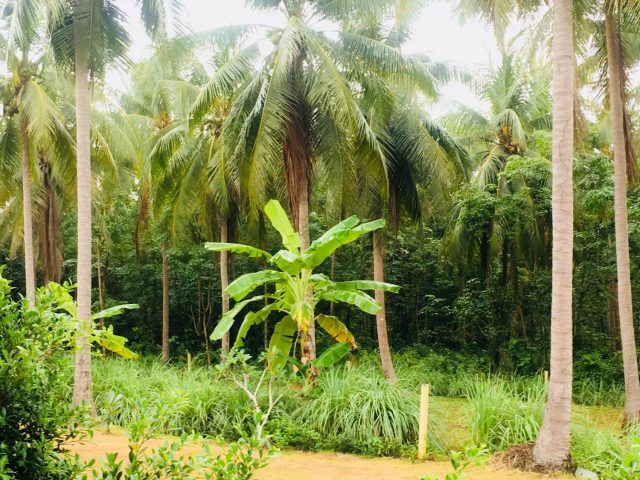 Jay's concept of 'feel like at your home' includes offering an all-day breakfast served in your room at a time of your choosing. This wasn't available when I stayed but should be soon (if it's not already). 
There's no restaurant at the bed and breakfast yet but have a chat with Jay and he'll point you in the direction of the best local restaurants to try out.  
There's also the option to rent a motorbike from Jay or a bicycle which I did one day to explore.
One thing to just be aware of is that as yet there is no wifi in the bedrooms but I think this will come with time. For me, this really wasn't an issue as it was a good excuse to go offline for a while.
I thoroughly enjoyed my stay at Koh Kood BED's and will definitely make it my first port of call when I hopefully return to Koh Kood with my husband.
Other Accommodation on Koh Kood 
During my time on Koh Kood, I spent the last two nights at 
Peter Pan Resort
at Khlong Chao Bay, right on the beach. This was a gorgeous place to stay with elegant wooden, villas dotted throughout the property on the beachfront, poolside and near the estuary.
My spacious room had a big balcony overlooking the pool, where I spent the majority of my time as there were storms most of the time I was there, so didn't venture out far.
The room prices vary from 4,000 baht (£93) to 9,500 (£22) depending on the room type, weekend or weekday and season, They also offer multi-day and full board packages.
There are many other accommodation options on Koh Kood ranging from backpacker budget all the way to six-star luxury.
How to Get to Koh Kood Island
Most people travelling to Koh Kood Island come from Bangkok. There are several ways to get Koh Kood, all of which culminate in a boat from Laem Sok Pier in Trat to the island.
You could take a public bus or domestic flight from Bangkok to Trat then tuk tuk or taxi to the pier, book a private car or mini-bus transfer, or use one of the transfer services that leave daily from Khao San road and take you all the way to Koh Kood. I opted for the latter with a direct transfer with Boonsiri High Speed Ferries, which they provided me on a complimentary basis.
Direct Transfer from Bangkok to Koh Kood 
Boonsiri High-Speed Ferries offer an all-inclusive twice-daily transfer package which can be booked online using their booking form or by emailing them. The transfer service includes a coach or mini-van (depending on the season and demand) from their Bangkok, Khao San Road office to their Trat office, a shuttle transfer to the Laem Sok Pier, a high-speed catamaran to Koh Kood and finally a songthaew to your accommodation.
The coach leaves Khao San Road at 5 am or 7:30 am and costs 900 baht (£21), I think this is the best option as you're guaranteed to get to the catamaran on time as the coach or mini-van transfer is run by the same company as the catamaran.
Coach Departure from Bangkok
I checked in at the Boonsiri Ferries office on Khao San road a bit early ready for the 7:30 am transfer, which left promptly so make sure you're not late.
The coach was comfortable with a toilet on board which was good as it took about six hours to get to Trat, with just a short stop at a service station about halfway there.
Shuttle Transfer from Trat to the Pier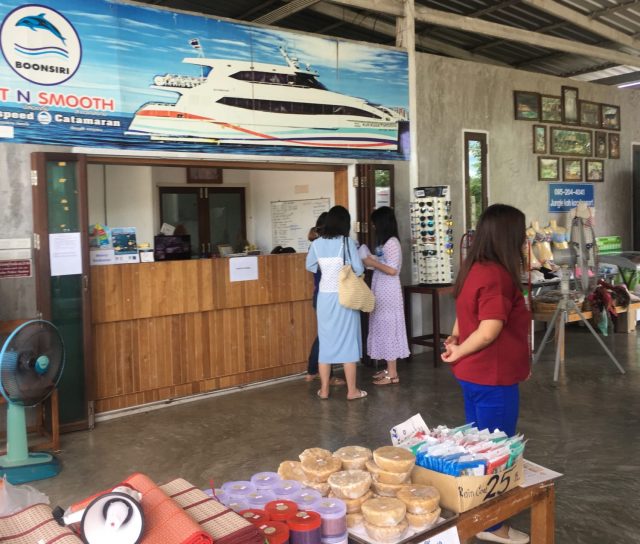 Once we arrived at the office at Trat we had to check in at the reception to show them our tickets. Then we had about a 15-minute wait in the office for our shuttle to Laem Sok Pier. The office had toilets, and lots of tables and chairs where you could sit and wait, along with a selection of drinks and snacks on sale. 
The shuttle down to the pier was kind of an open van with bench seats and a trailer attachment for bags. It was just a quick 10-minute drive down to the pier to the waiting catamaran.
High-Speed Catamaran to Koh Kood Island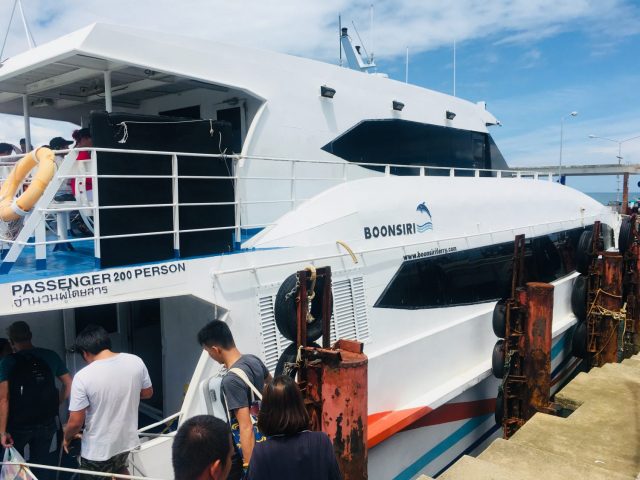 As soon as we arrived at Laem Sok Pier we quickly boarded the waiting catamaran with our bags. There were plenty of seats inside and a few outside to choose from, I found one outside at the top so I could watch the horizon, hoping to avoid getting seasick. Before the catamaran set off a couple of staff members passed around virtually brand-new life jackets which they insisted everyone wore before we left.
The boat ride took about 1 hour and 20 minutes and was really quite smooth, I wish the same could be said for the return journey which was very wet and stormy!

On arrival at Koh Kood Island, there were lots of songthaews ready and waiting to take all us passengers to our final destinations around the island. All in all, it was an easy hassle-free journey, a great service.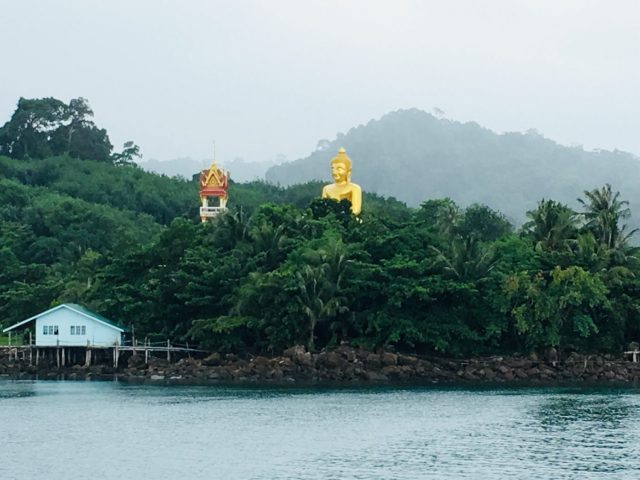 With all the things there is to see and do on Koh Kood (if you can drag yourself out of your hammock that is) what's not to love about it? Once there you're unlikely to want to leave, I know I didn't.
I suspect it won't be long before lots more people start to catch onto this gem of an island getaway so try to get there as soon as you can!
Have you been to Koh Kood or any of the other Thai islands? Which was your favourite and why?
Travel Resources for Thailand
Planning your trip to Thailand? Here are some of our recommended useful resources to help you have the best time possible:
● TRAVEL INSURANCE IS AN IMPORTANT CONSIDERATION FOR TRAVEL. If you're travelling long-term like us and from the EU, then True Traveller is our go-to option.
If you're from a non-EU country, another option for long-term travel insurance is SafetyWing, which you can pay for on a month-by-month basis. This is also good for shorter trips.
● Find amazing flight deals to Thailand on Skyscanner and Kayak.
● Compare Rental car prices in Thailand on Rentalcars.com.
● Booking.com usually have the best hotel prices in Thailand.
● Our go-to for self-catering accommodation in Thailand is Vrbo.
● Before booking accommodation in Thailand, check reviews on Tripadvisor.
● Book buses, ferries and taxis in Thailand with Camboticket or 12Go Asia.
● Discover fantastic trips and activities in Thailand with Klook, Viator and GetYourGuide.
● G Adventures and Intrepid Travel offer group holidays and tours to Thailand.
Enjoy this post? Pin it for later!
Partnership Disclosure: Koh Kood BED's hosted my stay on Koh Kood and Boonsiri Ferries provided me with a complimentary return transfer from Bangkok to Koh Kood. This did not influence my post in any way and as always I've provided balanced and honest reviews. Read more in our full Product Review Disclosure