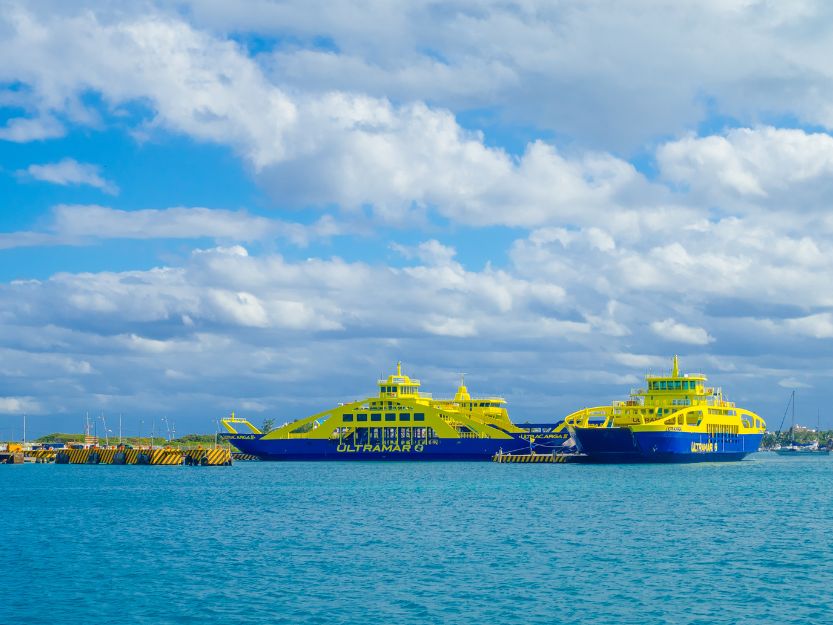 Mexico is known for its stunning beaches, rich culture, and warm hospitality. And while there are plenty of big drawcards on the mainland, like Mexico City, Cancun, and Oaxaca, there are also close to 100 islands scattered offshore and plenty of fabulous coastal cities along the shore.
Yes, you can consider catching internal flights, however, ferries are a fast and efficient way to travel between coastal cities and islands, and the ferry networks in Mexico are well-established and reliable.
From the turquoise waters of the Caribbean to the rugged Pacific coastline, there are plenty of places you can reach by ferry in Mexico. Here are five of our favourites. 
1. Ferry to Isla Mujeres from Cancun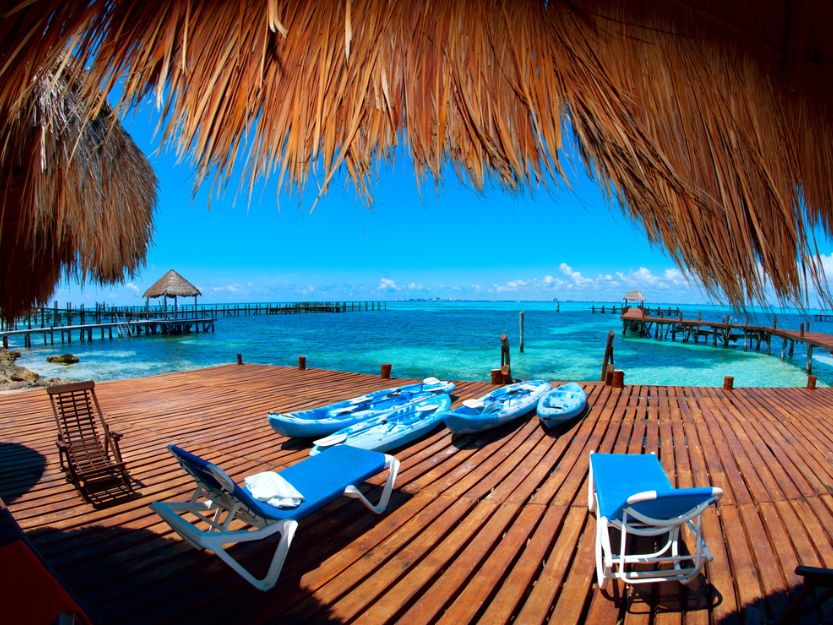 Isla Mujeres is a small island a few miles off the coast of Cancun, and it's a popular day trip destination because the ferry ride only takes 20 minutes. 
There are different ferry companies that offer regular services between Cancun and Isla Mujeres, and they operate from different ports in Cancun, so it's important to check which port you need to go to before setting off. The ferry ride costs around $15-20 USD each way.
Once you're there, the island is home to some of the most beautiful beaches in the world. From the stunning Playa Norte to the secluded Playa Indios, there are plenty of options for sunbathing, swimming, and relaxing in the crystal-clear waters of the Caribbean Sea.
But Isla Mujeres is much more than just a beach destination. The island is also steeped in rich history and culture, with ancient Mayan ruins, a lively town centre, and colourful street art that tells the story of the island's past and present.
One of the most unique aspects of Isla Mujeres is the community of local fishermen who call the island home. You can take part in tours that offer a glimpse into their daily life, including the traditional methods they use to catch fish and the stories and traditions passed down through generations.
The other options for getting to Isla Mujeres are by private boat, though this is a more expensive option, with a private tour company if you book a day trip which includes snorkelling, or by catamaran. 
2. Ferry to Isla Holbox
Holbox is a small island off the coast of the Yucatan Peninsula, and it's a hidden gem that can only be reached by boat. There are a few different ways to get to Holbox, depending on where you're starting from.
If you're coming from Cancun, the easiest and most popular way to get to Holbox is by taking a direct bus or shuttle from Cancun International Airport or downtown Cancun to the town of Chiquila. From there, you can catch a ferry from Chiquila to Holbox, which takes around 20-30 minutes and costs approximately $10-15 USD per person.
Another option is to drive to Chiquila, which is about a 2.5-hour drive from Cancun. There are also taxis and private transportation services available from Cancun and other nearby towns.
One of the most special things about Holbox is its unspoiled natural beauty. The island is home to stunning beaches, crystal-clear waters, and a thriving ecosystem that includes flamingos, sea turtles, and whale sharks. There's also a variety of eco-tourism activities, like birdwatching, kayaking, and snorkelling.
Holbox is also known for its laid-back and friendly atmosphere, with its welcoming and hospitable locals. The island is small enough to explore on foot or by bike, and the lack of cars and other motorized vehicles creates a peaceful and relaxed environment. Get a glimpse into traditional island life by visiting the local market or trying some of the delicious seafood dishes that are a staple of the island's cuisine.
3. Ferry to Cozumel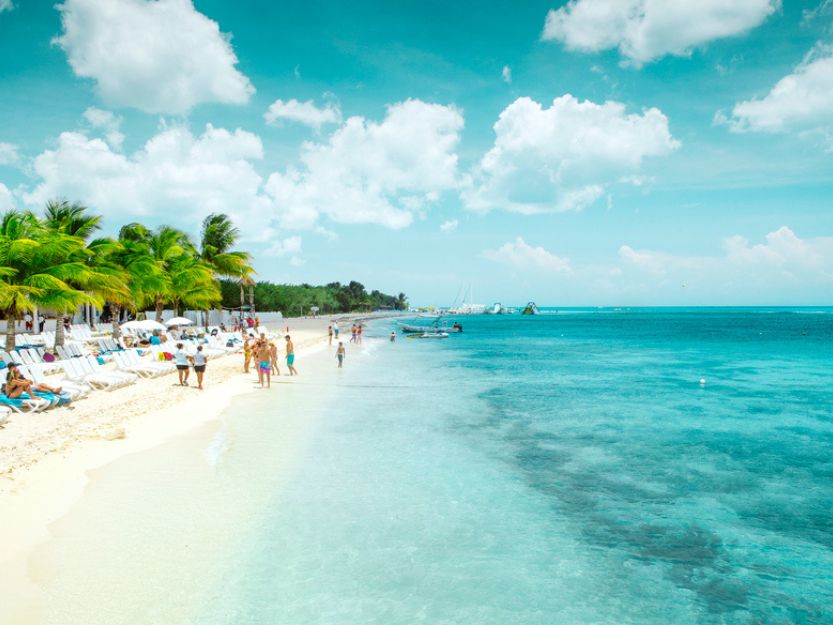 Cozumel is a popular island off the eastern coast of the Yucatan Peninsula. There are several ways to get here, and there is an international airport, so flying in directly is definitely an option. 
If you're already in Mexico though, you can take a ferry from Playa del Carmen or Cancun to Cozumel. Ferries run regularly throughout the day, and the journey takes around 45 minutes to an hour. The cost of the ferry varies depending on the company and type of ticket you purchase, but it typically ranges from $12 to $20 USD per person.
People visit Cozumel for its natural beauty. The island is home to stunning beaches, crystal-clear waters, and a thriving ecosystem that includes colourful coral reefs and a diverse array of marine life. 
There are outdoor activities like snorkelling, scuba diving, and kayaking, but Cozumel is also known for its rich history and vibrant local culture. The island was once an important centre of Mayan civilization, and there are a lot of ancient ruins to explore while learning about the traditional customs and beliefs of the communities. The island's vibrant arts and music scene also showcases the unique blend of influences that make up the island's culture.
4. Ferry to Puerto Vallarta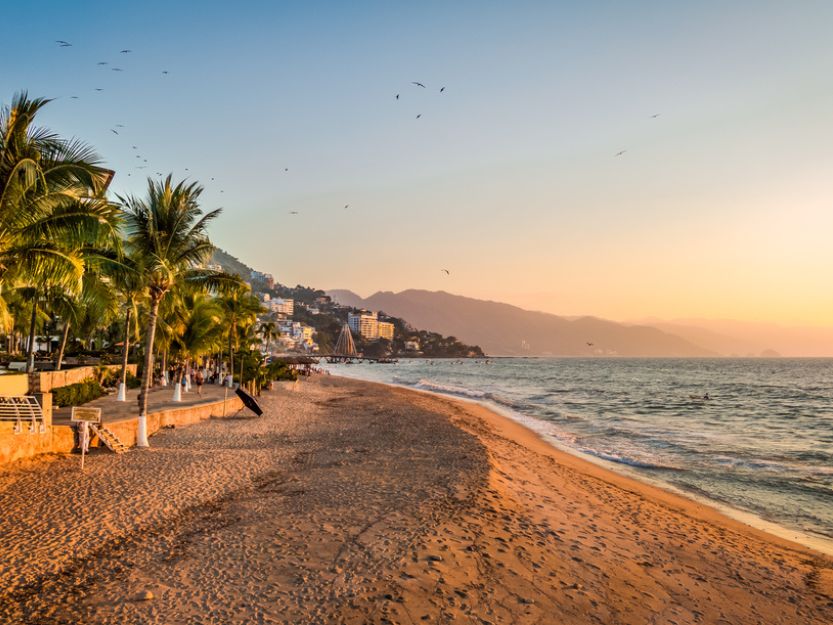 Puerto Vallarta is on Mexico's Pacific Coast and is a popular beach destination known for its lively nightlife and colonial architecture. 
If you're flying from the United States or Canada, the easiest way to get to Puerto Vallarta is to fly directly into the Puerto Vallarta International Airport. But if you're already in Mexico, you can take the ferry from a number of different cities. 
One of the most popular cities to take a ferry to Puerto Vallarta from is Mazatlan, and several ferry companies offer this service. The trip takes anywhere between 5-7 hours, though it's important to note that ferry services can be seasonal, so check with the ferry company before making plans.
Another option is to take a ferry from the nearby coastal town of La Cruz de Huanacaxtle, just north of Puerto Vallarta. The journey takes around 45 minutes and offers stunning views of the coastline.
There are several other coastal towns and cities in the region that may offer ferry services to Puerto Vallarta, depending on the time of year and demand. These include San Blas, Tepic, and Manzanillo.
Travelling by Ferry in Mexico
Travelling by ferry in Mexico offers a convenient way to explore many of the country's islands and coastal regions. From island paradises to bustling beach resorts, to secluded fishing villages; there are plenty of destinations to choose from, each with its own unique charm and attractions.
Whether you're looking to relax on a secluded beach, explore ancient ruins, or indulge in local cuisine, Mexico's coastal areas and islands offer something for every traveller. So why not hop on a ferry and discover the beauty of Mexico's coastline for yourself?
Where would you like to go by ferry in Mexico? Tell us in the comments below!
---
Travel Resources for Mexico
Planning your trip to Mexico? Here are some of our recommended useful resources to help you have the best time possible:
● TRAVEL INSURANCE IS AN IMPORTANT CONSIDERATION FOR TRAVEL. If you're travelling long-term like us and from the EU, then True Traveller is our go-to option.
If you're from a non-EU country, another option for long-term travel insurance is SafetyWing, which you can pay for on a month-by-month basis. This is also good for shorter trips.
● Find amazing flight deals to Mexico on Skyscanner and Kayak.
● Compare Rental car prices in Mexico on Rentalcars.com.
● Booking.com usually have the best hotel prices in Mexico.
● Our go-to for self-catering accommodation in Mexico is Vrbo.
● Before booking accommodation in Mexico, check reviews on Tripadvisor.
● Discover fantastic trips and activities in Mexico with Viator and GetYourGuide.
● G Adventures and Intrepid Travel offer group holidays and tours to Mexico.