Cambodia's beaches and islands are all found on the coast of, or in the bright blue sea of the Gulf of Thailand. Over the course of 12 years of visits and living in the country, Andy and I have visited many of these. I was keen to share our favourites with you, whilst at the same time providing you with the most up-to-date information possible.
Therefore I enlisted the help of some fellow travel writers who had visited more recently. Together our combined experiences have come together to create this ultimate guide to Cambodia's beaches and islands.
This post contains affiliate links. If you use them to make a purchase, we may earn a small commission at no extra cost to you. As an Amazon Associate, we earn from qualifying purchases. Learn more in our Affiliate Link Disclosure.
Beaches and Islands of Cambodia
Located in the south, southwest and northeast, the beaches and islands of Cambodia are spread across four provinces – Kep, Kampot, Sihanoukville and Koh Kong. The country's coastal waters boast around 60 islands in total, most of which are only a short distance from the mainland. The two most well-known, which you will probably of heard of, are Koh Rong and Koh Rong Samloem, but there are many others also worth a visit.
IMPORTANT UPDATE:

Following my last visit I can confirm that the mainland beaches around Sihanoukville, including Otres 1 and Otres 2 have been completely ruined. 

They now resemble construction sites and are NOT WORTH VISITING. I would even try to avoid staying overnight in Sihanoukville. Only use it to pass through (as quickly as possible) to get to the islands. 

On a happy note, I can confirm THE ISLANDS ARE STILL BEAUTIFUL AND YOU SHOULD DEFINITELY VISIT – especially our favourite, Koh Rong Samloem.

Click here to read about Cambodia's southern islands.
Starting in Kep in the south and moving up the coast to Koh Kong in the northwest; here's our ultimate guide to Cambodia's beaches and islands.
Kep Beach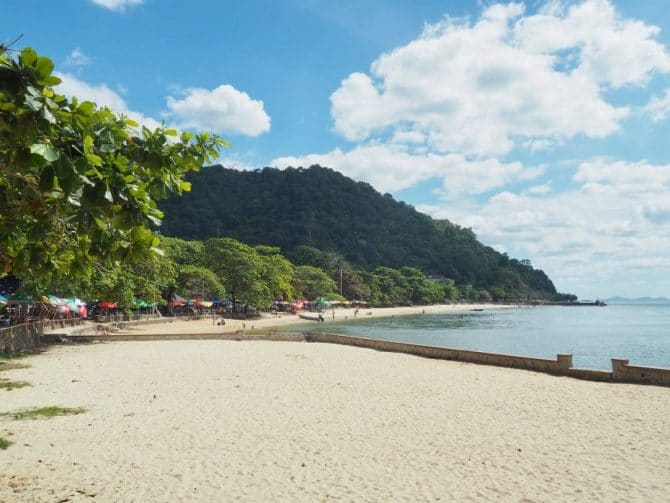 The small beachside town of Kep with its giant blue crab statue is home to a small crescent-shaped white sand beach. The water is calm and the temperature is perfect. That makes it fantastic for swimming and sunbathing, as well as ideal for families.
The road behind Kep Beach brims with street food stalls, seafood vendors, dining platforms and hammocks. It's very popular with both tourists and locals alike. This is a great place to spend the day, kicking back and relaxing with great food, a few drinks and a beautiful beach to chill on.
Kep is also famous for its crab market which is just down the road from the beach. There you can order crabs by the kilo and someone will fetch them straight out of the water and cook it to your liking. It doesn't get much fresher than that!
Kep is easily reached by bus or minivan from Phnom Penh. It takes approximately four hours depending on the traffic and which bus company you use. You can also reach Kep from the delightful and slightly bigger riverside town of Kampot, our favourite place in Cambodia. If you choose to stay there instead, you can get to Kep in about 30 minutes by tuk tuk or scooter.
Koh Tonsay Island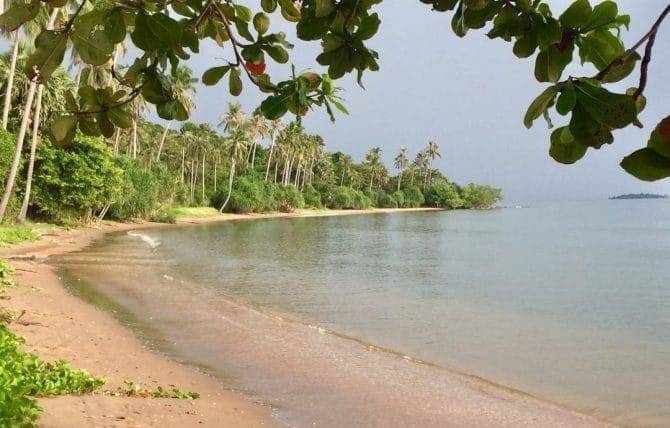 Koh Tonsay Island is just a little way off Kep mainland and also reachable from the charming, sleepy town of Kampot.
Also known as Rabbit Island due to its shape, it's one of the lesser-visited islands of Cambodia. You'll find it rather rustic, with a handful of beach restaurants-cum-bars serving freshly caught seafood. You can even pick your own fish or crab when the boats bring them in.
There's no wifi and very little to do other than swimming, snorkelling and a little jungle hiking. You'll find yourself forced to chill in a hammock or on the beach with a book and a cold fresh coconut (maybe with a shot of rum in it). It's a hard life on Koh Tonsay! 
There are three ways to get to Koh Tonsay. You can take the daily community boat from Koh Tonsay Pier in Kep at 9 am or 1 pm, pay for a more flexible private boat from the same pier, or take The Crab Shuttle from Kampot.
You could even make a mini-break of it if you're happy to rough it a little in one of the beach huts that sit behind the restaurants, such as Srey Ngin Bungalows. 
Ream National Park Beaches and Islands 
The protected Ream National Park is between Kampot and Sihanoukville City. Largely mainland jungle, it also includes the coastal peninsula beaches and a group of about 20 small islands. Some of the islands are uninhabited and some have only a very small population living on them.
Ream National Park was once an area of natural beauty, rich in flora and fauna. Unfortunately, it's now another area that has become a victim of Chinese developers and is being rapidly destroyed. Sadly, that means I must caveat the following account. There's a high chance that soon it will no longer be as stunning as before the construction.
Koh Sampouch Beach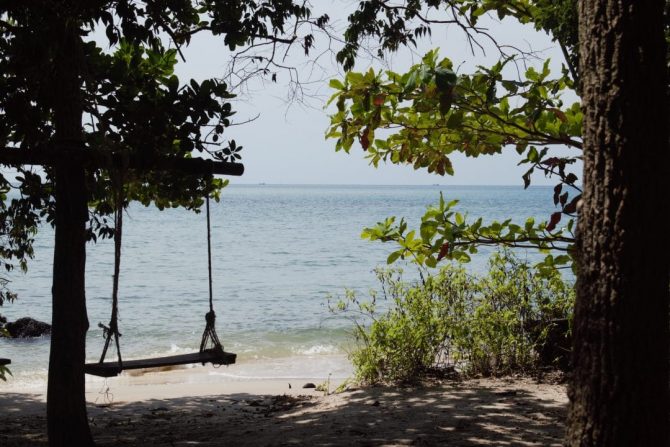 One of Cambodia's beaches that blew our minds was Koh Sampouch Beach. It's one of the beaches of Ream National Park where many private resorts are now popping up.
When we visited the beach, there was hardly anyone else there. The beautiful waters had an emerald hue and gently caressed the soft and spotless sands. Some swings hanging on the fringes of the beach made an excellent place to relax and take in the mesmerizing sight that stretched out in front.
A long wooden bridge led to and skirted a small rock island. From the bridge, there were stunning, panoramic views of the landscape. The sound of the water and rustling trees broke the otherwise silent aura that enveloped the beach.
Koh Thmei and Koh Seh Islands
There are two larger islands off Ream National Park – Koh Thmei and Koh Seh, which can be visited by boat. Andy and I haven't made it out to these islands yet so check at the Ream National Park Ranger's Station, mainland accommodation or a tour agency for more details. We'll update this post with more details once we've visited later in the year.
From our understanding, Koh Thmei is an uninhabited island edged with beaches and mangroves. It's possible to stay there in one of a series of simple bungalows at Koh Thmei Resort. The only accommodation on the island, this resort reportedly sits on one great beach, whilst there are several others within walking distance.
There is little else on this island but if you like the simple life and are happy with relaxing on a beach, swimming and snorkelling and don't need any luxuries it could make a fantastic break for you.
Koh Seh is also uninhabited, there's no accommodation but it used to be possible to camp there. I'm not sure if this is still the case but you can check if this is still permitted at the Ream National Park Ranger's Station.
Otres Beaches
The next beaches up the coast are the beaches of Otres. There's Otres 1, Otres 2 and the empty stretch between those called Otres 1.5. Strictly speaking, the Otres beaches are part of Sihanoukville. But, in my opinion, as they're the only Sihanoukville beaches worth visiting, I thought they should have their own section.
I'm saddened to say it, but Otres has gone the same way as the rest of Sihanoukville, swamped with construction and development. In case you're curious, below is what it used to be like.
Otres 1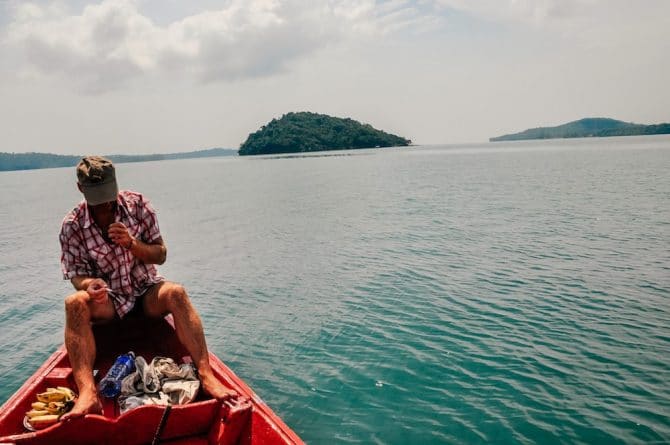 Having been to Sihanoukville in 2010 and again recently, I've noticed many things have changed, and not for the better. As mentioned above Otres beaches are the only area of Sihanoukville that have retained their charm.
The water at Otres 1 is blue and clear, but at times there's rubbish on the beach due to the trash problem plaguing most of SE Asia. The beach is still quite nice though and most of the time you'll have it to yourself.
Harmony Home and Hurricane Windsurfing offer lessons and rentals for those wanting to kayak or windsurf. There are also dive schools in the main town of Sihanoukville that will take you on dives one to two hours away by boat and often offer a pickup from Otres 1. For nightlife, there are several options. These include hanging around by Mushroom Point, going to JJ's Playground, or checking out Otres Marketplace.
I stayed at Mushroom Point which is right in the midst of Otres 1 Beach. If you prefer something a bit less budget, take a look at Sea Breeze Resort.
Otres 2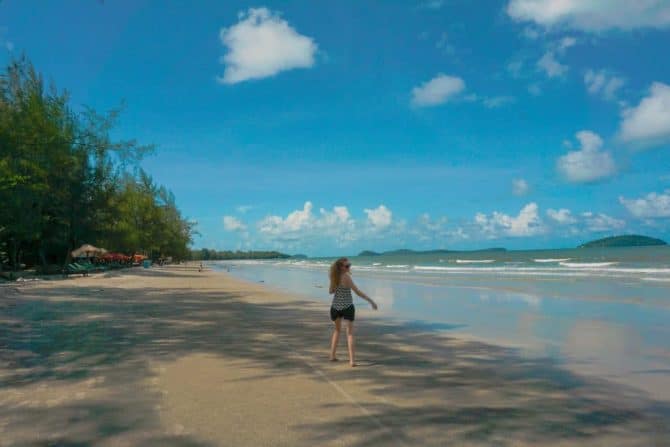 One big highlight of our trip to Cambodia was definitely our stay at Otres Beach 2. This beach is way more laid-back and quiet than the nearby beach of Sihanoukville. The water is clear and has the perfect temperature for a refreshing swim.
Otres 2 is the most peaceful beach in the area and great for travellers who look for relaxation rather than a party

. The village is quite near, so you don't have to walk a long way before reaching the beach.
Whilst the village offers a big variety of restaurants, at the beach, there aren't as many restaurants and bars as at other beaches

. Make sure to grab a fresh coconut sold by locals along the beach.
If you are looking for things to do in Otres, how about joining a
 Cambodian island hopping tour? The tours leave every day early in the morning from Otres 2 Beach. They include breakfast, snorkelling equipment, transport, lunch, and some non-alcoholic drinks. Such a tour is a great way to explore the surroundings of Otres 2 Beach as well and make new friends. 
Sihanoukville Mainland Beaches
Historically, Sihanoukville was the most well-known area for mainland beaches in Cambodia. Until recent years it also used to be the most popular. Unfortunately, extensive development has had a huge impact. The area is now designed to cater to Chinese tourists and is just a mass of 5-star hotels and casinos.
Due to the current unattractive state of the mainland beaches in Sihanoukville, I can't give a recent review. However, in case you're interested below is what two of the beaches were like before the most recent wave of construction. The other mainland Sihanoukville beaches (Victory, Independence, Sokha, Hawaii, Ocheateaul etc.) are no longer worth visiting.
Serendipity Beach 
by My Simple Soujourn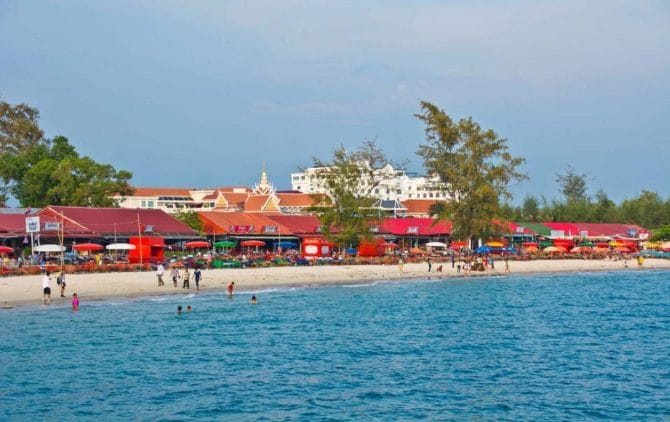 Sihanoukville was the perfect holiday destination after visiting history-rich Phnom Penh. I fell in love with this city and its beaches.
I found that Serendipity beach was one of the most happening beaches in this beach town. Its white sandy beach, clean water and lots of restaurants & shacks made it a perfect place to relax.
The ferries and boats go to nearby islands from Serendipity jetty. We also rented a boat from here and went to nearby islands. A day I had spent a day at Serendipity beach enjoying the sun and sand was one of the best memories I had. It was a good experience. I have good memories from my short trip to Serendipity in Sihanoukville.
Like most travellers, I didn't check about Sihanoukville again after my visit. Recently I learnt from other travellers that this beautiful beach is nothing like it used to be. Now there are many new buildings, and lots of construction happening on this beach. Restaurants have been razed, there is garbage on the beach and the sea is polluted. With most of the shacks and restaurants gone, I believe it's no longer the same place as in my memories and photographs.
Ratanak Beach 
by Nomllers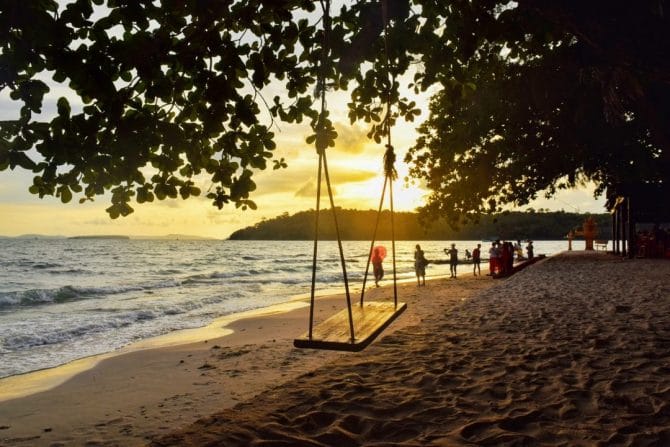 Ratanak beach in Sihanoukville is one of the few Cambodian beaches that not many people know about. I was travelling for 12 days in Cambodia for my birthday and had actually stumbled upon this hidden gem in Sihanoukville. This small, white-sand beach lies at the westernmost tip of the city from where you can get a direct view of Kaoh Poah Island which is also known as Snake Island.
One of the best places to watch a sunset, Ratanak beach has beautiful rocks decorating it on Kaoh Poah island side which give off a beautiful sunset reflection in the evenings. You can come here to relax or swing in one of the tree swings while admiring the sunset. There are also two cafés on this beach where you can have some delicious snacks and drinks and can easily spend half a day or a full day on this beach.
This beach is situated next to Independence Beach and is just 2.5 km by road. So, you can cycle or drive to this beach from anywhere in Sihanoukville. There will be a small road leading to this beach which will be surrounded by trees on both sides and it is a relatively secluded place. But once you reach the beach, you will see a parking area and the beach next to it.
Cambodia's Southern Islands and Their Beaches
Despite the southern mainland beaches 'leaving a lot to desired it's only a short boat ride to some stunningly beautiful islands.
Always popular, but more so with the demise of Sihanoukville and Otres, the southern islands are still well worth a visit. You'll be spoilt for choice and which you choose to visit will depend on what you're looking to get out of your island and beach break.
Koh Rong Island 
About 1 hour by high-speed ferry from Sihanoukville, Koh Rong Island has, over the years, earned the reputation of being the party island of Cambodia. Whilst this is certainly true for the lively area of Koh Touch there are plenty of other chilled, relaxing and beautiful spots to choose from. Here's the low down on the wide range of options for a stay on Koh Rong Island.
Koh Touch
Let's start with Koh Touch (or Koh Tui) which is where the ferries arrive and depart and is the main touristy and party area of Koh Rong. The part in front of where you get off the ferry is jam-packed full of guesthouses, bars, restaurants and nightclubs. Many establishments here get the party started early in the day and continue through the night into the early hours, sometimes even dawn. 
As is often the norm with party destinations, it's hard to keep clean, there's a noise problem, and accommodation can be a bit dubious/ basic/ dirty.  Every cloud has a silver lining though, and Koh Touch also has some Western-style shops, ATMs, generally good wifi and lots of water-based activities. If you want to have fun and party it's the place to go.
White Beach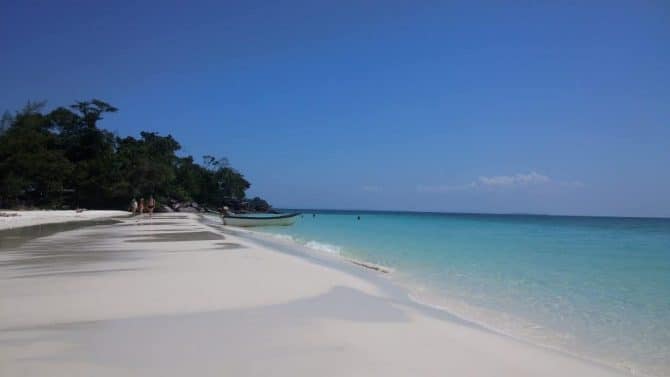 If you're staying in the village of Koh Touch (Koh Tui) but are feeling too lazy to walk to beaches further afield, then White Beach is the beach for you. As the name suggests, the sand is snow white and squeaks underfoot, and the water is SO clear that it looks like something out of a holiday brochure. Not only that, but it's usually uncrowded because most visitors choose to relax under the shade of the trees just before White Beach.
If that isn't enough of a selling point you'll be interested to know that White Beach is the perfect place for a swim if you don't want to walk to a further beach. While the water in front of the main strip can be very dirty (trust me on this), the water at White Beach is clear, clean, and refreshingly warm.
I highly recommend spending a lazy day at White Beach. It's just a five-minute walk from the main guest houses, shops and bars and was definitely the beach that I spent the most time on when I worked on Koh Rong! Even now I'm back in the UK, I can think of nothing better than a dip in the sea at White Beach before basking in the Cambodian sunshine with a fruit shake or ice-cold Klang beer!
It's also possible to stay overnight in this cleaner, quieter part of Koh Touch, you'll also find the accommodation better quality. Tree House Bungalows are a good option or slightly more upmarket is White Beach Bungalows.
Longset Beach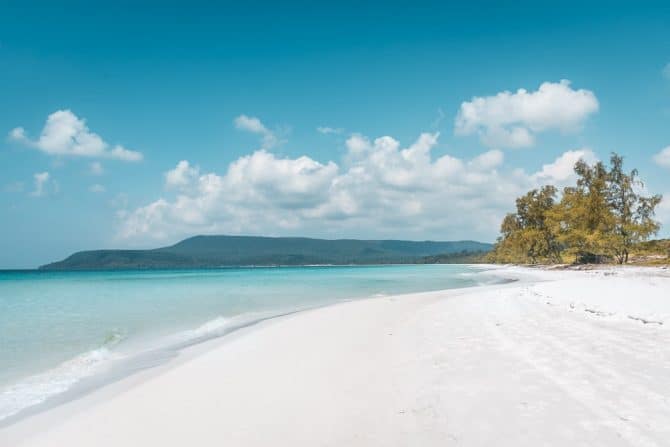 Longset Beach which stretches more than seven kilometres is one of the best and most beautiful beaches in Cambodia. It offers pure, fine, white sand, which combined with turquoise water makes you think you've come to the Caribbean instead.
A few years ago, there was nothing built along Long Beach in Koh Rong, but it's since become a heaven for backpackers. Several hotels and hostels have popped up on the island, including along Long Beach. However, it's still a pristine paradise beach.
You can get to Long Beach in two ways. Either a 45-minute walk in the jungle or by taking a boat from the pier, the price being dependent on which boat owner you get to meet when arriving. The jungle walk is very interesting, but not something you'd want to do with luggage.
If you decide to walk through the jungle, be wary of the snakes living there as several are dangerous and potentially deadly if they bite you. It's likely that a snake would escape before you saw it, but it's still good to be aware as the jungle of Koh Rong is a real jungle with wild animals. After 45 minutes walk, you'll be rewarded with one of the most beautiful beaches in all of Southeast Asia!
As for accommodation I recommend Sok San Bungalows, which are located on the far end of the beach. 
Sok San Beach
by Kathmandu and Beyond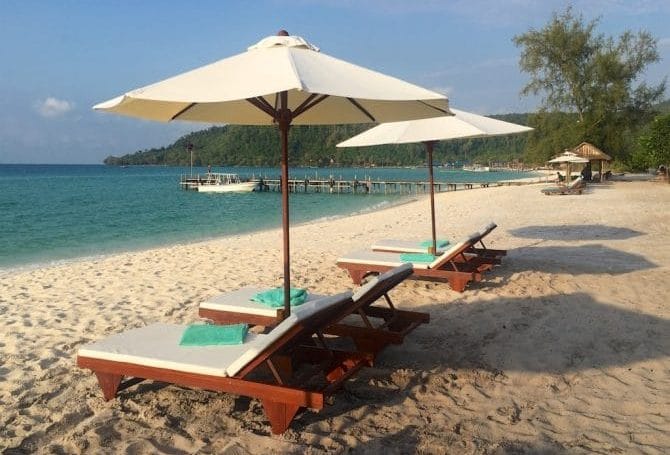 At the north end of Long Beach, the sand melds seamlessly into Sok San Beach. This west side of Koh Rong is unspoilt and largely undeveloped. Sok San is a pristine stretch of beach, with squeaky white sand, and inviting crystal-clear waters. Almost entirely occupied by a resort of the same name – Sok San Beach Resort, this beach has to be one of the best beaches in all of Cambodia.
Formerly known as Sok San Base Camp, this was mission control for the 'Survivor' TV shows. It was originally built to accommodate production companies and crew. The style of accommodation is best described as smart beach huts. They are comfortable but not luxurious, what you are paying for here is location. By far the best rooms are the seafront rooms which are perfectly situated directly on the beach. The resort atmosphere is very relaxed and casual – no need to dress up or wear shoes. 
There are plenty of activities for those who want to do more than laze on the beach. Diving and snorkelling trips are easy to arrange, as are excursions that will show you something of Koh Rong's red-earth interior. Quad biking and mangrove kayaking are well worth doing to see a completely different side of the island. 
There's no road access to Sok San Beach from Koh Rong's main passenger port, so the primary way of reaching it is by speedboat from Sihanoukville's port. This limited access helps keep the beach unspoilt and free from excessive noise from speed boats that you often get on other popular beaches. In short, Sok San Beach gives travellers a taste of what the beaches of Thailand were like 20-odd years ago! 
Lonely Beach 
Lonely Beach on Koh Rong was the sweetest place I visited whilst backpacking around Cambodia. It can be found by travelling to the north of Koh Rong Island. If you're looking for a party beach then skip Lonely Beach as this tranquil paradise won't be what you're looking for. You can only reach Lonely Beach via boat, which makes it more special and a truly unique island experience.
Once on this amazing beach, you can relax in the chillout hammocks surrounded by tall swaying palm trees. Dine in one of the cosiest restaurants on Koh Rong and go snorkelling in the coral reef that surrounds this epic beach.
If you want to stay overnight at Lonely Beach I recommend checking out the eco-friendly Lonely Beach Resort. Overall, Lonely Beach is a must-visit place on Koh Rong. You will be thankful for the unique island experience you will get. 
Coconut Beach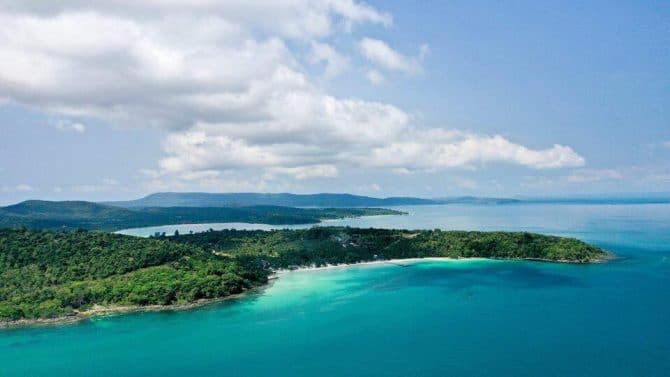 Coconut Beach is a stunning, secluded white sand beach on Koh Rong Island with crystal clear turquoise waters

. It's nestled away from the nightlife of the main village Koh Touch.
Koh Rong is famous for its bioluminescent plankton, and Coconut Beach is one of the prime spots.  Every night you can swim straight into the ocean to see this glowing phenomenon. Other activities such as boat trips, motorbike rentals, hikes and beach games are available for travellers visiting this slice of paradise.
Visitors have seven restaurant options serving a variety of Khmer and Western food. In the evening, I recommend visiting the newly opened Bottle Bar which is made from plastic bottles collected from the beach. They have a daily happy hour, nightly bonfires, weekly BBQs, and other special events. Bottle Bar is a great place to socialize with other travellers.
There is one mini-mart on the beach for basic snacks and supplies, but there are no ATMs available so bring plenty of cash. WiFi is available at most resorts, however since the beach is very remote, it can be unreliable at times so we recommend enjoying a digital detox.
Generator-based electricity is limited to a few hours in the morning and all night in order to reduce their eco-footprint. Unlike other beaches which struggle with waste problems and sewage running into the sea, all businesses on Coconut Beach have sewage systems and the beach is cleaned daily.  
Coconut Beach is ideal for couples or groups of friends looking for a relaxing holiday getaway. It boasts several accommodation options ranging from tents on the beach to nicer resort rooms or bungalows.
Koh Rong Sanloem Island
Again, about one hour by high-speed ferry from Sihanoukville, Koh Rong Sanloem (often misspelt as Koh Rong Samloem) is mine and Andy's favourite island in Cambodia.
When we first visited 12 years ago there was only one private rustic resort on the island – Lazy Beach in its own little bay. Unsurprisingly, this has changed over the years. Now on the opposite side of the island in Saracen Bay, various accommodation and restaurant options have popped up. Despite this, it doesn't feel too touristy (for now at least). In our opinion, it's the best island to visit for some rest and relaxation in beautiful surroundings. Here's what  Koh Rong Sanloem has to offer visitors.
Lazy Beach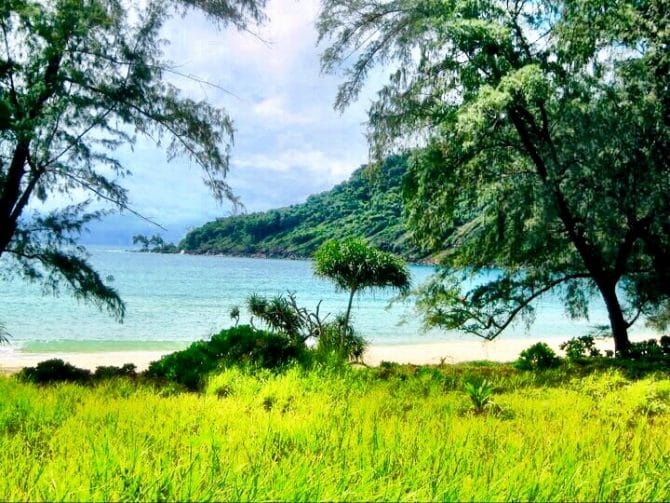 We've visited Lazy Beach, a 700 metre stretch of pine-tree fringed beach,  several times over the years, both as a couple and with groups of friends. It's a favourite with expats living in Phnom Penh and Siem Reap and was justifiably named as one of the top 21 beaches in the World by National Geographic in 2017. The pine-tree fringed beach itself belongs to Lazy Beach, a private tropical hideaway resort.
The calm blue seas in the bay here are perfect for swimming and the spotless sands are kept that way by the dedicated staff at Lazy Beach. They get up early every day to clean away the rubbish washed up overnight and rake the beach.
The wooden beach bungalows are set back from the beach around a big reception-cum-restaurant-cum bar. This overlooks the beach and bay and is the perfect spot for a sundowner and some delicious food.
The only downside that I can see to Lazy Beach is that it can be difficult to get a reservation as it's often booked up way in advance. It really is a little slice of paradise which we can't wait to get back to soon.
Saracen Bay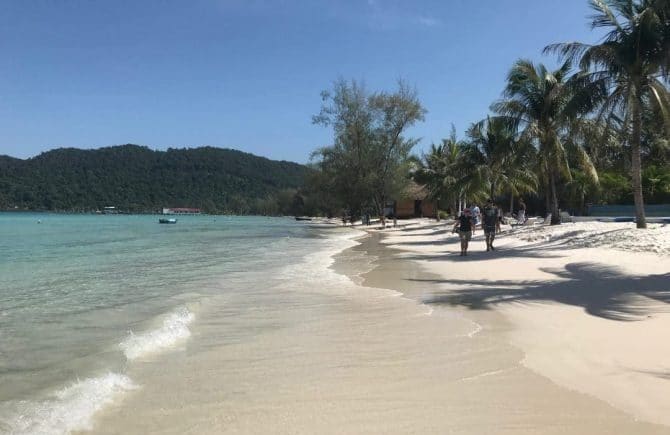 Saracen Bay is not just a top beach in Cambodia but one of the prettiest and cleanest I have visited in Asia.
This beach is perfect for people who want a beautiful tropical island getaway with enough development to offer eating and accommodation options whilst still being quiet, pretty and feeling away from it all. I feel like there is an excellent balance of all this in Saracen Bay.
The beach itself is crazy beautiful. There is aqua clear water, white powdery sand the green jungle surrounding the beach. Everything is low rise so development does not spoil the views. You can hike from the beach to other parts of the island, do a variety of water sports or use it as a starting point to explore nearby islands. Diving and snorkelling are also easy to do. A popular option is a night trip to see the bioluminescent plankton.
We stayed at The One Resort which is perfect if you are looking for your own villa, air conditioning and a gorgeous infinity pool out to the water. It is a higher-end option but we found it worth the price. There are a variety of accommodation options if this isn't for you.
Wi-Fi isn't the best on the island but is available. My local sim card only worked at random moments. There are no ATMs although some places will accept credit cards with a fee. I recommend taking over all the cash you think you need.
Note that this island is much more expensive than being on the mainland of Cambodia.
M'Pai Bay Beach
by Don't Forget To Move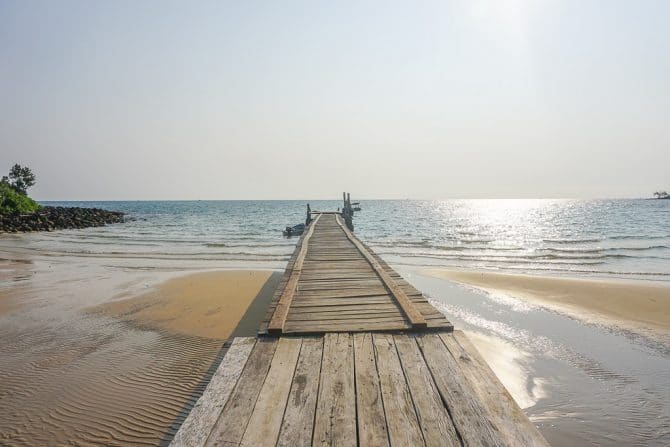 Located on the northeast side of Koh Rong Sanloem, M'Pai Bay Beach is much less developed than the rest of the island. While the sand here is more yellow compared to the stunning white sand beaches of Saracen Bay, there are still plenty of advantages to staying here. M'Pai is popular with backpackers who will enjoy the budget accommodations available. With budget rooms comes more of a backpacker culture, as well.
We loved M'Pai Bay because it is a small village with a much more local vibe than the more developed sides of Koh Rong Sanloem. Hanging on the beach you're likely to have curious kids come up to you or get invited to a local's house for coffee. Those that are interested in Khmer culture will love being immersed in this local seaside village!
There's plenty to do out on the water as well like snorkelling, scuba diving, paddleboarding and kayaking. Depending on the conditions, you can also sometimes see the plankton that glows in the water at night!
There's no shortage of accommodation options in M'Pai Bay from as cheap as $6 USD (£4.62) per night for a dorm bed. If you want to stuff your belly full of delicious seafood, be sure to hit up the Fishing Hook for an all-you-can-eat buffet. There is currently no ATM on Koh Rong Sanloem so be sure to bring cash with you from the mainland.
Koh Ta Kiev Island and Its Beaches
Until recent years Koh Ta Kiev Island was one of Cambodia's best-kept secrets. Andy and I only first heard about it on our fourth visit to Cambodia in 2016 when we relocated to live in Siem Reap. It's becoming more well-known these days but still retains its laid-back island paradise vibe.
Its idyllic 13 km coast consists of stunning beaches, sheltered bays, craggy cliff faces, thick and mangroves. The island's interior is a thick jungle crisscrossed with well-marked trails. The trails lead to various viewpoints, beaches and a handful of rustic resorts.
Despite being the ideal destination to do absolutely nothing, there is still plenty to do on Koh Ta Kiev if you like to keep busy. There are the usual beach activities of swimming, snorkelling, fishing, beach volleyball and maybe sea-kayaking. Then there are also some good jungle hikes, cliff jumps and potentially a spear-fishing lesson.
This island really is as rustic as you get so make sure you're prepared. Expect cold water bucket showers, and limited electricity and wifi – it's the perfect destination for a digital detox. Make sure you bring a torch, spare batteries, insect repellent and snacks. And don't forget plenty of cash as there's no ATM on the island. 
Each resort on the island is tucked away on its very own stretch of beach. There are several beaches on the island but here's some info on the two main ones.
Long Beach
Long Beach is the main beach on Koh Ta Kiev. It stretches for several kilometres and is where most of the accommodation is. This string of unique guesthouses is set just back from the beach amongst the trees. 
We actually stayed at Coral Beach at the far left of Long Beach, which has since closed. I think if we returned to Koh Ta Kiev we'd choose to stay in one of the locally run bungalows on Long Beach, probably at Koh Ta Kiev Bungalows where we ate a couple of time during our island stay.
One thing to watch out for towards the left end of Long Beach, near where Coral Beach resort was, is the very sharp, spiny black sea urchins that litter the seabed. They are extremely painful to stand on so take care.
Plankton Beach
Plankton Beach is 2 km stretch of beach that sits between two headlands. It's a 30 to 45-minute hike along jungle trails from Long Beach. This is a quieter beach than Long Beach and is ideal for some R&R on the sand, or maybe in a hammock slung up between two trees.
As its name suggests Plankton Beach is where, given the right conditions, you can see other-worldly bioluminescent plankton in the sea at night.
The only accommodation on this beach is Kactus. It's hidden at one end of the beach and consists of wooden treehouses and bungalows. We didn't stay here but visited one day for a few sunset drinks. It was a lovely setting but there was an overwhelming smell of weed and rather slow service. The majority of guests and staff seemed to be high, but it's not our thing (we prefer a beer), so we just ignored it. If being around people that are constantly high annoys or offends you it may be best to consider alternative accommodation.
Song Saa Island
Song Saa Private Island is currently the only 5-star private island resort in Cambodia and whilst we haven't personally visited it we thought it worth mentioning. I've heard and read great things about this absolutely stunning tropical island and resort. Of course, it comes with a fairly hefty price tag, but just in case you want to treat yourselves to some luxury you can read more in Song Saa: The private island luxury resort you can't miss in Cambodia.
Koh Russey Island
by Wandering Wheatleys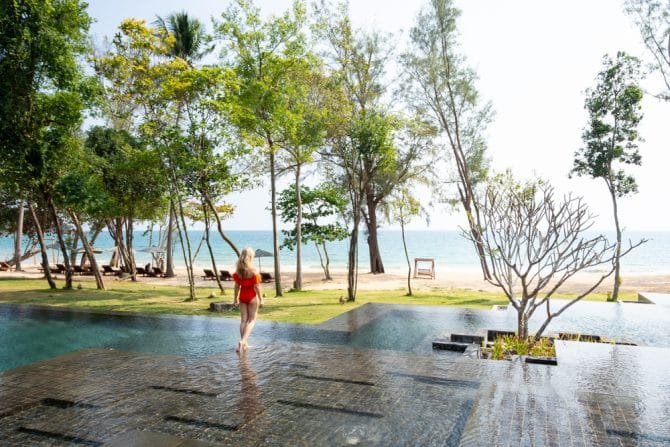 To visit the private island of Koh Russey (sometimes spelt Russei and also known as Bamboo Island), you'll need to make a reservation at the exclusive Alila Villas Koh Russey. This newly opened ultra-luxurious hotel is one of the top properties in Cambodia and was recently listed by The Time UK as number one of their 10 Best New Hotels for 2019.
To reach the island you'll travel 8 kilometres south of the Sihanoukville airport to the tiny coastal village of Ream. Here you'll check in at the Alila's private customer lounge and boat pier. You'll then board their speedboat and enjoy a glass of champagne while they whisk you away to your private island paradise.
At Alila Villas Koh Russey you can enjoy the large infinity pool, a decedent à la carte breakfast, daily yoga classes, and a world-class spa. If you really want to treat yourself, upgrade to a lavish beach villa to enjoy your own private pool and private butler!
The beach on Koh Russey is a long arc of golden sand facing southwest which makes for spectacular sunsets. If you tire of lounging by the beach you can take advantage of the stand-up paddleboards and kayaks provided by the resort. 
Alila Villas Koh Russey focuses on sustainable tourism. Environmentally sustainable design principles were used during construction to reduce the impact on the island. They use only farm-to-table local ingredients in the cuisine and organic products in the spa and your room.
A stay on Koh Russey doesn't come cheap, but we think it's worth every penny to enjoy the top luxury hotel in Sihanoukville and perhaps in all of Cambodia!
Koh Totang and Koh Sdach Islands
Koh Totang and Koh Sdach are two of the 12 islands that make up the Koh S'Dach Archipelago.

Halfway between Sihanoukville and the Thai border), few people have heard of these islands

.

In fact, despite living in Cambodia we hadn't heard of either of these islands until I started researching this post

.
As I've never been to Koh Totang and Koh Sdach, I can't share a first-hand review with you at the moment.

However

, I've heard they are both excellent snorkelling spots with beautiful colourful coral.

Andy and I plan to visit these islands when we return to Cambodia towards the end of 2019, so I'll update this post with what we discover

. In the meantime, you can read more about Koh Totang
here
and Koh Sdach
here
.
Koh Kong Mainland Beaches
Koh Kong has a few mainland beaches, some of which are more worth checking out than others.
Koh Yor Beach is just 7 km outside Koh Kong City so easily reachable by moto or tuk tuk. It's not the best beach you'll ever visit but it is generally quiet with sun loungers and parasols you can rent. Close by is the Crab Shack, well-known for its soft shell crabs and reason enough on its own for a visit.
You could also take a trip out to Sner Beach or Lam Da Beach. They are 17 km and 20 km away from Koh Kong City respectively so you'd need a scooter, tuk tuk or taxi to visit them. 
Koh Kong Island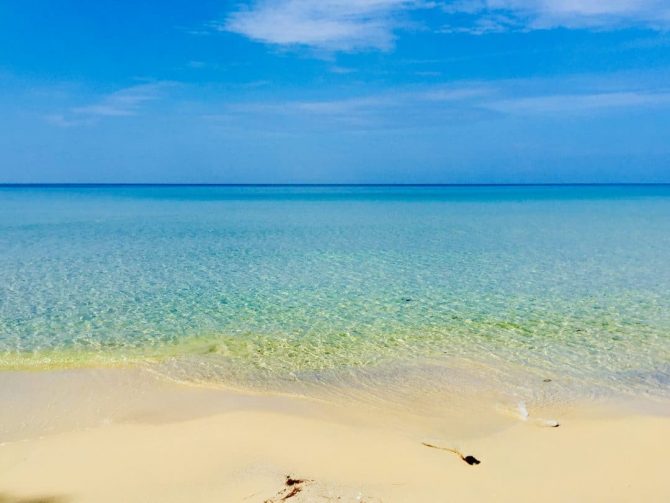 Roughly 10 km to the south of Koh Kong city is Koh Kong Island, the biggest island in Cambodia. It has seven unspoilt gold-sand beaches, a crystal clear blue sea, and tall, swaying palm trees. It's still

relatively

unvisited so it's likely you won't see many if any other tourists.
To reach Koh Kong Island you can take a tour with an agency in Koh Kong city like Ritthy Koh Kong Eco-Adventure Tours. It takes about 2.5 hours to reach the island but it's definitely worth the trip.
Once on the island, you can spend your time relaxing, reading, swimming, snorkelling, and beachcombing

.

Depending on the tour you may also have the chance to sea-kayak and enjoy a

freshly

cooked seafood lunch on the beach

.
The only negative of a trip to Koh Kong Island is the sandflies, but with plenty of insect repellant, you should be fine

.  You could also camp overnight on the island or stay at one of the four accommodation options
on the island. If you decide to do this your transport to the island may be arranged when you book.
Koh Kong Island is definitely one of Cambodia's hidden gems.
How to Get to Cambodia's Beaches and Islands
The mainland beaches and islands are fairly easy to reach from Siem Reap or Phnom Penh by plane and/ or road (bus, mini-bus, taxi and/ or tuk tuk).
The easiest way to get to the south and south-west beaches and islands around Kep and Sihanoukville is to take a flight from Siem Reap or Phnom Penh to Sihanoukville, then jump in a tuk tuk to the mainland beach of your choice. If an island is your final destination you can then take a high-speed ferry from Sihanoukville to Koh Rong or Koh Rong Sanloem, a boat from Otres to Koh Ta Kiev and as mentioned earlier various boats from Kep to Koh Tonsay.
To get to the north-west beaches and islands your only options are to take a bus, mini-bus or taxi to Koh Kong (or Poi Yopon for Koh Totang/ Koh Sdach) and then a boat out to the islands. 
You can often book travel tickets in Cambodia from your accommodation or tour agencies but this does often involve an inflated price. An alternative, easier way to book travel by bus, taxi and ferry is online via CamboTicket. 

---
We hope our ultimate guide to the beaches and islands of Cambodia has left you feeling inspired to get exploring. With the exception of the mainland Sihanoukville beaches, there's a great selection of stunning, pristine, palm-fringed sands to while away a few days, weeks or even months.
Be warned, the southeast islands off Sihanoukville especially can be easy to find yourself stuck on.
If you've been to Cambodia which was your favourite beach or island and why? Have we missed any hidden gems from our list?
---
Planning Your Trip to Cambodia?
Planning your trip to Cambodia? Here are some of our recommended useful resources to help you have the best time possible:
Enjoy this post? Pin it for later!