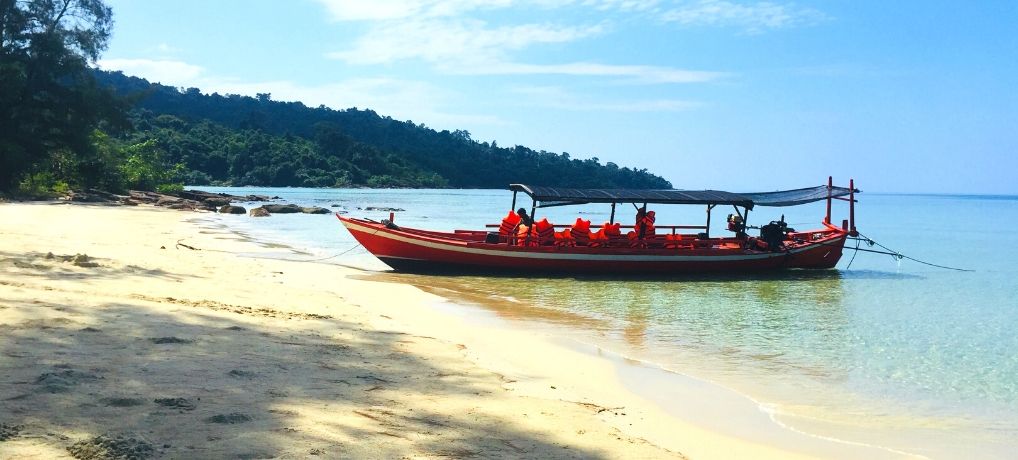 I'd wanted to visit Koh Kong in Cambodia along with Chi-phat for a long time. So with Andy heading back to Siem Reap after our time in Kampot and Kep, it was time for a Father-Daughter adventure. Our two days in Chi-phat was a washout with torrential downpours preventing us from doing much, so this post is based on our time in Koh Kong Province.
Koh Kong, Cambodia
Located between the base of the Cardamom Mountains and the sea, overlooking the bridge and peninsula that joins Cambodia and Thailand, is Koh Kong city

. The name 'Koh Kong' can be confusing – along with the town there is also the island and the province of the same name. The town and island are both found in the province (Krong Koh Kong).
Previously

likened to the 'Wild West', in recent years Koh Kong city has almost thrown off its tainted reputation for smuggling and other unsavoury activities

.

Despite it still not being a particularly interesting or pretty town, it's growing as a hub for eco-tourism due to the stunning area surrounding it

. It was this that led me to choose Koh Kong province as another off the beaten track destination to visit whilst we were living in Cambodia.
What to See and Do in Koh Kong
As I alluded to above, Koh Kong city has limited things to see and do, but venture out of town and you'll be spoilt for choice. Waiting to

be explored

are islands, beaches, mountains, jungles, waterfalls and more. 

With only two nights in Koh Kong, we had to choose a couple of main things to do which were a day trip to Koh Kong Island and Peam Krasaop Mangroves.
Explore Koh Kong City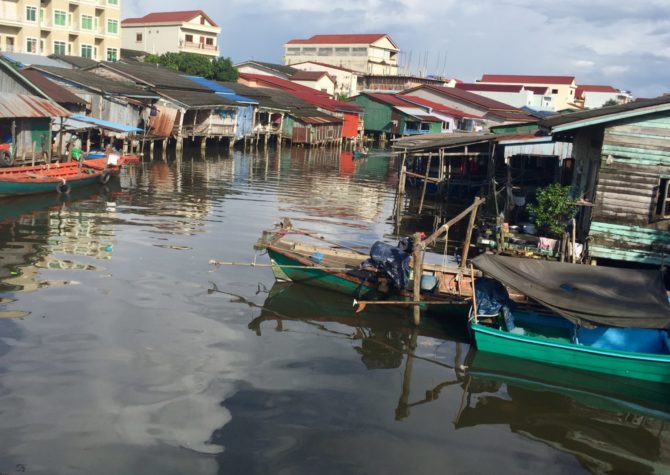 Koh Kong is not the most attractive city but it's still not a bad idea to wander around and explore when you first arrive
.

I always do this in a new place as it's a good way to get your bearings, find out where shops and ATM's etc. are and to get a feel for it.
There's a riverside promenade that could pass as pleasant if you can overlook the rubbish strewn everywhere

. It does have the potential to be quite nice with a good clean up and a little time, effort, and money. But then, the same applies to most of Cambodia. Rubbish management is definitely not top priority here.
From the promenade to the right, you can see the peninsula with its two-kilometre long bridge linking Cambodia to Thailand

. To the left, is a covered market of sorts with a few stalls and local eateries. Beyond this is a smaller bridge that overlooks a small floating fishing village. 

Moving back from the riverside are residential streets laid out in a grid and Dong Hoi Market which could be worth a quick browse if you're into markets

.
Visit Koh Kong Island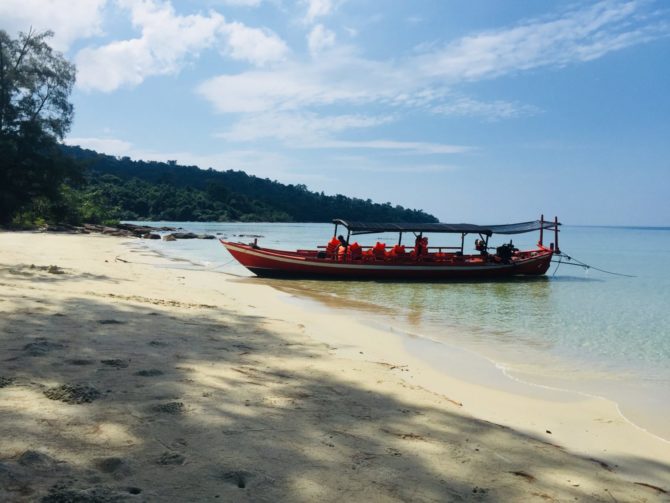 About 10 km south of Koh Kong city in the Gulf of Thailand is Koh Kong Island, the main reason we went to Koh Kong.

It's the largest island in Cambodia and with its golden sands, swaying palms and clear blue water, this is one of Cambodia's hidden gems

. It's still

relatively

undiscovered so you'll be unlikely to see any other tourists, or at most, only a few.
You can reach Koh Kong Island with one of the tour operators in Koh Kong city, which you can arrange yourself or via most accommodation

.

Dad and I chose to take an all-inclusive day trip with Ritthy Koh Kong Eco-Adventure tours which cost $21 USD (£15) per person

.
A tuk tuk collected us from our hotel at 7:40 am and took us to Ritthy's Retreat Guesthouse to meet the others on the tour. At about 8 am we set off on the 2.5-hour journey to the island in a longtail boat from the riverside

just

opposite Ritthy's.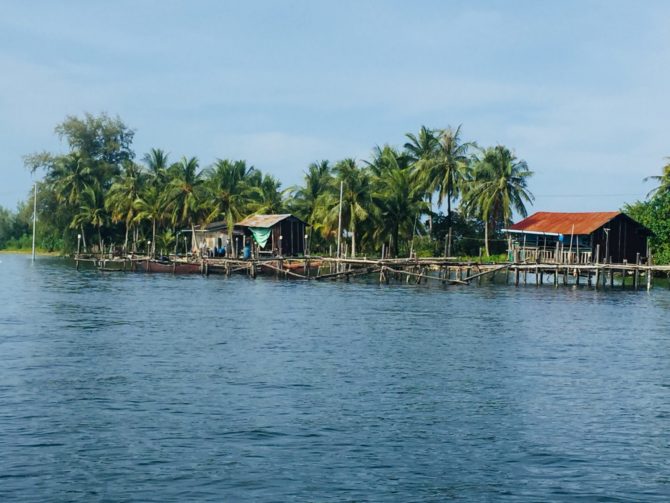 The first part of the journey was quite scenic as we passed by a floating village on the left, and Bak Klang fishing village and mangroves on the right.

The bay on Koh Kong Island where we dropped anchor was, as we'd hoped completely deserted with not another person in sight

.
We spent our four hours on the island lazing, reading, swimming, snorkelling, and exploring the shore and jungles edge

. There was a little creek where colourful butterflies flitted about. We could have also taken a sea kayak out too but that seemed much too much like hard work for us that day.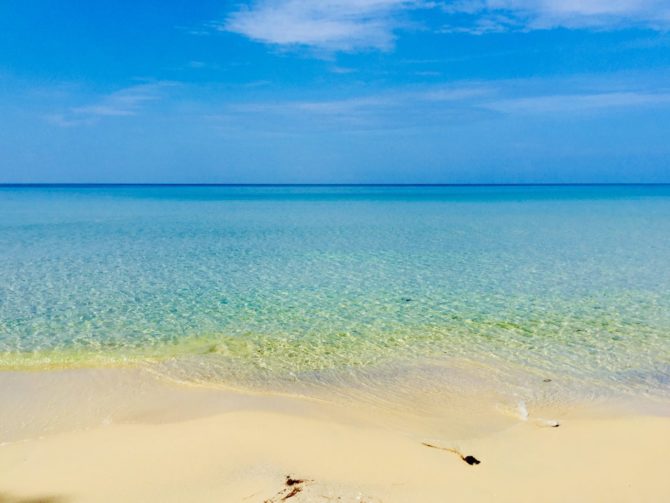 Ritthy's provided all the snorkel gear, sea kayak, and insect repellant – an absolute necessity as hoards of sandflies were ready to feast on us
.
Lunch was a huge, tasty barbequed fish, stir-fried vegetables and rice, water was also included and beers could
be purchased
for $1 USD (£0.70) each
.
The weather turned on the boat journey back and we got soaked in a downpour.

It soon brightened again though and we

were distracted

from being damp and cold by a rare sighting of two dolphins

.

We also spotted several flying fish and a few fish eagles soaring above the waves and diving down to catch their supper

.
We had a fantastic afternoon on Koh Kong Island, it was like having our own private paradise for a while. One thing to be aware of is if the weathers a bit windy the return journey can be a little choppy. Don't forget travel-sick pills if you're prone to motion sickness.
Ritthy's have another tour where you can camp overnight on Koh Kong Island. I'm not sure I'd fancy that though as you'd probably get eaten alive by sandflies.
Discover Peam Krasaop Mangroves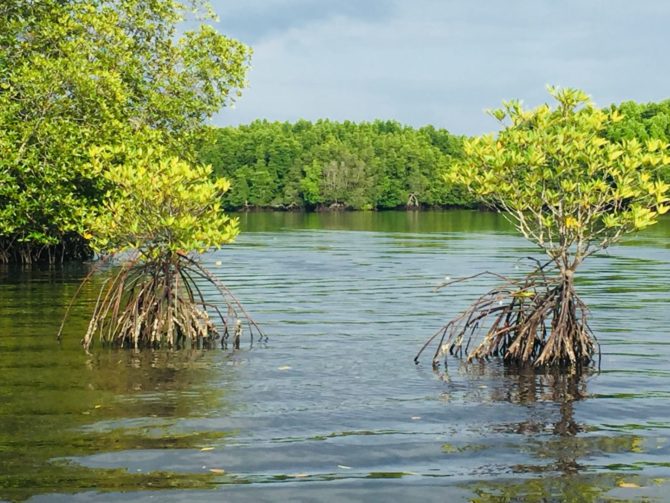 About 8 km outside Koh Kong city is Peam Krasaop Mangroves.

Its 25,000 hectares have developed into an eco-tourism project called Peam Krasaop Wildlife Sanctuary

. There's an entrance fee of 5,000 riel ($1.25 USD or £0.90) for foreigners. This may or may not already be in included in the price if you do a tour…ours wasn't and we paid on arrival.
A 1 km long cement and wooden boardwalk snaked through the mangroves, with occasional dilapidated, precarious-looking wooden platforms leading off it. There are no handrails so be sure to watch your step as it can get a little slippery. As Dad mentioned…there's little concern for health and safety here!
The unguided walk took around 20 minutes giving plenty of time to explore the gloomy, eerie mangrove forest

. The tangled roots rise out of the muddy waters below, and a dense, green canopy overhead obscures the sky.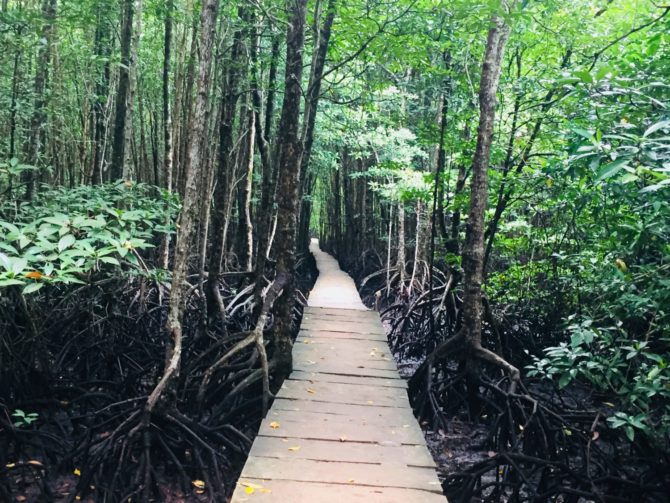 Mangroves are diverse ecosystems, providing a home to hundreds of species and are teeming with life
. As we walked through the mangroves at low tide, we noticed how noisy it was. There were snaps, crackles, and pops from all directions, it sounded like a bowl of rice crispies. It was as if the mangroves were actually breathing.
When you emerge from the mangroves at the end of the boardwalk there's a 200-metre long suspension bridge.

Although wobbly it seemed quite safe so we walked over to the other side to reach a tall wooden viewing platform

.

The top of the platform offered views over the mangroves, which I imagine would be spectacular at sunset

. 

If you're there high tide there's also the option to explore the mangroves by boat for $5 USD (£3.60) for a short ride or $10 USD (£7.15) for a long ride

.
You can visit the mangroves

independently

or as part of a tour as we did on our way back from Koh Kong Island. To visit

independently

you'll need to get a tuk tuk from Koh Kong city which should cost around $10 USD (£7.15) return. I'm sure you could also get a taxi for a few more dollars.
Hotels in Koh Kong
We were hosted for two nights at the relatively new Nathy Koh Kong Hotel (opened mid-2017) that's conveniently located on the main street near the roundabout.
Nathy Koh Kong Hotel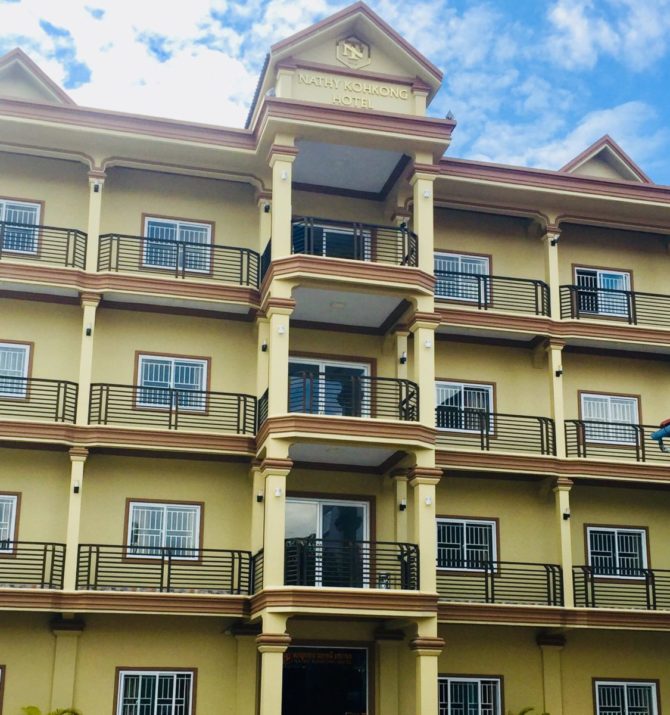 It's just a few minutes walk from shops, restaurants and market and ten minutes from the riverside. Room prices range from $8 USD (£5.70) per night for a Superior Double with fan, to $20 USD (£14.30) for a Superior Double with air-conditioning. We were quickly checked into our rooms and the friendly reception staff helped us book our trip to Koh Kong Island the next day. I had a slight problem with the electronic lock on my door but they resolved it within minutes for me.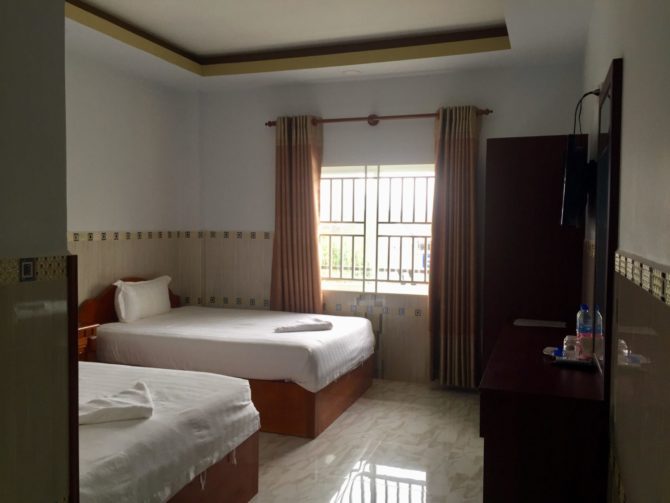 Dad and I both had Superior Twin rooms with air-conditioning which we thought were excellent value for money
.

Each room had two comfy double beds with clean, white sheets and duvets; a widescreen tv, a wardrobe and a dressing table

. There was also a fridge, complimentary water, and tea and coffee making facilities.

I was

extremely

happy to see a bathtub in the spotless en-suite bathroom, along with complimentary toiletries, fluffy white towels and a hot shower

.
Each floor had a balcony, some with views of the mountains, there was also wifi throughout. It was a little patchy at times but good enough for us as we were on holiday and not working.

There is no restaurant or breakfast on offer which was a shame, but with the hotel's proximity to the city centre, meant this didn't matter

.
We

thoroughly

enjoyed our stay at Nathy Koh Kong Hotel. After roughing it a bit for the previous two nights in water-logged Chi-phat it was nice to have some comfort.
Other Accommodation in Koh Kong
If you'd prefer to stay somewhere else, there are several other accommodation options in Koh Kong city. You shouldn't have a problem finding something to suit you.
Eat and Drink in Koh Kong
Despite not being a particularly big city there's still a decent selection of food and drink options, some locally run and some Western run. Most are of reasonable quality and a few are really quite good. You'll find most restaurants located on the riverside road, in the town centre, or on the streets between the two. We only had time to try out a couple during our short stay in Koh Kong city which were:
Wood House Restaurant – is tucked down a dark side street about a block from the roundabout towards the river. This cosy restaurant is based in a traditional Khmer wooden house painted blue by its French-Khmer owners. It has quite a limited menu of burgers (including it's famous Woody Burger), salads and a Khmer and Thai dish or two. We'd heard their food was delicious so decided to give it a go.
We shared Crostini to start for $3 USD (£2.15) which resembled mini-french bread pizza. It was tasty and huge so we were glad we shared. For his main course, Dad opted for fish and chips for $5.50 (£3.94), which he said was great. Again it was a sizeable portion and he struggled to finish it. I went for minced beef and eggplant for $4.50 USD (£3.22). It was o.k. but nothing to write home about, probably more down to my own taste rather than there being anything wrong with the dish. The owners were friendly and welcoming and when Dad left his camera behind they put it away safely for him to collect
Cafe Laurent – on our last night in Koh Kong Dad and I were craving some seafood. We also felt like treating ourselves so headed to the fancy (in relation to other Koh Kong restaurants) Cafe Laurent. The restaurant is partly built on a wooden platform out over the water. This makes for lovely al-fresco dining and would also be a perfect spot for sunset drinks.
Dad and I shared a tuna salad for starters for $7 USD (£5), followed by a seafood tom yam soup for me and a whole steamed fish for Dad costing $7.50 USD (£5.40) and $16 USD (£11.50) respectively. We both had a Creme Brulee for dessert for $2 USD (£1.40) each and shared a bottle of white wine for $18 USD (£12.90). Everything was spot on and although a little more expensive than other places, the quality of the food and the professional, polished service we received made it well worth it.
There were a couple of other restaurants in Koh Kong we'd have liked to try. These included Fat Sam's and an oyster restaurant run by locals that we spotted on a back street near the roundabout and Thai bridge. 
There are also a few street food vendors that set up stalls on the riverside in the late afternoon.

They sell tasty-looking snacks, beers and soft drinks, although the food hygiene could be questionable

.
All restaurants in town served alcoholic drinks, but we didn't see any bar only establishments

.

There's not much nightlife and most places shut by 11 pm, however, I suppose with all the daytime activities an early night may not be a bad idea

.
How to Get to Koh Kong
How you reach Koh Kong depends on where your journey starts. Be aware that bus companies and schedules often change without warning in Cambodia, so only take the below as a rough guide. Be sure to double-check before finalising your plans.
The most common starting point for a trip to Koh Kong is from Phnom Penh, Sihanoukville or Siem Reap. You can make the whole journey by road or a combination of plane and road.
You can book buses, mini-vans and taxies from most hotels, guesthouses and travel agencies
. More convenient may be to book online via CamboTicket.
Phnom Penh – 

It takes between five and six and a half hours by road from Phnom Penh to Koh Kong depending on what transport you take. The main options are by bus, mini-van, or taxi. The best bus company to use is probably Virak Buntham who have both buses and mini-vans on this route. There's one of each leaving at 7:45 am daily, costing $12 USD (£8.60) for a bus and $9 USD (£6.40) for a mini-van. There's also another mini-van leaving at 1:30 pm. The bus takes about 6 hours and the mini-vans are

slightly

quicker.
If you prefer a quicker, more comfortable journey and price isn't an issue, a taxi may be a preferable option.

A direct taxi from Phnom Penh to Koh Kong should cost between $70 USD (£50) and $120 USD (£85.90) depending on the vehicle and how many passengers there are

. 
Sihanoukville
 – 
It takes roughly four to five hours to travel from Sihanoukville to Koh Kong, again mode of transport dependent – bus or taxi
. There are a couple of buses that go direct from Sihanoukville to Koh Kong that leave first thing in the morning. Virak Buntham is again likely to be your best option, it leaves at 8:15 am, takes around five hours and costs $8 USD (£5.70).

If you're staying at a beach like Otres outside of Sihanoukville you can book your ticket at one of the agencies there. For a few dollars extra they'll arrange a mini-van pick-up from your accommodation to take you to Sihanoukville to catch the bus. This is what we did and it was fine, although it did go round the houses a bit to collect other people first.
As always a taxi will be quicker but more expensive.

It will take about four hours and cost between $70 USD (£50) and $180 USD (£128.80), vehicle and passenger numbers dependent

.
Siem Reap – To get to Koh Kong from Siem Reap you can go directly (hopefully) by taxi or bus. A direct taxi should cost about $200 USD (£143.10) and take around 12 hours. Check before booking that it's direct though as some go via Phnom Penh to change car and driver. You can take a Virak Buntham bus for much cheaper, around $22 USD (£15.75) which takes about the same time as a taxi. Again be careful to book the correct bus as there are some cheaper ones which take up to 17 hours as you have to change bus and wait several hours in Phnom Penh.
If you're short on time you could always take a flight to Phnom Penh or Sihanoukville and get a bus or taxi from there as per the instructions above

. It would only save you a few hours of travel time but would be more comfortable than such a long bus journey. Skyscanner often has great deals on flights.
JC Airlines also sometimes has some real bargain flights. The only places these can be booked is through the Ctrip website or a travel agency in Siem Reap.
Finally, Koh Kong city may be your first stop after you cross the Hat lek-Cham Yeam border crossing from Thailand

. It's only a 20-minute max moto, taxi or tuk tuk ride in Koh Kong city from the border.

For more information on the border crossing The Broke Backpacker has covered this in a blog post on Budget Travel in Cambodia which includes a section on
Travel to Cambodia from Thailand
.
Getting Around Koh Kong
By far the best way to get around Koh Kong city is by foot.

Despite being a city it's actually pretty small and anywhere you'll want to see is within walking distance

. There are also tuk tuks on most corners that will take you across town for a couple of dollars.
Other options are to rent a bicycle or motorcycle to get around. You can rent these from some hotels, guesthouses, and travel agencies. Your accommodation should be able to help you with this. 

Ritthy's is one place that has daily rentals: city bikes are $1.50 USD (£1.10), mountain bikes are $2.50 USD (£1.80), 125 cc scooters are $5 USD (£3.60) and 250cc dirt bikes are $20 USD (£14.30)

. 
If you want to go further afield and don't ride motorcycles your best option is to take a tuk tuk, taxi or book yourself on one of the tours available at the agencies

.
Other Activities In and Around Koh Kong
I'd recommend spending more time in and around Koh Kong city if possible as there are many other things to see and do to make a longer stay worthwhile. A few things we didn't have time for included:
Tatai Waterfalls – probably the second most popular attraction near Koh Kong city  (after Koh Kong Island), is Tatai Waterfall. It's about 20 km away from the city set in the Tatai River which has its source in the Cardamom Mountains. It's a large rocky two-tier cascade surrounded by stunning mountain and jungle scenery.
You can reach the waterfall by tuk tuk from Koh Kong city for about $9 USD (£6.44) and entry is another $1 USD (£0.70). You can also reach Tatai Waterfall by boat from Tatai bridge or as part of a jungle trek organised by one of the tour agencies in town.
Beaches – besides Koh Kong Island's beaches there are more beaches in Koh Kong Province; some more worth visiting than others. Koh Yor Beach is a short 7 km moto or tuk tuk ride away from Koh Kong city. It's not the nicest beach you'll ever visit but it should be quiet and has sunbeds and shades you can rent. The nearby Crab Shack, famous for its soft shell crabs is reason enough on its own to visit.
You could also visit Lam Da Beach and Sner Beach; although they are 20 km and 17 km away respectively so it would be easier with a motorcycle.
Cardamom Mountain Trekking – home to a huge variety of species of flora and fauna makes for fantastic, adventurous trekking. Local tour agencies offer half-day, full-day and multi-day treks. Several of the eco-lodges in the area also offer treks as does Chi-phat, an ecotourism community-based project about 3 hours from Koh Kong city. We went to Chi-phat after Koh Kong but the Cambodia weather was against us and it was too rainy to do anything much.
---
Have you visited Koh Kong? Have I missed anything there else there is to see or do off the beaten track there?
Travel Resources for Cambodia
Planning your trip to Cambodia? Here are some of our recommended useful resources to help you have the best time possible:
● TRAVEL INSURANCE IS AN IMPORTANT CONSIDERATION FOR TRAVEL. If you're travelling long-term like us and from the EU, then True Traveller is our go-to option.
If you're from a non-EU country, another option for long-term travel insurance is SafetyWing, which you can pay for on a month-by-month basis. This is also good for shorter trips.
● Find amazing flight deals to Cambodia on Skyscanner and Kayak.
● Compare Rental car prices in Cambodia on Rentalcars.com.
● Booking.com usually have the best hotel prices in Cambodia.
● Our go-to for self-catering accommodation in Cambodia is Vrbo.
● Before booking accommodation in Cambodia, check reviews on Tripadvisor.
● Book buses, ferries and taxis in Cambodia with Camboticket or 12Go Asia.
● Discover fantastic trips and activities in Cambodia with Klook, Viator and GetYourGuide.
● Bookmundi, G Adventures, and  Intrepid Travel offer group holidays and tours in Cambodia.
Enjoy this post? Pin it for later!
Product Review Disclosure: Nathy Koh Kong Hotel provided us with a complimentary two-night stay. This did not influence my post in any way and as always I've provided a balanced and honest review. Read more in our full Product Review Disclosure.