Siem Reap in Cambodia is as flat as a pancake, but 40 km to the northeast of Angkor Wat, in Svay Leu District is Phnom Kulen National Park. The small regular-shaped plateau of the Phnom Kulen mountain range protrudes from the landscape, nestled amongst the thick jungle. A day trip to Kulen Mountain is a great way to get off the beaten track to see more of rural Cambodia, along with its flora, fauna, and less-known historic sites. Andy and I did this trip with a group of friends soon after arriving in Cambodia.
This post contains affiliate links. If you use them to make a purchase, we may earn a small commission at no extra cost to you. As an Amazon Associate, we earn from qualifying purchases. Learn more in our Affiliate Link Disclosure.
Phnom
Kulen

National Park

Locals consider Kulen Mountain or 'Mountain of Lychees' to be the most sacred mountain in Cambodia and it's frequently visited by Buddhists and Hindus on pilgrimage. It's located in its namesake 'Phnom Kulen National Park'. On top of the plateau is a sacred hilltop with about 30 ruined temples. Much of the land is yet to be de-mined, which means currently, the public can't visit many of the temples, and definitely not without an expert guide.

The entrance fee for Phnom Kulen National Park is not covered by the normal admission ticket or 'Angkor Pass', there is a separate admission fee. For foreigners, this is $20 USD, if bought at the gate, or you can buy tickets online in advance.

There is also the option of taking an organised Kulen Mountain tour from Siem Reap, if you do this the entry fee should be included in the tour price but double-check first.
What to See and Do at Kulen Mountain
The majority of people, locals and foreigners alike, who visit Kulen Mountain do so as a day trip from wherever you're staying in Siem Reap. You can drive to the top or hike from the foot of the mountain in about 2 hours. The hike does give you the option to see a couple of things en route that you may otherwise miss such as:
Elephant statues - symbols of Hinduism stands at the foot of Mount Kulen.
Preah Ang Jub – is reached via muddy tracks, obstacles such as fallen trees and roots and challenging steps. It has a pool of sacred water whose source is at the top of the mountain. Buddha devotees offer prayers here.
On our day trip, due to limited time, we skipped the hike. Instead, we drove straight up the mountain to the car park. From here you can either walk or drive (or a combination of the two) between the following different things there are to see and do.
Preah Ang Thom and the Reclining Buddha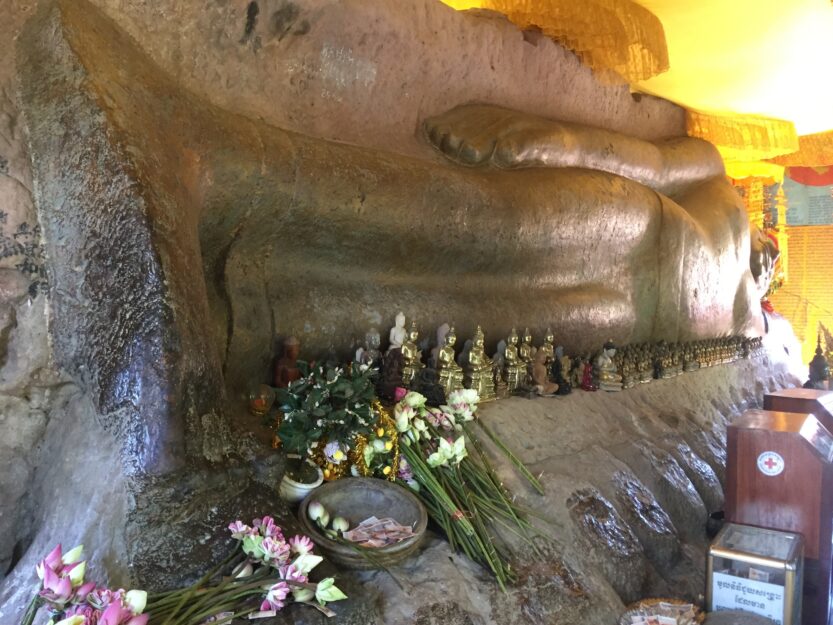 Built on a massive sandstone rock is the 16th Century Preah Ang Thom Monastery. This houses a huge gold reclining Buddha, again, carved out of sandstone. The monastery is reached via a flight of stone steps. The approach is lined with stalls selling offerings, such as flowers, fruit, fake 100 riel notes (ghost money), and incense sticks. There is also a good selection of food and drink stalls, the smell of BBQ meat wafting past is enough to tempt any meat eater.
On either side of the steps are carvings of animals. These include a lion, a dragon, a Garuda (mythical bird-like creature), a tiger, and also snakes which form the railings leading up the hill. Several children and beggars perch on the steps and the heavy scent of burning incense hangs in the air.
Shoes must be removed, and left with piles of others, before entering the sacred area around the monastery. You then pass under the rock on which the Buddha reclines. Here are several smaller buddhas and many devotees stop to make a prayer and offering of merit. It was quite busy during our visit due to it being Chinese New Year, so we had to join quite a queue to enter the pagoda and file past the Reclining Buddha. Once outside again there is a great view across Phnom Kulen National Park and the jungle below.
Valley of a Thousand Lingas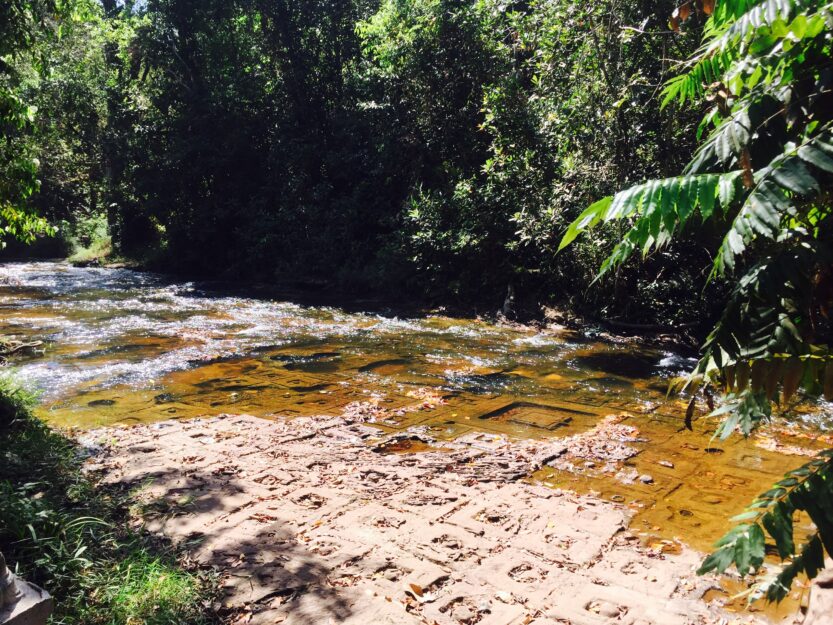 Carved in the riverbed that passes through Kulen Mountain are thousands of 'lingas'. These are phallic, fertility symbols of Shiva the Hindu god. They are a pattern of large bumps on the sandstone riverbed, usually on a base of the female version, the 'yoni'. It's said they bless or fertilize the river as it flows over them to Angkor, into Siem Reap, and onto the Tonle Sap Lake.
This is a nice spot to get out of the scorching sun and walk along the river in the shade of the trees. Some enterprising locals have even constructed what we called the 'love seat'. A wooden swing seat covered in flowers, where you can sit for a photo moment for a small fee. Slightly touristy but a bit of harmless fun nonetheless.
Kulen Mountain Waterfalls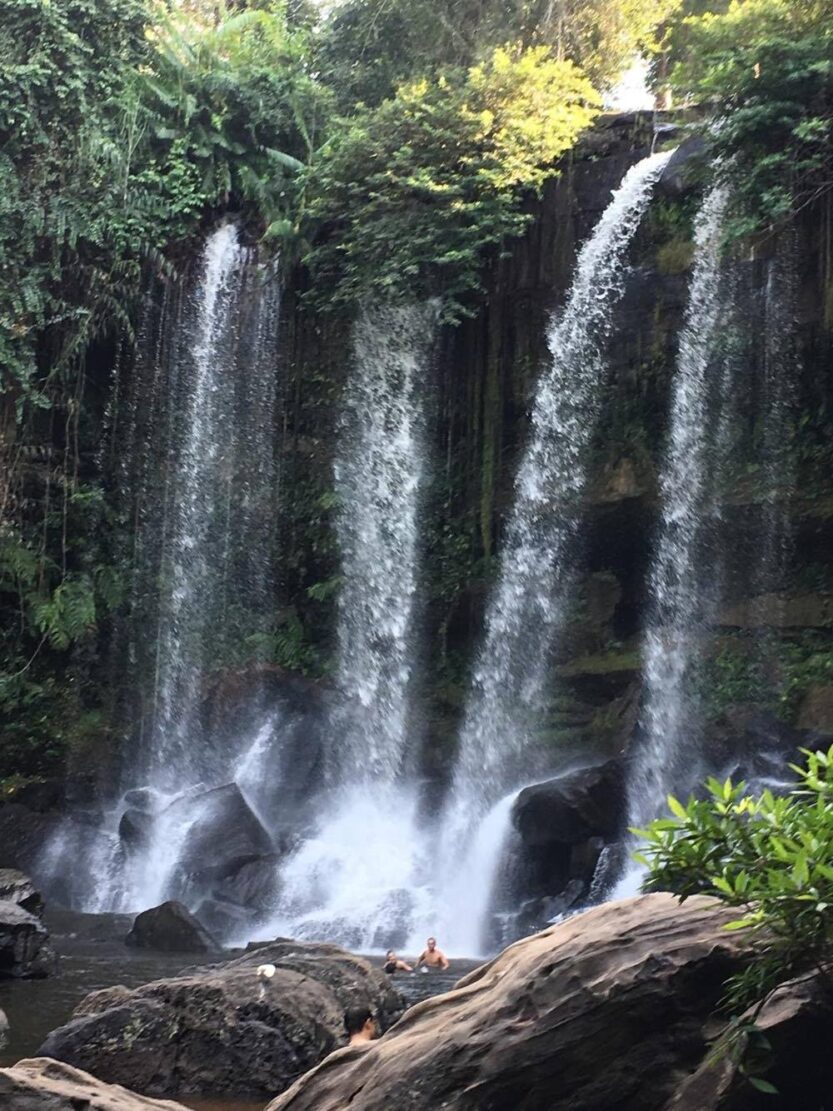 After all that walking around sightseeing you'll be ready for some food and rest. There are two waterfalls at Kulen Mountain, a small one of 5 metres, and a bigger one of 20 metres further down. To the side of the smaller waterfall are several raised platforms, where you can relax and order local food and drinks. People-watching opportunities are also good here, especially during a public holiday. Local families sit on the platforms eating, drinking, chatting and playing cards.
To reach the bigger waterfall you have to descend some precarious metal steps, which can get slippery. At the bottom, there are a few rocks and a wooden swing, covered in flowers you can sit on to enjoy the view. The braver among you could always join the locals splashing around in the water for a refreshing dip. There are also lockers (i.e. metal boxes with a padlock) where you can leave your belongings, which can be handy.
The amount of water is very much dependent on the time of year and how much rain there's been. We were lucky considering our visit was in the dry season – there was quite an impressive cascade.
Something else to remember is that despite not being overrun with tourists yet, Phnom Kulen is popular with locals during festivals and public holidays. So if you're crowd-averse, you may be better off visiting another time. Our visit coincided with Chinese New Year and was busy with Cambodian families enjoying the waterfalls. Seeing how they were enjoying their holiday added to the experience.
Eat and Drink at Kulen Mountain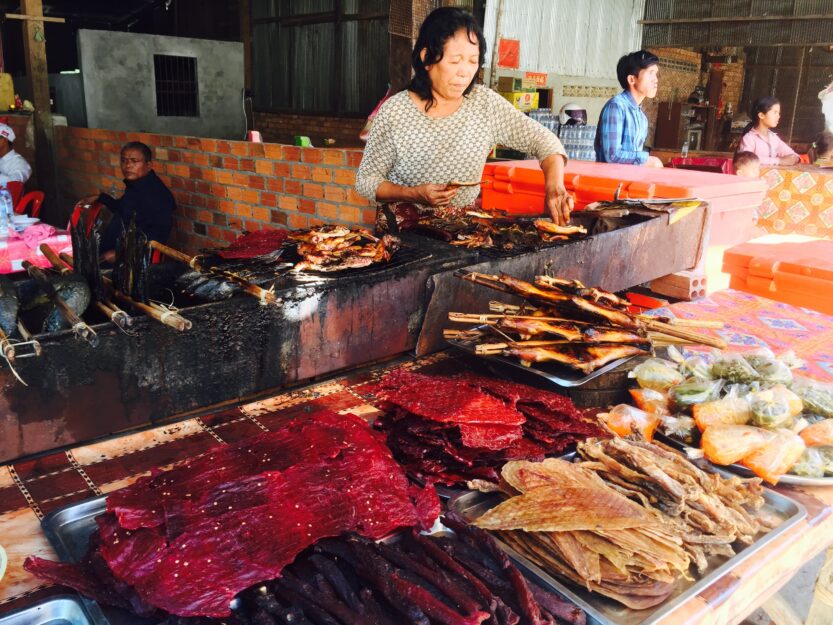 There are many local food and drink options around the car park area, on the approach to the reclining Buddha and at the top of the smaller waterfall. They range from local snack stalls to BBQs to pop-up restaurants where you can sit and order a full meal. You can also order from a restaurant and have the food brought to your raised platform near the waterfalls.
The food hygiene may be questionable and as with much 'off the beaten track' local food, I wouldn't be 100% sure of it. When we were there it was busy and everyone was eating so we decided to take the risk. We chose to eat on a raised platform and ordered a selection of noodles, soups, curry and rice to share. They were all good and didn't have an adverse effect on any of us. If you're nervous about eating local food you may prefer to take a picnic lunch.
How to Get to Kulen Mountain
As mentioned before most people visit Kulen Mountain as a day trip from Siem Reap. Unless you plan to hike to the top you'll need to take a moto, car or mini-bus as tuk-tuks can't manage the climb. These can be booked from most hotels, guesthouses and tour agencies in town. Alternatively, you could book yourself on a Kulen Mountain Day Tour. 
BOOK KULEN MOUNTAIN DAY TOUR HERE
If you decide to do the day trip independently, transport to Phnom Kulen National Park will vary in cost depending on the vehicle and how many people. Expect to pay approximately: Moto – $20, Tuk-tuk – $35, Taxi (max 4) – $50 USD, Mini-van (8-12) – $60 – $80) USD.
The journey from Siem Reap is on a combination of tarmac and unpaved red-dirt roads and takes about two hours by car or mini-bus. An early(ish) start is needed as vehicles can only go up the mountain before 11 am and come back down after midday. This is to avoid them meeting in the middle of the narrow road. Depending on the time of year the road on the ascent of Kulen Mountain can either become very dusty, coating the roadside vegetation in a thick layer of red dust in the dry season or very muddy in the wet season. 
There are a few places en route to stop for a toilet or refreshment break, which we did a couple of times. Stopping to peruse the family-run roadside stalls selling everything from bottles of gasoline to beer, to bananas, is all part of the experience.
Other Activities at Phnom Kulen
If you have more time and energy you could opt for a trekking, cycling, or Kulen Mountain Motorbike Tour. This could be for one day or multiple days, including overnight camping. These guided tours enable you to get even further off the beaten track. They give the opportunity to see some of the less visited sites of the Phnom Kulen mountain range. This really appeals to me and I hope to do a two or three-day trek at some point.
Less visited sites you can visit depending on the type and length of tour you take include:
Preah Kral Pagoda – an isolated hilltop pagoda.
Prasat Oh Pong – a tall Khmer temple.
Srah Damrei – meaning 'Elephant Pond'. Found here are impressive stone animals, which are said to be protectors of the mountain. There's a life-size stone elephant, along with smaller replicas of lions, a cow, and a frog.
Poeng Tbal -an interesting site with ancient rock carvings.
Bat Cave – this is well known as a place of Buddhist meditation, where the monks also act as guides.
Aran Rung Chen and Pa Oung – two more obscure, crumbling, moss-covered temples.
Wat Preak Krau – a modern cliff-top pagoda.
---
Whilst I'd still consider a day trip to Kulen Mountain as off the beaten track it is becoming more touristy. However, there's plenty to see and do which makes it a worthwhile trip and gives you a break from the temples.
Have you visited Kulen Mountain or Phnom Kulen National Park? Have I missed anything there is to see off the beaten track?
---
Planning Your Trip to Cambodia?
Planning your trip to Cambodia? Here are some of our recommended useful resources to help you have the best time possible.