Affiliate link disclosure: This post may contain affiliate links including Amazon that earn me a small commission, at no extra cost to you. Read more in our full Affiliate Link Disclosure.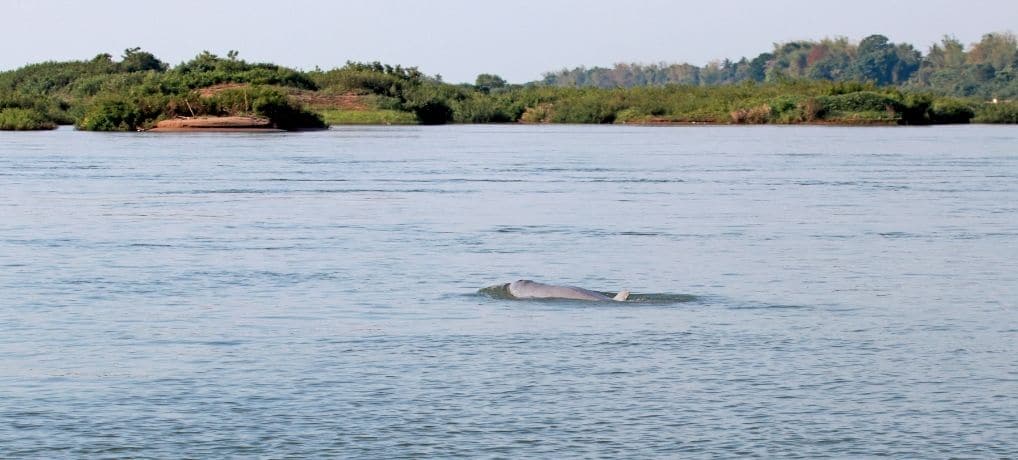 The small, sleepy town of Kratie, Cambodia (pronounced Kra-cheh) is located on the River Mekong in northeastern Cambodia. Like Kampong Cham this is another off-the-beaten-track riverside town that seldom makes it onto Cambodia travel itineraries. Despite having a month on their tourist visa, people more often pass through it, or overnight on their way to other destinations, such as between Phnom Penh and Laos or vice-versa.
Kratie was the second stop on a five-day solo adventure after Kampong Cham, whilst Andy stayed in Siem Reap as he had to work. 
Kratie, Cambodia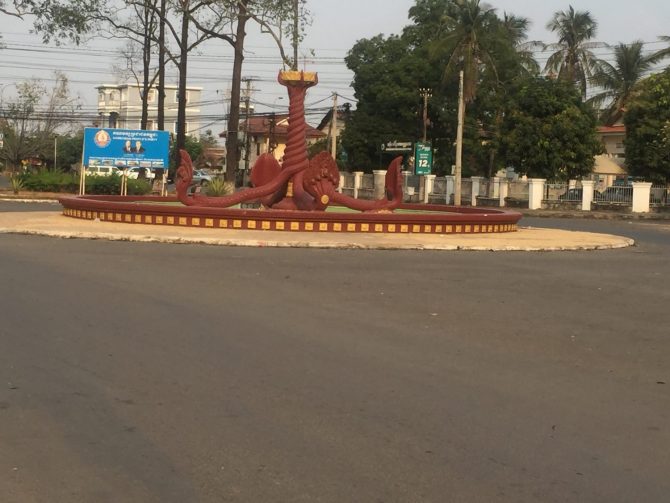 Unlike many Cambodian towns, the wars did not have quite such an impact on Kratie, so the roads and French Architecture in the town are in reasonable condition. The town is also much quieter than the main cities in Cambodia, Phnom Penh and Siem. There are far fewer vehicles of all kinds and it's much cleaner. 
Things to Do in Kratie
The main reason most people purposely visit Kratie is in the hope of catching a glimpse of the endangered Irrawaddy River Dolphins which live in this small stretch of the Mekong. There are however a few other things to do in Kratie whilst you're in town, of which I made a good attempt to fit them all in.
Wander the Riverside and Streets
You could easily pass away several hours just walking around Kratie, exploring and taking in the relaxed atmosphere. It has a long picturesque riverfront, from which you can see sandbars out front and the Island opposite. It's the perfect place to see some of the most stunning sunsets on the River Mekong.
The boulevard lining the riverside is really pretty and gets busier with food and drinks stands towards evening time. It's a great place to people-watch as the locals mill about, socialising, jogging or enthusiastically doing aerobics.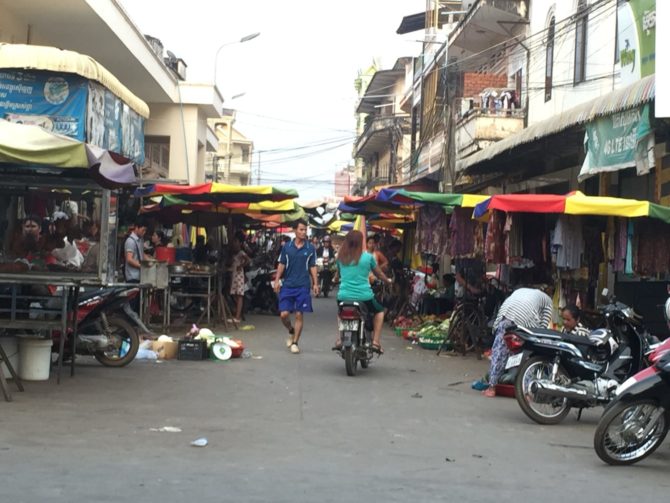 Just back from the waterfront are some side streets leading to the central market which is surrounded by French Colonial buildings. Most Cambodian towns seem to have a central market and they are all very similar, selling nearly everything you can imagine. This one was no different but still interesting to have a wander around, to watch and listen to the locals haggling for the best price on the wares.
Spot Irrawaddy River Dolphins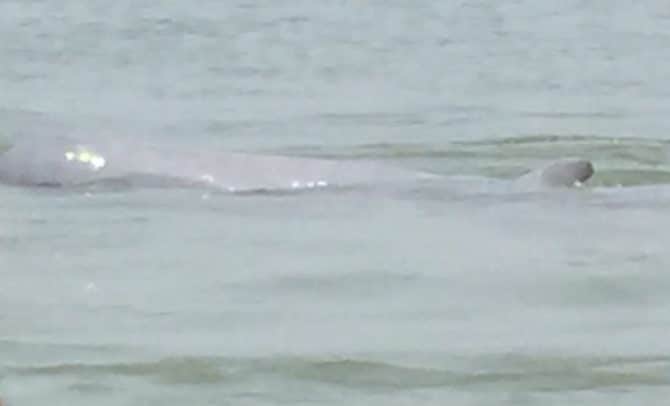 For many (myself included), the key attraction of Kratie is to try to catch a glimpse of the Kratie dolphins. There are very few of these critically endangered Irrawaddy River Dolphins left living in small pods in South East Asia and less than 80 of those left, live on the Mekong river.
15 – 20 of these dolphins live in a pod on a small stretch of the Mekong near Kratie. You can't see them from Kratie itself but will need to make a 15 km journey North along the River Mekong, which you can reach by cycle, motorbike or tuk tuk.
Try not to make the same mistake I did and go the wrong way…especially if you're cycling. It was a very tiring and time-consuming mistake, I didn't realise my error until I'd gone 15 km the wrong way up the Mekong. By the time I'd rectified my mistake, I was back where I'd started, had cycled 30 km further than I needed to and was two hours behind schedule. Epic travel fail on my part…I felt rather silly, to say the least. At least I'd remembered to take a filter water bottle (which you can refill from the river if need be), sunscreen and a sunhat with me so I didn't get sunstroke.
To see the Kratie dolphins keep heading North (not South) along the Mekong until you come across a big dolphin statue on the left-hand side of the road. Just after that is a big wall with a gateway turn in here and on the left is a little ticket office where you buy your boat ticket.
The price is $9 USD (£7.25) per person for one to two people and $7 USD (£5.60) per person for more than two people. Once paid you head across the car park and down some steps to the river where a brightly coloured wooden boat with a small engine is waiting.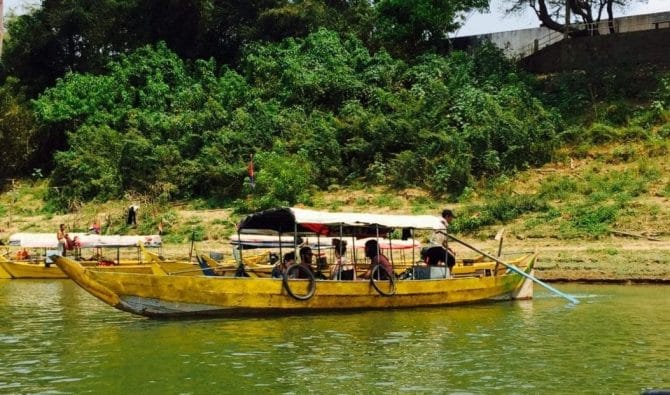 The boatmen take you out for about an hour just offshore looking for the dolphins. I must admit I was pretty sceptical that we would see any as I'd not had much luck wildlife spotting in the last year; I saw a big fat zero hippos on the River Gambia and tigers in Nagarahole Tiger Reserve in India also proved elusive. However, our boatman knew exactly what he was doing and within a couple of minutes he pointed out the glistening grey of a blunt-headed Irrawaddy dolphin coming up for air in front of us…then another and another.
They are rather shy creatures and seemed to be teasing us by just giving us a glimpse of them every so often, to blow water from their blowholes, before taking another breath and diving back down again. There was definitely no jumping out of the water in the manner dolphins are generally known for. We spent a lovely hour just sitting in the boat and occasionally moving to get a better view of the dolphins, of which I think there were between four and seven.
I was relieved to see that the boatman kept his distance and shut the engine off when the dolphins were close by to minimise any disturbance for them. You can also take a half-day kayak tour with Sorya Kayaking. 
Even if you don't do anything else whilst you're in Kratie (especially if you're into wildlife), it's still worth a visit just to see the Irrawaddy River Dolphins.
Kampi River Rapids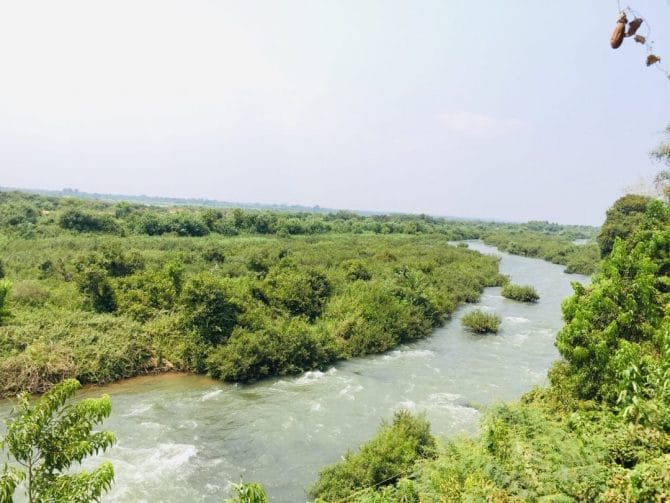 A couple of kilometres further to the North of the dolphin viewing spot is the natural attraction of Kampi Rapids. A series of platforms have been built above the swirling waters, creating a scenic spot for a picnic or swim. Local families often congregate here on weekends and holidays to relax and enjoy the refreshing waters. Foreigners are usually charged a small admission fee.
Several stalls are set up at the top of the rapids selling local food and drinks, including the local speciality Chak Chreng, a type of snail only found in this area. I didn't have time to actually go down to the rapids (due to my navigational error earlier in the day). However, I took a short break to view the rapids and to people watch from above. It looked like the perfect place to chill out with a book and a cold drink.
Koh Trong Island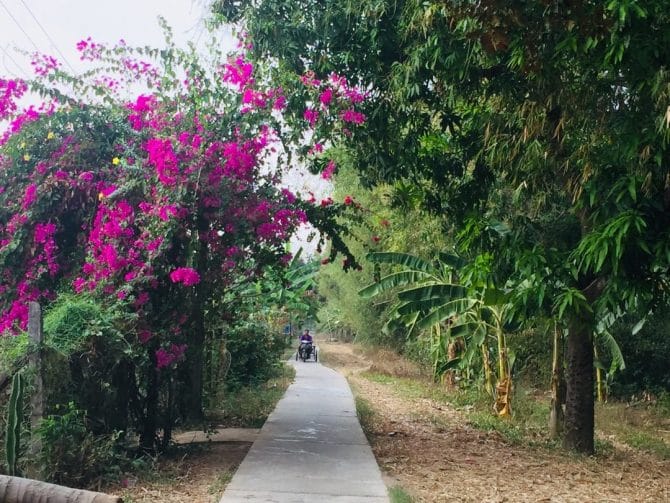 If you have the time, a few hours cycling around the giant sandbar that is Koh Trong Island is a real treat. It takes about 15 minutes to reach the island on a small, wooden public ferry and costs 1,000 Riel ($0.25 USD or £0.20). The ferry goes every 30 minutes or so throughout the day, from below the Jasmine Boat Restaurant on the riverside. The last ferry back to Kratie is at 5:30 pm.
Once on the island, there are several options for exploring it. Local guys offering moto rides wait for the boat to dock and will take you around the island for $5 USD, or you could rent a bicycle for $1 or $2 USD (£0.80 or £1.60). Alternatively, you could take a ride on an ox cart for $15 USD (£12) or a horse and cart for $10 USD (£8). There's a map at the information centre detailing points of interest on the island. The entire circuit is around 9km, so easily cyclable or you could even walk it if you can bear the heat.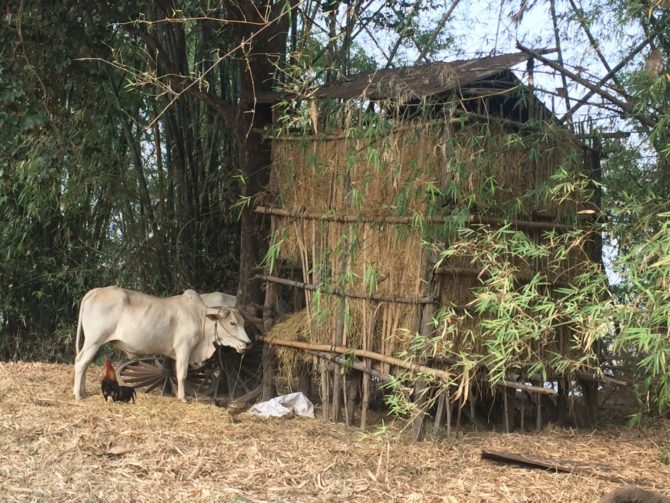 The island is home to mainly farming and fishing families and is lush, unspoilt, and beautiful. Charming wooden houses on stilts are surrounded by market gardens full of all types of fruit and vegetables, tended to by the local community.
When not working in the fields, cows and oxen casually graze on huge piles of hay at the side of the tracks, whilst chickens and cockerels dart between their legs.
The islanders were friendly and welcoming, and the giggling children call out to you and high-five you as you pass them! No cars are allowed and it's like taking a step back in time, I only had a couple of hours there but could quite easily have spent a couple of days.
There are a couple of places to eat on the west side of Koh Trong. I had a delicious plate of fried noodles, topped with a fried egg at Cafe Koh Trong, along with a much-needed ice-cold sprite for just $1.75 USD (£1.40). Whilst I ate my very late lunch I watched the family harvesting and sorting a huge number of lettuces, I assume ready to take to the central market in Kratie. 
Also on the island are a couple of basic homestays where you can stay for $3 USD (£2.40) for a dorm and $7 USD (£5.60) for a private room. For something more upmarket, stay at Rajabori Villas Resort on the North of the island.
Kayaking
There's only one option (that I know of) for Kayaking in Kratie and that's Sorya Kayaking. They offer two kayak tours, the 'Half day Dolphin Trip' and the 'Half Day River Trip'.
This would be a fun and active way to spend half a day and in my opinion, seeing the dolphins by kayak would be preferable (not to mention less harmful to the dolphins), than by boat.
The prices range from $17 USD (£13.60) to $52 USD (£41.75) per person depending on which tour you do and how many people are in the group.
Phnom Sambok
Phnom Sambok is a smart little temple situated to the north of Kratie on the only hill in the area.
It has a long set of steps leading to a pavilion lead up to a pavilion. The inside of the temple is painted with various torture scenes and images of what happens to those that sin.
The top of the hill offers great views of the surrounding countryside.
Mekong Turtle Conservation Centre
The Mekong Turtle Conservation Centre is found about 35 km to the north of Kratie. A tuk tuk or moto is probably needed to reach it, although a full day trip could be made cycling.
It's home to several species of turtle, including one of the largest freshwater turtles, the Cantor's giant softshell. Hatchlings are returned to the wild after being nurtured for about 10 months.
It's open from 8:30 am to 4:30 pm seven days a week and entry costs $4 USD (£3.20) for adults and $2 USD (£1.60) for children. The price for locals is much cheaper.
100 Pillar Pagoda
Again to the north of town by about 38 km, 100 Pillar Pagoda is one of the largest pagodas in Cambodia. As its name suggests it was originally supported by 100 pillars (or columns).
Destroyed in a fire when it was 100 years old and it has since been rebuilt by locals and now has 116 pillars.
Inside the pagoda are four Buddhist temples, each facing a different direction. The inside of each temple is covered in elaborate, colourful paintings.
Hotels in Kratie
Accommodation in Kratie town is fairly basic but there are several options to choose from both in town, just outside and on Koh Trong Island.
Le Tonle Guesthouse and Restaurant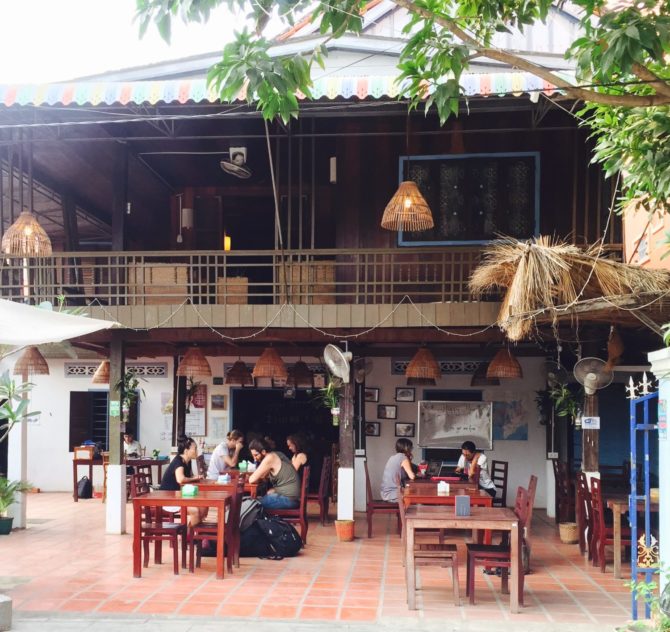 I was hosted for my first night in Kratie at Le Tonle Guesthouse and Restaurant, a not-for-profit Tourism Training Centre for disadvantaged youngsters from the northeastern provinces of Cambodia.
It's located down a quiet side street leading down to the Mekong River and offers good quality but affordable rooms in two traditional Khmer-stilted houses. Prices start at $8 USD (£6.42) for a room with a fan and go up to $19 USD (£15.25) for a family room with air-conditioning.
The reception is on the restaurant side of the guesthouse, the whole area was bright and well laid out. The reception staff greeted me warmly and quickly showed me to my room, located on the opposite side of the road upstairs in the other stilted house.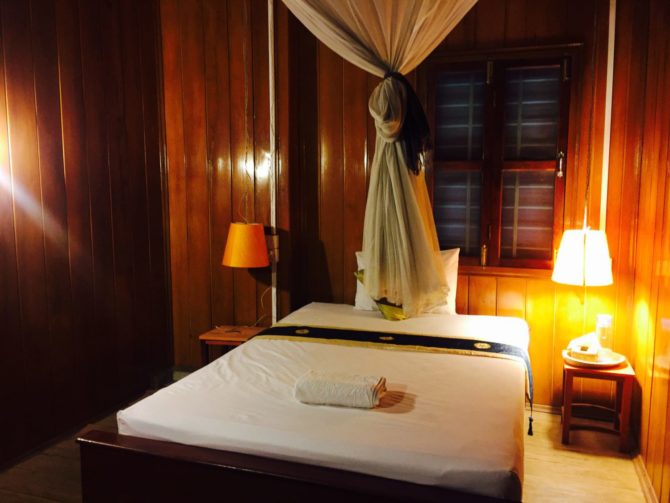 I stayed in a double room with a fan which was fine, even though the temperature was very high as it was the start of hot season in Cambodia. The room was small but immaculate and very clean, wiith a fresh towel provided.
There were two shared bathrooms and whilst I'm not a fan of shared bathrooms, these were great. They were huge and spotlessly clean, with a rain shower and complimentary toiletries. 
Other nice touches were the free filter water on the landing outside the rooms from which you could help yourself and a nice little balcony with sofas, where you could relax with a book.
Another highlight of my stay was the restaurant, it had an extensive menu of dishes from a variety of countries. Unfortunately, I only ate there for one evening meal and a breakfast, both of which were great. For my evening meal, I had Tahitian Raw Fish marinated in lime and coconut, it was fantastic and only $3 USD (£2.41).
I was most impressed by all the young trainee staff there, they were all very friendly, polite and helpful. Their English was good and they were very keen to practise at every opportunity. I had a couple of lovely conversations with some of them during my stay. The staff arranged bicycle rental for me, and it's also possible to rent motorcycles if you wish. 
Overall I really enjoyed my stay and the fact that the Tourism Training Centre helps give some Cambodian youths a better future is amazing. The only downside was I couldn't stay longer.
Other Kratie Hotels
Budget – Balcony Guesthouse is located in a convenient location on the riverfront and offers great views of the Mekong from its spacious balcony. It has dorms and private rooms from $8 USD (£6) and costs a little more for a river view from your room.
If you'd prefer an authentic homestay experience, take a look at Pomelo Homestay on Koh Trong Island.
Midrange –River Dolphin Hotel is a fully serviced hotel located about 2 km out of town, with rooms from $16 USD (£12.80) a night. It has a bar and restaurant and, at the time of writing, the only swimming pool in Kratie. They also offer free rides to the town centre and riverside.
High-end –Rajabori Villas Resort on Koh Trong Island offers a selection of beautifully decorated, traditional Khmer wooden houses. Prices start from $60 (£46) per room. The resort also has a huge swimming pool and lush tropical gardens.  
Eat and Drink in Kratie
Similar to most towns situated the Mekong River, Kratie's eateries are mainly found on the riverside road and down one of the side streets leading back from it.
Many of these are restaurants attached to guesthouses, with what looks to be a fairly good selection of reasonably priced food and drinks. Despite this, apart from Le Tonle Training Restaurant where I stayed (see the review above), I have to say that I wasn't particularly enamoured with the couple of places I ate in (except for my guesthouse on the first night). Therefore I don't feel I can make any recommendations as such, so instead have just given a brief summary of each.
You Hong II – situated down a side street leading towards Central Market, this restaurant has quite a varied menu, including pizza, but the atmosphere was a little bizarre. Family members were dozing in front of a TV on what looked like beds in the restaurant, and another woman was bathing her child in a washing bowl on the next table to me. The staff were also not particularly friendly, I was quite glad when I'd eaten and it was time to leave. To eat I just had a prawn tom yum Soup with rice for $2.50 (£2), one of my favourite dishes…unfortunately this was quite bland and not very enjoyable. 
Tokae – on the corner of the same road as You Hong II and opposite Central Market this is a good spot for watching the early evening goings on. I actually only popped in here as I fancied something sweet and their banana and nutella pancake definitely satisfied that craving. For $1.50 USD (£1.20) it was also a bargain. I'm not sure what the rest of their food was like but they had a good selection on the menu of Khmer and Western food, so I'd probably give it another go if I returned.
There were several other places that would probably be worth trying out including the Jasmine Restaurant on the waterfront (although this looks to be a little pricier) and Sorya Cafe is said to serve up amazing Italian food, including delicious pizzas. There are also some stalls on the riverfront and around central market selling local street food and drink which looked and smelt pretty good.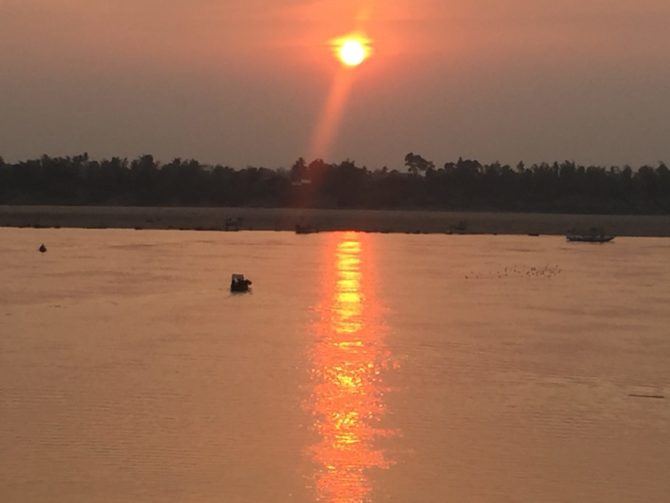 All of the guesthouses and restaurants serve drinks, but I didn't see any bars which were solely for drinking. The best spot I found to watch the stunning sunset over the Mekong River was on the balcony of the Jasmine Restaurant. They also do a buy 1, get 1 free on draft beer during happy hour from 5 pm – 7 pm.  
How to Get to Kratie
There are a few ways to reach Kratie depending on where you're coming from, there are also different methods of transport for getting about whilst you're there. Bus schedules in Cambodia are prone to change too, so make sure you double-check before starting making your final plans. Whenever possible we book our buses in Cambodia online through Camboticket.

The most common routes to Kratie are from Siem Reap, Phnom Penh, and Kampong Cham.
Siem Reap – Asia Van Transfer runs a direct mini-van from Siem Reap to Kratie and costs about $24 USD (£19.25) and takes around 8 hours. There should be some comfort/ snack breaks on the way. You could also get a bus or mini-van from Siem Reap and change onto another at Stung Treng. Your hotel or a travel agent in Siem Reap will be able to run through that option with you.
Alternatively, you could any of the buses that go from Siem Reap to Phnom Penh, taking 5 to 6 hours and costing $8 – $16 USD (£6.50 – £13), or to Kampong Cham, costing around $10 USD (£8) and taking about 5.5 hours. You can then catch any one of a number of mini-vans or buses to Kratie (see below for details). These are fairly long detours, so unless you plan to break up your journey with a stop in Kampong Cham on the way going via Stung Treng is probably a better option.
The other option is a private taxi, but this will quite expensive as the driver will find it difficult to get a fare back and would need to stay overnight as it's too far to do a return in one day. It may be worth considering this if there are several of you to share the cost. 
Phnom Penh – There are several buses and mini-vans running from Phnom Penh to Kratie which cost about $10 USD (£8) and take around 5 hours. A taxi costs about $70 USD (£56) and takes about 4 hours.
Kampong Cham – If like me you stopped in Kampong Cham first, you can reach Kratie by catching a mini-van, which takes around 3 hours and costs about $5 USD (£4). 
If you're returning to the same place you started you can expect similar options but in reverse. There's also a direct mini-van back to Siem Reap that takes about 7 hours and costs $11 USD (£8.25) Other places you could head after Kratie include Sen Monorom in Mondulkiri, Stung Treng (a town near the border with Laos) or Banlung in Ratanakiri. 
If you are starting from somewhere else, heading somewhere different, or need more information your hotel, guesthouse, a local travel agency or bus station, should be able to help.
Getting Around Kratie
Kratie itself is quite small and easy to navigate on foot, however, if you'd like to venture further afield there are several options. A bicycle or motorcycle can be rented via most guesthouses and hotels from $2 – $4 USD (£1.60 – £3.20) or $5 – $8 USD (£4 – £6.40) respectively, a day. It's also quick and easy to find a tuk tuk on the street or get your guesthouse or hotel to call one for you. It's also possible to arrange moto-taxis and regular taxis.
Other Activities in Kratie
There were a few things that I didn't manage to fit into my visit, that may be good to do if you have time:
Krong Kracheh Pagoda – is a gold and pink Buddhist pagoda set just back from the riverside in the centre of Kratie. It's hard to miss and is especially pretty around sunrise and sunset.
Wat Roka Kandal – is one of the oldest wats in Cambodia and can be found about 3 km south of Kratie. Compared to the 100 Pillar Pagoda, it has a much simpler design but is still worth visiting. It has recently been restored and has beautiful stencilled pillars and an ornate timber roof.
Le Relais de Chhlong – is a beautiful boutique hotel located about 35 km south of Kratie. It's a historic French colonial building built in 1916 and was originally a Customs House. If you have time and want to explore further afield this is a great stop for some photos.
---
A couple of nights in Kratie gives you time to see the dolphins and explore some of the other things this great little town has to offer. However, I'd recommend a minimum of three nights to explore properly.
It makes for a nice relaxing change from the hectic cities and allows you time to rest before you move on to your next destination.
Have you visited Kratie? Have I missed anything off the beaten track there is to see there?
Travel Resources for Cambodia
Planning your trip to Cambodia? Here are some of our recommended useful resources to help you have the best time possible:
● TRAVEL INSURANCE IS AN IMPORTANT CONSIDERATION FOR TRAVEL. If you're travelling long-term like us and from the EU, then True Traveller is our go-to option.
If you're from a non-EU country, another option for long-term travel insurance is SafetyWing, which you can pay for on a month-by-month basis. This is also good for shorter trips.
● Find amazing flight deals to Cambodia on Skyscanner and Kayak.
● Compare Rental car prices in Cambodia on Rentalcars.com.
● Booking.com usually have the best hotel prices in Cambodia.
● Our go-to for self-catering accommodation in Cambodia is Vrbo.
● Before booking accommodation in Cambodia, check reviews on Tripadvisor.
● Book buses, ferries and taxis in Cambodia with Camboticket or 12Go Asia.
● Discover fantastic trips and activities in Cambodia with Klook, Viator and GetYourGuide.
● Bookmundi, G Adventures, and  Intrepid Travel offer group holidays and tours in Cambodia.
Enjoy this post? Pin it for later!
Product Review Disclosure: Le Tonle Guesthouse provided me with a discounted one-night stay. This did not influence my post in any way and as always I've provided a balanced and honest review. Read more in our full Product Review Disclosure.