After Traverse 2022 Brno, I was invited by the Tourism Authority of South Moravia and Visit Czech Republic , to discover Znojmo, a sub-region of South Moravia, and its main city – also called Znojmo.
Before this trip, despite several previous visits to the Czech Republic, I hadn't even heard of Znojmo. This piqued my interest even more because as you know we tend to seek out more off-the-beaten-track destinations to visit, and Znojmo in the Czech Republic is most certainly that.
10 Great Things to Do in Znojmo
By the end of my three days in Znojmo, I was astounded by all it has to offer – nature, outdoor activities, history, culture, food and wine; there's something for everyone.
Read on to find out 10 great things to do in Znojmo in the Czech Republic.
1. Explore Znojmo City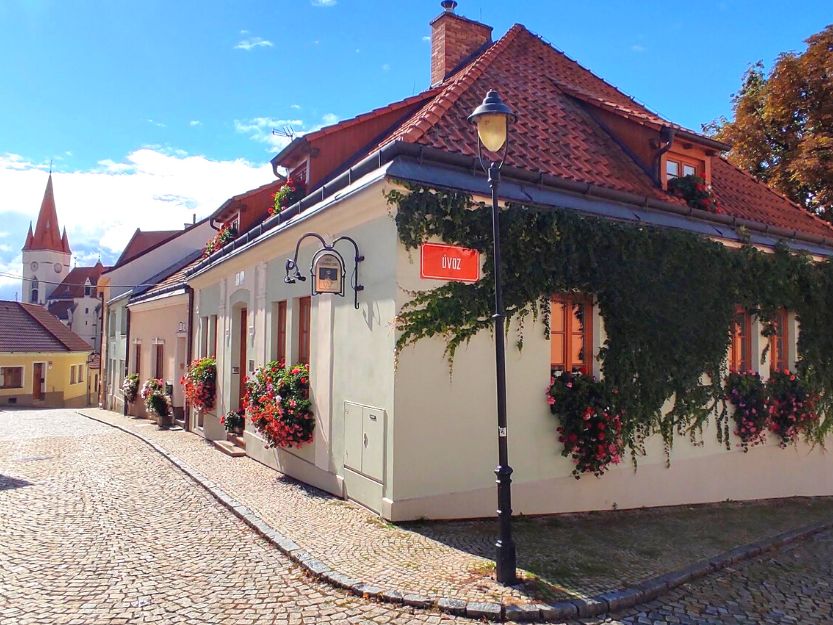 The small, historical city of Znojmo, founded in the 12th century is situated next to Podyji National Park. It really is a delight to explore its cobbled streets full of medieval sights, interesting architecture, and stunning views over the beautiful Granice Valley and River Dyje.
The best way to explore Znojmo city is on foot, either independently or on a walking tour, such as the one we took with  Tourist information centre of Znojmo.
Although we explored Znojmo city on a tour, you could just as easily see everything by yourself without a guide. I'd say by foot is the best way to get around the city, but there is also a little red tram which could also be a fun way to see the sights.
The highlights of Znojmo city include:
Saint Nicholas Church – was founded by Prince Leopold of Znojmo in 1106, and burned down in 1335 along with a significant part of the town.
Three years later, Charles IV built a new temple which went through many transformations throughout the 14th and 15th centuries. First Romanesque, then Gothic and finally Renaissance style.
The current tower built in the mid-19th century is the youngest part of this picturesque church that dominates Znojmo's skyline from all angles.
Inside the church is a Baroque pulpit in the shape of a golden globe and unique Gothic frescoes and sculptures. Standing in front of the church gives spectacular views over the valley and river.
St Catharine Rotunda – built in the 11th century is the only fully preserved monument of the Premysl Castle. This Romanesque rotunda is best seen at the same time as the castle walls.
However, it's important to note that whilst the castle walls can be visited at any time, entry to the rotunda is only permitted when the humidity is just right. Entry is prohibited during rain and other unfavourable weather conditions. 
Znojmo City Brewery – was founded in 1792 and sits on the grounds of the Rotunda of St Catharine. It has had a number of owners over the years and has been both privatised and nationalised.  In 2003, Brno brewery purchased Znojmo City Brewery, and in 2005 beer production was moved to 2005.
It wasn't until 2015 that beer started to be produced in the brewery again, and since then a huge transformation has taken place. Now not only can visitors take brewery tours including tasting, but they can also sample modern Czech gastronomy in its restaurant.
The Town Hall Clock Tower – standing at 68.6 metres high was originally built between 1445 – 1448. This gothic-style Town Hall Tower has undergone many repairs and restorations over the years. Up until 1924, it was used as a watchtower, where a watchman was placed to oversee the town and the surroundings in case of invasion or if a fire broke out in the town.
It's possible to climb the Town Hall Tower to see Znojmo city and surroundings from above, although sadly when we visited it was covered in scaffolding and closed for renovations.
'Main' Upper Town Square – is also known as 'Upper Square' and is actually more of a triangular shape than a square. There is currently no shade in the square, which is a leftover from communist rule in the Czech Republic. However, there are now plans to change this and to make the square nicer at the same time.
Around the square, you can see examples of 17th and 18th-century aristocratic houses, summer palaces and Baroque balconies, including the building Napoleon once stayed in.
The Architecture – as you wander the cobbled streets of Znojmo you'll notice buildings in varying architectural styles, depending on when they were built. One of the most Instagrammable buildings has to be the flowery house of a dentist with the church in the background.
Also, keep your eyes peeled for Vaclavske Nam Street, off the Lower Town Square. This is known as Happy Street because so many happy people used to live there, right? Wrong….it's actually because it used to be frequented by many prostitutes and their customers.
2. Znojmo Underground Tour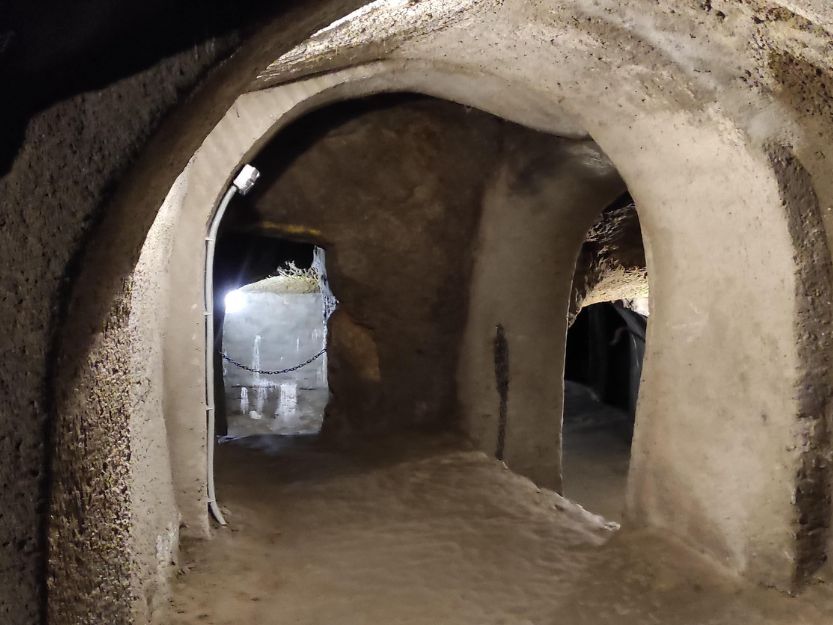 Once you've finished seeing the sights of Znojmo City above ground, why not take a look beneath the city? For, Znojmo city boasts the largest underground labyrinths in Central Europe.
Construction of the labyrinths started around the 12th and 13th centuries, and it is thought to have taken around 400 years to build them all. The ingeniously built tunnels included ventilation shafts, flues and wells. Originally their purpose was as a cellar for the house sitting above them to store produce to stop it from perishing. Eventually, they were also used as shelters to hide women, children, the elderly and infirm from soldiers and raiders of the town. At one point the tunnels even housed a prison.
Despite it being thought that there are more than 27 km of underground tunnels, only 8 km have been discovered so far. The reason for this is due to some being under private homes, some being flooded, and some simply haven't been found yet.
There are now 850 metres of tunnels across three floors which can be explored by the public on several tours. There is the classic sightseeing route which is suitable for everyone including children, and then three possible adrenaline tours of varying lengths and difficulty.
3. Watch a Spectacular Sunset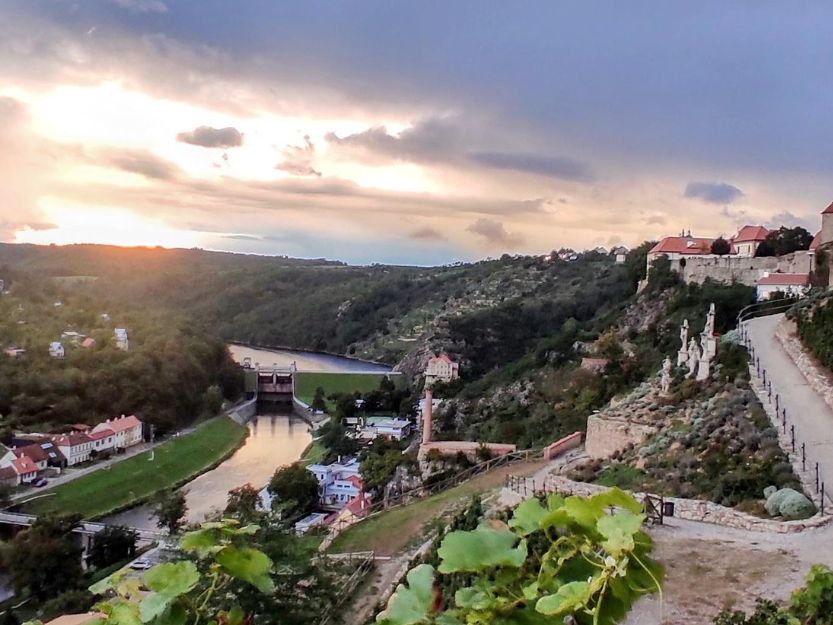 If the weather's good one of the best things to do in Znojmo City is to watch a spectacular sunset.
The best sunset is probably from St. Catharine Rotunda, although picking any spot along the city walls should treat you to a memorable sunset.
If you like good wine, you could even buy a glass from Enoteka near the rotunda and take it with you to enjoy as you watch the sun disappear below the horizon.
4. Sample Local Znojmo Wine and Visit a Winery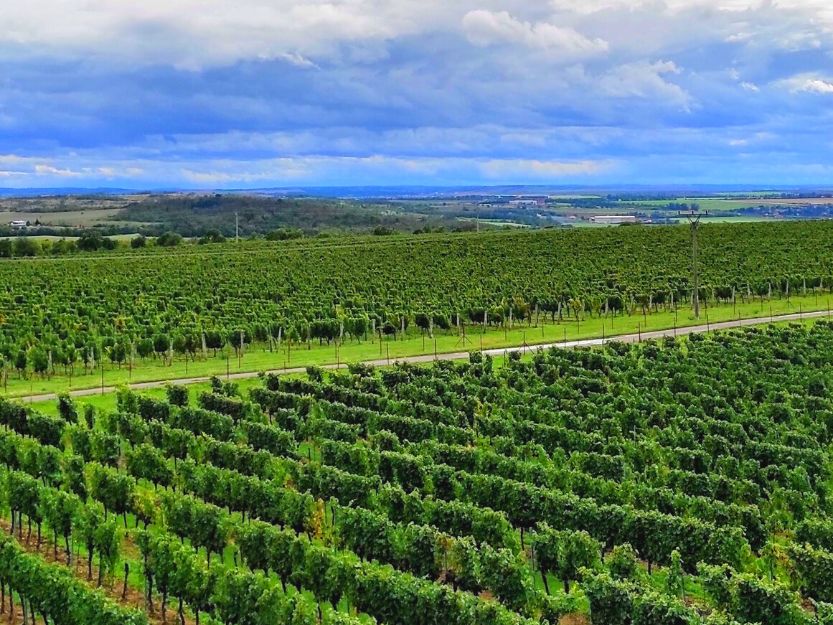 The Znojmo region is famous for its wine and for wine lovers, a visit won't be complete without sampling some local wines and maybe even visiting a local winery.
Here are some wine options for your Znojmo visit, the self-service Enoteka which I already mentioned above and the two wineries we visited.
Enoteka – is a self-service wine-tasting bar in the same area of the city as Znojmo City Brewery. They have about 120 wines on offer to taste, all from the Znojmo region
The self-service system is very simple, you just purchase a pre-paid card and use that to buy the wines you'd like to try from the wine vending machines with the By the Glass® system. This offers three tasting quantities at three price levels.
This is a great way to taste small quantities of several wines, if you wish you can then go on to buy a larger glass or two to enjoy.
Lahofer Winery – is located just a ten-minute drive from Znojmo city which makes it extremely convenient to visit whether you are just passing through the area or staying overnight.
Lahofer was founded in 2003 with only a few hectares of land under the name Prvni Znojemska Vinarska a.s. In 2006 their headquarters moved to Dobsice near Znojmo under the current name, Lahofer.  
Since then, they have continued to expand their harvest and production, and now have 430 hectares of vineyards, making them one of the biggest wine growers in the Czech Republic. All their wines are produced with their own grapes and they also sell grapes to other winemakers in the Znojmo region.
In 2020, they opened a new headquarters, a modern and creative building in U Hájku vineyard, which we visited. Inside they offer guided tastings and the opportunity to purchase Lahofer wines. Then, if you visit on a clear, dry day you can go up to the walkable wave-shaped roof and be treated to a breathtaking 360 view of their vineyards.
Thaya Winery – is a modern winery found in the Znojmo sub-region that farms about 105 hectares of its own vineyards. Its vineyards are located on-site at the winery and also in some of the neighbouring wine-growing villages including Satov, Hnanice, Vrbovec, Havraniky and Dyjakovicky, all adjacent to Podyji National Park.
At Thaya you can take a guided tasting tour of the winery to learn the history of the winery, the wine-making process, and to sample some of their excellent wines. If the weather is nice you can also go up on the rooftop patio of their main buildings to take in the stunning views of the surrounding vineyards.
Thaya also has a secondary focus on gastronomy and has a splendid restaurant on-site that serves up traditional Czech and European dishes with a modern twist using fresh seasonal ingredients.
And, if all that wasn't enough, it's also possible to spend the night at Thaya Hotel, which consists of beautiful cosy hobbit-like cabins and even a spa.
5. Lovers Viewpoint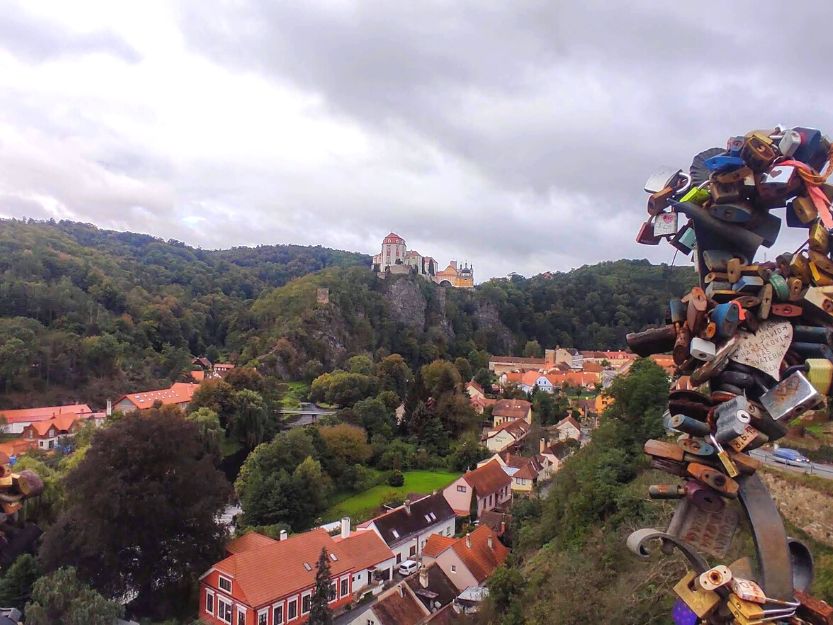 On the way to Chateau Vranov nad Dyji, there is a fantastic little viewpoint with hundreds of padlocks attached to the railings
Nicknamed 'Lovers Viewpoint', this viewpoint offers a stunning view of the valley with Chateau Vranov in the distance. Worth a quick stop for photos when you're passing if it's a clear day.
6. Chateau Vranov Nad Dyji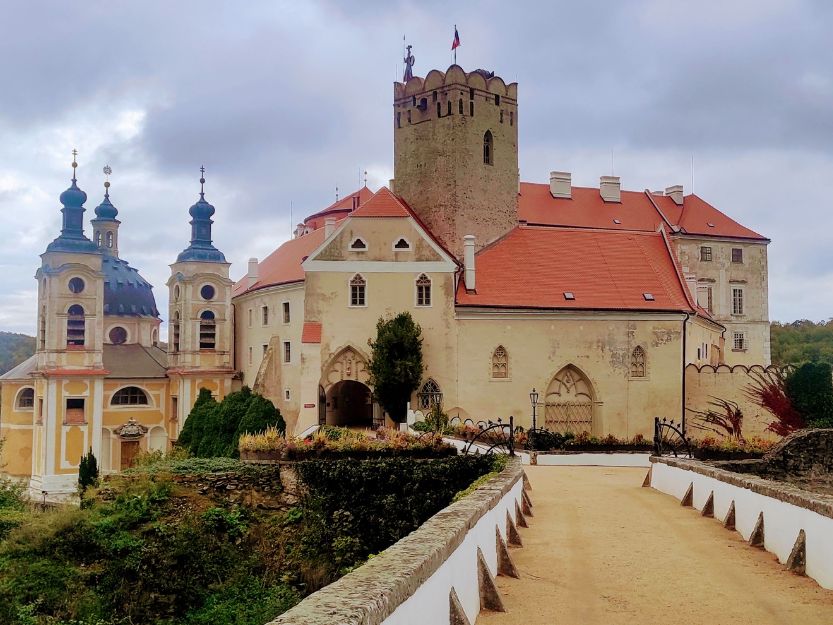 If you like exploring stately chateaus and castles, you absolutely can't miss a visit to the Baroque Chateau Vranov nad Dyji, in its incredible location in Podyjí National Park.
Chateau Vranov nad Dyji as it currently stands is a reconstruction of a medieval castle from the 12th century, built on a steep rock 80 metres above River Dyje.
After being raged in a terrible fire, its owners – the Althann family had it turned into one of the most impressive secular buildings of Central European Baroque. This fairytale chateau has even been used as a filming location for movies and fairytales.
The chateau is now state-owned and during tourist season art and history-loving visitors can take guided tours to explore its elaborately furnished interiors. Although there are many rooms to discover in Vranov, the most impressive room has to be the Hall of Ancestors with its vaulted ceiling covered in breathtaking frescoes.
During the tours, you can also familiarise yourself with the lifestyle of Vranov Chateau from the end of the 18th century to the end of the 19th century.
Save some time at the end of your tour to take photos of the stunning views and the two huge marble statues guarding the grand entrance to the chateau.
7. Vranovska Platz Holiday Park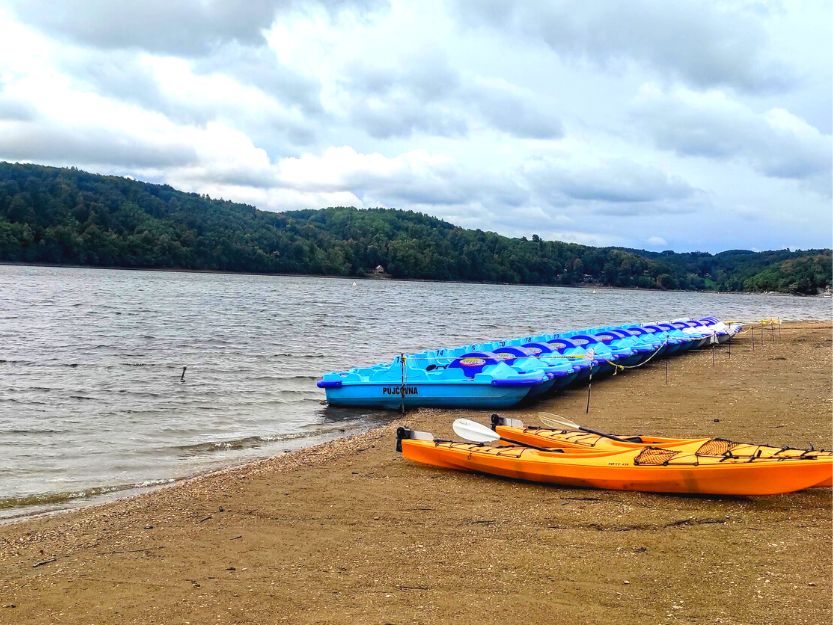 As I mentioned before the Znojmo sub-region has something for everyone. For families and those who enjoy outdoor activity, there is the Vranovska Platz holiday park, located at the Vranovska Dam.
There you will find a lake with manmade beaches where you can rent kayaks, stand-up paddle boards, pedaloes, rowing boats and more. I had a go at SUP but it was rather windy the day we visited and I ended up being blown in the wrong direction.
If adrenaline activities are your thing Vranovska Dam also has a rope park with 17 obstacles and 4 funiculars in the forest. And, if you're brave enough there is also a bridge swing you can try, I would have loved to do this, but I daren't risk it with my dodgy back.
It's also possible to hike or mountain bike to explore the surrounding forests, mountain bikes can be rented on-site. And if you want a good laugh why not give the bumper balls a try, some of our group did this and it looked like lots of fun.
It's possible to visit on a day trip as we did or you can stay over in one of the accommodation options on offer, including mobile homes, cabins and camping. At the holiday park, you'll also find food and drink options. You should have everything you need for a relaxing or activity-filled stay.
8. Podyjí National Park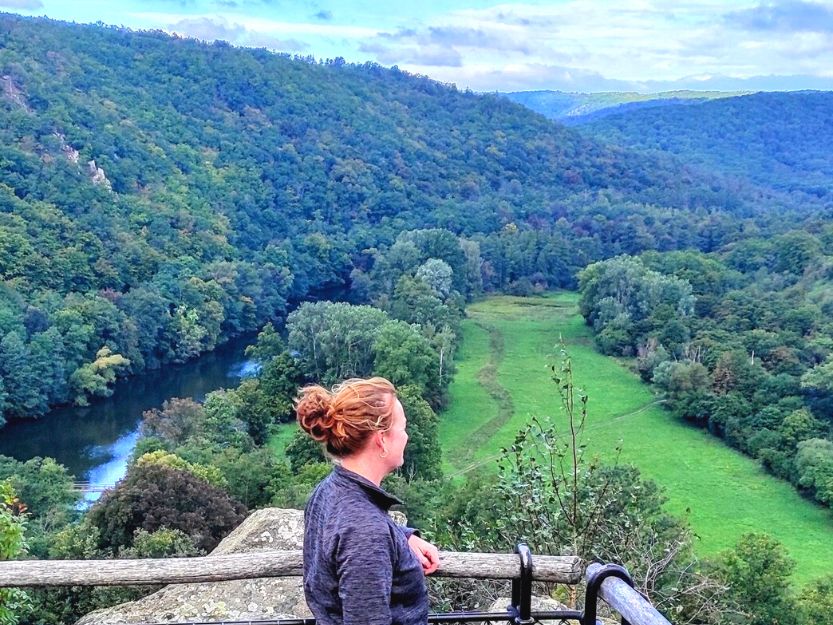 I've already touched on Podyji National Park a few times but for me, this is one of the highlights of Znojmo sub-region, so I wanted to give you some more detail about it.
Podyji National Park is in the Dyji Canyon between the towns of Vranov nad Dyjí and Znojmo. It may be the smallest national park in the Czech Republic but it's also a very well-preserved river valley with breathtaking scenery and a densely wooded landscape.
The Dyje River meanders through the Podyji National Park, alongside rocky banks, meadows, vineyards and orchards. We took a short walk to a viewpoint with stunning views across the park and river.
For me, this short walk was just enough to whet my appetite, for there is also 76 km of well-marked easy to medium-difficulty hiking trails just waiting to be explored.
I will certainly be planning another visit to hike some of the trails when I have more time.
9. Rent a Kayak on Dyje River
Whilst I'm talking about outdoor activities, I should mention that it's also possible to rent a kayak to paddle on the Dyje River. The Stará Vodárna (Old Waterworks) Paddling Centre rents out equipment and the services of instructors.
Sadly, we didn't have enough time for this but it's definitely something that would be on my to-do list for a future visit.
10. Terra Technica in Excaliber City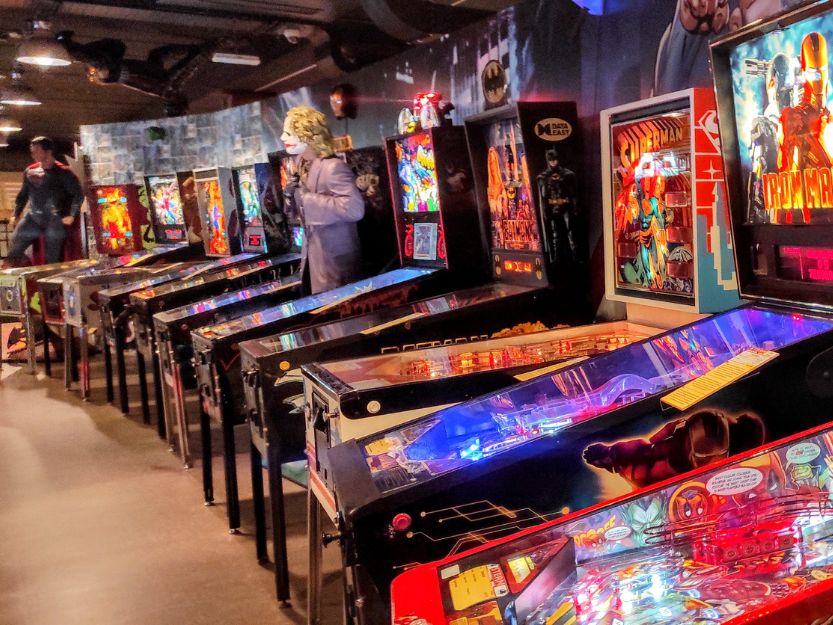 The last thing on my list of best things to do in Znojmo is best suited for families, and those that are young at heart or have a particular interest in collectables.
Right on the border with Austria in Excaliber City (a duty-free shopping mall and entertainment centre) is Terra Technica Museum.
A fun museum, Terra Technica offers visitors the opportunity to travel back in time through huge collections of pinball machines, jukeboxes and other interesting exhibits. Starting in the 1800s you work your way around the museum through the years all the way to the present day.
The best bit about the collection is that you can actually play many of the 950+ jukeboxes and 250+ pinball machines with tokens purchased at reception. A good way to pass a bit of time before or after crossing the border.
Where to Stay in Znojmo
The rooms are laid out on two levels around a terrace and courtyard. They were simple but clean, spacious and modern, with everything you need for an enjoyable stay. The hotel serves up a delicious buffet breakfast, perfect to set you up for a day of exploring.
It is also linked with the Lahofer winery and you're able to buy Lahofer wines from the reception area.
I had a very enjoyable stay at Hotel Lahofer and can highly recommend it.
If you need to overnight at the border you can stay at the themed
Jukebox Hotel
which is also located in Excaliber City, directly opposite Terra Technica. We had a very comfortable stay there.
---
There are so many great things to do in Znojmo in the Czech Republic and this post only covers some of them. So, try to give yourself longer than the three days I had, to enable you to discover all this beautiful, interesting area of the Czech Republic has to offer.
Have you visited Znojmo? If so what was the best thing you did there? If you haven't been there what would you like to do most?
Czech Republic Travel Resources
Planning your trip to the Czech Republic? Here are some of our recommended useful resources to help you have the best time possible:
● TRAVEL INSURANCE IS AN IMPORTANT CONSIDERATION FOR TRAVEL. If you're travelling long-term like us and from the EU, then True Traveller is our go-to option.
If you're from a non-EU country, another option for long-term travel insurance is SafetyWing, which you can pay for on a month-by-month basis. This is also good for shorter trips.
● Find amazing flight deals to the Czech Republic on Skyscanner and Kayak.
● Compare Rental car prices for the Czech Republic on Rentalcars.com.
● Trainline makes it easy to explore the Czech Republic by train and bus, with great prices.
● Booking.com usually have the best hotel prices for the Czech Republic.
● Our go-to for self-catering accommodation for the Czech Republic is Vrbo.
● Before booking accommodation in the Czech Republic, check reviews on Tripadvisor.
● Discover fantastic trips and activities in the Czech Republic with Viator and GetYourGuide.
● G Adventures offer incredible group holidays and tours around the Czech Republic.
Enjoy this post? Pin it for later!
Partnership Disclosure:  All accommodation and activities were complimentary as part of a post-Traverse 2022 FAM trip in collaboration with the Tourism Authority of South Moravia, Znojmo City, and Visit Czech Republic. This did not influence my post in any way and as always I've provided balanced and honest reviews. Read more in our full Product Review Disclosure.