Affiliate link disclosure: This post may contain affiliate links including Amazon that earn me a small commission, at no extra cost to you. Read more in our full Affiliate Link Disclosure.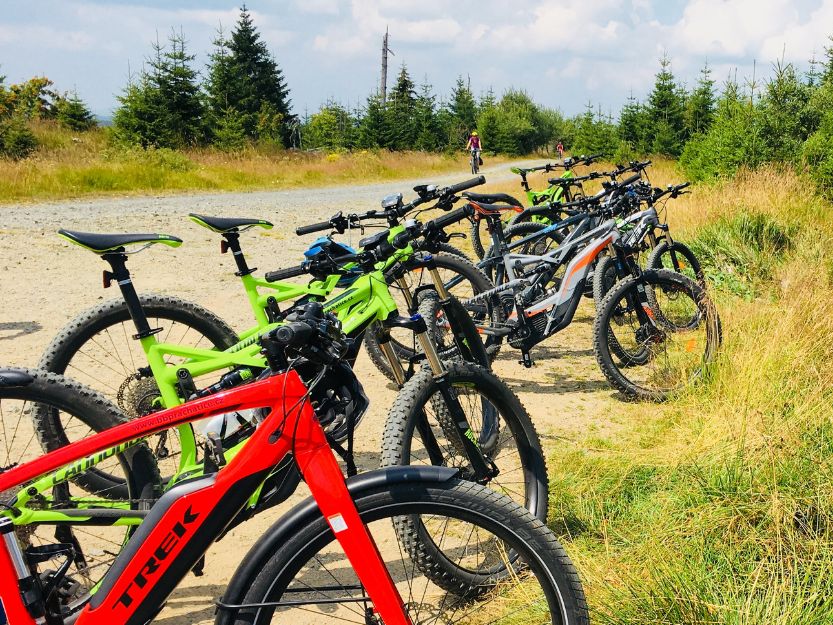 The only places I'd been before in the Czech Republic was Prague and Kutna Hora which I'd visited on long weekend breaks. Whilst there are lots of places you must see in Prague, as I'd never ventured further afield I was completely unaware of how much more the Czech Republic has to offer outside of the tourist hotspots. I spent two weeks in the Czech Republic in 2018 with a gaggle of other travel bloggers for the TBEX conference. First, we explored Ostrava during some pre and post TBEX tours, then after the conference, we headed off on FAM trips with Czech Tourism and various partners to discover more of the country.
Outdoor Activities in Czech Republic
It soon became clear that outside of the cities there are a plethora of fun outdoor activities in Czech Republic to partake in. Here are some of the exciting and exhilarating outdoor activities you can try there.
Via Ferrata Děčín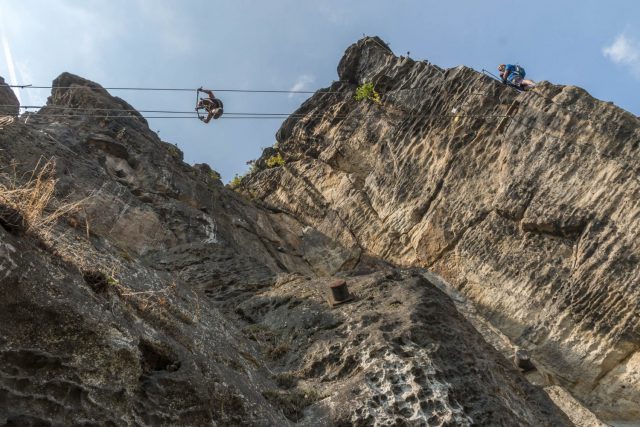 The Děčín Ferrata on Pastýřská Wall is near the Bohemian Switzerland National park in the centre of Děčín. It's directly opposite Děčín Chateau over the River Elbe. There are a total of 14 ways to climb the wall, each of differing length and difficulty. Ferrata is easily accessible, but it does depend on the weather as climbing isn't allowed if it's raining, or when the wall is wet.
You pay only for the necessary equipment, otherwise, this attraction is free. Climbing the ferrata is suitable for physically fit individuals even without rock climbing experience. If you're not sure how to hand the equipment you can arrange an experienced guide to explain everything you need to know.
You can rent complete Via Ferrata sets for climbing at
Bicycle Rental
CYKLOPUJCOVNA 
which is next to the Pastýřská Wall. You can also arrange an instructor who will go with you on ferrata and show you everything. Don't worry everyone can speak English or German in this rental shop.
The best way to get to Děčín is by train as it's located on the international railroad between Prague and Berlin; all trains stop there. The main train station in Děčín only 15 minutes walk away from Pastýřská Wall
Javoricko Caves
The Javoricko Caves in the Olomouc Region of Central Moravia is considered to be the most beautiful cave complex in the Czech Republic. A short 0.5 km uphill hike through a cool and shady forest takes you to the cave's entrance area. A guided tour leads you through a system of huge chambers, corridors, abysses and joints at several height levels.
In the process, you will see a variety of amazing stalactite formations in all sorts of shapes and sizes. From a ceiling full of straws to impressive formations in the Cave of Giants to a unique transparent formation called Záclona (Curtain), each room has its own story.
The Javoricko Caves are a 45 min drive from Olomouc in the Silesian – Moravian Region of the Czech Republic. There are two tours available: a long tour of 60 minutes for 130 CZK (£4.50) per adult and 70 CZK (£2.40 per child) and a short tour of 40 minutes for 110 CZK (£3.80) per adult and 60 CZK (£2.10) per child.
The entrance fee to the caves is also covered by the Olomouc Region Card and opening hours can be found on the
Javoricko Caves
website.
Wakeboarding in the Hradec Kralove Region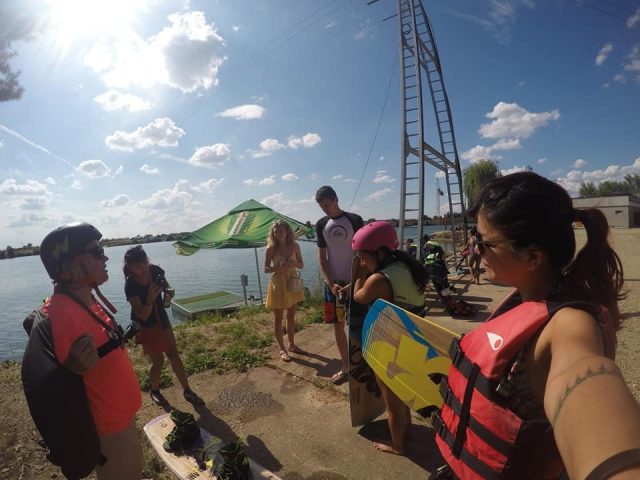 Wakeboarding in the lovely region of Hradec Kralove, as part of my Post Bex tour with Czech Tourism, is definitely one of the best outdoor activities in Czech Republic, it was simply a blast. As a first-time wakeboarder, I had absolutely no idea what to expect. However, as an adventure sports enthusiast, I was excited to give it a whirl.
This adventure is a combination of surfing, water skiing and snowboarding. So, if you excel at either of the three, you would perhaps not fall flat on your face, like I did – several times, at that.
We enjoyed this epic adrenaline rush at the awesome cable wake park in Hradec Kralove.
My experience was a big-time fail as I kept falling and drinking the lake water. However, I would love to try it again and hopefully with some more practice, I can balance myself.
The cost for one hour is 300 CZK (£10.35) and 600 CZK (£20.70) for a full day.
Paddle boating in Seč
Seč is in East Bohemia's Pardubice region. It is easy to reach Pardubice city from Prague on a train and it takes just one hour. From there, Seč is just 28 KMs away and this journey can be done on a car.
Seč is perfect for those who love nature and adventure. There is a massive lake here that's made by Seč dam. The lake is also called Seč. We did paddle boating on Seč lake, which was a lot of fun. There is a little island in the middle of the lake and it is easy to reach there by boat. We rented the paddle boats directly from the beach, which costs as low as 10 euros for an hour.
Apart from this, one can also camp right next to Seč beach. There is a campground there where I saw many tents and campervans.
Downhill Mountain Biking and Drift Triking in Kopřivná
by Can Travel Will Travel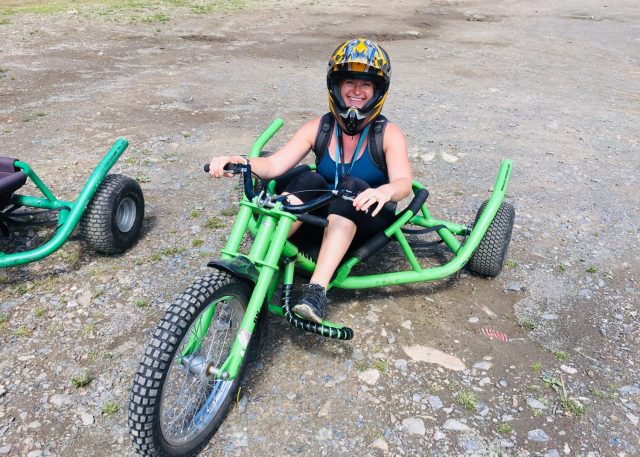 Nestled in the Jeseniky Mountains in the Moravian-Silesian Region of the Czech Republic is the Kopřivná Resort and Bikepark.
The four downhill mountain forest biking trails total 12 km. They vary in difficulty from the Fun Trail to the Gravity Line and Downhill trails full of roots, stones, bridges and other obstacles. Being my first time downhill mountain biking I opted for the Fun Trail. Harder than I expected, I had to stop and start to get over the trickier bits. I even somehow managed to embarrassingly fall off…from a stationary position. 
Running outside of the forested mountain bike trails is a downhill drift trike or 'Bugina' track. These low tricycles have no pedals but are propelled or 'drift' downhill by gravity alone, all you have to do is steer and keep gently on the brakes. This was a bit less nerve-wracking than the mountain biking but just as much fun. 
Bikepark prices are very reasonable at 250 CZK (£8.60) for a half-day pass and 390 CZK (£13.40) for a full day. Mountain bike rental is 400 CZK (£13.75) for half a day and 700 CZK (£24.10) for the full day. 
Downhill Scootering in Bila Opava Valley
by Can Travel Will Travel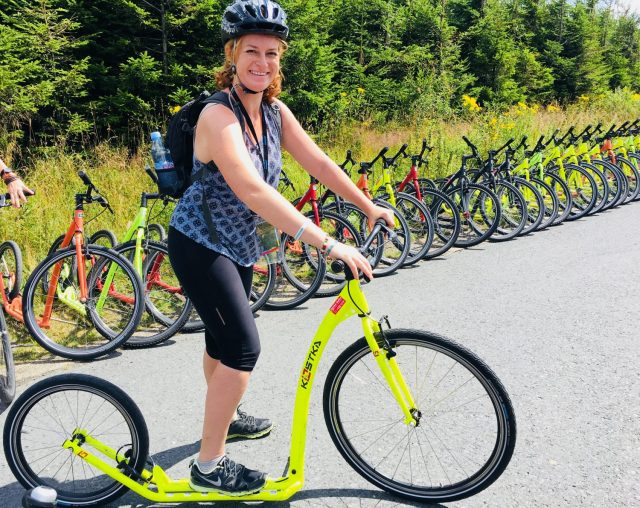 One of the most fun outdoor activities in Czech Republic can to be done in the Jeseniky Mountains a downhill scooter ride from Dlouhé Stráně Reservoir. You start your adventure at Kouty Ski Resort, like other ski resorts in the area is also used for a variety of outdoor adventure activities in the summer. 
After taking the ski-lift and a mini-bus up to the base of the Dlouhé Stráně Reservoir you choose your scooter and helmet. Then all there is to do is to speed back downhill, the whole 17 km of it. Yet another first for me, I must say I was pretty nervous to start with and kept picturing myself falling off or flying off the road. After a while, though I became used to it, relaxed and flew down the roads enjoying the breathtaking views. I was quite disappointed when it came to an end and we arrived back at Kouty Ski Resort.
All prices for the ski-lift and scooter rental and opening hours can be found on the Helia Sport Shop website. 
Electro Biking in Sumava National Park 
by Can Travel Will Travel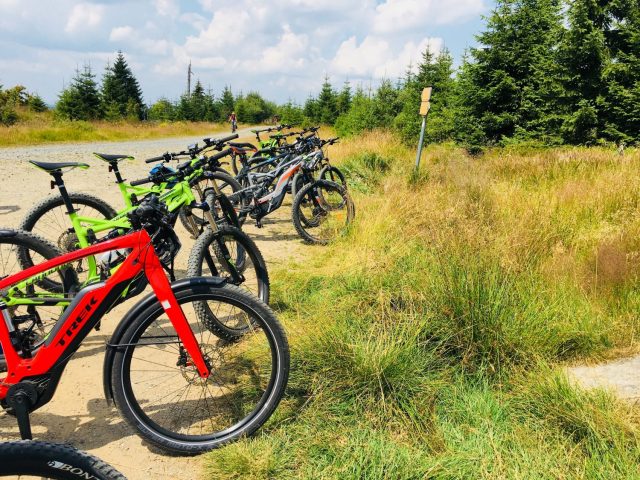 The Šumava National Park in the South Bohemian region of the Czech Republic along the border with Germany. The perfect way to explore this forested landscape called the "Green Roof of Europe" is by electric mountain bikes (electro-bikes or e-bikes). The best place to start your adventure is from the town of Prachatice at the welcoming Bed & Bike Prachatice where you can also spend the previous night.
You can take the e-bikes out yourself, or if you prefer a guide can be arranged. There are plans to open up other recharging stations in the Czech Republic, so soon it should be possible to take e-bikes for multiple days or have different start and end points.
We took a guided 25 km
electro-bike tour to discover Šumava National Park
and had the best time exploring the plateaus, peaks, canyons and peatlands that team with flora and fauna. We were grateful for the 'electric' part of the bikes on a few occasions as there are some steepish ascents to contend with. And, of course, being in the Czech Republic we couldn't go the day without a beer so our exertion was broken up with a beer and lunch stop at 
Brewery Modrava
.
E-bike rental is included in the price of the accommodation at Bed & Bike Prachatice and is a steal at just €100 per apartment.
Hiking and Cycling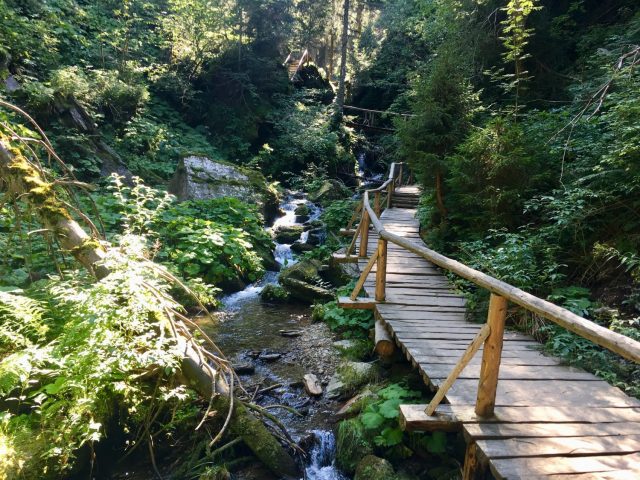 The Czech Republic is a dense network of hiking trails and cycling routes, some of which are international, passing into and even through neighbouring countries. 
There are far too many great hikes and cycle routes to detail here but I did a couple which I really enjoyed. One was a 14 km hike through the Bila Opava Valley to its highest peak Praded to spend the night in the TV Transmitter building. The other was through some of the woods and peatlands of Sumava National Park. If you like long-distance hikes, one to add to your list is the Golden Path which connects Prague with Salzburg.
Apart from my fun day out on the e-bike, the only other opportunity I had to cycle was from Ostrava, across the Polish border to the town of Chalupki. Unfortunately, this ended in disaster as I got caught in a huge storm and had to turn back looking like a drowned rat. 
Czech Republic Accommodation
With all these outdoor activities in Czech Republic to partake in, you'll need overnight accommodation at some point. For the budget conscious there are over 500 campsites in the Czech Republic, largely located along the myriad of wonderful hiking and cycling routes that navigate the country. The beauty of these is that in addition to traditional pitches for tents, many also offer cabins, standard and luxury bungalows and rooms, and static caravans, etc. 
Near to, or in cities and towns you should be able to find something to suit your budget and travel style via accommodation websites such as Booking.com
---
With such a huge variety of great outdoor activities in the Czech Republic to consider (and believe me I've only shared a very small sample here). I can guarantee you'll be spoilt for choice. There's something for everything, so go and get that adrenaline pumping.
Have you tried any outdoor activities in Czech Republic? Tell us about it in the comments.
Czech Republic Travel Resources
Planning your trip to the Czech Republic? Here are some of our recommended useful resources to help you have the best time possible:
● TRAVEL INSURANCE IS AN IMPORTANT CONSIDERATION FOR TRAVEL. If you're travelling long-term like us and from the EU, then True Traveller is our go-to option.
If you're from a non-EU country, another option for long-term travel insurance is SafetyWing, which you can pay for on a month-by-month basis. This is also good for shorter trips.
● Find amazing flight deals to the Czech Republic on Skyscanner and Kayak.
● Compare Rental car prices for the Czech Republic on Rentalcars.com.
● Trainline makes it easy to explore the Czech Republic by train and bus, with some of the best prices.
● Booking.com usually have the best hotel prices for the Czech Republic.
● Our go-to for self-catering accommodation for the Czech Republic is Vrbo.
● Before booking accommodation in the Czech Republic, check reviews on Tripadvisor.
● Despite Google search we still like to use travel guidebooks for ideas for our Czech Republic travel.
● Discover fantastic trips and activities in the Czech Republic with Viator and GetYourGuide.
● Bookmundi, G Adventures, and  Intrepid Travel offer group holidays and tours in Czech Republic.
Enjoy this post? Pin it for later!
Product Review Disclosure: Most activities mentioned were complimentary as part of pre and post-tours and FAM trips for TBEX Ostrava 2018. These were in collaboration with Czech Tourism and various other partners. This did not influence my post in any way and as always I've provided balanced and honest reviews.