Affiliate link disclosure: This post may contain affiliate links including Amazon that earn me a small commission, at no extra cost to you. Read more in our full Affiliate Link Disclosure.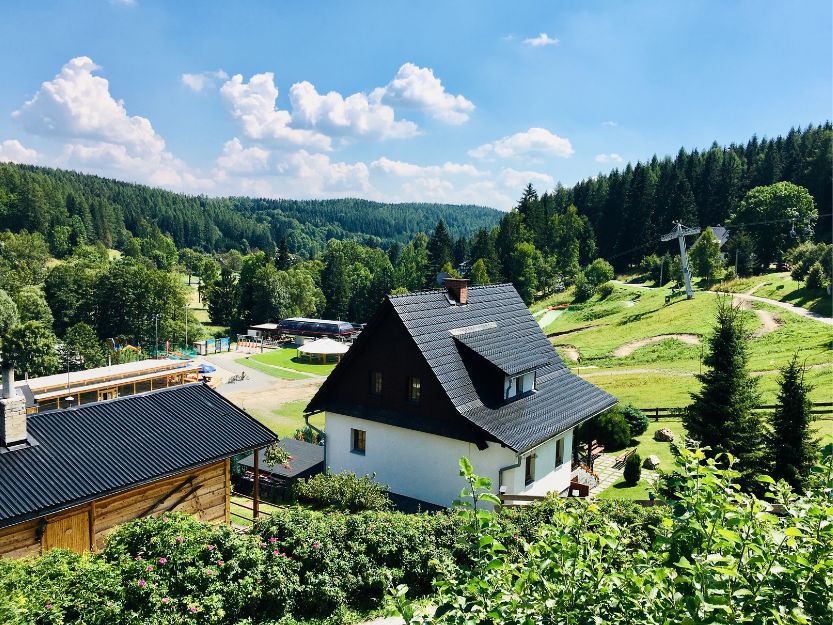 Jeseniky Mountains, the second largest mountain range in the Czech Republic is found in the Moravian-Silesian Region of the country. Despite its popularity amongst holidaying Czechs, it's still relatively unvisited by foreign tourists, making it perfect for a more off-the-beaten-track escape. After a busy TBEX Europe 2018, exploring all the things to do in Ostrava, I joined Moravian-Silesian Tourism and Visit Czech Republic to discover the raw beauty of Jeseniky Mountains. Along with several other bloggers I spent three days exploring the area and had a fantastic time.
My favourite parts have to be the adrenaline-filled activities we tried out. In fact, I had three new firsts: downhill mountain biking, downhill drift triking and downhill kick-scootering. Under the watchful eye of our guide we tried two of these activities at Bikepark Kopřivná, part of the Kopřivná Ski Resort.
Adventure at Bikepark Kopřivná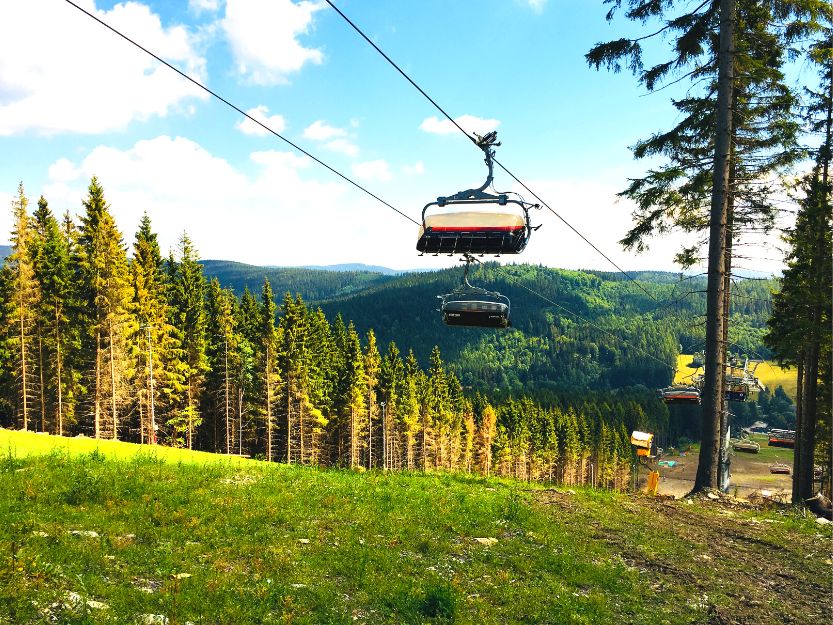 Nestled amongst beautiful green forests and surrounded by clean, fresh air in the Jeseniky Mountains is Bikepark Kopřivná in the Kopřivná Ski Resort. During the winter it's a ski resort and by summer a bikepark, it's an adrenaline junkies paradise. There's also a funpark that has activities for children and team building such as tubing, trampolines, a climbing wall, small-scale paintballing and a volleyball court.
The bikepark has excellent downhill mountain bike trails, plus a drift triking route. 
To reach the start of the trails a ski-lift ferries visitors high up through the trees. Staff are always on hand at the bottom to pop the equipment on the ski-lift for you so all you have to do is sit back and enjoy the views.
Downhill Mountain Biking
There are four downhill biking trails through the forest at Kopřivná, totalling 12 km and of differing levels of difficulty. The easiest is the Fun Trail, whilst the technical Gravity Line and Downhill trails are much more challenging, full of roots, stones, bridges and other obstacles. There is also an area where you can practice jumping on your bikes, landing safely on a large airbag.
Having never tried downhill mountain biking before I opted for the Fun Trail, which turned out to be much harder than I expected. My heart leapt into my mouth more than a couple of times as I nearly went flying when I hit a random rock or unexpected drop. I had to stop several times to walk the bike over the tricky bits. I even managed to fall off at one point from a stationary position, which was very embarrassing. 
Some of the other bloggers were feeling braver than me and had several goes on harder trails, once was enough for me though – especially after my tumble. I'd love to try it again another time though, but wearing knee and elbow protectors (which you can also rent at Bikepark Kopřivná).
Downhill Drift Triking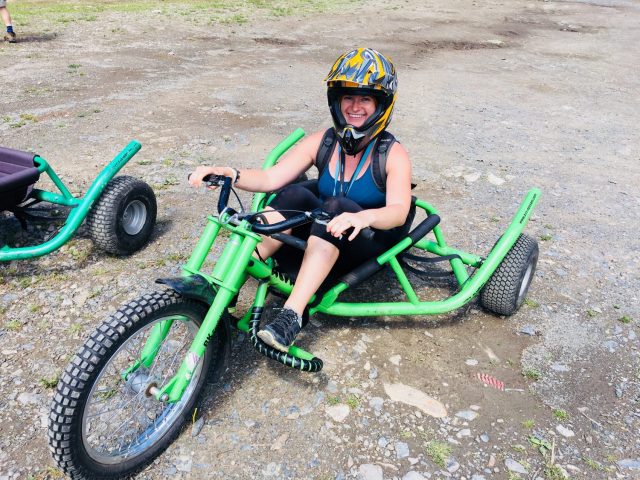 Another fun and adrenaline-filled activity at Bikepark Kopřivná is downhill drift triking. It also seemed to need less skill than downhill mountain biking and was much less scary. At least it was for accident-prone me.
The downhill drift trike or 'bugina' track runs down just outside the edge of the forested mountain bike trails. A bugina is a kind of low tricycle with no pedals that is propelled by gravity alone, so it just kind of drifts downhill. All you have to do is stay gently on the brakes and try to steer the contraction so it stays on the track and doesn't drift off course. Of course, I couldn't manage it without a little misadventure. My seat kept coming unattached and meaning my bum was dragging along on the ground as the trike sped downhill.
I think Dave from Dave on Arrival and I must have had the same drift trike as me, as you can see here in his video of our adventures at Bikepark Kopřivná.
I found this activity less terrifying than mountain biking and so much fun I even had a second go. In fact, if we hadn't been running out of time I'd have had a third attempt at it.
Where to Stay in Jeseniky Mountains 
If you're going to spend some time getting your adrenaline rush at Bikepark Kopřivná it makes sense to spend at least one night at Kopřivná Ski Resort. 
Kopřivná Ski Resort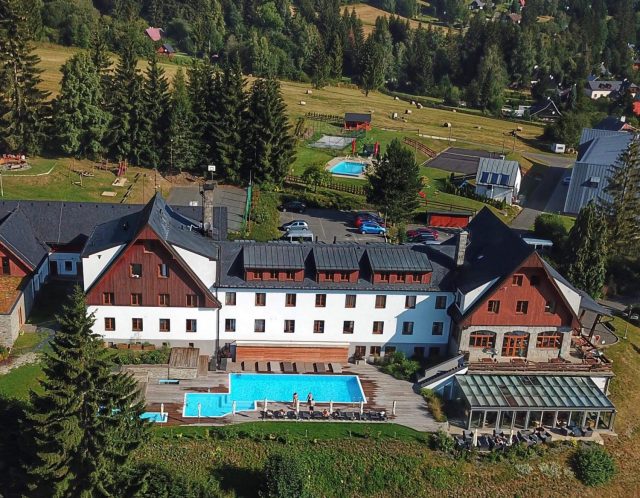 Photo Credit: A Couple of Dreams
The mountain Kopřivná Ski Resort has a range of accommodations to suit different tastes and budgets. The Kopřivná Hotel has a choice of suites or rooms and the Maja Lodge is great for larger groups or those looking for something in the lower price range. Then at the foot of the ski slope is a more luxury-style cottage with its own private jacuzzi and sauna.   
We spent our one night at Kopřivná Ski Resort in the Kopřivná Hotel. I had a simple and small, but comfortable room on the second floor that offered views out over the pool, bikepark and funpark. The shower room and toilet were also small but adequate and in the hallway, separated from the bedroom was a useful work desk and storage area for clothes and bags.
My favourite part of the hotel was the heated outside pool on the main terrace. It was surrounded by sunbeds and even had a mini water slide. On our only morning there, several of us enjoyed a refreshing early morning dip before breakfast and relaxed in the sun before breakfast.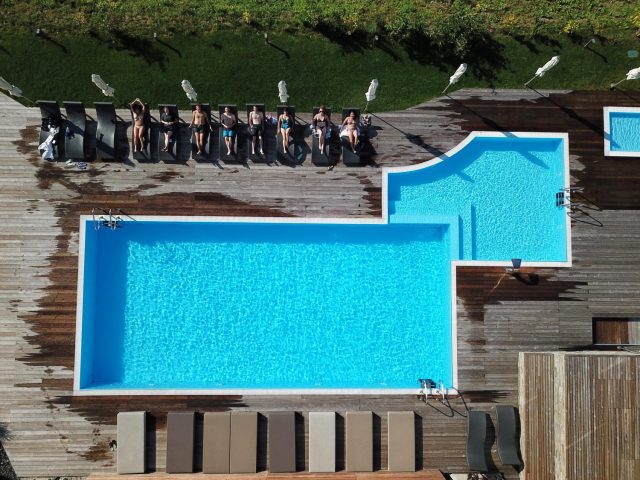 Photo Credit: A Couple of Dreams
For those who like to be pampered the resort also has a wellness centre with various facilities available at an extra cost. There are saunas and treatments, including massages and also a cosy lounge with a fireplace. 
The hotel facilities are further complemented by the stylish Restaurant-bar Kopřivná. It has huge glass windows and a balcony overlooking the ski slope, bike trails and green valley.
We enjoyed dinner, breakfast and lunch there and I was impressed with all of them. If you're a meat eater don't miss out on the rump steak, cooked to perfection, and the delicious chocolate souffle with blueberries for dessert! The buffet-style breakfast had a huge array of choices: cereal, fruit, yoghurt, cheese and meat, eggs, bread, cakes and pastries. Lunch was similar to dinner, but on a smaller scale and with the option of a set menu based on traditional Czech dishes.
Other Accommodation in Jeseniky Mountains
Other than Kopřivná Ski Resort there are plenty of other accommodation possibilities in Jeseniky Mountains. For example, on our last night, we stayed at Hotel Praděd after hiking to Praded peak. This is a truly unique place to stay as the hotel is in an old television transmitter and is also the highest building in the whole of the Czech Republic.
Take a look on Booking[.]com to find plenty of other places to stay in Jeseniky Mountains.
Other Adventure Activities in Jeseniky Mountains
Besides Bikepark Kopřivná there are also several other adventure activities in Jeseniky Mountains to keep you occupied for several days including:
Downhill Kick Scootering
For yet another huge adrenaline rush, why not give downhill kick scootering a go. You can do this at Kouty Ski Resort, from where you take a ski-lift and mini-bus up to Dlouhé Stráně Reservoir. Once there you collect a scooter and helmet, then career back downhill for 17 km until you get back to Kouty Ski Resort. It was an exhilarating experience and the views were just breathtaking. Prices and opening hours can be found on the Helia Sport Shop website.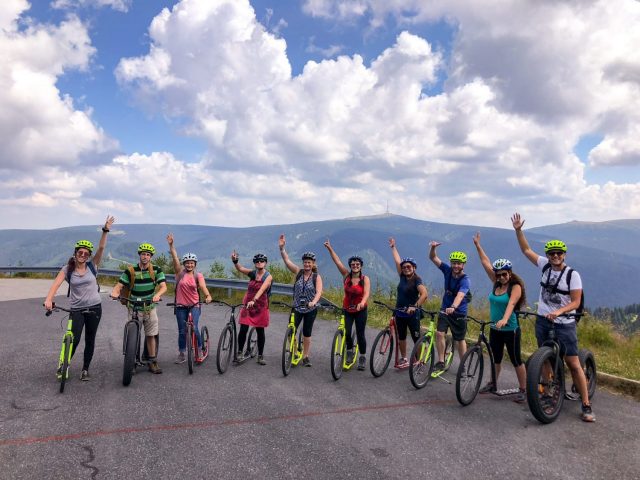 Photo Credit: Brogan Abroad 
Hiking
There are many hiking opportunities in Jeseniky Mountains, as detailed on the Jeseniky Mountains website. We hiked about 14 km from the spa village Karlova Studanka through the Bila Opava Valley to Mount Praded, the highest peak in the Moravian–Silesian region. The hiking trail followed the Bila Opava River and up and through the forest and over bridges to the summit of Praded. This hike is best ended with a stay at Hotel Praded, after all, how many people can say they've slept in a TV transmitter. This video by Nate from Nate Meets World showcases the highlights of our hike.
Boating
Slezská Harta, nicknamed the Jeseniky Sea is one of the most picturesque dams in the Czech Republic. Surrounded by woodland it's a scenic beauty spot popular with locals. When we were there it was buzzing with families and friends enjoying the sunshine and water. It would be perfect for a leisurely picnic. A favourite activity amongst visitors is boating in one form or another. You can rent a rowboat, paddle boat or pedalo or kayak, the prices are all on the Slezská Harta website. We had lots of fun taking paddle boats for an hour or so, some of the others also jumped in for a swim.
---
My three days in Jeseniky Mountains was one of my favourite parts of my time in the Czech Republic. If you're an outdoor adventure activity fan, or simply like being outdoors enjoying nature then definitely think about adding Jeseniky Mountains to your itinerary.
Have you been to Jeseniky Mountains and tried any adventure activities? f you haven't been what would you like to try the most?
Czech Republic Travel Resources
Planning your trip to the Czech Republic? Here are some of our recommended useful resources to help you have the best time possible:
● TRAVEL INSURANCE IS AN IMPORTANT CONSIDERATION FOR TRAVEL. If you're travelling long-term like us and from the EU, then True Traveller is our go-to option.
If you're from a non-EU country, another option for long-term travel insurance is SafetyWing, which you can pay for on a month-by-month basis. This is also good for shorter trips.
● Find amazing flight deals to the Czech Republic on Skyscanner and Kayak.
● Compare Rental car prices for the Czech Republic on Rentalcars.com.
● Trainline makes it easy to explore the Czech Republic by train and bus, with great prices.
● Booking.com usually have the best hotel prices for the Czech Republic.
● Our go-to for self-catering accommodation for the Czech Republic is Vrbo.
● Before booking accommodation in the Czech Republic, check reviews on Tripadvisor.
● Discover fantastic trips and activities in the Czech Republic with Viator and GetYourGuide.
● G Adventures offer incredible group holidays and tours around the Czech Republic.
Enjoy this post? Pin it for later!
Partnership Disclosure: All accommodation and activities were complimentary as part of a post-TBEX Ostrava 2018 FAM trip in collaboration with Moravian-Silesian Tourism and Visit Czech Republic. This did not influence my post in any way and as always I've provided balanced and honest reviews. Read more in our full Product Review Disclosure.