Affiliate link disclosure: This post may contain affiliate links including Amazon that earn me a small commission, at no extra cost to you. Read more in our full Affiliate Link Disclosure.
I'd made plans to visit Cappadocia with my Mum, Sue, several years ago. We'd spent many lovely times researching the planning of the trip, but it was postponed twice, once due to Mum's ill health and then again due to travel restrictions.
Sadly, Mum passed away in July 2021 before we had the chance to take our trip. But, after a lot of deliberation, I decided to still do it in her memory. That's how Andy and I found ourselves there for my birthday in October 2021, and how we got to discover all the fantastic things to do in Cappadocia.
What and Where is Cappadocia?
Cappadocia is a small, semi-arid region situated on a high plateau in Central Turkey. This unique slice of Central Anatolia is about 730 km from Istanbul and 300 km from Turkey's capital, Ankara.
The region has several small villages surrounded by ancient volcanic landscapes cram-packed full of remarkable natural wonders. Geological rock formations sculpted by erosion form a series of mountain ridges, valleys and pinnacles known as fairy chimneys.
Cappadocia is, however, most well-known as one of the most popular places to go hot air ballooning in the world. It's the otherworldly landscape and hot air balloon rides over the valleys at sunrise, that entice thousands of visitors to Cappadocia every year.
Fantastic Things to Do in Cappadocia
Most people only stay in Cappadocia for a couple of nights, just to take a hot air balloon ride, but there's so much more to Cappadocia, that it definitely deserves more time if you're able.
We stayed for four nights but could have happily spent a week there and not run out of things to see and do, and eat of course, in the many great Cappadocia restaurants.
To help plan your trip, here are 13 fantastic things to do in Cappadocia, Turkey. Many are based on our own experiences.
1. Take a Hot Air Balloon Ride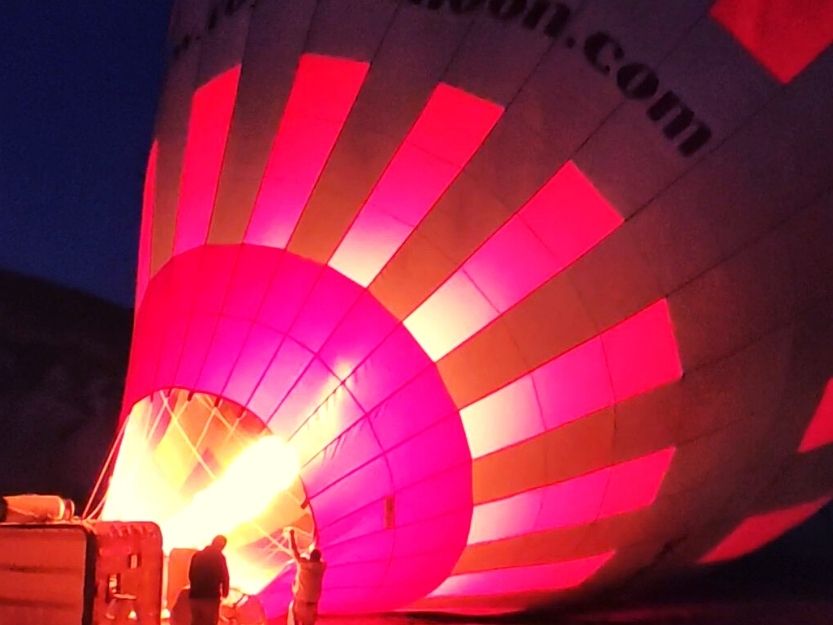 Taking a hot air balloon ride is definitely the most popular thing to do in Cappadocia. It's THE best way to witness and admire the breathtaking, lunar-like landscape. Not to mention the mesmerizing display of all the other balloons around you.
There are many hot-air balloon companies in Cappadocia to choose from, however, I was lucky enough to be invited to join Royal Balloon on their 'Royal Queen Plus' balloon flight on my birthday. Andy tagged along too, although getting him out of bed for the 5 am pick-up was a challenge!
Below is our experience, so you know what to expect from a Royal Balloon flight in Cappadocia.
Cappadocia Hot Air Balloon Flight With Royal Balloon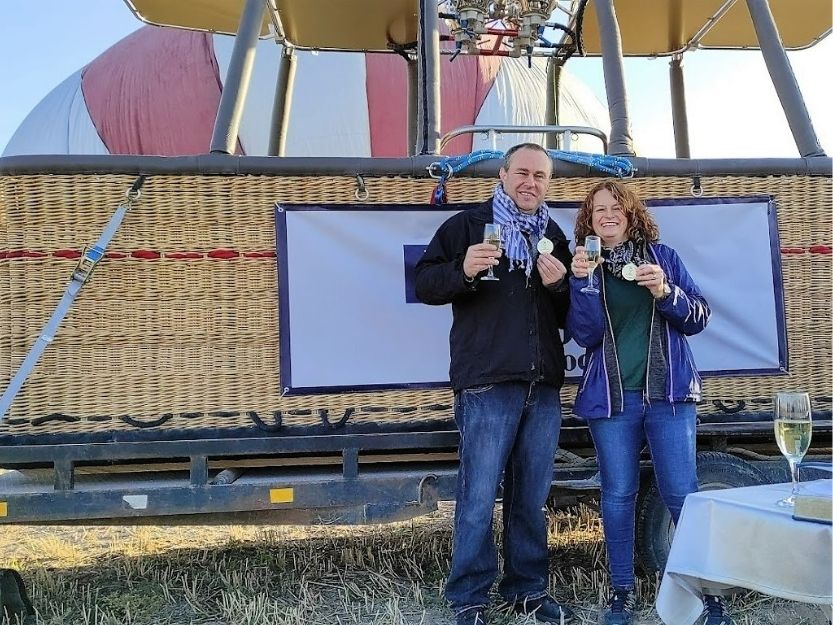 After a delicious buffet breakfast at the Royal Balloon headquarters, we went by minibus to the launch site, where we stopped on a dirt track and got out. As our eyes became accustomed to the darkness we saw we were surrounded by hummocks of several semi-inflated hot air balloons.
Suddenly the red and white checked balloon right next to us roared into life as the flames from the gas burner filled it with hot air to inflate it. What a sight!
Our group clambered into the basket, then our excellent pilot 'Crazy Tolga' gave us the low-down on what was coming up. He also gave us a safety briefing for landing, explaining the squat and brace position we'd have to assume to keep the basket balanced and stop us from falling out should it tip.
With a couple more huge bursts of flame, we began to rise as we watched the flames light up the other balloons surrounding us. This was where our once-in-a-lifetime experience really began.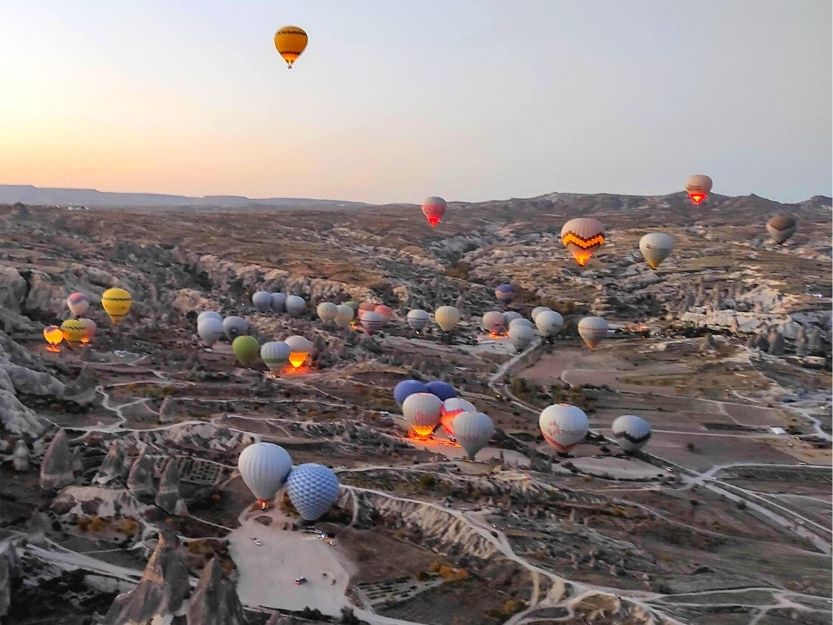 As we drifted above the surreal Cappadocian landscape, the sun rose from behind the rock formations, changing the sky to pink, orange and yellow hues.
We rose silently and smoothly high in the sky as Tolga told us about the geological formations below, before dipping again to navigate amongst the fairy chimneys and other limestone formations.
Surrounding us were over 100 other balloons in a myriad of colours, the views were even more spectacular than we'd imagined.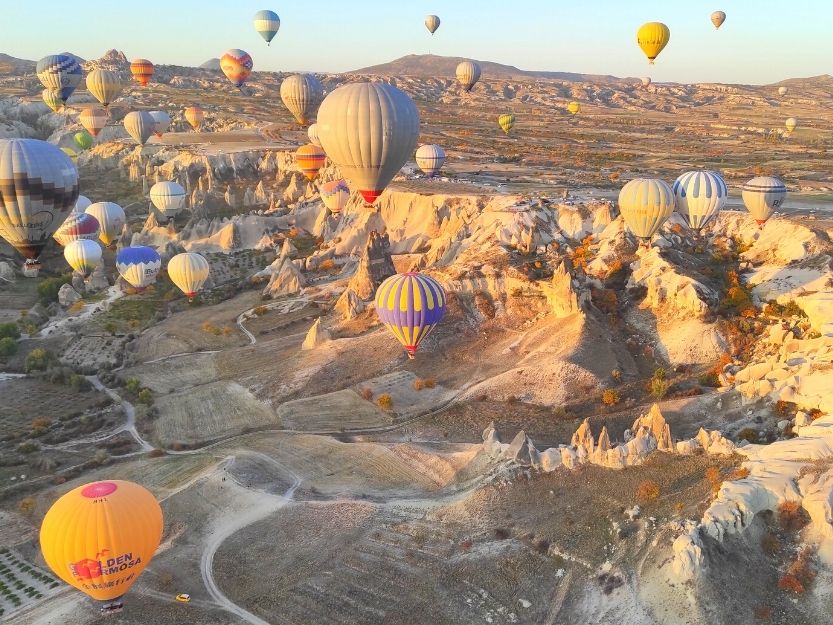 We were in the air for about 60 magical minutes, which in all honesty is difficult to put into words. Suffice to say it was breathtaking, the memory of which will stay with us forever.
To top it all off, once Tolga had skillfully and smoothly landed, we were treated to a champagne ceremony with chocolate strawberries and were presented with a medal. What a perfect end to an absolutely incredible flight, and the best start to my birthday.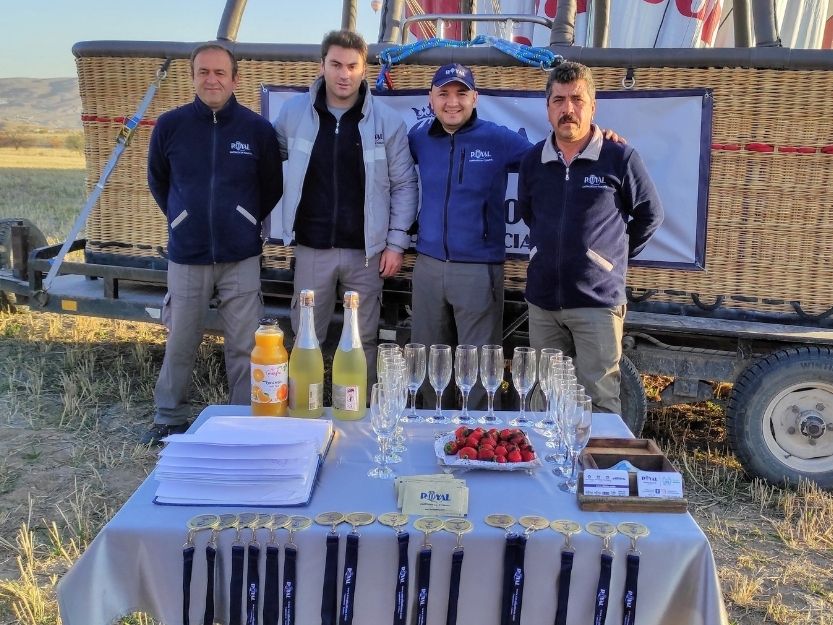 Having researched hot air balloon rides ALOT and having talked to other people who did it, it's clear that not all balloon flights are equal! Some hot-air balloons just go very high and then drop again, while others float down in the valleys (such as Rose and Love Valley). The latter is what you need for the best experience; so be sure to check with your agency of choice and read reviews before booking.
Our Cappadocia hot air balloon flight with Royal Balloon exceeded all our expectations. We can't recommend them enough for your Cappadocia hot air balloon flight. They have a great safety record, an ISO 9001:2008 Certification and extremely skilled pilots with many years of experience. Not to mention thousands of excellent Tripadvisor reviews.
Cost of a Cappadocia Hot Air Balloon Flight
As can be expected a Cappadocia hot air balloon flight doesn't come cheap. However, NOW is definitely a great time to do this as prices are much lower due to the lack of travel and tourists over the last two years.
Currently, you can expect to pay from around €100 upwards for a hot air balloon flight, dependent on the number of people in the group and how long the flight is. However, be prepared for that price to increase as travel and tourism pick up again.
Royal Balloons flight packages start at €100, which is a special online booking price. The Royal Queen Plus flight that we took was priced at €125 for a 60-minute flight for 16 people and included a champagne ceremony, medal and cap.
BOOK A ROYAL BALLOON FLIGHT HERE
Our top tip for taking a hot air balloon flight in Cappadocia is to stay for a minimum of three nights and book your flight for the first morning. That way, if your flight gets cancelled because of bad weather, you'll hopefully be able to get it rescheduled for a different morning.
2. Sleep in a Cave Hotel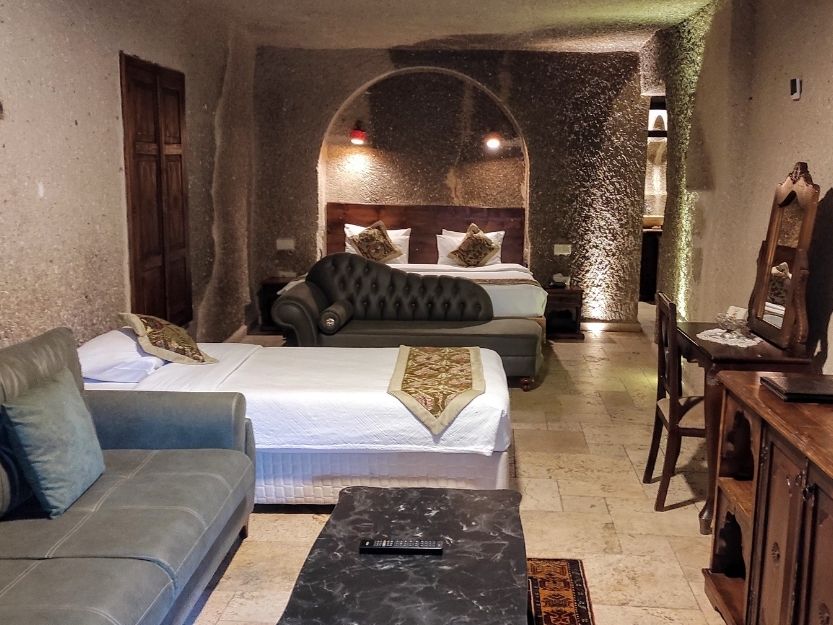 Hot air balloons aside for a minute, another big draw to Cappadocia is the opportunity to sleep in a cave hotel.
Historically, the locals of Cappadocia lived in cave dwellings which they carved by hand out of soft sandstone. Nowadays, many of these ancient cave houses have been transformed into cave hotels.
Before deciding on a cave hotel to stay in, you need to decide what amenities and level of comfort you require as cave hotels vary from budget to high-end luxury. Some don't have windows which means no natural light, and some lack air-conditioning which could be an issue for you in the summer months. On the other end of the scale, you may find places with a hot tub or even a pool in or near your room.
It's imperative to do your research to find one that suits you best, in the area you prefer. The areas with the best cave hotels are Göreme (the tourism centre of Cappadocia), Urgup, Uçhısar and Nevsehir.
The most well-known cave hotel – made famous from their rooftop Instagram photoshoots is Sultan Cave Suites. Other popular ones are Mithra Cave Hotel and Artemis Cave Suites.
For my birthday we wanted to stay somewhere less touristy, but still lovely, without blowing the budget. After lots of research, we chose Erenbey Cave Hotel, set on a little backstreet in Göreme, which was ideal for us.
For more ideas of places to stay in Cappadocia see our 'Where to stay in Cappadocia' section below.
These are probably some of the most unique accommodations you'll ever get the opportunity to stay in, so make sure you don't miss out, even if you just stay for one night.
3. Watch the Hot Air Balloons at Sunrise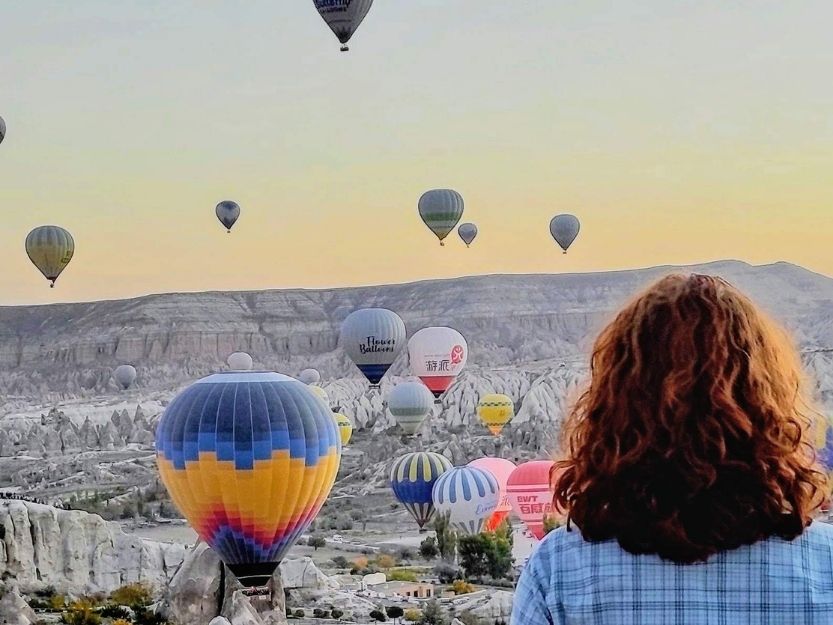 Once you've had a good night's sleep in your cave hotel, watching the hot air balloons at sunrise is undoubtedly the second most popular thing to do in Cappadocia.
Whether you've decided not to take a balloon ride, or you've done one, and now want to see the balloons from a different angle, there are plenty of great sunrise spots to watch them from.
Here are a few of the best:
A Cave Hotel Rooftop Terrace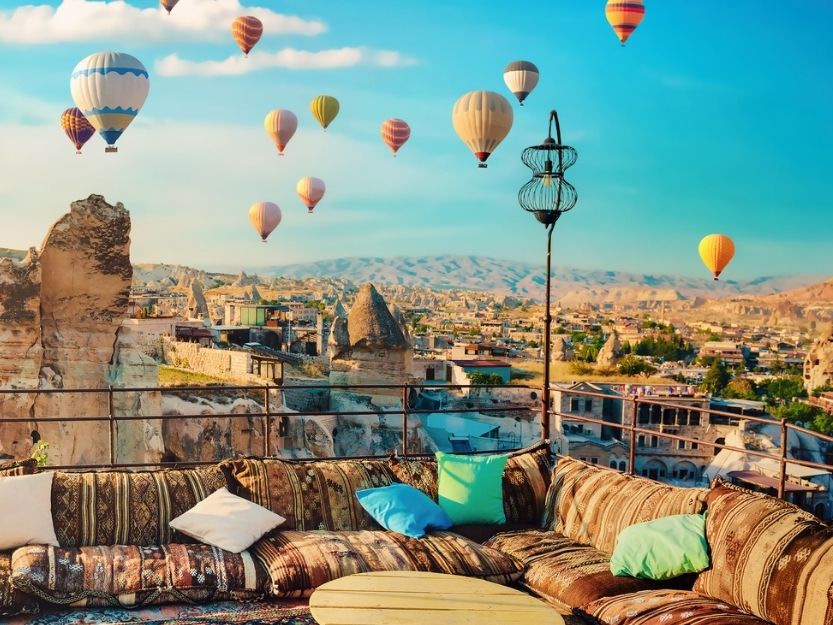 A cave hotel rooftop terrace, spread with colourful rugs and cushions, is the most popular and easiest place (if you're staying there already) to watch the hot air balloons at sunrise. It is also where some of the most iconic Cappadocia Instagram shots are taken, as the balloons float amongst Goreme's fairy chimneys, sometimes nearly within touching distance of the terraces.
The most famous terrace for watching the balloons at sunrise has to be at Sultan Cave Suites, it's the star of many Cappadocia Instagram grids. Other well-known terraces are Mithra and Koza. Of course, being so popular comes with the downside that they can get really busy, making it difficult to get good photos. Also, don't expect to get breakfast as you watch the hot air balloons and take photos, because the fruit basket and coffee on the low tables are generally just props. Another thing to be aware of is that top hotels like these only allow guests to access their terraces.
If the three cave hotels mentioned above are outside your budget, there are plenty of other hotels with equally nice terraces without such a high price tag, such as the charming Erenbey Cave Hotel where we stayed.
Sunrise Point (Aydin Kiragi/ Lovers Hill)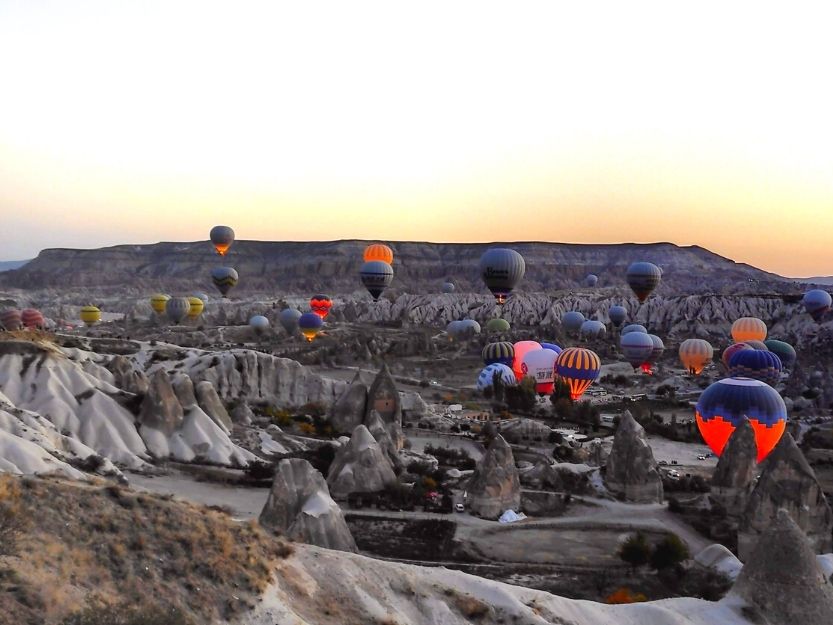 The most convenient place to watch Cappadocia's hot air balloon spectacular at sunrise is Sunrise Point. It's better known to locals as Aydin Kiragi and to visitors as Lovers Hill. You can't miss this viewpoint as it's located right at the top of the hill overlooking Goröme, with a Turkish flag fluttering in the wind.
It's only a 10 or 15-minute walk from the centre of Goröme and there's a small entry fee to pay at a little kiosk before the final walk up the hill. The accessible location means this viewpoint can get really busy – so be prepared for that. However, the space at the top of the hill is fairly large and spread out, so it's still possible to find an empty spot for photos even if it's crowded.
I left Andy in bed one morning and headed up to Sunrise Point about 45 minutes before sunrise. By walking as far as I could along the ridge, I was able to stake my claim to a quiet spot with fewer people and more unique photo opportunities. I'd recommend getting there even earlier than that to give yourself chance to grab a drink from the cafe too and to scout around for the best spot.
The best part of witnessing the sunset from Lovers Hill is that some companies use Love Valley, the other side of one of the ridges, as their take-off site. This means you get to see the hummocks of the hot air balloons slowly inflate and rise above the ridge as the sun begins to brighten the horizon.
Although nothing can compete with taking an actual hot air balloon ride, seeing the balloons take to the skies, one after another, from all directions was also a very exciting and breathtaking experience.
Lovers Hill is probably one of the best places to take sunrise photos of the balloons. As the sun rises turning the landscape golden, you're treated to 360 views over Goreme town, out towards Uchisar Castle and also Red Valley.
Balloon Launch or Landing Site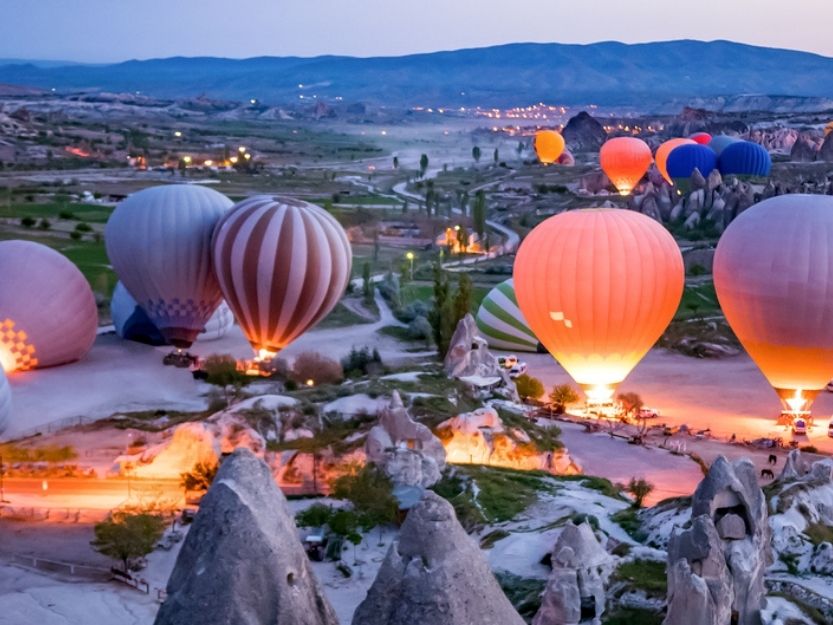 Watching the hot air balloons at sunrise from a balloon launch or landing site can be just as phenomenal as going up in one. Especially if you're not a fan of heights or flying.
There are several different launch and landing sites around Goreme. The locations can differ depending on the balloon company, and the weather and wind positions. Being able to get very close up to the balloons give you the chance to snap some wonderfully unique photos at angles you couldn't take from anywhere else.
If you get to a launch site early enough you'll also get to witness the hot air balloons being set up and inflating which is a spectacle in itself.
One way of deciding which launch or landing site to go to is to watch the balloons from Lovers Hill one morning first. From the top, you can see which spot takes your fancy and head there on a subsequent day, either by foot if close enough or by car/ taxi. You could also ask at your hotel or the yellow taxi rank in town where to go for the best views. Or even just wing it and head out into a random open space and wander around to get different views of the balloons.
If you really can't decide, you can't go wrong with Red Valley which is one area the balloons launch from. You can get there by car or taxi, or it's about a half-hour hike, but don't forget a torch as you'll need to set out in the dark to make it in time.
Or, depending on the weather, Rose Valley can be a good place to get incredible views of the landings. This is very easy to go by car or taxi, you won't need to walk anywhere. Its ease of access also means it's a favourite spot for vintage car photoshoots.
4. Catch Sunset From One of the Viewpoints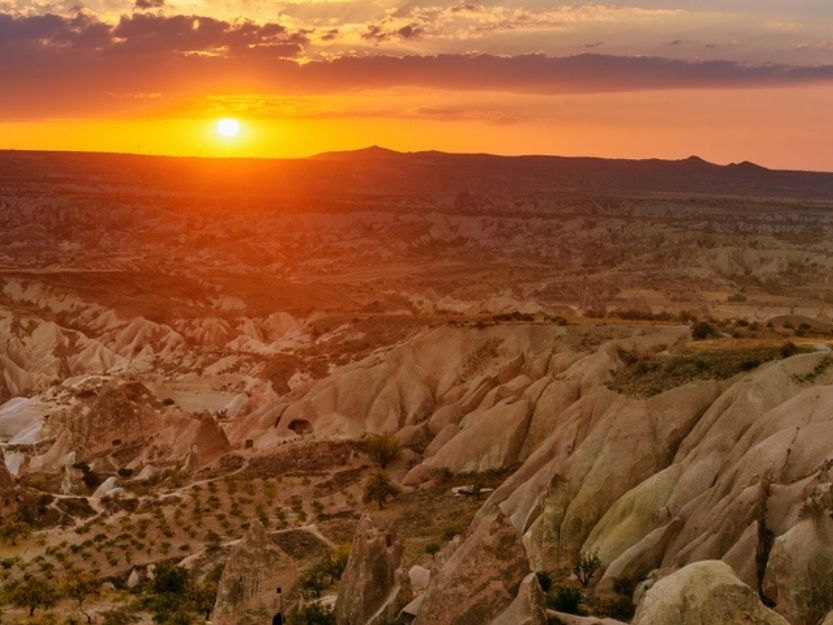 Yes, Cappadocia is most well-known for its sunrises – because of the balloons – but it also has stunning sunsets that shouldn't be missed.
It doesn't really matter where you park yourself to watch the sunset, because they're all as breathtaking as each other. However, two places where you can catch some of the best sunsets are:
Sunset Point (Aydin Kiragi/ Lovers Hill)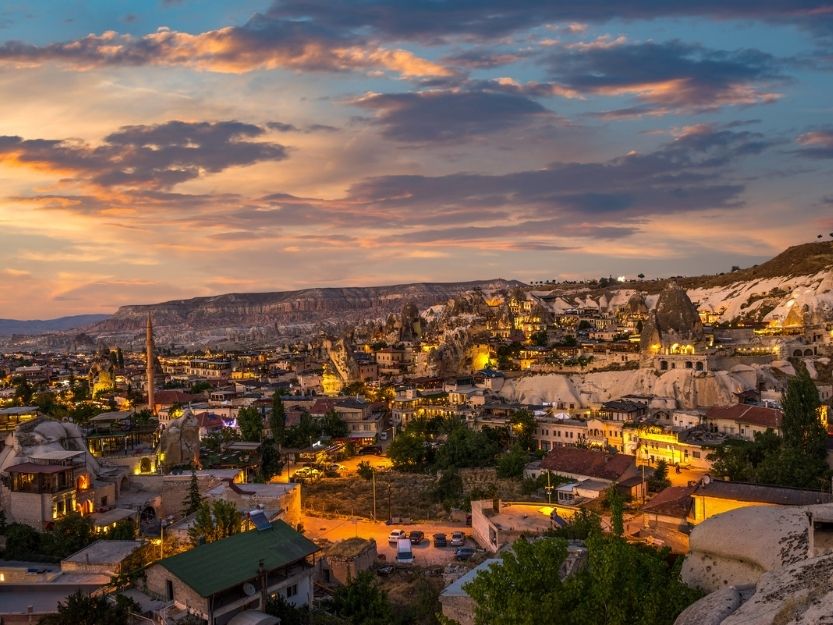 As you've probably guessed from the name Sunset Point is actually the same place as Sunrise Point, also known as Lovers Hill. So, in a nutshell, just about everything I've said above for sunrise regarding location and logistics, applies to sunset too.
Just as for sunrise, this is by far the most popular sunset spot in the area, due to its accessibility and panoramic views. Try to get there about an hour before sunset to give yourself time to grab a coffee, beer or wine from the cafe and find a good place to watch the sunset before it gets too crowded.
The sunset occurs right over Goreme town, but as the sun begins to go down the rock formations of the valleys on the other side start changing into shades of pink and gold. Don't forget to turn round as sunset gets closer so you can see the incredible sight of the sun setting behind Goreme town with the caves and fairy chimneys in the foreground.
Red Valley Panoramic Viewpoint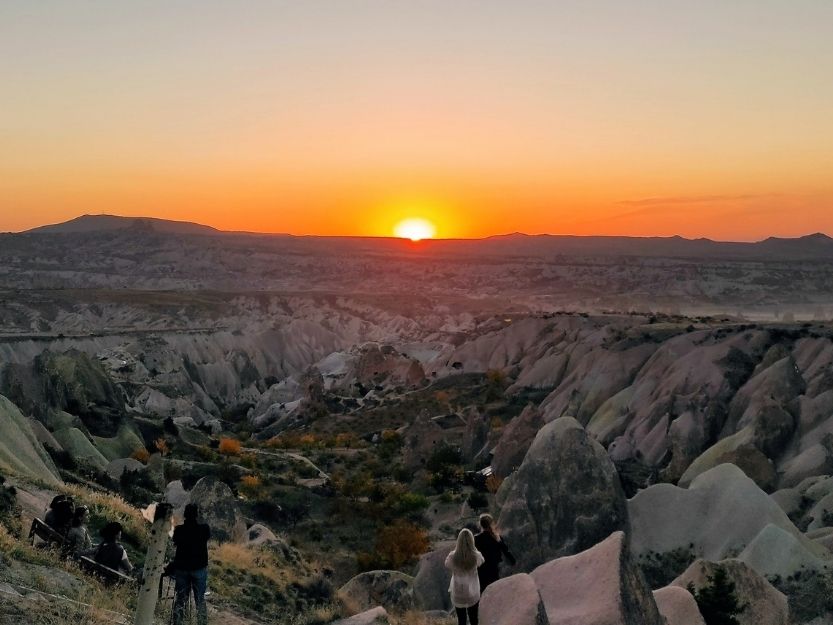 Our personal favourite sunset spot in Cappadocia was Red Valley Panoramic Viewpoint, which was the endpoint of my birthday sunset hike through Rose and Red Valley.
The panoramic sunset views we witnessed over Red Valley were truly spectacular. The sharp sandstone ridges and rock formations turned deep hues of red as the sunset on the horizon. It's after this colourful display that the valley is named.
This is another popular sunset spot and it can get crowded, so again aim to arrive about an hour early to get a good view. There are a couple of places you can choose from to soak up the sunset: Crazy Ali's cafe, a viewing platform to the left or a restaurant to the right of the car park.
We'd read reports that it was possible to buy wine or beer from both Crazy Ali's and the restaurant, but they were only selling hot and soft drinks when we were there. So if you'd like to enjoy an alcoholic sunset drink, I recommend buying it from town before you go.
There are two ways to get independently to the Red Valley Panoramic viewpoint. You can hike from Rose Valley as we did (read more about that below), or take a 10-minute drive via Ortahisar by car (your own or by taxi).
In my opinion, watching the sunset from Red Valley Panoramic Viewpoint is the best possible way to end a day in Cappadocia.
Other Sunset Options
There are several other sunset options you may want to consider if you have more time. Those that also sound as if they would be good (but that we didn't do ourselves) include Uchisar Castle, Pigeon Valley and Love Valley.
Alternatively, you could also make yourself comfy on a pile of cushions and rugs on a cave hotel rooftop terrace. Some of them even light a fire on chilly evenings, which I can imagine would be so cosy.
5. Hike Through the Fairy Chimneys and Valleys of Cappadocia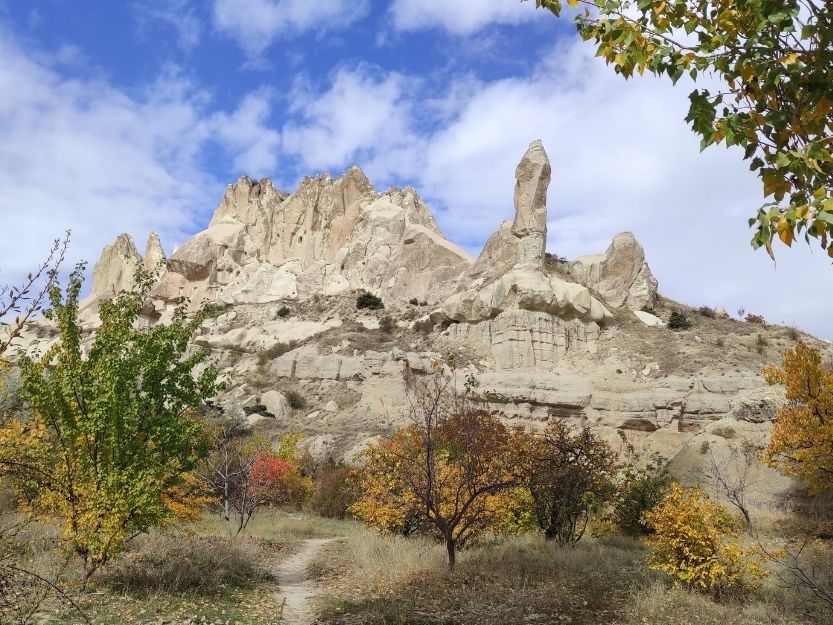 The region of Cappadocia is amazing for hiking, and aside from the hot air balloons was the other main reason I wanted to visit. There are dozens of hiking trails winding through the valleys and fairy chimneys surrounding Cappadocia, just waiting to be explored.
The best way to find a hike you want to do or a valley or two you want to explore is with a Google search. There are several articles dedicated to Cappadocia hikes such as this one and this one.
I did two hikes (one with Andy, one solo) that enabled us to explore some of the best valleys, our experiences are below:
Rose Valley and Red Valley Sunset Hike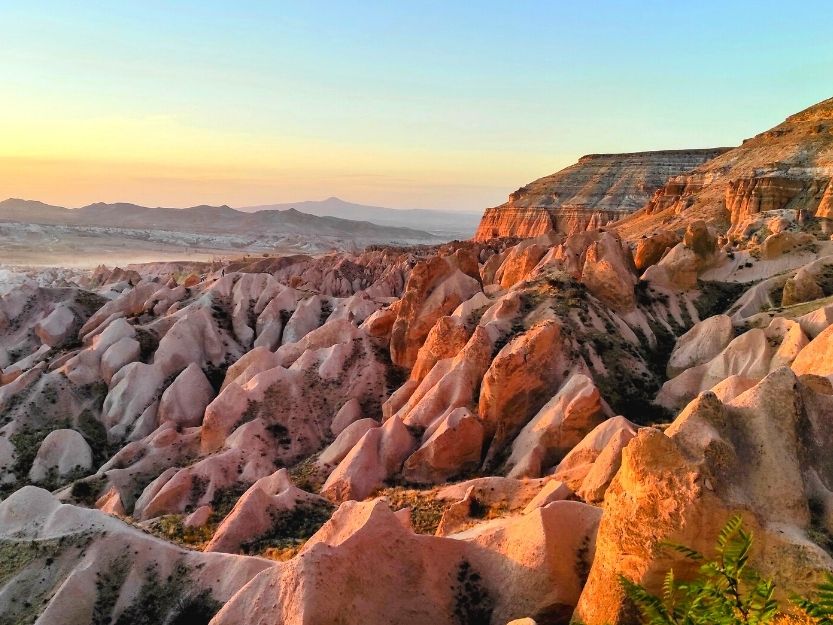 The Rose Valley trail is a loop trail that links with the Red Valley trail to form a figure of eight. We hiked this mid-afternoon on my birthday, but just did half of each of the Rose and Red loops, so we could get to Red Valley Panoramic Viewpoint for sunset.
We caught a taxi at about 2:30 pm to take us the 10 minutes from Goreme centre to the Rose Valley trailhead. From there we walked until we reached the first 'Rose Valley' sign, then headed to the right-hand side of the valley, following the path up and along the mountain ridge.
The rose-pink rock formations are unique, incomparable to anything else I've seen. Over thousands of years, sharp ridges have formed to create a spiky landscape. Usually, one side of the ridge is in shadow, whilst the sun shines on the other, enhancing the scale and definition of the formations.
We followed the trail as it snaked up and over the ridges with a moderate incline. One section seemed to be a passageway carved through the sandstone (it probably was just that). The high walls made it impossible to see over, so it feel as if we were hiking through the rock itself.
Before long we arrived at a colourful little cafe at the top of Rose Valley; a relief as we'd left our water on the seat of the taxi. After stocking up on water, we climbed some rickety wooden stairs to explore the cave church overlooking the cafe. Inside we discovered some impressive, very well-preserved paintings.
Five minutes past the cafe and church the Rose Valley trail loops back around the other side of the valley, but we continued on into the Red Valley as we had a sunset to catch. We traversed the valley and walked up the hill, following the trail as it wound through more sandstone formations. They were full of ancient cave dwellings, churches and pigeonholes.
After about 20 minutes we reached the Red Valley Panoramic viewpoint, where we sat and enjoyed a spectacular sunset, which I already told you about earlier.
Goreme – Pigeon Valley – Love Valley – Goreme Loop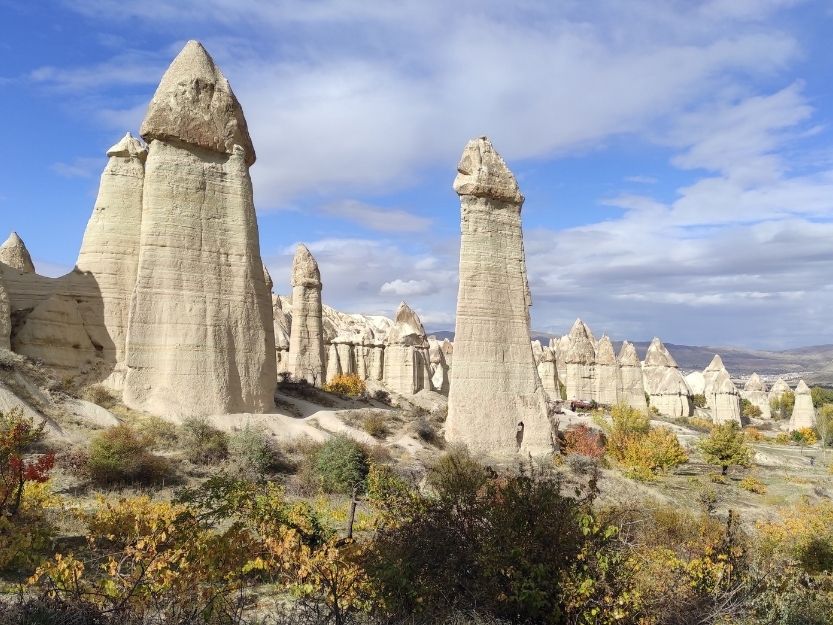 The 12 km loop hike from Goreme, passing through Pigeon Valley, Love Valley and back to Goreme, is great if you want a non-technical hike full of amazing scenery.
I did this hike alone, leaving Andy to have a relaxing day in Goreme. The starting point is on the edge of Goreme town just past Design Cave Suites via a track to the right. It follows a public footpath past some farms, through a gate into a little canyon. From here I hiked along sandy trails through shady wooded areas full of colourful autumn leaves, berries, grapes and apples.
After ducking through a tunnel carved out of the rock, I passed Caglar Tea Garden before carrying on towards Pigeon Valley. The trial led me through an expanse of grassland with stunning views over the valleys in one direction, and the looming Uchisar Castle in the other.
Pigeon Valley was a pleasant walk, both along the bottom of the valley and along the top after a steep ascent up to the panoramic viewpoint. The views back down the valley towards Uchisar castle are incredible.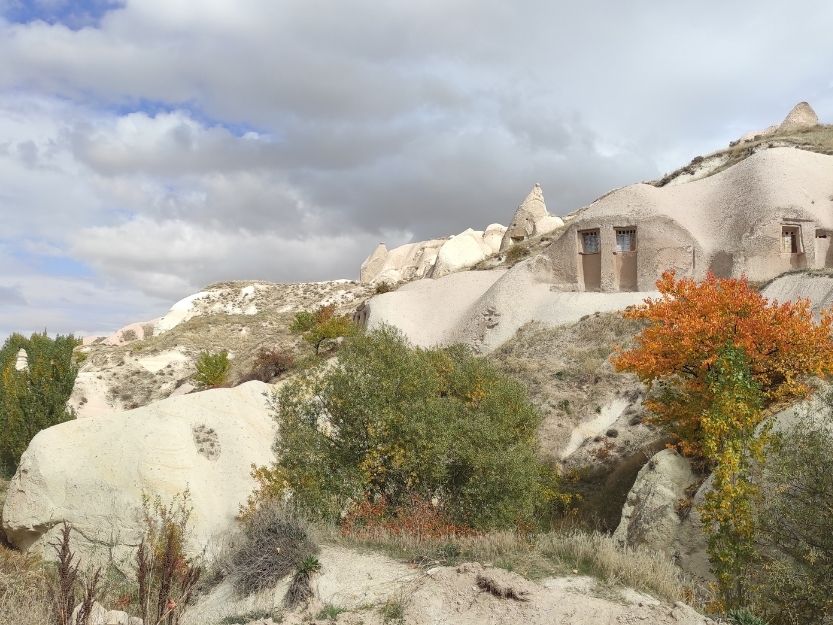 True to name, the sandstone walls of Pigeon Valley were strewn with carved pigeon holes, some with painted patterns, and of course, there were lots of pigeons. In the past, the pigeons were kept for meat, to deliver messages, and for their droppings which were used for fertiliser.
Heading downhill to the main road, I left Uchisar via the path to the left of Ozler Arts Centre and then followed the Love Valley sign pointing to the right. A juice vendor on the left directed me to the trail to the left of his stand which descended sharply downwards. It was sandy and slippery, and I nearly ended up on my bum more than once, but once at the bottom, the route along the valley floor became easier. This part of the trail is called 'White Valley', so-called because of its bright white valley walls.
The trail became overgrown and narrow as I approached Love Valley, and then the white walls of rock gave way to groups of towering pillars. As soon as you see these phallic-shaped rock formations, it becomes apparent why it's called 'Love Valley'. Or maybe not, I suppose you could convince yourself they look like asparagus instead.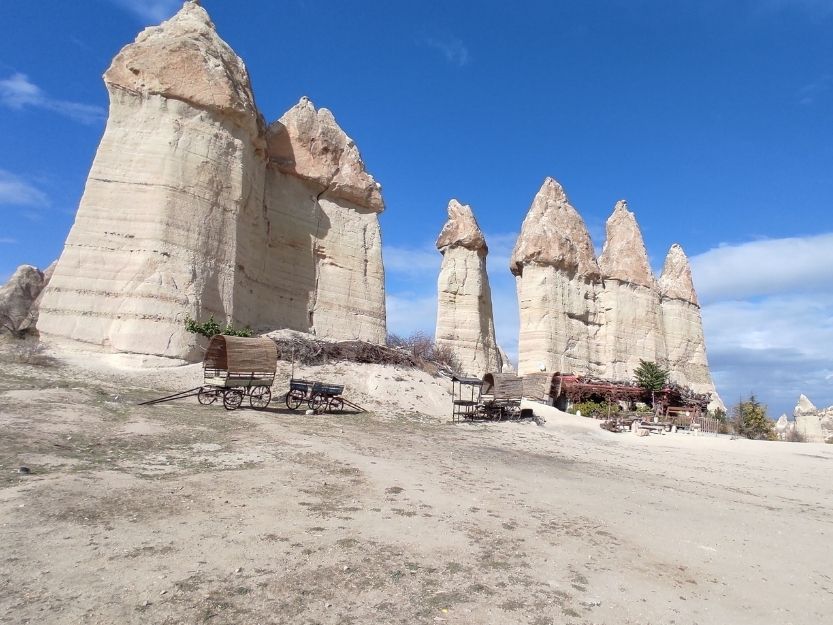 This section of the hike is definitely the highlight. Be sure to give yourself plenty of time, as this is one of the best places in Cappadocia to take some brilliant photos, so you won't want to rush.
You exit Love Valley via another sandy trail that leads to the main road; I got really lucky as I hiked down the trail as a beautiful rainbow appeared right in front of me.
I hiked back to Goreme along the main road as it was late and I didn't fancy wandering the valleys in the dark. However, there are other trails you could take via Rose and Sword Valley or Cavusin village.
Both the hikes I did were great and not too difficult at all. I'd have loved to explore some of Cappadocia's more challenging trails but ran out of time. A good excuse for a return visit though.
If you don't feel comfortable going hiking by yourself, you could take a guided hike through your hotel, a tour agency in town, or online in advance.
6. Go Off Road on an ATV (Quad Bike) Tour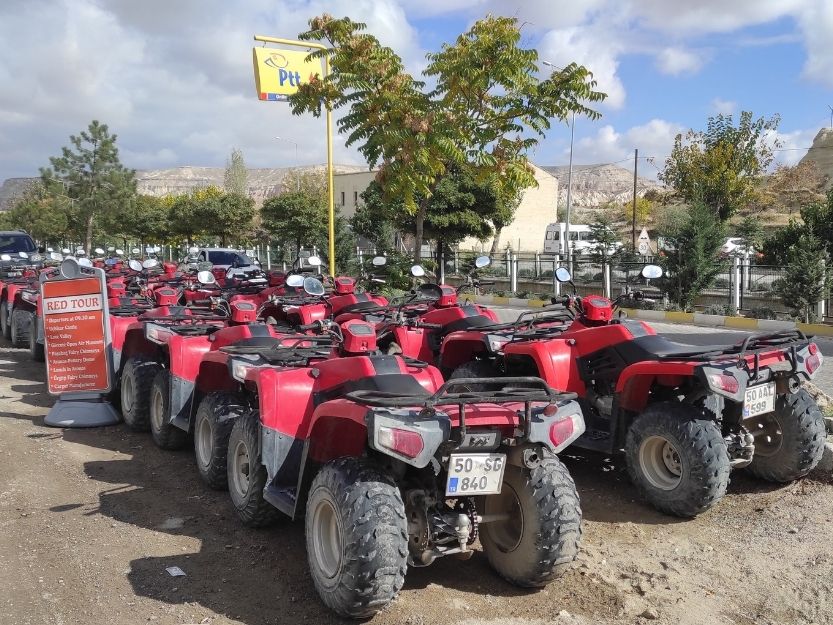 If hiking isn't your thing, or you fancy a more adrenaline-fueled way to explore the valleys, how about getting off-road on an ATV (quad bike)?
Unfortunately, it's not possible to just rent an ATV and venture off into the valleys alone, because it's against Government regulations. However, there are several companies in Goreme offering a variety of quad bike tours, ranging from 2-hour sunset tours to half and full-day tours.
Many of the tours have set routes through the valleys, such as the 2-hour sunset tour that takes you through Sword, Love and Rose Valley. We did speak to a couple of the companies in town though, and it seemed as if they might be flexible and consider tweaking the itinerary. It would depend on how many people were on the tour and where they all wanted to go.
The tour companies seemed much of a muchness to us, so it's probably best to check a few tour companies out in town and see which one and which tour you prefer. Then just book it there and then.
One thing to bear in mind is that most quad bike tours literally just provide a non-English speaking guide for you to follow with no explanations of the places you visit.
If you'd prefer, you could book your quad bike tour online in advance.
BOOK AN ATV / QUAD BIKE TOUR HERE
As always when you're doing adventure activities (or whenever you're travelling for that matter) don't forget to get travel insurance. We use True Traveller, but World Nomads is a good option for non-European citizens. We also like SafetyWing. Find out more about these and read some real-life claim stories in our 'best long term travel insurance' post.
7. Rent an Old Vintage Car to Explore Cappadocia Region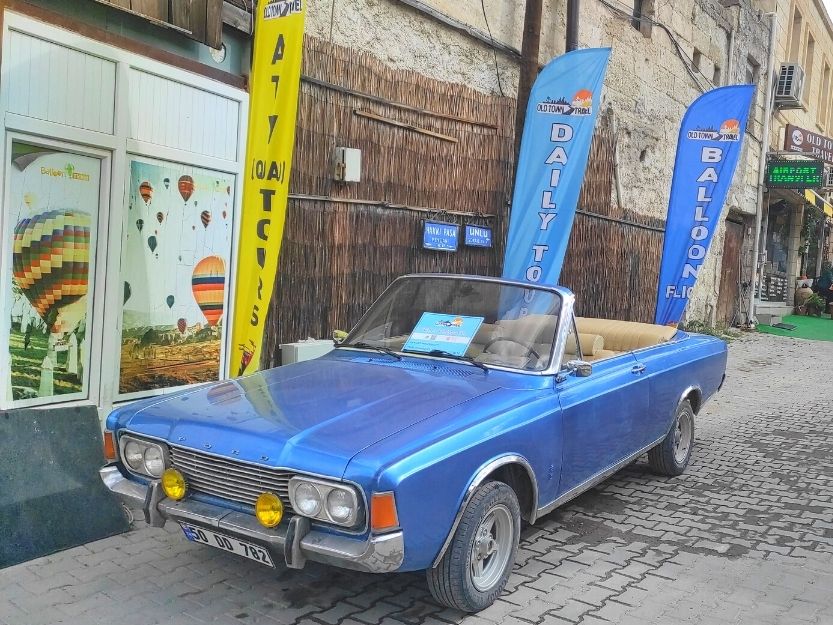 If you'd prefer to explore the Cappadocia region independently and go further afield, renting an old vintage car is a fun and unique alternative.
There's not a huge number of vintage car rental companies in Cappadocia. So if you're visiting in the busy high season and you're set on doing this it would be better to research companies online and book in advance. But if you're planning to go in low season you can probably get away with just visiting a couple of the tour companies in town and booking whilst you're there.
You could also rent a car with a driver if you don't feel confident on dusty roads, in fact, that actually works out cheaper than driving yourself.
It's also possible to hire a professional photographer to join you to take some epic photographs of you and the car, with the valleys and balloons as a backdrop.
8. Visit Uchisar Castle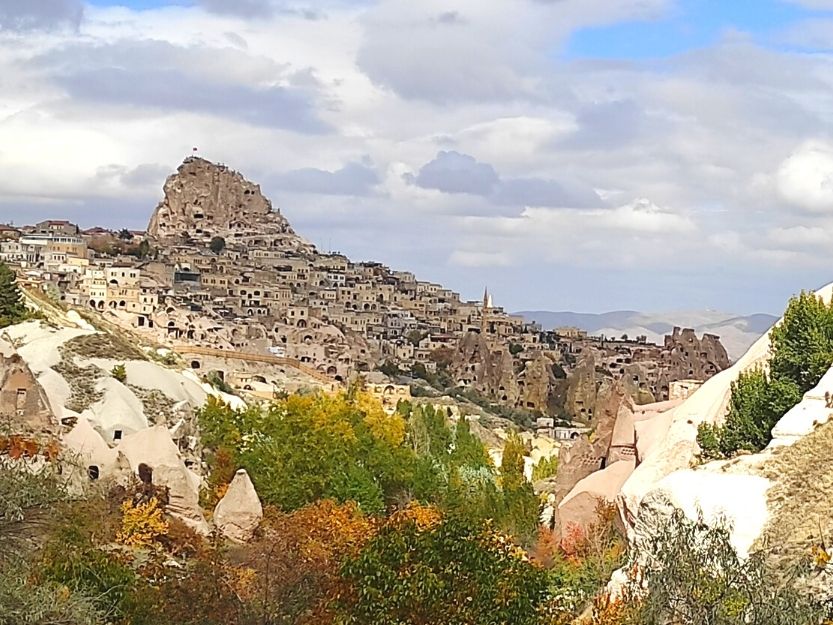 One of the main attractions in Cappadocia is the 60-metre-high Uchisar Castle that dominates the small town of Uchisar. It's the highest accessible point in Cappadocia and can be seen from miles away.
The castle is full of passageways and rooms carved into the soft sandstone. Historically it was a fortress to keep watch for invading armies and also a settlement with around 1,000 residents living in cave rooms.
You can navigate the castle's tunnels and climb up the 100 steps to the top of the castle to witness the astounding panoramic view down over the surrounding valleys. It's definitely worth getting out of breath for.
If you're not staying in Uchisar, there are a couple of ways to get to Uchisar Castle: a ten-minute bus or taxi ride from Goreme or other nearby villages, or a hike via Love Valley or Pigeon Valley. It is also included at the end of the Red Tour.
9. Wander Around an Open Air Museum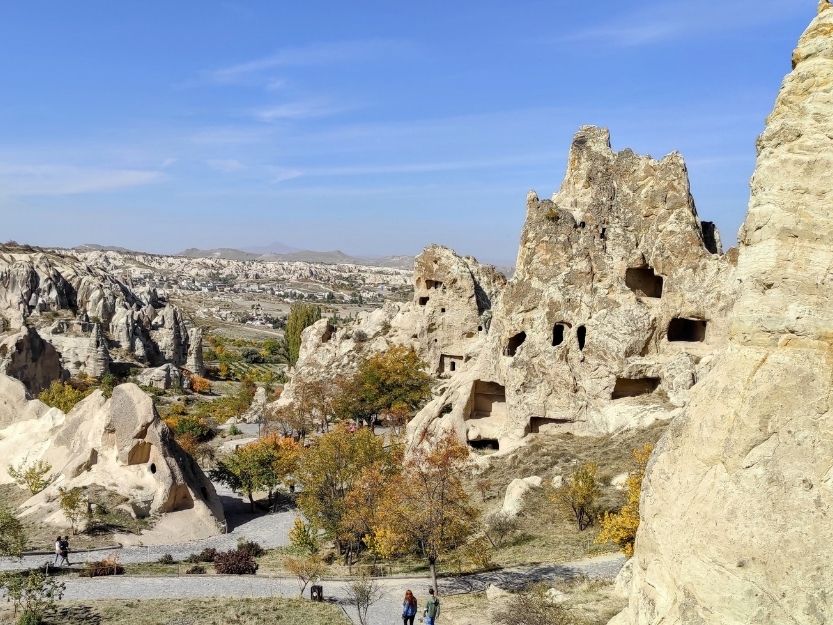 Tucked away in the valleys of Cappadocia are some open-air museums which contain cave dwellings, chapels, churches and monasteries. Wandering around an open-air museum is a fascinating way to spend a couple of hours if you have time on your Cappadocia visit.
Below is a bit more information about the two main open-air museums:
Goreme Open Air Museum
Goreme Open Air Museum is only a 15-minute walk (slightly uphill) from the centre of Goreme, we visited it on my birthday after we got back from our hot-air balloon ride. This UNESCO World Heritage site is a very popular tourist attraction in the Cappadocia region. It's home to several of the region's most important cave churches and monastery complexes, and also many cave dwellings. It's believed these were built between the 9th and 12th centuries.
Probably the highlight of the Goreme Open Air Museum is the colourful frescos in some of the churches, most of which entry to is included in the ticket price. Don't miss Tokali Church which is the biggest and most beautifully decorated church in Cappadocia. Dark Church is also worth a visit although it does incur an additional entrance fee.
It's possible to buy an audio tour in this museum which has over 30 stops and tells you all about the history and interesting facts about the complex and Cappadocia region. Although we didn't do this, we still spent an enjoyable hour or so wandering around by ourselves.
Zelve Open Air Museum
We didn't have time to visit Zelve Open Air Museum but it sounds as if it would be very interesting. Once one of the most populated communities in Cappadocia, there are still four historic cave churches, cave dwellings and a town square you can wander around. Located just a five-minute drive from Pasabagi Valley it's included on the same ticket, so it makes sense to combine the two.
At around four times bigger than Goreme Open Air Museum, Zelve is also much less visited, which means there are plenty of chances to get crowd-free photos. Another significant difference is it doesn't have all of the colourful frescos that Goreme has. However, what Zelve does have that Goreme Open Air Museum doesn't have, is three valleys.
In these valleys are 1.5 km of pathways and bridges that the Government has installed, making it very easy to explore on foot without getting lost. And if you prefer getting off the beaten track, you can venture away from the manmade paths to discover the caves and rock formations.
10. Discover an Underground City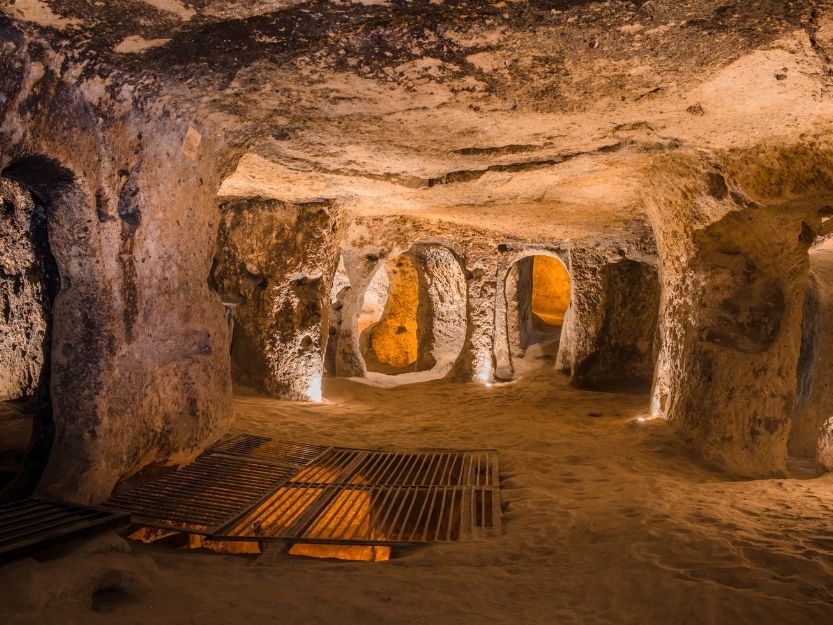 There are 36 underground cities in the Cappadocia region, although it's thought there may once have been up to 200. Carved into the soft volcanic stone, they were connected to each other by narrow passageways and tunnels. It's believed they served as shelters for Christian communities trying to evade Roman and Arab invasions.
Discovering an underground city is one of the most unique things to do in Cappadocia. Unless of course, you're claustrophobic or uncomfortable crawling through narrow tunnels and passageways. If you are, then this is probably an activity to avoid.
The two main underground cities that have been restored and are popular with visitors are Kaymakli and Derinkuyu.
Kaymakli Underground City
With eight levels (although only four are now open to the public), it's the most spread-out underground city in Cappadocia and its layout resembles a honeycomb.
The different levels were carved, probably by hand, into the soft volcanic rock. They are connected by about 100 low, narrow passageways and tunnels. There are also many rooms built around ventilation shafts, including bedrooms, storerooms, kitchens, wine cellars, communal areas, churches, and even stables and areas for livestock.
Kaymakli Underground is about 40 metres deep underground; at its busiest, it housed around 3,500 people at its peak. You can just imagine how much it must have smelt down there with all those people and animals living together.
If you visit Kaymakli without a guide there are arrows to follow so you don't get lost and can find your way out, red arrows take you down into the city and blue arrows to the exit. However, I'd recommend going in with a guide (we had one included in our tour) as it makes it so much more interesting to know what you're actually looking at.
With or without a guide, you'll need to be prepared to do a lot of ducking and walking in a squat position. It was pretty uncomfortable at points (I've got a bit of a dodgy back), so not recommended if you have any knee or back issues or are very tall. Despite this, it was also fascinating and definitely worth doing if you can. If the thought of being in such confined spaces doesn't fill you with enthusiasm, Derinkuyu may be a better option.
We visited Kaymakli underground city as part of the Green Tour we took with Enka Travel.
Derinkuyu Underground City
Derinkuyu Underground City lay undiscovered for a very long time and was finally found when a local man was renovating his home. He knocked down a wall revealing a mystery room, he carried on digging and uncovered some of the tunnels and cave rooms.
The main difference between Kaymakli and Derinkuyu is that whilst Kaymakli is the most spread out, Derinkuyu is the deepest underground city at around 85 metres. There are eleven levels and is believed to have once housed up to 20,000 people at one point in time.
The types of rooms in Derinkuyu Underground City is similar to Kaymakli so I won't repeat the details of those. Although one room that's unique to Derinkuyu is the large missionary school with a barrel-vaulted ceiling on the second floor. The rooms next to it served as studies for the pupils.
I'd recommend choosing Derinkuyu Underground city as opposed to Kaymakli if you have claustrophobia or any physical limitations that may make the very confined spaces of Kaymakli unpleasant for you.
This underground city is advertised as being included in the Green Tour by Enka Travel, although as I mention above we ended up at Kaymakli, so double-check before you book.
Kaymakli is about 25 km from Goreme and Derinkuyu is 35 km, so unless you have your own or a rental vehicle the easiest way to visit them is on an organised tour which is next on my list of things to do in Cappadocia.
11. Catch a Local Bus to Çavuşin Village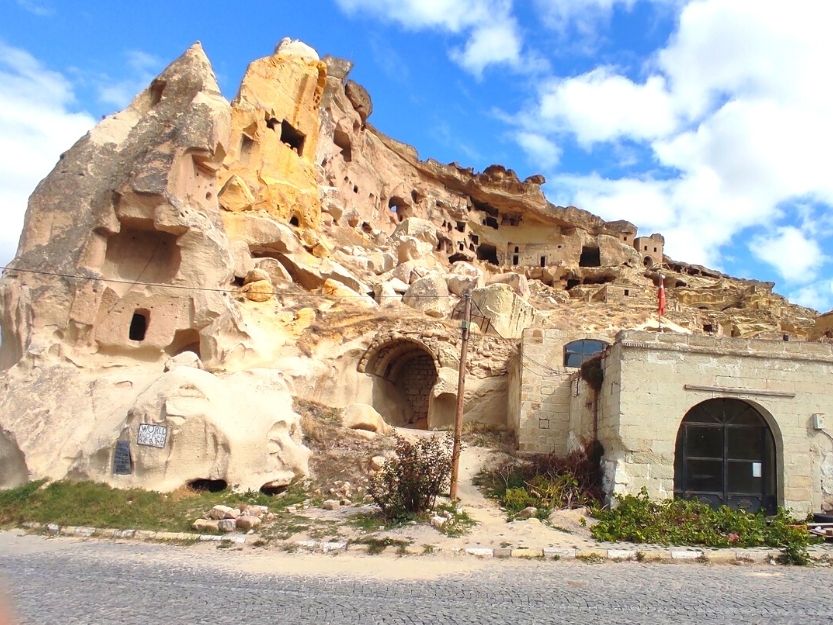 If you have time and like to visit more off-the-beaten-track/ less touristy places, we can highly recommend catching a local bus to Cavusin Village, one of the oldest settlements in Cappadocia.
Located on the Goreme-Avanos road, it's only a 10-minute drive from Goreme town centre. If you fancy trying out some local transport, hop on a local bus as we did, or you could just get a taxi.
The bus stops on the main road near the Cavusin turning, from where you walk until you reach the little village square. To the left, there's a large rock face into which the castle and surrounding cave dwellings are carved. We followed the base of the castle, past a few souvenir vendors, and then up some crumbling steps to the bottom part of the castle.
Although we didn't go to the top of the castle. if you're careful, it is possible to get all the way to the top. We just poked around some of the cave dwellings on the lower level; some even appeared to still be lived in with sofas, beds, chairs and kitchen areas.
There's also a church and historical house you can explore whilst in Cavusin. Just continue up past the castle and you'll see a sign on the left for them, opposite a little courtyard cafe, which directs you up some steps to the left. You can also continue straight ahead which will take you to the same places but in the opposite direction.
The church wasn't open the day we were there, so we just looked at it from the outside, and then continued on towards the historical house. En route, we stopped to take photos of the amazing views over the valleys and peered into some of the cave houses for sale and rent.
At the historical house, we bought freshly squeezed pomegranate juice from the friendly man who owned it, then he gave us a quick tour. The cave house had been restored and although it is no longer lived in, it had been in his family for four generations.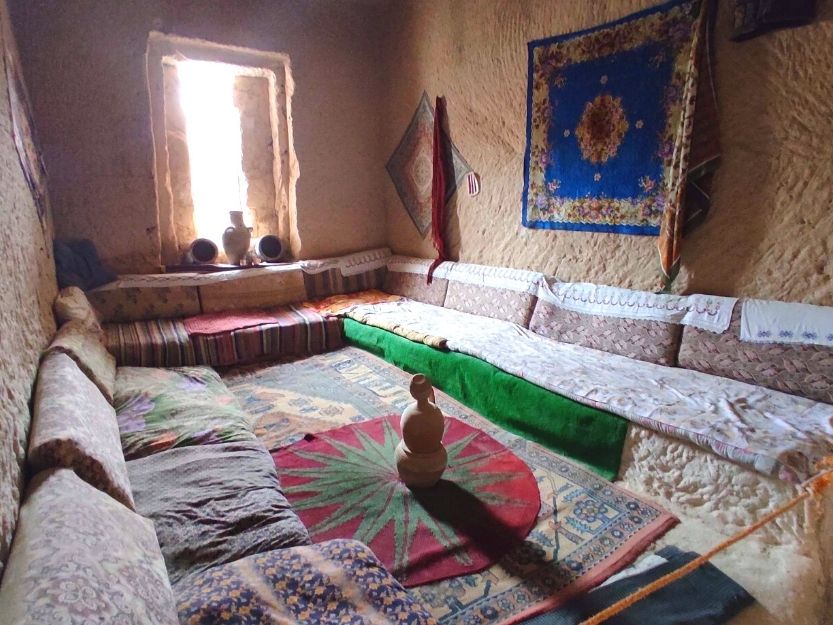 We saw several different rooms including bedrooms, living rooms, kitchen and even a babies nursery. I was surprised at how cosy and comfortable it seemed inside with all the colourful rugs laid out. It was really interesting and left us wondering what it would be like to live in one.
Cavusin is supposed to be a tourist village, but we found it to be one of the least touristy places we visited in Cappadocia. However, that may just have been due to the lack of tourists as travel was still quite difficult when we were there.
Either way, we think it's definitely worth a visit.
12. Join an Organised Tour of Cappadocia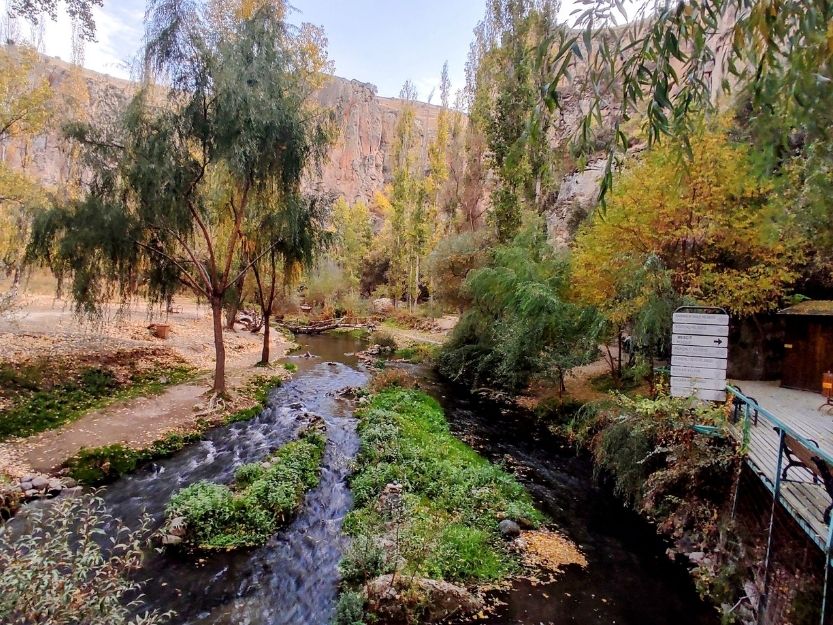 If you're short on time or don't want to explore by yourself, the most convenient way to discover the Cappadocia region outside of where you're staying is to take an organised tour. Most tour agencies offer three standard tours – a red, a green and a blue tour. These are day tours, each of which explores a different route, including its valleys and other sites. All the tours also include lunch in a local restaurant.
Although the tour companies follow the same routes for the three tour types, the exact itinerary that's included will likely differ slightly from company to company. Be sure to double-check the itinerary is what you're expecting before booking, to avoid disappointment.
Here's a quick summary of what to expect from each tour:
Red Tour (North Cappadocia)
The Red Tour in North Cappadocia usually takes you to Imagination Valley (Devrent Valley), Monks Valley (Pasabag Valley), Avanos for a pottery demonstration, Goreme Open-Air Museum, Love Valley, and Urgup Fairy Chimneys.
This tour is best if you like history, have children, or only have one day in Cappadocia as it covers the central region so takes less time.
Green Tour (South Cappadocia)
The Green Tour in South Cappadocia usually takes you to an underground city (either Kaymakli or Derinkuyu), hiking in Ihlara Valley, Selime Monastery, Yaprakhisar Panorama for views of the canonical fairy chimneys which are featured in Star Wars, an Onyx factory and shop, and Pigeon Valley Panoramic viewpoint.
This tour is great if you like hiking, nature and the outdoors and want to reach places that are further out, off the usual tourist trail. We did this tour with Enka Travel and enjoyed it a lot. The only downside is you do spend a lot of time on the mini-bus, but we just used that as an excuse to catch up on some sleep several early mornings with hot air balloons.
Blue Tour
The lesser-known Blue Tour (which doesn't run every day) usually takes you to Kaymakli Underground City, Soganli Valley and Archaeological Site, Sobesos Ancient City, Keslik Monastery, Mustafapasa Old Greek Village and Urgup Fairy Chimneys.
This tour is also good if you like hiking, have a special interest in churches and monasteries or have already done the other two tours.
We're not huge fans of organised tours but Cappadocia is a large region with limited public transport and highlights that are spread out. So, after much deliberation, we decided a tour would be the best way to see as much as possible in one day.
We opted for the Green Tour with Enka Travel, one of the most popular tour agencies in Cappadocia. We had a great time and would highly recommend them.
13. Browse the Souvenir Shops
One of the pleasures of staying in Goreme is wandering the narrow cobblestone streets and browsing the cute, colourful souvenir shops.
Of course, the most well-known souvenir shops of Cappadocia are the carpet shops, especially the Insta-famous carpet courtyard of Galerie Ikman. The resourceful owner was quick to spot the Instagram potential and has set up half his shop specifically for photos.
Currently, it costs 100 TL (€10 / US$12) per person for a photo, or 700 TL (€68 / US$82) for a 30-minute private shoot and even has a drone available for cool aerial shots.
There are all kinds of other souvenir shops in Cappadocia too selling all kinds of things. We saw colourful glass lanterns, gemstones and jewellery, shoes and leather products, decorative hot air balloons and much more.
You can easily while away several hours in the shops and stalls, browsing what's on offer.
Where to Stay in Cappadocia
IMPORTANT HOTEL BOOKING INFORMATION FOR TURKEY:

It's not possible to use Booking.com when you are already in Turkey to book hotels, because it has been blocked by the Government.

So either be sure to book your accommodation before your visit, or use HotelsCombined or Hotels.com instead, if you need to make last-minute bookings from within Turkey.

Another option is to potentially use a VPN BUT I haven't tried this so don't know if or how well it would work.
Most visitors stay in the main town Göreme, but there are other less touristy areas to stay including Uçhisar (the highest point in Cappadocia), Nevşehir, Avanos and Ürgüp.
There are some great places to stay in all of the villages mentioned above, but for now, I'm going to focus on Goreme as that's where we stayed and spent most of our time.
Goreme has a wide range of hotels, hostels and guesthouses to choose from. We stayed in the beautiful Erenbey Cave Hotel . This family-run hotel has nine rooms each with its own unique style and design. The cave rooms in this hotel were previously used by the family to live in before being transformed into the luxurious but affordable hotel it is today.
We absolutely loved our cave room which was situated just off the pretty courtyard, so much so that we stayed an extra night. Another great feature of Erenbey Cave Hotel is its rooftop terrace covered in cushions and rugs. It's perfect for watching the hot air balloons at sunrise and taking those iconic rooftop photos. Included with the room is a traditional Turkish buffet breakfast included. Delicious!
Other than the most popular cave hotels that I've already mentioned, others worth considering are Koza Cave Hotel and Cappadocia Caves Suites. For a cheaper cave hotel check out Mosaic Cave Hotel.
If you'd prefer not to stay in a cave hotel, then Kameyla Cave Hostel and Olivia Cave Hotel are both good budget options. A good mid-range option is Design Cappadocia Hotel and at the other end of the scale, Carus Cappadocia looks amazing.
There are also plenty of other accommodation options in Goreme to suit all budgets and styles, which you can find on the map below.
Just don't forget if that if booking when you're already in Turkey that HotelsCombined or Hotels.com are your best bet.
---
There are so many things to do in Cappadocia and this post only scratches the surface. If you're able to extend your time in this captivating region of Turkey, I recommend you do so to be sure not to miss what else it has to offer beyond ballooning
Have you visited Cappadocia in Turkey? Have I missed anything good that there is to see and do there?
Travel Resources for Cappadocia
Planning your trip to Cappadocia? Here are some of our recommended useful resources to help you have the best time possible:
● TRAVEL INSURANCE IS AN IMPORTANT CONSIDERATION FOR TRAVEL. If you're travelling long-term like us and from the EU, then True Traveller is our go-to option.
If you're from a non-EU country, another option for long-term travel insurance is SafetyWing, which you can pay for on a month-by-month basis. This is also good for shorter trips.
● Find amazing flight deals to Cappadocia and Turkey on Skyscanner and Kayak.
● Compare Rental car prices in Cappadocia on Rentalcars.com.
● Booking.com usually have the best hotel prices in Cappadocia.
● Our go-to for self-catering accommodation in Cappadocia is Vrbo.
● Before booking accommodation in Cappadocia, check reviews on Tripadvisor.
● Discover fantastic trips and activities in Cappadocia with Viator and GetYourGuide.
● Bookmundi,  G Adventures and Intrepid Travel offer group holidays and tours to Cappadocia and Turkey.
Enjoy this post? Pin it for later!
Partnership Disclosure: Royal Balloons provided us with a complimentary Royal Queen Plus Balloon Flight for one person (the second we paid for). This did not influence my post in any way and as always I've provided balanced and honest reviews. Read more in our full Product Review Disclosure.