Affiliate link disclosure: This post may contain affiliate links including Amazon that earn me a small commission, at no extra cost to you. Read more in our full Affiliate Link Disclosure.
Despite Istanbul not being the capital city of Turkey (Ankara is), it is the most populated city, with over 15 million people living there.
This enchanting, sprawling city really is a city of two halves, where East meets West. Istanbul is split in two by the Bosphorus Strait, one side is in Europe and the other is in Asia. It will leave you enthralled by its turbulent history, rich culture, stunning architecture and mosques, colourful bustling markets, and numerous teahouses, cafes and restaurants. It's certainly one of the best holiday or short break destinations in Turkey. Plus, the many great photo spots in Istanbul make it a dream for photographers.
Istanbul is built on seven hills, and to try to see all it has to offer in three days would be an impossible task. Even with three months, you'd be hard-pushed to see everything. That is why I've created this 3-day Istanbul itinerary to help you get the most out of your first short visit to this incredible city.
How to Spend 3 Days in Istanbul
Here's our suggested 3-day Istanbul itinerary which is just perfect for first-timers to the city. It follows what we did during our time there, plus a bit extra as we were worn out from Cappadocia so took it a bit slower).
It covers many of the main sights and attractions and will give you a taste of many aspects of this incredible city. It's based on three full days and nights in Istanbul, but you may want to mix and match or skip some things depending on your flight times or interests.
Day 1 Istanbul Itinerary – Sultanahmet Sightseeing
What better way to start your 3-day Istanbul itinerary than by checking out all the main sights in Sultanahmet on the European side of Istanbul. Although you can do this by yourself; we joined Walks in Istanbul on one of their tours which covered most of them in just over a half-day.
We think a walking tour is the best option to see the main sites of this chaotic city, especially if you are short on time. It enables you to see many of Istanbul's highlights in a short space of time, with tickets and priority admission (skipping the queue) included. You also get to benefit from your guides' expert knowledge and learn all kinds of interesting information. Our friendly Walks in Istanbul guide 'Guzin' was a fountain of knowledge. She's been doing tours in Istanbul for 27 years and we learnt so much from her about the history of all the places we visited.
BOOK A WALKS IN ISTANBUL TOUR HERE
Below are the main highlights you should see on the first day of your 3-day Istanbul itinerary, that we got to see on our Walks in Istanbul tour.
Hagia Sofia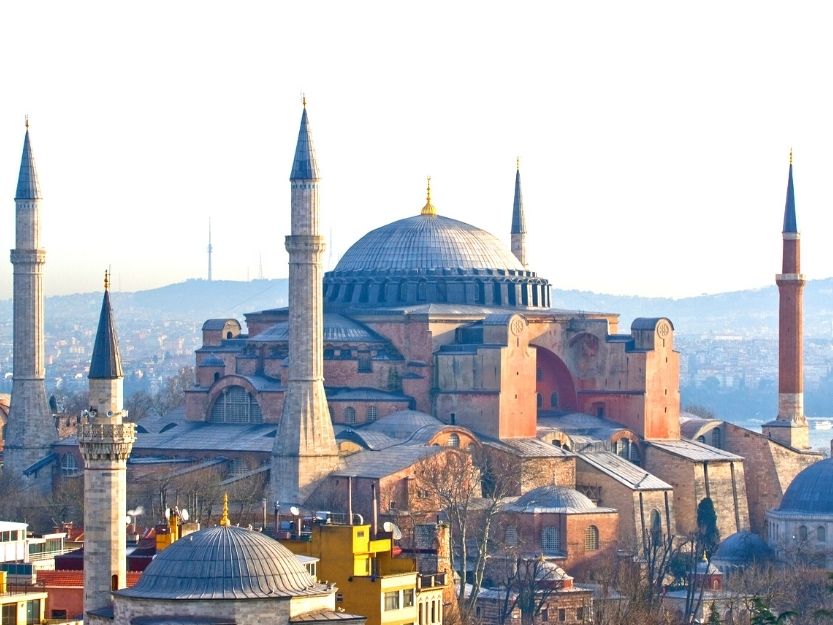 After meeting up with our guide Guzin, and the other two couples who joined the tour, we headed straight to Istanbul's most famous landmark – Hagia Sophia.
Originally built as a Christian church by Roman Emperor Constantine the Great in 325 AD, Hagia Sophia showcases more than 700 years of Istanbul's history through its architecture.
Facing various challenges over the years, it was damaged by a great fire in 859 AD, and again in 869 AD by an earthquake that caused one of the half domes to collapse.
In 1453 when Constantinople was conquered by the Ottomans, Sultan Memet converted Hagia Sophia into his imperial mosque. Because Islam forbids images of human figures in mosques, he plastered over all the paintings of faces in the interior.
It remained as a working mosque until 1934 Turkish president Kemal Ataturk turned it into a museum before it was reverted once again to a mosque in July 2020.
Considered a miracle of engineering, Hagia Sophia has been the inspiration for several important religious buildings, including its neighbour, the Blue Mosque. As soon as you enter this magnificent building, you'll be left speechless by the huge 60-metre high dome, decorated with sparkling gold tiles.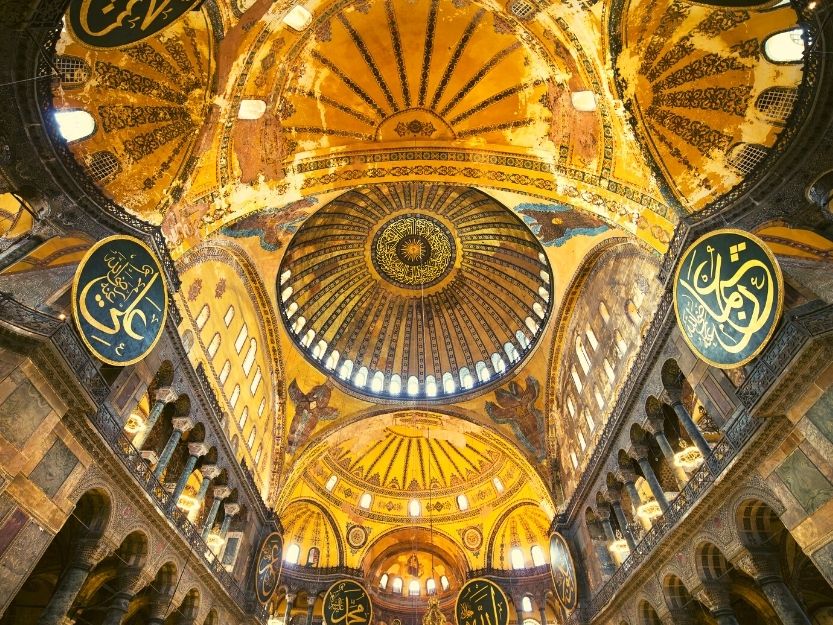 We spent a long time exploring inside Hagia Sophia and admiring the incredible dome, mosaics and frescoes. There are also eight large black discs with gold calligraphy on them, four are the largest examples of calligraphy in the Islamic world.
One thing we found especially interesting was the Wishing Column or Weeping Column, which is said to have healing powers. The column is damp and it's believed your wish will be granted or ailment healed if you put your thumb in the hole and turn it full circle.
Hagia Sophia was one of our favourite stops on our walking tour and definitely not to be missed on your first visit to Istanbul
Blue Mosque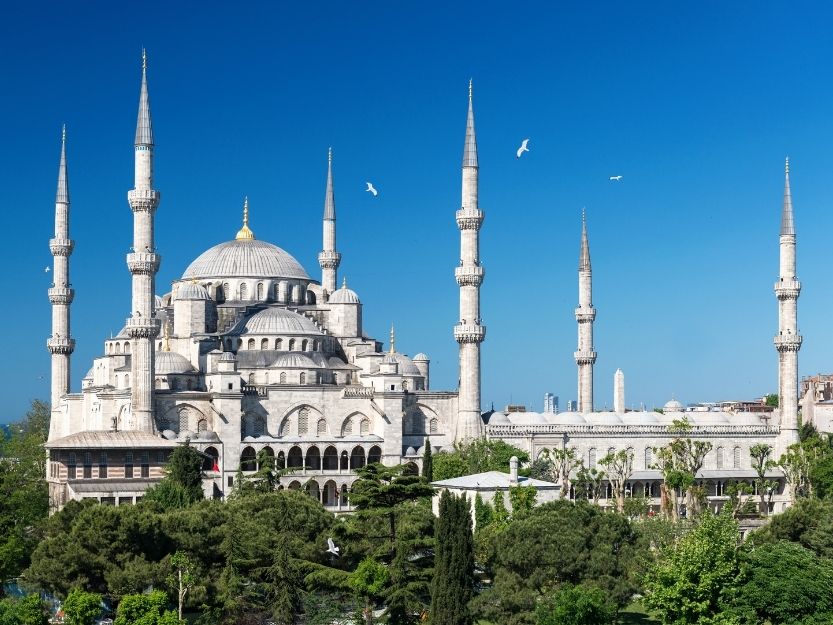 Directly opposite Hagia Sophia is Sultan Ahmet Mosque, better known to visitors as the Blue Mosque. Its nickname comes from over 20,000 cobalt-blue Iznik tiles that adorn the interior and domes.
Constructed between 1609 – 1616, under the rule of Sultan Ahmet I, the Blue Mosque was designed to rival the most respected mosque of the time, Hagia Sophia, which is why it was built opposite.
As the story would have it, Sultan Ahmet ordered a gold minaret, but the architect confused the word for gold (altin), with the word for six (alti) which is how the mosque ended up with six minarets. Luckily the Sultan was extremely pleased with the mistake and decided to spare the architects life.
Along with the six towering minarets, there are 5 main domes and 8 secondary domes. Whilst the lower levels are decorated with beautiful hand-painted blue tiles, the upper levels are painted blue.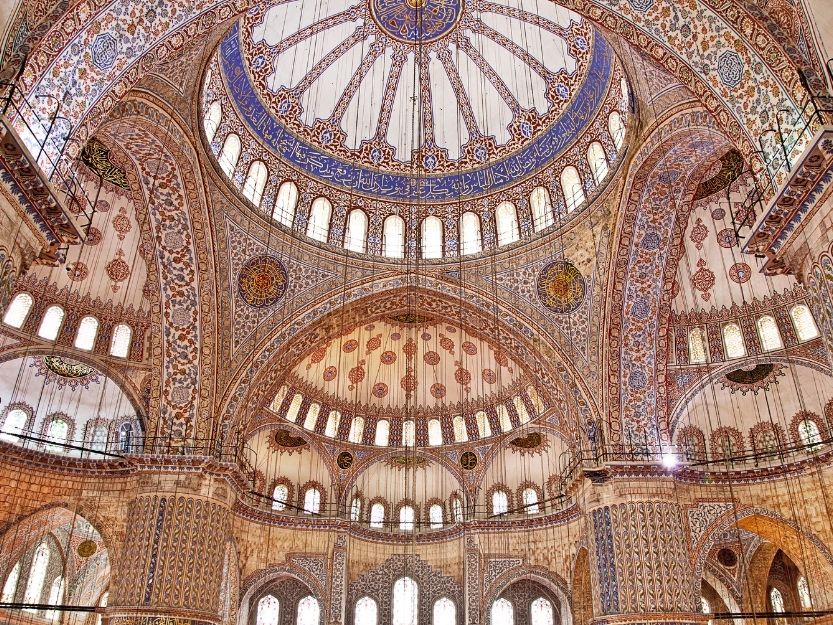 The stunning interior is lit with light flooding in from more than 250 stained glass windows and chandeliers that contain ostrich eggs (apparently to keep spiderwebs at bay).
Despite being over 400 years old, the Blue Mosque is still in pristine condition. Sadly though, when we visited, the main dome was under restoration which meant we couldn't get the best view.
However, we did manage to get a glimpse of the stunning design through the scaffolding, before continuing our tour.
Sultanahmet Square and Hippodrome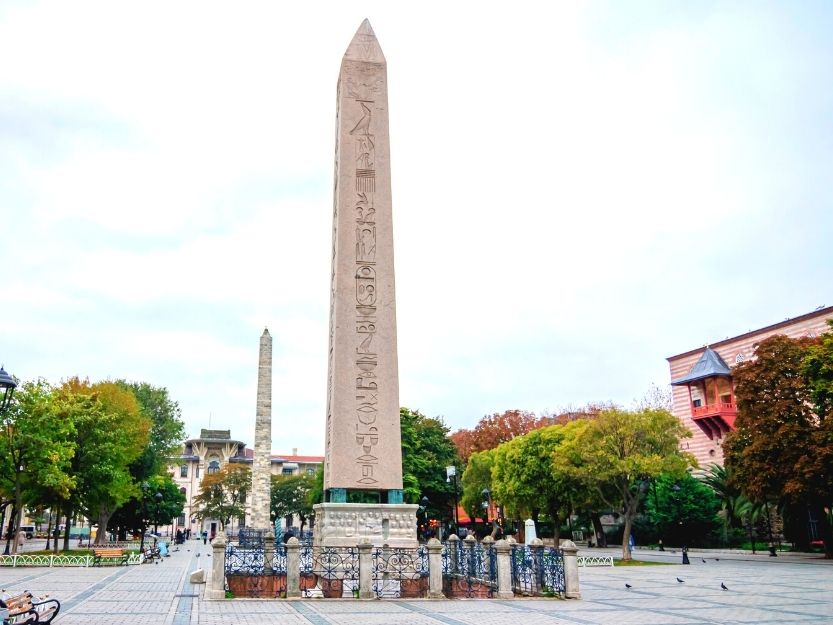 Next up on our walking tour and the logical next stop is Sultanahmet Square. This square was once the sporting and social centre of Istanbul. There's not much left of the Hippodrome now, as it was mostly destroyed in the Crusades.
What does still stand though are three obelisks, the most famous of which is the Obelisk of Theodosius or the 'Egyptian Obelisk'. At nearly 3,500 years old, it's covered with hieroglyphs. It was once 60 metres tall, but is now just 20 metres tall after part of it was lost when it was moved.
The second obelisk is the 2,500-year-old Serpentine Column which is now just the remains of the base of a taller column. The third, which stands at the southern end of Sultanahmet square, is the 32 metre-high Walled Obelisk. It's made of roughly cut stones and is the youngest of the three obelisks at just 1,000 years old.
At the northern end of Sultanahmet Square, you'll also find the gazebo-style German Fountain.
We really enjoyed wandering around the old Hippodrome, you can just imagine the crazy chariot racing and royal ceremonies that were once held there.
Suleymaniye Mosque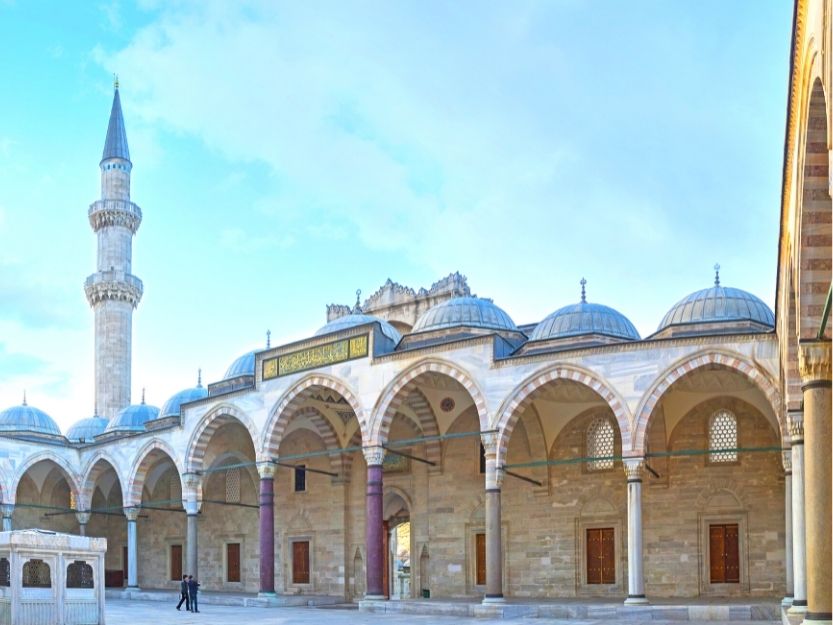 Once we'd finished exploring the main sights in and around Sultanahmet Square, Guzin our guide led us through Istanbul's streets to the magnificent Suleymaniye Mosque.
Despite being one of the largest mosques in Istanbul, Suleymaniye is much less visited than its famous counterparts in Sultanahmet. Commissioned by Suleyman the Magnificent, it was built on the Third Hill of Istanbul and is similar in style to Hagia Sophia.
Suleymaniye Mosque has survived many disasters, including a raging fire in 1660, an earthquake in 1766, and another fire during World War I. The latter was caused when the ammunition stored in the courtyard ignited by accident. The final restoration of the mosque was in 1956.
The mosque has an outer courtyard and an inner courtyard with four minarets and galleries. The inner courtyard is surrounded by a colonnade of pink Egyptian columns and domes. Along the façade are rectangular window lunettes, decorated with blue coloured Iznik tiles, and in the centre is a fountain, which these days is dry.
The vast interior of Suleymaniye Mosque is simpler than other mosques in Istanbul, yet elegant and tranquil. The highlight for us was its stunning gold, white and blue dome. At 53 metres high, it has around 200 stained glass windows, along with blue Iznik mosaics and black and gold calligraphic discs.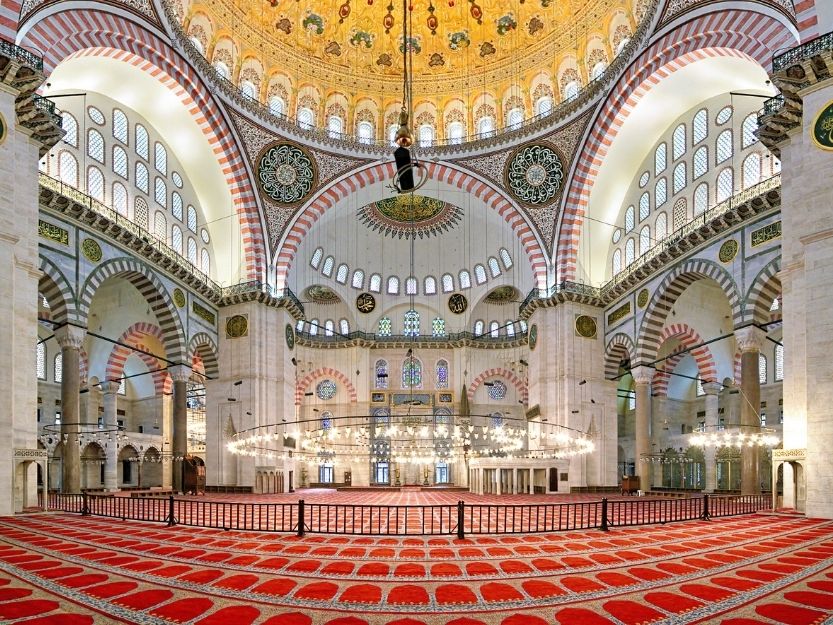 After admiring the interior, we took a quick look at the octagonal tombs of the Sultan and his wife. These are found in the walled garden, just behind the mosque; where ceramic stars with emeralds glint above the coffins.
We finished our visit to Suleymaniye Mosque in the garden behind the mosque to take in the spectacular views of the Bosphorus Strait and the Golden Horn.
Süleymaniye Mosque was our favourite mosque in Istanbul; it certainly lives up to its reputation as being the finest Ottoman building in the city.
Grand Bazaar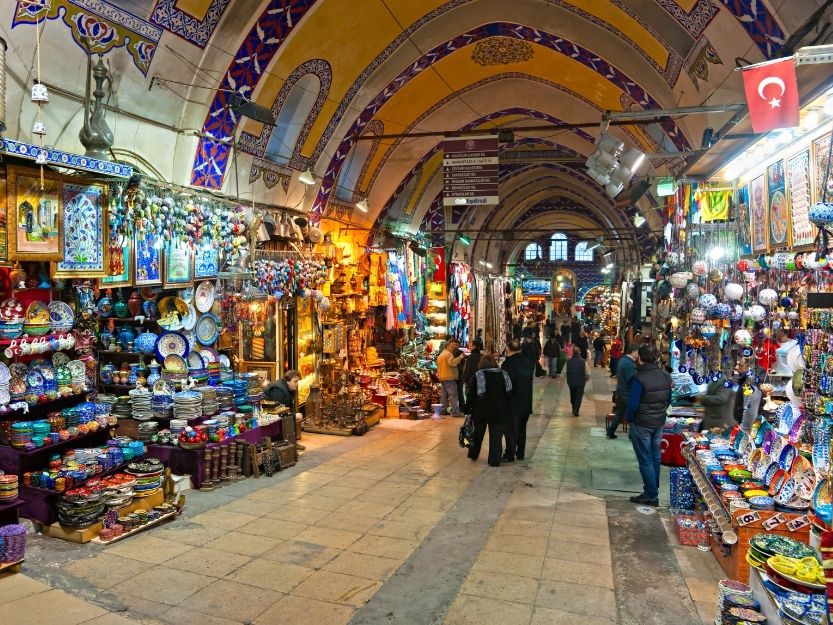 The last stop on our walking tour was the Grand Bazaar, the biggest and most impressive market in Istanbul and, by far the most touristy. This colourful, chaotic market stretches over nearly 40,000 square metres and contains over 4,000 stalls set out on a grid of 61 narrow streets. There are also cafes, restaurants and even a post office and police station.
In the bazaar, you can buy just about anything you can imagine: food, spices, jewellery, carpets, lanterns, leather good, pottery, household goods and, of course, lots and lots of souvenirs.
Neither of us is particularly keen on shopping, and although we do love a good local market, the Grand Bazaar was a little on the touristy side for us. Nevertheless, we still enjoyed exploring the maze of streets and having a little browse in some of the stalls and enjoyed learning about the bazaars turbulent history from our guide.
Founded about 500 years ago by Sultan Mehmet the Conqueror, the Grand Bazaar, like many buildings in Istanbul, has a turbulent history, surviving fires and earthquakes. However, in the 1980's it was finally restored to its former glory.
Whether you like shopping or not, the Grand Bazaar should definitely be included in any Istanbul itinerary. And, if shopping is your thing you'll be in your element, you'll easily be able to lose yourself there for several hours.
---
We did our tour with Walks in Istanbul on our last day in the city, but we'd highly recommend doing it on your first day if at all possible. It will give you a great introduction to Istanbul and a better understanding of the city and its history, in preparation for the rest of your time there.
They have several tours on offer but to see everything we did, plus Topkapi Palace (which we didn't have time for that day), then you'd want to choose the 'Istanbul Highlights' tour.
Another great tour they do which we have our sights on next visit is the 'Ferner and Balat Neighbourhoods' tour.
BOOK A WALKS IN ISTANBUL TOUR HERE
Galata Tower for Sunset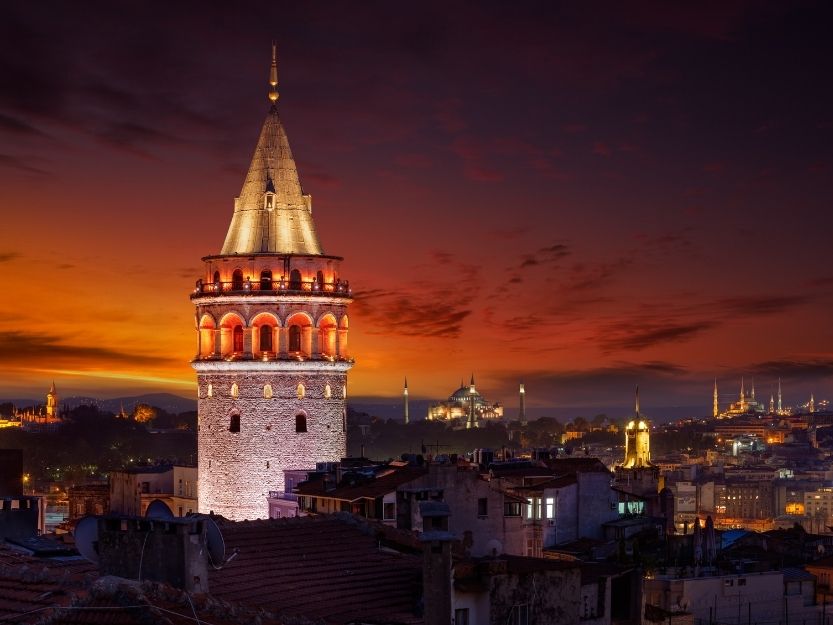 If you like sunsets, what better way is there to start an evening than in Istanbul than by watching the sunset from Galata Tower.
Galata Tower is an iconic sight of Istanbul's skyline and can be spotted from many places in the city. Constructed in the 5th century, the Romanesque-style, 68-metre tall stone steepled tower has been used as a fire watch-tower and prison amongst other things. It's also survived multiple earthquakes and been restored several times.
The tower has nine floors and two lifts which lead to a narrow viewing platform at the top. From there you can get a 360-degree view of nearly the whole of Istanbul. You'll be able to see many of Istanbul's landmarks including The Golden Horn, The Bosphorus Sea and Strait, Topkapi Palace, Hagia Sophia and the Blue Mosque.
Unfortunately, we didn't make it for sunset so I can't vouch for what it's like, but we've been told it's pretty amazing. We were shattered after our walking tour and didn't make it back out of our hotel in time, which meant it was dark by the time we got there. It was still worth visiting at night though, as it was all illuminated which looked really cool.
You can also visit and climb Galata Tower during the day, for amazing daytime views of the city. Whatever time you decide to climb Galata Tower be prepared for the queues. They are often long, so allow at least an hour for the wait then you won't be disappointed.
Beyoglu Nightlife
Once you've finished at Galata Tower and if you still have energy after your busy day, why not explore some of Istanbul's vibrant nightlife.
There are several spots near Galata Tower that are buzzing after the sun goes down. Istiklal Caddesi, Taksim Square or Beyoğlu all have plenty of restaurants to choose from – just head down the little backstreets to find more local (and tasty options).
Also in these areas are plenty of bars (some with live music) and outdoor seating areas. And, if you want a big night out there are also some clubs dotted about.
We were too tired to go 'out-out' on this trip to Istanbul but on our next trip, we fully intend to see what the city's nightlife has to offer.
Day 2 Istanbul Itinerary – Asian Side, Galata Bridge and Cultural Show
Many people, on their first visit to Istanbul, stick to the European side where the main sights and attractions are. However, we suggest you spend some time on the Asian side too, as we did on our second day.
The Asian side of Istanbul is where a large proportion of the locals live, so taking some time to explore it will give you a feel for the 'real Istanbul'
Below are our recommended things to do on your second day in Istanbul, which includes a little of the Asian side.
Cross the Bosphorus Strait to the Asian Side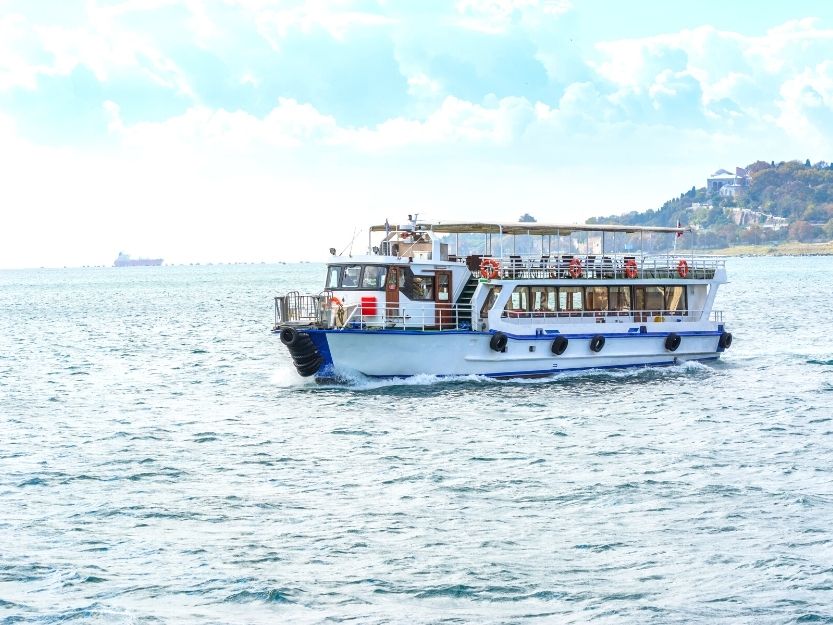 To reach the Asian side of Istanbul you have to cross the Bosphorus Strait and the best way to do that is by catching a ferry. If you're following this itinerary we recommend taking one that goes from Eminönü to Üsküdar, as that's where the Camlica Mosque, which is the next stop on this itinerary is.
The ferries depart every 20 minutes and the ferry ride takes about 25 minutes. Try to grab seats at the side on the upper deck for the best views of the Bosphorus and Istanbul's landmarks as you make the crossing. You could even enjoy a cup of Turkish tea whilst you're at it.
If you're not a fan of boat rides you can also get to the Asian side by the Marmaray which is an underground train that connects the two sides of Istanbul. Or, you could take a taxi over the suspension bridge, but I'm sure this wouldn't be very exciting and the traffic can be bad.
Grand Mosque Camlica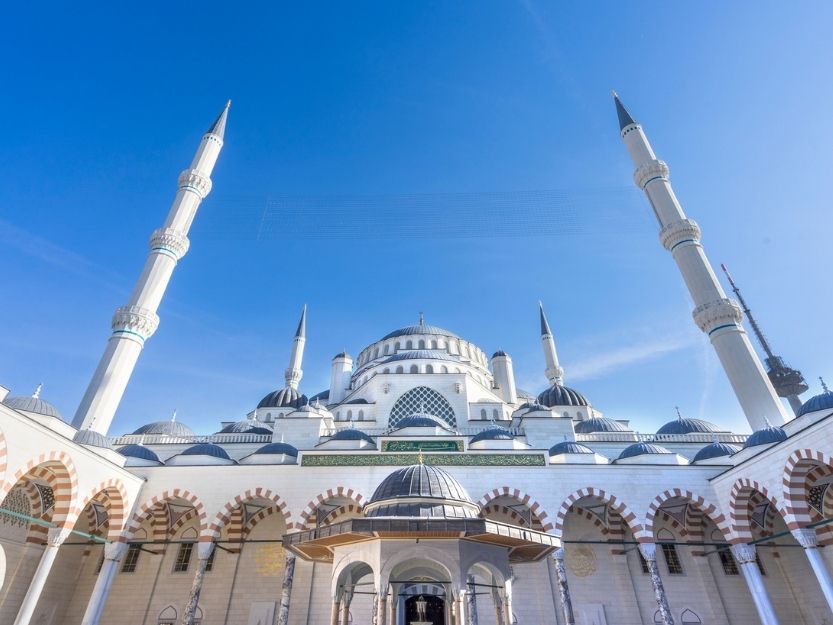 Camlica Mosque on the Asian side is the newest and biggest mosque in Istanbul. It's also the biggest mosque in the whole of Turkey, so worth a visit, even if you've already been to the main mosques on the European side of Istanbul.
It's a little tricky to get to Camlica Mosque once you get off the ferry on the Asian side but trust us, it's worth it. You'll need to take public transport to get there – either a bus or a combination of metro and taxi, plus a little walking.
Two female architects designed Camlica, especially with women in mind, and incorporated a separate praying area for women and a space for childcare. It opened in 2019 so it really is very new and with a capacity of 63,000 people, it's also very big. The mosque complex includes an art gallery, museum, conference hall, library, cafe and underground car park for 3,500 vehicles.
The main feature of the Camlica Mosque is its six tall minarets which can be seen from all over the city. It also has over 70 domes, including the 72-metre high main dome which represents the 72 nations of Istanbul. The interior of the mosque is remarkably beautiful, clean and tidy. You'll be astonished by every aspect of the decor; from the 17,000 square metre hand-woven carpet to the chandeliers, to the tile mosaics, to the stained glass windows.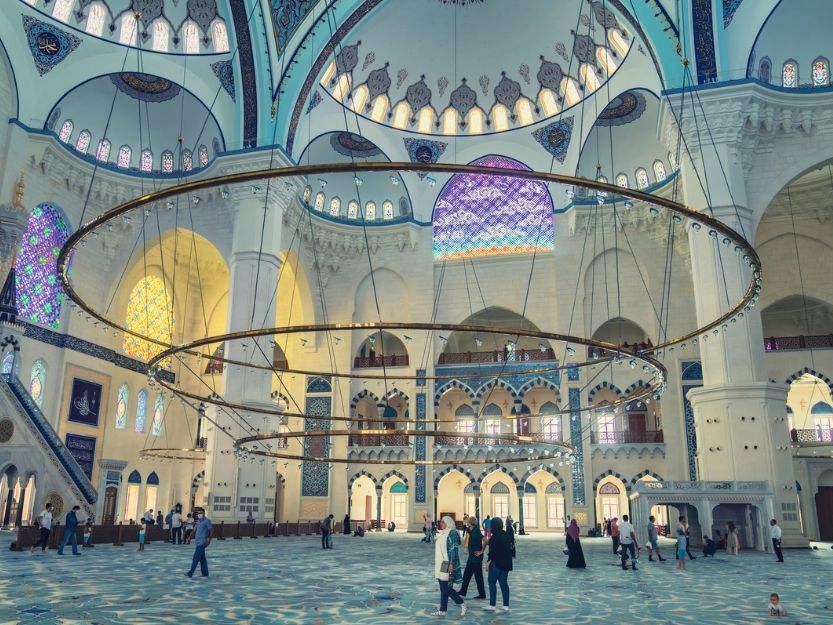 Located at the top of Camlica Hill, the highest point of Istanbul, the Camlica mosque offers breathtaking views of Istanbul and the Bosphorus. One of the things we especially liked about this mosque was its surrounding area of Camlica Hill. As well as visiting the mosque you can spend some time in nature and take a walk through the grassy park and forested area.
At the moment Camlica Mosque sits on page five or six of TripAdvisor, but don't let that put you off. I believe this is just because it's so new – give it a while and I'm positive this will become one of the top sights to visit on any Istanbul itinerary.
Kadikoy District
Once you've finished admiring the beauty of Camlica Mosque and Hill, it's time to explore Kadikoy District, the cultural heart of the Asian side of Istanbul. Packed with cafes, bars and shops Kadikoy has far fewer tourists than other parts of Istanbul and a more relaxed feel to it.
Kadikoy District is very large and is made up of several smaller neighbourhoods and an amazing coastline with fantastic views of the Bosphorus Strait and landmarks of the European side. A fun and easy way to get around the district is on the Kadikoy-Moda historic tram that runs in a loop around it.
You could spend the whole day wandering around this district, but you may not have much time if you just have three days in Istanbul so we'd recommend you do the following on your first visit:
Yeldegirmeni Neighborhood – this historical area of Kadikoy has a flourishing art scene, plenty of cafes and tea houses and lots of historic buildings to see. Whilst you're wandering the streets keep your eyes peeled for the huge murals and other street art on the sides of buildings
Kadikoy Market – one of the most popular things to see on the Asian side of Istanbul, this bustling traditional market is a must-visit for foodies. It's crammed full of colourful stalls selling all kinds of fresh produce including fruit and vegetables, fish and meat, spices, pickles and olives. This is where the locals do their shopping, which makes it perfect for people watching and getting a real 'taste' of Istanbul.
Bull Statue – rather random but also one of the most iconic sights on Istanbul's Asian side.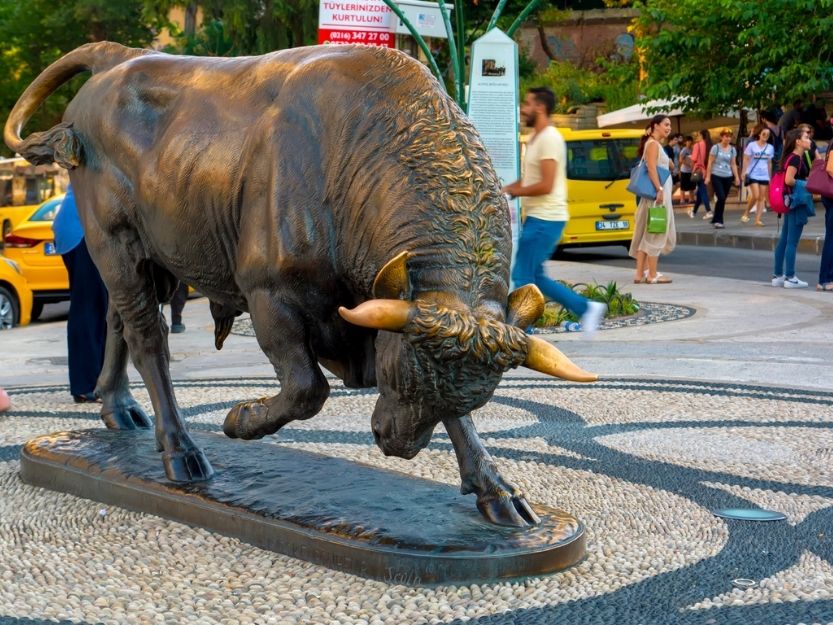 This statue is a well-known meeting point for both tourists and locals and can be found at a busy crossroads. French sculptor created the statue in 1864 and it was brought to Istanbul in 1917, before finding its way to its current spot in 1990.
Nowadays it's very popular with visitors who want to pose with the famous bull for shots for their social media, so be prepared for a bit of a queue if you want to get a photo for the 'gram.
Watch the Fishermen on Galata Bridge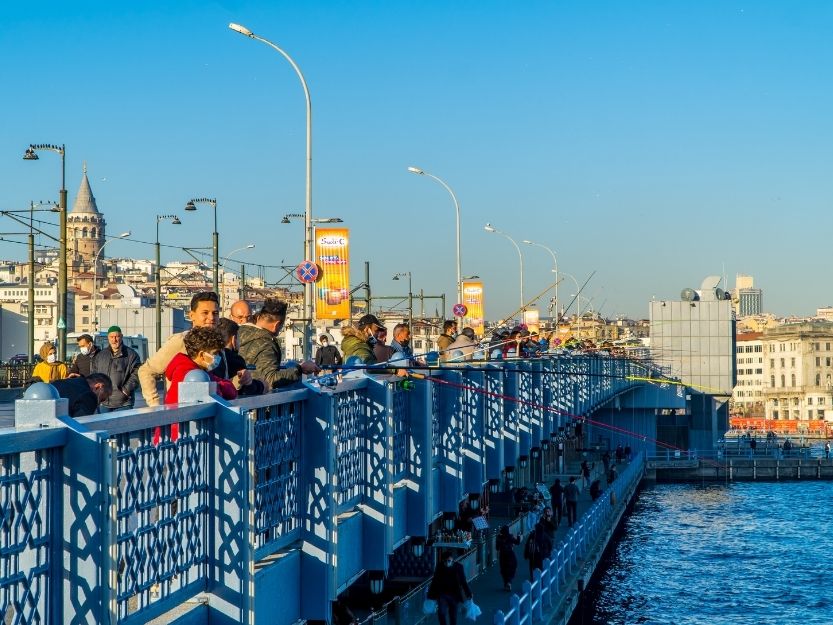 With your feet back on the European side of Istanbul, walk down along the banks of the Bosphorus Strait towards Galata Bridge. Always busy with pedestrians and cars, the colourful Galata Bridge connects Beyoglu and Eminonu. One of Istanbul's most famous landmarks Galata Bridge was originally constructed in 1845 and has been rebuilt four times since, most recently in 1994.
The underneath of the bridge is home to many cafes, bars and fish restaurants. It's the upper deck of the bridge that's the star of the 'people watching show'. It's lined by local fishermen of all ages, with their fishing rods and lines dangling into the Bosphorus below hoping for a catch, whilst hordes of seagulls soar and shriek around them.
You'll also find street vendors on and adjacent to the bridge, selling everything from fresh fish sandwiches and simits, to drinks, to toys, to leather goods. It's a great place for a spot of people watching and the views down the Golden Horn and Bosphorus are stunning, especially at sunset.
Whirling Dervish Cultural Show
One of the best ways to round off your second day in Istanbul is with some Turkish culture watching a Whirling Dervishes Show at the HodjaPasha Culture Center.
The HodjaPasha Culture Centre puts on the hour-long Whirling Dervishes show every night at 7 pm. It demonstrates the 800-year old spiritual Mevlevi Sema tradition and features Turkish music, chanting, drumming and dancing.
Watching the whirling dervishes gives a great insight into a unique part of Turkish culture.
Day 3 Istanbul Itinerary – More European Side, Hammam and a Sunset Cruise
You may be a bit tired by day three of your time in Istanbul, so it could be good to take things a bit slower than on the previous two days. Start off by discovering a little more of the European side of Istanbul, followed by a relaxing afternoon and evening.
Below is what we recommend you do on your third and final day in Istanbul.
Topkapi Palace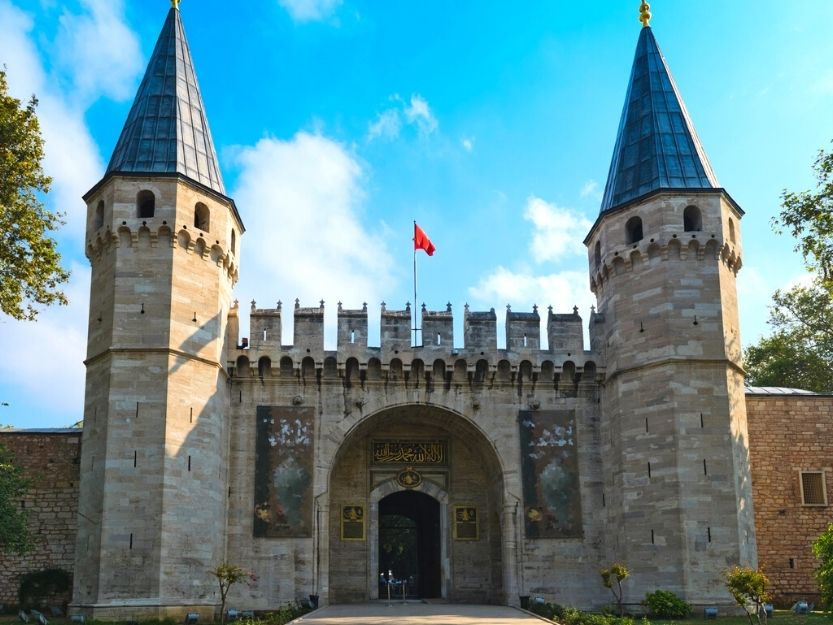 The majestic 15th century Topkapi Palace was originally the royal residence of Sultan Mehmet the Conqueror. He went all out on the construction, sparing no expense, using the rarest and most expensive materials he could find. The sultans that followed built more pavilions onto the palace and the final version that stands today covers 700,000 square metres.
After the fall of the Ottoman Empire in 1924, Topkapi Palace was turned into a museum.
The sprawling palace museum contains courtyards, beautiful gardens, a library and various exhibits. It also houses the Harem which is probably the most interesting part of the palace; it was where the Sultan's wives, concubines and children would have lived. There's an additional fee to enter the Harem but it's definitely worth it.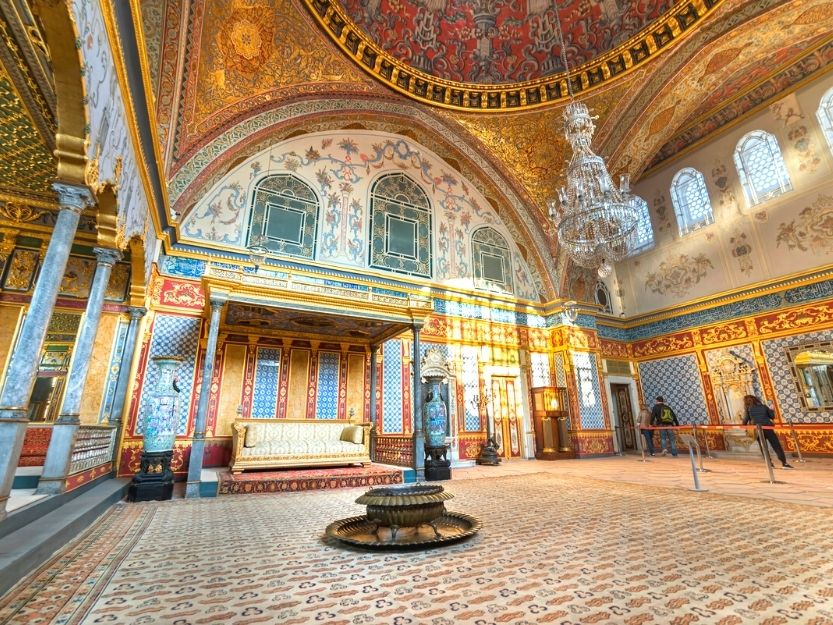 Other things that will amaze you are the huge imperial gate, the Sultan's baths with a gilded lattice grill, the imperial throne, stained glass windows and the fruit room.
One of the best exhibits at the Topkapi Palace Museum is the 'Spoonmakers Diamond'. At 86 carts, it's the 5th biggest diamond in the world. It takes its name from the story of the fisherman who found it and swapped it at the market for three spoons in the mistaken belief it was made of glass.
You'll need a minimum of an hour and a half to two hours to explore Topkapi Palace so be sure to give yourself enough time. We, unfortunately, left it too late in the day, so didn't go in but just took a look at it from the outside. It's top of our list of things to do on our next visit to Istanbul.  
Taksim Square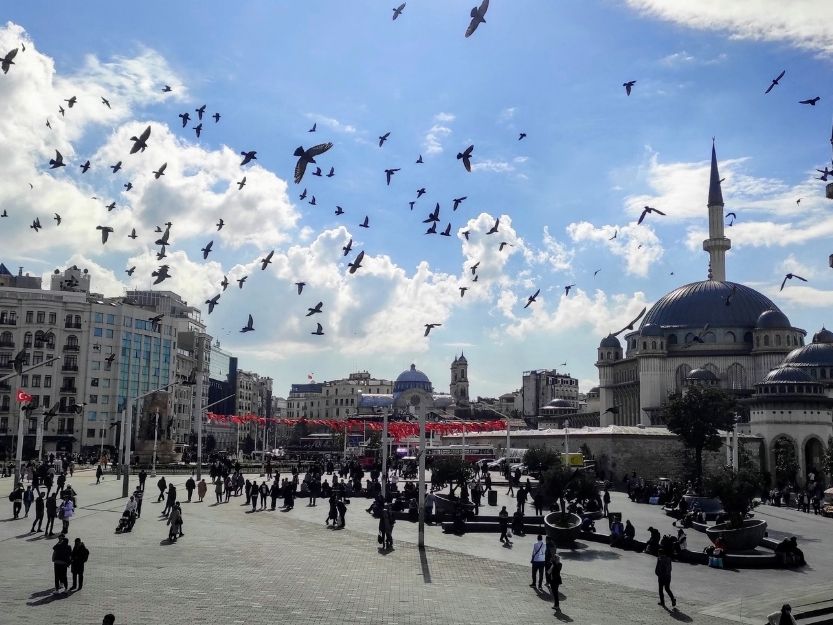 Once you've finished checking out all the treasures of Topkapi Palace, take the vintage red tram from Tunel up the hill along Istikal Street to Taksim Square. Alternatively, you could take the funicular from Kabatas.
Taksim Square is the big, public square that is the beating heart of modern Istanbul. It's has a lively atmosphere with plenty of shops, restaurants and bars.
From the 1700s it was from this square that water from the Belgrade Forest was distributed to the residents of the city – Taksim translates to "water distribution centre"
Taksim square is home to various important sites such as the Monument of Independence and the recently constructed Taksim Masjid mosque. It's a lovely place to sit and have a drink and watch the world go by for a while.
Istiklal Caddesi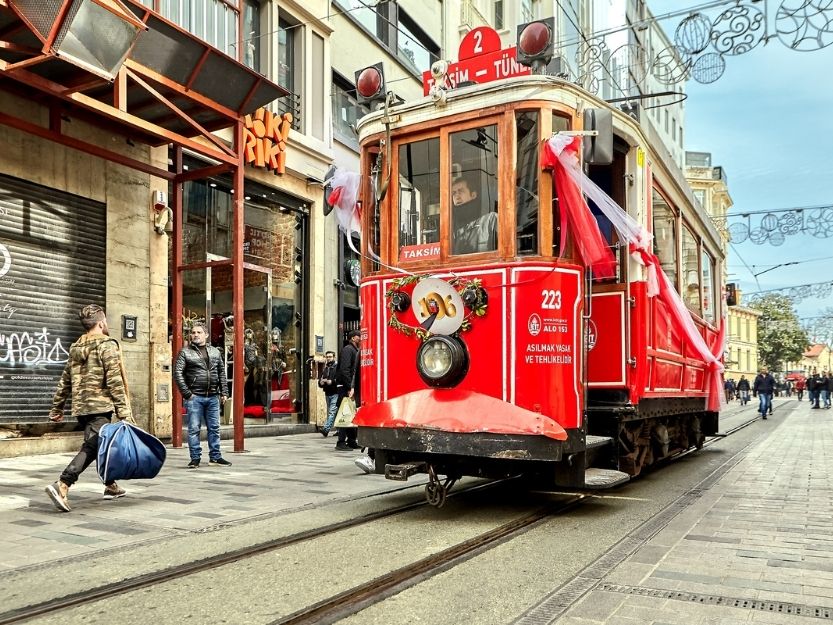 From Taksim Square make your way back down the pedestrianised Istiklal Caddesi, one of the busiest and iconic streets in Istanbul.
Istiklal Caddesi is lined with shops, restaurants, cafes, teahouses and bars. It's also home to some gorgeous Art Nouveau architecture and Cicek Pasaji, a beautiful shopping arcade that was originally built in 1876.
This busy cobblestoned street buzzes with tourists, street performers and food vendors. As well as being great for souvenir shopping, it's also a good spot for dinner and drinks at night.
Turkish Hammam
No Istanbul itinerary would be complete without some extreme pampering in a traditional Turkish bath, known as a hammam.
The first thing to know about visiting a Turkish hammam is that usually men and women are separated because you're supposed to get completely naked. If you're shy though, you can keep swimwear or they'll provide some terrible paper undies for you to wear.
We chose Cagaloglu Hamami for our hammam experience which was built in 1741 and is one of the most beautiful and top-rated hammams in Istanbul. We opted for the 45-minute long 'Istanbul Dream' package which is a traditional Turkish bath treatment. It's not permitted to take photos inside, but suffice to say the building interior, both the reception and treatment areas were gorgeous.
The hammam started with us having to strip, then being left in a steam room for 15 minutes. Then it was into the hammams wet room, where I had to lay down on a huge marble slab in the centre of the room.
Once laying naked (and a little embarrassed) on the marble, I was scrubbed briskly for 10 minutes with an exfoliating glove. I was amazed (and disgusted) to see how much dirt and dead skin come off – yuck!
The final part of the Turkish bath involved being covered in tiny bubbles from a soft sponge and massaged for 20 minutes before being rinsed off with warm water and having my hair washed.
After the Turkish bath was over and I'd dressed, my attendant bought me a delicious Turkish tea, homemade sherbet (a type of sweet drink) and, of course, a Turkish delight.
Both Andy and I really enjoyed the experience, once we'd gotten over the being naked part. I'm not sure we'd do it again but only because we're not really into spa type things anyway. However, if you're in Istanbul, you really should give it a go.
An hour of being steamed, soaped, scrubbed and massaged will leave you feeling completely relaxed and rejuvenated. Just one tip, don't go in wearing makeup as you'll come out looking like a panda like I did.
Bosphorus Sunset Cruise
If you have a third night in Istanbul or a late flight (sadly neither of which we did) – why not take a sunset cruise on the Bosphorus Strait.
Yes, this is quite a touristy thing to do, but we think it would be the perfect way to end your 3 days in Istanbul. It will also enable you to get a glimpse of some of the sights you probably won't have had time to see.
There are lots of sunset cruise options on offer by different companies and you can easily book one whilst you're in Istanbul. However, if you prefer to get things planned and booked up in advance you could book one online with GetYourGuide, which has plenty of tours to choose from
BOOK A BOSPHORUS SUNSET CRUISE HERE
Additional Things to See and Do in Istanbul
If you have more time in Istanbul or want to cram more into your 3-day Istanbul itinerary than we did, some other great things to see and do include: Balat and Fener neighbourhoods, Dolmabache Palace, the Spice Bazaar, Gulheine Park, Basilica Cistern and Chora Church (the last two were sadly both closed when we were there).
These extra things are by no means exhaustive but they are top of the list for our next Istanbul visit, hopefully in the not so distant future.
Where to Stay in Istanbul
IMPORTANT HOTEL BOOKING INFORMATION FOR TURKEY:

It's not possible to use Booking.com when you are already in Turkey to book hotels, because it has been blocked by the Government.

So either be sure to book your accommodation before your visit, or use HotelsCombined or Hotels.com instead, if you need to make last-minute bookings from within Turkey.

Another option is to potentially use a VPN BUT I haven't tried this so don't know if or how well it would work.
Istanbul has a huge range of variety of hotels, hostels and guesthouses. We stayed in a rather quirky, but clean and friendly hotel  SuB Karakoy.
It's in the perfect location in the heart of the lively Karakoy neighbourhood, just a few minutes walk from the ferry port, metro, and both the old and new parts of Istanbul. It also has a terrace, stylish furniture, unique interiors and serves up a delicious and huge Turkish buffet breakfast.
If you prefer a more luxury hotel you may like the JW Marriott Bosphorus Istanbul, or if you prefer hostels, Agora Hostel, could be a good choice.
There are also plenty of other accommodation options in Istanbul to suit all preferences and budgets budgets, which you can find on the map below.
---
This 3-day Istanbul itinerary really only just scratches the surface, there are so many other things to see and do which could easily keep you occupied for a week or even longer.
So now you've read our recommended 3-day Istanbul itinerary, what would you like to do there most?
Travel Resources for Istanbul in Turkey
Planning your trip to Istanbul in Turkey? Here are some of our recommended useful resources to help you have the best time possible:
● TRAVEL INSURANCE IS AN IMPORTANT CONSIDERATION FOR TRAVEL. If you're travelling long-term like us and from the EU, then True Traveller is our go-to option.
If you're from a non-EU country, another option for long-term travel insurance is SafetyWing, which you can pay for on a month-by-month basis. This is also good for shorter trips.
● Find amazing flight deals to Istanbul on Skyscanner and Kayak.
● Compare Rental car prices in Istanbul on Rentalcars.com.
● Booking.com usually have the best hotel prices in Istanbul.
● Our go-to for self-catering accommodation in Istanbul is Vrbo.
● Before booking accommodation in Istanbul, check reviews on Tripadvisor.
● Discover fantastic trips and activities in Istanbul with Viator and GetYourGuide.
● Bookmundi, G Adventures, and  Intrepid Travel offer group holidays and tours to Istanbul and Turkey.
Enjoy this post? Pin it for later!
Partnership Disclosure: Walks in Istanbul provided us with a complimentary Walking Tour of Istanbul. This did not influence my post in any way and as always I've provided balanced and honest reviews. Read more in our full Product Review Disclosure.