Affiliate link disclosure: This post may contain affiliate links including Amazon that earn me a small commission, at no extra cost to you. Read more in our full Affiliate Link Disclosure.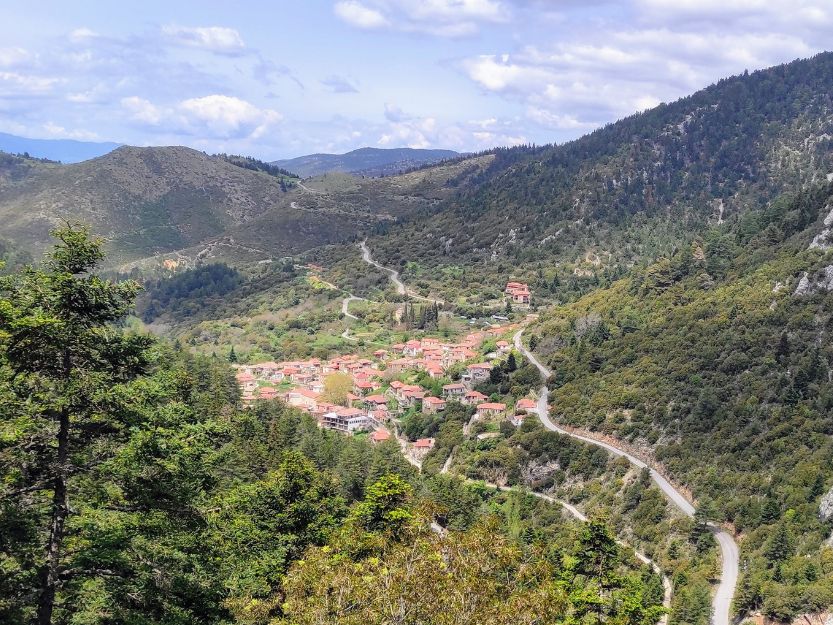 Laconia (Lakonia / Λακωνία) is located in the southeastern part of the Peloponnese Peninsula. It is nestled between the Parnonas and Taygetus mountain ranges, extending all the way down to the bottom of the two easternmost fingers of the Peloponnese. It beckons travellers with its rich history, breathtaking landscapes, and local culture and offers an array of experiences that capture the essence of Greece's past and present.
Unique Things to Do in Laconia
Whilst there's a plethora of things to do in the Laconia region, this post heads more off the beaten track to Central and Northern Laconia to look at some hidden gems. I discovered these during a trip with Mythical Peloponnese and Travel2Peloponnese after TBEX Europe 2023 in Kalamata, and during a different trip with Andy.
Here are five unique things to do in Laconia, that are well worth the road trip required to reach them.
1. Discover the Ancient Town of Mystras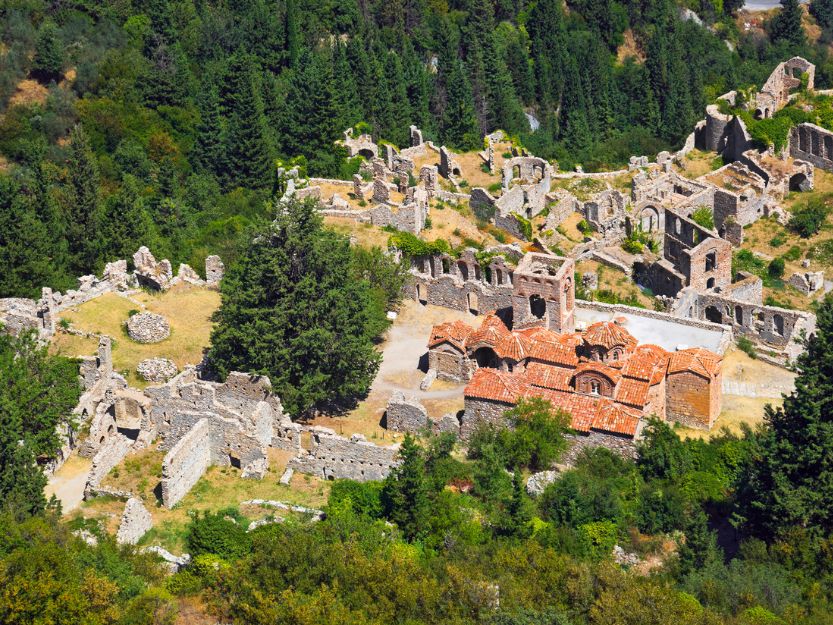 The UNESCO World Heritage Site of Mystras is a fortified town that sprawls down a steep hillside at the foot of Mount Taygetus, about 5 km from Sparta. Also known as the 'Wonder of Morea', it was once the Byzantine capital of Morea (Peloponnese) and home to around 40,000 people. Nowadays it's one of the most important archaeological sites in the Peloponnese.
You can discover the ancient town of Mystras by wandering through the stone ruins of fortifications, fresco-adorned churches, palaces and monasteries, each telling a unique story of its time. It's especially beautiful in the springtime when the ruins are full of wildflowers and the smell of wild oregano and thyme fills the air.
The site has two entrances, one for the upper town and one for the lower town, each with its own car park. If you're not keen on walking up (or down) steps, I'd recommend parking in either the top or bottom car park first, exploring the connected town, then moving your car to the other car park and repeating.
In the upper town, you can explore the fortress, palaces and church, and admire the breathtaking views of the Sparta Valley and the Parnonas and Taygetus mountain ranges. Then, in the lower town, there are churches and monasteries to look around, including one that is still inhabited by nuns.
Before leaving be sure to take a look at its archaeological museum which houses amongst other things, exhibits of Byzantine pottery, sculptures, coins, jewellery, and the remnants of wall frescoes.
2. Hiking in the Parnonas or Taygetus Mountains
For the hikers or mountaineers amongst you, the Parnonas and Taygetus mountains present an opportunity to explore natural beauty amongst impressive mountain ranges. The mountain ranges boast a plethora of trails of different distances and difficulty to suit hikers of all abilities.
The best time to hike in these mountain ranges has to be in the springtime when the snow melts creating small waterfalls, and colourful wildflowers pop up everywhere.
Hiking in the Parnonas Mountain Range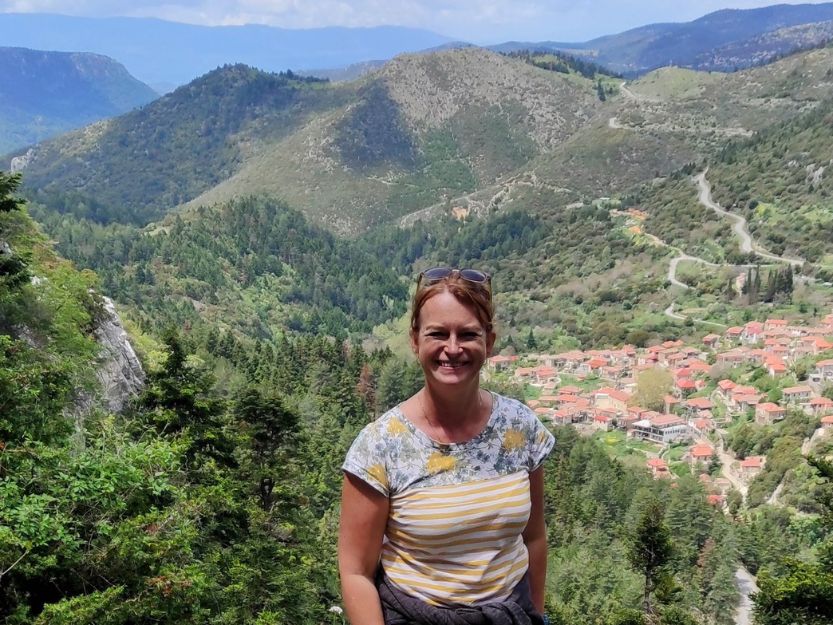 The Parnonas mountain range is 1,934 metres high and extends for 100 kilometres over a large part of the Peloponnese, boasting five deep gorges. Pretty, traditional villages are perched on its tree-lined slopes, along with churches and monasteries, secret caves, springs and waterfalls.
Parnonas has many hiking and climbing routes to offer, including the big ones – National Trail O33 and the European. However, there are also plenty of shorter, easier trails, many of which follow the historic paths that join the mountain villages.
If you are short on time like I was on my visit to Laconia, I can recommend the short but sweet hike I did up to Agios Ioannis Church (Saint John the Baptist Cave Church) with Travel2Peloponnese.
Starting from the road, not far from the mountain villages of Veria and Tsintzina we hiked the 2km (45 minutes) there and back hour hike up the rocky trail through the forest to the cave church. The church was built up high in the rock in 1335 offering incredible panoramic views of the villages, valleys mountains and Laconian gulf below.
This was just a very short hike to give us a taste of the hiking Mount Parnonas has to offer. If we'd had more time we could have continued for about 10 km to the mountain village of Kosmas in Arkadia, or tackled one of the many other hikes in the area.
If you're hungry after your hike in this area or during your Laconia road trip, why not pop into Veria village to Oinous Taverna. Run by friendly husband and wife Kostas and Gianna, who are the only residents of Veria, they serve up excellent traditional food in huge portions. I can't recommend it enough as a lunch stop to refuel before continuing your day.
Hiking in the Taygetus Mountain Range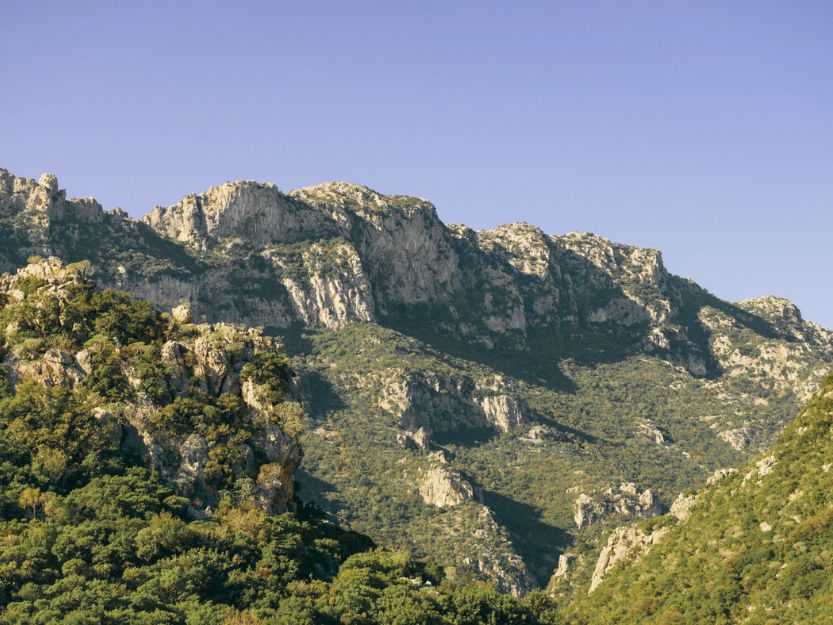 The Taygetus mountain range is Peloponnese's highest mountain at 2,404 metres and is the most impressive in Greece. Consisting of a long ridge, running north to south from Arcadia to Mani, it also marks the border between Laconia.
This mountain range has an extremely interesting relief with many of its peaks over 2,000 metres high, with lots of small streams flowing down the heavily forested slopes. It has steep, rugged terrain and boasts breathtaking views over the Laconian landscape and the sparkling blue sea.
Taygetus really is a paradise for hikers and mountaineers, offering a multitude of hikes of varying durations and difficulties (again including the European E4 route). Although, I would say generally, the hikes are more challenging than those on Parnonas.
For the much more experienced hikers amongst you, you may like to tackle a hike to the summit of Mount Parnonas or Mount Taygetus. However, due to the more technical nature of a Taygetus hike or trek, it is recommended that you go on a tour with a certified guide such as one of the below.
3. Step Back in Time in Abandoned Tsintzina Village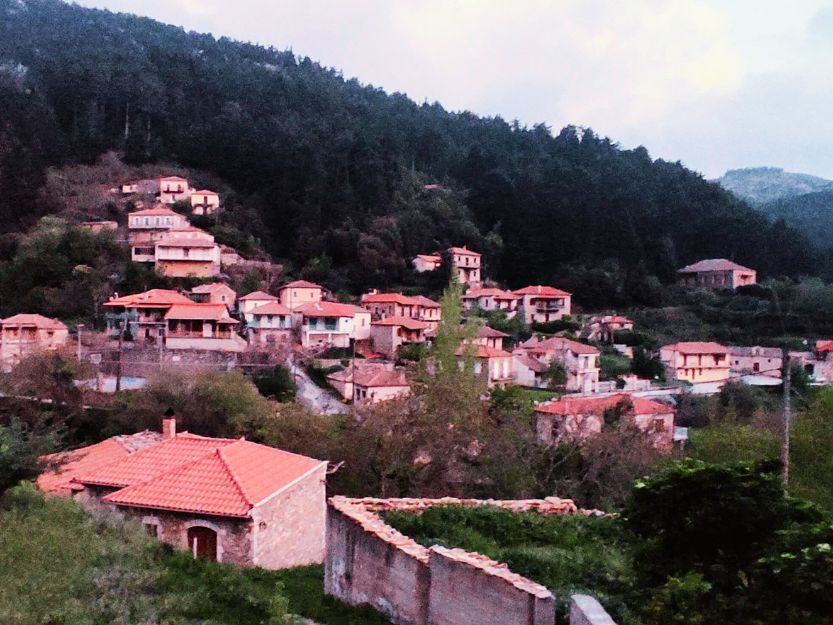 Perched at 1,100 metres on Mount Parnonas, Tsintzina Village is now officially called Polydroso but retains its historic name in local conversation. A visit to the virtually abandoned village of Tsintzina is like taking a step back in time, especially if you visit in the off-season as I did.
Wander through cobbled alleys that wind past traditional, stone-built, traditional houses built on the village's three hillsides, resembling an amphitheatre. The village's main attractions include the Byzantine churches of Agios Ioannis and Agia Marina, the monastery of Agioi Anargyroi, and crystal-clear springs.
This village is also a good base for hikers; it's the starting point of seven well-marked trails that traverse Parnonas' fir-covered slopes. The trails pass stone bridges, meandering rivers, and pine forests, leading to bubbling fountains, hidden caves and pretty churches. Each trail presents a unique challenge, catering to various levels of difficulty.
Nowadays Tsiintzina only has four permanent residents, after many of the old residents relocated after the war to nearby Goritsa, to work as olive and wheat farmers.
Despite being so sparsely populated, the village springs to life in the summer with around 1,000 people descending on the village, some are previous residents returning to renovated ancestral homes and some are visitors.
An unforgettable highlight of my time in Tsintzina was the incredible evening we spent with Iphigenia in her restaurant Taverna Kukunari. Although she doesn't live there any more, Iphigenia grew up in Tsintzina, where she learnt all her grandmother's recipes. She opened her taverna to share them with her family, friends and visitors.
Our evening at Kukunari was incredible, as we enjoyed a feast of traditional, dishes created from locally sourced ingredients, each prepared with love. Iphigenia welcomed us as if we were family, joining us at the table to share the stories and history behind the food we ate and to ask us about ourselves too. 
If you want to experience Iphigenia's amazing food and heartwarming hospitality at Kukunari Taverna on your visit to Tsintzina be sure to book in advance. It can get busy in the summer as the village is full of residents and visitors, and in the off-season, the taverna only opens on weekends.
Whilst I was in Tsintzina, I stayed at Prytaneio which is actually the only place to stay in the village. Perched on the outskirts of the village overlooking the village centre. From the cosy and comfortable rooms to the terrace with amazing views, to the cosy bar and lounge area – Prytaneio is a gorgeous place to stay the night.
4. Explore Geraki Castle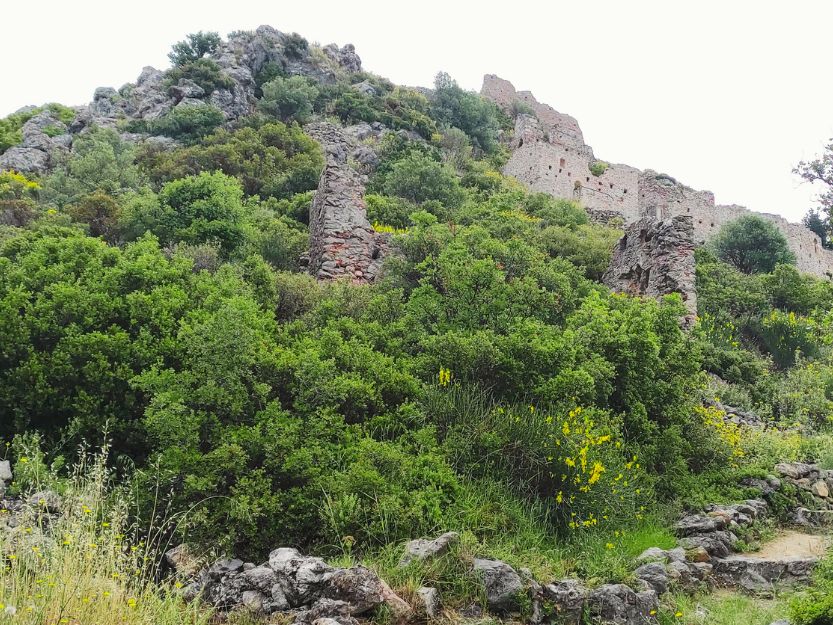 If you love exploring castles, especially ones not overrun with tourists, Geraki Castle is a perfect option for you in Laconia.
Like its bigger, more famous cousin 'Mystras', Geraki is also built on a hill. However, for some reason, despite being an important archaeological site it is still relatively unknown and sees very few visitors. I was pleasantly surprised to discover this when we visited, as I can't stand trying to explore sites at the same time as hundreds of other people.
When you first arrive at the site of Geraki Castle, you are greeted by the sole member of staff (who is also the guide) who invites you to watch a short documentary on Geraki. I'm sure this would have been interesting, but strapped for time, we decided to explore the site by ourselves.
The guide went ahead of us to unlock a few of the churches that the public can enter, although there are several more you can view from the outside. Outside each of the renovated or excavated buildings were information boards which helped us understand what we were looking at.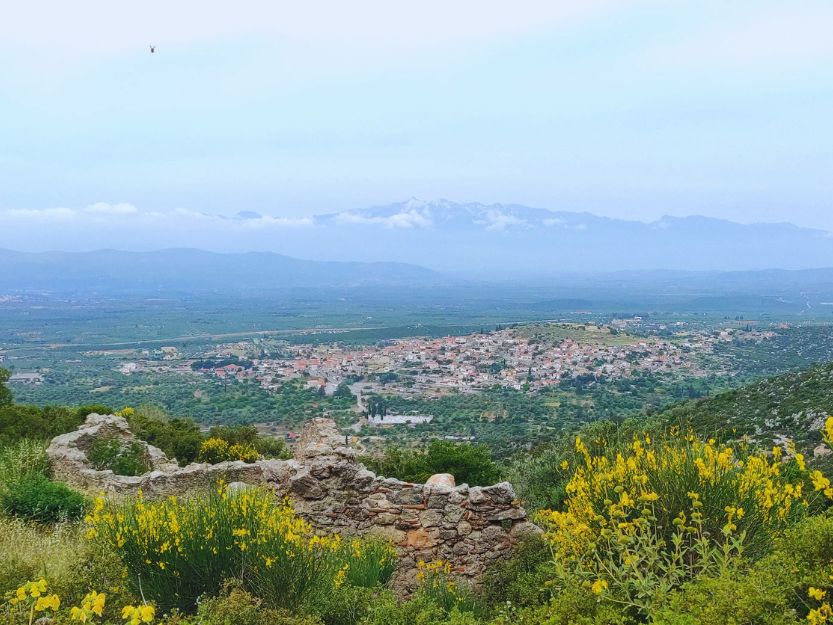 After exploring the churches, buildings and ruins on the lower level of the site, you can climb the stone staircases to the castle and battlements at the top. This was my favourite part of the visit to Geraki Castle, as its strategic position means you are treated to breathtaking 360-degree views of the surrounding landscape. Visit in spring like I did and you'll also get to enjoy the spectacle of the colourful wildflowers that litter the site and countryside below.
Before descending back down the hill, be sure to take a look at the Church of Agios Georgios which is built within the Caste walls and contains detailed wall frescoes from the 14th Century.
5. Experience the Revival of Vamvakou Village
In the North of Laconia is Vamvakou village, somewhere I had been intrigued to visit since I first heard about it, over a year ago.
The village school had over 200 pupils at the start of the 19th Century, but in more recent years it suffered the same fate as many other mountain villages in Greece. The village became almost deserted as residents abandoned their houses to emigrate abroad, leaving less than 10 permanent residents and no school pupils.
However, in 2018, a group of five friends, from this part of Laconia founded the Social Cooperative Enterprise (SCE) Vamvakou Revival. The aim was to bring sustainable development to the village.
Nearly five years later, the village looks very different and has been given a new lease of life. It now has a taverna Voureiko, two guesthouses Ruga of Vamvakou Homes and Παραδοσιακός Ξενώνας Βαμβακούς was built, the village's traditional homes were renovated, trails were created and opened for cycling and the village playground was redeveloped.
The old school has also been converted into a space to hold educational programs, cultural events and workshops. The Vamvakou Women's Cooperative 'Vamvakia' has also been established to produce, process and sell local products such as olives, chestnuts and walnuts.
People have now started to move to the village as residents and visitors like myself are starting to arrive to experience the Vamvakou Revival as it's promoted as a travel destination.
Hopefully, in a few years the vision for the village, to have it bustling with life again will be accomplished.
---
There are so many great things to do in the Laconia region of Peloponnese and this post only scratches the surface with a few of the more unique things.
These five unique things to do in Laconia, Peloponnese, are just a taste of what this remarkable region has to offer. It's crammed full of interesting places and experiences waiting to be discovered. So, try to give yourself longer there than I've had so far, to enable you to discover more of what this beautiful, interesting area of Greece has to offer. If you have the time after Laconia a visit to the Argolidas region to explore Nafplio, Ermioni and their surrounding areas is highly recommended.
Have you visited Laconia in the Peloponnese? If so, what other unique hidden gems should we add to our next road trip there? If not, what thing would you like to do there most?
Travel Resources for Laconia in Greece
Planning your trip to Laconia in Greece?
Here are some of our recommended useful resources to help you have the best time possible:
● TRAVEL INSURANCE IS AN IMPORTANT CONSIDERATION FOR TRAVEL. If you're travelling long-term like us and from the EU, then True Traveller is our go-to option. 
Another contender for long-term travel insurance is SafetyWing, which you can pay for on a month-by-month basis. This is also good for shorter trips.
● Find amazing flight deals to Greece on Skyscanner and Kayak.
● Compare rental car prices in Greece on Rentalcars.com.
● Booking.com usually have the best hotel prices in Laconia.
● Our go-to for self-catering accommodation in Laconia is Vrbo.
● Before booking accommodation in Laconia, check reviews on Tripadvisor.
● Bookmundi, G Adventures, and  Intrepid Travel offer group holidays and tours to Greece.
Enjoy this post? Pin it for later!
Partnership Disclosure: Most activities and my stay at Prytaneio Hotel were complimentary as part of a post-TBEX Kalamata 2023 FAM trip in collaboration with Mythical Peloponnese and Travel2Peloponnese. This did not influence my post in any way and as always I've provided balanced and honest reviews. Read more in our full Product Review Disclosure.