Andy and I may be from England but I've never lived in London or spent much time there. In fact, I've really only visited some of the main
London landmarks
and tourist attractions, plus some of my sisters' local pubs when they lived there. So as we're spending the better part of a year back home I thought it was about time I explored a bit more of our capital city. After a bit of thought, I decided to take myself off for a solo weekend in London's East End whilst Andy stayed at home in Norwich. 
Things to Do in London's East End
True to form, I tried to fit in as much as possible during my 48-hour visit and managed to discover several great things to do there. Here are six great things I found to do in London's East End which you might also enjoy.
1. Take a Self-guided Walking Tour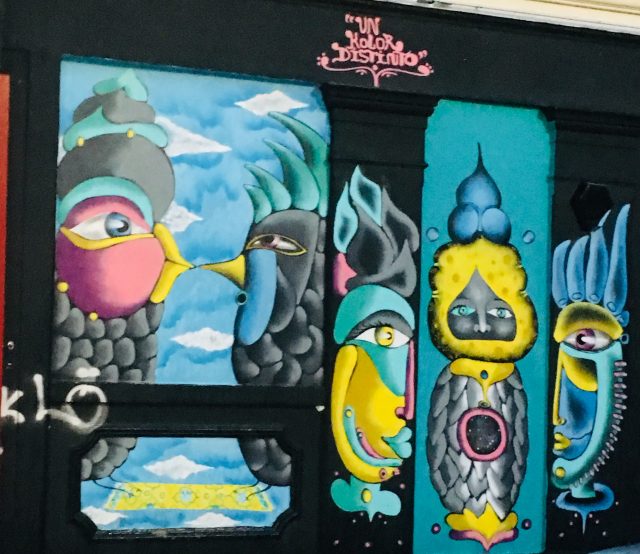 I was lucky that my London trip coincided with a travel bloggers meetup. This included Alex and Lisa from Career Gappers, who being East End locals had created an excellent alternative walking tour for us. It had a great varied mix of history, street art, markets and food. There were a few East End highlights but many of the things we saw and places we visited were hidden gems that only a local could know about.
The tour started at London Liverpool Street Station and finished at Old Street Station (although ours ended in a local pub for food, drinks and a travel-themed pub quiz). It took about two hours so make sure you have comfy shoes and an umbrella just in case you get the same appalling weather we did. If you're looking to orientate yourself with London's East End with a self-guided walking tour I can highly recommend following Career Gappers' detailed post – Alternative London walking tour which includes details on all the stops and a route map.
The East End, in particular Brick Lane and Shoreditch (which has lots of cool things to do) is well-known for its fantastic and varied street art. So if you're more interested in concentrating your self-guided walking tour on street art, then Trip Savvy has a great
London street art walking tour
you can follow.
2. Eat an Iconic Bagel at Beigel Bake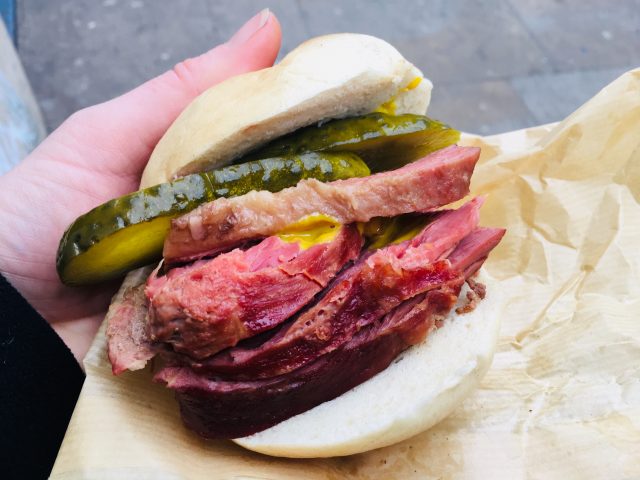 The very first thing I did once I arrived in the East End, before I even checked into my hotel was to drop into Beigel Bake. I'd heard great things about this small, cheap, 24-hour eatery on Brick Lane; they've been serving up their iconic salt beef bagels for generations. A salt-beef bagel costs with (or without gherkins) costs under £5 and there are also other fillings to choose from including pickled herring or smoked salmon. This is definitely a snack stop not to miss out on.
3. Visit the Viktor Wynd Museum of Curiosities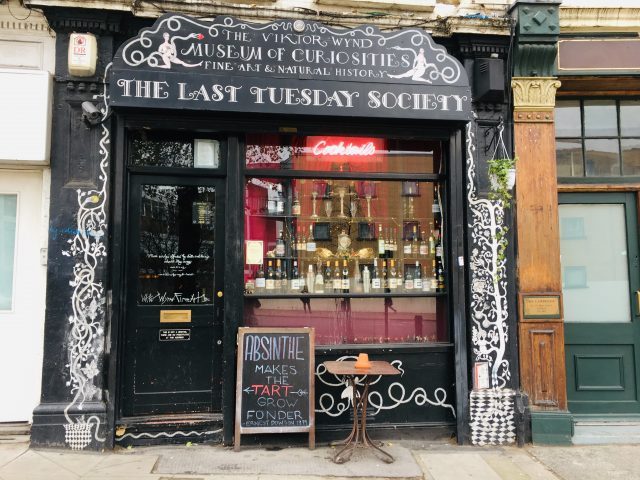 The Viktor Wynd Museum of Curiosities or the Tuesday Society Shop as it's officially named, is a modern-day take on the Victorian 'cabinet of curiosities'. Its small basement is full of weird and wonderful exhibits collected from all over the World by its owner and namesake Last Tuesday Society Chancellor, Viktor Wynd. You'll find, rather haphazardly displayed, many taxidermy specimens, skeletons and skulls, strange art, books, letters, erotica and a plethora of other curios.
To be honest, it was rather bizarre, but fun for a browse and even better for a post-browse cocktail in the ground floor bar. The bar is well known for its excellent cocktails; I recommend the delicious Witches Cradle, which tasted like a cross between an espresso martini and a chocolate orange – yum.
4. Take a Chilling Jack the Ripper Tour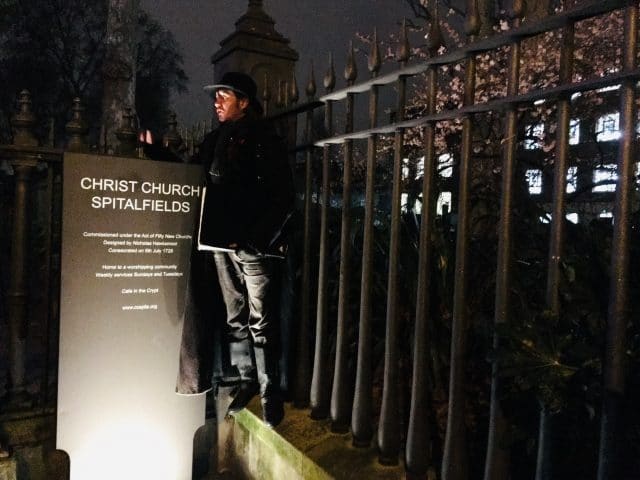 One of many interesting facts about London is that despite much speculation, the real identity of Jack the Ripper has never been discovered.
This adds to the mystery of a Jack the Ripper tour, one of the most popular tourist attractions in the East End and one of the darkest attractions in London.
There are many agencies that run these tours daily but I was lucky enough to be invited by to join Triple .co to join the Ripper Vision Tour. This tour is a cut above the rest as it is the only one where the guides use hand-held projectors to display images onto buildings, walls and doors to really bring the gruesome story of Jack the Ripper to life as you walk around.
I went on the 7:30 pm tour; there's another one at 2:30 pm but I thought it would be much more chilling to do this tour in the dark, I was definitely correct on that assumption. I, and about 20 other people, met up with our guide, outside the Whitechapel Art Gallery next to Aldgate East Underground Station. Our guide, Jonny, was dressed in period costume which immediately set the scene for the upcoming tour. He told us he'd been running Jack the Ripper tours for 15 years but had been interested in it since he was just 7 years old; needless to say he was extremely knowledgeable on the subject and equally enthusiastic.
We all followed James as he retraced the footsteps and the route that the Ripper may very well have taken himself. We stopped at regular intervals at the site of each murder and listened as James theatrically described the events as the murders unfolded. The use of the projector to show images of the original crime scene photos really helped transport us back to 1888 when the murders took place.  I can't recommend this tour enough it was a fantastic engaging and memorable experience. The fact that the guide was a true Ripperologist and was able to answer any and all questions thrown at him made it all the better.
5. Have a Curry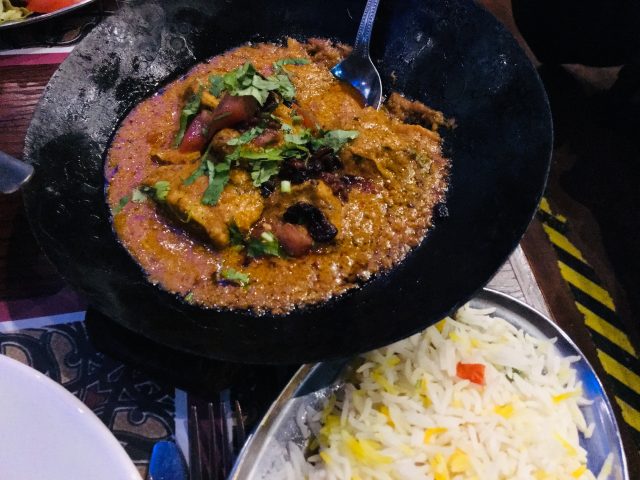 You'll be spoilt for choice of excellent places to eat in the East End but one thing you really can't miss eating whilst visiting is a curry. The area is well known for its curry houses and you shouldn't be hard-pressed to find yourself a mouth-watering curry or a 'ruby murry' as it's known in Cockney rhyming slang. 
Brick Lane is known to many tourists as the 'curry mile' in the East End and for good reason as each side of the road is lined with curry house, after curry house. This is where most people who don't know the area will head for a curry. However, speak to many a local and they'll tell you that Brick Lane curries generally aren't that amazing and there are far better places nearby.
I went for my late evening curry in '
Tayaabs
' a very popular Punjabi nestled down a side street in Whitechapel. I was recommended Tayaabs by several people and I definitely wasn't disappointed. It was busy, very busy, and I had to wait about 20 minutes to be seated, but it was well worth the wait. The food is all freshly made, extremely tasty, and very reasonably priced. Just note that you can't book a table and you'll probably have a wait, so the earlier you get there the better.
6. Browse a Market (or Two)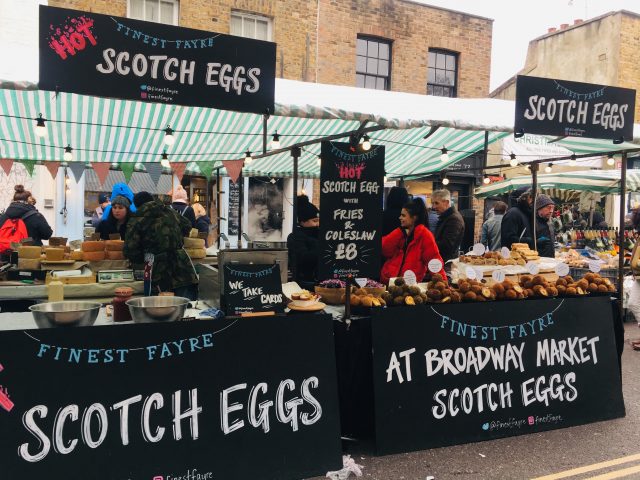 If you love exploring local markets like I do, then you'll be in your element in East London, which has many different markets, held on different days to choose from. Having a browse around some of these is a great way to experience some of the history, culture and tradition of this part of London. It's also a good opportunity to sample some traditional English food.
Here are some of the best:
Old Spitalfields Market – located in Spitalfields and open seven days a week from 10 am to 5 pm, this historic indoor market is one of East London's busiest markets. Around the edges are many boutique stalls, salons and eateries, but it's at the heart of the market where it really all happens. There, you'll find traders plying all kinds of wares such as clothes, jewellery, arts and crafts and street food. On Thursdays there's an antique market and on the first and third Friday of each month, there's a
vinyl market
. 
Broadway Market – found in the middle of Hackney and open on Saturdays from 9 am to 5 pm, this market is a delight for foodies. Set up on an old drovers route into the city, Broadway market has been the home to traders since the late 1800s. It was relaunched in 2004 and now has over 130 stalls, the majority of which are farmers' markets and street food stalls. You'll find a fantastic selection of fresh produce, street food, flowers, vintage clothes, coffees, books and handicrafts. 
Petticoat Lane Market – is found between Middlesex and Goulston Streets in Spitalfields and opens from 9 am to 2 pm on a Sunday. This world-famous market now sells clothes for men, women and children, along with household goods and other bits and pieces. Back in the day though, traders mainly sold petticoats and lace from the stalls, hence its name. Confusingly, you won't find Petticoat Lane on the map. Prude Victorians renamed it 'Middlesex Street' in the early 1800s as they couldn't bear it being named after the undergarments sold there. There's a smaller version of the market held on Wentworth Street on Mondays to Fridays between 8 am and 4 pm.
Colombia Road Flower Market – another of London's famous markets, Colombia Road Flower Market is located in Hoxton and opens on Sundays from 8 am to 2 pm.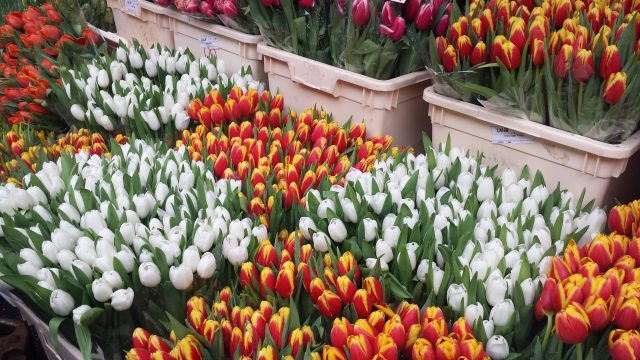 A flower and plant lovers' paradise, this must be London's most Instagrammable market. With buckets overflowing with gorgeous, colourful flowers, this market is extremely popular with locals and tourists. if you want to avoid the crowds and peruse the stalls at a leisurely pace or get your pick of the best blooms, be sure to arrive as early as possible.  
My personal favourite is Broadway Market, mainly because I'm a foodie and love trying as many different types of food as possible. I errored on the day I went though, and had a big breakfast, so didn't have room to sample anything. It's a good excuse for a return visit though.
Other Activities in London's East End
There are, of course, lots of other things to see and do in London's East End if you have more time. If you prefer things organised for you rather than going it alone Get Your Guide has loads of great activities on offer which you can book online.
Then, there are a vast number of other things to see and do in London in other areas. Have a look at this ultimate London bucket list and this 3-day London itinerary for more ideas.
There are also plenty of places in London to visit with kids if you're in London as a family.
London's East End Hotels
There are many places to stay in London's East End, but during my visit, I was invited to stay at The East London Hotel which has since changed hands and is now called Yotel Shoreditch.
Yotel Shoreditch (formerly The East London Hotel)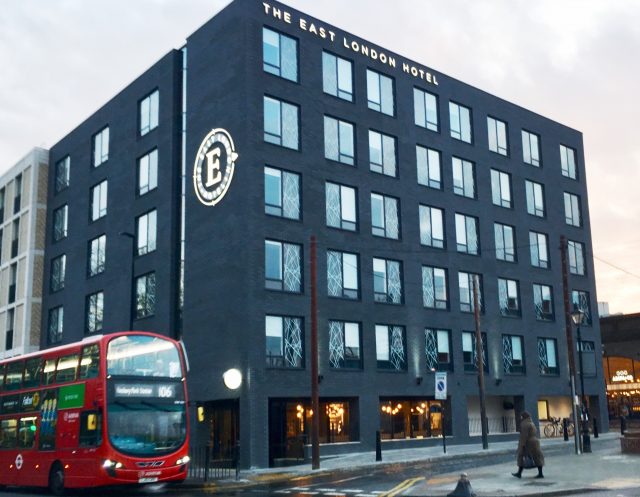 The Yotel in Shoreditch (previously The East London Hotel) is a modern, stylish hotel, very conveniently located in the heart of East London. Being just a couple of minutes walk from Bethnal Green underground station on the Central line means you're it's only about 15 minutes by tube from central London.
The hotel is also right of the doorstep of all of East Ends excellent restaurants, bars and attractions, including Paradise Row which is just behind the hotel. Directly across the road is V&A Museum of Childhood which I, unfortunately, didn't get a chance to visit.
There are 161 rooms of various types: standard double, premium double, family and twin. Prices start from about £50 a night and goes up to £180(ish) a night depending on the room and date. 
The reception is located at the front of the property and doubles as a bar and restaurant. As with everything in this hotel simplicity and convenience seem to be at the forefront of mind when deciding the check-in process. It's a self-check-in process that you do via one of three check-in stations. A member of staff was on hand to help out with any issues with the check-in, but it was all very straightforward. Just bear in mind that because the check-in process is automated you can't check in early, not even by a couple of minutes. Check-ins at 2 pm so it's best to try and time your arrival for that or you can relax in the bar or restaurant whilst you wait.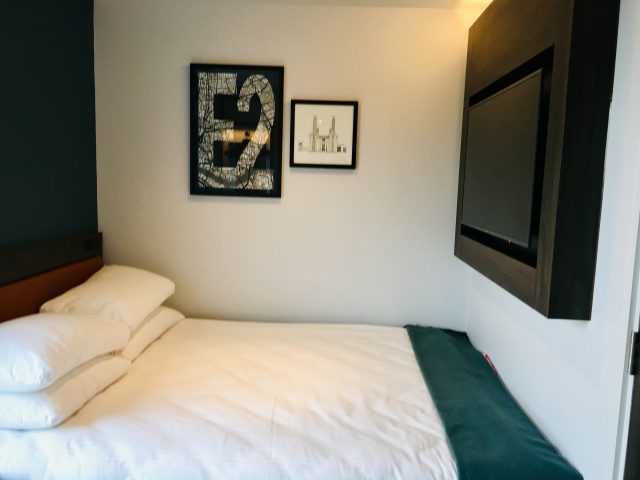 As the saying goes 'good things come in small packages' and that is certainly true with regards to the rooms at The East London Hotel. I had a standard double room with a window which was very small and compact. Nonetheless, the clever design meant I had everything I could possibly need for an enjoyable stay.
There was a huge, extra comfortable bed with big storage space underneath for luggage and a huge widescreen TV on the wall at the foot of the bed. A small desk and chair, along with a mirror, hairdryer and Nespresso machine. There was also some hanging space for clothes, a bedside table and a safe. 
The room
had air-conditioning and super-fast wifi (accessible all over the hotel) and USB charging points next to the bed which came in very handy. The bathroom was a good size with a clean, modern design and luxurious monsoon power shower. There was also a huge mirror surrounded by lights, perfect for getting ready for a night out.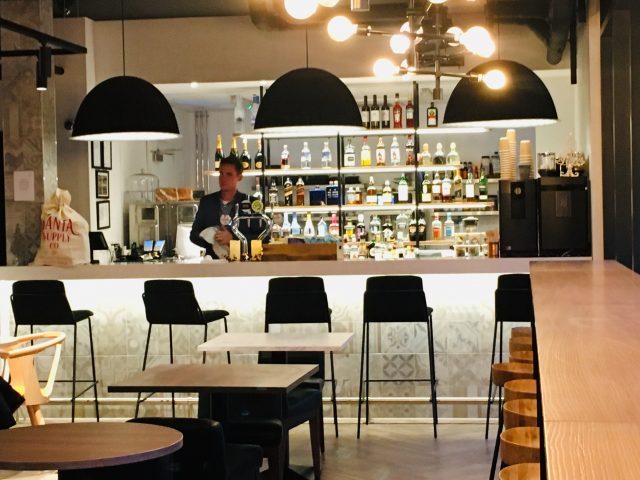 Due to the hotel's simplicity there's not much more in the way of facilities except of course the bar and restaurant downstairs which always seemed to be busy and had a very friendly atmosphere. The restaurant offers an all-day menu of bagels, snacks, salads and light bites, sadly I didn't get a chance to try any of these as I was so busy sightseeing. I did however get to eat breakfast which was delicious. I had pan au chocolat, followed by smashed avocado and bacon on sourdough bread, washed down with a latte and cranberry juice. Just what was needed to set me up for the day.
The well-stocked bar is open until late and as well as all your usual tipples they also have a selection of craft beers and from 5 pm also serve up a selection of classic cocktails.

I loved my stay at The East End Hotel and wouldn't hesitate to recommend it to anyone that's looking for a convenient, friendly and comfortable place to stay in the East End. 
BOOK THE EAST LONDON HOTEL HERE
With all the things there is to see and do in the East End I can guarantee you're going to need longer than I had. I'm already planning a return trip so I can see (and write) more of what's on offer in this fabulous area of London.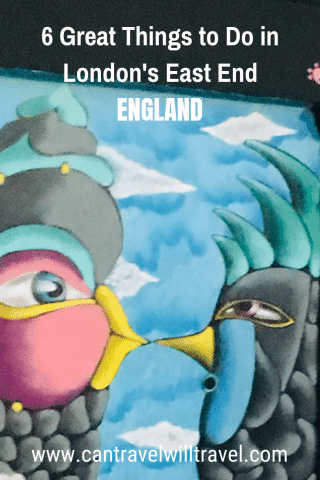 Pin me for later!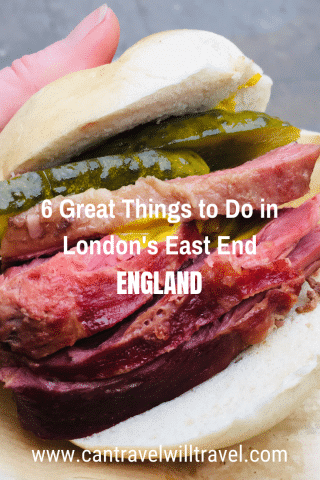 Pin me for later!
Have you visited London's East End? Can you suggest any other things to see or do that I missed? 
P.S. You can read more posts on England via the following link: 
Product Review Disclosure: The East End Hotel hosted my stay in London's East End and Triple.co provided me with a complimentary Ripper Vision tour. This did not influence my post in any way and as always I've provided balanced and honest reviews. Read more in our full Product Review Disclosure