When it comes to buying gifts for your nearest and dearest, what if they are travellers who are on the road more often than at home? What if they have little room in their bag or life for material things? What in the world can you buy as gifts for travel lovers that they'll appreciate and that will be useful enough to actually make it on their next travel adventure? Well, we're here to give you a helping hand have selected some useful gifts for someone going travelling.
These useful travel gifts are based on our favourite tried and tested items, all that we use or have used ourselves and can personally recommend as gifts. There are travel gifts for him, travel gifts for her and those that would be suitable for anyone. Here are our favourite useful, (mostly) practical, unique travel gifts that anyone with the travel bug would love to receive! Especially worth bearing in mind when holiday sales are taking place like the Cyber Monday and Black Friday Travel sales.
This post contains affiliate links. If you use them to make a purchase, we may earn a small commission at no extra cost to you. As an Amazon Associate, we earn from qualifying purchases. Learn more in our Affiliate Link Disclosure.
Useful Travel Gifts For Someone Going Travelling
At first, we were going to separate this post into two sections, travel gifts for her and travel gifts for him. However, it soon became clear that most are suitable gifts for anyone so we've mixed our twenty favourite useful travel gift ideas together in one post.
1. Backpack or Suitcase
Something every traveller with lots of travel gear needs is something to carry it all in, be it a suitcase or backpack. Just bear in mind to consider what type of trip they're off on when you decide which would be best for them. For example, a wheeled suitcase just isn't going to cut it if they're off on a trekking adventure in the Himalayas or the Amazon.
Andy and I have both had several different travel bags over the years. But our favourites are Osprey backpacks – I love my Osprey Fairview 55 which has a detachable day pack.
I've also used a trusty Berghaus Remote as a day-pack and for trekking for about 10 years. It's just been replaced by this upgrade which is fantastic.
If the thought of carrying a pack on your back all the time fills you with dread you could even consider getting a backpack with wheels. Many options are reviewed in this post on the best wheeled backpacks.
2. Hammock
This Wise Owl Outfitters Hammock is perfect for hanging up anywhere, anytime you need a snooze, read a good book or catch up on some work. It's available in a fantastic range of colours and comes in both double and single sizes. We both have hammocks like these which we use all the time. They were a permanent fixture on our balcony in Cambodia. We'd recommend buying a double, even if it's only for one person as it's much comfier and still won't take up much space in their bag.
3. E-reader
Just about everyone enjoys reading whilst travelling, especially to kill time on a long flight, bus or train journey. This means a Kindle e-reader is a must to save from being overloaded with piles of books. The newest version of the Kindle Paperwhite is also waterproof and has twice the storage.  
4. Passport and Document Organiser
Keeping track of passports and other documents on a busy travel day can be a constant challenge and many people can't stand wearing unattractive money belts. A great alternative to keep everything important together and organised is this Zoppen RFID Blocking Passport and Document Holder. It comes in a wide range of colours so is a suitable gift for him or her.
5. Action Camera
Andy is the YouTuber of the two of us and he suggested the latest GoPro, the top-of-the-range GoPro HERO8. It's waterproof up to 10 metres and robust without any housing which makes it ideal for travellers to record their adventurous activities. This might be rather pricey as a gift for some people though, but there are plenty of cheaper action cameras on the market you could consider. 
6. Capital Cities Coffee Table Book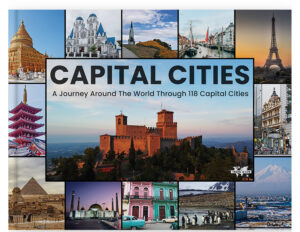 Get this beautiful Capital Cities Coffee Table Book by 'Travel is Life Creators' via Amazon.
An ode to capital cities, this book is a collaboration by 68 travel bloggers and photographers, ourselves included. Our personal contribution to this was Panama City which we visited during our 5 month Central America trip in 2019.
Through storytelling and photography, this amazing book showcases 118 capital cities around the World from every continent, including Antarctica.
This is a gorgeous gift for any travel lover or even a special treat for yourself.
7. How to Shit Around the World
Unfortunately, nearly all travellers have to deal with an upset stomach at some point during their travels. Turkey trots, Delhi belly, Montezuma's revenge…call it what you will but this frank but witty best-selling book How to Shit Around the World by Dr Jane Wilson-Howarth explains how to avoid and fight back against the dreaded traveller's tummy! This book was given to us as a leaving gift from some friends and we can vouch that it has practical advice, whilst being entertaining and amusing at the same time.
8. Multi-tool
One item that always comes in handy when travelling is a good multi-tool and this Leatherman Sidekick multi-tool is a great option. It's lightweight and compact and comes with fourteen handy tools including a good-sized pair of pliers (essential, according to Andy). Just what you need for any unexpected tasks or repairs.
9. Portable Power Bank
There's nothing worse than your gadgets' batteries dying, especially if you're travelling in the middle of nowhere. This EasyAcc Portable Power Bank 26000 mAh provides you with the means to recharge your gadgets at any time. I actually have the model down from this, which is brilliant, I can get four charges for my iPhone out of it. In hindsight though, I wish I'd got this one as it's even better. With 4 USB ports and better light, it charges an iPhone up to 6 times.
10. Jewellery Organiser
This is one for the ladies, keeping jewellery organised when travelling can be a nightmare, but this WODISON Travel Jewellery Organiser solves the problem. It has different sections for various types of jewellery to keep necklaces from tangling, earrings together and also a separate pouch for larger pieces.
11. Boxer Jocks
And one of the best travel gifts for men, these extra-comfortable, but long-lasting and hard-wearing these Under Armour Boxer Jocks, are suitable for everything from day-to-day wear to strenuous activities like mountain climbing. They are also available in different styles, materials, lengths and colours. In Andy's opinion – "they're the Range Rover of pants".
12. Travel Towel
I sadly left my well-travelled, much-loved travel towel on a beach in Cambodia. What followed was a new discovery of the Wise Owl Outfitters Travel Towel which I now wouldn't be without.  It's great quality, big, quick-drying and soft. It comes with a free hand towel and in a variety of great colours, obviously, I bought the green one which I love!
13. Neck Pillow
A neck pillow is something we've never carried with us when travelling as they've always seemed too bulky and definitely wouldn't fit in our bags already crammed full of other items. That was until I spotted this great alternative Trtl Travel Pillow which as you can see isn't bulky or heavy at all and it folds down really small making it no extra hassle to pop in a bag. This would make a fantastic gift to help the traveller in your life have a cosy, comfortable and restful journey.
14. Water Filter Bottle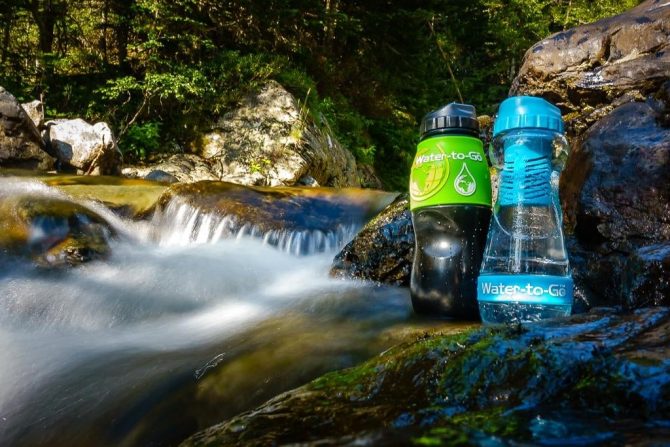 Environmentally friendly and sustainable travel is high on everyone's agenda these days, or at least it should be. One way travellers can encourage and support this is by limiting or eliminating their use of single-use plastics. You can help this initiative and also encourage responsible travel by purchasing the gift of a great Water-to-Go Bottle. 
These bottles provide access to healthy, safe water anywhere in the World whilst offering a reusable, environmentally friendly alternative to single-use plastic water bottles. They have a unique 3-in-1 water filtration system that removes 99.9% of all microbiological contaminants found in water. 
We've partnered up with Water-to-Go and can offer all our audience two great discounts depending on where you're located.
Just use the 15% discount code CTWT15 at the Water-to-Go EU or Water-to-Go USA checkout. 
15. Lonely Planet Guide or Phrasebook
Just about any book you want can be found online and downloaded these days and most people won't want to carry books around with them when travelling. Having said that a Lonely Planet guidebook still makes for a great gift if it's received in advance of a trip as it can be an invaluable resource for planning a trip.
My Dad bought us a Lonely Planet World Guide Book for Christmas last year and when back in the UK planning our next trip we still flick through it along with the numerous other country guides we've left sitting on my Mum's shelves. The Lonely Planet phrasebooks are also great and I often slip one in my bag if travelling to a new country as it can come in very handy when out and about trying to communicate.
16. Paracord
This may sound like a bizarre gift, but Andy suggested it a long time ago, and now I always carry 9 – 12 feet of paracord woven into a bracelet. Andy carries a longer length woven into a belt. I laughed at first until I realised how useful it can be. It can be used for a huge number of things such as a makeshift belt, clothesline, tying things to your luggage or securing a door…the list goes on and on.
17. Waterproof Phone Holder
A good quality waterproof phone holder is one thing I wish someone had bought me as a gift a long time ago. I learnt the hard way how useful these can be when I went tubing in Vang Vieng, Laos. I took my iPhone and some cash in an extremely poor-quality dry bag; a couple of splashes later and my phone was water-damaged which was devastating! These Waterproof Phone Holders are great when you want to go swimming at the beach or take part in other watersports without leaving your phone and cash behind. If, however, the recipient of your gift carries multiple gadgets around with them, then our next gift may be more suitable. 
18. Dry Bag
A great gift for any traveller planning some water activities such as rafting, snorkelling, diving or kayaking is a good dry bag. This is especially important if they tend to carry electronic gadgets with them such as cameras and video cameras. An effective dry bag like the Ultra Dry Waterproof Bag will keep everything safe and dry leaving them free to enjoy their aquatic adventures without having to worry about water-logged gadgets. This also comes with a free waterproof phone holder.
19. Packing Cubes
I'd always been dubious of packing cubes in the past, but finally caved in and bought these G4free Packing Cubes for our four-month trip to Cuba and Mexico. I have to say I cannot believe I didn't get them before, they make packing and organising clothes so much easier, not to mention enabling much more to be squeezed into a bag.
20. Hotel Stay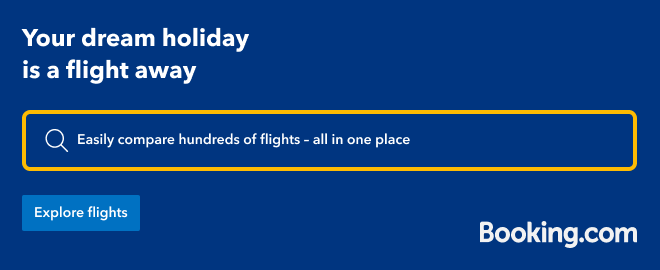 One of my all-time favourite gifts to give or receive and something that doesn't happen very often is a surprise hotel stay. We tend to book the majority of our hotels via the Booking.com website as they usually seem to have some of the best deals.
21. Flight Ticket
Finally, of course, if money is no object you could always push the boat out and treat the favourite person in your life to a flight ticket, maybe to go along with that hotel stay. Skyscanner is our favourite website for booking flights and we often find great bargains. Nothing like a surprise trip away to get in someone's good books!
---
There are of course many other gifts you could buy your travel-loving friends and family but these are some of my and Andy's favourite gifts for someone going travelling. I hope you find something amongst them to put a smile on the face of your loved one on that special occasion. 
What's the best travel gift you've ever received?
---
Enjoy this post? Pin it for later!