Vang Vieng; a little town in Laos infamous for the reputation it developed in the 90's as the hedonistic, party capital of Southeast Asia. Young backpackers would swarm there for their backpackers 'rite of passage' – Vang Vieng tubing on the Nam Song River. The aim for most was to get completely off their faces on booze and drugs at more than 30 riverbank bars. They'd then throw themselves off rope swings and platforms, or down a 'death slide' into the river. Inevitably, this didn't end well.
This post contains affiliate links. If you use them to make a purchase, we may earn a small commission at no extra cost to you. As an Amazon Associate, we earn from qualifying purchases. Learn more in our Affiliate Link Disclosure.
How Tubing in Vang Vieng Has Changed
As the number of visitors increased so did the number of fatalities. Alcohol, drugs, drowning, and jumping onto rocks in shallow water, were all to blame. In 2011 it had turned into a death trap, with a death toll reaching 27. In 2012 the Lao Government decided enough was enough and intervened. They shut down the tubing in Vang Vieng; the parties stopped, the riverside bars were ripped down, and the backpackers left town. The town became deserted, and the local economy took a hit. It was a massive worry for the locals who had relied on the business the tubing scene had generated.
About a year later the Government allowed Vang Vieng tubing to resume, albeit on a much smaller scale. They enforced much stricter rules and regulations; permitting only two or three riverside bars to open at any time. As a result, the tubing and partying still happen today, only on a much smaller, more sensible scale.
Nowadays Vang Vieng is building itself a new reputation as an outdoor activity and eco-tourism destination. This focuses on its spectacular, stunning scenery and surroundings such as the blue lagoon which can be visited as part of a tour or by tuk tuk, scooter or bicycle. There are plenty of reasons not to skip Vang Vieng.
My Vang Vieng Tubing Experience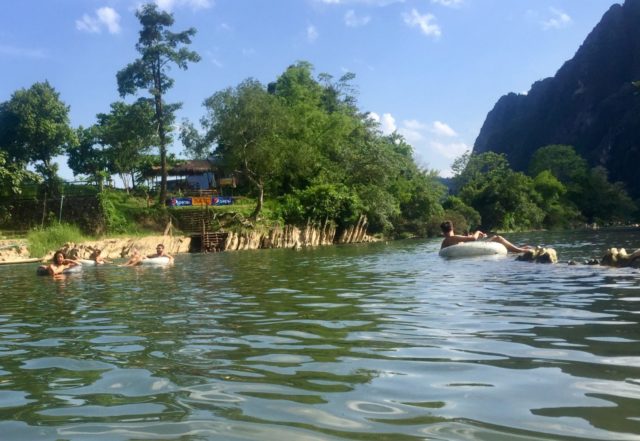 I'd been hesitant about visiting Vang Vieng but having heard great things about the 'new' Vang Vieng, I decided to give it a go after a few days in Vientiane before heading up to Luang Prabang. Curiosity had also gotten the better of me and I wanted to see for myself what the Vang Vieng tubing scene of today was about. I've never been one to turn down an adventure, or a party (within reason), so couldn't resist.
I felt apprehensive and nervous as our mini-bus arrived in Vang Vieng after a bumpy 3.5-hour journey from Vientiane. Whilst things may have calmed down in Vang Vieng, there's still an element of partying (for those who want it). I was hoping I wouldn't be out of my depth, especially as I was travelling solo this time.
How to Go Tubing in Vang Vieng
Despite my doubts, I ended up biting the bullet and going through with my Vang Vieng tubing experience. Here's how it went…
Tube Collection
You have to collect and pay for a tube from one of the tubing shops in town. There are white or yellow tubes which are locally owned, and newer red ones which are privately owned. I went to the first shop I came across, at the end of the road I was staying on. There was a Songthaew (Lao tuk tuk) parked outside with about 20 people milling around. To be honest, it all looked a bit chaotic; I took a deep breath and headed in. Five minutes later I'd signed a waiver form and paid the fee, plus a deposit (in case I lost the tube or returned it after 6:30 pm). 
Feeling My Age
Before I knew it my well-worn, white-painted tube had been bungee strapped to the roof of the Songthaew with several others. Next thing I found myself crammed into the back of the Songthaew with a group of young backpackers. Looking around I thought "What on earth have I gotten myself into"! Everyone else was barefoot in bikinis or swim shorts, clutching plastic bottles of spirits and mixers. I, on the other hand, was wearing walking sandals, shorts and a top (over a bikini), and was clutching a mouldy life jacket.
Despite being on the wrong side of thirty, I still felt (and sometimes acted) as if I were still in my twenties. However, right then, surrounded by those excited and slightly tipsy younguns I definitely felt my age. I began to have second thoughts about my fast-approaching Vang Vieng tubing experience.
Getting Started

With Tubing in Vang Vieng

The Songthaew rumbled along potholed roads for about 10 – 15 minutes until it reached our start point. It turned out that the young backpackers I'd found myself with were actually a nice bunch. They seemed more than happy for me to tag along and share their pre-drinks, whilst good-naturedly (I think) teasing me about my life jacket. I laughed and said, "It's 'the fear'…it comes with age. I'd rather look stupid than drown". 

The tubes were passed down to us from the roof and we carried them down to the river. The others chucked theirs into the shallow water and jumped onto them. They pushed themselves out into the slow current and started to float away from me. Eager not to get left behind, I inelegantly manoeuvred myself into my tube getting completely soaked in the process. I must say I felt a little smug that I'd had the foresight to bring my dry bag with me for my phone and cash. I pushed myself through the shallow water into the current, scraping my bum on the rocks as I went; then I started to float slowly downstream.
Floating and Bar-hopping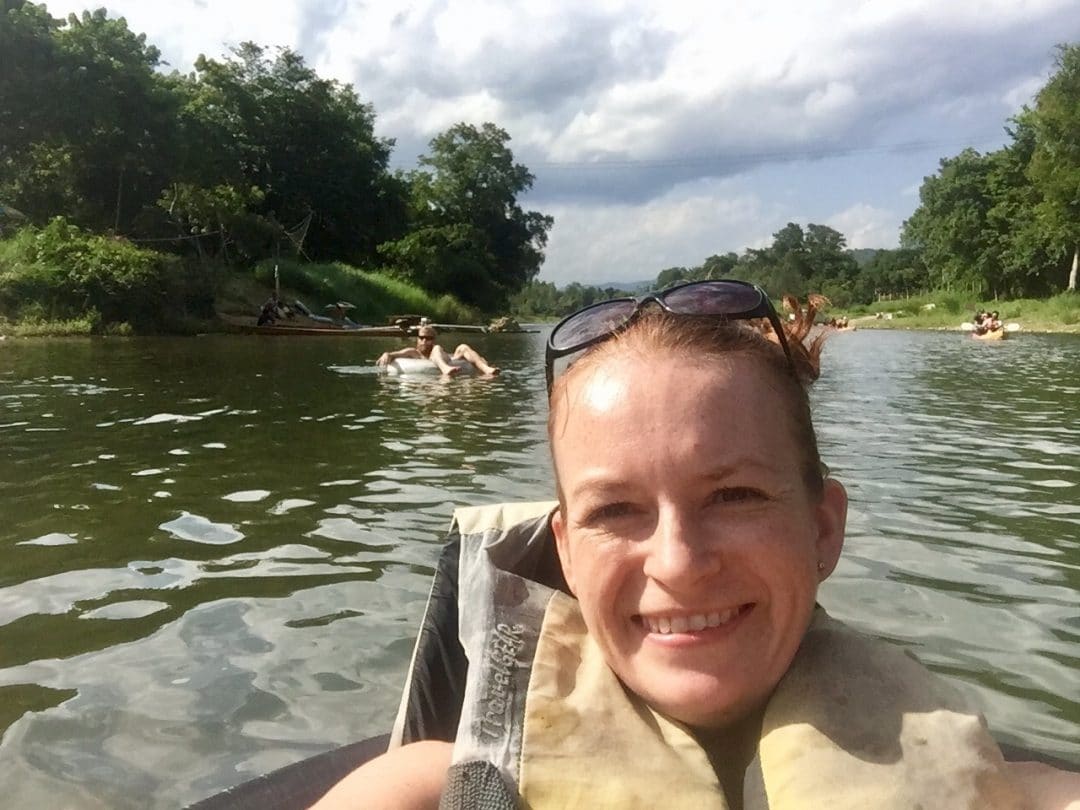 After a little more than a minute of floating, I spotted the first bar. Knee deep in water were young local boys throwing filled water bottles tied to a piece of rope out to the tubers to catch. They were literally fishing for tubers and reeling them into the bar. Soon it was my turn. SPLASH…the first bottle launched at me landed miles away. SPLASH…again the second bottle landed out of arms reach, I paddled frantically towards it but to no avail.
By that point, I'd floated past the bar and resigned myself to the fact I was likely to miss it completely and lose my new-found friends in the process. One of the young boys yelled at me and I saw a third bottle hurtle towards me. This time after some frantic thrashing about I managed to grab it and laid back as he hauled me to the riverbank. As I walked up the steps a male bartender in a dress welcomed me to the bar with a shot of the local whisky, Lao Lao, which of course, I accepted.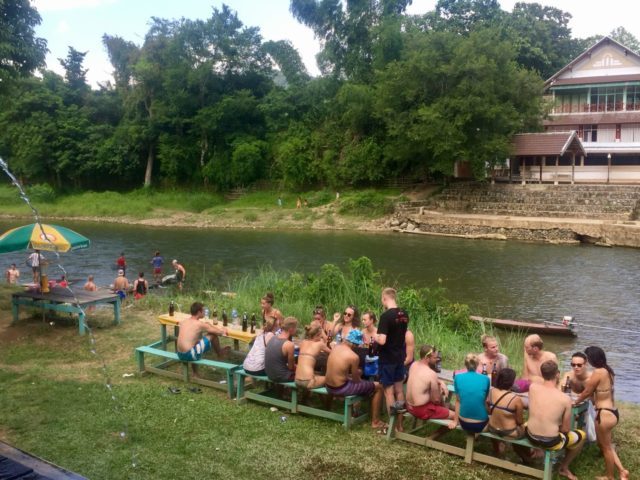 There were about 30 to 40 people in the bar, in various stages of undress and drunkenness, nothing too bad though. I bought a large beer at the bar for double the price in town. Scanning the room I spotted the others playing a game of beer pong and decided to join them. When in Rome and all that!
We stayed in that bar for about 45 minutes then it was back in the tube and floating down the river again. It was only about 15 minutes until we reached the second (and last) bar. This time we didn't need to be 'fished' for as the current dumped us on the rocks near the riverbank. This bar was smaller, busier and the clientele drunker. Music pumped out whilst people lounged on platforms chatting, danced (badly), or played mud volleyball next to the bar.
We'd been there about 20 minutes and sunk another beer when the bar staff announced it was time for a game. It turned out to be a drinking game with everyone sitting in a circle throwing water balloons at each other. If you dropped it and burst, you got wet, were out of the game and had to down a shot of Lao Lao. It was all a bit of harmless fun and I'm sure a far cry from the debauchery that went on in the old days!
Amazing Scenery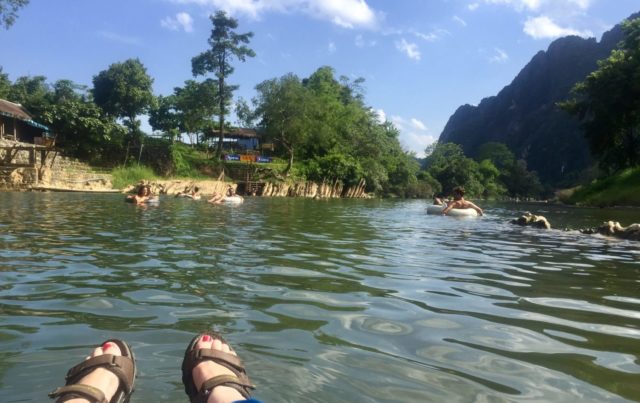 It was starting to get late so we relocated our tubes and set back off down the river. A bit deeper and the current stronger this time meant I soon lost sight of my new friends.
I was secretly pleased I'd lost the others. It gave me a chance to lie back, relax, and soak up the incredible scenery of the limestone karst mountains looming over the river. it was also pretty peaceful. and I would have dozed off if it wasn't for the occasional group of smiling kayaking Koreans…laughing as they splashed me with their oars!
After about an hour it was time for my Vang Vieng Tubing experience to end. I dragged my tube out of the river onto a waiting Songthaew, which returned me and some others to town.
Back at my hotel that evening I actually felt quite pleased that despite my hesitancy and nerves I'd pushed myself out of my comfort zone. I'd met a great bunch of people and had a fun-filled afternoon!
The only downside was that my dry bag turned out to not be quite so dry – so much for feeling smug earlier in the day. Water had gotten in and rendered the front-facing camera useless. The moral of the story is…don't take your phone or camera tubing! If you really must take them, be sure to buy a proper dry bag from town beforehand!
Where to Stay in Vang Vieng
 There's a wide range hotels, hostels and guesthouses, but I was kindly hosted for my two nights in Vang Vieng at Silver Naga Hotel, which I can highly recommend and have reviewed below.
Silver Naga Hotel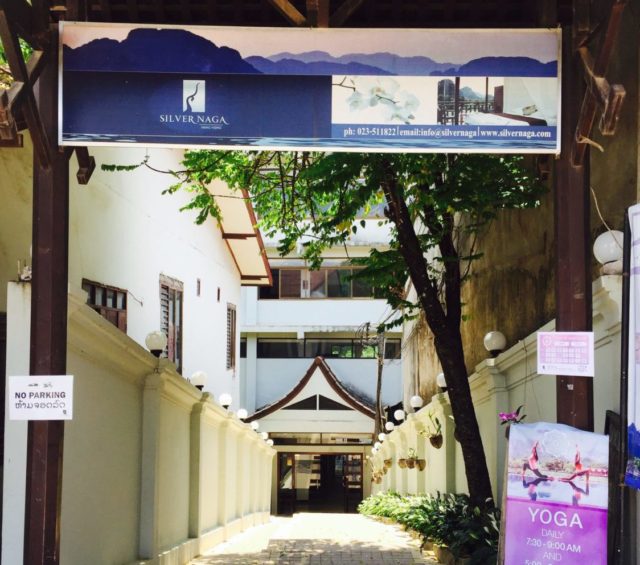 Silver Naga is named after the water serpent from Laos mythology. It's believed to protect the land and rivers of Laos. A luxury, boutique hotel, Silver Naga has an excellent location just a five-minute walk from the centre of Vang Vieng. It's set right on the banks of the Nam Song River with the most amazing view of the karsts.
The hotel has a strong focus on ethical tourism and is passionate about looking after its staff, the environment, and the local economy. A range of rooms are available, varying in price
I was greeted by friendly reception staff with a cold towel and a welcome drink, whilst they shared information with me about the hotel. They were also more than happy to answer my questions about tubing and helped me arrange my onward travel to Luang Prabang. I was all checked in and shown to my room within ten minutes.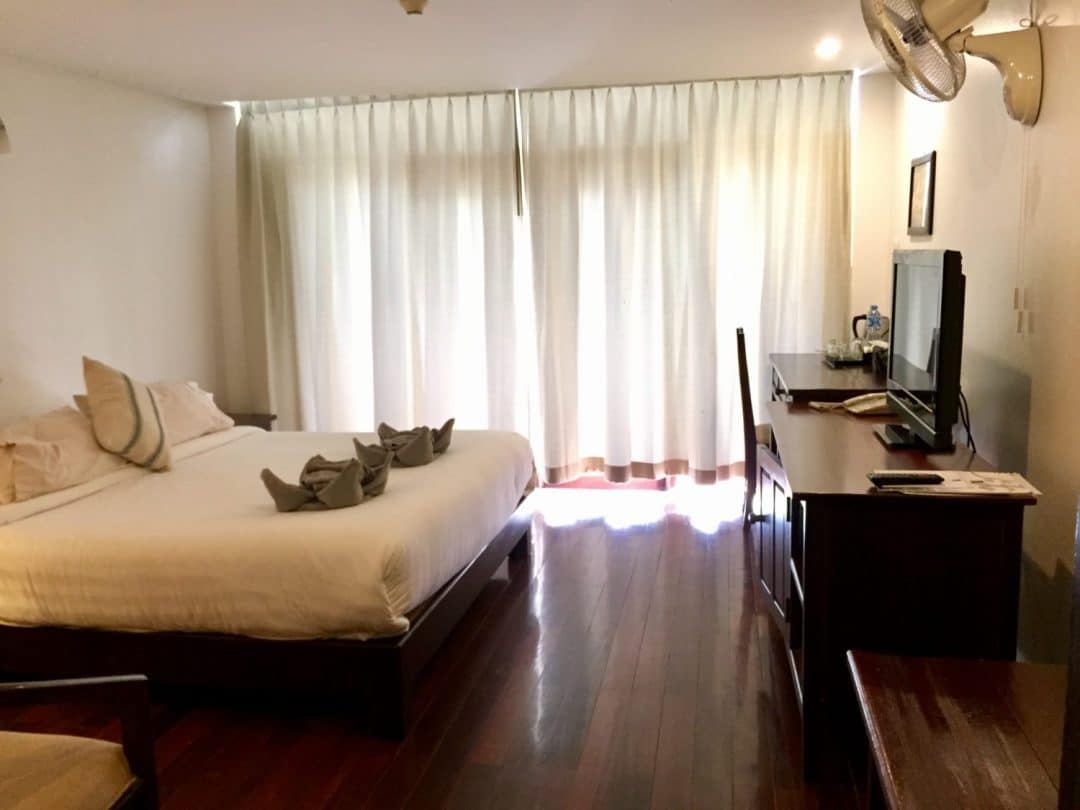 I had a deluxe double, with shower, aircon, television, minibar and coffee and tea-making facilities. The room was clean with a comfy double bed and complimentary toiletries in the bathroom. My favourite part was that it had its own terrace with chairs. It overlooked the swimming pool and offered breathtaking views out over the Nam Song River and the hulking karsts.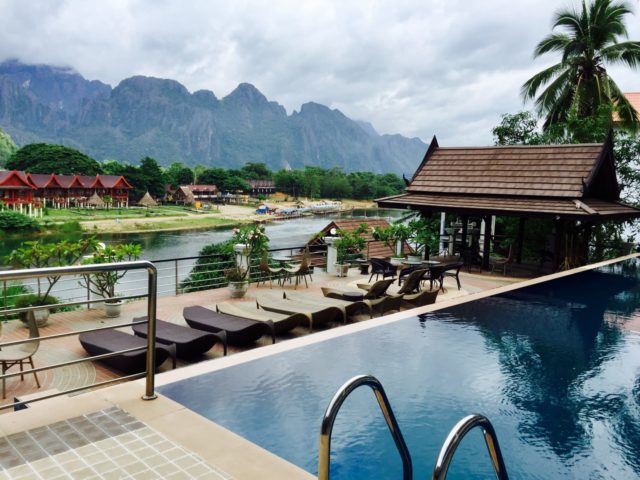 The infinity pool on the sundeck of the hotel was the perfect spot to relax and admire the views after my second day out cycling and hiking. There's also a pool bar where you can order drinks and snacks and a shaded corner with tempting hammocks. 
Unfortunately, I didn't get a chance to eat lunch or dinner in the restaurant. However, the breakfast buffet was huge spread with a wide variety of Western and Asian options, along with fresh fruit, tea, coffee, and juices.
There was reasonable wifi throughout the hotel, including in my room. Other facilities on offer which I didn't get a chance to enjoy were a small gym and a twice daily yoga class.
Other Accommodation Options in Vang Vieng
If you're on a budget or looking for something slightly different there are plenty of other accommodation options in Vang Vieng to suit all budgets and travel styles.
Was Vang Vieng Tubing Worth It?
Before visiting Laos, I'd been quite hesitant and undecided about visiting Vang Vieng. Travelling solo, without friends or husband, I'd expected (correctly so) that I would be one of the oldest people tubing in Vang Vieng, despite this, I actually had a great day. It's far from the crazy party it once was, although a few people were still trying to live up to that reputation. Although not a pre-requisite there are still illegal substances and plentiful alcohol available upon request should you wish to indulge. Yet, floating along the river taking in the beautiful backdrop of limestone karsts is a great experience in itself.
---
If tubing's not for you (remember you can bypass the bars if they're not your thing) you can also hire out a kayak or a boat with a driver. Or there are plenty of other outdoor activities such as hiking, cycling, and quad biking you can partake in.
Would you go Vang Vieng tubing or have you been recently?
---
Planning Your Trip to Vang Vieng?
Planning your trip to Vang Vieng? Here are some of our recommended useful resources to help you have the best time possible.
● TRAVEL INSURANCE IS AN IMPORTANT CONSIDERATION! World Nomads offers cover for travellers in over 100 countries and True Traveller is a great option if you're from the UK or EU.
SafetyWing is another solution, particularly for digital nomads and long-term travellers.
● Find amazing flight deals on Skyscanner,  Kayak, and AirAsia. 
● Compare rental car prices on Rentalcars.com.
● Book buses, taxis, ferries and trains with Camboticket, 12Go Asia, and Bookaway.
● Booking.com usually have the best hotel prices.
● Our go-to for self-catering accommodation is Vrbo.
● Discover fantastic trips and activities with Klook, Viator and GetYourGuide.
● Check out Bookmundi, G Adventures, and  Intrepid Travel for group holidays and tours.
Enjoy this post? Pin it for later!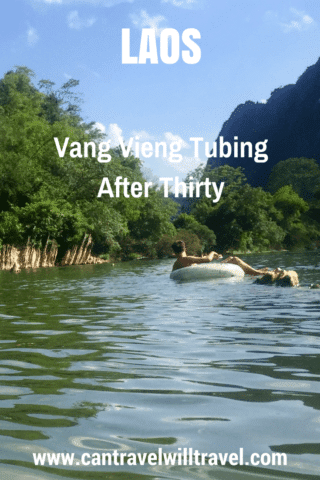 Partnership Disclosure: Silver Naga Hotel provided me with a complimentary two-night stay. This did not influence my post in any way and as always I've provided a balanced and honest review. Read more in our full Product Review Disclosure.