Luang Prabang in Northern Laos is on a small peninsula between the Mekong and Nam Khan rivers. I was in Luang Prabang when I attended the Mekong Tourism Forum there as hosted media. I made the most of the opportunity, by tagging on some extra days in the city before and after the forum, giving me a total of five and a half days there.
Based on my 'free time' and hosted forum events and activities here's my suggested three-day Luang Prabang itinerary.
This post contains affiliate links. If you use them to make a purchase, we may earn a small commission at no extra cost to you. As an Amazon Associate, we earn from qualifying purchases. Learn more in our Affiliate Link Disclosure.
Day 1 Luang Prabang Itinerary – Temples and Shopping 
Despite being small, the city of Luang Prabang is one of the most beautiful places in Laos. It's full of temples and shopping opportunities; ample to keep you busy for much of the first day of your Luang Prabang itinerary.
Morning Market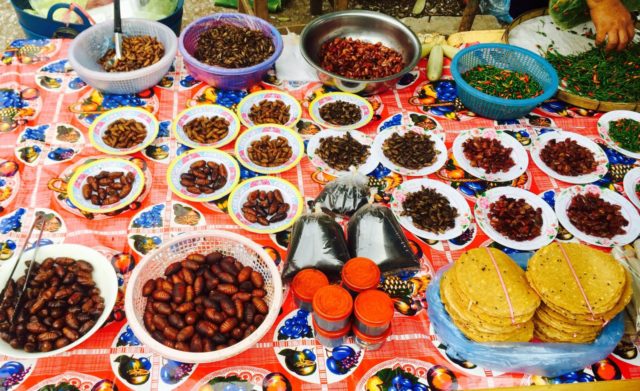 Spread over a couple of small back streets north of Sisavangvong Road near the Royal Palace is the Morning Market. Open between 6:30 am and 10 am, this is where many locals do their daily food shop, if you want to eat your way through Luang Prabang, this is a good place to start.
An early morning browse gives great insight into the raw ingredients native to Northern Laos. 
Rice and grains, all kinds of fresh Asian fruit, vegetables and herbs, and meat and fish (some still alive) are displayed on floor mats and low platforms. Alongside you'll see more unusual delicacies. Strips of buffalo skin (hair and all), dried bats, barbequed rats, and wasp and silkworm cocoons are the norm! How about grabbing yourself a breakfast with a difference? I'd already eaten but there's always next time! Sadly, you may also spot endangered species like turtles on sale. The Laos Government is working alongside other organisations to eradicate this but hasn't quite managed it yet.
Explore the Temples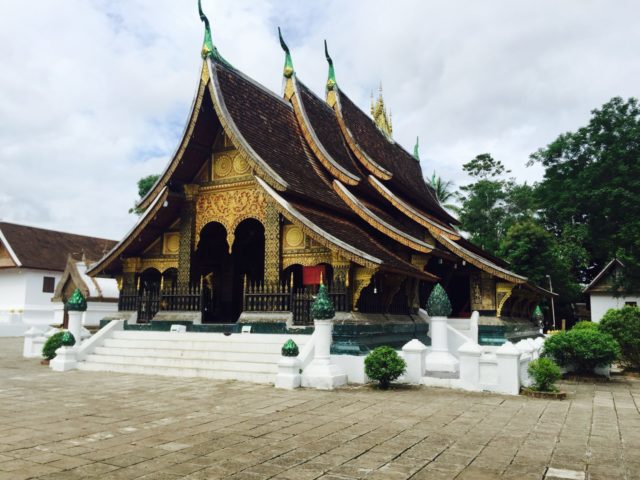 Luang Prabang is a UNESCO World Heritage Site. It has 34 Buddhist temples (or wats) dotted between Chinese and colonial structures. These are special because they are living temples; home to over 1,000 practising monks and novices. No visit to the city would be complete without a spot of temple hopping; easily done by foot or by bicycle as I did. A bicycle can be rented from many hostels, hotels or guesthouses (some free of charge), or from travel agencies in town.
Everyone will have differing opinions on their favourite temples. My favourite was Wat Xieng Thong (or 'Golden Tree Monastery'). At the end of the peninsula, it's the most important temple in Luang Prabang and one of the most spectacular in Laos. Elaborate features such as gilded, carved walls and a 'tree of life' mosaic adorn the temple, along with other colourful mosaics glinting in the sun. This is one temple you shouldn't miss and it's well worth taking some time to explore.
Other popular temples include Wat Sene Souk Haram and Wat Mai Suwannaphumaham; both are again on the main Sisavangvong Road. That leaves another 30 or so temples I haven't mentioned. The best way to discover these is to just wander the streets of Luang Prabang and look around at those that take your fancy. Some have a small entry fee and others are free.
After a morning of temples, you're bound to be getting peckish. Luckily there are numerous food options ranging from local street food stalls, cafes and restaurants to suit any budget. All kinds of cuisine can be found, so where you choose to eat will be down to personal choice. For a quick and cheap option, I recommend Xieng Thong Noodle on the main street opposite Wat Khili. Their speciality is Khao Piak Sen; a chewy rice noodle soup with pork, chopped greens, bean sprouts and fried garlic. Simple but delicious and cheap, a real bargain. Be careful not to miss out as they close mid-afternoon.
As always be sure to dress modestly when visiting any temples. Women and men should cover their shoulders and knees and remove shoes before entering. I always carry an emergency lightweight scarf or sarong for such occasions.
Browse the Shops
After lunch why not have a short break from sightseeing. Take a walk along the main street, through back streets and alleys to browse the shops dotted about. There's a great selection showcasing the best of Lao culture, traditions, and art; some with a modern or Western twist.  You'll find textiles made into items such as bedspreads, cushion covers and scarves; jewellery and other trinkets created from bomb metal; and second-hand books, spices, toys and clothing. Several shops double up as cafes such as Ock Pop Tok, Ma Tae Si or L'Etranger Books and Tea, perfect if you need a refreshment break.
Royal Palace Museum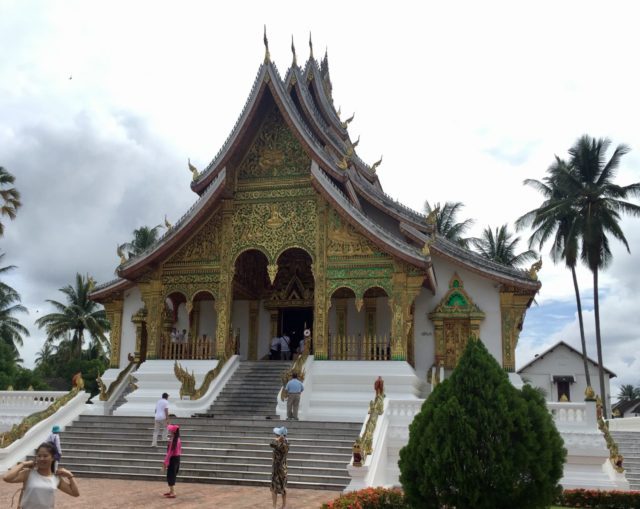 Set in large, neat gardens on Sisavangvong Road is the Royal Palace Museum or Haw Kham. Built for King Sisavangvong in 1904 it has several exhibits including weapons, paintings, a solid gold Buddha, the Lao crown jewels and a car collection. Unfortunately, I only had time to stroll through the gardens and view the palace from the outside. The museum is open every day Tuesday between 8:30 am to 11:00 am and 1:30 pm to 4 pm.
Mount Pou Si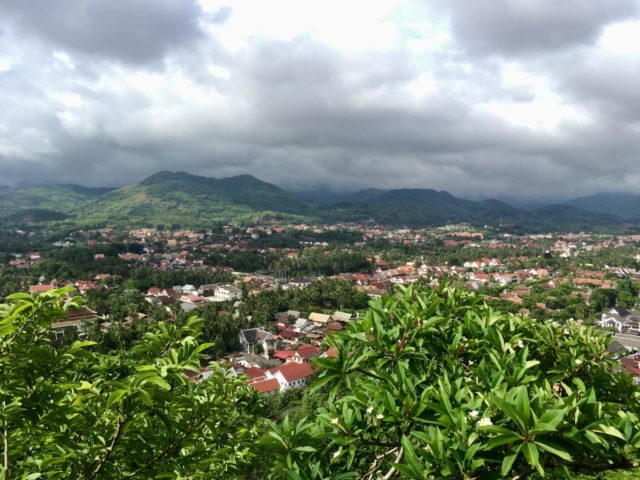 If you have enough energy left take a climb up Mount Pou Si, which is opposite the Royal Palace Museum.
There are over 350 steps to the top of the mountain where Wat Chomsi stands. You can go up one set of steps on the Sisavangvong Roadside and down the other on the Nam Kham Riverside or vice versa. This is a perfect way to finish your day of sightseeing. Rising about 150 metres it offers a panoramic view of the city and is one of the best places for sunset in Luang Prabang. Remember to take a torch to light your way back down.
Night Market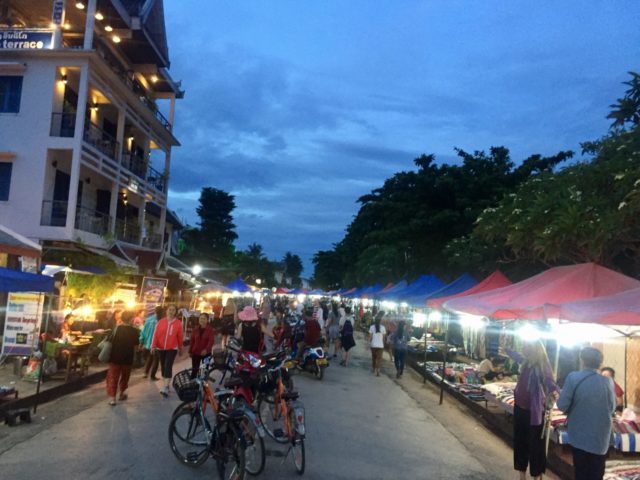 The daily Luang Prabang Night Market opens from 5 pm to 11 pm on the main street of the old town. It also spills down into some of the side streets leading off it. Hundreds of red and blue canopied stalls are set up in four rows stretching the full length of the road. A huge range of products is on offer including Lao handicrafts, clothing, bags, baskets and paper lanterns. The shops and restaurants on both sides of the road are also open, as are some street food stalls. There's not much to do in Luang Prabang in the evenings so combining a browse through the market with dinner is a good option. 
Day 2 Luang Prabang Itinerary – Traditions, Culture and Arts 
Day 2 of your Luang Prabang itinerary is all about experiencing and learning about traditions, culture and arts.
Tak Bat Alms Giving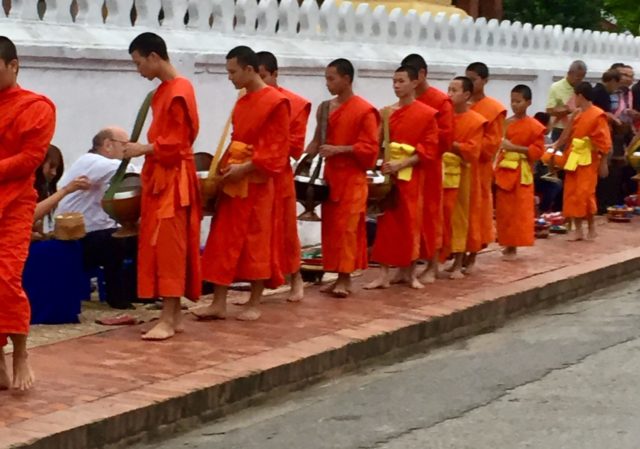 To observe the daily Buddhist tradition of Tak Bat Alms Giving you'll need a very early start, between 4:30 am and 5 am. This will give you time to find somewhere to wait for the orange-robed monks to leave their temples at 5 am. They walk in barefoot silent meditation as they pass local Buddhists waiting outside their shops and homes. The locals place their Alms or offerings (traditionally a small ball of sticky rice) into each monk's alms bowl. You can join the ceremony but I'd suggest unless it has some significance to you it may be better to simply observe. I did participate, but being non-religious I felt a little uncomfortable. In hindsight wished I'd watched from a distance.
Whatever way you experience Tak Bat make sure you do so with respect. Fellow Travel Blogger Jennifer Joslin from Two Can Travel attended Tak Bat with me and has written a great post with more information and tips on how to observe or join the Tak Bat ceremony respectfully.
Traditional Arts and Ethnology Centre 
To learn more about the 49 officially recognised, diverse ethnic groups (and their subgroups) in Laos, a visit to the Traditional Arts and Ethnology Centre (TAEC) is a must.  The centre aims to preserve, showcase and give insight into the traditional lifestyles and arts of the different ethnic groups. It houses impressive displays of artefacts from ethnic minorities, a cafe, a small library, and a fair-trade boutique shop selling high-quality Lao handicrafts.
You'll be ready for some lunch at this point so I'd suggest grabbing lunch in one of the small local eateries. We were hosted in a selection of these over the course of the forum and suggest trying some of the local dishes. My favourites were Laab – spicy meat salad, Or Lam – peppery meat and herby stew, Kaipen – crispy river weed with chilli and sesame seeds, and Luang Prabang Sausage.
Ock Pop Tok and Living Crafts Centre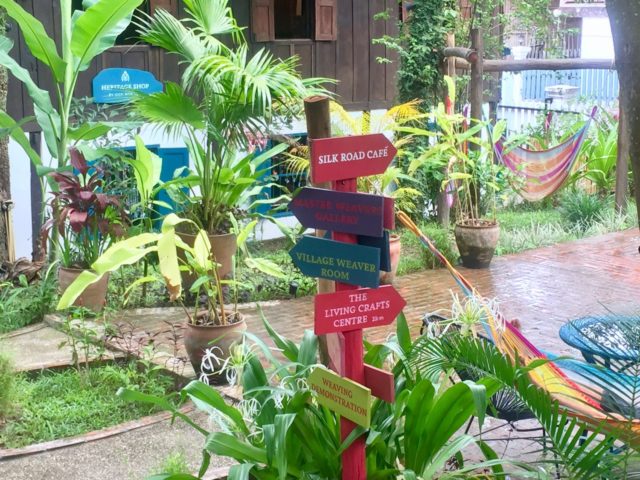 A fair trade business founded by an Englishwoman and a Lao woman, Ock Pop Tok (OPT) translated to English means 'East Meets West'. Starting out as just a small shop selling a few textile designs, it is now one of the most significant artisan and textile organisations in Laos and Southeast Asia.
OPT now has two shops in Luang Prabang old town, the Boutique Shop and the Heritage Shop. The latter is also the home to the Silk Road Cafe. Both have collections of gorgeous woven (hand-loomed) textiles and other handicrafts from more than 12 ethnic Lao groups. 15 minutes out of town overlooking the Mekong River is OPT's Living Arts Centre. There you can enjoy a free 30-minute tour including a free tuk tuk from either shop in town.
If you have more time and would like to learn more about these traditional handicrafts you could take one of a wide range of classes. I didn't have the time to do this but Jennifer from Two Can Travel has written about the weaving class at Ok Pop Tok that she took.
Garavek Traditional Storytelling and Music 
For a spot of pre-dinner entertainment, why not head on over to Garavek for one of their traditional storytelling performances.
This two-man show is performed every night between 6:30 pm and 7:30 pm in a small theatre in Luang Prabang's old town. The storyteller delivers a daily presentation of traditional Lao stories. He's accompanied by a musician playing the khene, a traditional Lao bamboo mouth organ. The company aims to demonstrate and preserve the traditional Lao legends, myths and folklore.
Tickets can be purchased from 6 pm at the theatre. I was unable to attend an official performance but was treated to a taster during one of the breakout sessions of the tourism forum. It was really entertaining and I'd have loved to see the full show!
Day 3 Luang Prabang Itinerary – Out of the City and Evening Games
Once you've had your fill of central Luang Prabang and its offerings, you may be ready to get out of the city and explore the surrounding area for day 3 of your Luang Prabang itinerary.
Kuang Si Waterfalls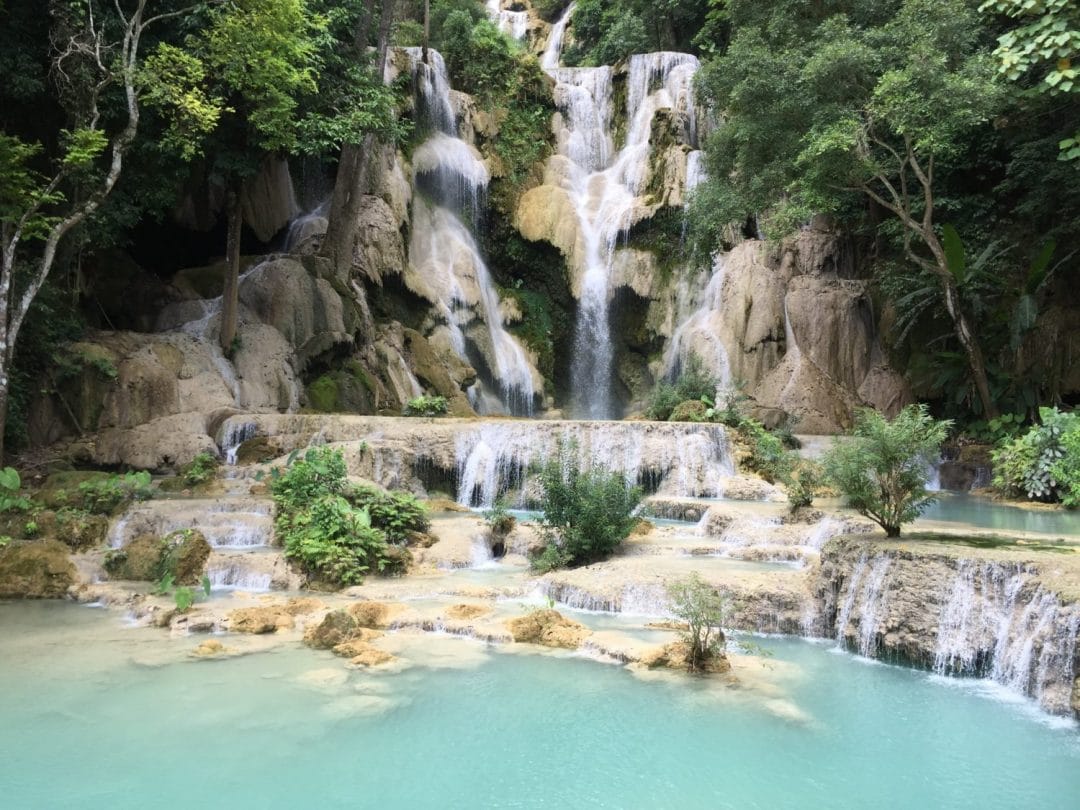 Located about 30 kilometres outside of town, a trip to Kuang Si Waterfalls was one of the key things I wanted to see whilst in Luang Prabang. I'd read great reviews and luckily wasn't disappointed. It was absolutely stunning and the most beautiful waterfall I've seen in South East Asia so far. The 45-minute or so tuk tuk ride to Kuang Si takes you through the picturesque Lao countryside. You'll drive through green rice paddies and dusty little villages, with a backdrop of limestone karst mountains.
The waterfall itself is about 50 metres high and has three tiers that cascade down through the jungle into azure blue pools before flowing downstream. The pools are perfect for a swim and, if you go early like me it's likely you'll more or less have the place to yourself. 
To reach the main waterfall you have to walk through the trees and around each pool until you reach the bridge at the foot of the cascading torrent of water. If you cross the bridge you can hike up the side of the waterfall, across the top and down the other side. It's a very steep climb with little to grab onto so be very careful. I wasn't aware you could do this so had turned up ill-prepared in my flip-flops; be sure to wear walking shoes, walking sandals or trainers with good grips. Let's just say there were a couple of hair-raising moments. I also wouldn't recommend doing the hike if it's raining as it could get extremely slippery underfoot.
Kuang Si Bear Rescue Centre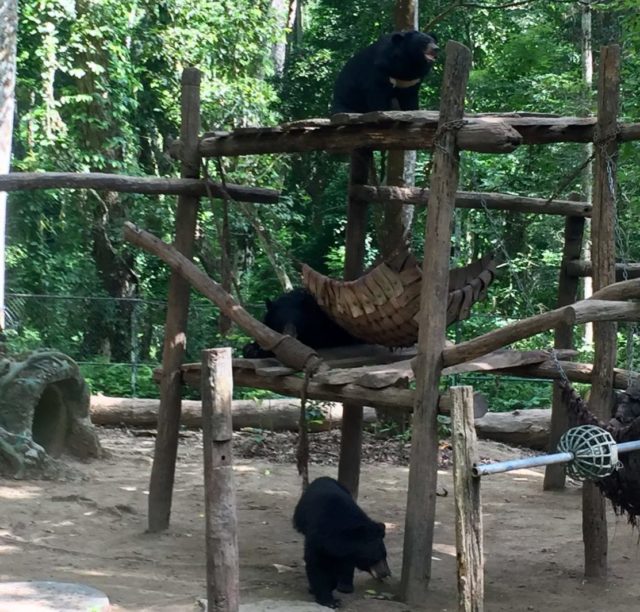 Inside the Kuang Si Waterfall Park entrance is the Kuang Si Bear Rescue Centre run by Free the Bears Laos.
The sanctuary is home to several Asiatic Black Bears or Moon Bears as they're otherwise known. They'd been rescued from traffickers and poachers who'd most likely trapped them to use in the bear bile trade or to sell their body parts for use in traditional medicines.  Whilst these bears are now in captivity and can never be released into the wild, the alternative is much, much worse. I spent some time watching the bears and they are able to roam around big enclosures and seemed pretty content.
The entry fee is included in the main park fee but none of this is passed back to Save the Bears. If you'd like to help feel free to make a donation or buy a souvenir from their on-site shop.
300 metres before the entrance to Kuang Si Park there is also a Butterfly Park, which may be worth a visit.
Pha Tad Ke Botanical Gardens
IMPORTANT Note: Sadly Pha Tad Ke Gardens is currently closed to the public until October 2024.
Once back in Luang Prabang Centre and have had lunch, what better way to spend your last afternoon than with a river trip to Pha Tad Ke Botanical Gardens.
The gardens have beautiful collections of over 2,000 species of plants and trees. This is all set at the bottom of the spectacular Pha Tad Ke cliff which stands above the Mekong River. There's also a cafe and shop on site.
Opening hours are 8 am to 6 pm every day except for Wednesday. You can buy a ticket and get the boat from the reception on Ban Wat That in town. The basic excursion includes the return boat ride, orchid talk, bamboo handicraft workshop, and herbal tea tasting. There's also a selection of workshops and full-day tours available at an extra cost.
Sunset over the Mekong River
If you time your visit to the botanical gardens right, you can arrive back in Luang Prabang in time to catch the sunset over the Mekong River. As well as atop Mount Pou Si, there are some other great spots to watch the sunset over the Mekong River. They include: on the wooden deck of one of the local beer bars at the end of the Mekong River road; on the bamboo bridge, or on Mekong Beach at the confluence of the Mekong River and Nam Khan Rivers. Find yourself a comfy spot, sit back, and relax with an ice-cold Beer Lao, cocktail or soft drink and enjoy the view. Don't forget your camera for those sunset shots.
Sin Dad Traditional Laos Barbeque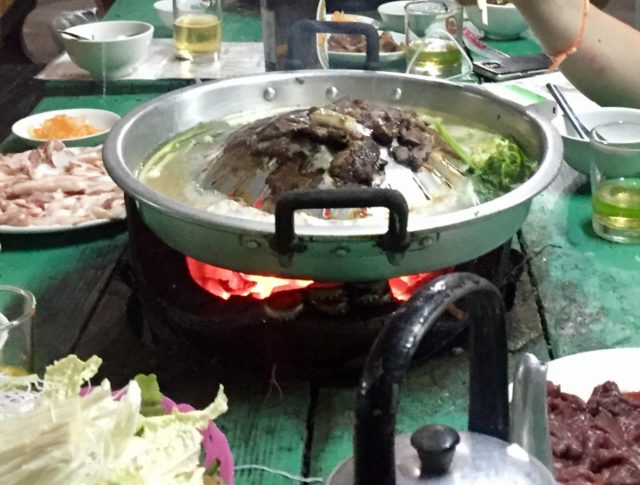 I haven't spoken much about food in this itinerary because there's so much choice in Luang Prabang and everyone has different preferences. However, there is one Lao food experience I recommend you try – Sin Dad the traditional Laos Barbeque.
Sin Dad is a do-it-yourself BBQ which you cook at your table. A serrated, dome-shaped griddle with a trough around the bottom, is balanced on a cast iron pot full of red-hot coals. A broth is then poured into the trough, and you grill pieces of meat and fish on the dome and cook vegetables, eggs and herbs in the broth. The meat juices drip down into the broth flavouring it.
There are several restaurants in town where you can try Sin Dad at both ends of the price scale. However, for a truly authentic Lao Sin Dad opt for one of the back street local eateries. After all, it's where the locals go which has to count for something.
I went to Khem Khan Sin Dad with three other people I'd met at the forum on the recommendation of one of them who had been before. It's on Kingkitsarath Road, an alleyway just past Apsara Hotel opposite the Nam Khan River. It may not look much from the outside and yes, it is a very simple affair BUT it was amazing. The meat was good quality and delicious, they cater for vegetarians, and it's a bargain!
Petanque and Bowling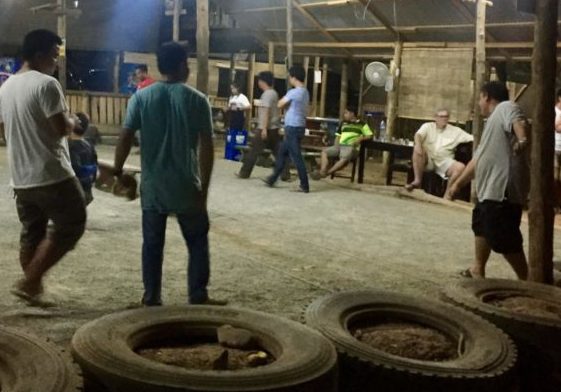 If you're still able to move after all that food you could finish your night off with a trip to a local petanque court or ten-pin bowling alley.
Petanque is a popular Lao sport and a remnant left over from French rule. There are random courts hidden in corners throughout Luang Prabang and a couple of kilometres from the city are a couple of bigger areas with several courts. They are frequented mainly by local men drinking Beer Lao and throwing metal balls to hit the jack. Turn up at any petanque court and undoubtedly you'll soon be invited to join in for a game and a beer.
Then, if you're not ready to hit the hay just yet head to the local bowling alley. Everywhere else in the city shuts around 11 pm to give the locals time to sleep and prepare for the early morning Tak Bat the next day. Just outside of town in the middle of nowhere, this big Western-style bowling alley is Luang Prabang's only nightlife option and has a late alcohol license until around 3 am. Any tuk tuk driver should take you for for a small charge. I personally didn't make it here but spoke to others who did. A little pre-warning, it sounds as if it gets quite busy later and of course, not much serious bowling goes on. So if a few drinks and a bit of a party isn't your thing you may want to give this one a miss!
Luang Prabang Hotels
There are plenty of hotels, hostels and guesthouses to choose from in Luang Prabang. However, during my time there, I stayed in two different hotels which I've reviewed below.
Muang Thong Hotel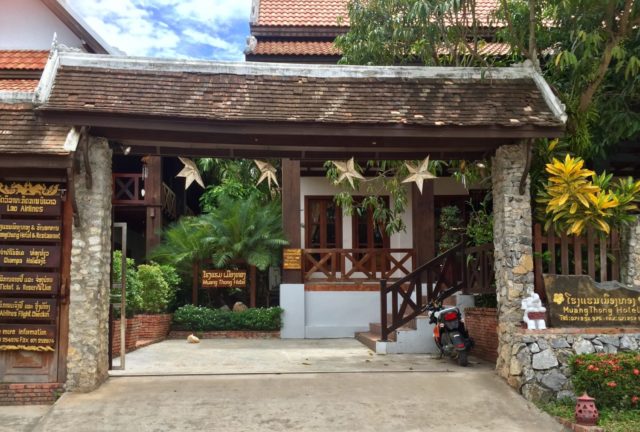 Muangthong Hotel kindly hosted me for four nights during the forum. It has four, two-storey buildings standing set around a swimming pool and courtyard. The buildings have French colonial influence with Lao-style roofs. Located on the outskirts of Luang Prabang, it is still only a ten-minute walk from the centre and the busy night market. 
The hotel has a selection of modern twin (deluxe) and double (premier deluxe) rooms, that lead either directly out to the courtyard and swimming pool or overlook them.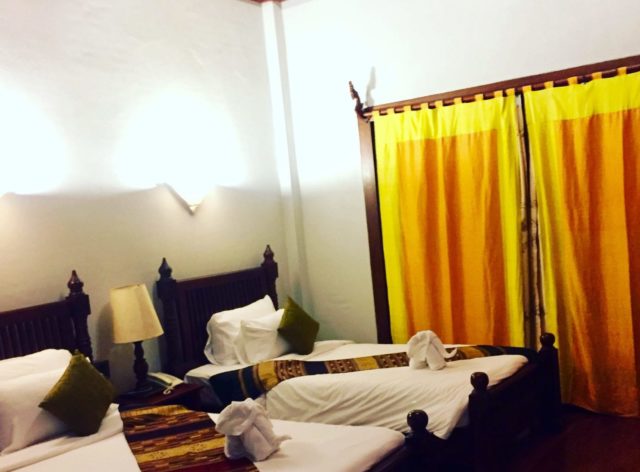 I stayed in a deluxe twin room on the second floor. It was bright and colourful with its own balcony overlooking the pool with a table and chairs. It had two good-sized, clean, comfy single beds, a big screen TV, a mini-bar, tea and coffee-making facilities, a safe and complimentary fruit basket and water. The bathroom was a nice size and had the added bonus of a deep bathtub which was perfect for a soak after a busy day. Bathrobes, towels and toiletries were also provided, and there was air-conditioning and wifi (albeit a bit patchy). I also really liked the interior brickwork on one wall which gave the room a homely feel.
As I was busy with the forum I didn't have time to try out the pool or relax in my room or on the balcony. This was a shame as they both looked lovely. There's a restaurant next to reception but I only managed a rushed breakfast one morning of vegetable, noodle soup which kept me going until lunchtime.
My Dream Boutique Resort
My Dream Boutique Resort kindly hosted me for the last two nights of my time in Luang Prabang. It's tucked away on the banks of the Nam Khan River on the opposite side to the centre of the city. All the resort buildings and facilities are all at one end of a large, well-kept garden and lawn which stretches all the way down to the river.
The resort has a selection of rooms ranging from their Classic to their Villa-suite which vary in price depending on the season. All the rooms are simple but attractively decorated in natural colours and materials such as wood, stone and bamboo.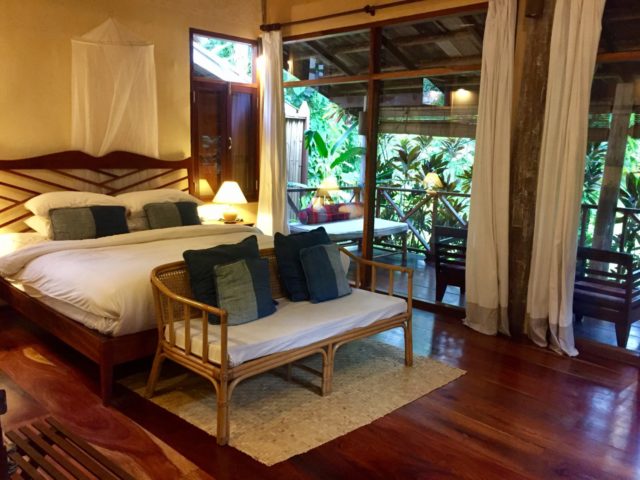 I stayed in a very spacious ground-floor Garden Bungalow.  Glass windows stretched the entire length of one side of the bungalow. French doors opened onto a huge balcony overlooking the expansive lawn down to the river.  There was a large, comfy double bed with a mosquito net and There were all the facilities you could possibly need; a big screen TV, desk and chair, mini-bar, safe, sofa, air-conditioning and a ceiling fan. The bathroom was a reasonable size and had a good hot and cold shower, towels, hairdryer and complimentary toiletries. The wifi in the rooms had a strong signal and was fast, and a complimentary fruit basket and water were also included.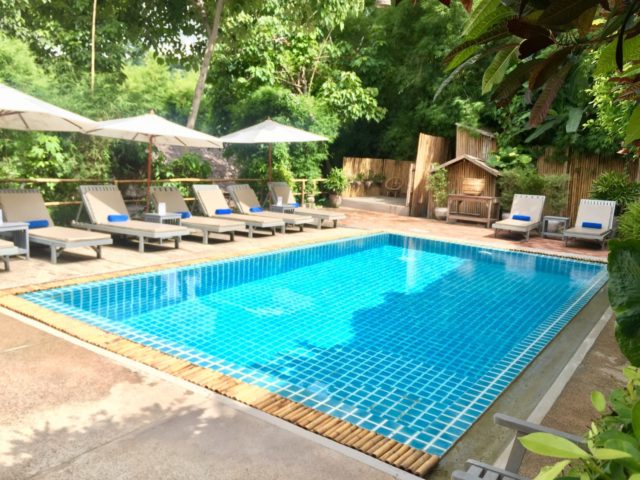 The reception and restaurant are set overlooking the pool and have lots of greenery around making them a pleasant area to relax in. I only ate breakfast in the restaurant which was buffet style but was very good. There were items such as noodle soup, pastries, toast, fruit, cheese, juices, tea and coffee. You could also order eggs in whatever style you prefer.
Despite the resort being on the 'wrong' side of the river, I didn't find this to be an inconvenience at all. It was very close to the toll bamboo bridge which you need to cross to reach the centre, which is only a 15 to 20-minute walk. Be sure to take a torch with you if you go out at night as the lighting on the bridge is not bright. Its location also meant it was a peaceful place to stay. An added bonus of the resort is the free bicycles available for guests to use.
I thought this was a wonderful little resort. The staff especially helped make my stay enjoyable. They were always friendly and on hand when needed but on the same note, not intrusive. I'd highly recommend this especially if you want somewhere peaceful to relax at the beginning or end of your trip.
BOOK MY DREAM, BOUTIQUE RESORT HERE
Other Hotel Options in Luang Prabang
If you're looking for accommodation that's cheaper or closer to town there are plenty of other accommodation options in Luang Prabang:
Other Activities in Luang Prabang
Should you have the luxury of some extra time to spend in Luang Prabang there are several other things to see and do including:
Pak Ou (Buddha) Caves – these limestone caves are filled with over 4000 Buddha statues. They can

be reached

via a two-hour boat trip from Luang Prabang. This can

be arranged

through an agency or buy your own ticket at the boat dock.
Rice Experience – spend a morning at the Living Land Farm

for a hands-on experience to learn how rice is planted, grown and harvested. They also offer a homestay.

Elephant Project Visit – there are several options to visit or volunteer at elephant projects in Laos.  Make sure you choose an ethical one like the Elephant Conservation Center 

which is about two hours away from the city.

Cookery Class – learn how to make traditional Lao cuisine in one of the many classes on offer in and around the city.
Pamper Yourself – go for a traditional Lao massage or other treatment in one of the spas or massage parlours in the city.
Slow Boat Cruise on the Mekong River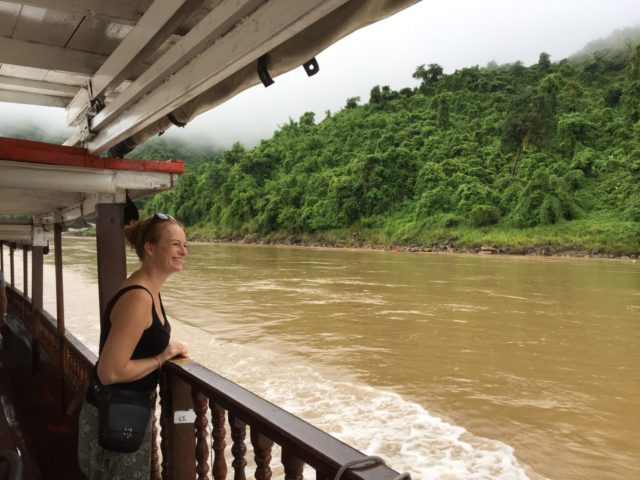 Finally, if time is no issue or you are simply ready to relax you could take a slow boat cruise on the Mekong. There are many options ranging from half-day trips to multi-day trips which can be booked online, or through your hotel or an agency.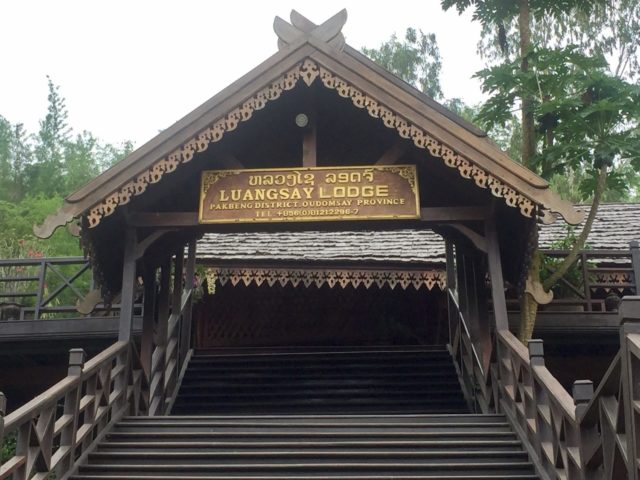 Finally, around sunset, we arrived at Luang Say Lodge. It has a selection of charming wooden villas nestled on the hillside overlooking the Mekong. That evening we were treated to some traditional Lao dancing and music from local performers. This was followed by a delicious buffet dinner of traditional Lao cuisine.
I had to leave the group the next morning to continue my journey North, so, unfortunately, That meant I missed out on the overland trip back to Luang Prabang, despite this, I really enjoyed the first day and evening. One thing to note is that the cruise upriver takes eleven hours which is a very long day. However, if all you want to do is sit back and relax with a book and watch the scenery pass by, it's perfect. It's also a great option for onward travel towards Thailand, especially if you're heading to Chiang Rai or Chiang Mai
---
So that's my suggested itinerary for 3 days in Luang Prabang. There are also some added extras should you have more time on your hands.
Have you been to Luang Prabang? Have I missed anything out of this itinerary or additional activities?
---
Planning Your Trip to Luang Prabang?
Planning your trip to Luang Prabang? Here are some of our recommended useful resources to help you have the best time possible.
Enjoy this post? Pin it for later!
Partnership Disclosure: Muang Thong Hotel (and Mekong Tourism Board) and My Dream Boutique Resort hosted my stays. I also participated in some activities mentioned as part of the Mekong Tourism Forum 2017. This did not influence my post in any way and as always I've provided balanced and honest reviews. Read more in our full Product Review Disclosure.