Affiliate link disclosure: This post may contain affiliate links including Amazon that earn me a small commission, at no extra cost to you. Read more in our full Affiliate Link Disclosure.
The Caribbean island of Utila in Honduras is the smallest of the Bay Islands. It's located about 28 km north of La Ceiba on the mainland. A favourite among backpackers, it's well known as one of the best and most affordable places to learn to dive in the world. It attracts ALOT of people wanting to dive. Whether that be trying a fun dive or two, taking a PADI certification or even to work there as a divemaster. In turn, this means that Utila has a reputation for having little to do except dive and party. We're non-divers (at least I am these days) but still wanted to visit Utila to see what all the hype was about. I was also keen to explore and discover things to do on Utila that aren't diving or partying. Although, of course, we did a bit of partying too.
Things to Do on Utila That Aren't Diving
We spent five nights on Utila and were pleasantly surprised to find plenty of non-diving Utila activities to keep us busy. Here are 10 fun things to do on Utila we found that aren't diving or partying.
1. Snorkel the Reefs
Utila Lodge provided me with a complimentary place on one of their dive boats to snorkel near Utila's South Shore which I've reviewed below. Read more in our full Product Review Disclosure.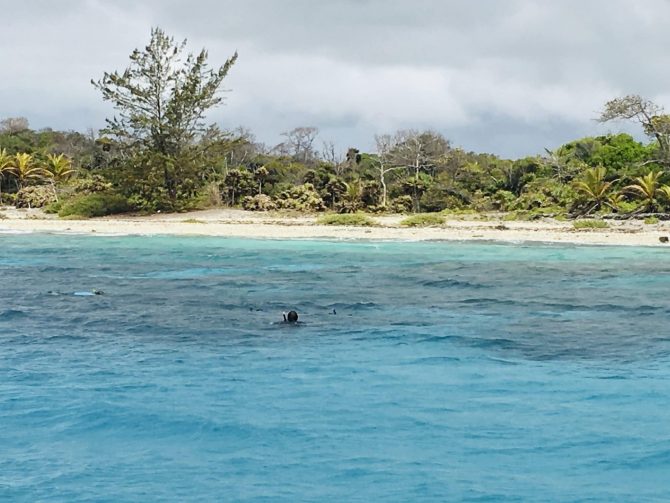 Utila sits on the edge of the Mesoamerican Reef System, the second-largest reef in the world. Although best known as a scuba diving destination, it also has great snorkelling right from the shore or by boat. 
The best spots for shore snorkelling on Utila are from the dock at Blue Bayou Beach Bar (although be careful as it can be a bit urchiny), and from several spots on the South Shore

.

The South Shore has a marvellous wall running along its front; eagle rays, seahorses and turtles are often spotted there

. Be aware that South Shore is only accessible by boat unless you're staying at one of the resorts there. 
Most dive shops in town are happy to welcome snorkellers aboard their boats.

However

, it's better to arrange it in advance to ensure you're taken to shallower spots better suited to snorkelling

. Most will also have snorkel gear

available to use or rent, although I always take my own.
I went out on a dive boat with the Bay Islands College of Diving and Utila Lodge, where we stayed, to snorkel near the South Shore. The divers were working towards various PADI certifications, so I snorkelled whilst they learnt. The divemasters from Utila Lodge all seemed friendly, knowledgeable and helpful, ensuring everyone was safe at all times. 
2. Boat Trip to Neptunes Bar and Coral Beach
As already mentioned, you need to take a boat to reach South Shore, which has some of the best shore snorkelling on Utila. One of the best shore snorkelling spots there is from the dock at Neptunes Restaurant and Bar on Coral Beach. A boat trip there for a meal, beach time, hammock lounging and snorkelling makes for an enjoyable half or full-day trip.
If you eat in Neptunes bar and love seafood, don't miss out on trying their tuna poke sliders. They were the best thing I ate in Utila and were

seriously

addictive.
To get to Neptunes take the free boat which leaves hourly at 9 am from their dock, on the right

just

before you get to Blue Bayou

. The return boats are every half hour until 7 pm. The relaxing boat ride which takes you through the mangroves is all part of the experience.  
3. Encounter a Whale Shark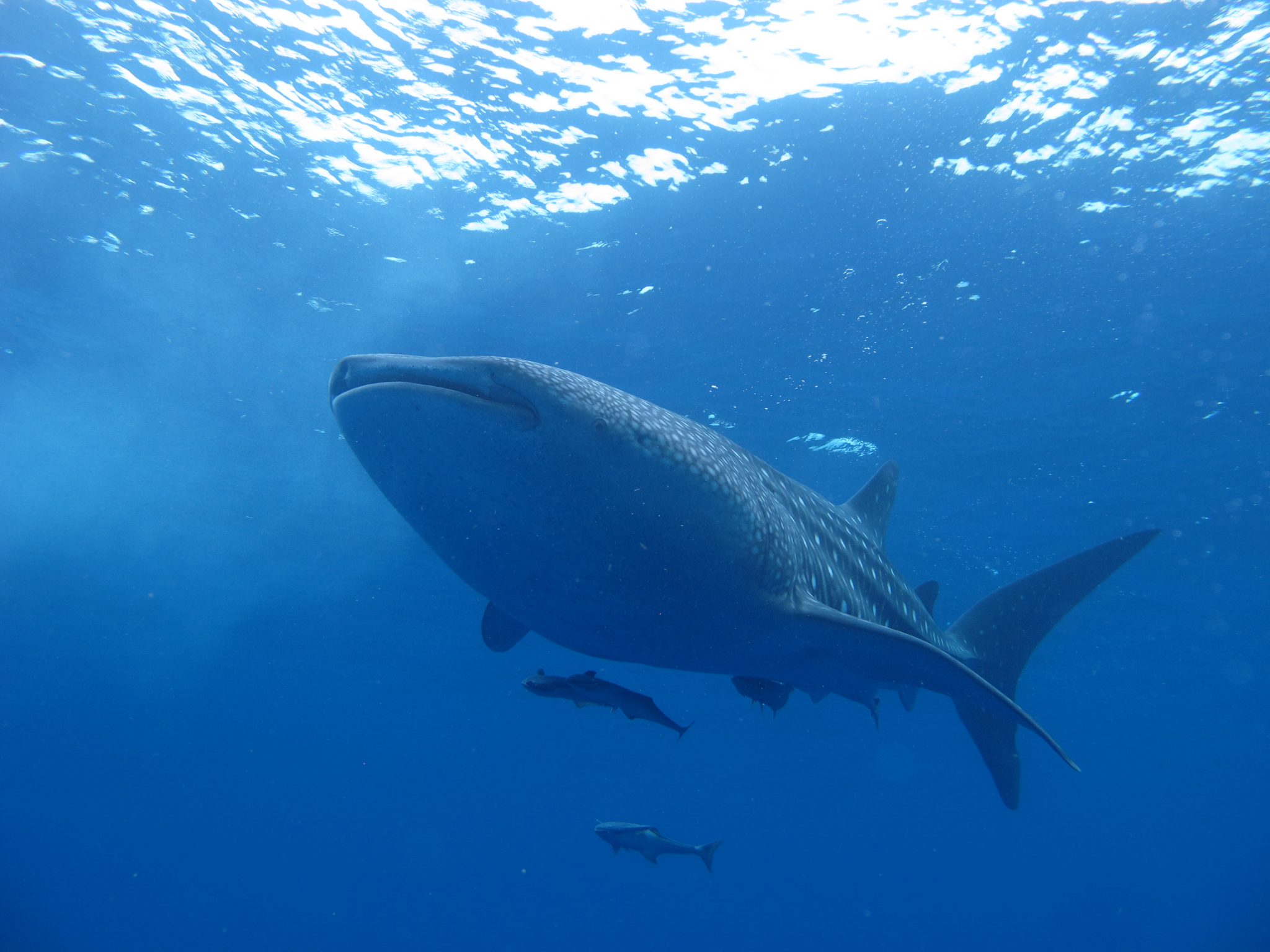 Whale sharks are a protected species in Honduras and Utila is home to

a number of

these huge magnificent creatures

. Utila is one of the only places in the world where you have the chance to encounter whale sharks all year round.
Whale sharks most often spotted around the northern tip of the island and the main season runs from March to April and October to December. They are usually seen alone, but between June and September during migration, they're sometimes spotted in small groups. This time

is known

as 'whale shark season'. 
Whilst you are most likely to encounter a whale shark and

maybe

even swim with one whilst on a dive trip, there's also the possibility on a snorkel tour

. A sighting is most likely during the surface interval or rest time between dives or snorkels.
4. Be a Beach Bum
If all you want to do is relax and be a beach bum, there are several beaches around Utila perfect for this.

Other than Coral Beach and Neptunes Bar on South Shore there are two other great beaches I'd recommend on Utila

. Chepes Beach and Bandu Beach, both within walking distance either side of Utila town: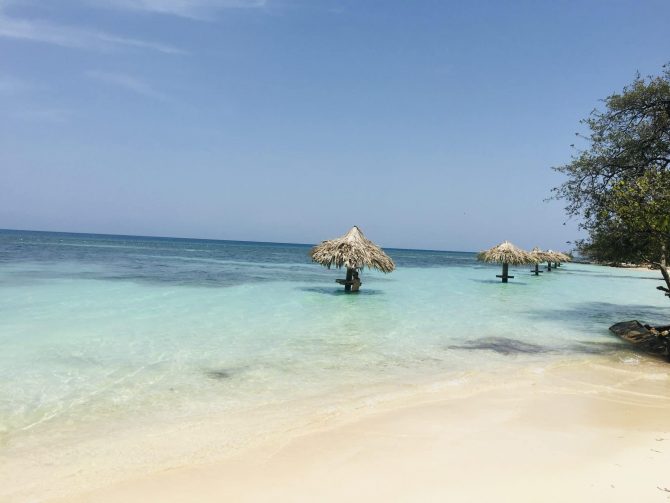 Chepes Beach – is a small but picture-perfect public beach located at the far western end of the main street. It's a cove with a white sand beach with crystal clear, calm water ideal for swimming. We especially loved the swim-up palapas set in the sea

just

off the shore. There are also several local eateries along the road behind the beach, should you get hungry or need a drink.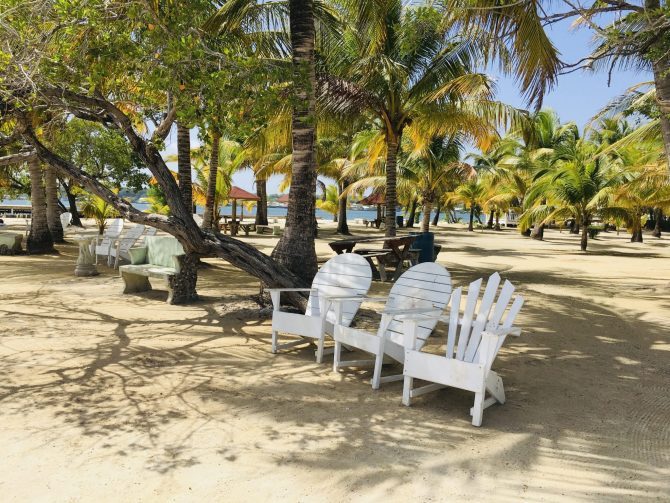 Bandu Beach – is another lovely, but semi-private beach located down a track at the far eastern end of the main street. There are lots of sunbeds and shady palms and a great beach bar and restaurant set

just

back from the beach. This is where you need to pay a small entrance fee to access the beach, it was 40 lempira ($1.60 USD) when we were there.

The restaurant does some tasty food and excellent cocktails – try the Bloody Ceaser that comes complete with sliders (a meal in a drink)

.
5. Rent a Quad Bike, Scooter or Golf Cart
It's easy to get around most of Utila on foot, but if you bore of the beach and water activities, you can rent a motorised vehicle to go further afield

!
There are a few places in town where you can rent a quad bike, scooter or golf cart for the day to drive around and explore the whole island

. 

There are several smaller roads leading off Utila's main street so the best approach is to pick one and see where you end up

. Some lead off to dirt roads, surrounded by jungle which looked great fun to drive through.
There are also some deserted beaches and rocky outcrops to discover which you'd be less likely to find on foot

.
6. Admire the Views from Pumpkin Hill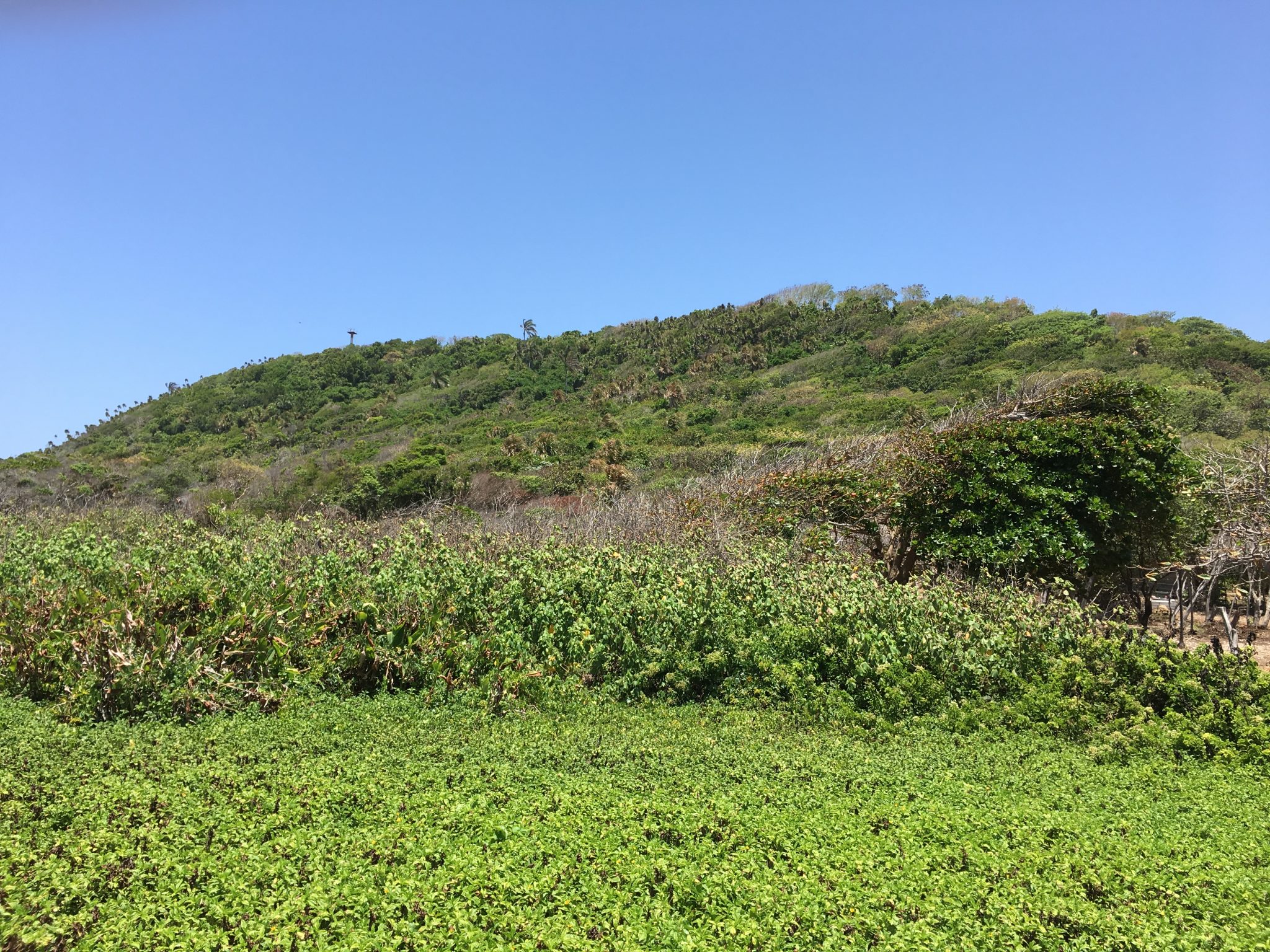 Pumpkin Hill is the highest point on Utila and is the first part of the island that comes into view as you approach by boat
. Nobody seems to know the origin of its name but there are some theories. It could be down to its shape resembling a pumpkin or maybe because pumpkins were once grown there. Either way, the 73-metre high hill is said to have the best views on Utila.
The viewpoint at the summit offers a breathtaking 360-degree view of the island, including both the North and South shores

. Sometimes, on a clear day, you can even see the mountain ranges of the
Nombre de Dios and Pico Bonito National Parks
.
Once you reach the bottom of Pumpkin Hill y
ou'll have to hike to get to the top, but the exact directions tend to change.
Just
go to the front of the hill and take the path that looks the easiest. It is private land but the landowner has made a path that leads to the top.
Pumpkin Hill is only a few miles away from the town centre, but renting a bicycle, quad bike, golf cart or motorbike is definitely the best way to get there

. I

really

wouldn't recommend hiking from the town as I did, in fact, I got lost and gave up before I even got there. Hot, sweaty and tired I was thankful when I stumbled upon a random bar in the middle of nowhere. I decided cold beers were a much better idea.
7. Kayak Through the Mangrove Canal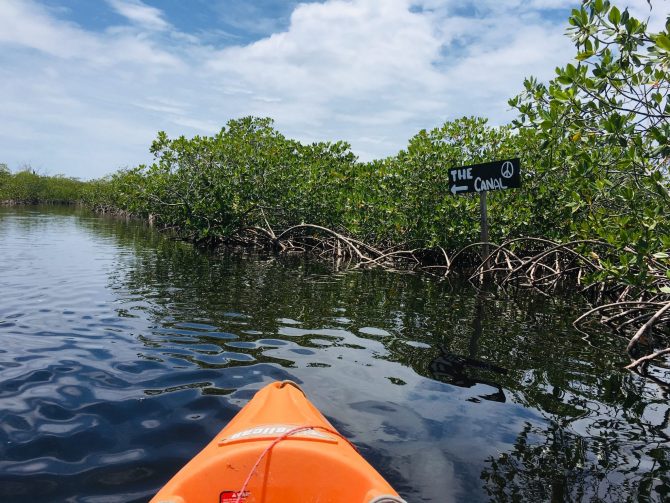 A highlight of our time on Utila was kayaking across Oyster Bed Lagoon near Chepes beach and through the mangrove canal to Rock Harbour on the other side of the island

.
The canal is beautiful, it's surrounded and shaded by mysterious, green mangroves, and is teeming with flora and fauna

. It's not a particularly easy kayak as the canal is very narrow at points. this means your paddles will

probably

get caught up and your kayak may get stuck in the mangrove roots.

It's worth the effort though when you emerge into Rock Harbour with some of Utila's best, most secluded beaches

.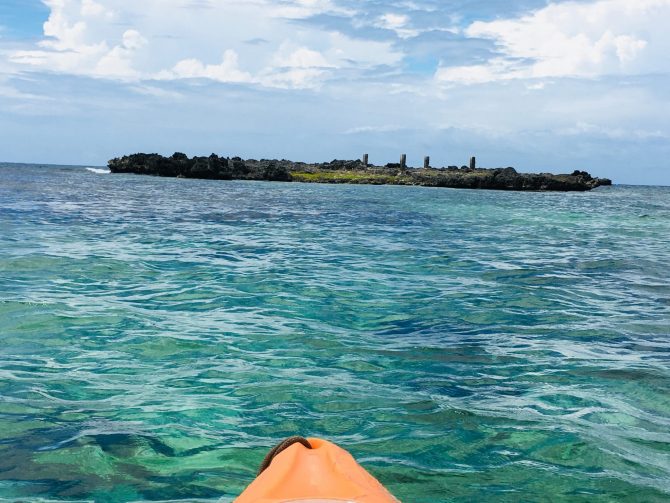 A little way offshore in Rock Harbour is a tiny islet or 'The Rock' atop of which are four concrete pylons marking the place where a structure once stood

. We decided to kayak out to it and went on shore for a short rest and to take photos of the mainland. There are untouched reefs around this area so don't forget to bring your
snorkel gear so you can explore underwater – we sadly forgot ours!
If I were to give two tips for kayaking the mangrove canal the first would be if there are two of you, don't get a double kayak like Andy and I did. It was pretty hard to paddle in sync going through the mangroves, we kept crashing. Nearly grounds for divorce – haha! Single kayaks would have been much easier. The other tip is to use mosquito repellent – especially if kayaking at dusk as there are lots of mosquitoes.
8. Iguana Research and Breeding Station
In the mangroves of Utila lives the endangered Utila spiny-tailed iguana, or 'swamper' as it's affectionately known. Utila is the only place in the world where this particular species of iguana is found.
The Iguana Research and Breeding Station was set up in 1998, primarily to protect the swamper and its mangrove habitat. The charity, run with the help of volunteers, also has a breeding programme to increase numbers of swampers on the island.
Visitors can visit the station and take a tour to learn about the endangered iguanas and gain some insight into other wildlife on Utila. It's open Monday to Friday from 9:30 am – 12 pm and 1:30  pm to 5 pm. The station also offers three great hiking tours. They give the opportunity to explore the Iron Bound mangrove forest, the Dead Lagoon and the Fresh Water Caves.
For those that would like to get more involved, the charity relies on volunteers to keep it running. There's all types of things you could help with so get in touch and see what they need.
9. Marvel at the Psychedelic 'Treetanic' Bar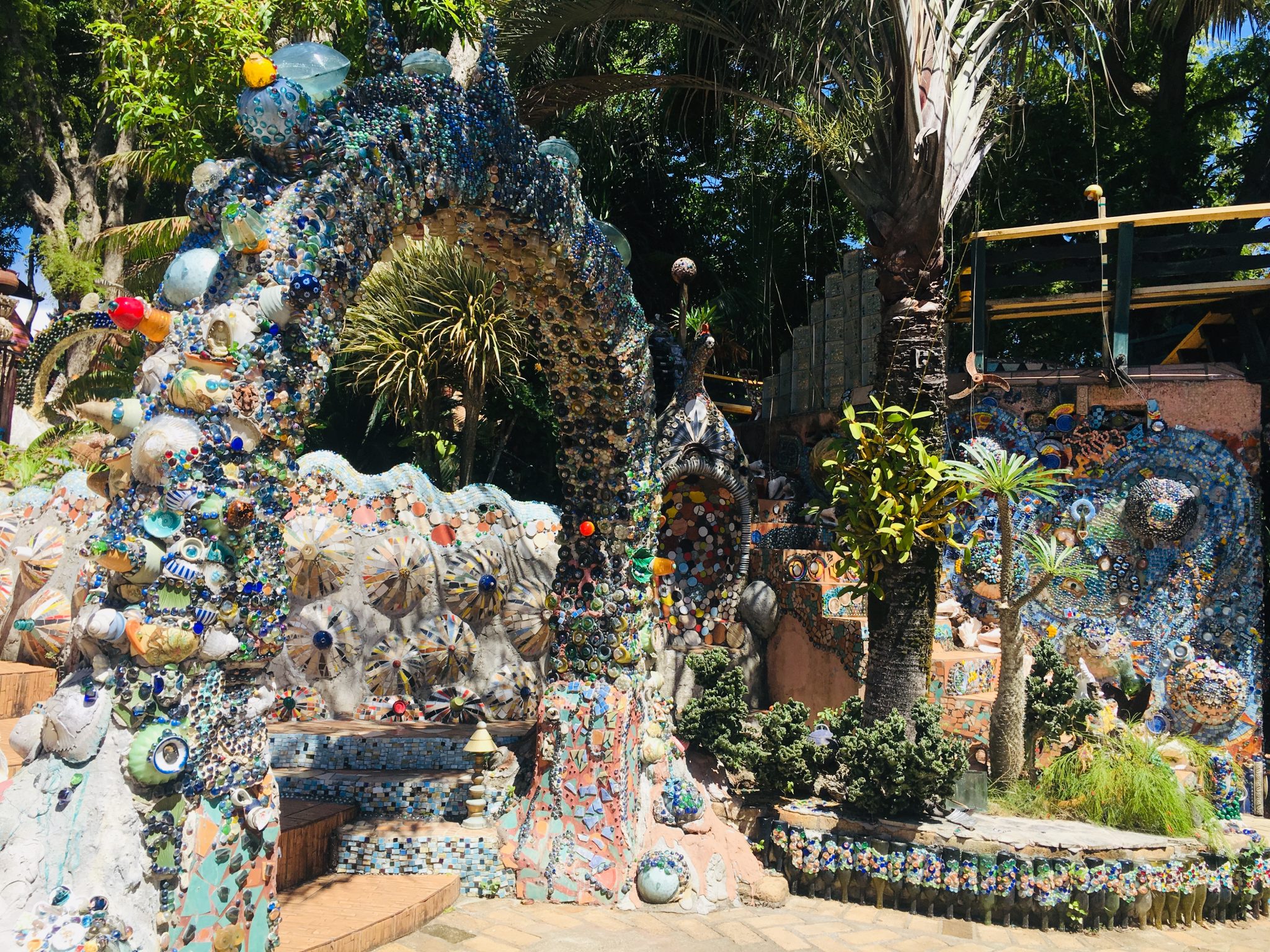 I know this post is about non-partying things to do on Utila, so you're probably wondering why I've included a bar. The reason is because Treetanic, part of Jade Seahorse Hotel is so much more than just a bar. It's an incredibly imaginative, psychedelic work of art. It resembles a shipwreck lodged among the highest branches of a patch of mango trees. 
Treetanic is a masterpiece which took the owner and artist, Neil Kellar, twenty years to make and it's still not finished. It's easy to lose yourself for an hour or two exploring the trippy labyrinth of tunnels, bridges staircases and hidey holes. Every spare centimetre is covered in mosaics crafted from mixed media including beads, glass, tiles, circuit boards, shells, bottle tops, mirror and even plastic fruit.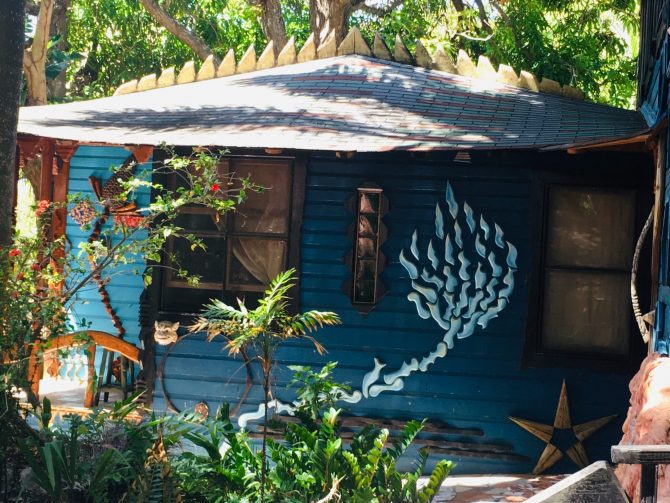 This secret, tropical garden hideaway, is also home to Jade Seahorse's six 'Nightland Cabins'. Each cabin has a different theme and name and is decorated in a unique and mesmerising way.
Although Treetanic is a bar, which apparently hosts some of the best nights in Utila, you should visit in daylight too. It's the only way to appreciate the quirkiness of it all and the incredible art-work – don't forget your camera.
10. Take a Day Tour
The island can feel a bit small after a while, so a day trip off the island is a great option. These can be booked from your accommodation or from a tour agency in town. The best agency in town is Bush's Bay Island Adventure Tours and Charters. It's to the left of the big supermarket, about halfway down the main road. They have a huge range of tours on offer, but two of the most popular ones are:
Utila Cayes – are located off the southwest of Utila and is the smallest community in Utila. There are several cayes (tiny islets) in this area, many which are privately owned. The only inhabited cayes are Pigeon Caye and Jewel Caye, connected by a small bridge. These form a small fishing village, with about 500 inhabitants and is the second-largest community in Utila. It has several small restaurants and hotels which make it a nice place to stop for lunch or even stay the night.
For those looking for a real tropical island paradise experience, head to Water Caye. This undeveloped tiny, white sand island is surrounded by coral reef and sparkling blue water, perfect for snorkelling. There are coconut palms which give shade from the sun and to sling up a hammock. There's also a toilet, but other than that there are no other amenities. Be sure to take your own food, water and biodegradable, reef-safe sunscreen. 
Cayos Cochinos – also known as the Hog Cayes, are a short way east of Utila. They consist of a set of two small, stunning islands and 11 smaller coral cayes, and are a protected national park.
These islands and cayes have postcard-perfect white sand beaches, coral reefs and great viewpoints. On the tiny island of Chachahuate there's a Garifuna community who welcome guests with open arms. You can stop here for a delicious seafood lunch and gain a unique insight into Garifuna culture.
Two other things that are a big draw for visitors are the two endangered species that make Cayos Cochinos their home. The first is the pink boa constrictor and the second is the Jamo Black iguana.
Or if you are on Utila longer and have a couple days free, there are plenty of things to do in Roatan that are worth taking a ferry trip for.
Utila Accommodation
At first, it can be difficult to know where to stay on Utila as much of the accommodation is attached to dive shops and dive schools. The accommodation is often included in a dive course package. It can range from backpacker dorm-style to quieter private apartments and the quality can vary wildly. So, if you're planning on diving, I'd recommend arriving on Utila and checking out the dive shops, schools and accommodation before booking. 
Utila Lodge 
Utila Lodge provided us with a complimentary three-night stay in their dive resort which I've reviewed below. Read more in our full Product Review Disclosure.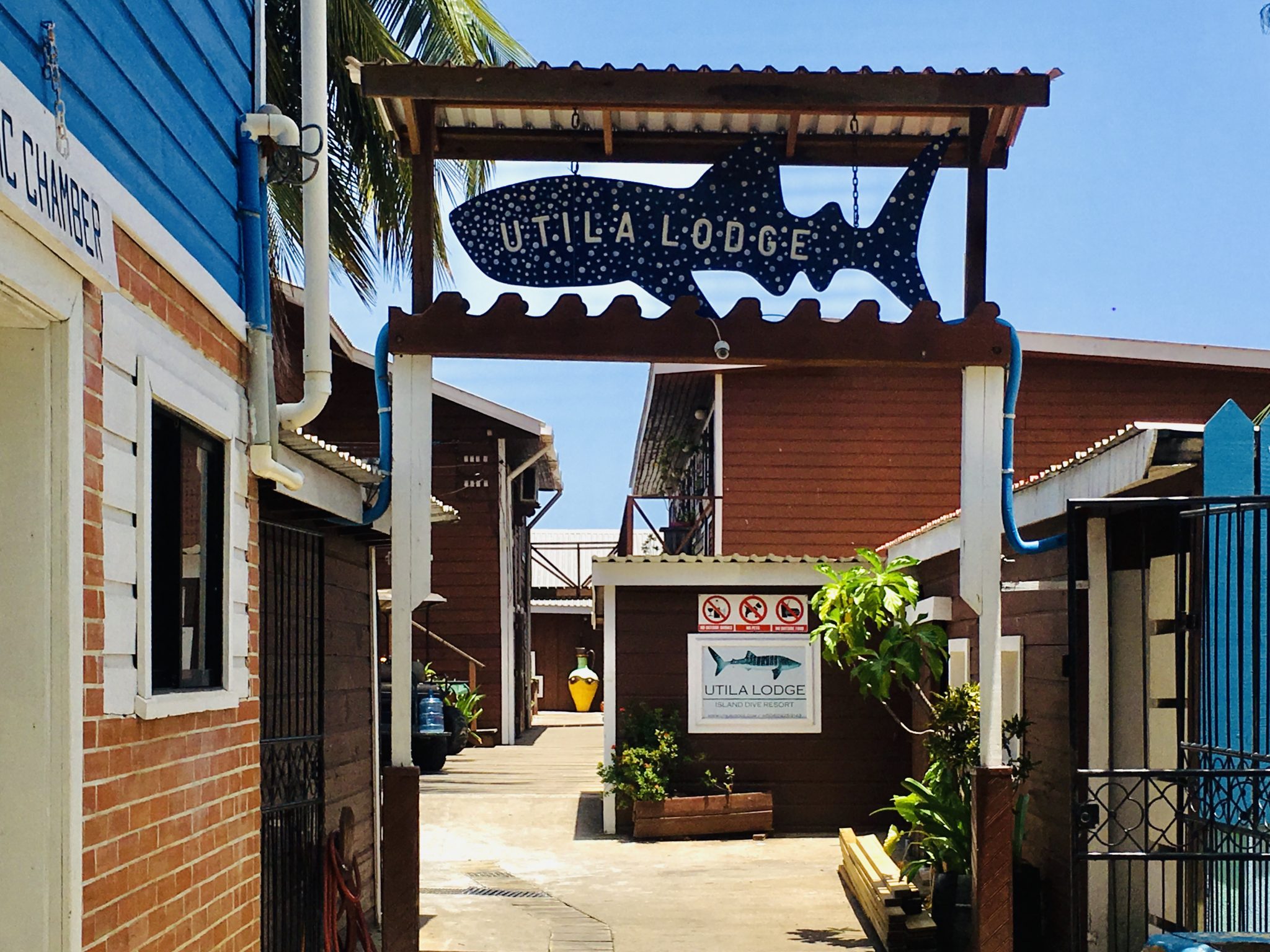 As we didn't go to Utila to dive, we wanted accommodation that could be booked separately from a dive package. Partway through our research Utila Lodge kindly invited to host us there. Although a dive resort, it also offers rooms to non-divers and it seemed like the perfect water-front spot so we decided to go for it. We hoped we wouldn't stick out like sore thumbs as non-divers, but our concerns turned out to be unfounded.
Utila Lodge is one of the top-rated scuba diving resorts on Utila and also the largest structure built out over the water on the whole island

. You can see the beautiful blue Caribbean

just

a few metres beneath you where ever you are in the resort.

The lodge has a great location in the centre of town, but because of it's over-the-water design, it still feels peaceful and private

.
After some initial confusion, because nobody from the lodge met us at the ferry, everything else was fine

. This miscommunication wasn't a huge problem as the lodge was easy to find. It's situated a few minutes walk to the left when you left the ferry port.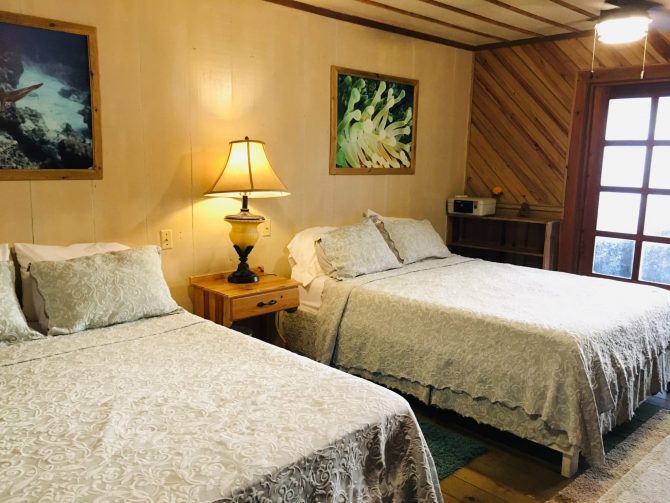 The resort has eight rustic, but beautiful rooms, each with a comfortable queen and double-sized bed and all the modern amenities you'd expect. These included a private bathroom with his and her sinks, cable TV, hi-speed WiFi and air-conditioning (although this is at an extra charge). 
The highlight of our room for us was that it
was built
out over the Caribbean sea and had a large screened balcony with hammocks
. Perfect to relax in to watch a sunset, enjoying the sea breeze and sounds of the ocean

. 
The spacious restaurant is right next to the reception and although we didn't eat there the food looked great

. Also next to reception is a pool table which you can use if you enjoy a few games of pool.

There's a large bar area that tended to get busy around meal times and in the evening and seemed to be a popular spot for divers to hang out.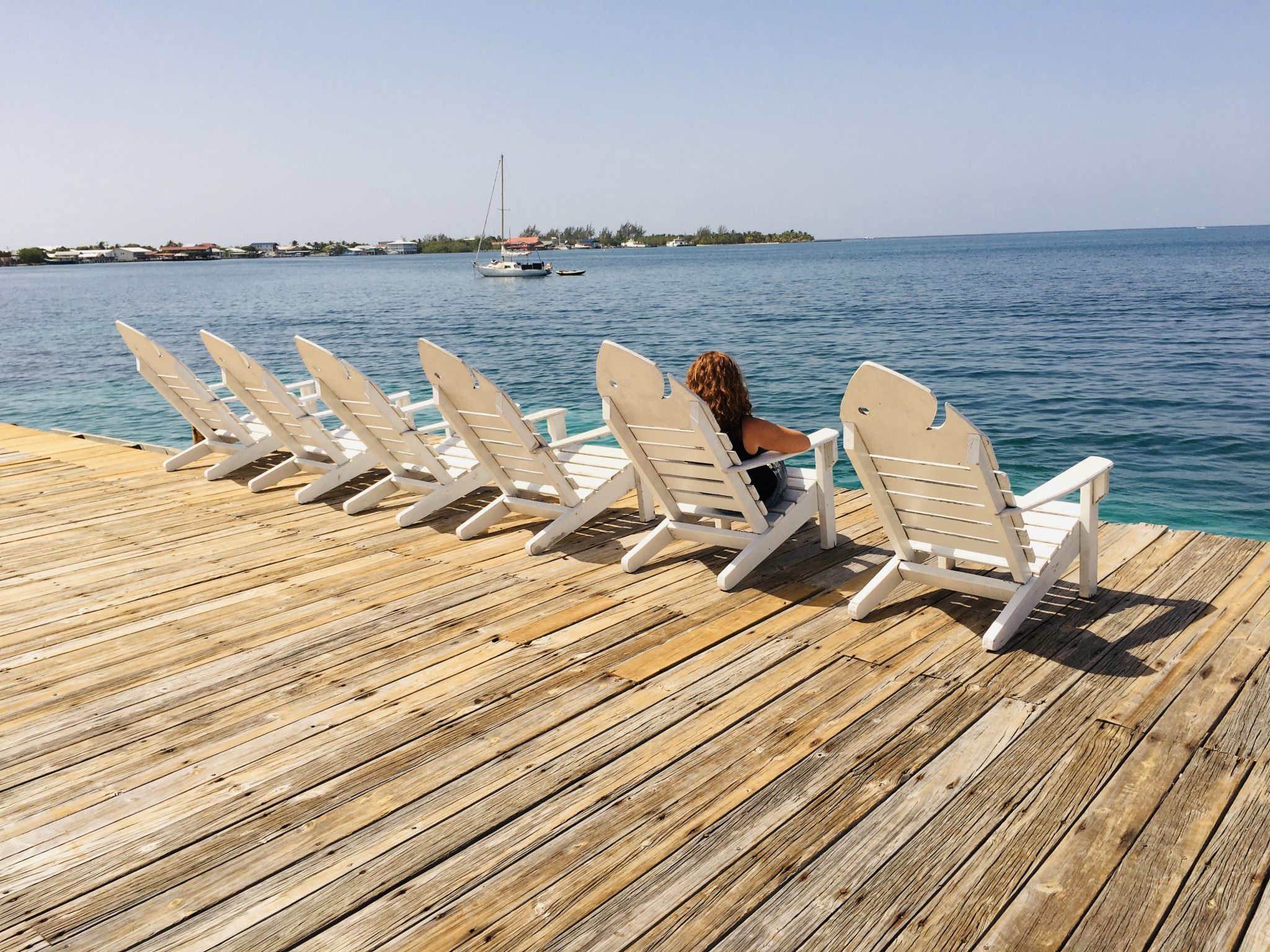 We loved that the bar opens out onto a dock where the dive boats anchored and a big sundeck with plenty of chairs. It's the perfect spot to unwind with a drink and a book or to watch the sunset
We also loved that there was some decent snorkelling to be had underneath dock and sundeck. On several occasions at dusk, we even spotted eagle rays gliding past. Very cool!
We had a great time staying at Utila Lodge, it was definitely one of our more comfortable stays in Honduras
Bay Islands College of Diving
Utila Lodge provided us with a complimentary two-night stay in a Bay Islands College of Diving apartments which I've reviewed below. Read more in our full Product Review Disclosure.
The Bay Islands College of Diving (BICD) is partnered with Utila Lodge and offers dive courses and accommodation for divers. Dorm accommodation at BICD is included with all PADI scuba diving courses and fun dives. It's also possible to upgrade to a private apartment for an additional charge.
Utila lodge was keen for us to experience the BICD accommodation too, so we spent two nights in one of the private apartments

. 
We stayed in a third-floor apartment with a kitchen, bathroom and small balcony. Again there was also air-conditioning but for an extra cost. It was simple but clean and the only thing that wasn't ideal for us as a couple was the twin beds. This didn't cause us a problem though as we pushed them together. 
If you're diving and want to keep costs down but still have access to the facilities at Utila Lodge, staying at the BICD would be a great option

.
Bookings can

be made

and more information found on the
BICD website
.
Other Utila Accommodation
Being a hugely popular dive destination, Utila also many other dive resorts, and dive shops offering accommodation. There are also several non-dive related hotels, hostels, guesthouses and Airbnb's so it should be straight forward to find something to suit your needs.
---
So don't let Utila being mainly a dive destination, stop you from visiting. As you can see there are plenty of other fun things to do even if you don't dive or party hard. It's still very much worth spending at least a few days there, maybe combined with some time on Roatan or Guanaja, before or after a trip to La Ceiba and Pico Bonito National Park on the mainland.
Travel Resources for Utila in Honduras
Planning your trip to Utila in Honduras? Here are some of our recommended useful resources to help you have the best time possible:
● TRAVEL INSURANCE IS AN IMPORTANT CONSIDERATION FOR TRAVEL. If you're travelling long-term like us and from the EU, then True Traveller is our go-to option.
If you're from a non-EU country, another option for long-term travel insurance is SafetyWing, which you can pay for on a month-by-month basis. This is also good for shorter trips.
● Find amazing flight deals to Honduras on Skyscanner and Kayak.
● Compare Rental car prices in Utila on Rentalcars.com.
● Booking.com usually have the best hotel prices in Utila in Honduras
● Our go-to for self-catering accommodation in Utila in Honduras is Vrbo.
● Before booking accommodation in Utila in Honduras, check reviews on Tripadvisor.
● Discover fantastic trips and activities in Utila with Viator and GetYourGuide.
● Bookmundi, G Adventures, and  Intrepid Travel offer group holidays and tours in Utila and Honduras.
Have you been to Utila in Honduras? Did you find anything else to do that we missed?
Enjoy this post? Pin it for later!
Product Review Disclosure: Utila Lodge provided us with a complimentary all-inclusive three-night stay in their dive resort, a two-night stay in a Bay Islands College of Diving apartment, plus a place on their dive boat to go snorkelling. This did not influence my post in any way and as always I've provided a balanced and honest review. Read more in our full Product Review Disclosure.