Affiliate link disclosure: This post may contain affiliate links including Amazon that earn me a small commission, at no extra cost to you. Read more in our full Affiliate Link Disclosure.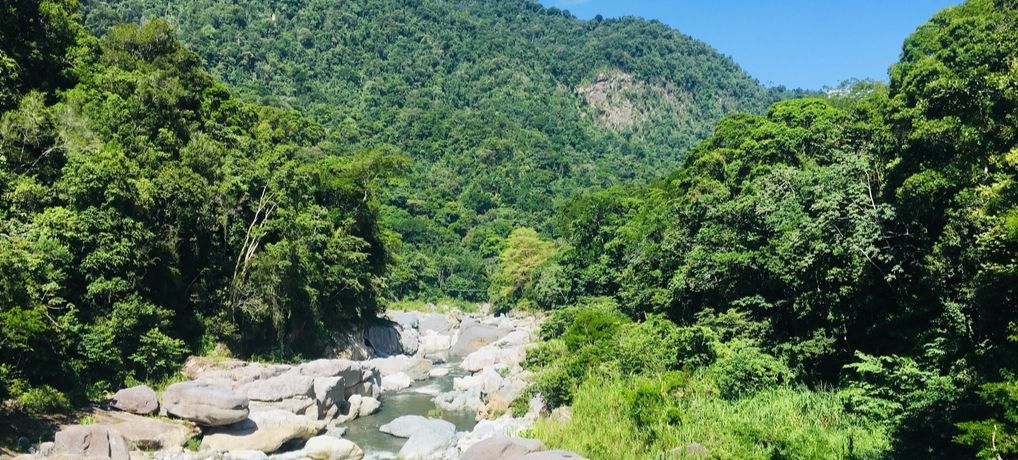 We hadn't heard of Pico Bonito National Park until we arrived on Utila Island, our second bay island in Honduras.

We'd spent much of the previous two or three weeks relaxing and snorkelling on beaches and islands in Belize and Honduras and were ready for a change

.

I started to research less touristy places to visit and Pico Bonito National Park near La Ceiba, a short ferry ride from the Bay Islands jumped out at me

.

Pico Bonito and neighbouring Nombre del Dios National Park with their mountains, rainforests, River (Rio) Cangrejal and huge diversity of flora and fauna; sounded exactly what we were looking for

. 
Little did we know before arriving in Pico Bonito National Park that it would become a highlight of our time in Central America

.

This was

hugely

thanks to Jose (Pepe) Herrero, founder of Hotel Rio and River House, one of the most well known ecologists in Honduras

. 
About Hotel Rio and River House
Hotel Rio provided us with a complimentary all inclusive four-night stay and activities which I've reviewed below. Read more in our full Product Review Disclosure.
Pepe Herrero welcomed us with open arms into Hotel Rio and Riverhouse. The beautiful property has an ideal location nestled between the two National Parks, next to the Rio Cangrejal. 
Pepe is a popular businessman, passionate environmentalist and political figure in Honduras. He introduced the first rafting company to Rio Cangrejal over 20 years ago.

For the last 25 years he's been a leader of the national conservation movement of the water shed and national parks

. He was integral in the fight to halt plans to dam the river for a hydroelectric plant.
A passionate conservationist Pepe is especially keen to host for scientific academic groups and NGO's to whom he's happy to grant special treatment and rates

. Along with his friends and neighbours he made us feel like a real part of the family.
Exploring Pico Bonito National Park With Hotel Rio
Over four days and nights Pepe showed us much of what Pico Bonito National Park has to offer. Here's some of the best things we found to do exploring Pico Bonito National Park with Hotel Rio. 
River Raft and Kayak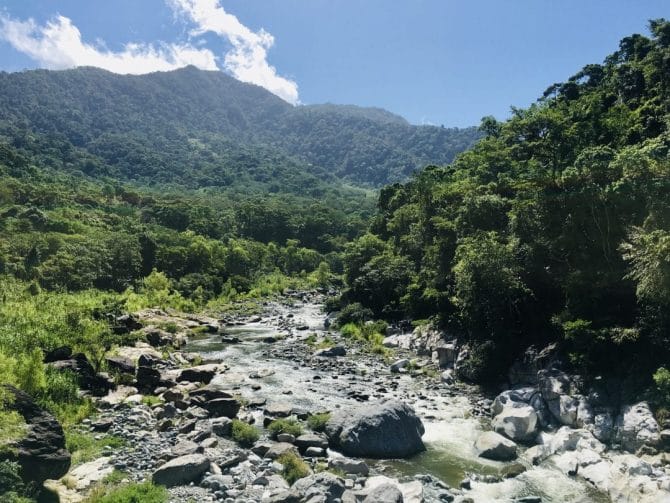 Rio Cangrejal is Central America's steepest river and the best for technical whitewater rafting and kayaking

.

The rugged terrain of the national parks provide unique, world class scenery and rapids that are hard to find anywhere else

. Rafting is the number one activity for most visitors to the area.
You need to have some experience to go kayaking on Rio Cangrejal but pretty much anyone can have a go at rafting. Hotel Rio is a full whitewater rafting company, with

internationally

accredited guides. The guides are always ready to take you out for adrenaline adventures on the river.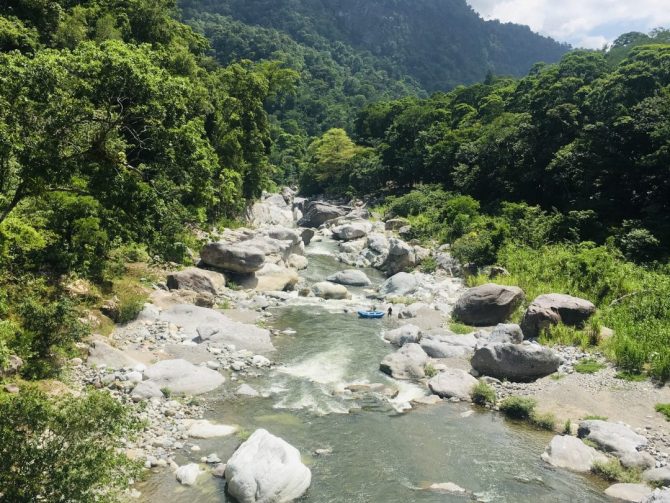 We had an exhilarating morning rafting with a skilled, experienced guide from Hotel Rio. All equipment

was provided

and we felt completely safe at all times. Between navigating rapids we stopped to admire the views and to jump off boulders to cool off! Despite my initial nervousness I

really

enjoyed the experience.
If you want to experience the cool, crystal waters of the river without the adrenaline rush, there are also calm pools to take a swim in.
Hiking 'El Mapeche' Trail to El Bejuco Falls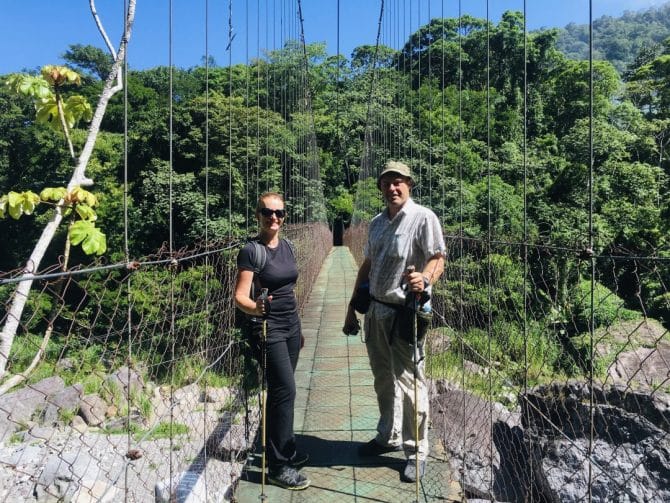 Pico Bonito National Park offers many hiking options, one of the most popular areas is along the Cangrejal River Valley.

From the visitor centre entrance there's a magnificent Indiana Jones-style suspension bridge (Puente Hamaca)

. The bridge leads over the Cangrejal River to a series of trails. The most popular trail, and the one we did, is the 'El Mapeche' trail.

El Mapeche leads up through the rainforest to the foot of the impressive 80 metre high El Bejuco Waterfall

.
The round trip hike takes about 3 – 4 hours depending on your fitness levels and how many breaks you take. We stopped

frequently

to look at and take photos of the many spieces of flora and fauna. There were many birds including toucans, lots of in

sects and and several reptiles. We also saw a couple of different snakes.
You might want to take swimwear with you so you can take a refreshing dip or shower under the waterfall when you reach it. We forgot so Andy just went in fully clothed, he said it was freezing.
The hike isn't easy but definitely doable for most people. Remember though that the rainforest is very hot and humid tropical so take plenty of water as you'll need it. We took our Water-to-Go filter water bottles which we filled up in the river an waterfall (use the code CTWT15 at checkout to get a 15% discount). 
Visit the Chocolate Factory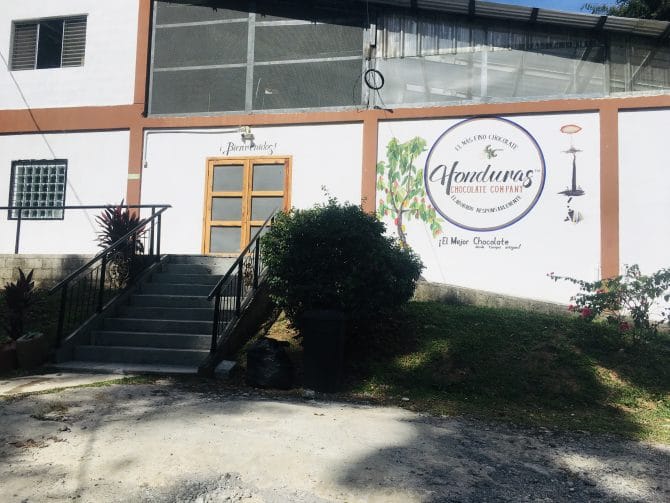 A short walk up the road from Hotel Rio on the left is a chocolate factory, also owned by Pepe who promotes high end cash crops grown in a sustainable manner. He's given 200 locals select trees to grow cacao which they then sell back to the chocolate factory.
If you're interested in this Pepe can arrange for you to take a tour of the factory. We did this and found it

really

interesting to learn all about the end-to-end process. At the end we also got to sample some of the chocolate, Andy chose 70% cacao which was delicious.
Visit Finca Curinto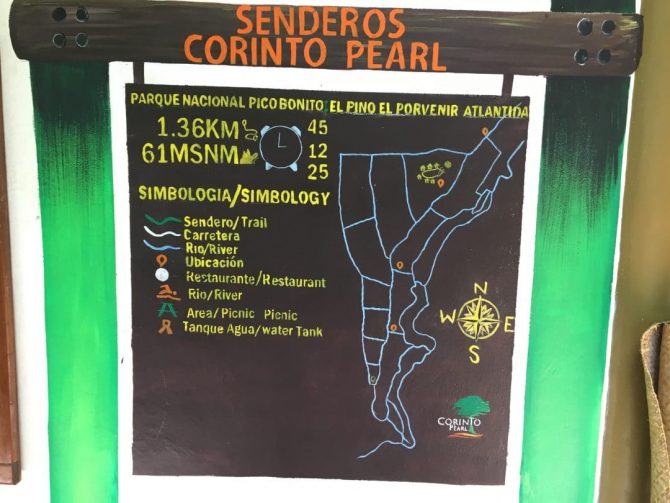 Located about 20 minutes from Hotel Rio, towards La Ceiba at the base of Pico Bonito is Finca Curinto. The finca is Pepe's 117 hectares agroforestry farm. Pepe loves to put on a tour of the farm for
those with a genuine interest agroforestry and conservation.
The farm is on reclaimed cattle pastures, replanted with pepper plants, tropical and hardwood trees

.

All seeds produced go to forestry conservation.

There are also lots of african palms to stop erosion.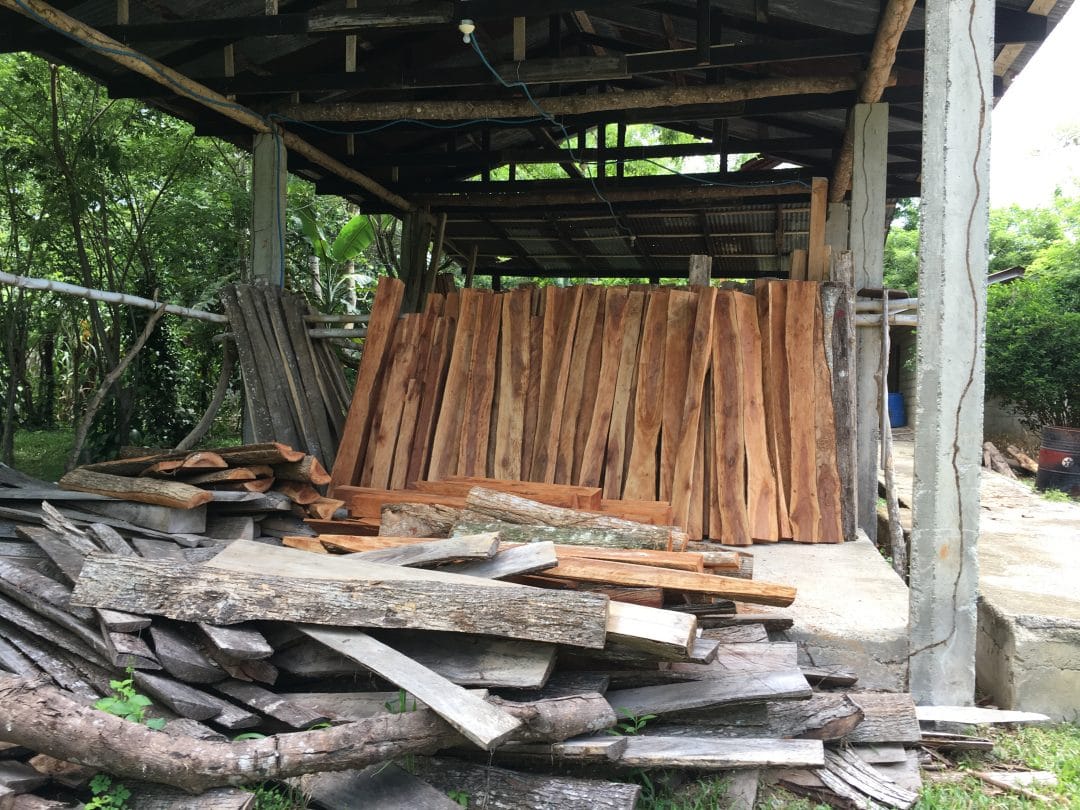 Pepe gives away the hardwood cutoffs to local artisans, who use it to carve various items such as dishes and sculptures to sell to tourists.
Another great initiative to support locals is allowing them to collect firewood when the farm's trees

are thinned

.  This also helps to prevent illegal logging. 
I'm only touching the surface of the farm here as there's so much going on there. We'd

highly

recommend a visit here if you can. It's a

truly

fascinating and educational way to spend a few hours.
Other Activities in Pico Bonito National Park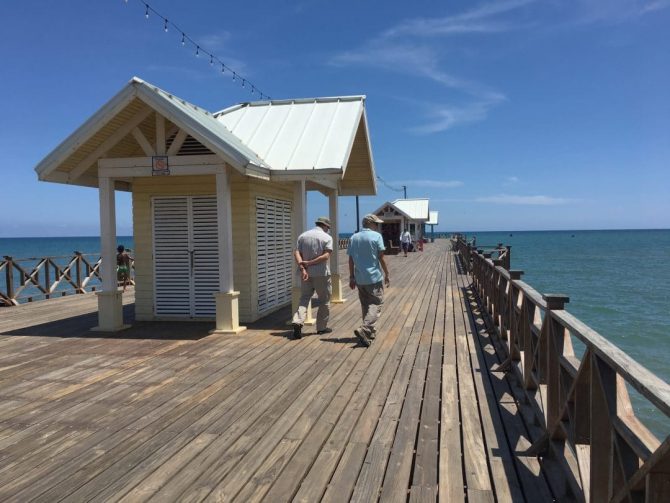 Some other activities you can do in Pico Bonito that we didn't get chance to do are horseriding and mountain biking and canopy ziplining. These can all be organised through Hotel Rio and looked great fun.
You could also spend an afternoon looking aroud nearby La Ceiba. We had a wander along the pier and seafront, around Swinford Park and ate a baleada which is the national dish of Honduras. 
Hotels in Pico Bonito National Park
Pico Bonito National Park has several accommodation options to suit different travel styles and budgets. As mentioned above we were fortunate enough to stay at Hotel Rio and River House which we can't rave about enough.
Hotel Rio and Riverhouse
Hotel Rio and River House is the only hotel in Central America built from tropical hardwood trees grown on it's own farm. It offers two different areas for enjoying your time in nature in Pico Bonito National Park and Rio Cangrejal Valley. Hotel Rio is the mountainside lodge and River House, as the name suggests overlooks the river.
We were lucky enough to spend three nights in Hotel Rio and on our final night had the entire River House to ourselves.
Hotel Rio – is set about 400 metres back from the river on a verdant tropical hillside. It's home to a restaurant that serves delicious meals, bar and hiking trails.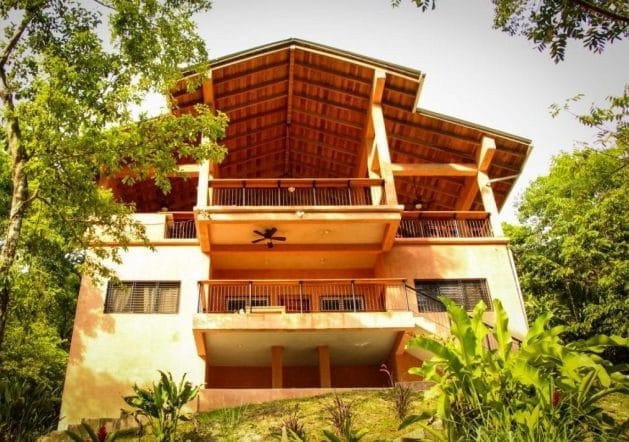 The restaurant terrace has excellent views of Pico Bonito National Park and is ideal for birdwatching. The hotel has a selection of very comfortable rooms to suit solo travellers, couples, groups and families. We stayed in an apartment with a double bed (and the best mattress we had in Central America), table and chairs, and hot showers.
During our time at Hotel Rio they were also busy building a swimming pool opposite the restaurant

. I'm sure this will be another great addition to the hotel.
River House – is set just 60 metres back from the river. It has a huge terrace overlooking lovely gardens filled with tropical trees and plants. It's the perfect place to swing in a hammock, birdwatching and listening to the background jungle cacaphony of cicadas, frogs and birds.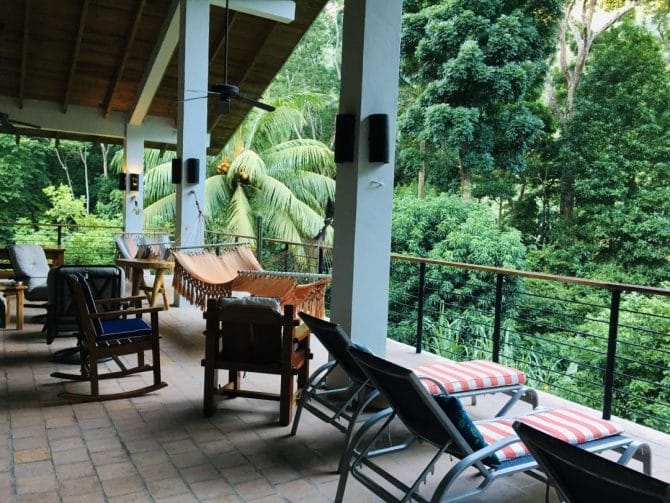 We spotted both a keel-billed toucan and an acarai toucan one evening and some other guests reported seeing five

fly

by on a previous day

. Even if birdwatching isn't your things, you can't help but e enthralled by the huges diversity in this area. Who wouldn't get excited at the sight of a colourful billed toucan landing in a tree only metres away.
River House comes with a private kitchen, lounge area and three big comfy en-suite bedrooms; perfect for groups or families

.

We spent a couple of

thoroughly

enjoyable evenings dining and socialising with Pepe and some of his visiting friends

.
Other Accommodation in Pico Bonito 
We also visited a couple of other hotels whilst we were in the area and really liked the look of Villa de Soledad.
This is a gorgeous luxury family run jungle lodge.
Like Pepe from Hotel Rio, the owner John is
extremely
knowledgable of the area, very friendly and helpful
. He even arranged our transport to and from La Ceiba after our time on Utila which was much appreciated.
---
There's so much to do in and around Pico Bonito National Park, so you can make your visit as active or relaxed as you wish. It's definitely a 'not to be missed spot' in Honduras for outdoor adventure and nature lovers, just get there before everyone else hears about it.
---
Honduras Trip Planning Resources
Planning your trip to Honduras? Here are some of our recommended useful resources to help you. 
● For the best flights we use Skyscanner, I usually find great deals there.
● We use Booking.com or HotelsCombined to find the best hotel prices.
● We always check accommodation reviews on TripAdvisor before booking.
● Even in the modern days of Google we still like to use guidebooks for ideas.
● If you prefer organised day or multi-day trips Get Your Guide has plenty. 
● And most important: DON'T LEAVE HOME WITHOUT TRAVEL INSURANCE. 
 
If you're from the EU you can't beat True Traveller. If you're from other          countries worldwide, World Nomads is good.
 
A new contender for shorter term travel insurance is SafetyWing, which you    can pay for on a month by month basis.
 
Enjoy this post? Pin it for later!
Have you been to Pico Bonito National Park in Honduras? What was the best thing you did there?
Product Review Disclosure: Hotel Rio Rafting provided us with a complimentary all inclusive four-night stay and activities. This did not influence my post in any way and as always I've provided a balanced and honest review. Read more in our full Product Review Disclosure.