Affiliate link disclosure: This post may contain affiliate links including Amazon that earn me a small commission, at no extra cost to you. Read more in our full Affiliate Link Disclosure.
Lake Coatepeque is a large volcanic crater lake in the centre of a volcano complex in northwest El Salvador. Known as Lago de Coatepeque or Laguna de Coatepeque in Spanish, this volcano formed 50 – 70k years ago.

Two volcanic eruptions collapsed the cone of the volcano leaving behind the crater or caldera

.

Over time its slopes and hilly rim became covered with forest and the crater filled with rain and mountain runoff forming the lake

.
Lake Coatepeque is a very peaceful spot in El Salvador,
mainly
visited by wealthy Salvadorans on weekends and holidays
. They stay at second homes or holiday rentals around the circumference of the lake.
Reasons Not to Skip Lake Coatepeque
The first we learnt of Lake Coatepeque was when Andy spotted it on Google Earth, his preferred way of finding less visited places for us to go

.

We decided it would be interesting to visit, afterall, it is a lake in a collapsed volcano crater, which is pretty cool

.
Many other travellers we met in El Salvador had either not heard of Lake Coatepeque or had decided to skip it. The reasons for skipping it was partly due to lack of of information. It was also partly because they'd heard you couldn't access it as an independent traveller.

This is a shame because as we had a great couple of days there; so here are our reasons not to skip Lake Coatepeque if you're travelling in El Salvador

.
1. Enjoy Stunning Views of the Lake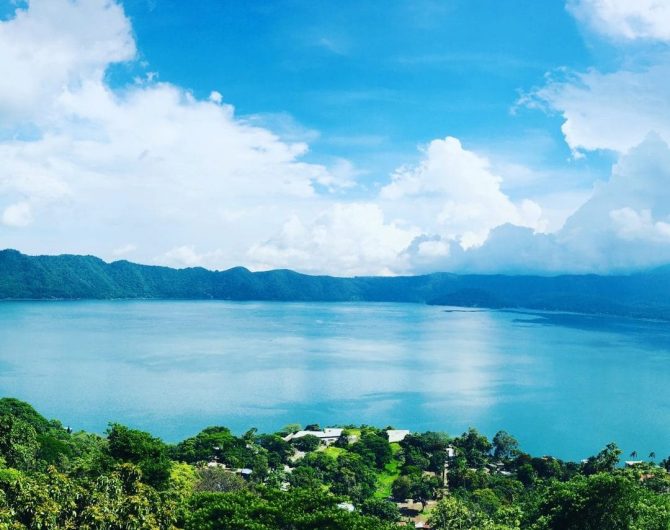 The most eyecatching feature of Lake Coatepeque is its stunning colour, or should I say colours.

Over time it switches between different shades of blue, ranging from a rich vibrant hue to bright turquoise

.
The best views of the lake are from the mirador (or viewpoint). This is near the top of the single road which leads down from the edge of the caldera.

There's also a smattering of rickety restaurants on this stretch of road serving up local food

. If you fancy treating yourself, we'd recommend lunch at the restuarant El Gran Mirador. It offers the most spectacular views out over the entire lake and the food's pretty good too.
2. Experience Local Lakeside Life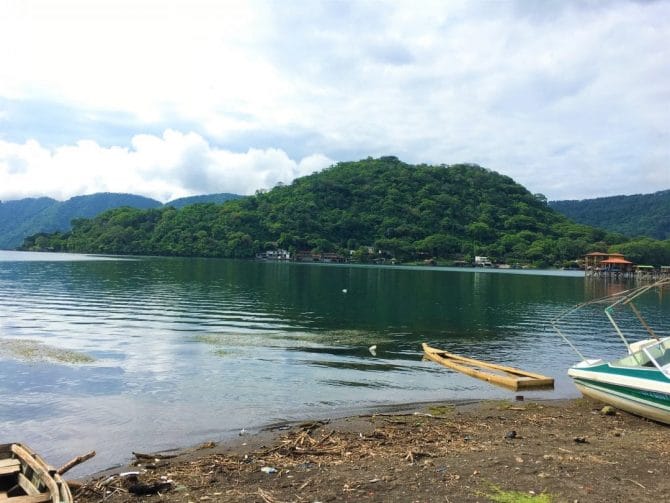 Because of the high walled private properties on the lakeside, it can be difficult to actually see the water.

There are only a few open public access points that take you down to the water which, in all honesty aren't the best spots

.

Despite this it's interesting to take a chicken bus, hitch a lift in a pickup, walk or cycle down the rough road to experience the local lakeside life

. 
A few things to see en-route and up rough tracks inland include a couple of little local churches and an army camp. There are also several random hole in the wall shops and stalls set up infront of houses.

These sell a limited selection of drinks, snacks, fruit and vegetables, fresh fish, pupusas and other random things

.
At the end of the bus route is a small open patch of lake where you can get up to the waters edge.

From the shore you can see Teopan Island, which unfortunately is no longer accessible by public ferry

. It may be possible to get to if you do a boat tour of the lake, but don't quote me on that one.
We liked this spot as you can see some of the most luxury properties on the lake.

Landscaped lawns , private jetties and docks lead down to the lake and each property has some sort of motor powered boat

. We even saw a private helicopter take off and land from here a couple of times.
3. Watersports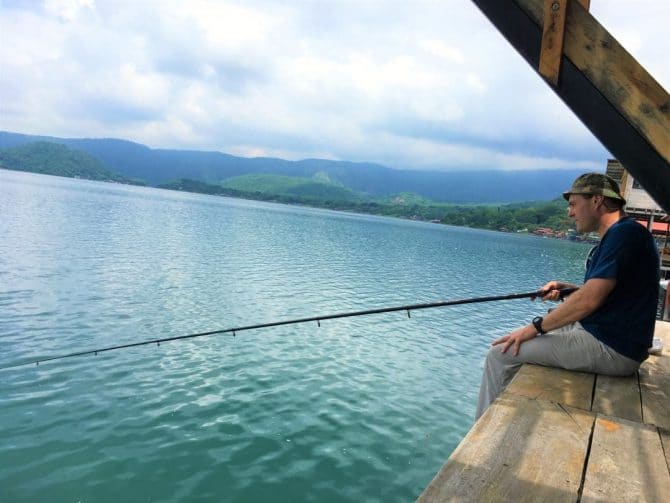 From the private docks on the lakeside it's possible to enjoy a variety of watersports. You can take a boat tour of the lake (which may including Teopan Island), or rent a jetski, kayak or paddle board. There's a even a giant inflatable donut which I assume you sit on whilst it's pulled along behind a motorboat.

It's possible to arrange these activities from where you're staying or from some of the restaurants for a fee

.
For no cost you can dive, jump or swim in the lake from the deck or platform that most accommodations and restaurants have

. You could even snorkel, although I'm not convinced there would be a huge amount to see in a freshwater lake. 
If like Andy you sometimes like to fish and travel with your fishing gear you could try your luck with a few casts to see what you can catch

.
4. Rest and Relaxation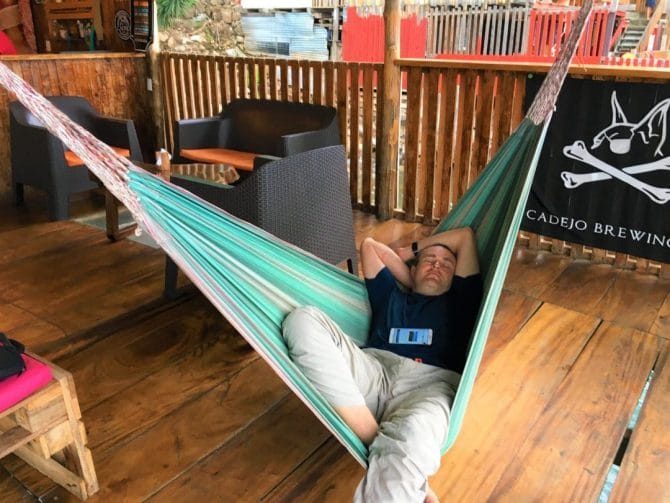 This one's self-explanatory. With the peaceful, picturesque location, what better way to spend a few hours than with some serious rest and relaxation. That could be swinging in a hammock on a deck or lazing on a sun lounger. Take a snooze, read a book, or sip a cold beverage, whatever takes your fancy.
5. Stunning Sunrises and Sunsets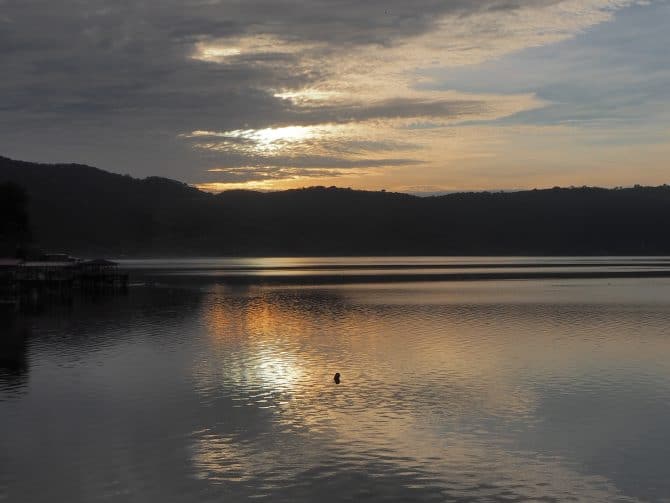 As I'm sure you can imagine, given the right weather conditions the sunrises and sunsets on Lake Coatepeque are stunning.

Try watching them from different spots such as your accommodation's or a restaurants deck or from the mirador near the top of the road

. 
We only managed to catch one sunrise and one sunset as the other days were cloudy and wet as it was the start of rainy season

. An incredible thunder and lightning storm we had one evening made up for this though.
6. Proximity to Cerro Verde National Park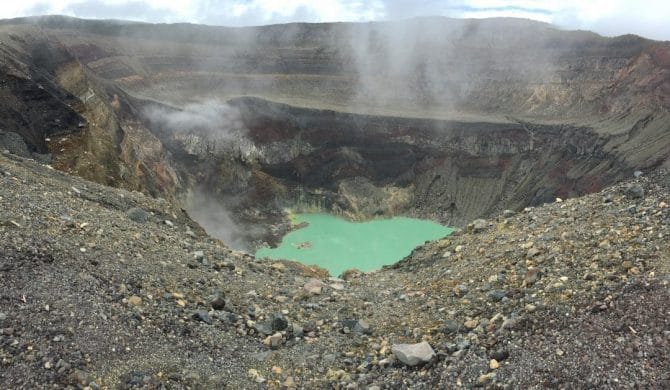 Our final reason for visiting Lake Coatepeque is its proximity to Cerro Verde National Park. It's

easily

reached by local chicken bus, or quicker and more convenient by Uber.
The park is home to three of El Salvadors volcanoes: Santa Ana (Ilamatepec), Izalgo and Cerro Verde. The highlight of Cerro Verde National Park is the Santa Ana Volcano hike.

This is the highest volcano in El Salvador and has an incredible turquoise, boiling, sulphuric crater lake at its summit

. 
You can also hike Izalgo Volcano or one of several trails in the National Park. If you decide to do one of both of the volcano hikes be sure to check the weather forecast first. It's

 not permitted to do the hike if the weather is too rainy and windy and you'll have to wait most of the day for a bus back to town if you can't do the hike

.
It's also possible to get to Cerro Verde National Park from Santa Ana city, but the lovely, peaceful lake is a much nicer base than the big, noisy city

.
Where to Stay at Lake Coatepeque 
We struggled to find accommodation at Lake Coatepeque within our budget. Theres few options because it's more a destination for wealthy Salvadorans staying in private holiday homes. The few hotels we found were fairly high-end, or at least out of our price range. We were also travelling in low season which further limited our choice.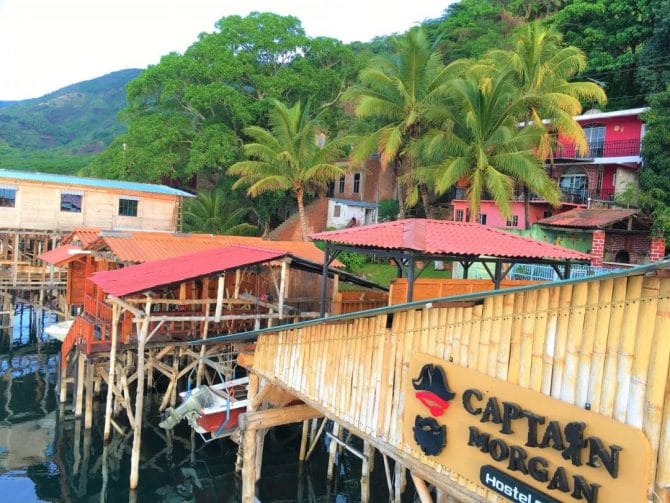 We got lucky with a private room at the colourful Captain Morgan Hostal – booking link (paid for ourselves). It only had shared bathrooms which we're not keen on but there weren't many other people staying so we made do. Plus, we got a great deal on our room with a fan which was a nice touch. It was tiny but clean and tidy so was fine for a few nights.
We also experienced an earthquake one night (4.6 on the richter scale) and our room and the rest of the hostal withstood it well
.
Captain Morgan Hostel is quite new and the friendly owners have made it very nice inside. Although it doesn't look much from the outside. The location is definitely the highlight as the restaurant and bar is on wooden stilts over the lake. It's the ideal spot for watching sunset or sunrise. 
BOOK CAPTAIN MORGAN HOSTEL HERE
If you're looking for something a bit more comfortable there's a few more Lago de Coatepeque accommodation options to choose from albeit at a higher price.
How to Get to Lake Coatepeque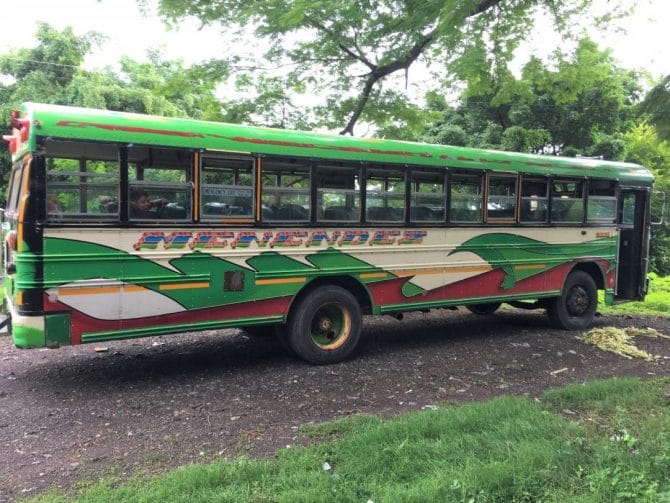 We found it pretty easy to get to the lake using public transport. We did have to read and hear lots of conflicting information before we figured it out though. We travelled from Playa El Tunco in the south of El Salvador but had to go via San Salvador.
The other main hub for public transport to the lake is Santa Ana. You have to go via Santa Ana if you start from somewhere in west El Salvador such as Ruta de las Flores or come through from Guatemala. Centrocoasting has alot of useful information on getting around El Salvador. It's regularly updated so is a good place to check for bus schedules to Lake Coatepeque from other places.
The whole journey from both these starting points takes about 1.5 – 2 hours – although it is Guatemalan time so be prepared for delays.
From San Salvador
To get to Lake Coatepeque from San Salvador take the 201 bus from Terminal Occidente. When you get on the bus, tell the driver you want to get off at El Congo air-conditioned minibus. The journey cost $1 USD (£0.80) and we paid an extra $1 USD each for seats for our big bags, although we probably didn't need to.
From El Congo just hop on the next 242 bus to Lago de Coatepeque, which costs $0.75 USD (£0.60) . It drives all the way down and round the lake so tell the guy who takes your money where you're staying and he should drop you at the right spot. 
From Santa Ana
To get to the lake from Santa Ana you can take either the 220 bus or the 248 bus. They both follow the same route to the lakes edge; from there the 220 goes to the left (east) and the 248 goes right (west). If you find yourself going the wrong way round the lake just get off at the junction. There'll soon be another bus come along going the right way.
It is actually possible to visit the lake as part of a day tour from Santa Ana or San Salvador. These tours are often combined with a visit to Cerro Verde National Park. This could be an option if you're restricted on time and can't stay overnight.
---
In our opinion, a trip to Lake Coatepeque is definitely worth it if you have time to stay on the lakeside for at least one night. Have a look at Andy's YouTube video which will show you more on the lake and Santa Ana Volcano.
If you can't stay overnight you may want to skip it as it will be hard to see much of the lake close up or spend any time on or in it. The only exception may be if you go as part of a day tour as your guide will take you to the best parts.
A trip to Lago de Coatepeque is great for those who like natural wonders and seeking out less-visited hiddens gems like we do.
---
El Salvador Trip Planning Resources
Planning your trip to El Salvador? Here are some of our recommended useful resources to help. 
 


● For the best flights we use Skyscanner, I usually find great deals there.


 


● We use Booking.com or HotelsCombined to find the best hotel prices.


 


● For self-catering accommodation Airbnb is our go-to.


 


● We always check accommodation reviews on TripAdvisor before booking.


 


● Even in the modern days of Google we still like to use guidebooks for ideas.


 


● If you prefer organised day or multi-day trips Get Your Guide has plenty. 
● And most important: DON'T LEAVE HOME WITHOUT TRAVEL INSURANCE. 

 If you're from the EU you can't beat True Traveller. If you're from other           countries worldwide, World Nomads is good.

 A new contender for shorter term travel insurance is SafetyWing, which you     can pay for on a month by month basis.
Enjoy this post? Pin it for later! 
Have you visited Lake Coatepeque?
Did you find anything else to do that we missed?