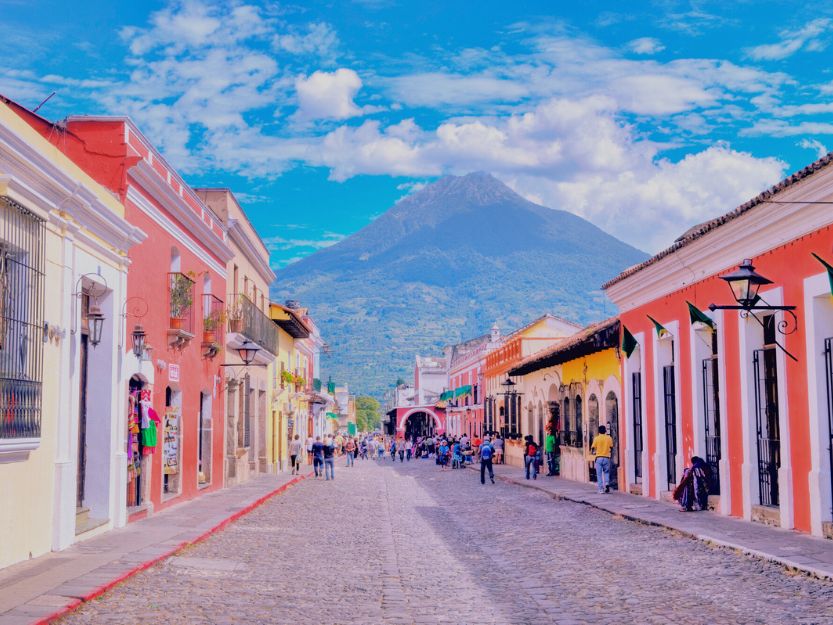 We tend to seek out less touristy destinations to visit, and Antigua, Guatemala is far from that. But, after spending two weeks there over two separate visits we found so many things to do in Antigua, Guatemala, that we found it hard not to like it.
Antigua was once the capital city of Guatemala until a volcanic eruption devastated it. The city was rebuilt into what is now a colourful colonial town and declared a UNESCO World Heritage Site in 1979.
A contrast to the gritty capital, Guatemala City, Antigua boasts clean (but treacherous) cobbled streets and is brimming with culture. It's also surrounded by three looming volcanoes (two of which are active).
Cute shops, cafes, and great restaurants and bars line the streets and bustling markets and crumbling religious and historic buildings are dotted about. It's a city that should definitely be on every Guatemala itinerary.
It's a charming, beautiful city…what's not to love about it?
This post contains affiliate links. If you use them to make a purchase, we may earn a small commission at no extra cost to you. As an Amazon Associate, we earn from qualifying purchases. Learn more in our Affiliate Link Disclosure.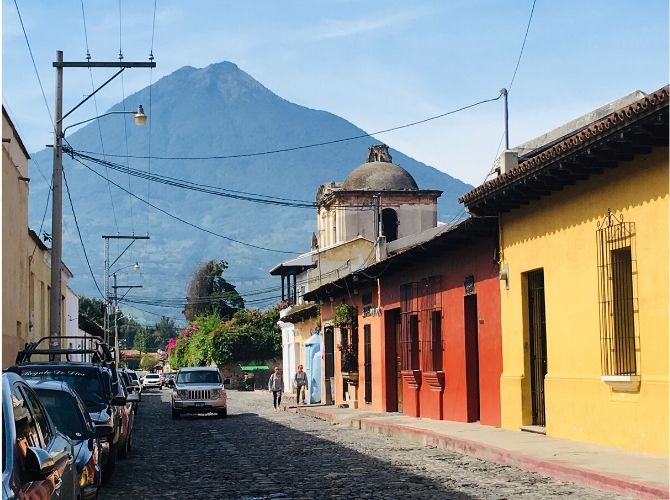 It's obvious to see why many visitors end up staying in Antigua much longer than planned. Being just an hour or so away from the capital and close to several other highlights of Guatemala, it's very accessible and a key stop for most people visiting or backpacking in Guatemala.
All this and how safe it feels makes Antigua the perfect base to stop, relax and recharge for a while or to use as a hub for nearby adventure activities. We even met people who have made Antigua their home for a while or even permanently.
You could easily spend double the time in Antigua that we did and still not run out of things to see and do. Here are 11 fantastic things to do in Antigua, Guatemala AND if you still want more check out Valhalla Macademia Nut Farm, just outside of Antigua.
1. Hike Acatenango Volcano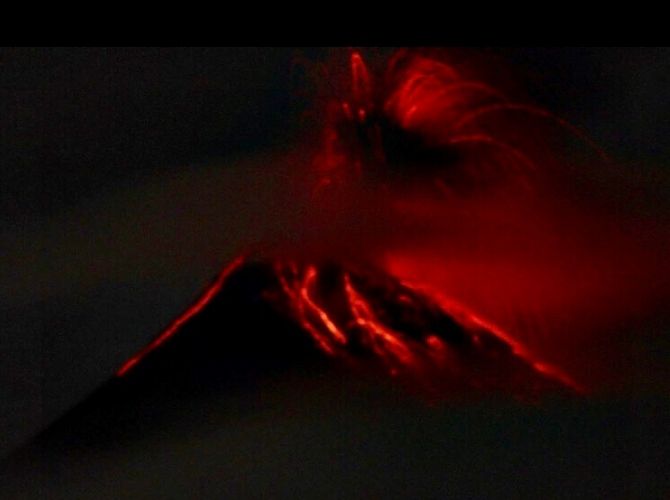 The Acatenango Volcano hike to watch Fuego Volcano erupt is one of the most talked-about activities amongst travellers in Central America.
The overnight 2-day hike is around 18 km or 11 miles (round trip) with an elevation gain of 5,150 ft or 1,500 metres. The highlight is camping at the top of Acatenango and weather permitting, watching and hearing Fuego Volcano erupt.
Mention of this epic hike snuck into conversations with nearly everyone we met in Central America "Have you hiked Acatenango", "Is it really as difficult as it sounds" or in Andy's case "Will an unfit, nearly middle-aged man, who smokes be able to manage it?", "Is it worth it?". Then, of course, the photos would come out and yet again, for a while at least, we'd be convinced we had to do it.
In the end, we did it in the last week of our 4 months in Central America. I can hand on heart say that yes, it definitely is worth it. It was one of the most amazing experiences we've had as a couple.
We did our hike with Balam Tours Acatenango who kindly invited us to join them on one of their tours. It was incredible and we'd both highly recommend them.
2. Toast Marshmallows on Pacaya Volcano
If the Acatenango Volcano hike sounds a bit too challenging, you could experience the other active volcano, Pacaya, instead.
Pacaya Volcano is the most accessible volcano from Antigua. It's only about 1 hour and 15 minutes drive away, which means it's also the most visited. At 8,373 ft (2,552 metres) high, the hike to the top takes around 2 hours. If you really don't like hiking you could also rent a horse to ride to the top.
Pacaya's active and does sometimes erupt, but only ash. This means that the rocks are hot enough for you to toast marshmallows over them. Few people can say they've toasted marshmallows on an active volcano.
We didn't do Pacaya as we'd already hiked and visited so many other volcanoes in Central America. We decided hiking Acatenango would be enough volcano action for us in Antigua.
There are many agencies in town that offer the tour so just shop around until you see one you like the look of. Or you can book a Pacaya Volcano Tour with Get Your Guide.
3. Take a Walking Tour
A great way to see the highlights of Antigua, especially if you're short on time is by taking a walking tour. There's no shortage of agencies in town offering these or again, you could book awalking tour online. 
Another option is to take this free walking tour of Antigua. It includes stops at many of the city's highlights including some of the city's historical and religious sites.
If you have time you may want to go back to explore some of them more thoroughly by yourself. We've mentioned the best in more detail below.
4. Explore Historic and Religious Sites
There are many historic and religious sites to explore in Antigua. Here are our favourites.
Iglesia de la Merced – this striking yellow Baroque church with intricate white plaster filagree is the best-preserved church in Antigua. It's quite a focal point of the city, with snack and drink stands often set up outside. Locals come here in the afternoons and evenings to socialise.
Merced church is still used and on the last Thursday of each month, there's a  candlelit procession, accompanied by bell ringing and firecrackers.
San Franciso Church – is a restored multi-domed colonial church and is one of the most visited churches in Antigua, by locals and tourists alike. Pilgrims visit to pray for miracles from Friar Hermano Pedro, the 17th-century monk buried inside. 
With its splendid colonial architecture, grand courtyard and ruined monastery, San Francisco Church is very photogenic.
Church and Convent of Las Capuchinas – is nestled between gardens and courtyards which are often used as a wedding venue.
These well-preserved ruins of Antigua's biggest convent give you an insight into the life of the nuns of the convent. It's a good idea to hire a guide to explain the historical details to you, such as about the bathing halls and water torture chambers.
They were our favourite ruins in Antigua and we spent quite some time exploring them. The view from the roof of the convent of the city and volcanoes is also fantastic.
Santa Clara Covent Ruins – are the remains of the multi-domed Santa Clara convent, once home to over 50 nuns. Over the years, several earthquakes reduced it to rubble. It has now been partially restored to showcase its stone halls, archways and passages, along with lovely garden courtyards and a fountain. These ruins are also often used as a wedding venue.
We stumbled across the Ruinas de Santa Clara by accident as we wandered around Antigua, then spent a pleasant relaxing hour exploring and taking photos. The upper cloister offers gorgeous views of the green courtyards and the volcanoes in the distance.
Tanque La Union – is a huge public water cistern and pila opposite Santa Clara Convent. This cistern and pila were once used as a place to wash laundry as not all houses had somewhere to do this. It's still used for this purpose by some people from nearby villages and towns where they don't have access to much water.
Other historic and religious places you could explore in Antigua are Antigua Guatemala Cathedral (otherwise known as Catedral de Santiago or Catedral San Jose), Palacio de los Capitanes Generales (Town Hall) on the plaza, Casa Santo Domingo and San Lazaro General Cemetary.
5. Santa Catalina Arch
The first thing that springs to mind when you think of Antigua, Guatemala is the iconic Santa Catalina Arch (Arco de Catalina).
This bright yellow-coloured arch was built in the late 17th century when the local women's covenant acquired a new building on the other side of the street. The nuns were not permitted to go into the street or interact with the public so the arch provided a closed passageway for them to cross the street from one building to the other.
Santa Catalina Arch is a must-see while in Antigua. Be sure to bring your camera because it's stunning, especially on a clear day when you'll get an incredible view of Volcan de Agua in the background. 
6. Catch Sunset at Cerro de la Cruz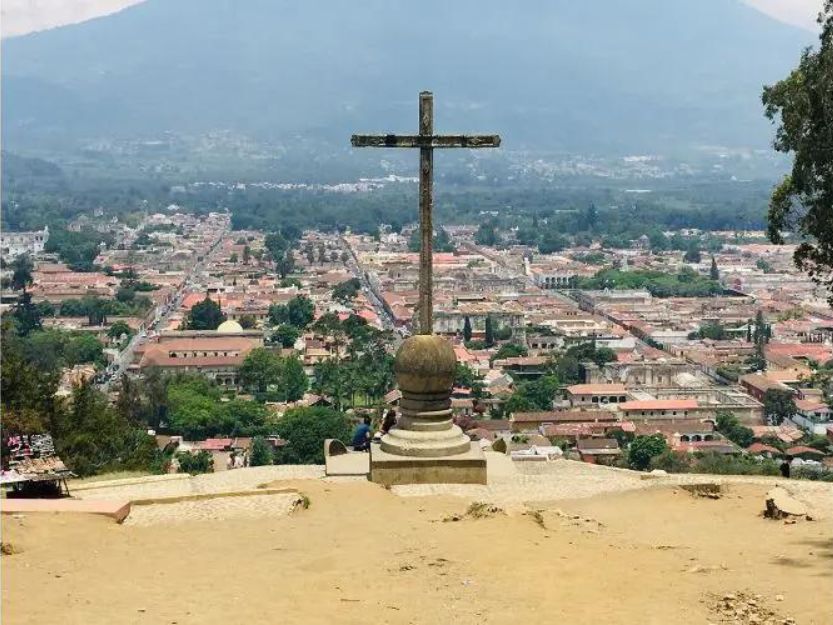 Cerro de la Cruz or 'Hill of the Cross' is a short 30-minute walk or hike uphill from the centre of Antigua.  The hill boasts fantastic views across the city and on a clear day of the volcano in the distance and as the name suggests, there's a big cross at the top. Should you need a drink or snack you'll find a few locals dotted about on the hill selling these.
You can hike up Cerro de la Cruz at any time of day, in fact, we did it in the morning. BUT the best time of day to do it is just before sunset so you can catch the sunset over Antigua City and the volcanoes.
7. Central Park
As in most Central American cities and towns, the plaza or Central Park (Parque Central) is the beating heart of Antigua and is always a hive of activity.
Colonial buildings, including the City Hall (Palacio de Los Capitanes Generales), shops and restaurants border Central Park
Trees shade the pretty central plaza which is full of tropical flowers and has a lovely fountain at its centre. Street vendors mill about selling nuts, icecreams, candyfloss, drinks and balloons, giving you endless photo opportunities.
Locals come here to socialise, especially in the evenings, weekend and holidays and it's also a popular spot for tourists. You'll find plenty of benches scattered about where you can sit to enjoy some people-watching. Watch out for the pigeons overhead, as Andy was unlucky enough to have one poo right on his head one day (or maybe, as some say, he was lucky).
Antigua's Central Park is also THE place to be during any festivals in town. We were there for Independence Day and it was CRAZY for two or three days. Another big festival worth trying to time your visit for is Semana Santa or Holy Week in March or April.
8. Chocolate Making Workshop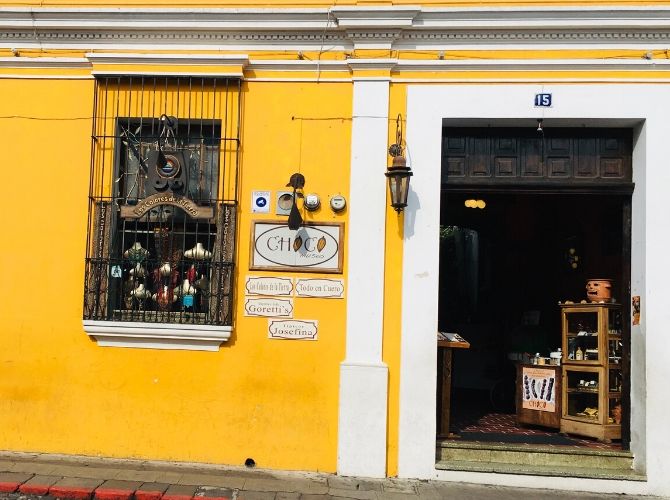 Chocolate lovers won't find it difficult to find chocolate and chocolate-based products in Antigua. There's even a Chocolate Museum – called ChocoMuseo.
The museum, which is also a shop, has a section with information boards explaining the origin and evolution of cacao and chocolate. They even offer a Bean to Bar chocolate-making workshop, which Andy and I were invited to take part in.
First, we learnt about the Mayan history of chocolate and the process to take it from cacao bean to chocolate. Then it was time for a short quiz, with a forfeit for the loser.
The workshop concluded with the best bit – we got to try our hand at making our own chocolates and Mayan cacao drink. Andy was definitely more skilled at making chocolates than me – mine were a messy disaster.
9. Browse the Mercado
Tourist markets are commonplace in Antigua, but the Mercado or Local Market, located near the bus terminal is the most authentic market by far. Browsing the sprawling, colourful and chaotic Mercado is a great way to experience the 'real Antigua'.
The market sells just about everything and has different sections for different things. One section has fresh fruit and vegetables, another fresh meat and fish, whilst, in other sections, they sell clothes and shoes, and household goods.
You can also eat like a local at one of the eateries or street food stalls in the market. We tried the traditional pepian (a rich, spicy chicken stew) in one place, which was tasty. Another street food stall that intrigued us (due to my love of ceviche) sold ceviche criadillas. We stopped every time we passed by, but couldn't bring ourselves to try it when we found out what it actually was. It was 'bulls balls ceviche'.
Andy and I love local markets, so it's no surprise that the Mercado made it to our list of things to do in Antigua, Guatemala.
10. Caoba Farms
Caoba Farms is a short walk from Antigua city centre and is worth visiting at least once during your time in Antigua. Not just an organic and sustainable farm, Caoba Farms has become a place for community meetings, markets and volunteer opportunities. When you first arrive, take a walk through their beautiful vegetable gardens to see how the food is grown.
Afterwards, why not have a bite to eat or a full meal in their onsite farm-to-table restaurant? There are also a variety of soft and alcoholic drinks on offer, including locally brewed craft beers. The restaurant sometimes has evening events with live music which sounded like a lot of fun, although we didn't get a chance to go.
Other events hosted by Caoba Farms are the weekly Saturday farmer's market, a flea market on the first Sunday of each month and twice-weekly free yoga.
11.

Experience the 'Real Guatemala'
If you have enough time in Antigua, you might feel like getting out of the city at some point and exploring some of the local towns a little further afield. This is a great way to experience the 'real Guatemala. You can easily do this on the local buses like we did, or by taxi.
Three towns, amongst others, that you could visit are Jocetenango, known for its abundant fruits, Pastores where they make high-quality leather cowboy boots, and Parramos which is well known for its vegetables.
Alternatively, you could take a tour with Niños de Guatemala, which offers a discovery of nearby village life. It includes a tour of a carpentry shop, a doll-making lesson, a visit to a local school, and, best of all, a tour through a chicken bus factory.
There you can see how old American school buses are 'pimped' to become the colourful public buses seen all over Central America. We called them disco buses!
Andy and I tried to find the chicken bus factory ourselves and couldn't. This was one of those occasions where I concede a tour would have been better.
Where to Stay in Antigua, Guatemala
Antigua has a wide variety of hotels, hostels and guesthouses to choose from. On our first visit we found a lovely central guesthouse called Posada Juma Ocag. We loved it so much we stayed there our second time in the city too.
It has several rooms on two levels around a central courtyard and an upstairs terrace. There's also a kitchen if you want to cook your own food. It was simple but clean and we found the owners to be very friendly and helpful.
Barbara's Boutique Hostel and Yellow House Hostel B&B and are both good budget options. If you'd prefer something at the other end of the scale, the luxury Hotel Museo Spa Casa Santo Domingo may be just what you're after.
How to Get to Antigua
When visiting Antigua from elsewhere in Guatemala you'll likely travel from Guatemala City or Lake Atitlan. Unless you're ok with forking out a fair amount of cash for a private taxi you'll probably prefer to take one of the tourist shuttles that run these routes.
Take a Tourist Shuttle With GuateGo
The easiest way to get to Antigua from most places in Guatemala is by arranging a tourist shuttle through the website GuateGo, a trip-planning website for Guatemala. It allows you to compare various methods of transportation and purchase tickets online for your trip.
We were flying into Guatemala City from Panama City so we booked a shuttle to take us from Guatemala City Airport to our guesthouse in Antigua
We cleared immigration at Guatemala City quickly, which meant we got to the shuttle pickup point early. Despite that, we only had to wait about ten minutes for the mini-bus, organised by Guatego to turn up. A few other passengers joined us in the mini-bus, and then we left for Antigua.
As is usual for Guatemala City, the traffic was pretty horrendous but it still only took us a couple of hours to get to Antigua. The driver was friendly and drove safely which is the main thing.
We used GuateGo to book all our tourist shuttles around Guatemala. We found them to be reliable, convenient and affordable and would recommend them to anyone looking to book transport in Guatemala.
---
Antigua in Guatemala is full of fantastic things to see and do and it's unlikely you'll get bored during your visit to this pretty city. 
We enjoyed our time there so much, that it's now high on our list of potential next places to live for a while.
Have you visited Antigua? Did you find anything else good to do in Antigua, Guatemala that I've missed off my list?
---
Planning Your Trip to Antigua?
Planning your trip to Antigua in Guatemala? Here are some of our recommended useful resources to help you have the best time possible.
Enjoy this post? Pin it for later!
Product Review Disclosure: Balam Tours Acatenango provided us with a complimentary Acatenango overnight hike tour, Choco Museo provided us with a complimentary chocolate-making workshop, and GuateGo provided us with a complimentary shuttle from Belize City Airport to Antigua. This did not influence my post in any way and as always I've provided balanced and honest reviews. Read more in our full Product Review Disclosure.