Affiliate link disclosure: This post may contain affiliate links including Amazon that earn me a small commission, at no extra cost to you. Read more in our full Affiliate Link Disclosure.
After exploring Antigua in Guatemala, our next destination was to be Semuc Champey. We soon discovered the journey between the two isn't straightforward. The most popular way of getting from Antigua to Semuc Champey is by tourist shuttle, however, it takes about 9 hours if there are no delays. Not fans of long bus journeys (especially Andy) we decided to stop overnight part-way in Biotopo del Quetzal. I'm a bit of a wildlife geek and love getting off the beaten track so was excited at the prospect of hopefully spotting the resplendent quetzal bird, the reserve's namesake and the beautiful national bird of Guatemala.
In Search of the Quetzal Bird in Biotopo del Quetzal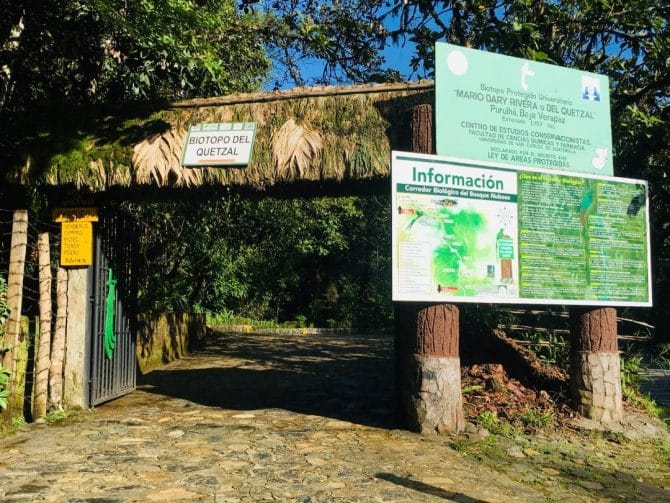 Otherwise known as the Biotopo Mario Dary Rivera (after its founder) the Biotopo del Quetzal or Quetzal Reserve, is a protected cloud forest covering 2,580 acres, about one hour from Cobán. The aim of the reserve is to protect its rapidly diminishing swath of cloud forest and its inhabitants including the quetzal bird. It has become one of Guatemala's favourite and best spots for bird watchers and nature lovers.
The reserve opens daily from 7 am to 4 pm and costs 40 Quetzales ($5.20 USD) to enter. I believe you can also camp overnight if you wish for another 20 Quetzales ($2.60 USD) but you must arrive before the gates close at 4 pm.
The Resplendent Quetzal
The Biotopo del Quetzal is the endangered habitat of the resplendent quetzal bird. This shy, elusive bird has iridescent green and scarlet red plumage and a crazy spiky hairstyle. The male sports an impressively long streamer-like tail. Although not guaranteed there's quite a good chance of spotting a quetzal bird in the reserve. Read on to find out if we managed to see one. 
Hiking in Biotopo del Quetzal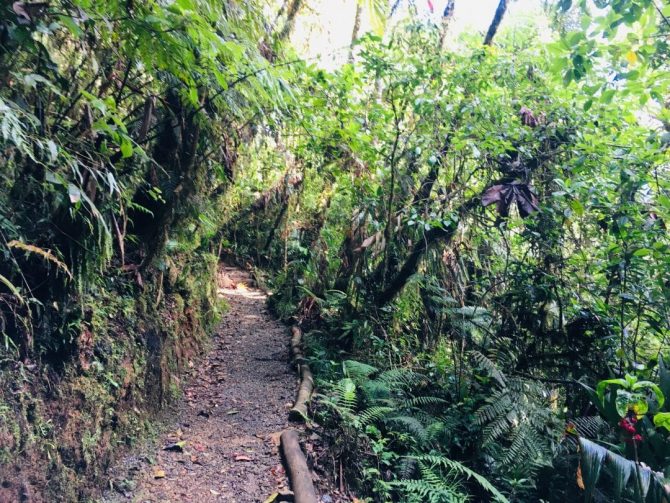 Even if you don't get to spot a quetzal bird in the reserve it's still worth visiting. There are all kinds of other flora and fauna including many other species of birds, butterflies, insects, ferns, orchids, and trees. There are also some nice waterfalls.
Only a small section of Biotopo del Quetzal is open to visitors. There are two well-kept trails that start from the visitors' centre creating a circuit through the cloud forest. The Ferns Trail is 2 km long, whilst the Moss Trail is 4 km long and part of them are combined. The longest trail climbs about 300 meters up the mountain to a viewpoint through the dense cloud forest. There's also then a side trail you can take to a waterfall where you can swim.
Sadly we only had time to do the shorter hike as we only stayed one night and our bus was at 1 pm. This was still a really nice hike through the cloud forest, the shady canopy offered a welcome reprieve from the sun and the flora was amazing. We saw so many strange plants, ferns, mosses and mushrooms we'd never seen before, along with plenty of colourful butterflies and various insects.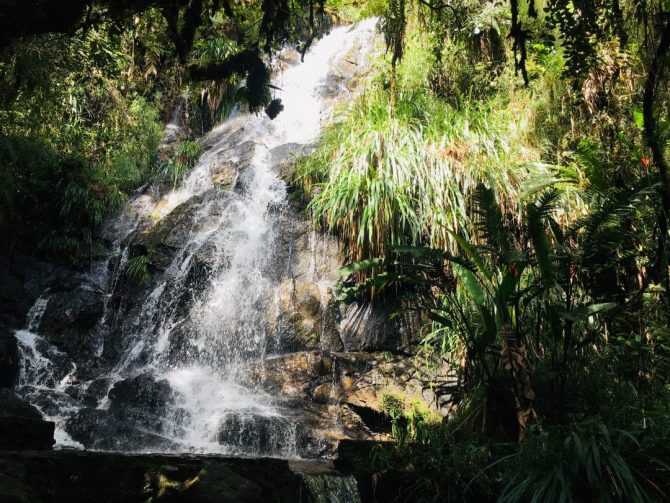 Because we didn't hike the long route we didn't make it to the main viewpoint or waterfall, although we did find a smaller waterfall. The short trail was still fairly tiring as it's mostly uphill (until you come down again), so I would expect the long trail to be even more so. There are plenty of rest spots for you to catch a breather so just take plenty of water and you'll be fine.
If you're trying to do your bit for the environment like us, a filter water bottle is a great idea. It means you don't have to carry so much water, reduces single-use plastic waste and makes any water from a river, stream or waterfall safe to drink. We personally love the Water-to-Go filter water bottles (use the code CTWT15 at checkout for a 15% discount on the EU website  or  US website .
Also, remember to take insect repellent as there are plenty of biting insects about and some sunscreen for the open stretches of the hike.
Spotting the Elusive Quetzal Bird
As I mentioned before Biotopo del Quetzal is home to the resplendent quetzal bird. Although it's shy, if you get lucky you may get to spot it whilst you're in the reserve. The best time of year to see quetzal birds is just before or after nesting season in March or June. The best place to see them is near the aguacatillo tree in the carpark around 7 am or 4 pm where you might spot them eating the avocado-like fruits.
I guess you're wondering if we managed to spot any quetzal birds…well we did but not whilst we were hiking in the official Biotopo del Quetzal. We arrived to start our hike a little too late and the day before when we arrived, the gates had already closed. Luckily, it didn't matter though as we'd actually managed to see two quetzal birds, a male and a female, from near the restaurant of Ranchitos de Quetzal, where we stayed.
I was just walking down to the restaurant after getting changed when I saw a commotion of staff and Andy running between the restaurant and the road with binoculars. I was glad to have my travel binoculars to hand and managed to just catch a brief glimpse of a quetzal before it disappeared. I was a bit disappointed as I couldn't see it all that well.
All was not lost though and shortly after one of the guys that worked at Ranchitos came running over with some huge powerful binoculars on a tripod, pointing towards the trees. We joined him and were able to get a much closer look at both a male and female quetzal bird in all their glory. They were absolutely stunning birds and we felt extremely lucky to see them.  
Where to Stay in Biotopo del Quetzal
Being a bit out of the way, accommodation near Biotopo del Quetzal is fairly limited although you can see a few options on TripAdvisor.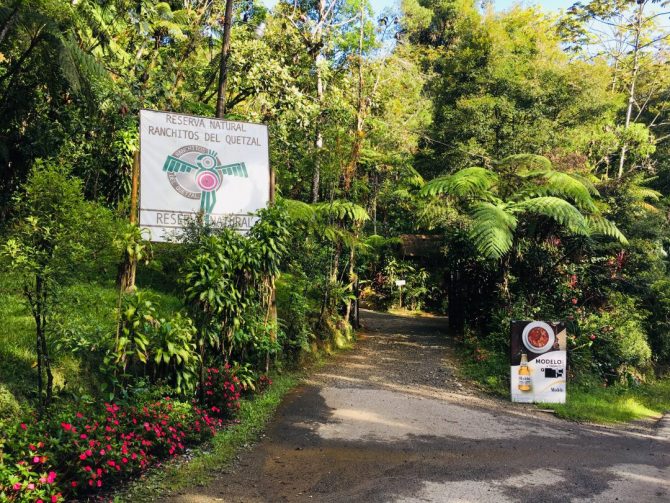 We stayed at Ranchitos del Quetzal (paid for ourselves), which seemed to be the best option for us. Its location was ideal for us with our limited time as it's literally right next door to Biotopo del Quetzal. We took one of their standard private double rooms which had two double beds and a single bed so could easily sleep a family. It was fairly simple, but very clean and suited us perfectly. They also have a variety of other room types on offer all at fairly reasonable prices.
Ranchitos del Quetzal is a family-run lodge that was created 30 years ago to help protect the habitat of the quetzal bird. Nowadays through the interactive workshops and accommodation they offer, they are able to sponsor and follow up on social and educational projects of research, conservation and reforestation.
Onsite at Ranchitos del Quetzal are two hiking trails that join together in a loop, which can be easily walked in about an hour. Fairly near the start or end of the loop (depending on which way you go), there's a little waterfall in which you can take a refreshing dip.
There's also a restaurant onsite serving simple but tasty traditional meals at a good price. The icing on the cake is the high likelihood you'll be able to spot a quetzal bird or maybe multiple quetzals right in the trees above the restaurant.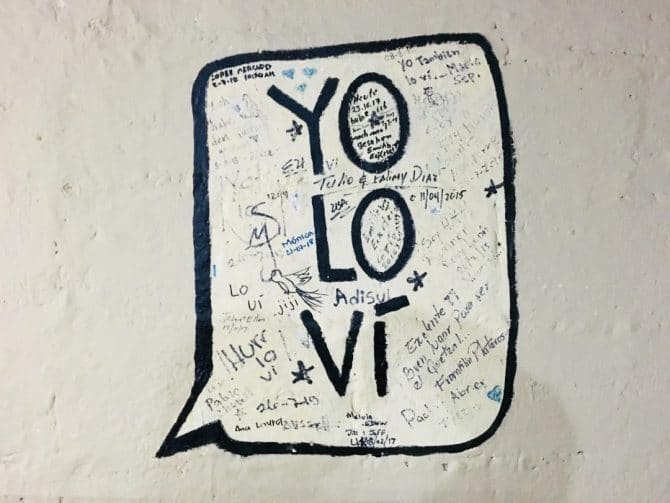 Check out the walls of the restaurant which are decorated with graffiti from past visitors. It all states 'Yo lo vi' ('I saw it') or in some cases 'Yo no lo vi' ('I didn't see it'), referring to if they spotted a quetzal bird. Annoyingly we completely forgot to add our 'Yo lo vi'. If you don't see a quetzal bird you're more or less guaranteed to see several beautiful hummingbirds which buzz around the feeders in the morning and late afternoon.
We really enjoyed our stay at Ranchitos del Quetzal and only wished we were able to stay longer than just one night.
BOOK RANCHITOS DEL QUETZAL HERE
How to Get to Biotopo del Quetzal
It's likely if you're visiting Biotopo del Quetzal you'll be doing it either from Antigua on the way to Semuc Champey or vice versa. Unless you're happy to fork out a fair amount of cash for a private taxi it's likely you'll take one of the tourist shuttles that run that route once a day in each direction.
Take a Tourist Shuttle With GuateGo
GuateGo provided us with a complimentary tourist shuttle from Antigua to Biotopo del Quetzal which I've reviewed below. Read more in our full Product Review Disclosure.
The easiest way to get to Biotopo del Quetzal from Antigua is by arranging a tourist shuttle through the online website GuateGo. GuateGo is a trip planning website for Guatemala. It allows you to compare different methods of transportation and purchase tickets for your trip online.
When we took our trip, Biotopo del Quetzal wasn't a scheduled stop on the route.

Despite this GuateGo arranged for us to

be dropped

off there and collected again the next day to continue our journey to Lanquin for Semuc Champey

.
Note:
Since we took the tourist shuttle to Biotopo del Quetzal from Antigua, GuateGo have added Biotopo del Quetzal as an official destination on their website which is great.
The shuttle journey to Biotopo del Quetzal ran

smoothly

.

We

were collected

on time from our hostel in Antigua, then continued to pick up other passengers before leaving Antigua

. There was then a quick technical stop about halfway through to use the bathroom and buy snacks.
The weather took a turn for the worse later on in the journey so the driver had to slow down, making us a little behind schedule

. This was fine of course because of safety first and all that.

By the time we arrived at Biotopo de Quetzal it was raining hard, so we

were relieved

when the driver dropped us off right outside our hotel to save us from getting too wet

.
We used GuateGo to book all our tourist shuttles around Guatemala.

We'd recommend them to anyone looking to book reliable, convenient and affordable tourist shuttles throughout Guatemala

.
---
If you want to see the resplendent quetzal bird then a visit to Biotopo del Quetzal is a must. If you're not a bird fan it's still worth a visit to enjoy some wonderful hikes through the amazing protected cloud forest.
Have you visited somewhere less touristy in Guatemala? Would you recommend it?
---
Guatemala Trip Planning Resources
Planning your trip to Guatemala? Here are some of our recommended useful resources to help. 
Travel Resources for Guatemala
Planning your trip to Guatemala? Here are some of our recommended useful resources to help you have the best time possible:
● TRAVEL INSURANCE IS AN IMPORTANT CONSIDERATION FOR TRAVEL. If you're travelling long-term like us and from the EU, then True Traveller is our go-to option.
If you're from a non-EU country, another option for long-term travel insurance is SafetyWing, which you can pay for on a month-by-month basis. This is also good for shorter trips.
● Find amazing flight deals to Guatemala on Skyscanner and Kayak.
● Compare Rental car prices in Guatemala on Rentalcars.com.
● Booking.com usually have the best hotel prices in Guatemala.
● Our go-to for self-catering accommodation in Guatemala is Vrbo
● Discover fantastic trips and activities in Guatemala with Klook, Viator and GetYourGuide.
● Bookmundi, G Adventures, and  Intrepid Travel offer group holidays and tours to Guatemala.
Enjoy this post? Pin it for later!
Product Review Disclosure: GuateGo provided us with a complimentary tourist shuttle from Antigua to Biotopo del Quetzal. This did not influence my post in any way and as always I've provided a balanced and honest review. Read more in our full Product Review Disclosure.