Affiliate link disclosure: This post may contain affiliate links including Amazon that earn me a small commission, at no extra cost to you. Read more in our full Affiliate Link Disclosure.
About 30 km south of San Salvador the capital of El Salvador, is the tiny surf town of El Tunco. Once a hidden gem known only amongst Salvadorans, the two street town of Playa El Tunco is now one of the most popular surf towns in El Salvador. The surf there is one of the top reasons to visit El Salvador. 
Large rocks and pebbles cover the beach and forever shifts and changes with the tides. In rainy season the beach is mostly rocky as the waves drag the sand away. In dry season the sand covers the rocks creating a beautiful black sand beach (or so we were told). A short distance offshore is a huge black rock that's said to resemble an upside down pig looking at the sky. This rock is the town's namesake – 'El Tunco' means 'The Pig'.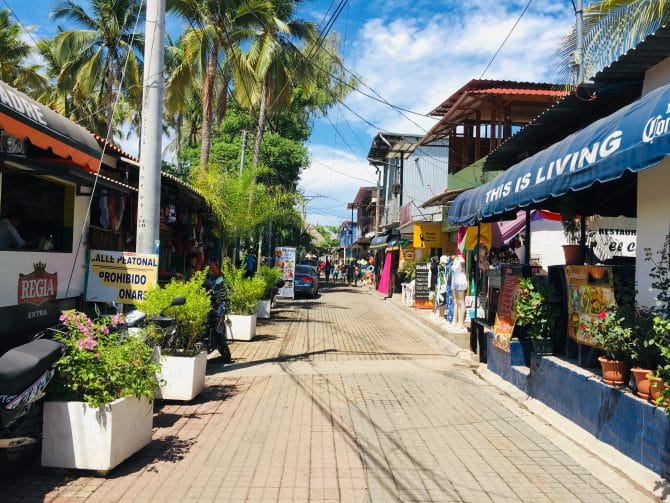 Playa El Tunco is visited by thousands of surfers and backpackers each year. It's the most popular surf town in El Salvador and possibly Central America, featuring on most El Salvador itineraries
. It's also often used as a quick pit stop between Guatemala and Honduras or Nicaragua. It's most well known for it's surfing and peaceful vibe during the week and partying at the weekends.
Things to do in Playa El Tunco
For such a small town, there's still enough to keep you busy (or 'not so busy' as your preference may be) in El Tunco. Here are our top nine things to do in Playa El Tunco.
1. Surfing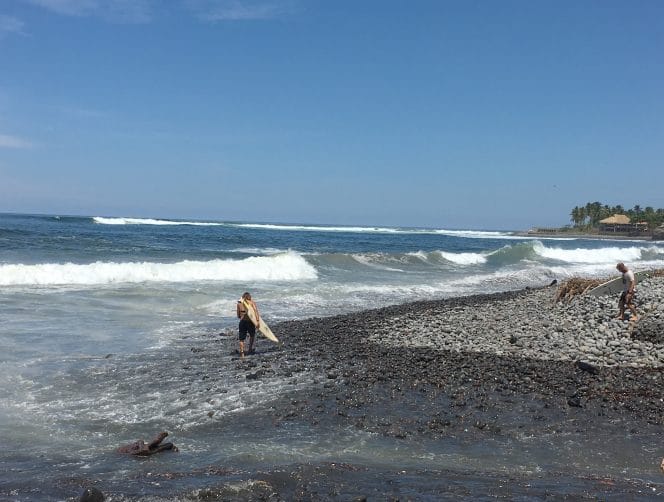 Despite not being surfers ourselves, I can't write about Playa El Tunco without mentioning surfing. The surf is the main reason to visit the town for many people. Within walking distance is access to four breaks of different sizes. These breaks are probably the reason for it's popularity.
As non-surfers we personally thought the waves looked terrifying. The nightly storms we experienced as it was rainy season made them look particularly gnarly. I wouldn't recommend you even swim unless you're an extremely strong swimmer. We were happy to simply watch the surf skills from the rocks or one of the beachfront bars over a beer or two.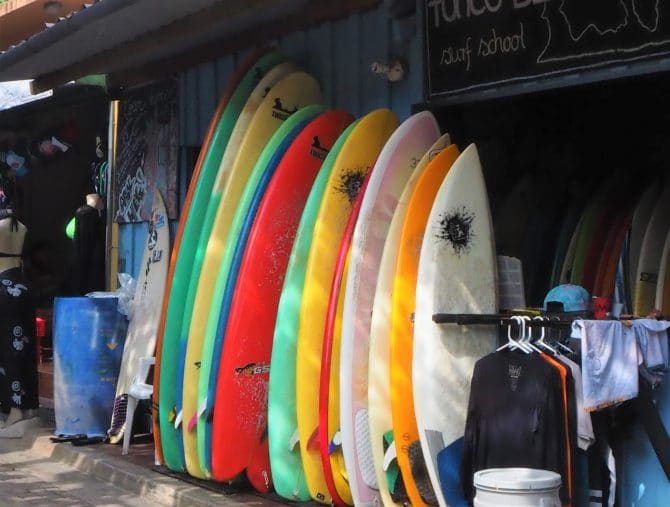 If you already surf but don't travel with your board, it's possible to rent from one of the shops in town for about $10 to $15 USD (£7.90 to £11.85). If you're not a surfer but made of sterner stuff than us you may want to take a surf lesson. You can arrange a lesson from most accommodation or one of the surf shops in town and they cost from $20 USD (£15.80) for 45 minutes. 
2. Take a Yoga Class
Unsurprisingly, given the chilled out vibe in El Tunco, there are a couple of places in town that offer yoga classes for both surfers and non-surfers alike.
The best choice seems to be at Balance, which sadly I didn't get chance to try. They offer Vinyasa and Surfers Stretch drop in classes for $10 USD (£7.90), or five and ten class packages at a discounted rate.
Unsurprisingly, given the chilled out vibe in El Tunco, there are a couple of places in town that offer yoga classes for both surfers and non-surfers alike.
3. Chilling Out
This may sound strange in a top things to do post, but other than surfing, chilling out is the main activity in El Tunco. Everyone seemed to be getting some serious rest and relaxation in. Swinging and snoozing in a hammock with a book or cooling off in a pool are favourite pastimes there.
Occasionally, you may want to break up this extreme exertion, but don't put too much effort into it. You could take a stroll through town to grab a coffee, smoothie or bite to eat or browse the few artisan shops and stalls. You might even fancy pampering yourself with a massage, pedicure or manicure at 'Day' or 'Stone Massage'.
4. Explore the Caves
Another way to while away and hour or two is with a visit to some caves to the left of El Tunco beach (facing the sea). The caves are only accessible at low tide and I think only accessible in dry season. At least we were unable to reach them during the five days we were in town.
Apparently you can get to the caves by walking along the beach to the left for about ten or fifteen minutes. They are quite large so you can stand in them and there are no claustrophobic tunnels to crawl through. There's likely to still be water about though so take a dry bag for your valuables and wear water shoes or walking sandals for clambering over the rocks.
5. Eat Pupusas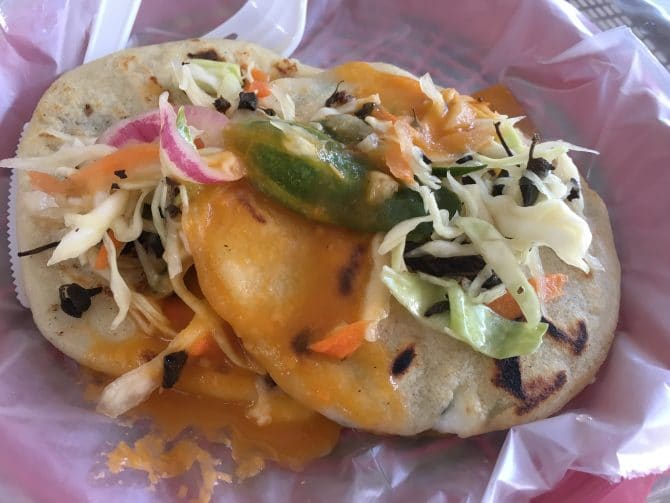 Something we did ALOT of in El Tunco was to eat pupusas, the most popular traditional food in El Salvador. These thick corn (maize) tortillas are stuffed with a variety of fillings and cooked on a griddle. They're served with fermented cabbage, carrot and jalapeno slaw and a tomato sauce.
The most common pupusa fillings are cheese, cheese with refried beans, loroco (a flower bud), or chicharrón (cooked pork meat ground to a paste, not to be confused with fried pork rind). Pupusas may well become your staple food in El Tunco as they're extremely cheap – only $0.50 to $1 USD (£0.40 to £0.80) each and tasty.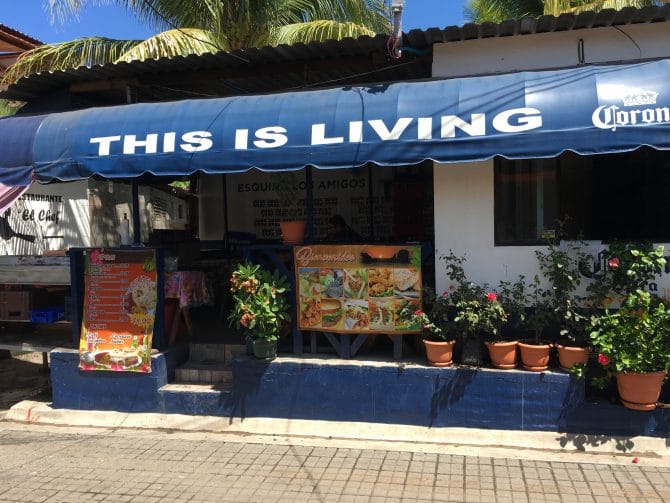 Our favourite place to eat pupusas in El Tunco was a little pupuseria on the junction of the two streets. We could never work out it's name but you can't miss it – it has a navy canopy with the words 'THIS IS LIVING'. Pupusas there cost $1 USD (£0.80) but there are also a couple of street food stalls in town which were marginally cheaper.
If you walk up the hill away from the beach on the only other road, you may also find a little old lady busy making pupusa dough in a traditional machine.
If you don't dig pupusas, there's a good choice of other places to eat in town to suit all tastes and budgets. Your best bet is to have a wander around, peruse the menus and see what takes your fancy.
6. Watch the Sunset 
Weather permitting, a highlight of El Tunco is it's spectacular sunsets. Every evening locals and visitors gather on the rocks or bars on the beach to socialise and enjoy a happy hour beer or cocktail. Watching the orange and pinks explode across the sky as the sun sinks below the horizon is the perfect end to a day. I imagine sunrises are equally stunning but despite four attempts we missed it every time by a few minutes.
7. Partying
It was relatively quiet in El Tunco when we visited, even on the weekend. I think this was due to a combination of the rainy evenings and it being low season. Nonetheless, it's easy to see how it could soon turn into party central on a weekend with a few more people and better weather. For just a two street town there are plenty of bars, restaurants with bars and pop up bars outside shops. 
The busiest we saw it was on the Saturday when lots of wealthy Salvadorans were in town for the weekend. The Friday had been stormy and devoid of people, but from 4 pm on the Saturday everyone gathered on the rocks with cool boxes of beer, spirits and mixers. They watched the sunset, then some moved onto bars in town. By about 10 pm though things had started to die down, except for a live rock band in La Guitarra overlooking the beach.
If you're looking for a party in El Tunco your best chance is going to be in dry season and on a weekend. Even so, you'll still find most of the drinking and music establishments open most nights, should you want to make your own party.
8. Beach Hopping 
As well as the beach at El Tunco there are also a string of other beaches you can easily hop to on the local chicken bus. You can even walk to the nearest ones if you want a bit of a hike like we did. If you do this though, be careful as you'll have to walk on the edge of the road so watch out for trucks and buses that career by. There are also a couple of places in town where you can rent a scooter.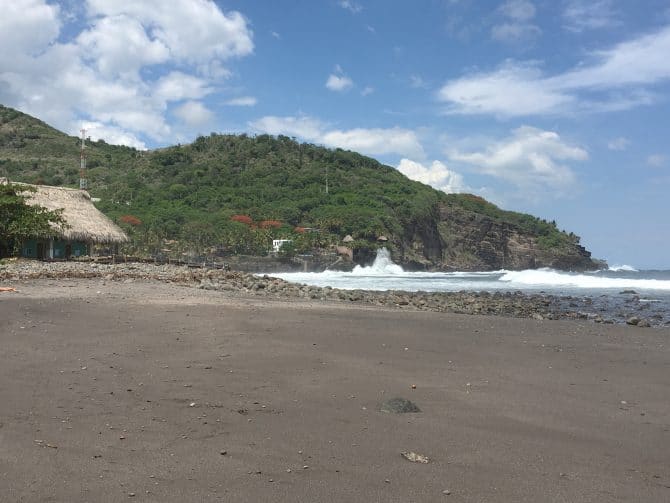 To be honest, we weren't that impressed with the beaches we visited; this was probably because we don't surf and because they were so rocky due to the rainy season. Some may well be beautiful in high season when sand covers the rocks and the waves looked great so if you're a surfer I'm sure you'd appreciate the beaches much more. These were the beaches we went to:
El Zonte – was marginally busier than El Sunzal but there was still only a few locals milling about and a few surfers who seemed to be staying in beach huts or a hostal. The beach was more attractive than at El Tunco and El Sunzal, it was longer and there was more sand. 
If you look across to the far left of the beach you can see steps that lead up the rocks. I recommend not trying to clamber over the rocky beach to reach these. The rocky beach was treacherous and you can't climb the steps as they lead to private properties.
La Libertad – another rocky beach, again this may change in high season but we weren't impressed.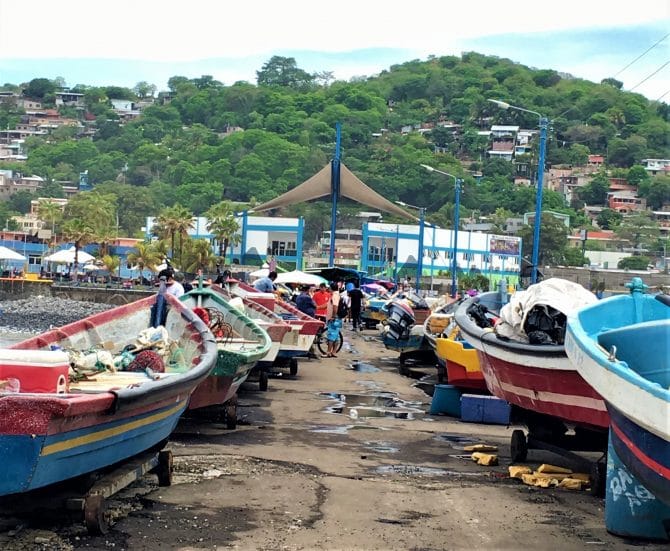 Don't skip La Libertad though – if you get to La Libertad early enough though you can see fishing boats being winched up onto the pier by ropes and pullies. The catch is then unloaded and sold further along the pier at the very smelly fish market. Afterwards you can stop by one of the restaurants on the Malecon for some fresh seafood and a cool drink. Our favourite part of La Libertad was the ceviche we ate there.
Other beaches you could stop off at include Palmarcito, Majahual and San Blas. We heard that Playa San Blas is a good option for surfing lessons if you're a complete beginner or nervous, as the waves there are much smaller.
9. Hike to Tamanique Waterfall
For something a bit more adventurous you can hike to Tamanique Waterfall which is about 20 minutes out of town by bus. Be prepared though as the hike is meant to be a bit technical and challenging in places.
We didn't get to do this ourselves because the nightly rains had made everything very slippery underfoot. As I'm pretty accident prone I decided not to tempt fate with a treacherous hike. Luckily though my friends over at 'These Foreign Roads' have written a great post which tells you all you need to know about hiking Tamanique Waterfall. You can also swim and cliff jump which sounds fun – or scary in my opinion!
Playa El Tunco Hotels
Being the most popular surf and beach town in El Salvador, Playa El Tunco has plenty of hotels, hostels and guesthouses to choose from.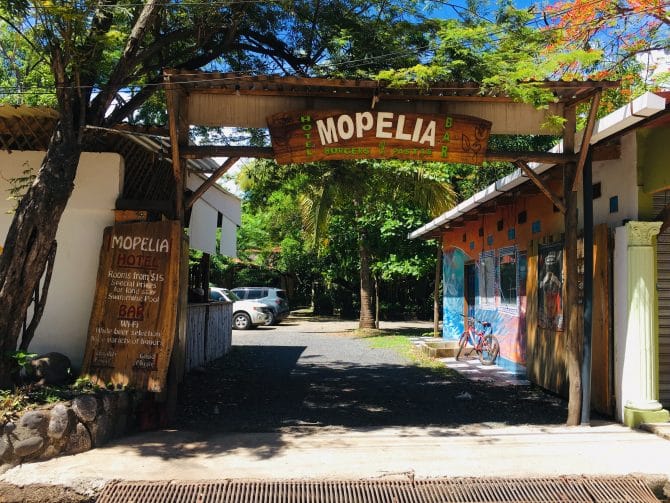 We stayed in Hotel Mopelia (paid for ourselves) after being recommended it whilst we were in San San Salvador. We spentour first night in a bungalow with air-con which was $50 USD (£39.50) per night. For the next four nights we moved to a cheaper room with a fan which was $30 USD per night (£23.70). Discounts are also available for stays of a week or more.
It was a lovely relaxed place to stay with the rooms around a central tropical garden and pool. It's also only a couple of minutes walk from the beach. There are plenty of hammocks strung up around the property for chilling in and also a bar and restaurant onsite. We enjoyed our stay at Mopelia and would definitely go back should we return to El Tunco.
There's also a whole range of other accommodation to suit all budgets some of which aren't actually online which you can find when you arrive. If you prefer to book in advance you'll find many options online.
How to Get to Playa El Tunco
Most people arriving in Playa El Tunco come from the capital San Salvador or one of the neighbouring countries of Guatemala or Nicaragua. Centrocoasting has alot of useful information on getting to, from and around El Tunco.
From San Salvador
The best way to get to Playa El Tunco from San Salvador is to take the 102A air-conditioned minibus. Catch it from the corner of 17a Av Sur and 6a Calle Poniente or from either the Terminal de Occidente or Estación Ceiba de Guadalupe bus stations. so you could get on it at one of those. It costs $1.50 USD (£1.20) and takes about 1 hour.
Alternatively, you can take the 102 local chicken bus from Terminale Occidente but you'll need to change to bus 80 or 92 at La Libertad. It should cost about $1.25 USD (£1) in total and takes about 1.5 hours.
From Guatemala or Nicaragua
There are many travel agencies that offer shuttles to El Tunco from Antigua in Guatemala and Leon in Nicaragua. The easiest way to organise is to ask at your accommodation or in one of the agencies in the city. It should cost around $30 USD (£23.65) from either country.
---
If a chilled out vibe and relaxed way of life is your thing, then you're going to love Playa El Tunco and all the things to do in this chilled surf town. Have a look at Andy's YouTube video to get a better feel for the town.
Just beware, it's very easy to get stuck there. Make sure you have a departure date or you might never leave.
Have you visited Playa El Tunco? What was your favourite thing to do there to pass the time?
---
El Salvador Trip Planning Resources
Planning your trip to El Salvador? Here are some of our recommended useful resources to help. 
Enjoy this post? Pin it for later!