Puerto Morelos is one of the best Mexican beach towns. This typical Mexican fishing village in Quintana Roo has lots going for it. Not only does it have one of the best beaches in the Mayan Riviera, but it also has

the second-largest barrier reef in the world, the Mesoamerican Barrier Reef, which lies

just

offshore

. In 1998 this section of the reef

was declared

a protected National Marine Park. As a result, it's less visited, healthier and more spectacular than the reef near Playa del Carmen, Cancun and Tulum. Although snorkelling in Tulum is also certainly worth doing.
We learnt about the reef and snorkelling in Puerto Morelos soon after arriving in the village

. It was

instantly

added to our list of things to do. After all, there was no way we could live in Puerto Morelos for six weeks and miss out on that.
At first, we hoped to snorkel in Puerto Morelos from the shore

independently

but it seemed it

was prohibited

due to the reef's protected status

. The only way to snorkel the reef was with an accredited guide and always wearing a life jacket or snorkel vest.

After looking at several tours to take us to snorkel the reef (both with agencies in town and independent guides on the beach) we decided to take a Classic Reef Tour with Wet Set Diving Adventures

.
Reef Snorkel in Puerto Morelos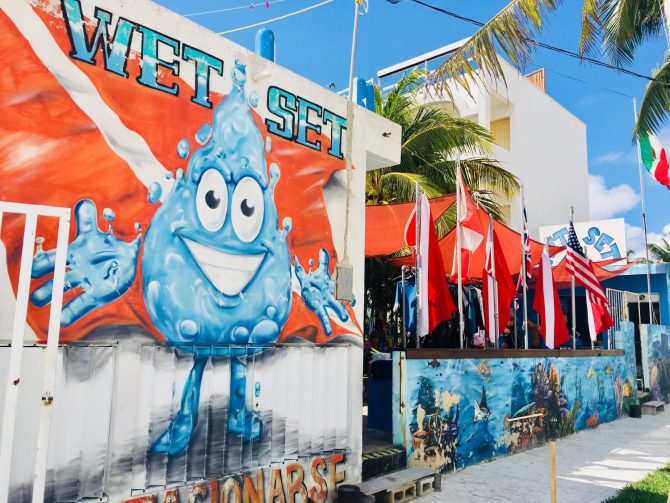 Wet Set Diving Adventures provided us with a complimentary Reef Snorkel Tour which I've reviewed below. Read more in our full Product Review Disclosure.
Wet Set Diving Adventures is owned by Canadians, Stafford and Jewel.
 It's

 the longest standing, most popular and highly rated dive and 

snorkel

 tour company in Puerto Morelos. The tour company was set up in 1997 just before the reef became protected. It was the first ever PADI dive shop in the village and has held the TripAdvisor top position for 'things to do' in Puerto Morelos since 2012.
All the Wet Set Diving Adventure team are trained and certified in diving, snorkelling and the appropriate safety precautions; they are also educated in low-impact tourism. Wet Set is an ethical, eco-friendly tour operator that strives to have as little environmental impact as possible.
Meeting the Puerto Morelos Snorkel Guides and Getting Kitted Up
Puerto Morelos snorkel and dive tours with Wet Set start at their shop which

is located

on a side street

just

two minutes from the beach

.

The tours have a prompt start so we arrived a few minutes early to meet our two guides and the rest of the small group on the tour – eight of us

.
After completing a short disclaimer form, we

were given

a bottle of water and kitted out with fins, life jacket, mask and snorkel

. We were also given the opportunity to rinse off any insect repellent and sunscreen as it can be very damaging to the reef.
However, as you really don't want to get sunburnt, it's a good idea to use

biodegradable

sunscreen if you're snorkelling on a hot, sunny day. In fact, wearing sunscreen whenever you're out in the sun is one of the top tips for travelling in Mexico – the sun is very strong!
Puerto Morelos History and Snorkel Briefing
Once we had our snorkel gear and our bags were

safely

stashed in the dive shop we walked down to the beach, where a motorboat was waiting

. It was called Jaguar 2 and was jaguar print, waiting on board were our two captains. The boat bobbed about on the sparkling turquoise sea with a flock of seagulls perched atop the awning. Not far offshore, we could see the waves breaking over the reef! Eager to get started we paddled to the boat and clambered on board as the seagulls flapped

noisily

away.
One of our English-speaking guides told us some history about Puerto Morelos, the reef and the chicle (chewing gum) trade

. This

was peppered

with jokes and 'pop quizzes' which kept us laughing and entertained. He gave us a safety briefing and instructions on how to use a mask, snorkel and fins.

He also explained how to snorkel 

responsibly

by not touching anything and avoiding damaging the reef with our fins

.
We've snorkelled many times before but this overview was great for the first-timers and inexperienced snorkellers in our group and put them at ease

. It was by far the best briefing we've ever had on a snorkel tour. Generally, you're

just

told to follow your guide and that's it.
Puerto Morelos Snorkel Time
We'd arrived at our first Puerto Morelos snorkel site by the time the briefing and instructions

were finished

. It only took about ten minutes max but remember the reef is very close to the shore.

In fact, it's

probably

swimmable for good swimmers if it wasn't banned in the rules and regulations of the protected reef

.
We had around 90 minutes of snorkel time in total split

equally

across two sites – Radio Pirata and Labyrinth

.

We spotted an eagle ray, barracuda, grouper, angelfish, a big lobster and a huge array of other different-sized fish in a kaleidoscope of colours

.
Of course, I shouldn't forget to mention the fantastic array of beautiful, healthy coral, anemones, ferns and urchins. 

Our guides knew all the good spots to take us and accompanied the group at all times, pointing out the best sealife to make sure we didn't miss anything.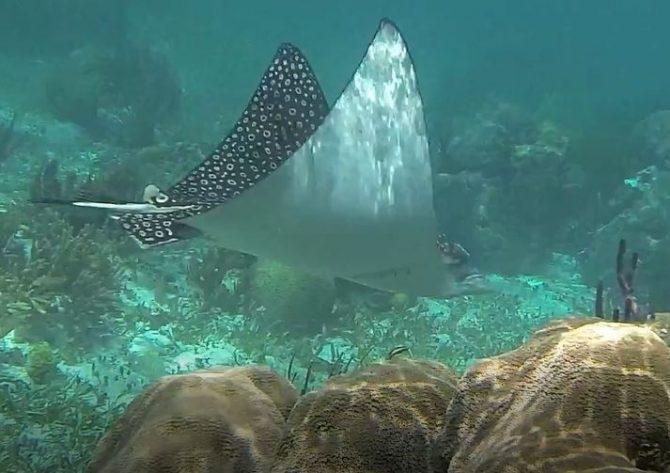 Our favourite sighting has to be the spotted eagle ray which we saw "flying"

gracefully

past us early on at the first site

. I wasn't so keen on the vicious-looking barracudas which made me nervous. They like sparkly things so luckily I'd removed my jewellery beforehand. We'd hoped to see a turtle as there are often sightings in the area but that day we were unlucky. We did spot one a couple of weeks later swimming near seagrass

just

offshore.
Our favourite site of our Puerto Morelos Snorkelling day was Labyrinth, it was so much fun exploring and navigating the network of channels between the coral

.

We found it a little challenging due to a slight current, but nothing we couldn't handle and our guides were there ready to help if needed

.
Back on the boat after the first site, we

were given

another bottle of water and a granola bar. We thought this a nice touch and a welcome energy boost ready for the second site.
Back at the Puerto Morelos Snorkel Shop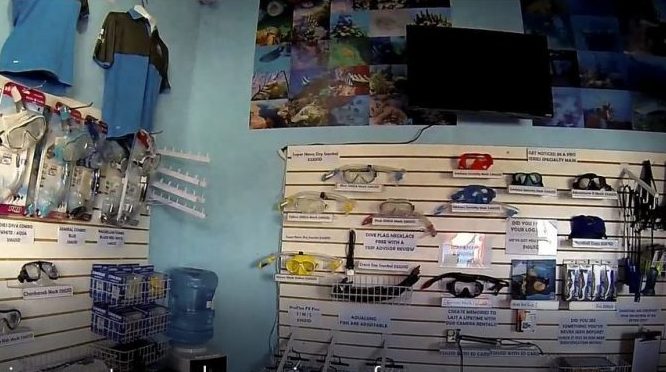 After the second dive, we headed back to the Puerto Morelos snorkel and dive shop to rinse the gear off in fresh water. We also had the opportunity to take a shower and dry off with the big, clean beach towels that Wet Set provided.

We then enjoyed some fresh fruit and water whilst we hung around for a while chatting about our snorkel trip

.
Before we left Andy and I had a quick look around the small shop as I needed a new mask and snorkel to replace mine that had broken months ago

. There was a good selection and 'Carly', who was working in the shop was

really

helpful.

Eventually

, a few weeks later I returned to buy their 'house' mask and snorkel. They were the same type we'd had on the tour and cost $35 USD (£24.90) for both which was good value. I've used it many times since and it's the best snorkel equipment I've tried.
Cost of Snorkelling in Puerto Morelos With Wet Set Diving Adventures
The price of snorkelling in Puerto Morelos with Wet Set Diving Adventures depends on which one you do. There are five different tours which you can view the detail of on their website.

They range in price from $35 USD (£25 GBP) for the Classic Snorkel Tour that we did all the way to $199 (£142 GBP) for the Whale Shark Snorkelling Tour (July/ August only)

.
The tours aren't the cheapest you'll find in Puerto Morelos but they're still very reasonable

. In our opinion, the fantastic tour and customer service you receive is well worth the extra few dollars.

The friendly, knowledgeable guides, history and information, safety briefing, high-quality equipment and wonderful snorkelling made it one of our favourite experiences in Puerto Morelos. W

e'd also recommend tipping your guide(s) as they were great.
Note: After our tour, Wet Set told us that it is possible to snorkel from the beach, but only in a designated roped area, not out on the reef.

Whilst this is worth doing if you have time (it's where we saw the turtle), we'd recommend doing a reef tour first where the snorkelling is even better

.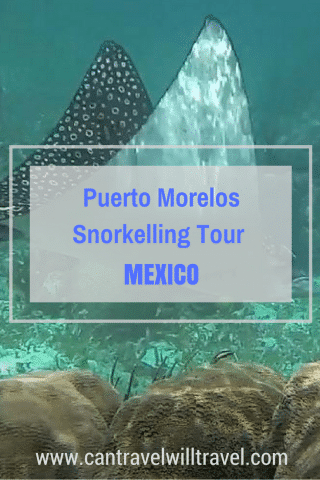 Pin me for later!
Have you been snorkelling in Puerto Mo
relos on the Mesoamerican Barrier Reef or somewhere else nearby? How was your experience and what did you see?
P.S. If you're looking for more activities to do in or near Puerto Morelos, how about a cenote tour. Read about the Mayan Cenote tour we did via the following link:
Product Review Disclosure: Wet Set Diving Adventures provided us with a complimentary Classic Reef Snorkel Tour. This did not influence my post in any way and as always I've provided a balanced and honest review. Read more in our full Product Review Disclosure.