Playa Avellanas is a laid-back beachfront town in Guanacaste province in northwestern Costa Rica.
Playa Avellanas doesn't have a town centre, just a long strip of beach and rainforest, with a few hotels, guesthouses, restaurants and holiday rentals, dotted along the road just behind the beach.
A short drive from touristy Tamarindo, it's still relatively unvisited by the tourist hoards that flock to its neighbour. Despite this, there are still lots of things to do in Playa Avellanas; we think it's an amazing spot to add to a Costa Rica itinerary.
As it's only a one hour and 30 minutes drive from Liberia airport, it would be a great place to go before or after discovering all the things to do in Liberia.
The main reasons to visit Playa Avellanas are for beach time and surfing, which have to be two of the best things to do in Costa Rica. However, there are also plenty of other things to do. Here are our top nine things to do in Playa Avellanas and the surrounding area.
1. Relax on Playa Avellanas Beach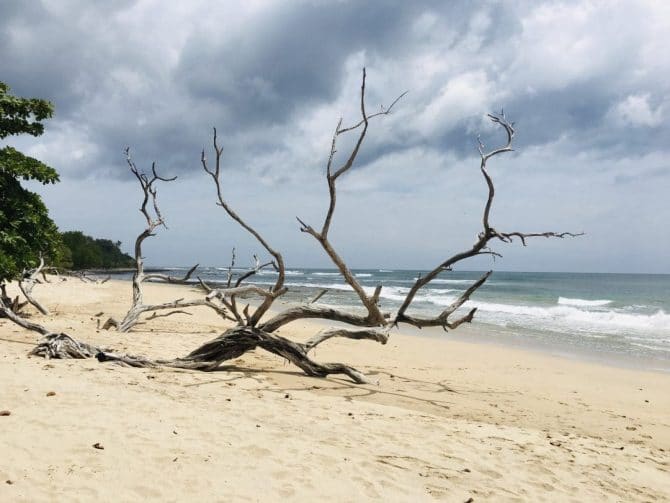 The beach of Playa Avellanas is a favourite among Guanacaste locals, and with good reason.

The 3 km ribbon of golden sand beach stretches from Playa Negra in the south to Tamarindo's Playa Langosta in the north

.

Edged with old, misshapen trees, rain forest, shrubs and mangroves, it's the perfect spot to kick back and enjoy some tranquility

.
Relax on the beach in the Costa Rican sunshine or take a long walk along the shore.

Then, when hunger strikes or you need some liquid refreshment, pop over to
Lola's beach bar and restaurant which marks the entrance to the beach.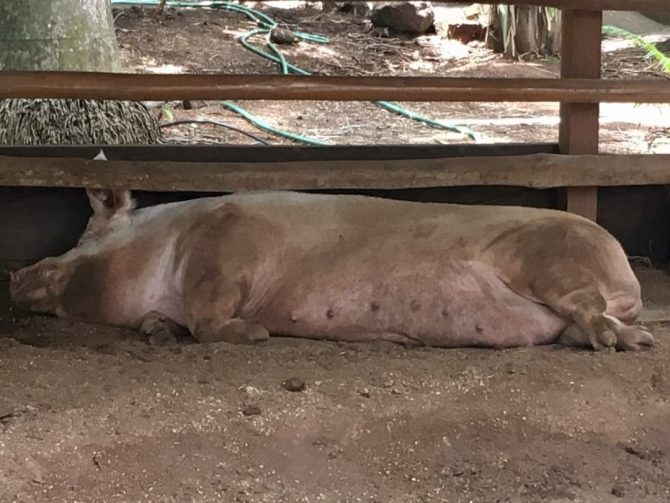 Whilst you're there be sure to say hello to Ave and Ana, the resident pigs – they are the successors to 'Lolita' the 400 kg pig, and her predecessor 'Lola' the bar's namesake. You'll find them snoozing in their pen under the trees or sometimes cooling off in the shallows. Lolita is the successor to 'Lola', the bar's namesake, who is sadly no longer about.
2. Surfing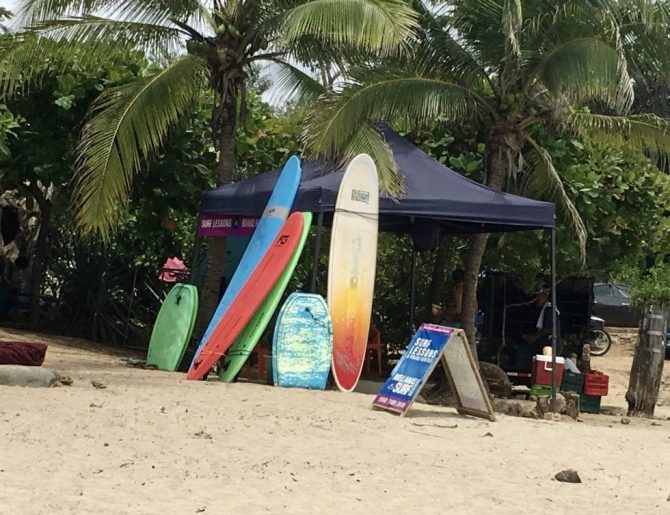 The biggest attraction of Playa Avellanas, similar to Playa El Tunco in El Salvador, has to be it's surf. With five surf spots and waves reaching over five metres high. It's truly a surfers paradise, attracting surfers from all over the world. There are options for all levels, beginner,
intermediate and expert surfers.
Learners can take group or private surf lessons with a surf school on or near Playa Avellanas. One that comes recommended is Avellenas Surf School, located on the beachfront, they also rent out boards if you want to surf alone.
Expert surfers may like to test their skills at the most difficult spot, the northernmost break, nicknamed 'Little Hawaii'.
Unfortunately I can't make any personal surf school or surf spot recommendations, because neither Andy or I surf. Ask around though and someone will point you in the right direction.
3. Other Water Sports
If, like us, surfing isn't your thing there are plenty of other water sports you could try your hand at. Along with surfboard rental, Avellanas Surf School also has boogie boards to rent by the hour, day and week.
You could also have a go at stand-up paddle boarding or kayaking and explore the mangroves and estuaries around Playa Avellanas

. You could spot a variety of birds, and

possibly

even some monkeys and crocodiles.

Pargos Adventures Day Tours rent out SUP boards and kayaks and can also organise tours if you'd prefer a guide

. Other companies in the area also do this.
4. Land-based Outdoor Adventure Activities
For landlubbers who prefer to keep their feet dry there are plenty of land-based outdoor adventure activities to try 
Hiking, mountain biking down the coast and horse riding along the beach are all fun activities you might like to do

. If it's a real adrenaline rush you're after, rainforest canopy ziplining in Costa Rica is a must. 
Unfortunately, we didn't get around to doing any of these activities.

Our time in Playa Avellanas had been

specifically

earmarked for some much-needed beach time and relaxing

.

So although we can't make any recommendations it should be easy to arrange activities through your accommodation

.
5. Wildlife Spotting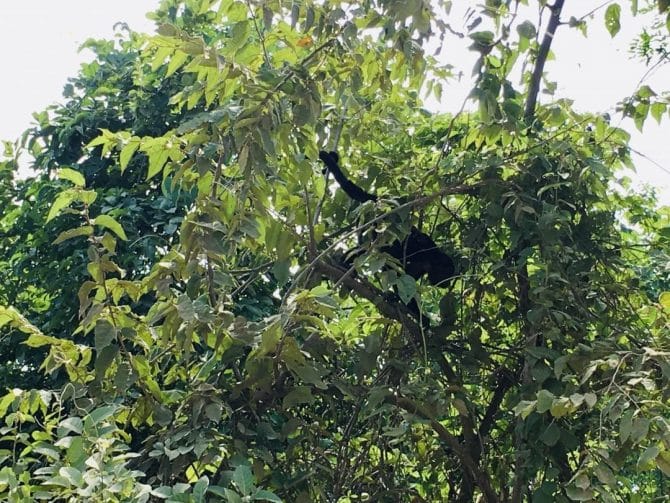 Costa Rica is teaming with wildlife and Playa Avellanas is no exception.

As mentioned above if you get out in the mangroves and estuaries there's a good chance of spotting wildlife

.

But, even on dry land when out walking or driving, there's opportunity to see some fantastic wildlife

.

Just

remember to keep your eyes peeled at all times, especially around dawn and dusk.
We saw a whole variety of birds, butterflies, insect and lizards and iguanas around the grounds of Drift Away Eco Lodge where we stayed

. There was even a huge red squirrel type animal that liked to play in the tree outside our room. There were also plenty of creatures to on and next to the roads leading to the beach. Someone even reported seeing a tapir shortly before our visit.
Our wildlife spotting highlight of Playa Avellanas had to be the troop of howler monkey's we saw. They were playing in some roadside trees when we were driving out of Playa Avellanas one day. Try as

we might

though, we didn't spot any elusive sloths.
6. Volunteer at a Turtle Conservation Centre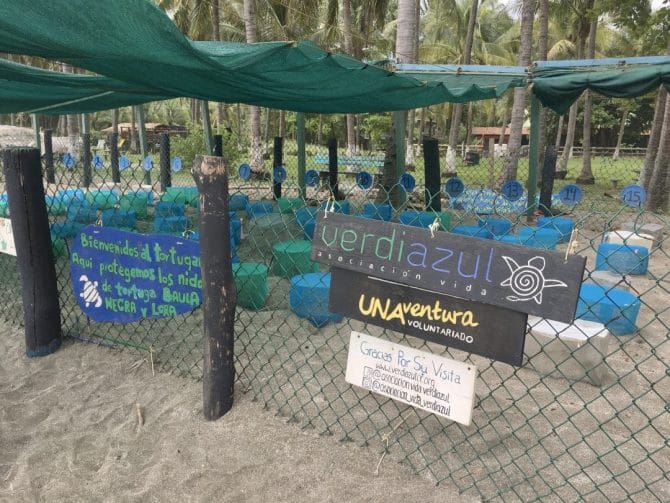 If your visit to Playa Avellanas coincides with turtle hatching season, you could volunteer with the local turtle conservation group Asociación Vida Verdiazul. Based in Junquillal, they welcome volunteers interested in sea turtle conservation.
During hatching season volunteers can help with a variety of tasks.

They can go on night patrol to prevent the poaching of

newly

laid eggs, set up beach urns and nesting sites,

monitor

protected nests and help

newly

hatched turtles into the sea

. Outside of nesting season volunteers can also help with reforestation and beach cleanups. 
I was keen to help with the hatching and release, so popped into the office one afternoon to see if it was possible. They said they'd contact me if the turtles started to hatch so we could go back and help. I was out of luck though, as the babies decided to hatch in the early hours. The team decided it was too late to contact us to go and help them.
7. Visit a Goat Farm
A little way from Playa Avellanas beach is the family run Rancho Avellanas, a family owned goat farm. They produce organic products such as milk, Greek yogurt and French cheese.
The farm has been in the family for over 34 years, during which time they've farmed many different animals and crops. Nowadays it's the goat products which are the stars of the show. They've become very popular, especially with local chefs.
There are lots of cute goats on the farm and it's well worth popping by to see them, peruse their small store full of goat products and learn about farm life.
8. Beach Hop to Nearby Beaches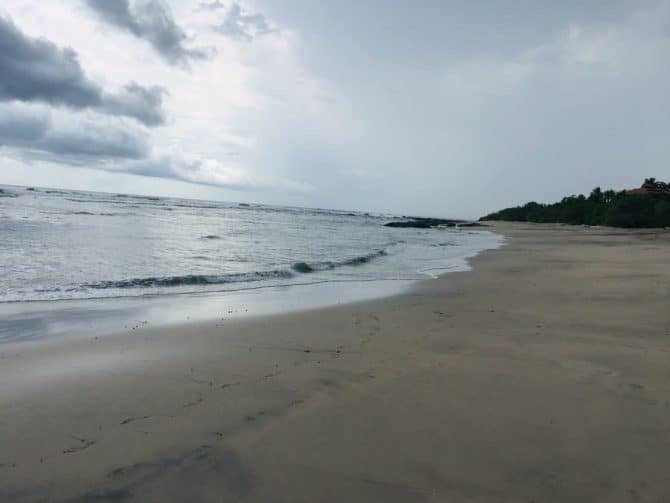 Whilst Playa Avellanas is the most popular beach with locals in the area, there are several more worth visiting

. We spent a day beach hopping southwards from Playa Avellanas to check out as many beaches as we could. We had a rental car, which was definitely needed to navigate the often rough roads along the coast.
The first beach south we visited, was also the quietest, a hidden gem tucked away between Playa Avellanas and Playa Negra

. If you're not into surfing this is the perfect beach as there's no surf which makes it ideal for swimming.
Next is Playa Negra (Black Beach), a black sand beach famous for it's world class waves and appearance in the surf documentary 'Endless Summer II'

.

The last beach we went to was Playa Junquillal, one of the best beaches in Guanacaste province for sea and land-based adventure activities

.

You can go deep sea fishing, snorkelling, kayaking, hiking, horse riding and mountain biking

. 
9. Watch a Dramatic Sunset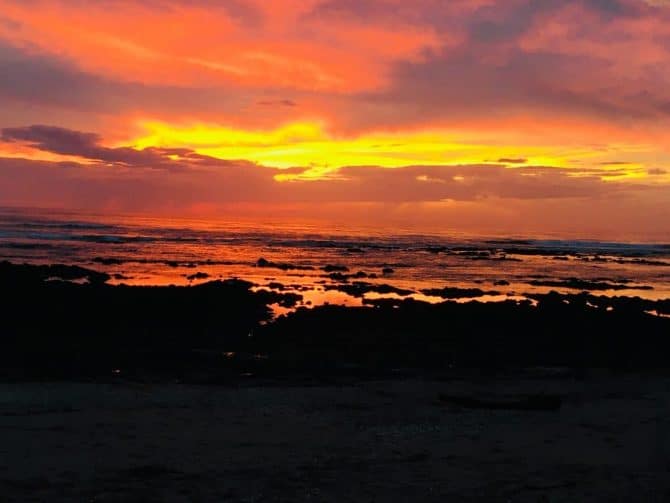 If there's one thing you have to do during a stay in Playa Avellanas it's to watch at least one dramatic sunset.

Weather permitting, the sunsets along this stretch of beach are an absolute spectacle to behold

.
Make sure you check the sunset time and get yourself down to the beach to admire it. Playa Avellanas sunsets are breathtaking and not to

be missed

.
Where to Stay in Playa Avellanas
To be honest Playa Avellanas hadn't even been on our radar until we received an invite to stay in an eco-lodge there. We jumped at the chance; it made complete sense because we were heading south through Costa Rica from Nicaragua to meet my sister and her family in Manuel Antonio. A few days quiet escape in nature first was just what we needed. 
Drift Away Eco Lodge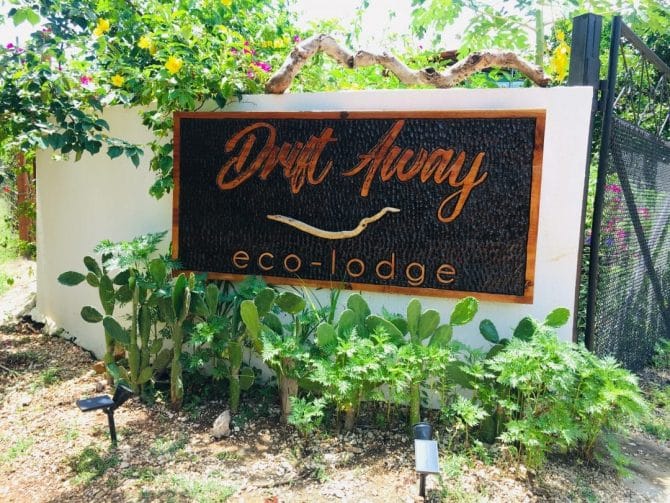 We love getting off the beaten track, so when we left the main road in our rental car and started to navigate the bumpy roads to Playa Avellanas, we knew it was going to be special and right up our street!
Tucked away down a long gravel road between Playa Avellanas and Playa Negra is Drift Away Eco Lodge, who kindly hosted us for three nights. This

fabulous small and intimate eco-lodge set in lush gardens and has 12 modern and comfortable rooms

. There are twins, queens, kings and 2 bedroom villas.
As soon as we arrived and
were welcomed
with fresh fruit juice and chilled towels we knew we were in for a treat.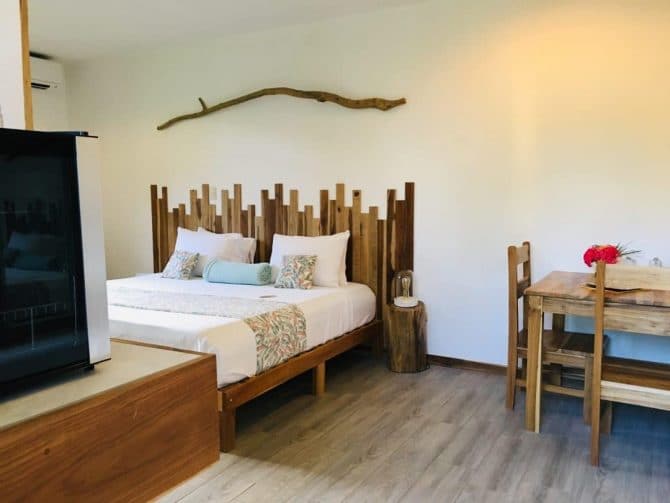 The friendly staff
quickly
got us checked into our King Room which we were most impressed with.
True to its
eco-friendly
ethics, Drift Away's rooms have furniture made from local wood and
are decorated
with
locally
sourced driftwood
.
The complimentary toiletries
are made
from organic, biodegradable products and there's also an eco-toilet and low-flow shower-head
.
The only thing we weren't so sure about was the open-plan bathroom; we'd been together a long time though so soon got used to that
.
The icing on the cake for us was our bed.

It had a memory foam mattress, organic cotton sheets and hypoallergenic feather pillows, all fair trade

. Along with the air-conditioning, this made for some very comfortable nights sleep.
Also in our room was a mini-bar, tea and coffee-making facilities and refillable glass water bottles in the room

. The lodge has a no single-use plastic policy which is fantastic.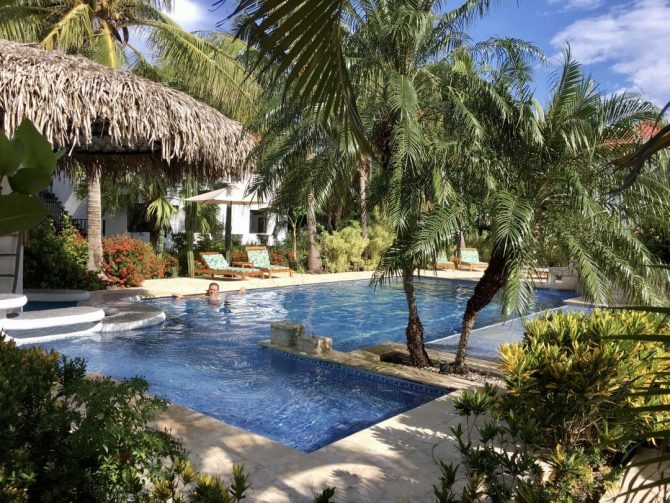 Once we were all checked in the staff gave us a tour of the lovely grounds.

At the centre nestled among tropical trees and plants is a beautiful, big, clean pool with a mini waterfall

.

We spent some time every morning and afternoon relaxing near the pool or cooling off in the sparkling water

.
Behind the pool is a large breakfast bar where a delicious breakfast

is served

every day between 7 am and 9 am. It's also open to guests to use during the day and in the evening too.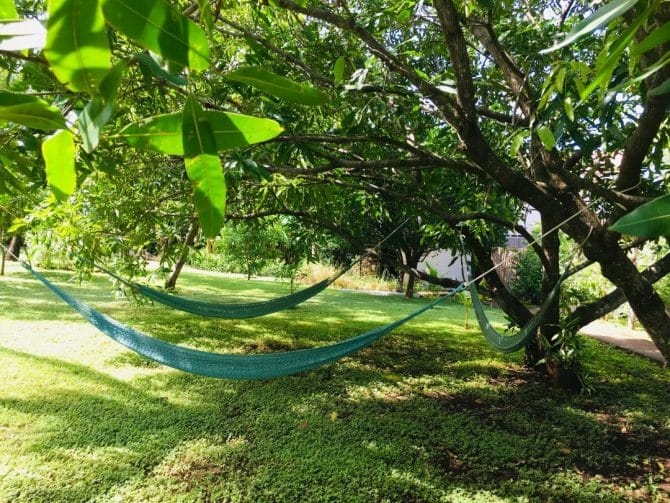 Drift Away also has lots of other facilities. There's a hammock area out the back, a garden seating area, a multi-use fly-screened pavilion perfect for yoga practice, a juice bar, and a games room with a pool table and table tennis table

.
After our tour we received the lowdown on what activities we could do in the area and how to organise them. We were also given recommendations on good restaurants nearby.

This was helpful, because for now Drift Away only serves breakfasts and tasty light bites at their juice bar (and some great craft beers)

.
We

thoroughly

enjoyed our stay at Drift Away Eco Lodge.

It gave us chance to recharge and an insight into what the Costa Rican catchphrase 'Pura Vida' ('Pure Life) actually means

.
BOOK DRIFT AWAY ECO LODGE HERE
If you need accommodation for a different budget or travel style there are several other accommodation options in and around Playa Avellanas. If self-catering is your preference check out Playa Avellanas AirBnB's
---
For somewhere still relatively unknown to tourists, there's a huge amount to do in and around Playa Avellanas; your time there can be as relaxed or busy as you want. It makes for an ideal first or last stop for any Costa Rica itinerary, just get there before it becomes too popular.
Have you been to Playa Avellanas in Costa Rica? What was your favourite thing you did there?
Travel Resources for Playa Avellanas in Costa Rica
Planning your trip to Playa Avellanas in Costa Rica? Here are some of our recommended useful resources to help you have the best time possible:
● TRAVEL INSURANCE IS AN IMPORTANT CONSIDERATION FOR TRAVEL. If you're travelling long-term like us and from the EU, then True Traveller is our go-to option.
If you're from a non-EU country, another option for long-term travel insurance is SafetyWing, which you can pay for on a month-by-month basis. This is also good for shorter trips.
● Find amazing flight deals to Costa Rica on Skyscanner and Kayak.
● Compare Rental car prices in Costa Rica on Rentalcars.com.
● Booking.com usually have the best hotel prices in Playa Avellanas.
● Our go-to for self-catering accommodation in Playa Avellanas is Vrbo.
● Before booking accommodation in Playa Avellanas, check reviews on Tripadvisor.
● Discover fantastic trips and activities in Playa Avellanas with Viator and GetYourGuide.
● Bookmundi,  G Adventures and Intrepid Travel offer group holidays and tours to Costa Rica.
Enjoy this post? Pin it for later!
Product Review Disclosure: Drift Away Eco Lodge provided us with a complimentary three-night stay with breakfast. This did not influence my post in any way and as always I've provided a balanced and honest review. Read more in our full Product Review Disclosure.