Affiliate link disclosure: This post may contain affiliate links including Amazon that earn me a small commission, at no extra cost to you. Read more in our full Affiliate Link Disclosure.
Located on the southeastern coast of Belize in the Stann Creek District is Placencia Peninsula. This 16 mile long spit of land has the Caribbean Sea to the right and Placencia lagoon to the left. This little slice of paradise boasts the most beautiful beaches in the country. On the southern tip of the peninsula is Placencia Village. Although small, the village has a big and colourful personality. It also has easy access to most things to do in Placencia and nearby.
Things to Do in Placencia
On our latest visit to Belize we spent a week in Placencia exploring what it has to offer. On a previous trip we'd spent a week on Caye Caulker which we loved, so we were hopeful we'd enjoy Placencia just as much. I'm happy to say we weren't disappointed! It's perfect for some rest and relaxation and you can and you can while away hours doing not a lot. Wander up and down the colourful main street and boardwalk, practice yoga, chill on the beach or in a hammock, watch sunrises and sunsets, and sample food and drinks. Despite the laidback vibe there's still plenty of less sedate things to do should you feel the need for more activity. Here are eight exciting things to do in Placencia.
1. Snorkel or Dive [With Whale Sharks]
Splash Dive Centre provided us with a complimentary Whale Shark Snorkel Tour which I've reviewed below. Read more in our full Product Review Disclosure.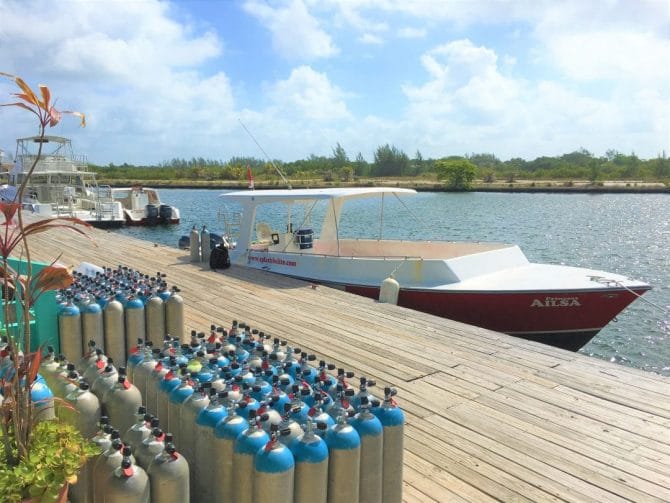 As with most beach destinations in Belize, two main activities in Placencia are to go snorkelling or diving
. You can snorkel or dive off the main
Mesoamerican Barrier Reef;
about 20 miles out from Placencia.
Alternatively
, there are great snorkelling and diving spots around the cayes and atolls near Placencia
. 
Nearby Gladden Spit is also one of the best places in the world to snorkel or dive with whale sharks in the right season
. This was something that had been on my bucket list for quite some time.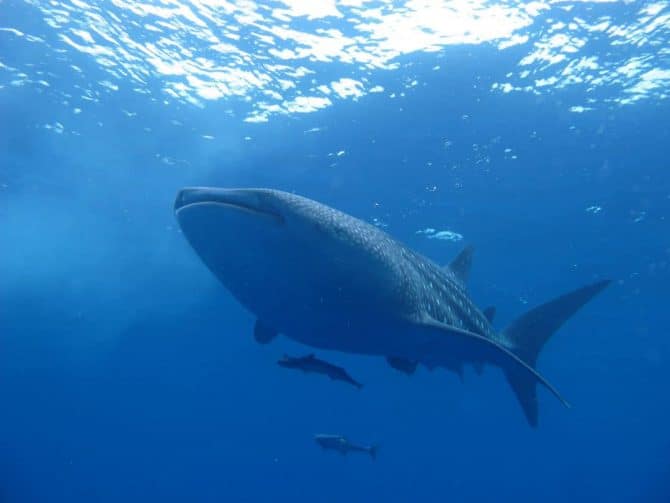 The most popular agency for snorkelling and diving in Placencia is Splash Dive Centre, who we used for our whale shark snorkel tour. We were really impressed with the agency despite some misjudgement on our part to what the tour would involve…think 12 – 15 ft rolling waves!!! But, of course, big fish need the deep blue sea – why hadn't we thought of that! Despite feeling uneasy we gave it a go, only to both call it a day after about 7 minutes of flailing around in the waves!
Calling our snorkel off was no fault of Splash Dive Centre, it was down to our own naievety and for not thinking it through

properly

. Our excellent guide saved the day with a plan B to take us on a great reef snorkel instead. So, despite our whale shark snorkel 'misadventure', we

highly

recommend Splash Dive Centre. Their boat, equipment, onboard lunch and safety first approach were all fantastic.
IMPORTANT: Whale Shark Tours are only available during whale shark season March to June. If you're not a confident snorkeller like us I'd give it a miss and go for a reef snorkel tour instead. 
On the other hand, if you have your PADI diving certification I would 100% take a whale shark dive tour a go…hopefully you'll get lucky and spot one. 
2. Monkey River and Manatee Watch 
Monkey River Eco Tours provided us with a complimentary Monkey River Tour which I've reviewed below. Read more in our full Product Review Disclosure.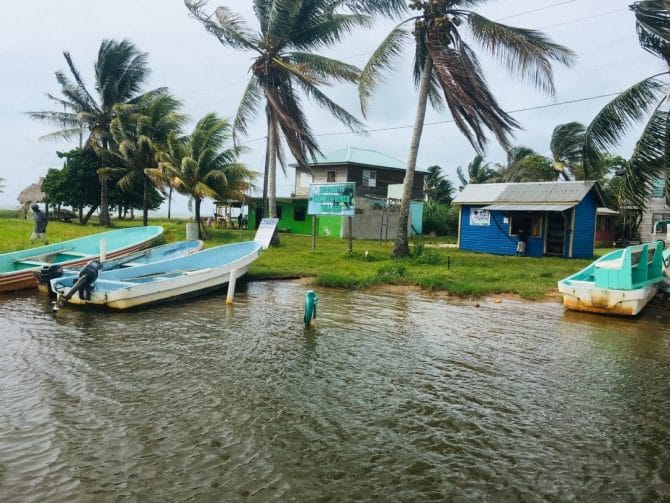 Another exciting tour you can take from Placencia is the Monkey River and Manatee Watch Tour with Monkey River Eco Tours. Spotting manatees has also been on my bucket list for a while so I was very keen to do this.
The tour is by boat with a local Monkey Village guide.

First the boat takes you out through mangrove lined channels of the Stann Creek and Toledo districts into the Caribbean Sea

.

You then enter the mouth of Monkey River to arrive at Monkey River Village, a small fishing village in the Toledo district

.
There's a brief stop at the village where you place your lunch order at a local restaurant.

The tour then continues downriver and through mangroves for about 30 minutes before stopping for a short gentle hike into the jungle

.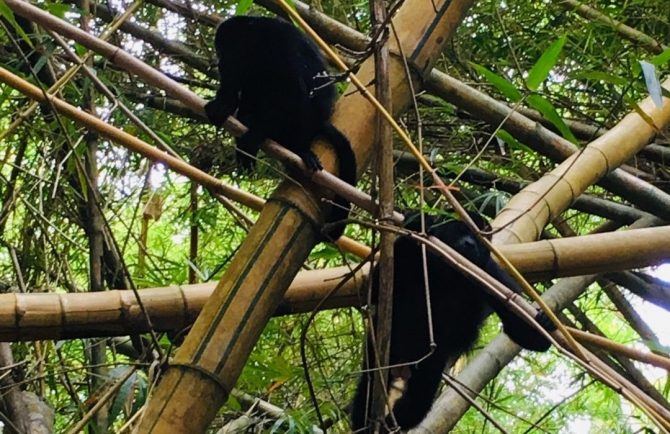 Throughout the tour you can expect to see all kinds of flora and fauna.

We saw many different birds and insects, iguanas and a huge variety of plants, trees and flowers, some with medicinal properties

.

Especially entertaining was the inquisitive troop of howler monkeys that came within 10 feet to say hello during our hike

.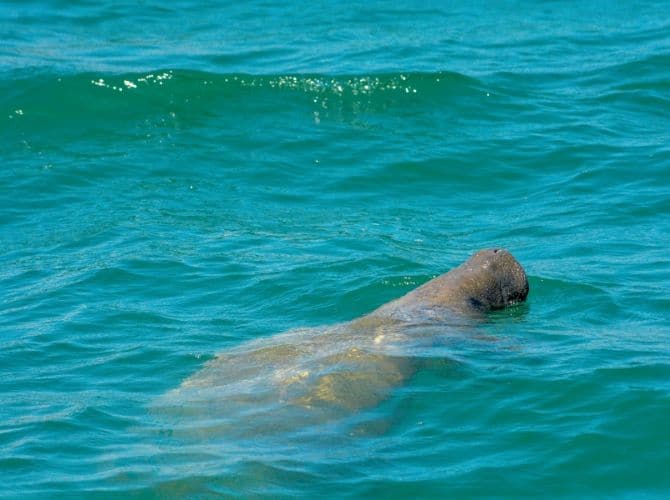 After a tasty and filling local lunch in Monkey Village the tour ends with manatee watching near Harvest Caye. When I say 'watching' I mean 'spotting' as it's very hard to spot manatees let alone watch them. We got lucky and saw a herd of five or six who kept surfacing to breathe. This was definitely the tour highlight for me.
3. Mangrove or Sea Kayaking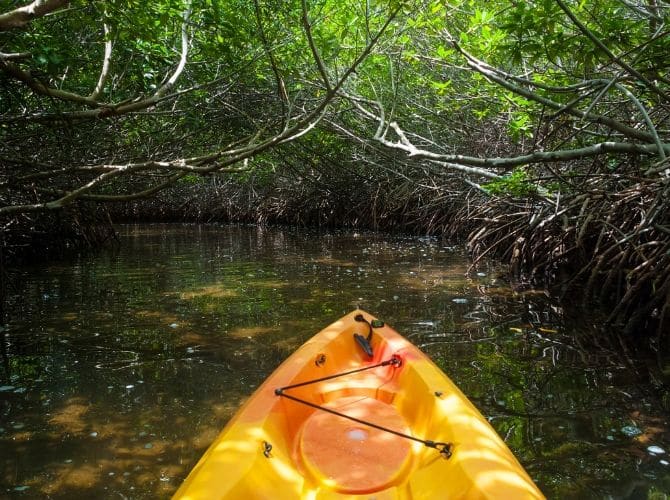 Many of the waterfront accommodations and watersport shops in town have kayak rental available. You can either kayak the mangroves in Placencia Lagoon or in the sea around Placencia. The heavy mangroves provide a tranquil kayaking adventure in peaceful natural surroundings. You should see plenty of birds and fish and sometimes even manatees, dolphins and rays.
Another fun option is sea kayaking in the clear Caribbean waters. There's not much in the way of tide action so it shouldn't prove too strenuous. If you're feeling more adventurous you could kayak around some of the cayes and

maybe

even camp overnight

.
4. Caye Hop by Boat, Kayak or Catamaran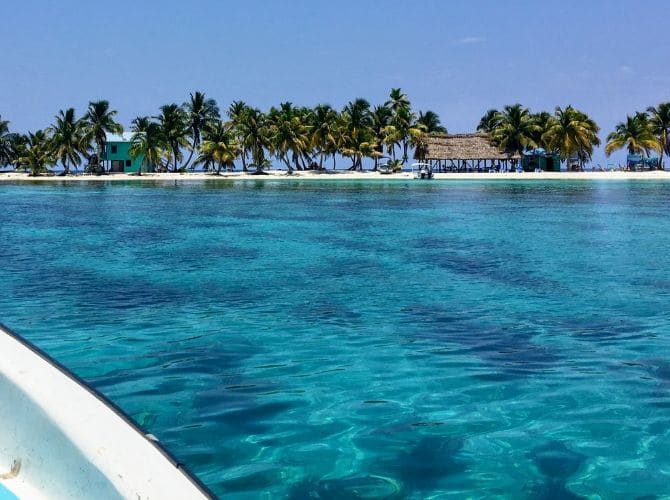 If you've the time and budget a fantastic day out from Placencia is caye hopping around cayes like Laughing Bird, Silk or Long Coco Caye.
You could do this on a group speed-boat trip,

independently

by kayak as mentioned above, or splurge and take a private charter catamaran or sail boat

.
There should be no problem arranging any of these from where you're staying or from one of the tour agencies in town.
5. Explore the Peninsula by Bicycle
Feeling energetic and want to see more of Placencia Peninsula than where your feet will take you? Then why not rent a bicycle to explore the peninsula. 

There are several places in town where you can rent bicycles, one of which, 'Placencia E-bikes' also rents out e-bikes

. If the Belizean sun is too much for you to exert yourself in, another option is to rent a scooter or golf cart.
One of the places you could cycle to is the Garifuna village of Seine Bight in the north of the peninsula. Learn about the Garifuna lifestyle through their art, music, folklore and food.
6. Fish in the Lagoon or at Sea
The waters of Placencia Lagoon and the Caribbean Sea around Placencia are some of the best places in Belize for fishing. As a result, fishing is booming business in town.

Many fishing enthusiasts come to Placencia in the hope of hooking a tarpon, permit, bonefish or snook

.
If you have your own fishing gear you can fish by yourself in the lagoon. Andy and some other men staying at the same place as us had a go and caught black snappers and jacks.
Unless you have your own boat, to go deep sea fishing you'll need to book yourself on a fishing tour or private charter.

It's possible to try out different types of fishing including drop fishing, fly-fishing and trolling

.
If you do this be sure to choose a reputable company or boat, as there are strict regulations on where you can fish and what you can catch in which season
.
7. Hike Cockscomb Basin Wildlife Sanctuary
If you're into your hiking, especially jungle hiking, a tour to Cockscomb Basin Wildlife Sanctuary should be on your itinerary

.

It's home to the worlds first jaguar reserve and focusses on protecting and growing the jaguar population and other spieces

.
The sanctuary has several hiking trails of varying difficulty you can attempt. There's  also a river you can tube down, with a small waterfall and pool to cool off in. I

badly

wanted to do this tour but unfortunately didn't have the time. 
Cockscomb is about two hours away, but it still sounds like an excellent tour you can do from Placencia.
8. Experience a Local Festival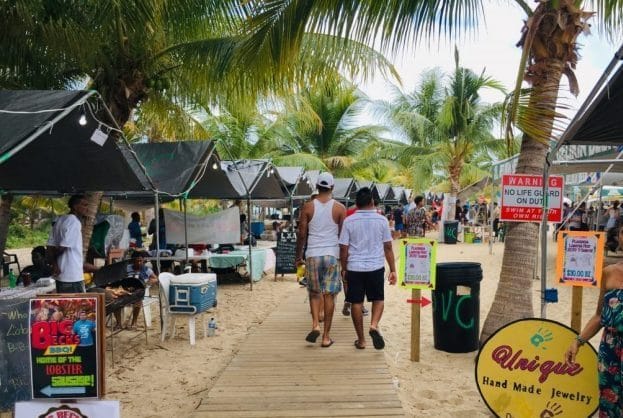 If you time your visit to Placencia right you may be lucky enough to experience a local festival. We were fortunate to be there for the three day Lobsterfest. This is a countrywide festival and also held on different weekends in San Pedro on Amergris Caye, Caye Caulker and in Belize City.
Placencia locals insist 'their' Lobsterfest is the best. Without having experience of the others, I'd have to say the other towns have a long way to go to beat it. We experienced a fun, safe gathering for locals and visitors alike.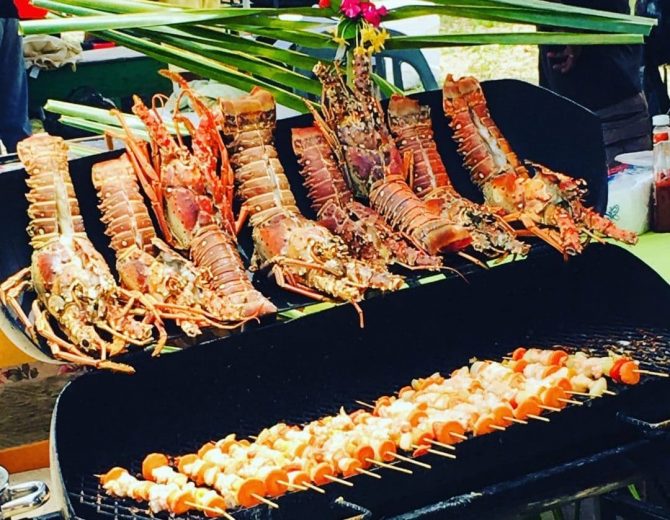 There was live music, arts and crafts, games and competitions and, of course, lots and lots of delicious lobster, cooked every which way. 
Placencia Hotels
Placencia has a good selection of hotels, hostels and guesthouses on offer.
We treated ourselves to a stay at Sailfish Resort for a week for Andy's birthday. It was a bit outside our normal budget, but well worth it. Set right on the beautiful lagoon at Sunset Pointe, it also has a pool with swim up bar, perfect for relaxing in and chatting to other guests.
We liked that it has a selection of rooms ranging from dorms to suites like the one we stayed in, making it accessible for all budgets. 
---
Placencia has something for everyone, whether you're looking for a relaxing beach break or something more adventurous you'll find it in Placencia.
Belize Travel Resources
Planning your trip to Belize? Here are some of our recommended useful resources to help you have the best time possible:
Enjoy this post? Pin it for later!
Have you been to Placencia in Belize? 
What was your favourite thing you did whilst there?
Product Review Disclosure: Splash Dive provided us with a complimentary whale shark tour and Monkey River Eco Tours provided me with a complimentary Monkey River and Manatee Watch tour. This did not influence my post in any way and as always I've provided balanced and honest reviews. Read more in our full Product Review Disclosure