Affiliate link disclosure: This post may contain affiliate links including Amazon that earn me a small commission, at no extra cost to you. Read more in our full Affiliate Link Disclosure.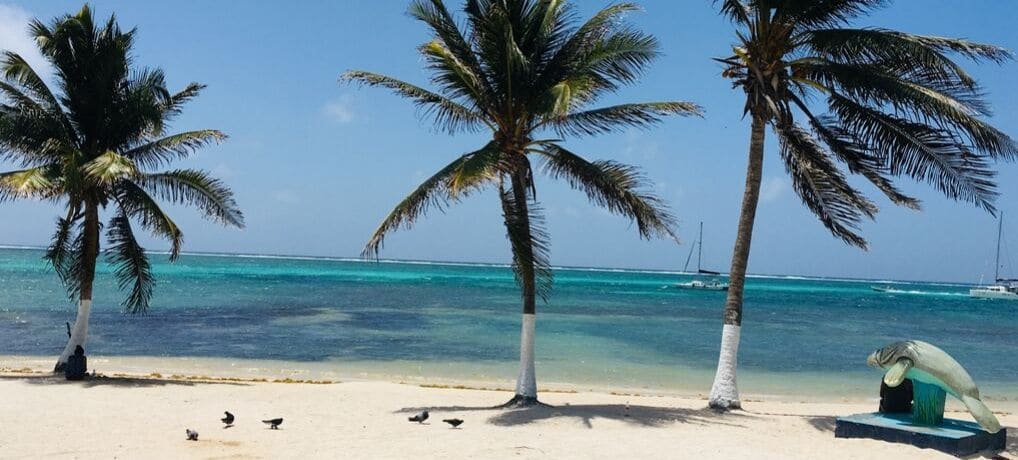 Ambergris Caye is the largest of the 200 odd cayes (islands) found off the coast of northeast Belize. The 25 mile long, mile wide caye is in the Caribbean Sea just off the tip of Mexico's Yucatan Peninsula. It's coastline is protected by the Belize Barrier Reef which is part of the expansive Mesoamerican barrier reef. Other than a few small resorts dotted around the caye, the main settlement on Ambergris is San Pedro. This small ten street town was once a working fishing village, but nowadays tourism is its number one industry. It has now become THE place to base yourself on a trip to the caye. As a result of this tourism boom, there are now plenty of fun things to do in San Pedro, Belize.
Things to Do in San Pedro, Belize
On our latest trip to Belize after a fantastic week in Placencia we spent a few days in San Pedro on Ambergris Caye. Our main reason for going was to take a Blue Hole Flight and to go on a snorkel tour to Hol Chan Marine Reserve. Both of these we could also have done from Caye Caulker but we'd been there before and wanted to try somewhere new.
Although we only had a few days on Ambergris Caye we still managed to discover plenty to do in and around San Pedro. Here are seven fun things to do in San Pedro Belize, starting of with the main goal of our visit – to see the Great Blue Hole.
1. Visit the Great Blue Hole
Tropic Air Belize provided us with a complimentary flights on their Blue Hole Tour from San Pedro on Ambergris Caye, Belize which I've reviewed below. Read more in our full Product Review Disclosure.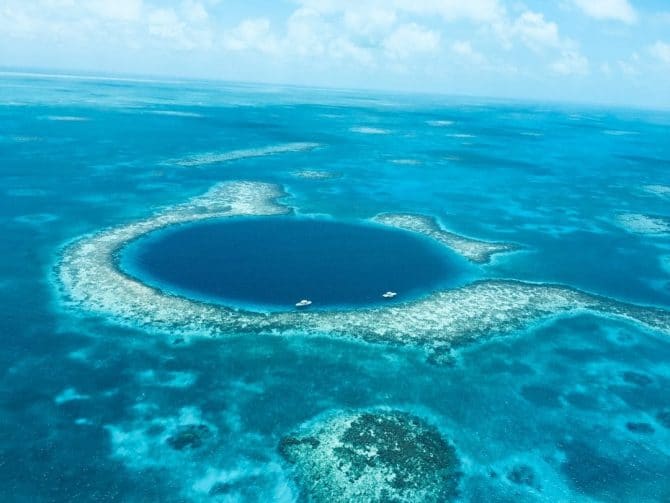 Just over 60 miles off the mainland of Belize City is The Great Blue Hole, a large underwater sinkhole near the middle of Lighthouse Reef. It's most commonly visited by boat on a snorkel or dive trip with one of the dive shops or agencies in San Pedro. Yet, we heard from many people that it was actually quite disappointing as there's not that much to see. You may see some nurse and reef sharks but definitely not the plethora of colourful reef fish and coral you can see on the Belize Barrier Reef itself.
THE best way to see the Blue Hole (in our opinion) has to be via a flight taken with with Tropic Air Belize or Maya Island Air.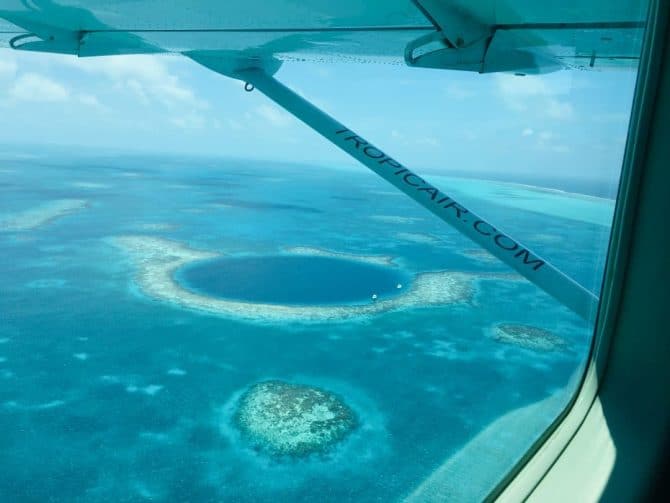 We took our Blue Hole Flight tour with Tropic Air Belize and it was incredible. You get an hours worth of breathtaking views of the coral reef and, of course, the main event – 'The Great Blue Hole'.
Our small propeller plane made several passes of the Blue Hole. This ensured everyone got fantastic views and plenty of photo opportunities. It's not a cheap way to see this natural wonder but definitely worth doing if you have the budget.
2. Snorkel or Dive Hol Chan Marine Reserve
Tuff E Nuffe provided us with a complimentary Hol Chan and Shark Ray Alley Snorkel Tour which I've reviewed below. Read more in our full Product Review Disclosure.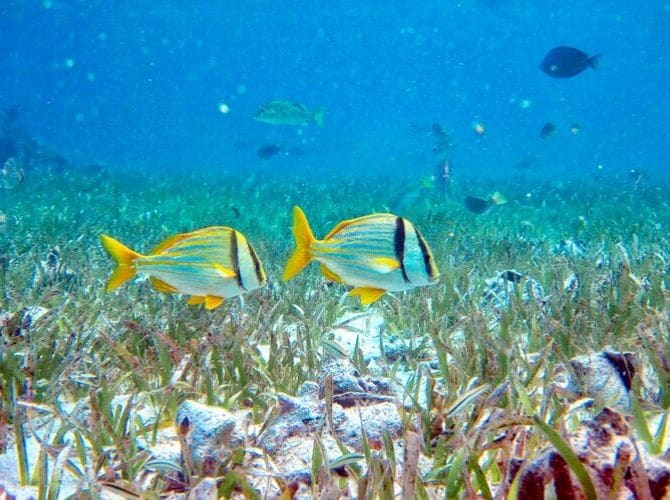 San Pedro's proximity to

the Belize Barrier Reef, part of the Mesoamerican Barrier Reef, makes it an especially easy to reach some of the best snorkel and dive spots in the world, including

 Hol Chan Marine Reserve and Shark Ray Alley.
We'd already been on a Hol Chan Marine Reserve and Shark Ray Alley tour from Caye Caulker four years previously. We loved it then and wanted to do it again from San Pedro to see how it compared. This time we went out with
Tuff E Nuff Eco Dive Shop and Tours
.
First we went to Hol Chan Marine Reserve where we an abundance of brightly coloured fish and coral, we even spotted a lone sea turtle and nurse shark. As we'd suspected it was alot busier with snorkellers and divers than the first time we did a tour here. This may have been because it's gotten more popular or because we went to a different site.

Despite this, we

were impressed

that since our last visit, a pontoon boat had

been installed

to function as a rangers station

.

This acts as a check point for all boats entering the reserve and helps enforce the rules and regulations to protect the reserve

.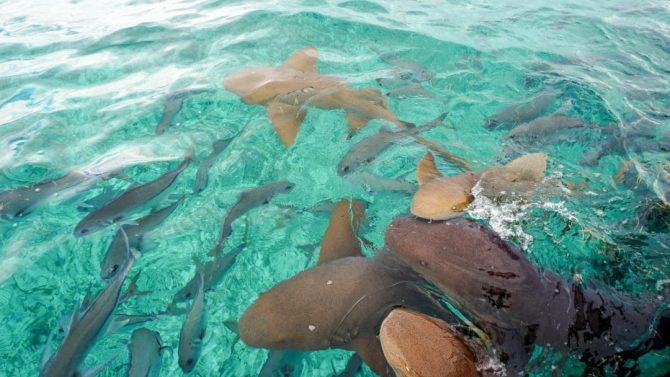 After Hol Chan, it was onto Shark Ray Alley where we observed as a frenzy of harmless nurse sharks swarmed in and around us to feed from the tour boat

.

This may not sound ethical, but as our guide explained this happens because fishermen used to clean their fish here and dump their offcuts there

. The sharks became used to it and have continued to turn up these days as soon as they hear a tour boats engine. In amongst the nurse sharks we also saw several big sting rays gracefully gliding through the water.
I must admit we'd been dubious about the Shark Ray Alley.

This was becuase on our previous tour from Caye Caulker the guides had encouraged us to touch and hold the nurse sharks

.

We were unhappy and uncomfortable about such behaviour for ethical reasons, but needn't of worried

. On our Tuff E Nuff tour the guide forbade anyone to go near the nurse sharks, touch or hold them. The same went for all other marine life we saw which included jacks, barracuda, parrot fish grouper and angel fish.
We had a great time on the Tuff E Nuffe Hol Chan and Shark Ray Alley tour. E

specially pleasing was seeing that they're doing their bit towards protecting the reserve and it's inhabitants

. It seems that things are finally going in the right direction for the reserve.

On that note, remember to only use

biodegradeable reef safe sunscreen

when you go snorkelling, as a

nything else can damage and even kill the coral and marine life.
3. Try Your Luck at the Chicken Drop 
If you're looking for something a bit quirky to do on a Thursday evening pop down to Wahoo's Lounge on the beach and try your luck at the Chicken Drop
. "What on earth is the Chicken Drop?" I hear you ask.
Basically
it's a game of bingo played with a chicken and a huge board with squares numbered from 1 – 100.
There are five rounds and for each round you can buy up to five

randomly

numbered tickets.

The rounds take place roughly every half hour starting about 7 pm, although remember that as you'll be on Belize time there will probably be delays

. A chicken

is placed

on the board at the start of each round and whoever's number it poos on wins $100 BZE ($50 USD). In the third round there's even a grand prize of $1000 BZE (£500 USD). 
If you're not in san Pedro on an Thursday, another fun evening entertainment is the Hermit Crab races at Crazy Canucks on a Tuesday.
4. Float and Sip at Palapa Bar
If you enjoy going out for a drink or ten two, then you have to check out the over-water Palapa Bar. It's a bit of an institution on Ambergris Caye. Hurrican Earl
sadly
destroyed the original Palapa Bar in 2016.
However
, with help from a big group of friends and a Go Fund Me page it was rebuilt on Boca del Rio Beach, bigger and better than before
. 
The owners and staff at Palapa Bar make everyone feel welcome. A highlight for many is to relax in a floating inner tube whilst sipping on a cocktail or cold Belikin beer. This is understandable as it does have one of the best swimming spots in San Pedro. There's also often live music from local musicians and tasty food and great drinks are served up too.
Not only is this THE place to socialise in San Pedro but the owners are also dedicated in giving back to the local community

.

Many fundraising events take place there every year, so if you're lucky your visit may coincide with one of these

.
5. Visit Secret Beach
The 'not so secret anymore' Secret Beach is about 45 minutes from San Pedro town. It's actually a popular beach spot on the other side of the caye.

It's the best beach for swimming on Ambergris caye boasting white sand and sparkling, crystal clear blue sea

. It can be a bit of a pain to reach, the only way to get to it is by golf cart or taxi. It's remoteness is

probably

why it has retained it's name.
Despite not

being deserted

as it's name suggests, it makes an ideal spot to spend a whole day due to all its amenities. There are a couple of piers with restaurants and bars, a taco truck, music,  toilets and WiFi. What more could you need for a day at the beach.
If you want to beat the crowds, the best time of day to visit Secret Beach is early in the morning. Other eople start to arrive from about 10 am onwards and in high season it can get quite busy.
6. Explore Ambergris Caye by Golf Cart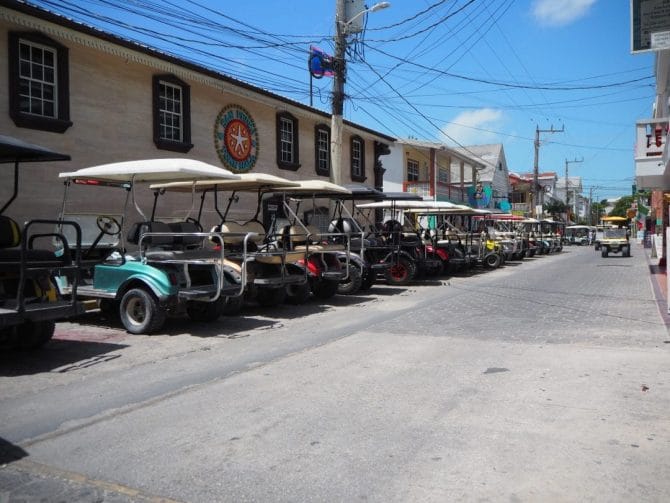 Disclosure: We hated the golf carts that plague San Pedro.

They lined the streets and careered

dangerously

around; many driven by people who shouldn't be driving

.
They're noisy, smelly and an accident waiting to happen. 

We think

they should

be banned

, at least from the town centre and reserved only for use outside of San Pedro.
Having said all that I've still included this as a fun thing to do. This is because other than taking a taxi it's the only way to explore the rest of Ambergris Caye.

It also seems to be very popular amongst visitors, especially those with a holiday budget (rather than a backpacker budget like us)

. That's why I didn't want to discount this activity completely.
Honestly

though, do us and the town's atmosphere a favour and only use them to explore away from the town centre.
7. Take a Long Walk Along the Beach Path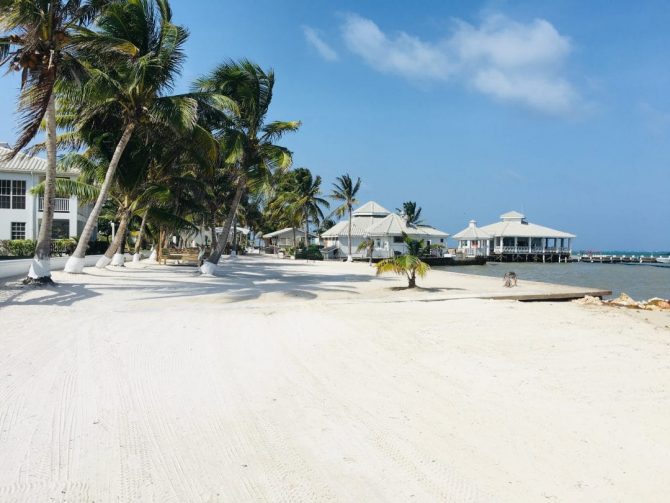 As I alluded to above, when we first arrived on Ambergris Caye and in San Pedro we
were dismayed
at how touristy it was.
However
, once we discovered the beach path we began to feel better about the town and it started to grow on us.
The beach path runs the length of San Pedro and then quite a way in both directions either side.

It's a beautiful path with turquoise Caribbean Sea on one side and hotels and businesses on the other, with

plenty of palm trees swaying in the breeze. A
s soon as you get a short distance from San Pedro town it becomes much more peaceful and the noise of the golf carts become a distant memory. 
We walked as far north and south as we could go over two different days. It

really

is a world away from the busy town centre, but still with enough going on to hold your interest.
We saw people fishing with lines and cast nets, kids playing, youths playing beach volleyball and aa flipflop tree (a palm tree with suspended flipflops)
.
There are strips of beautiful private homes and holiday rentals, and the occasional bar and/ or restaurant
.
Bars and restaurants become less frequent the further away you get from town so be stop for a cool refreshment when you spot one you like the look of
.
A walk along the beach path was definitely our favourite free thing to do during our stay in San Pedro. I'd encourage you to at least take a short walk to see the other side of an otherwise very touristy town. 
San Pedro Hotels 
We stayed at

Hotel Coastal Bay

because it was the only place we could find within our budget. Everywhere else except for hostals without private rooms were too expensive for us. To be honest, we weren't impressed with it and ended up complaining and geting a partial refund, so

I'd avoid that one and take a look at othe

r San Pedro accommodation on TripAdvisor.
We were in San Pedro
just
after Lobster Festival which explains why we had trouble finding suitable accommodation
. I'm sure if you book early, especially during holidays or festivals, you'll find it much easier.
To help you we've spent some time researching other accommodation options in San Pedro, we found that if you want to book in line you'll struggle to find anything below $40 USD (£32 GBP ) per night. Based on that Ambergris Sunset Hotel s
hould be a good budget option, Blue Water Beach Villas a nice mid-range choice and just outside of town is Xanadu Island Resort which is a beautiful five-star resort should you want to splurge.
---
There are plenty of things to do in San Pedro to keep everyone happy. Whether you need a chilled out beach break, or want something more lively, then you should be able to find it in San Pedro.
---
Belize Trip Planning Resources
Planning your trip to Belize? Here are some of our recommended useful resources to help you. 
● For the best flights we use Skyscanner, I usually find great deals there.
● We use Booking.com or HotelsCombined to find the best hotel prices.
● For self-catering accommodation Airbnb is our go-to.
● We always check accommodation reviews on TripAdvisor before booking.
● Even in the modern days of Google we still like to use guidebooks for ideas.
● If you prefer organised day or multi-day trips Get Your Guide has plenty. 
● And most important: DON'T LEAVE HOME WITHOUT TRAVEL INSURANCE. 
 If you're from the EU you can't beat True Traveller. If you're from other           countries worldwide, World Nomads is good.
 A new contender for shorter term travel insurance is SafetyWing, which you     can pay for on a month by month basis.
Enjoy this post? Pin it for later!
Have you been to San Pedro on Ambergris Caye in Belize? 
What was your favourite thing you did whilst there and what did
you think of the golf cart invasion?
Product Review Disclosure: Tropic Air Belize provided us with a complimentary Blue Hole Tour and Tuff E Nuff provided us with a complimentary Hol Chan and Shark Ray Alley Snorkel Tour. This did not influence my post in any way and as always I've provided balanced and honest reviews. Read more in our full Product Review Disclosure