Affiliate link disclosure: This post may contain affiliate links including Amazon that earn me a small commission, at no extra cost to you. Read more in our full Affiliate Link Disclosure.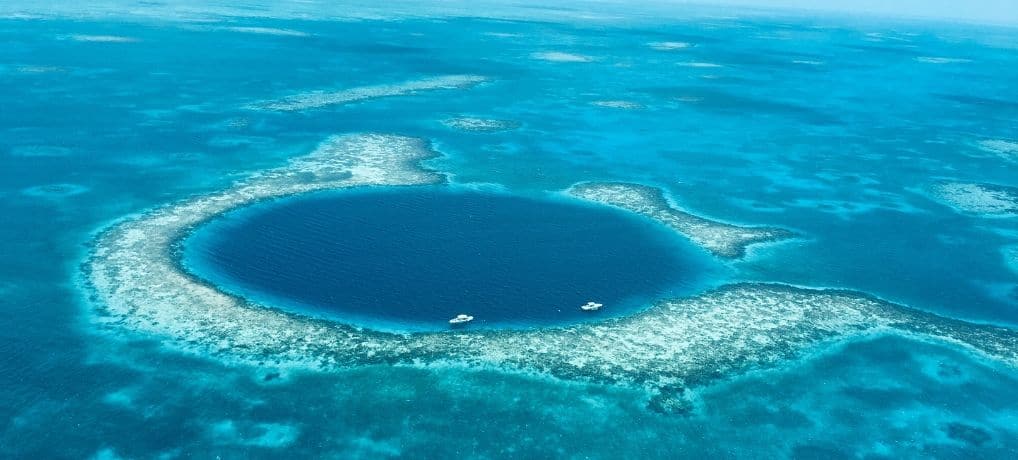 The Great Blue Hole is a large underwater sinkhole near the middle of Lighthouse Reef, 62 miles off the mainland of Belize City. You can visit it by boat to dive or snorkel it, but a flight over it is the best way to truly appreciate this natural wonder.
Taking a flight over the Great Blue Hole has been on our bucket list for a while, ever since our last visit to Belize in 2015 when we wanted to but just didn't get time. So when the opportunity arose to take a Blue Hole Tour with Tropic Air Belize we immediately jumped at the chance.
The Great Blue Hole 
The Blue Hole has been a draw for many years for biologists and oceanographers. In fact Charles Darwin even made reference to it way back in 1836.

He said the Belize atolls and the Belize Barrier Reef constitute "..the richest and most remarkable coral reefs in the entire western Caribbean"

.
In the mid 1970s Jacques Cousteau's took his ship, Calypso, to explore its mysterious depths and the atolls

. This coincided with the introduction of diving to the area.

Then In 2018 a team headed by Jacques Cousteu's nephew Fabien and Sir Richard Branson took a submarine to the bottom to map it in 3D

. The entire expedition was broadcast on the Discovery Channel.
The ocean in and around The Great Blue Hole teams with marine life.

Amongst many other spieces, there are giant groupers, eagle rays, southern sting rays, nurse sharks and turtles

. Not to mention colourful reef fish and spectacular reef formations. It's now the most famous dive site in Belize and known as one of the best in the world.
How to Get to The Blue Hole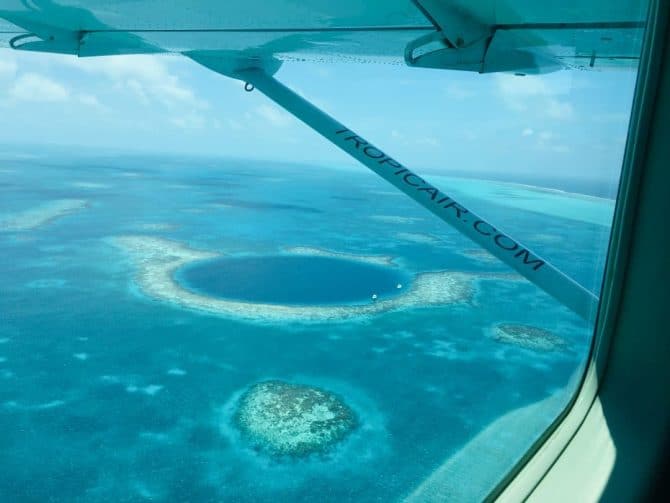 There are two ways to get to see the Blue Hole. You can see it up close by boat (usually as part of a dive or snorkel trip) or you can

fly

over it in a small propeller plane.
There are two departure points for boat trips, San Pedro on Ambergris Caye or Caye Caulker. Flights have the same departure points, but with the extra option of Belize City.
There are several tour agencies that offer boat tours (with diving or snorkelling) and two airlines (Tropic Air and Maya Island Air) that offer flights
.
The boat tours are full day trips, 2.5 to 3 hours each way, plus three dives. A flight takes around 1 hour for the round trip, from whichever departure point you take off from.

A boat tour is the most inexpensive option, but if you can stretch your budget, splurging on the flight experience is definitely worth it

.
Our Tropic Air Blue Hole Tour Experience
Tropic Air Belize provided us with a complimentary flights on their Blue Hole Tour from San Pedro on Ambergris Caye, Belize which I've reviewed below. Read more in our full Product Review Disclosure.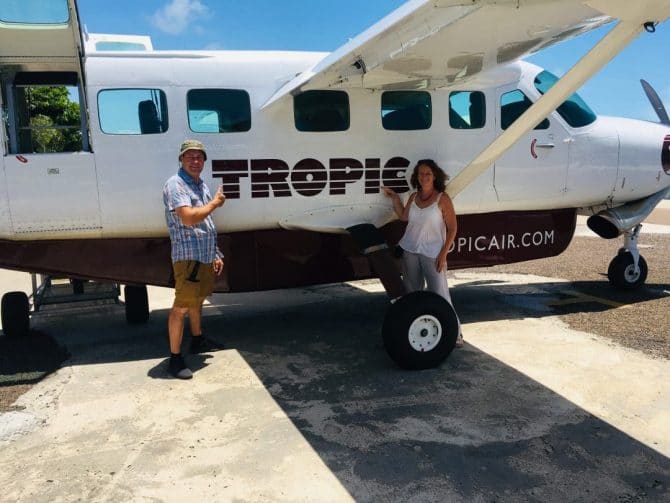 We took a Tropic Air Blue Hole Tour from San Pedro on Ambergris Caye, which proved to be a fantastic experience from start to finish. It's definitely one of the best things to do in San Pedro.
As advised on booking we turned up at the airport early to check-in for our flight with our passports and booking confirmation. In fact, we were so excited we turned up about an hour early. No matter though as the airport had a nice air-conditioned waiting room where we sat in anticipation of our upcoming experience.
Our flight

was called

and we walked the short distance over to where our small propeller-plane waited

. Tropic Air uses two different sized planes depending on the number of people on the flight.

The smallest one (get type of Andy) holds only four passengers and the larger one (a cessna 208 – check this) that holds 12 passengers

.

We had the larger plane and it was a almost a full house, despite this everyone got a seat with a clear window view, so we were all happy

. One lucky girl also got the co-pilot seat, although

I think

that

probably

cost more.
Once boarded there was no waiting around. We

were given

a map of the flight path, told to fasten our seat belts, then it was time for takeoff. A quick whizz along the runway and we were in the air.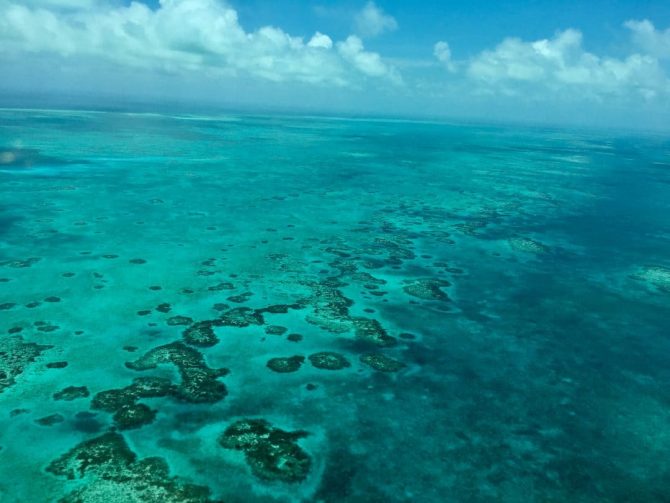 The plane heads out and we flew over lots of other interesting spots with great views on the way. We saw Turneffe Atoll, Glovers Reef, the Booby Bird Sanctuary and some shipwrecks. You can see all the way to the seabed because the water is so crystal clear. We were even able to see the black silhouettes of many stingrays

just

below the surface. After about 20 minutes we reached the main event, the Great Blue Hole.
On our flight the pilot flew circles around the Blue Hole eight times, four times clockwise and four times anti-clockwise

. This ensured everyone got a great view regardless of where they sat.

He flew at varying angles which gave us plenty of opportunities to get some fantastic photos and videos

. The windows are

spotlessly

clean and didn't hinder the photos Andy took with his
Olympus Pen-EL9
or even those taken with my old
iPhone 7
.
The views of the Great Blue Hole are something else, completely unique. The deep, dark blue centre is circled by a lighter blue ring where the water is shallower. Around that, over the reef, is a myriad of different shades of blues and greens. They spread out to the horizon, resembling a pantone colour palette. The sight was mesmerizing and we were lost for words!
When to Take a Blue Hole Flight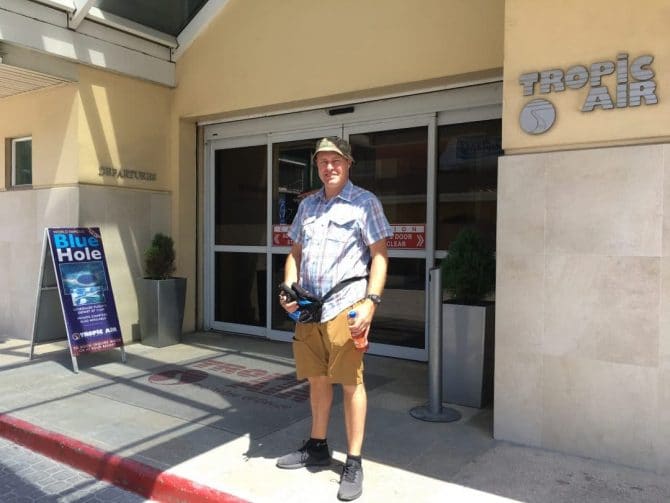 Tropic Air's Blue Hole flights leave from both San Pedro and Caye Caulker Airports on Tuesdays and Wednesdays at 11 am and on Sundays at 1 pm. From Belize City it departs on the same days but at 10 am. One thing to note is that the flights are weather dependent. However, the weather in Belize is nearly always hot and sunny, so it's unlikely your flight will be affected. If it is delayed or postponed for any reason Tropic Air would inform you as soon as possible.
You need to be at the airport about 30 minutes before your flight so be sure to factor this into any travel plans.

If you're staying in San Pedro town and flying from San Pedro Airport like we did, you can

easily

walk to the airport as it's in the centre of the town

.

If you decide to take your flight from Caye Caulker you'll need to take some mode of transport to the airport as it's located further out of town

. A taxi or rented golf buggy or scooter are your best bet.
How to Book a Blue Hole Tour
Booking a Blue Hole Tour with Tropic Air couldn't be easier. Just complete the online booking form on their website, then wait for one of their agents to get in touch to finalise the booking.
BOOK TROPIC AIR BLUE HOLE TOUR HERE
Contact Tropic Air as far in advance as possible before you want to take the tour to ensure there's space on the flight on the date you want.
Where to Stay Before a Blue Hole Tour
As the flights from both San Pedro and Caye Caulker are in the morning I'd recommend arriving at least a day before so you don't risk missing your flight. There are plenty of places to stay near either airport, you can read reviews and compare them with a quick search on TripAdvisor.
I'd suggest Sandbar Beachfront Hostel or Portofino Beach Resort on San Pedro they are both good value and have great reviews, if you'd like something a bit more luxury Grand Caribe Belize looks to be a good choice. On Caye Caulker our favourite place to stay is the mid-range Barefoot Beach. A good budget option seems to be Yuma's House and a good luxury option We'Yu Boutique Hotel.
If you prefer a private rental have a look at some of the great properties on Airbnb.
---
Our Blue Hole Flight Tour with Tropic Air was definitely a once in a lifetime adventure, the breathtaking views were remarkable. The service we received from Tropic Air and the flight skills of our pilot ensured we had the best experience possible.
If you're travelling in Belize, this is one experience you should seriously consider adding to your itinerary.
Belize Trip Planning Resources
Planning your trip to Belize? Here are some of our recommended useful resources to help. 
● For the best flights we use Skyscanner, I usually find great deals there
.
● We use Booking.com or HotelsCombined to find the best hotel prices.
● For self-catering accommodation Airbnb is our go-to.
● We always check accommodation reviews on TripAdvisor before booking.
● Even in the modern days of Google we still like to use guidebooks for ideas.
● If you prefer organised day or multi-day trips Get Your Guide has p
lenty. 
● And most important: DON'T LEAVE HOME WITHOUT TRAVEL INSURANCE. 
 If you're from the EU you can't beat True Traveller. If you're from other           countries worldwide, World Nomads is good.
 A new contender for shorter term travel insurance is SafetyWing, which you     can pay for on a month by month basis.
Enjoy this post? Pin it for later!
Have you flown over, dived or snorkelled the Great Blue Hole in Belize?
What did you think of it, was it worth it? 
Product Review Disclosure: Tropic Air Belize provided us with a complimentary flights on their Blue Hole Tour from San Pedro on Ambergris Caye, Belize. This did not influence my post in any way and as always I've provided a balanced and honest review. Read more in our full Product Review Disclosure.