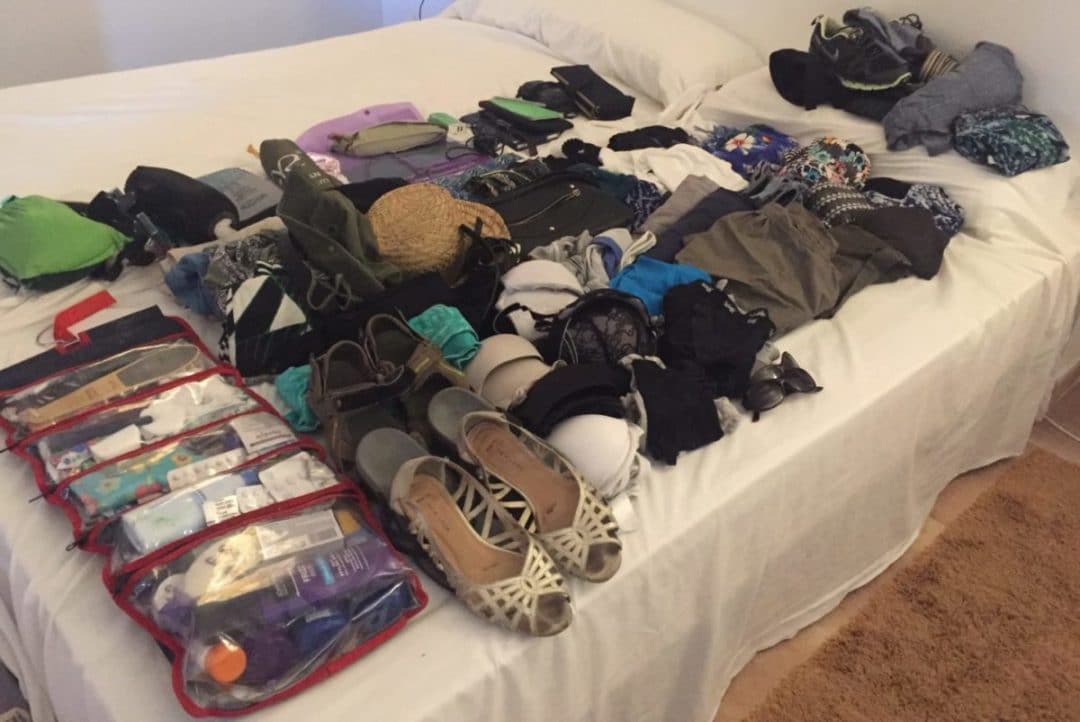 If you're looking for a useful long-term travel packing list, then sorry but I'm afraid this post won't be much help. I'm awful at packing light, always have been and after 10 years of trying to refine my technique I probably always will be. Packing is by far my least favourite part of travelling, I'd even go so far as to say I hate it.
Therefore I'm not going to try to give advice on something I'm rubbish at, instead here's a different angle on this subject. This isn't the perfect packing list, instead, it's the dilemmas I faced packing to leave the UK to travel, live and work abroad. I hope it's something those terrible packers amongst you can relate to. 
Packing Dilemmas
When planning for our big adventure one of the most difficult things for me was deciding what to pack. On my previous long-term trip of 15 months, 10 years before this one, I massively overpacked and was forced to dump a quarter of my belongings about a month into the trip. My backpack was so heavy I literally couldn't put it on without help. Walking further than a few steps was near on impossible; it proved a traumatic experience for any travelling companions – namely my sister!
Subsequent two and three-week trips weren't much better. I always try to pack light, am not overly bothered about my appearance, and never carry a hair dryer and straightener. However, for some unfathomable reason, my bag always ends up as big as me or if it's a smaller one it almost bursts at the seams. I just don't know why! So for this trip, I was determined to pack light and began researching long-term travel packing lists and reading posts with ideas for women's travel essentials, months before we were due to leave.
Most were pretty good, sound advice, but they were all different and I found myself thinking 'But what about this?' and 'What about that?'. The fact that we weren't only travelling but would also be living and working abroad meant we had more eventualities to be prepared for.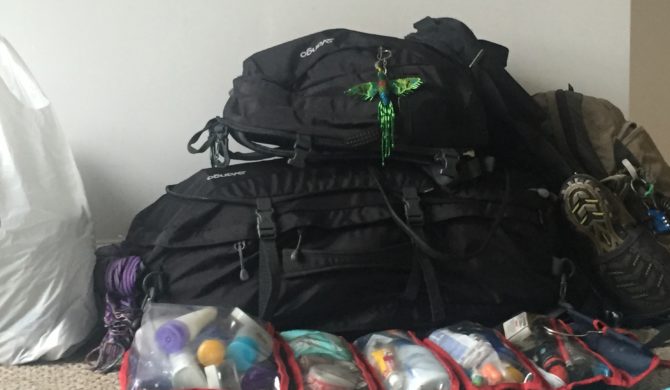 So armed with many ideas from multiple sources I made my first packing attempt about three weeks before we left. Most of our belongings had already been sold and we'd thinned our wardrobes right down. I was expecting it to be an easy task…how wrong I was! As you may have already read in Travel Long-term or Not | The Big Decision, that first packing attempt for this trip was dismal – heavy and large! In my defence, I did have a week 'holiday – holiday' (not travelling) with my family in Mallorca before we left Europe. This meant I took several things which I intended to send home with my Mum and sisters when they came back to the UK.
I unpacked and repacked what felt like twenty times over the following few weeks. Several tantrums were thrown in for good measure much to Andy's amusement. Typically, and just to rub salt in the wound, he's great at packing. Three pairs of pants, three pairs of socks, two pairs of shorts, a couple of T-Shirts and a pair of jeans…DONE! Plus a first aid kit and survival kit of course (he likes to be prepared)!
Ten minutes before bed the night before departure, I took out a tin mug from my main bag. That gave me just enough room to squeeze in a nice bottle of red wine a friend had given me (got to get your priorities right after all), an extra maxi dress, and a denim skirt. By then I'd managed to lose about a third of the original pile and was confident my hold and cabin luggage were within the weight restrictions. Ignoring Andy's comments that I looked like a tortoise and that he found it painful to watch me lugging the bags around, I was reasonably happy with my final packing attempt!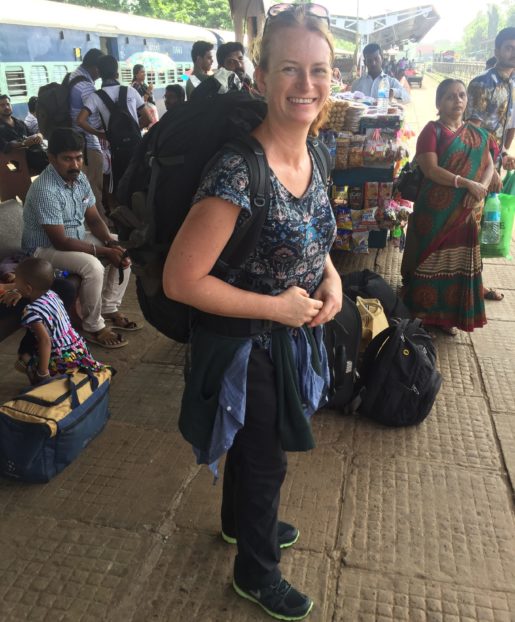 My happiness was short lived. When we arrived at London, Heathrow Airport, I was over the weight limit and had to unpack in the middle of departures. Out came two maxi dresses, a denim skirt, and worst of all, the bottle of wine my friend had given me – gutted!
My Long-term Travel Packing List
In addition to my packing dilemmas and mainly for the preservation of information, I'll now share the list of what remained in my bags when I left Mallorca to fly to Mumbai, India, the first stop on our adventure.
Bags
1 x Vango Freedom 60 + 20L (with rain cover)                                                       
1 x Berghaus Remote 25L (with rain cover)     
1 x small leather black handbag
1 x make-up bag
Here are some other great travel backpack ideas from The Family Voyage.
Gadgets
1 x Apple iPhone 7                                                                                           
2 x iPhone charging cable                                                                                     
1 x iPhone headphones                                                                                     
1 x iPhone tempered glass screen protector                                                           
1 x memory stick                                                                                               
1 x memory card                                                                                               
1 x Kindle Fire HD 7″ and leather case                                                                 
1 x Kindle Fire screen protector                                                                           
1 x blue tooth keyboard and case                                                                       
2 x android charging cable                                                                                 
1 x Olympus D-745 camera and case                                                                   
1 x camera charger                                                                                             
1 x Garmin Forerunner 225 Running Watch                                                           
1 x Garmin charging cable                                                                                 
1 x mini binoculars
Clothing
1 x light denim cropped jeggings/ jeans                                                                 
2 x light cotton/ linen trousers                                                                             
2 x ¾ length linen/ cargo trousers                                                                       
1 x Craghopper Kiwi Pro Stretch walking trousers                                                   
1 x jersey maxi dress                                                                                         
2 x knee-length casual jersey dresses                                                                   
1 x jersey travel skirt                                                                                         
1 x black knee-length skirt                                                                                   
2 x hotpants                                                                                                       
1 x walking shorts                                                                                               
2 x light cotton shirts                                                                                           
2 x light T-shirt                                                                                                 
6 x casual vest tops                                                                                           
2 x smart vest tops                                                                                             
1 x smart tunic top                                                                                             
1 x sheer long-sleeved top                                                                                   
1 x cardigan                                                                                                       
1 x hoodie                                                                                                         
1 x smart ¾ length trousers                                                                                 
1 x walking/ gym t-shirt                                                                                       
1 x cycling shorts                                                                                               
6 x cotton thong knickers                                                                                     
1 x hipster knickers                                                                                             
2 x sports knickers                                                                                             
2 x sports bras                                                                                                   
6 x lacy thong knickers                                                                                       
3 x t-shirt bras (underwired)                                                                               
3 x lacy bras (underwired)                                                                                   
3 x pairs trainer socks                                                                                         
2 x pairs hiking socks                                                                                         
1 x pair cotton socks                                                                                             
1 x walking hat                                                                                                   
1 x sun hat                                                                                                         
2 x bikini                                                                                                           
1 x large sarong                                                                                                 
1 x scarf                                                                                                             
3 x belts                                                                                                             
2 x sunglasses                                                                                                   
1 x rain poncho
Footwear
1 x pair trail shoes/ trainers                                                                                                       
1 x pair Teva flip flops                                                                                                             
1 x pair dressy ballet pumps                                                                                                     
1 x pair walking sandals
Travel accessories
1 x hammock                                                                                                       
1 x LifeSystem BoxNet – Single Mosquito Net                                                          
1 x Petzl Headtorch                                                                                             
1 x paracord                                                                                                       
1 x small handheld torch                                                                                       
1 x small hand-held torch                                                                                     
1 x small duct-tape                                                                                             
1 x multi-travel adapter                                                                                       
1 x money belt                                                                                                   
4 x citronella tea-lights                                                                                       
8 x spare AAA batteries                                                                                       
4 x biros                                                                                                           
1 x sewing kit                                                                                                     
1 x Anker Power Bank     
1 x Water-to-Go filter water bottle (use the code CTWT15 at checkout on the EU website or US website for a 15% discount).                                                        
Safety pins (small and medium)
Jewellery
4 x pairs dressy earrings                                                                                     
1 x pair small hoops                                                                                           
6 x studs                                                                                                           
1 x long pendant necklace                                                                                   
1 x bracelet wedding and engagement rings (wear all the time)
Toiletries and medicines
1 x soap                                                                                                                                         
6 x disposable razors                                                                                                                   
1 x 2 in 1 shampoo and conditioner                                                                                         
1 x travel pot of intensive conditioner                                                                                       
1 x frizz curl calming creme                                                                                                       
1 x frizz curl styling spray                                                                                                           
1 x deodorant                                                                                                                               
1 x travel size body lotion                                                                                                           
1 x eye cream                                                                                                                             
1 x face moisturiser                                                                                                                   
1 x multi travel pot containing (talcum powder, Savlon and athletes foot cream)         
2 x mosquito repellant                                                                                                               
2 x factor 30 sun lotion                                                                                                             
1 x travel size factor 50 sun lotion                                                                                         
2 x rehydration sachets                                                                                                             
6 x Alka-Seltzers                                                                                                                         
6 x cystitis medication sachets                                                                                                 
1 x pack of moleskin                                                                                                                 
1 x zinc oxide tape                                                                                                                       
1 x digital thermometer                                                                                                             
1 x toothpaste                                                                                                                             
1 x toothbrush                                                                                                                             
6 x packs of travel tissues                                                                                                         
2 x hand sanitiser                                                                                                                       
1 x antihistimine cream                                                                                           
antihistamine pills                                                                                                               
plasters                                                                                                                               
Tampax                                                                                                                                 
antimalarials                                                                                                                               
back pain pills                                                                                                               
Ibuprofen                                                                                                                       
Paracetamol                                                                                                                                   
travel-sick pills
Makeup
1 x makeup remover                                                                                                                 
1 x tweezers                                                                                                                                 
1 x nail clippers                                                                                                                           
1 x scissors                                                                                                                                   
4 x emery boards                                                                                                                       
2 x nail polish                                                                                                                             
2 x mascara                                                                                                                                 
1 x face powder                                                                                                                           
1 x BB creme                                                                                                                               
1 x concealer                                                                                                                               
1 x blusher                                                                                                                                   
1 x blusher brush                                                                                                                       
3 x eyeshadows                                                                                                                           
1 x eyeliner                                                                                                                                   
3 x lipsticks                                                                                                                                   
2 x sun protecting lip balm                                                                                                         
1 x vaseline                                                                                                                           
cotton wool                                                                                                                           
cotton buds                                                                                                                                 
hairbands
Documents
passport                                                                                                       
visas                                                                                                             
flight tickets/ confirmation                                                                             
travel insurance confirmation                                                                   
vaccination card                                                                                           
yellow fever certificate                                                                           
photocopies of passport                                                                             
passport photos
Miscellaneous
3 x Visa debit cards                                                                                                                   
2 x Visa credit cards                                                                                                                   
1 x card reader                                                                                                                             
2 x A5 spiral notepads                                                                                                                 
1 x snorkel and mask                                                                                                                 
1 x iPhone running armband                                                                                                       
small amount of UK Sterling
small amount of US Dollars
This list was definitely a marked improvement on what I started with, but I soon realised when we arrived in India and had to move around that I still had way too much. In fact reading that list back now it's actually quite embarrassing.
Lost or Discarded
True to form I managed to lose several items between Mallorca and Cambodia, and also binned some items that broke, most of which I still haven't missed. Lost or discarded en-route were:
1 x sunhat                                                                                                                                     
1 x favourite green hoody                                                                                                         
1 x favourite green pendant necklace                                                                                     
1 x white shirt                                                                                                                               
1 x multi-travel adaptor (broken)                                                                                             
1 x iPhone travel charger and cable (broken)                                                                     
1 x iPhone cable (broken)                                                                                                           
1 x android travel charger and cable (broken)                                                                     
3 x pairs black thong knickers                                                                                       
Several stud earrings                                                                                                                 
If I had known I could manage without these at the beginning I would have left them behind.
Additions En-route
Luckily I only added three items to my bags whilst we were travelling. The first was a polo shirt I bought during our 3-days in Mumbai, India. I only had one T-shirt that covered my shoulders and having your shoulders exposed in many places in India is a no-no! The second was a pretty green silk scarf my mum-in-law bought me for my birthday. The third was a tube of aloe vera gel, much needed after I got very sunburnt at the Puang Daw Ooo Pagoda Festival on Inle Lake in Myanmar. I also bought some face creams, mascara, face powder and concealer from duty-free in Bangkok whilst waiting for our flight to Siem Reap as digital nomads. These were just replacements though so no extra weight there.
I'll refer back to this long-term travel packing list ready for our next destination to see if I've been able to reduce it. Hopefully, I'll be travelling much lighter.
Enjoy this post? Pin it for later!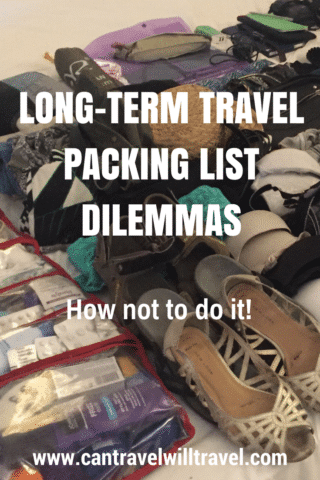 Is anyone else out there incapable of packing light? If so do you have any packing dilemmas or horror stories to share? 
P.S. You can read more on planning and preparing for long-term travel or moving overseas via this link: