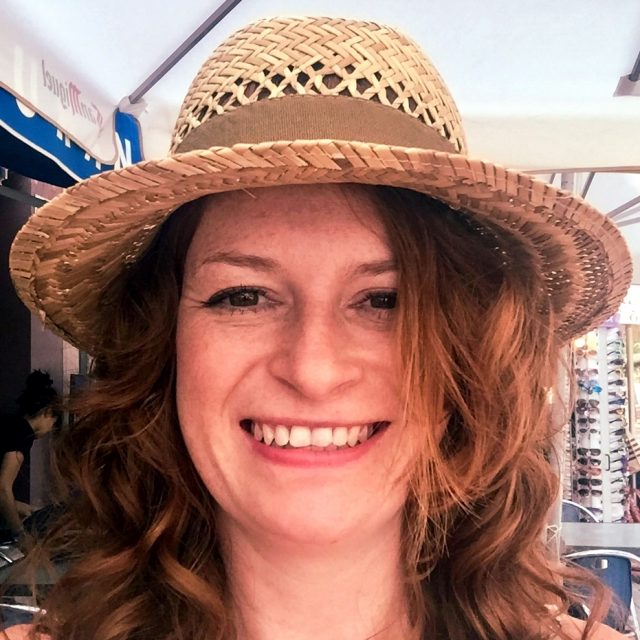 I'm Tanya Michelle Korteling (nee Kiddle) and at the time of leaving the UK was a 35-year-old Data Planning Manager from Norwich, Norfolk, in the UK.
If you've read About Us or Our Story, you'll already know all this changed in September 2016 when my husband Andy and I upped sticks and left the UK on the adventure of a lifetime. We hoped this will become a new way of life and I thought you'd be more inclined to join us on our journey if you get to know us a bit first, so here goes:
I'm originally from Wymondham, a historic Norfolk market town situated about 10 miles to the south-west of Norwich. I grew up there with my two younger sisters Tracey and Heidi and remained there until I moved in with Andy in Norwich in 2008.
My passions are travel, food, walking, trekking, hiking, wildlife, challenges and new experiences. I also love to plan social events, trips, adventures, weekends away, and holidays for myself, family and friends.

Despite my love of planning and being very organised, over the years I've also gained myself a bit of a reputation for being rather excitable. I often try to do waaaay too many things at once, talk rather fast, and am constantly planning what to do next, BUT that's me and I doubt I'll ever change.
I'm a happy, positive person and like to have fun. Whilst being fiercely independent and enjoying my own company, I also love spending time with other people.
I'm pretty ambitious and have spent lots of time since leaving school studying additional qualifications or learning new skills. These include a Certificate and Diploma in Marketing and gaining Chartered Marketer status.
I also have a Master of Science in Knowledge Discovery in Data Mining, which I achieved whilst working full time. Improving my Spanish language skills is also something I dabble in from time to time. Before leaving the UK I also upped my TEFL certification to 160 hours.
I'm currently teaching myself web design and brushing up on social media and digital marketing skills – specifically to help with this blog. I get bored easily and am always looking for the next challenge.
The Travel Bug
As a child, I travelled a fair bit with my parents and sisters, mainly to France, Tunisia, the Canaries and the Balearic Islands. However, my real interest in travel started with a couple of trips to Tunisia with one of my sisters when I was 23. The travel bug really took hold when I went on a three-week backpacking trip with a friend through Mexico and Cuba. It was my first ever long haul, and what an eye-opener it was!
As soon as I returned from Mexico and Cuba I began saving for a year-long trip around South and Central America. In November 2005 I set off; again joined by my sister for the first three months.
The trip actually ended up spanning fifteen months, eleven months of which was solo travel. I also had a couple of brief visits from a friend and my other sister. Central America remained elusive as I kept getting waylaid in SA. I loved it so much it was often hard to leave a place. That stint of travel ended with a month or so in North America and Canada visiting friends I'd made along the way.
By the time I came home I was nearly £10,000 in debt, my budgeting left a lot to be desired! However, I say to this day that it was the best £10,000 I've ever spent and worth every penny…..no regrets! The lessons I learnt from my experiences (good and bad) on this trip were invaluable and have really shaped who I am now.
Ever since that epic trip, I've had itchy feet for travel, but work and life have gotten in the way of any trips longer than five weeks. I work hard and all my spare time, holiday and money go on travel; either solo, with my husband, family or friends.
More Recent Travel
Each year before leaving the UK Andy and I would take a two to three-week holiday together somewhere mid or long-haul with our backpacks. 
When visiting a country I prefer to explore rather than stay put in one resort or hotel. This tends to result in some pretty hectic itineraries trying to see and do everything in a short space of time. Sometimes this can be a bone of contention with Andy who prefers to explore slower and more thoroughly but see less. We usually manage to reach a compromise though. For me this will be the beauty of spending an extended period of time in one country, I won't have to rush around trying to fit it all in or miss anything by going more slowly.
In addition to this, I generally managed to squeeze in a girl's holiday and a couple of girls weekends away. My annual 5–10 days walking a stretch of one of the Camino de Santiago routes in Spain is also a regular escape for me; as I mentioned before I like my 'Tanya time' too.
Without hubby I've visited Cyprus and Tunisia twice, Mexico, Cuba, most SA countries, Prague, Spain too many times to count, Turkey, Portugal, Egypt, Morocco, Sri Lanka and The Gambia. These are all shown on our 'Visited Countries' map in Our Story.
Most Memorable Solo Travel Experiences 
Some of my most memorable solo travel experiences include:
The spectacle of Perito Moreno glacier whilst ice-trekking in Patagonia, Chile

Being 'playfully' attacked by a jaguar, then a pumita, and finally weed on by a howler monkey whilst volunteering in an animal sanctuary in Bolivia


Mountain biking down the 'worlds most dangerous road' in Bolivia

Seven days of non-stop partying in Salvador, Brazil for Carnaval

Machu Pichu trek in Peru

Drinking firewater with locals around a bonfire on a rooftop in Banos (a thermal springs town) in Ecuador, whilst a volcano erupted nearby

Conquering my fear to get PADI certified in Taganga, Colombia

Our drunk boat driver crashing during a storm in Los Llanos, Venezuela
All Camino de Santiago hikes in Spain and Portugal


Bull Running Festival in Pamplona, Spain

La Tomatina (Tomato Festival) in Valencia, Spain

Watching big herds of wild elephants in Minneriya National Park, Sri Lanka.


Spotting three leopards in Yala National Park, Sri Lanka
Some Interesting Facts
To finish off my introduction here are some interesting facts about me:
I once did a tandem skydive for charity 

I LOVE food (especially cheese and mushrooms). I'll try anything once – except offal and (surprisingly given my love of cheese) cream cheese

I once walked 52kms in a day on the Camino de Santiago…just to get to a Galician town called Melide, to try 'Pulpo a la  Gallega' (Galician Octopus)

I've run four 10k races, three half marathons, a Mucky Races obstacle course, and more recently the 16km Temple Run in the Angkor Ultra Marathon in Siem Reap. One day I hope to run the London marathon, although I've been unlucky in securing a place in the ballot eight years running now, so it's not looking promising.

I LOVE animals and try to plan my trips around those I can see in the wild

Animals often seem to confuse my head for a toilet. It's now a running joke that on every trip at least one creature will make this mistake.
On that note, I'm off for now. I look forward to sharing more funny anecdotes and interesting, useful posts with you soon.
P.S. You can get to know Andy and read our story via the following links: