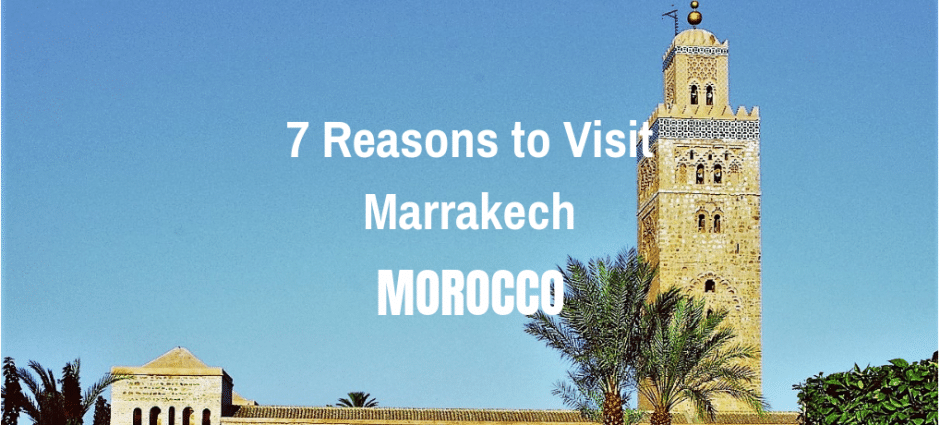 Just before Andy and I left the UK in 2016, I took one last girls' holiday to Morocco with a group of friends. Morocco has so many great cities you can visit but we chose to spend a week exploring Essaouraia on the Atlantic coast and the vibrant city of Marrakech. In the chaos that followed as Andy and I prepared to leave on our adventure, I never found the time to write about Morocco; so Safa from Moroccan Zest has written about seven reasons to visit Marrakech for us. Being originally from Morocco, you can be sure the experiences she shares are the best from a locals perspective.
If it's your first time in Morocco you'll also find these Morocco travel tips very helpful.
Reasons to Visit Marrakech
Marrakech is one of the most visited Moroccan cities and definitely one that will offer you authentic and unforgettable experiences. Also called ''The red Marrakech'' because of the colour of its walls, most visitors fall in love with the city. In other words, if you can travel to only one Moroccan place, I highly recommend putting a visit to Marrakech high on your list. The city is gorgeous, charming and condenses all the interesting things you can do and see in Morocco. 
Here are 7 reasons to visit Marrakech – the city that has stolen the heart of many and should be included on every Morocco itinerary.
1. Shop in 

Jamaa El Fna Market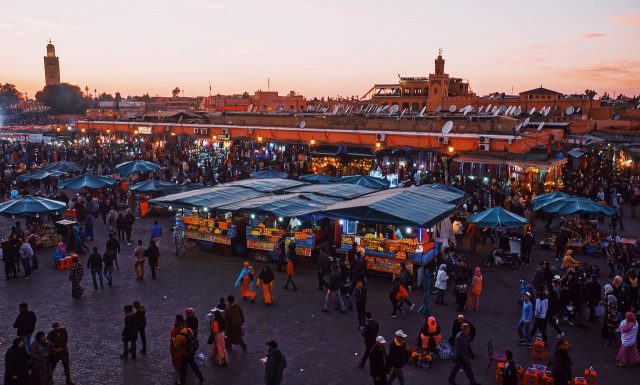 Located downtown, 'Jamaa el Fna' is the biggest market in Africa offering visitors many experiences in the same place. It's where you'll find many of the souks of Marrakech.
While Jamaa El Fna is open all day long, the best time to be there is just before sunset, when snake enchanters, acrobats, storytellers and musicians start gathering and getting ready for their show. It's hard to describe the ambience in this animated market, as it's something I haven't found anywhere else. All I can say is that it is cosy, enchanting and that you will feel so far away from your everyday troubles, similar to as if you were in a ''1001 nights'' story.
If you start feeling hungry, follow the delicious food smell and head to the place where you see smoke coming up. There you will find dozens of street food vendors with one of the most delicious Moroccan food. Which brings me nicely to my second reason to visit Marrakech.
2. Sample 

Delicious Food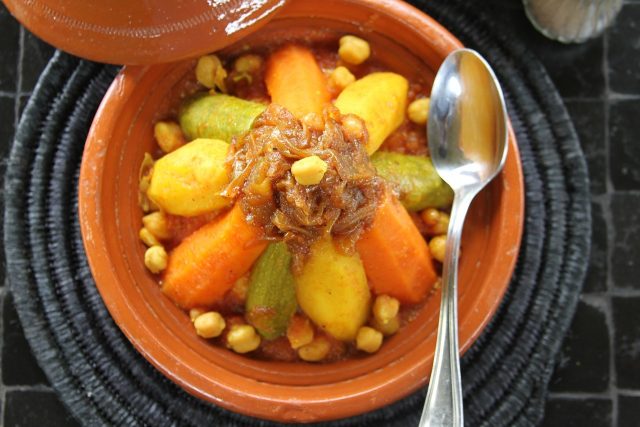 Anyone that knows me will tell you that I am a foodie girl. Sometimes I choose my destinations based on how delicious the local food is. And you know what? If you are like me, Marrakech will be a heaven for you.
Jamaa El Fna market is one of the places in Marrakech where food is extremely delicious and very affordable. I have rarely been deceived. As there are many Moroccan recipes that are worth the try, make sure you learn beforehand about Moroccan cuisine and dishes. What better way to do this than by taking a Clock Kitchen's cooking class.
When you are in Marrakech, don't forget to try the 'Tangia', a super tender meat tagine that melts in the mouth and which is the local culinary speciality. If you are a vegan, ask for the 'couscous with seven vegetables', the vegan tagines and try the different Moroccan salads, all super yummy. 
3. Explore 

The Medina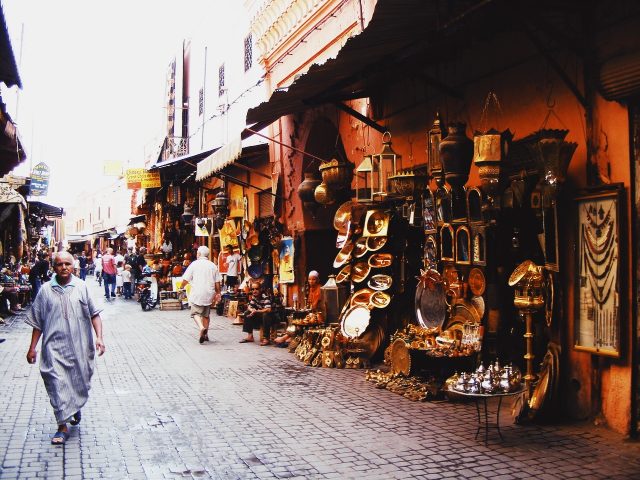 If you love souvenirs of handcrafted products made with good quality materials like leather and silver, or just love exploring Morocco traditions and culture, take some time to visit the Medina of Marrakech. The Medina is located a few meters from Jamaa el Fna in Marrakech downtown and is like an Ali Baba cavern. The best would be to have at least three to four hours to spend there, as the place is gigantic with labyrinthic streets and so many things to see and discover. Grab your camera, your GPS and your wallet (as you might end up buying a lot of things), and go for a long charming walk in the Medina streets.
4. Discover the 

History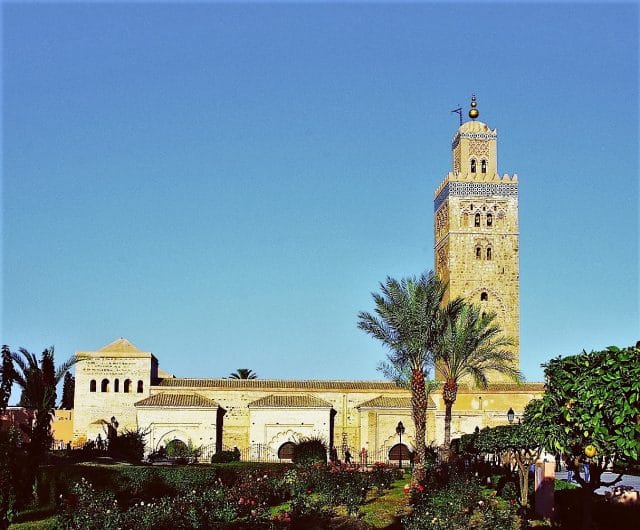 Being nearly a thousand years old, Marrakech was at one-point Morocco's capital during the Almoravids reign and had big periods of splendours with the Arabic civilizations. It was conquered by the French protectorate before Morocco got its independence in 1956. All this to say, Marrakech is one of the Moroccan cities that is most steeped in history, which is still visible in many historical monuments, just waiting to be discovered.
For a romantic and historical walk, there is the 'Menara' and its gorgeous botanical garden. There is also the Koutoubia, Marrakech biggest mosque built by the Almohads, where locals gather in their evenings to chat, meet friends and relax.
5. Take a Moroccan Desert Tour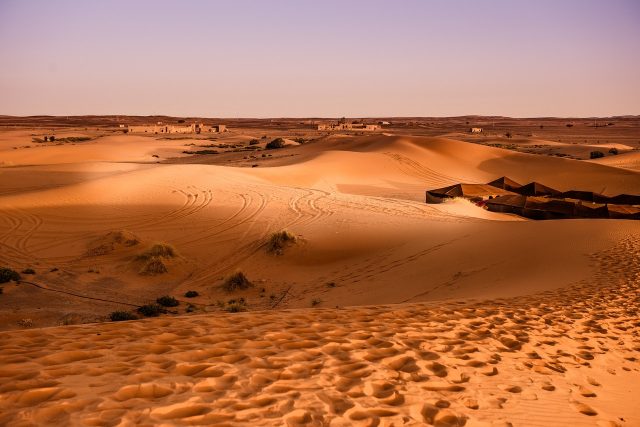 While Marrakech weather and palmeraie oasis (a plantation of over 100,000 palm trees) will give you a taste of the Moroccan desert, you need to go a little bit further south for the full Moroccan desert experience. Marrakech is a good starting point for this as there are many desert tours that depart from the city.
The thing to keep in mind is that you should never explore the desert alone. In fact, the risk of getting lost is pretty real.
6. Party in Modern Nightclubs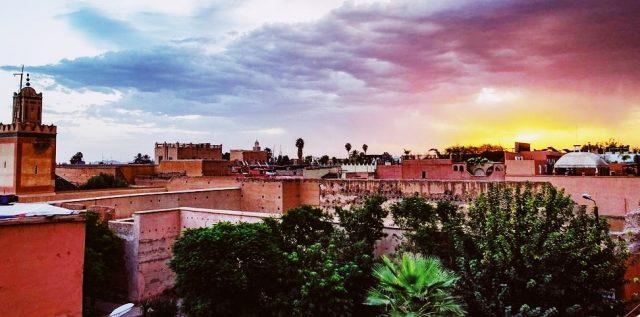 If you are a night owl and you like dancing and partying, you will certainly enjoy Marrakech nightlife, as it is one of Morocco's best festive places. In fact, most trendy Moroccans head regularly to Marrakech to have a good night out.
Head to 'Le Salama' restaurant and lounge located in Jamaa El Fna if you like trendy places and dreamy Moroccan decors mixed with a jazzy feel. Another favourite place is 'Dar Anaka', a perfect place to have your drinks and chill while watching the sunset from the rooftop. As the night goes by, the ambience gets more hearty with gorgeous belly dancers and live traditional Moroccan music.
7. Stay in an Authentic Riad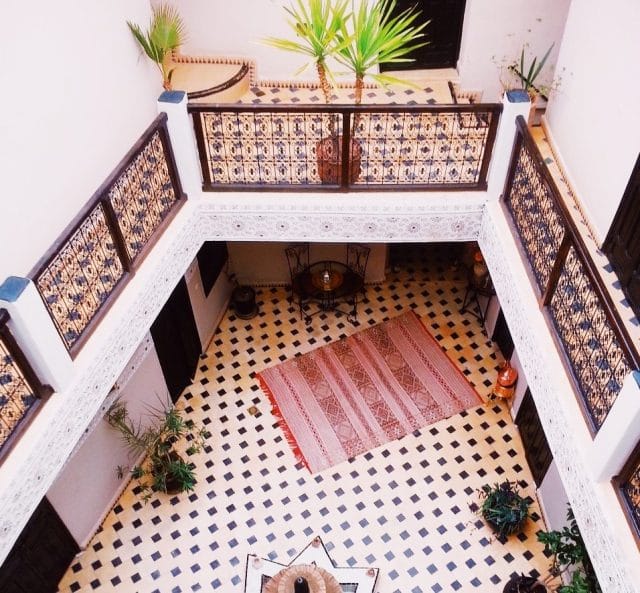 Instead of booking a room in a hotel, I highly recommend checking into an authentic riad in Marrakech. They are in the same price ranges as hotels and will make your stay much more memorable and fancy. You can also find some riad stays on Airbnb.
Authentic riads are small and cosy, some luxurious, and are mostly located downtown. If you don't find any riad available, don't worry, there are more and more hotels that replicate the riad-style, so you can get the same fancy and authentic experience. If you make your reservations a little early, you should be able to get good deals.
Other Activities in Marrakech 
These are just some of the reasons to visit Marrakech and the surrounding area. Get Your Guide also has lots of activities you could consider booking.
When to Visit Marrakech
I always recommend visiting Marrakech and the desert either in spring or fall. It doesn't mean you can't visit during winter or summer, it's just that during these seasons, you might not be able to enjoy all the experiences.
I visited Marrakech many times during the summer. While I couldn't go outside during the day for long walks because of the hot temperatures, I usually waited for the sunset, when locals start leaving their houses. The streets get animated and joyful, the air becomes fresher and the reddish sunset adds to the charm of the moment.
---
Would you like to go to Marrakech? What would you like to do there most?
Morocco Travel Resources
Planning your trip to Morocco? Here are some of our recommended useful resources to help you have the best time possible:
● TRAVEL INSURANCE IS AN IMPORTANT CONSIDERATION FOR TRAVEL. If you're travelling long-term like us and from the EU, then  True Traveller is our go-to option. 
Another option for long-term travel insurance is  SafetyWing, which you can pay for on a month-by-month basis. This is also good for shorter trips.
● Find amazing flight deals to Marrakech in Morocco on Skyscanner and Kayak.
● Compare Rental car prices for Marrakech in Morocco on Rentalcars.com.
● Booking.com usually have the best hotel prices for Marrakech in Morocco.
● Our go-to for self-catering accommodation in Marrakech in Morocco is Vrbo.
● Before booking accommodation in Marrakech in Morocco, check reviews on Tripadvisor.
● Discover fantastic trips and activities in Marrakech in Morocco with Viator and GetYourGuide.
● Bookmundi, G Adventures, and  Intrepid Travel offer group holidays and tours to Morocco.
Enjoy this post? Pin it for later!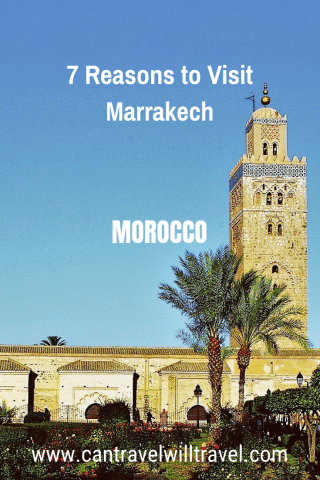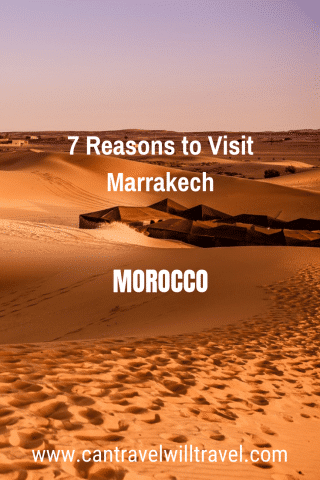 Safa from Moroccan Zest
Safa is a travel lover who has lived in many places around the world and enjoys sharing her country of birth culture and inspiration. Visit Moroccan Zest to get her mama's delicious Moroccan dishes or to find great tips on planning an unforgettable and affordable trip to Morocco.