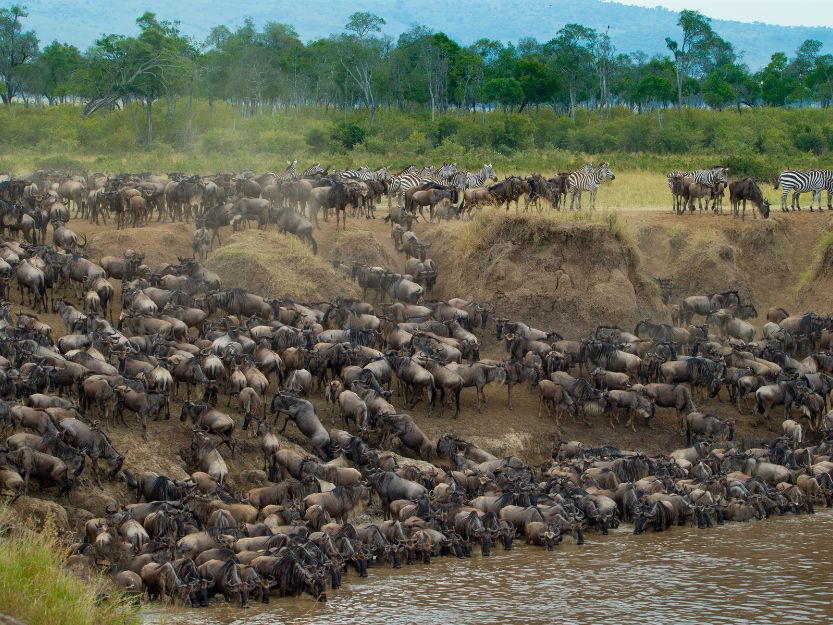 Witnessing the great migration in Kenya has been high on my to-do list for a very long time.
Each year, around 2.5 million wildebeest, zebra, and various species of antelope follow the pattern of rains and move in a clockwise direction between the sprawling plains of Serengeti National Park in Kenya towards the rich grasslands of the Masai Mara in Kenya.
The herds don't all move together, as some groups split off midway, leave at different times or some don't leave at all if there is enough food to sustain them. This means that the signs of migration are evident all year round, so the best time to visit the Masai Mara depends on your preferences.
Calendar for The Great Migration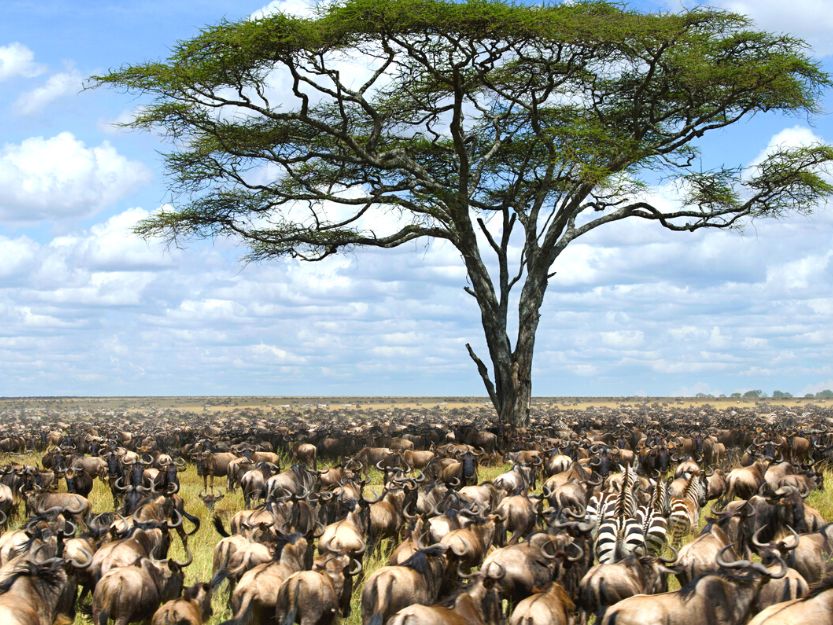 Between January and March, the wildebeest herds give birth to their young in the southern plains of Serengeti. At this time of the year, you will come across predators trying to make the most of the easy pickings.
April and May are best avoided due to the long rainy season, however, you can still see large herds moving north along the western corridor of Serengeti.
In June also there is a possibility of rain, but the surge northwards continues and river crossings, albeit on a lesser scale, occur over the Grumeti River.
July to October is the busiest time of the year when herds cross back and forth between Serengeti and the Masai Mara. This period offers you the best chance to see river crossings in Kenya, though there is no guarantee.
November to December, depending on the rains, the herds begin to wander back south once more after having depleted the grasslands of Masai Mara. You can now see them only in central Serengeti and parts of the Ngorongoro Conservation Area.
How Many Days for The Great Migration in Kenya
A minimum of three nights stay at Masai Mara is recommended. This will give you ample time to soak in the atmosphere of the bush, enjoy the glorious sunsets, observe millions of wildebeest on the move, and have time enough to visit one of the Masai villages on the outskirts of the park.
Ways to See The Great Migration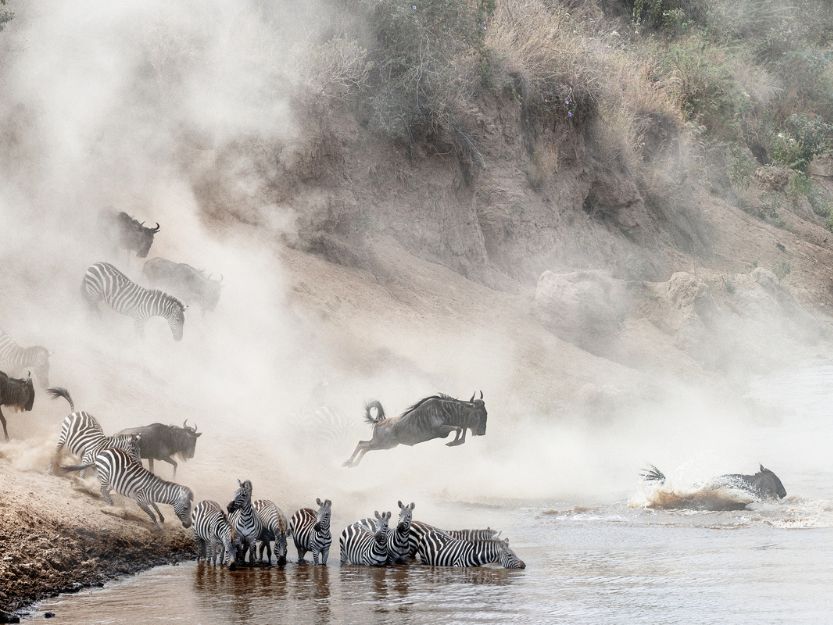 The vision of watching hundreds of wildebeest hurtling down the banks of the Mara, dodging the hungry crocodiles and then clambering back up safely provides a once-in-a-lifetime chance for the safari goer to witness such an event.
Having said that, river crossings are never guaranteed, but there are ways and means to give you the best chance to see the greatest natural spectacle on earth.
Mobile Safaris
The movement of animals is highly unpredictable, especially during the great migration. A mobile safari will allow you to be as flexible as the movement of the herd.
These tented camps move from one location to another along with the animals to enable you to see the migration at ground level.
Hot Air Balloon Safari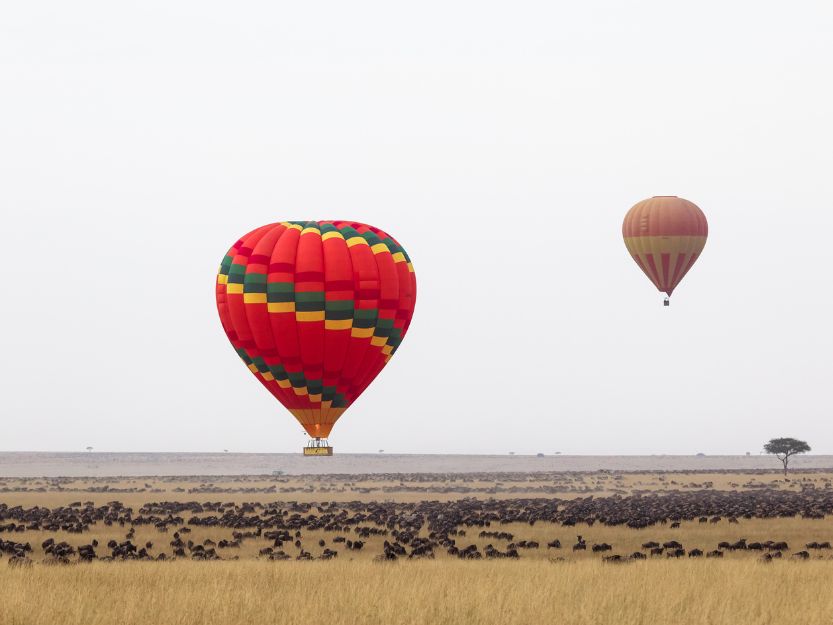 A hot air balloon station is never far away from your lodge if you are staying inside the Mara. A balloon safari allows you to soar silently in the air, right above the animals, in order to give you the ultimate bird eyes view of the migrating herd as you follow them as they move 
How to Enhance Your Great Migration Experience
The great migration is said to be one of the seven natural wonders of the world and a bucket-list item for any safari enthusiast. On a good day, apart from the animals in the moving herds, you can come across lions, hippos, buffalo, hyenas and ostrich.
To enhance your experience:
Plan at least 8-12 months ahead to ensure to get the accommodation you are looking for in the desirable locations.
Stay in at least two different camps in different locations to ensure the best chances of seeing the animals on the move
Think carefully about the experience you want, your dates and your budget. If possible, ask someone knowledgeable about the area you plan to visit.
If you'd prefer to go on an organised group tour G Adventures offer some great safari options.
How to Pay for Your Kenyan Safari
Financial services in Kenya are one of the country's most prominent industries, which means there are plenty of options to send money for your holidays to Kenya which are fast and cost-effective. 
That said, there are still some challenges to consider as transfer fees are not always transparent. You can end up paying more on what is offered as a 'free transfer' because of a low exchange rate or high withdrawal fee. Below are the options:
Mobile banking (Easiest Way) – One of the biggest payment systems in Kenya is M-Pesa, but it has a maximum limit of $1,250 USD per transaction and $2,500 USD per day.
Online money operators (Fastest) – You can do instant money transfers through online money operators which are fast and can do cash pickups in a few minutes.
Online money transfer companies (Cheapest) – Online FX and money transfer companies, typically have the best exchange rates and the lowest transfer fees.
Credit/Debit cards (Most Secure) – Since cards are subjected to more restrictions than other services, they offer more protection by having charge-back options and high fees. However, it is the best option if you intend to transfer large sums of money although due to card limits, you might have to use a few different cards. 
Wallets (Direct and Instant) – Kenya has an extensive mobile payment system to pay for services using mobile wallets. However, they charge fees to withdraw money off their platforms (ex PayPal charges around 5%+$2 USD)
International Money Transfer (Cheap and Fast) – There are over 20 MTCs that offer services to Kenya, which require a bit of research (Wise is our choice). The main advantage is that they are fast, charge low fees, and have a range of withdrawal services through banks and agents.
Once you have found a provider that operates in both countries, using a calculator your money operator will tell you the exact amount the beneficiary in Kenya will receive.
Your Great Migration Trip to Kenya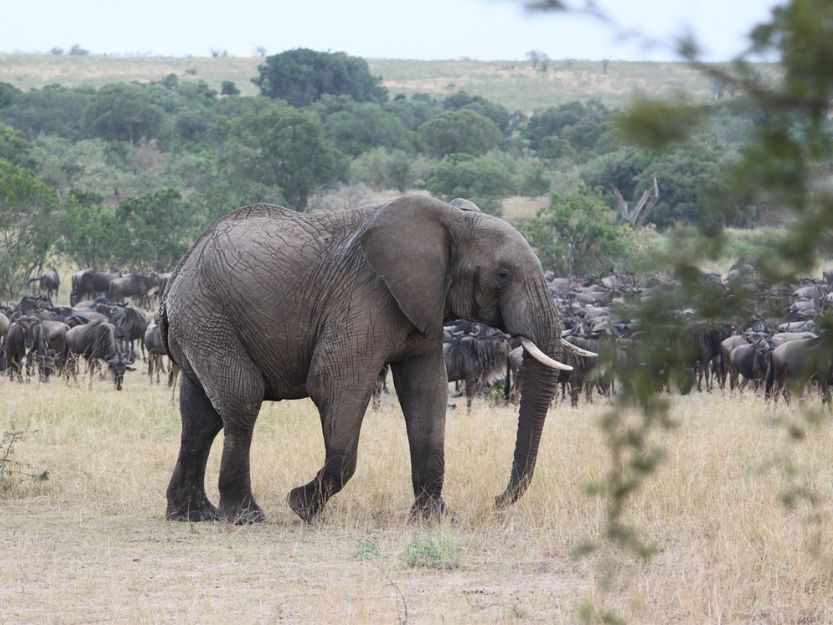 With experienced guides, top-class accommodation and multiple game drives, you'll find there are a multitude of ways to see the great migration in the Mother of all National Parks.
Furthermore, the wealth of wildlife found in the reserve adds to the excitement of the migration as well. Not only do you get to spot the wildebeest and the Big 5, but a diverse species of birds as well.
---
Would you like to go to Kenya for the great migration? Would you prefer a mobile or hot air balloon safari?
Planning Your Trip to Kenya?
Planning your trip to Kenya? Here are some of our recommended useful resources to help you have the best time possible.
Enjoy this post? Pin it for later!